You may have heard snorkelers and divers use the word purge valve when talking about cool features for their masks. There is an ongoing debate about how effective they are. One camp loves them and swears by them, and the other camp thinks it is gimmicky at best, and dangerous at worst. So what is a purge valve, what does it do, and do you need it?
For those unaware, the purge valve on a snorkel or dive mask is a one-way valve that forces water out of the mask when you exhale through the nose. In traditional snorkel and scuba diving masks, users have to manually clear their mask. This gets annoying really quickly if their mask is leaky. With a purge valve, you do not need to worry about this cumbersome process because water keeps getting vented out as you exhale through the nose. When it works, it is hands-free and hassle-free.
So why are some people so against it then? Read on as we explain the pros and cons of purge masks in greater detail below, as well as give our recommendations on the best snorkel masks with purge valve that you can get today.
Our Top Picks:
Are Purge Masks Worth It?
As we mentioned above, this is a topic of an ongoing debate. For the most part, dive masks with valves are recommended by many divers. But there are also people who believe it isn't worth it, at least for scuba diving, and that it should only be used for snorkeling or not at all. Why the difference in opinion? The best way to get a comprehensive overview is to look at it from both sides.
Advantages of Purge Valves
One Less Thing to Worry About Underwater
When you are in the water, especially if you are scuba diving, there are many things to worry about. People will pay a premium on their scuba gear if it can reduce the amount of work they have to do, and purge valves are no different.
With it, you do not have to deal with manually clearing your mask anymore. The water purges automatically as you exhale from your noise, and this is one less thing you have to worry about. You can then focus more of your focus and energy on the diving or snorkeling itself.
Hands Free Snorkeling and Diving
If you want to be able to do some underwater photography or videography, a mask with a purge valve is a godsend. Clearing your mask is quite difficult if you are also holding a big camera. You just want to focus on your next shot, and it would be a shame if you failed to capture something extraordinary on film because you were too busy clearing your mask.
Allows for Contact Lenses
A common problem with the traditional way of purging water is that the water gets into your eyes. If you are wearing contacts, this can greatly irritate your eyes. Even worse, it can sometimes wash away your contacts, and now you can't see properly underwater. This is a huge issue when you are diving, so people who wear contacts should strongly consider getting a purge mask.
Perfect for People with Facial Hair
If you want to scuba dive or snorkel with a glorious beard and mustache, you may have to deal with lots of water leaks because the mask may not have the tightest seal with facial hair. There are ways to form a tighter seal, but the methods are not foolproof, and water may eventually seep in anyways.
With a purge mask, you do not have to worry so much about water entering the mask because it keeps getting vented out. Since people with facial hair have a higher chance of experiencing water leaks, this can keep your mask water-free even if the seal isn't the greatest around facial hair.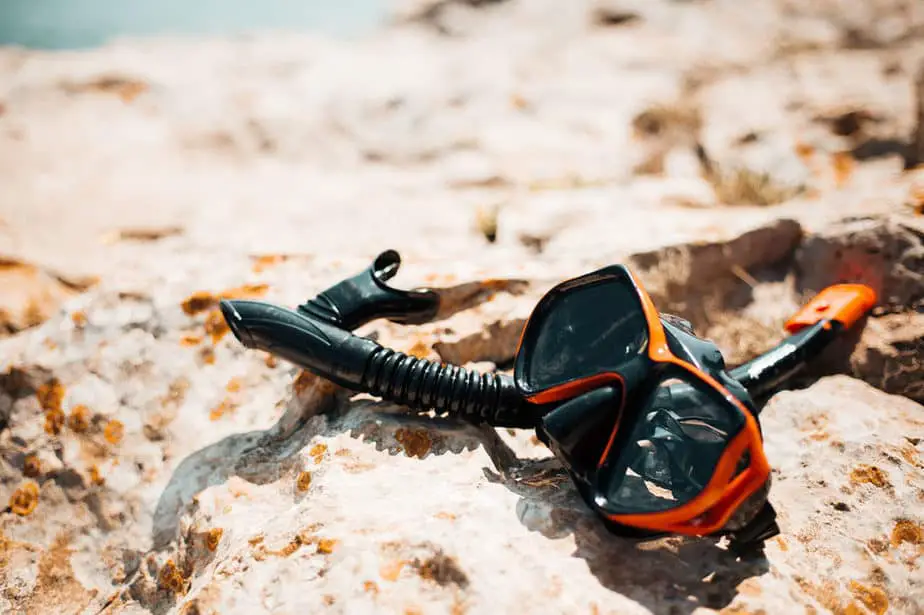 Disadvantages of Purge Valves
Risk of Malfunction
The purge valve is typically found below the nose pocket. And when you introduce more parts to a product, there is always a chance that it can malfunction, and this would be especially bad if it happened while you were, hence why scuba divers recommend it only for snorkelers.
Don't worry, it's not the end of the world if a purge valve breaks while diving. Scuba divers typically carry a back-up mask just in case. If you don't have a back-up, then you'll just have to clear the water the good old fashioned way.
With that said, divers don't want to purchase a mask that also requires a back-up mask. As some conservative divers have pointed out, more features just means more potential problems. If a mask has less components, then there's less things to break.
Clogged Valves
People who are vehemently against snorkel masks with purge valves frequently cite how much they dislike cleaning the valve. As with any snorkeling and diving equipment, one must perform routine maintenance to ensure it is clean and clear of debris.
Just through normal use, sand will inevitably find its way into the valve. If the debris is not promptly removed, it could cause a leak through the valve, which results in the problem it was meant to prevent.
Equalizing Issues
When wearing a mask with a purge valve, it becomes difficult to pinch your nose through the nose pocket. Though this is not a dealbreaker, numerous divers prefer to pinch their nose to equalize the water pressure.
How restrictive this is depends on the specific mask. If you need to pinch your nose while diving, then you will have to read user reviews to determine if it is still possible with that specific mask.
Which is Better?
In the end, it is up to you to decide whether a mask with purge valve is worth it. If you do recreational snorkeling, most of its disadvantages become less of an issue because you will not be in any trouble by the water's edge. It is more of a hassle for scuba divers since a malfunction means they need to have another mask prepared and ready to swap at any time.
With that said, scuba divers may still want to use a mask with purge valve to clear the water without using their hands which is helpful if they are holding other equipment. The best way to know if it is right for you is to ask a diving buddy if they are willing to lend you their mask for a trial run. Otherwise, you could buy one online and return it if it doesn't live up to your expectations.
Overall, if you like the idea of having one less thing to worry about while in the water and freeing up your hands, then it may be worth it for you to invest in a purge mask. We recommend buying from a trusted and reputable brand such as ScubaPro, Cressi, Aqualung, etc. Otherwise, you could be at risk of encountering malfunctions with a purge valve while out in the water. Read our review of the best scuba diving and snorkeling masks with purge valve below.
ScubaPro Crystal Vu Plus
This compact mask has the quality ScubaPro is known for in a hands-free, easy to clear purge model. The ScubaPro Crystal Vu Plus provides a panoramic view through a clear single lens and medium volume design. Peripheral vision is not a concern, as the additional side lenses increase your field of view to a 180-degrees, allowing you to see more of the underwater world.
Next, the nose pocket is raised which reduces the amount of pressure on the nose. And of course, the purge valve will get rid of any water that somehow makes its way inside whenever you exhale. The silicone diaphragm will prevent water from entering the hole it was expelled from.
Furthermore, the double-feathered transparent silicone skirt provides a waterproof, comfortable seal while allowing increased light entry. The split strap and easy to adjust swivel buckles lets you adjust the fit of the impact-resistant, durable frame on your face. Though this product is a bit on the pricier end, the ScubaPro Crystal Vu Plus offers some of the best views, with excellent, tight seals and even a purge valve just in case.
Pros:
Single-lens with additional side windows offers an unobstructed view.
Crystal-clear glass lens for excellent visual clarity.
Clear double-feathered silicone skirt lets more light in, seals well, and is comfortable.
Nose pocket allows easy equalizing.
Cons:
Pricey.
Cannot be used with prescription lenses.
Aqua Lung Pacifica Single Lens Dive Mask
Keeping water from entering your mask can be a nightmare if your mask doesn't seal properly or if you have facial hair. However, the Aqua Lung Pacifica makes it easier thanks to its excellent purge valve. Great for both beginners and advanced users, you can get the convenience of purging the water without needing to remove the mask.
With its single lens design, the Aqua Lung Pacifica gives its viewers an unobstructed, wide field of view much like that of the ScubaPro Crystal Vu Plus. Divers will be able to see in a 180-degree field of view, and absorb all of the sights available underwater. Due to its high volume, it is suitable for larger faces or people with facial hair.
Furthermore, the silicone skirt tends to seal well, so bearded divers can rejoice. The nose pockets on the Aqua Lung Pacifica are easy to reach and lets you equalize your ears effortlessly. This mask is popular among veteran snorkelers and divers, however it is a bit on the pricier side, but you get what you pay for and this mask is very high quality.
Pros:
One pane tempered-glass lens provides a classic wide-angle view.
Fits well on larger faces, or people with facial hair.
Comfortable and soft black silicone single-feathered skirt.
Easy equalization thanks to the easy to reach nose pocket.
Split strap connects to the frame and has adjustable metal buckles.
Cons:
Expensive.
Some users complained that their purge valve started leaking water after a few dives, however most users did not have this issue.
TUSA Sport Adult Imprex 3D Purge Mask
The Tusa Sport Imprex is great for both scuba diving and snorkeling. It features TUSA's Hyperdry System, which is its purging system, to effortlessly clear the mask with a single exhale. The Tusa Sport Adult Imprex also comes with an elite dry top snorkel and a hypoallergenic silicone mask.
Additionally, thanks to its 3-window design, one main and two side windows, you will get excellent peripheral vision and an enhanced panoramic view. Being low volume, the lens will be closer to your face, providing a better view with minimal obstruction from the frame.
In addition, expect to have a superior fit and greater comfort thanks to TUSA's round-edge skirt design. The mask will conform to the contours of your face, providing a snug and comfortable fit. Lastly, if fashion is really important to you even while snorkeling or scuba diving, then the TUSA Sport Adult Imprex comes in various colors, to help you match your other gear.
Pros:
3-window design provides excellent panoramic and peripheral views.
Hypoallergenic crystal silicone skirt and strap.
Dry top snorkel prevents water from entering, even if you accidentally submerge and inhale.
Flexible neck and mouthpiece snorkel.
Purge valve and drain chamber removes water easily.
Easy to adjust buckle technology.
Fits medium to large width faces.
Cons:
Tight around the nose area, not for people with a big nose.
Requires two hands to decompress.
XS Scuba Fusion Mask
The wide frame 3-pane design of the XS Scuba Fusion Mask fits a wide range of face sizes while allowing for a wide field of view. Its double-feathered, soft silicone skirt forms an excellent water-tight seal and feels comfortable to wear for long periods of time. The oversized buckles can be adjusted even with gloves on, and the mask is held firmly in position thanks to its wide-split strap.
Next, the XS Scuba Fusion Mask lens has an anti-fog coating that will prevent fog from restricting your vision underwater. If color-matching your mask with the rest of your gear is important, then you'll be happy to know that this mask comes in several colors, and the skirt comes in black or clear silicone.
The frame of the XS Scuba Fusion is made from a durable polycarbonate frame. Thanks to the higher volume, this mask feels more spacious and can fit larger faces. Of course, we like the included purge system for an easier time clearing any water that might enter, and for the price the XS Scuba Fusion Mask is great value.
Pros:
Good views, including peripheral, thanks to the side windows and single lens design.
Fits medium and large faces.
Wide-split strap and easy to adjust oversized buckles can be used even with gloves.
Available in many colors.
Cons:
Mask struggles to purge water for people with large noses.
Promate Dry Snorkel and Purge Mask
Many snorkel and dive masks provide excellent front views, but their side views are often lacking. This means missing lots of marine life or scenery, and constantly turning your head to check on your partner. The Promate Dry Snorkel and Purge Mask addresses this problem nicely, with its Avanti TL side-view that removes the vision breaks that multi-windowed masks have.
Additionally, in an effort to provide the best views, the channeled skirt design of the mask redirects bubbles away from the field of view. The purge system removes excess water that seeps in, but unfortunately it also makes the nose cavity very tight. The Promate Dry Snorkel mask was designed for medium to large-sized faces, but the nose cavity would be better suited for medium-sized noses.
With that said, the adjustable buckle, swivel, and hypoallergenic silicone skirt should provide ample comfort for those whose noses fit the mask perfectly. Once the mask has been adjusted to form a tight seal, leaks become a rare occurrence. The Promate Dry Snorkel features the Cobra snorkel, which keeps water from entering while simultaneously allowing air to enter and exit the tube for unrestricted breathing.
Pros:
Provides panoramic view without vision breaks.
The channeled skirt is comfortable and keeps bubbles away from the lens.
Cobra snorkel design keeps water out and air flowing.
Rotating the snorkel opens the whistle housing, allowing you to call for help by whistling if in trouble.
Cons:
Not ideal for bigger noses.
You must defog the lens yourself.
Aomais Dry Snorkel Mask
The Dry Snorkel Mask from Aomais provides the user with a simple and effective way to explore the underwater world. First, it comes with a removable dry-wet top float valve that lets you change between a dry snorkel and wet snorkel. Furthermore, the Aomais Dry Snorkel Mask is convenient to carry with you when folded, as it becomes small enough to fit in the palm of your hand.
Since it comes with a shoulder bag with a drawstring, you can simply keep it slung over your shoulder as well for hands-free carrying.Next, the purge valve will expel any water that enters the mask. The anti-scratch, anti-shock, tempered glass lens is durable and provides a clear panoramic view of the world underwater. Together with its silicone skirt and ergonomic mask design means you will feel comfortable and never have to worry about water in the mask.
Another feature is its quick release button that lets you remove the tube to prevent bobbing up and down if you so desire. The Aomais Dry Snorkel Mask has a removable mouthpiece and is highly adjustable, to the point that it can have a snug fit on both adults and children. The Aomais Dry Snorkel Mask is a great budget option if you want a mask with a purge valve.
Pros:
Highly compact, can be folded to fit in your palm and comes with a shoulder sling. Great for taking with you on travels.
Durable anti-scratch, anti-shock tempered glass lens.
Has a quick release button to detach tubing.
Very affordable.
Cons:
Will need to de-fog the mask as some users found it fogged up when you purge the water.
WACOOL Snorkeling Package Set
You shouldn't have to burn a hole in your wallet to get good quality snorkeling equipment. For those on a tighter budget, this universal set from WACOOL might be what just what you need.
First, even though it is marketed towards adults, know that it can also fit teens. Furthermore, the high-grade silicone skirt and adjustable straps provides flexibility to fit nearly every face shape and size. It doesn't quite have the panoramic views that masks with side windows do, however its tempered glass lens provides excellent frontal clarity.
Furthermore, the lens has already been coated with anti-fog treatment, so you don't have to worry about doing it yourself. Just enjoy the clear underwater scenery without worrying about fog ruining the moment. Additionally, the full dry snorkel will protect you from accidentally swallowing a mouthful of water. If that isn't enough, the purge valve will drain any water that somehow makes its way through the skirt seal.
The manufacturer is even offering a lifetime hassle-free guarantee, in addition to its affordable price, which makes it an attractive option that is worth at least a try.
Pros:
Lens comes already treated with anti-fog.
Full-dry snorkel with silicone mouthpiece.
Anti-splash guard.
Budget-friendly, with lifetime guarantee.
Cons:
Large mouthpiece.
Fragile snorkel clip.
Cressi Pano 4 Wide View Mask
The Cressi Pano 4 is designed to give you better visibility, optimal comfort, and a great fit. This mask can be worn by both adults and children. The silicone skirt around the mask and adjustable straps help provide a great fit every time.
Like some of the other masks in this review, the Cressi Pano 4 has side windows that allow you to see your periphery clearly, just as if you were looking straight forward. These side lenses help give the "wide open" feel and better overall improved field of vision. Another notable feature of the Pano 4 are its large buckle straps, which are easy to adjust even while underwater for a snugger fit.
Some great features of the Cressi Pano 4 are the dry snorkel system and, of course, the purge system. Both of these are responsible for keeping the mask dry and water out. With proper maintenance, the mask will never fog up, meaning you can basically stay submerged for unbelievably long periods of time without surfacing for air. You'll feel like you're part fish wearing this mask.
Pros:
Excellent 180-degree visual clarity.
Large buckle straps are easy to adjust, even while submerged.
Dry snorkel system with purge valve.
Cons:
The silicone skirt rests low on the upper lip; a problem for people with mustaches.
Slight distortion around the lens near the seams.
If you are interested in more snorkel masks with purge valves, then consider getting a full face snorkel mask. Each one has a purge valve built-in so that you can easily get rid of water that has managed to enter the mask. Click here to learn more about full face masks.
Last update on 2023-11-21 / Affiliate links / Images from Amazon Product Advertising API