Few things in life can compare to the magical beauty of snorkeling in a coral reef that is bustling with sea creatures that you normally don't see. Count yourself lucky to see a few reef sharks, sea turtles, or manta rays on your trip. The few times that I did, I was glad to have my underwater camera with me to capture that moment forever.
You can find plenty of pictures other divers took of rare aquatic creatures or an amazing view of the reef. However, nothing compares to the joy of shooting your own pictures and footage, especially if your family members are forever immortalized in the shot. To reliably shoot great underwater footage and pictures, you need to get the best underwater camera for snorkeling.
In this guide, we've put together a list of our top recommended waterproof cameras, as well as the criteria we used to come up with our selection.
Our Top Picks:
Olympus Tough TG-5 Waterproof Camera – Best Overall
The Olympus Tough TG-5 waterproof camera is the best all-around underwater camera for snorkeling on the market. It comes with many professional features and is one durable camera. In addition to being waterproof, it's crushproof, shockproof, freezeproof, and even dustproof. Beyond its ruggedness, you have a camera that is also fantastic at shooting both photos and films at 4K resolution.
Durability
Cameras are very delicate and expensive tools and people will go to great lengths to protect their investment. Olympus knows how heartbreaking it can be to damage or break a camera, that is why they made their Tough TG-5 camera near indestructible.
Waterproof
First, how deep underwater can you use this camera? The Tough TG-5 is waterproof up to a maximum depth of 15 meters, which is more than enough if you're casually snorkeling and diving. For those who want to use it while scuba diving, you will need to purchase the specific TG-5 housing to protect it at depths exceeding 15 meters.
Shockproof
Next, the TG-5 is capable of surviving a nasty 2.1 meter drop, making it ideal for use outdoors even in the rain. We love how versatile it is, capable of being used both underwater or for other outdoor activities and excelling in all areas. However, if you drop the camera in deep water then it's probably gone, so hold onto it!
Freezeproof
This is a nice feature to have, though you probably won't need to use it if you just plan on snorkeling. However, the option to use it in the winter is nice. After all, why limit yourself to using an underwater camera only in the water? The TG-5 Olympus can withstand freezing temperatures as low as -10 degrees Celsius.
Dustproof
All water activity is near sand, and when you go on your adventures you will likely expose your camera to sand or other particles. Even if there are no beaches nearby, you can still find particles in the water.
Crushproof
The last feat of strength the TG-5 is capable of is withstanding crushing force up to a maximum of 100kg. For reference, that is equivalent to a NFL quarterback or a giant panda stepping on it. I don't even know how the average person can drop 100kg onto this camera unless they drive over it with a car.
Picture Quality
The Olympus Tough TG-5 comes with a F2.0 wide-angle lens that is incredibly fast and ideal for shooting footage and pictures of the underwater coral reef. It produces high resolution footage as well as pictures with incredible image quality even in low-light conditions thanks to its dual quad-core processor and specialized image sensor.
What makes the TG-5 waterproof camera ideal for snorkeling is its underwater shooting modes that help you customize the shots you can get. The settings include underwater wide, snapshot, and macro for when you want to get those excellent close-up shots.
Next, there is also the underwater HDR mode which overlays multiple images to produce photos that have enhanced shadow and light. This particular mode is great for capturing all of the details and color when you're swimming with sea turtles.
Additionally, this waterproof HD camera from Olympus can capture fast-moving action shots in stunning detail. The pro capture mode in the Tough TG makes taking those awkward, split-second photos much easier. How?
The camera will buffer a continuous series of high-resolution images, and then once you hit the capture button, it will select the image from that exact frame plus the five previous frames so that you can get the best photo of a fast-moving shark or somebody bungee jumping with great clarity.
Camera Design
When you're underwater you can't be fumbling around with a camera; it needs an ergonomic design that is easy to handle. The design of the Olympus has been carefully considered so that you can easily use it even with gloves on.
For example, the dial lets you cycle through the modes very quickly, and there is an option for custom modes so that you can customize how you can access your preferred settings.
There's even a live composite mode that makes filming amazing star trails and cityscapes easy.
Next, the microscope modes on the Olympus Tough lets you get really close to your subject (as close as 1cm) so that you can capture all of the astounding details found in all of the coral, fish, or anything that catches your eye in the underwater world.
Lastly, for those who want to create images that are sharp and crisp, as well as maximize the depth of field, then the Olympus camera has stacking and focus bracketing modes to help you to this end.
Add-Ons
When you buy a camera, you're never just buying only a camera. There are always more accessories to buy, such as additional lenses that can help you take better photos underwater with the TG camera.
For instance, you could get the Waterproof FCON-T01 Fisheye Converter Lens for the Olympus if you are keen on taking more ultra-wide shots.
Next, while the zoom on the TG-5 is quite good at 4x, with the Waterproof FCON-T01 Teleconverter Lens you can get up to 7x zoom, nearly double what the stock camera can do!
Even though we generally recommend getting up close and personal to the subject for the best shot, sometimes it can be dangerous to do so, and for those situations having a strong zoom is the safest option.
You might also be interested in the LG 1 Light Guide, which provides macro lighting that utilizes the camera's built-in LED illuminator to provide a stronger light.
To get better light distribution underwater, consider trying the Waterproof FD-1 Flash Diffuser to provide additional light up to 30cm.
Lastly, the PT-058 waterproof housing case extends the Tough's underwater capacity to a maximum depth of 45m, three times what it is normally rated, and a great option for scuba divers looking to document their dives.
Ultra 4K Video
If a picture speaks a thousand words, then how much more does a video speak? With 4K video, each frame captures millions of pixels, and the TG-5 is capable of capturing extremely smooth footage at 120 FPS.
Impress your friends and family with crisp and detailed footage that you can carefully appreciate with slow-motion playback, as well as a time lapse setting to make sped-up videos of the bustling coral reef over the course of the day.
Action Track Sensors
Avid snorkelers and divers, have you ever found a serene and beautiful snorkeling spot like none you've ever seen, but then couldn't find that exact spot the next time you head back?
No matter where your adventure takes place, you can track the environmental data and your movement through it using the built-in Action Track Sensors.
Never lose track of where you are ever again with the TG-5's GPS to find your latitude and longitude, a manometer to measure water depth and altitude and temperature sensor, and a compass for direction.
Furthermore, you can pair the camera to your phone with the free Olympus Image Track app to manage the videos and photos using your smart device with data or Wifi. Check the image's metadata after you've exported them with data overlays to find out all of the information you need about your adventures.
Wifi
How does the camera pair with the phone? Thanks to its built-in Wifi, you can share data without needing to connect it to a computer using a cable. Share photos and videos immediately after shooting them using the Olympus Image Share App.
You can even remotely operate the camera using your phone to adjust the camera's settings and take pictures remotely, which is great for taking family photos with you in it as well.
Battery Life
With all of these advanced features, just how much juice does this camera need to operate? If you are making use of all of its features, particularly the GPS and Wifi, then it will cause the battery to drain quickly.
Make sure to keep the camera plugged in using a standard USB cable to keep it topped off. You can recharge it anywhere a USB slot is available, a desktop PC, laptop, your car, a USB outlet, etc.
The Olympus TG-5 also comes with its own AC charger. On a full charge, you can expect to take 340 shots before it runs out of juice, which is within the range of the other market leaders.
Overall
The Olympus Tough TG-5 comes with many great features that make it a versatile and reliable underwater camera for snorkeling. It's no surprise that it's considered to be one of the best on the market, and makes it on our list as the #1 underwater camera for the average snorkeler, factoring in the cost and ease of use.
Personally, we feel that the macro mode and 4K video produces raw footage with incredible clarity which lets you edit it in post-production with much more freedom. Even if you uploaded the footage as is, it will no doubt still be stunning.
Furthermore, the Olympus Tough TG-5 works great outside of the water too thanks to how durable it is, it really is a versatile and useful underwater camera that can also be used as a travel or outdoor camera. It fits snugly in your pocket thanks to its compact body, and has all the features you need at an affordable price. We highly recommend the Olympus Tough TG-5 underwater camera.
Nikon W300 Coolpix – Most Durable
Those of you looking to take more photos in the midst of action rather than off by the sidelines should consider getting the Nikon W300 underwater camera. This camera is designed for shooting action videos and photographs easily, and that makes it a great camera for snorkeling.
Durability
It can shoot 4K ultra high HD video and take 16 megapixel photos. Furthermore, it can withstand a lot of punishment. The Nikon W300 can withstand the water pressure down to depths of 30m (twice as deep than the Olympus TG-5), can endure drops from 2.4 meters, can resist the cold up to -10 degrees Celsius, and will keep out all sand particles from the beach and water.
Picture Quality
When you're struggling to take the perfect photo, you can check out any of the 20 shooting modes to help you, including an underwater mode as well.
The camera has a 16 megapixel low light sensor paired with a fast F.28 zoom lens to help you snap photos with extreme clarity even in low visibility conditions.
Next, the autofocus capability  and continuous shooting mode simplifies those fast-paced action shots, and the macro mode can help you get microscopic detail on your subject up close.
Design
The Nikon W300 is designed with ease of use in mind which is why it customers rate it as one of the best underwater point and shoot cameras. It's body is designed such that you can switch between modes quickly and easily, even when you're in the middle of snorkeling. The smart button and extra-large grip frees up one hand to take one-handed photos.
Additionally, the 3-inch LCD screen and anti-reflective coating means you can still see what you're shooting and to reduce the glare from the sun. The dedicated Tool button brings up the tool menu to help you access useful features such as the GPS or compass conveniently.
Next, the Nikon W300 comes with a bright LED light that helps you light up your subject even when you're deep underwater and visibility is poor. You can attach the Nikon underwater camera to a tripod or pole and use the self-timer function to take selfies or group photos easily.
Video Quality
Once you hit the record button, that's when the magic happens. The Nikon W300 has many video modes that can help you make fun and interesting videos. For instance, the short movie show mode can be used to produce 30-second video compilations complete with background music and special effects, which is great for quickly editing a video and sharing it with family and friends online.
You can condense several hours worth of footage into a sped up 10-second time lapse sequence. Or, you can do the opposite and make a super lapse video instead. If you're struggling to take a photo of a subject that just won't hold still, record it with a video instead and shoot stills from the footage you captured instead.
Wifi
The Nikon also has Wifi and Bluetooth functionality built-in to help you seamlessly transfer pictures or footage to your smart device and upload it online to impress friends and family.
You can even add a personalized touch in the form of caption text, and the snap bridge phone app will store your photos online to Nikon Image space. You can take pictures remotely with your phone if you have this app.
Fujifilm FinePix XP130 – Most Affordable
Next up, we have the Fujifilm waterproof camera which is a budget camera that still has a great suite of features for the money-conscious buyer. One thing that is common with the underwater cameras we recommend is that they are all rugged and robust, including this one.
Durability
First, on its own it is waterproof to a maximum depth of 20m, not quite on the same level as the Nikon W300, but more than the Olympus Tough TG-5. Like its industry-leading peers, it can withstand the quote up to -10 degrees Celsius, keep the dust and water particles from entering the body, and can endure a respectable 1.8 meter drop.
Image Quality
The spec on the Fujifilm Finepix is not as good as some of the other cameras, but keeping in mind that this is a budget option and a fantastic waterproof camera, let's look into what it can do.
To start, you can shoot in two modes to help you optimize your underwater photos. There's the underwater mode which guarantees that the photo you're taking is true to what the human eye can see (recall that the color red frequently doesn't show up in underwater photos). Using this mode, you can get beautiful images that have precise, crisp, and intricate detail.
Next, the 16.4 megapixel CMOS sensor ensures that the image quality is high when you're deep underwater and light is lacking. The Fujifilm FinePix comes with an image stabilization feature that fixes camera shake in your photos. This is especially useful when you're underwater and struggling to stabilize your body.
In order to further improve your photos, the FinePix gives you the choice of 11 special filters to modify the photos and add cool effects instantly.
There are also 7 filters for movie recordings that you can apply, and the LCD screen will allow you to preview them before you apply the enhancements to get the optimal result.
Additional Features
The Fujifilm FinePix can be paired with your smart device to transfer data such as the time zone and location to help you remember where you were and when you took the photos or video footage. You can also operate the camera from your tablet or phone using the Fuji Camera Remote app, allowing you to change the zoom settings, shutter release, camera mode, and video mode.
Next, the 3-inch LCD monitor on the Fujifilm FinePix is very spacious considering its compact frame. It has an anti-reflective coating which is easy to clean and glare-free, which reduces the eyestrain when using it under extremely sunny days.
To keep the battery from draining unnecessarily and to optimize visibility, the Fujifilm FinePix can automatically decrease its brightness setting as it analyzes the lighting conditions.
Furthermore, the LCD screen comes with the electronic level feature, which helps you take level horizontal shots like landscape photos easily. The eye detection feature will automatically detect and focus on the eyes of your subject for an easier time taking portraits.
Image sharing can be done in a snap with the Fuji Bluetooth connection or Wifi. Transfer your shots to your tablet or smartphone, and you can even transfer images to a wireless printer for easy printing.
Video Quality
Next up, let's talk about video quality. The Fujifilm XP130 can record footage at 1080p resolution and 60 FPS. While this is nothing special, this camera comes with its high speed movie mode that lets you record at significantly higher FPS at the cost of video resolution.
You can even record at 320 FPS for incredibly smooth and detailed action footage, though the resolution will be very small. However, with this many frames you can slow it down and watch things step by step to ensure you don't miss out on any details.
Furthermore, the Fujifilm FinePix XP130 has a solid 5x (28-140mm) optical zoom lens that lets you get close shots of the action from a distance. Combined with its intelligent digital zoom lens, you can essentially get a 10x zoom. Additionally, this camera has an optimum image processing feature that will alleviate any degradation of image quality as you zoom closer using the zoom.
Panasonic Lumix TS7 – Best Depth Without Housing Case
Rain or shine, underwater or on land, you can count on the Panasonic Lumix TS7 to provide photos and footage with exceptional image quality.
Durability
In terms of durability, how does this camera hold up to the market leaders? Right out of the box the Lumix has the best waterproofness at depth, as it is capable of operating at a depth of 31 metres or 102 feet without a housing case.
Second, like the other compact cameras in this review, it can withstand drops from a height of 2 metres and function even in -10 degree Celsius conditions.
Like the Olympus Tough camera, the TS7 is crushproof up to 100kg, which means a very large male would have to place the full force of their body weight on the camera to crush it. Lastly, the camera body is dustproof and will keep out all particles from entering into its delicate insides.
Features
The Panasonic Lumix has a 20.4 megapixel sensor paired with a stabilized zoom lens to assist you in taking exceptionally clear and high quality photos even in dim light conditions. Next, the 28mm wide-angle lens can zoom up to 4.6x magnification for when you want to take a closer look from a distance.
To better see what you're doing, the 3-inch LCD screen has a high resolution display and the live viewfinder simplifies the task of capturing subjects underwater or in bright light. The Lumix TS 7 comes with an optical image stabilizer that can reduce the shaking when filming underwater or during outdoor activities while holding the camera with one hand.
4K Ultra HD Video
The Lumix records videos at 4K resolution at 30 FPS, not the greatest in terms of frames per second but at least it can record in ultra HD. Outdoor photographers will love how the 4K technology lets them capture 4K still images from the footage. When you select a frame from a video sequence, it will save a copy of that frame as an eight 8 megapixel high-quality still.
Never forget where you took your photos by letting the Lumix embed the GPS location to the metadata. You can upload the pictures you took using Wifi and the free Panasonic Image app. Lastly, monitor the depth and the direction you're facing with its built-in altimeter and compass.
GoPro Hero 7 – Best Hands Free Camera
When people think of an action camera, they think of a GoPro. Whether you're doing extreme mountain biking, jumping out of a plane, or diving underwater up to 33ft deep, the GoPro can withstand all of this punishment while recording footage at 4k60FPS. It would actually be considered quite tame for this camera to only be used for snorkeling, and it can perform well both above and below the water as well.
The GoPro Hero 7 comes with plenty of new features, including 720p live streaming directly to Facebook Live using the app on your smart device. However, this feature does not work when you're underwater.
Video Quality
The Hero 7 records at a respectable 4k resolution at 60 FPS that will leave your family and friends in awe of not only the action being shown, but also the quality of the footage. The high frame rate gives you options, for instance you could slow down sections of the footage for dramatic effect, and the extra frames means it will look buttery smooth.
Designed with usability in mind, the simple touch screen is easy to operate, and navigating to the three main capture modes can be done in a jiffy. Like smartphones, the Hero 8 can be operated with voice controls for hands-free operation. Unfortunately this can't be done underwater, however the option is there any other outdoor activities you might want to record.
Keep video shake to a minimum with GoPro's hyper smooth video stabilization functionality that will try to predict your movements and auto-adjust the footage to hide and camera shake for a surprisingly stable end result.
While moving around a scene, this camera can help you capture a stabilized time-lapse video with its TimeWarp feature, and then increases the speed by 30x to turn them into one of those cool time-lapse videos to show the passage of time.
Image Quality
While the GoPro cameras are primarily intended for video footage, the Hero 8 can take great photos as well. You can take a picture in RAW format, and automatically the camera optimizes your photos by adding HDR and reducing noise.
Next, the photo time mode makes taking selfies a snap. Thanks to its 12 megapixel sensor, even photos taken in unfavorable conditions while no doubt turn out good.
Panasonic Lumix TS30A – Budget Camera Alternative
Though this camera does not have as many features as the others mentioned in this article, we feel it is worth mentioning another budget option for casual snorkeling photographers who want to try out this hobby without spending a fortune. It can record footage and take pictures just fine, though the quality will not be top of the line.
Image and Video Quality
Let's go over some of this camera's photo features. It has an underwater mode that compensates for the lack of red tones in underwater pictures. This helps to make the images look "as it should" by digitally adding the red back into the photos.
Next, the Lumix TS30A takes some of the pressure off of stabilizing the camera by auto-correcting for small movements to keep your images clear and sharp.
Using the creative panorama feature, you can overlay consecutive images for an ultra wide shot. The Lumix lets you apply special filters such as sepia or retro using its creative controls so that you can retouch or transform the images to your liking.
Switching between taking pictures or filming video can easily be done with the press of a button. One nice feature of this camera is its 220mb of built-in storage. When you're busy snorkeling and find that the SD card is full, that extra 220mb can come in handle to let you take an additional 34 pictures.
Additional Features
At even just a few feet underwater, the lighting conditions can worsen dramatically. But with Lumix's built-in torch, you can temporarily illuminate the area to add some extra clarity to your images and videos. Even when you're not filming, you can use the torch to help you see where you're going.
Time-lapse shooting is an option with the time-lapse video mode. Even though you probably won't use this mode underwater, it doesn't hurt to have extra features that you may use elsewhere.
The biggest downside to this camera is that it can only be used at a maximum depth of 26 ft (8 meters) and its battery life will only last for 60 minutes of continuous use.
However, we can't complain too much since it packs a decent amount of features into a budget camera. For snorkelers who want to take a few photos underwater but don't want to break the bank, the Panasonic TS30A is a great entry camera.
Best Underwater Camera for Snorkeling: Buying Guide
What makes one underwater camera "good" and another "bad"? If a camera can shoot footage underwater, what else is there to consider? If you want to capture those once-in-a-lifetime moments of you and your family forever in the highest quality possible, then before you purchase an underwater camera for snorkeling you need to consider the factors below.
Price
Cameras and camera equipment are big ticket items, and unfortunately price will always be a major concern. Even a "cheap" underwater camera with the barest of features costs over a hundred dollars. The higher end cameras are expensive and jam-packed with features, but the question is how useful are they for your purposes? Do the extra features justify the higher price tag?
First, let's use some real numbers as examples. The cheapest cameras are around $150 and possibly even less if you can get a good deal. Mid-range cameras are somewhere in the $150-$500 dollar range. The high-end cameras are going to cost you an arm and a leg; they can easily be in the $1000 range.
Those who are into photography should know that camera equipment is an endless money sink where there will always be more expensive gear for you to buy, whether it be new lenses, tripods, or tools to carry it. Beginner or even intermediate snorkelers just getting into snorkeling photography won't need to get the best camera.
If you just want a camera that is the best bang for your buck, we recommend a mid-range camera in the $150-$500 range. That is the sweet spot for a durable and reliable camera with sophisticated features at a price range that is still feasible for most people.
For those on a tight budget, then you have no choice but to go for the sub-$150 cameras. Don't worry, the standards for underwater cameras are very high, and even the budget cameras are still capable of getting the job done. They will just come with less features. Budget cameras are the ideal choice for people who don't snorkel often, but still want to have some pictures to look back on.
Remember how we mentioned that cameras and camera equipment are just an endless money sink a few paragraphs above? Despite many cameras costing less than $150, you should expect to spend additional money to purchase even more equipment down the road such as the camera housing, a camera pole, external lenses, and strobes.
These are costly, often as expensive or even more expensive than the camera itself. Think about this when you are planning which camera to purchase.
Another tip that may help you future-proof your investment is to buy a high end camera right off the bat so that you won't have to upgrade as quickly or need to buy extra gear to make up for lack of a feature in a cheaper camera.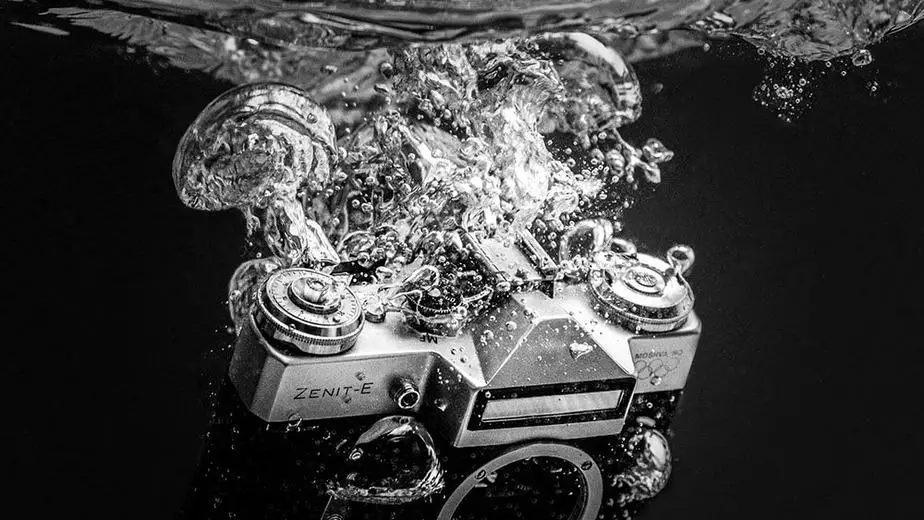 Waterproofness
Each waterproof camera has a limit in regards to their maximum depth they can be used. You don't want your underwater camera to be ruined by water because you didn't follow instructions. That would be a costly mistake.
Some people looking to save money recommend using a normal camera but putting it inside a waterproof pouch and using it at shallow depths. Yes, that works, however the quality of the pictures and footage you take will not be very good.
We recommend using a camera that is specifically designed to be used underwater, or investing in high quality equipment such as a housing case instead of a cheap pouch. Also, keep in mind the depths which they can be used at. Most waterproof compact cameras have a maximum depth of 10 to 15m. If you only intend on snorkeling, this is more than enough.
Scuba divers might want to invest in a watertight housing case for their DSLRs. These can be used much lower at depths of 40m. Lastly, you can use action cameras or GoPros at depths of 60m. Before purchasing a camera, think about how deep you plan on diving and make sure you get a camera that is waterproof at those depths.
Megapixels
One of the things you'll notice every camera advertises is how many megapixels it has. For those who aren't aware, one megapixel is equivalent to one million pixels. When you zoom in close on a picture using image editing software, you can eventually see tiny square blocks of color, and those are the pixels.
In other words, the higher the megapixels, the larger the image will be which gives you more options in terms of image quality and cropping. The downside is that more pixels it occupies more memory, meaning you will run out of storage space faster and it takes longer to transfer and download any footage.
If you plan on printing the photos or editing footage further, then you want a camera with the highest megapixel count. For the most part, a 10 megapixel camera is enough for printing high quality A3 photos.
Sensors
How big the camera's sensor is correlates to how much light it can capture. Cameras need light to take photos and film. The more light the better your footage will turn out, ergo the bigger the sensor the better the camera.
For underwater compact cameras, you will usually see one of three sensor ratings which are typically advertised in inches. All of the compact cameras we recommend in this article have a  1 /2.3" sensor which is the best you can find for a compact camera.
Optical Zoom
If you will be using the camera exclusively underwater then the optical zoom is not as important of a feature since you should be taking the pictures as close as possible to the subject to minimize the amount of particles in the frame.
A camera's focal length is measured in millimetres, and the larger the number the more it can zoom in. However, a lower number is better at taking wide-angle shots. When looking for a camera, keep in mind the minimum and maximum points that the camera can zoom to. The higher number is the maximum zoom, and the lower number is the widest angle available.
Macro
The best underwater cameras for snorkeling will have macro lenses that let you focus on a subject for an extremely detailed close-up shot. The cameras will usually have different macro modes to let you adjust the shot as you want.
Video Recording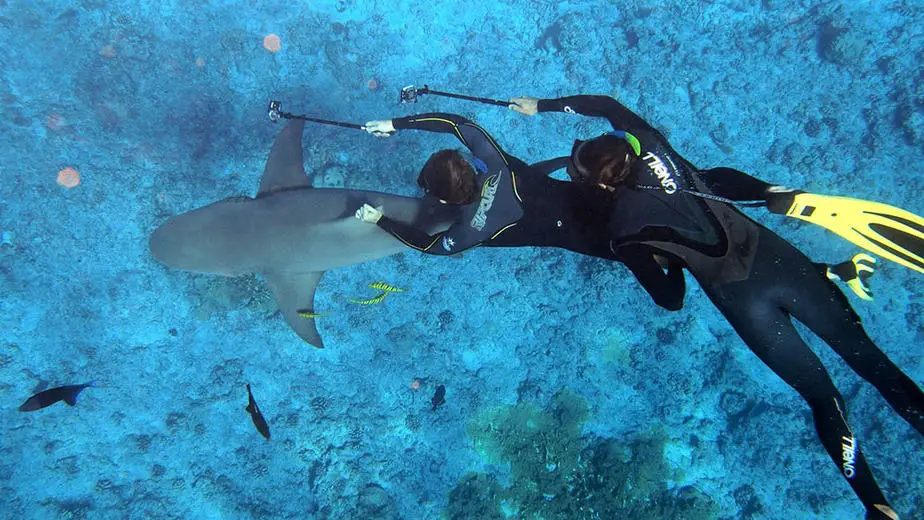 Warning: more nerdy pixel talk coming up. Many cameras nowadays can record footage at 4k resolution, which means the footage captured is 3840 x 2160 pixels in size per frame. They can capture silky smooth videos at 60 frames per second or even 120 FPS, but most cameras only record at 30 FPS. The higher the FPS, the smoother the footage since more frames are captured per second to display to the viewer.
As you can imagine, the file size of the raw footage is absolutely ridiculous, and you would need a powerful PC to edit and render the footage as well as several hundred gigabytes of drive space.
If 4K footage seems too daunting to handle, the next best thing is high definition (HD). The most common HD resolutions are 1080p or 720p. This refers to the vertical lines of resolution, which is why 4K is sometimes referred to as 2160p. In this case, the larger the number, the better image quality you will get.
How Important is Filming Video vs. Taking Pictures for You?
This is an important consideration because colors are absorbed at varying depths. For instance, at only a short depth of 5ft., there will be a substantial loss of the color red in your footage. Furthermore, factoring in the horizontal distance from your camera lens to the subject, there is a possibility that all traces of the color red will be absent from your footage.
In order to limit the water's color absorbing effects, you need to have a dive light that can evenly illuminate the subject with no hard edges. You'll also need to edit the raw footage that your camera produces in order to enhance the depth of color and contrast to your footage and pictures.
If you prefer to shoot film while snorkeling, then a camera with higher FPS should be prioritized. Also, try to get a camera that can record in 4K resolution. Remember, the more pixels and frames that you have to work with, the more you can do in post-processing.
WiFi
If you simply cannot wait to share your spectacular underwater images with family and friends then a camera with Wifi capabilities may be something you should consider. Built-in Wifi is not a feature you should expect most cameras to have, however it is starting to gain traction.
Of course, with each new feature comes a higher price tag. Furthermore, you need access to the internet for Wifi to work. You could set up your phone to provide a hotspot, but this drains your phone's data and battery and is not useful if the area has bad reception.
In many cases, you will find yourself relying on free public Wifi, which is usually very slow and unreliable. However, if you all need to do is upload a photo or two as a teaser for your family and friends on your preferred social network, then perhaps public Wifi will suffice.
Camera Type
Another thing to consider is the type of camera you want to use, since this affects how you will be carrying it underwater. Compact cameras are small and can easily be carried by hand. Larger DSLR cameras in a housing case should be used with a stabilizer for better grip and camera footage.
GoPros can also be used with a stabilizer, or you can attach them to your snorkel mask. Attaching a GoPro to your mask is not ideal for taking photos, since you can't really see what you're aiming at nor can you easily access the camera's features. It's better if you just want to film a POV (point of view) video of your snorkeling and diving adventure and take pictures of still frames from the footage.
There are pros and cons to each camera type, however how you intend to use the camera is often the deciding factor (price is an issue as well to a lesser extent).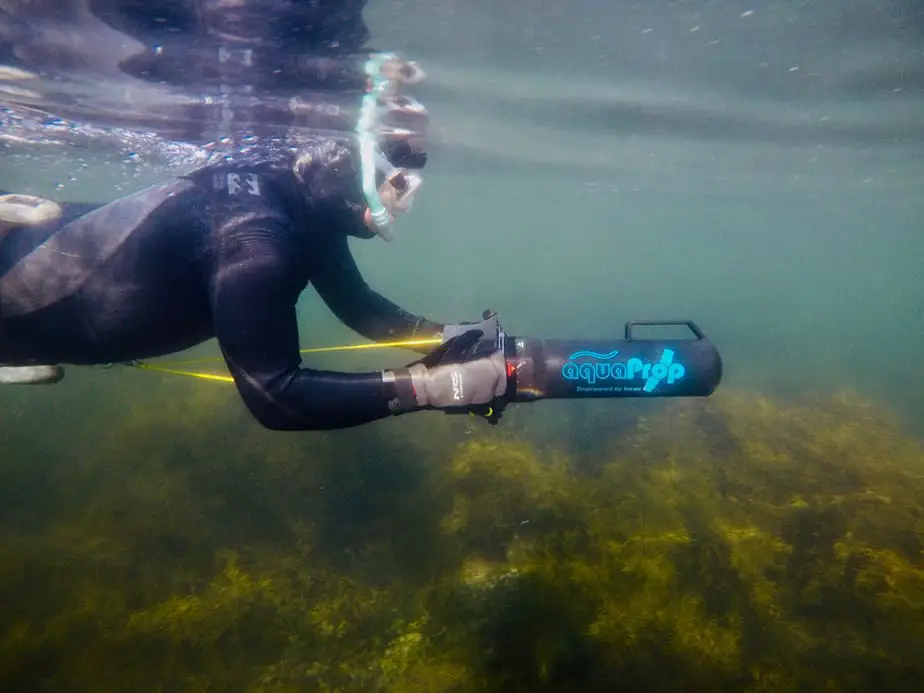 Disposable vs. Non-disposable Cameras
There is actually an option that is even cheaper than what we mentioned above. If you're truly strapped for cash, you can consider using a disposable camera to take pictures of your snorkeling trip. That's right, there are no strings attached. Just point and shoot, get your photos, and toss the camera in the trash.
Since you can only use the camera one time, they are not very expensive. They won't give you the greatest quality photos, but depending on who you ask they may or may not be able to get the job done at a satisfactory level.
Reviews on disposable cameras are mixed. Some people are happy that they were able to get a few good photos before tossing the camera away. Others claimed that every single photo was terrible and that it was a complete waste of money.
We don't recommend them personally, but felt we should bring it up as an option in case it strikes your fancy. We think even buying a budget compact underwater camera would be a better use of your hard-earned cash.
Skill Level
Are you a professional or an amateur photographer? You may want to purchase a higher end model that provides more features, or if you know exactly what you want, then you can try to find a camera with the exact features you want and no more.
If you get a cheaper model underwater camera, you can then use the money that you "saved" to purchase additional accessories or upgrade equipment. With that said, beginners who have never snorkeled with a camera before should consider budget options.
Housing Case
If you are not satisfied with the underwater cameras on the market, you can look instead for a durable housing case for a regular camera instead. We mentioned this briefly in the Price section above, but a housing case is a popular choice for compact cameras as well as SLRs.
The issue with this is that housing cases are not only expensive, but finding a case that matches your camera can be difficult. Not only will you have to find one with the right ports for your lenses, but each dive can be nerve-wracking because you have to meticulously check if each seal is still holding strong.
A casing or housing case can be a headache for hobbyists compared to purchasing a waterproof camera. It is not recommended for the hobbyist snorkeler and photographer, but for professionals or enthusiasts who have the money to spare.
Size
Smaller, more compact underwater snorkeling cameras are becoming the go to option over DSLR cameras. The reason for this is because of how convenient and affordable they are. DSLRs with a housing case and underwater handles are bulky and prohibitively expensive for the average person.
The bigger the camera, the harder it is to carry it underwater which can dissuade people from buying that specific model or camera type. This depends largely on personal preference, but most people are willing to sacrifice features just to get a more compact camera that they can easily bring with them while traveling and snorkeling.
For some, they are willing to deal with lugging around very heavy and expensive pieces of camera equipment as long as the photos and footage they take are award winning.
The Bottom Line
A lot of people will balk when they find out how much money you invested on underwater camera equipment. They will tell you to put the camera down and just enjoy the moment. While there is truth to this sentiment, one may wish to take themselves out of the moment to preserve it for their family's enjoyment forever. Some moments are worthy of being captured and experienced over and over again.
Human memories are fickle, and even "unforgettable" moments will alter over time. Thankfully, camera technology has advanced to the point that even a layperson can buy a waterproof camera and take some decent footage. In the future when you look through your vacation album you won't have to wonder why there aren't any photos or footage of the family snorkeling in the water with the help of an underwater camera.
By taking into consideration the camera buying guide and the recommended cameras in this review, you can find a camera that is in the ideal price range with the exact features you want to take great photos and video footage of you and your family's underwater escapades.
Last update on 2023-08-22 / Affiliate links / Images from Amazon Product Advertising API