Dry bags do exactly what you think they do – keep your belongings dry. But let's dive down into what makes this product such a useful tool for adventurers who spend most of their time near water. Dry bags differ in various ways, from size to materials, as well as level of waterproofness and intended use. When selecting a dry bag for snorkeling, it's important to consider how you plan on using it and what you'll put in it. The following should help you determine what the best waterproof dry bags for snorkeling are.
Our Top Picks:
Best Waterproof Snorkeling Bag Recommendations
Earth Pak Waterproof Roll Top Dry Bag
Let's start with the Earth Pak Roll Top Dry Bag, which is constructed using 500D PVC materials that will ensure long-lasting durability. The Earth Pak dry bag has reinforced and waterproof welded seams that will keep all of the bag's contents dry. Both the 10 and 20-liter versions of this bag have a single strap design that can be worn over the shoulder or across the chest for convenient carrying. The larger 30-liter to 55-liter versions have two straps with thick padding that provide additional comfortability.
In addition, the larger sizes also include a chest strap for distributing the weight across the torso more evenly. Furthermore, the 55-liter version of the Earth Pak dry bag has an additional robust waist belt that will further distribute the weight and keep it secured to your waist. These numerous sizes provide great versatility in how you can use it, whether for carrying your snorkel or scuba gear, or for hiking, traveling, camping trips, or other water sports. The roll-top closure ensures water stays out and keeps the bag airtight.
Overall, there is a reason why the Earth Pak is one of the best selling dry bags on the market right now. With its many sizes to choose from, durable construction, and extra straps to make carrying easier, it's hard to beat the function and versatility of this bag. It's also sold at a great price and will keep all of your belongings dry. Furthermore, it is great for travel as all five sizes do not exceed the maximum limits of carry-on luggage for most airlines.
Highlights:
Constructed from durable 500D PVC material.
24-42 Inch shoulder strap on smaller sizes (10 to 20-liter).
Largest sizes (30 to 50-liter) have backpack straps with thick padding as well as a chest strap to distribute weight evenly across the torso.
55-liter comes with a robust waist belt.
Choose between 5 sizes: 10L, 20L, 30L, 40L, and 55L.
Includes an IPX8 certified 6.5 inch waterproof case for smartphones.
Eight colors to select from.
MARCHWAY Floating Dry Bag
The MARCHWAY dry bag is made using 500D ripstop PVC tarpaulin fabric, is highly durable, and capable of resisting tears, punctures, and abrasions. It's seams are sewn together using high-frequency welding which ensures that water stays out and that the seams are just as resilient as the surrounding fabric. The roll-top sealing system is a standard and effective way of keeping water out with an airtight seal.
Once you have adequately sealed the MARCHWAY floating dry bag to ensure no air escapes or water can enter, it can finally live up to its name by floating on water while keeping your belongings dry. It can do this because of its lightweight design and natural buoyancy from the air that is trapped inside. Furthermore, the removable and adjustable single strap of the MARCHWAY dry bag can be worn across your chest or over your shoulder for comfort. There are five sizes to choose from, from 5L all the way to 40L, a wide range of colors if you like to match your gear.
Overall, we feel this is yet another solid dry bag at a very affordable price. It will keep your contents dry and protected from the elements. Furthermore, should you ever lose it out on the waters, it will float and allow you to retrieve it easily.
Highlights:
Adjustable and removable shoulder strap to carry over the shoulder or across the chest.
Lightweight, yet tear and abrasion resistant design.
Constructed with 500D ripstop PVC tarpaulin.
Strong Thermo welded seams stay strong like its surrounding material and keep water out.
Once properly sealed, this bag will float on water.
Roll-top closure system provides strong seal.
KastKing Floating Waterproof Dry Bag
Aside from the usual things you'd expect from a high-quality dry bag, like how it's made from 500D PVC materials, has fusion welded seams with a double overlap roll-top seal design, in addition the KastKing dry bag has an innovative transparent window design that lets you see what's going on with your gear inside. As simple as this feature is, it provides numerous benefits, namely peace of mind and also it also helps you keep track of extremely valuable belongings to make sure they aren't being damaged.
Furthermore, in a pinch this bag is designed to float as well and could even be used as an emergency flotation device, though you should not treat this like a PFD. Next, the adjustable and removable shoulder strap and handle provides multiple ways in which you can carry this bag. Additionally, the non-rip heavy-gauge fabric is extremely resistant to tears and abrasions.
Lastly, the KastKing dry bags come in three sizes, 10L, 20L, and 30L. If you have lots of equipment, the sizing options are somewhat limited. However, its performance is hard to beat since it is not only waterproof, but also sandproof, dustproof, and snowproof. Overall, this bag is an ideal choice for people who participate in a lot of water activities.
Highlights:
Innovative transparent window design that lets you check on your belongings.
Floats on water, easy to retrieve if it slips off the D-ring.
Not only waterproof, but also sandproof, snowproof, and dustproof.
Fusion-welded seams, as you'd expect from a quality dry bag.
Unique double overlap roll top that will keep water from entering.
Boncas Waterproof Pouch with Phone Case
The Boncas Waterproof Pouch is made with, you guessed it, ripstop PVC tarpaulin! It's also got welded seams, adjustable and removable straps that you can wear as a backpack, across the chest or over the shoulder. You know, pretty standard stuff that you'd expect a high-quality dry bag to have. But what makes the Boncas Waterproof pouch stand out is its easily accessible mesh pocket that you can use to hold a water bottle or other items you want quick access to. You can also put wet clothes there since they're already wet, why keep them inside?
Furthermore, the Boncas dry bag comes with a waterproof phone case that lets you take pictures underwater while keeping your phone nice and dry. In addition, the Boncas dry bag can float as long as it's tightly sealed with some air in it. You'll notice that there is a reflective strip at the top of the mesh pocket which helps with keeping an eye on it in the dark in case it gets lost in the water, or you're out with a group at night and want to be visible.
Lastly, the Boncas Waterproof Bag comes in three sizes, 10L, 20L, and 30L, and has many plastic buckles and D-rings to keep it secure. We really like the small, extra features it adds that make it stand out from most other dry bags. Just by adding a mesh pocket and reflective strip, and even including a phone case, we feel that alone is worth buying this bag for. But on top of that, it is a well constructed, durable bag that easily does the job of keeping your belongings dry, then you'd feel silly not to at least consider the Boncas Waterproof Pouch.
Highlights:
Comes with a waterproof phone case.
Mesh pocket allows for easy access to commonly used items, such as water bottles, and can be used for additional storage space for damp items you don't want to keep inside.
Reflective strip increases its visibility, making it easy to see at night.
Resilient D-rings and plastic buckles to keep it secured.
Large circular base helps give it some structure so that it's easy to put items in when empty.
Two removable and adjustable straps; can be worn as a backpack, across the chest, or over the shoulder.
Waterproof Snorkeling Bag Buying Guide
Waterproofness
Even though some bags are marketed as being completely waterproof, dry bags are not intended to be submerged underwater for very long. The main purpose of a dry bag is to protect its contents from the occasional splash, rain, snow, or even a brief dip underwater and back out. Under normal use you can expect the waterproofing to keep your belongings dry, however if you submerge it under water for more than a few seconds you should expect some leakage. Check the included instruction manual or read the product description to know how much it is rated to handle.
Material
Generally, dry bags are constructed from Ripstop PVC tarpaulin or heavy-duty vinyl. Vinyl excels at carrying heavy gear as well as keeping water out. In addition, you can also use it for carrying smaller, more personal items. Next, Ripstop PVC tarpaulin is another great alternative for protecting your belongings from water, as well as rain, snow, sand, and the elements.
Closure
The most common way to seal a dry bag is with a roll-top closure system and it is very effective at preventing water from entering. This system works by rolling the top down and then securing it with a quick-click buckle. There are other ways dry bags can be closed, such as with a press and seal mechanism or a zipper. However, the roll-top closure is the most popular because of how effective it is.
D-Ring and Straps
Dry bags usually include adjustable or removable straps to give you the option of how you want to carry it. Many dry bags are designed with either one or two straps to allow for more carrying styles. For instance, having only one strap allows for over the shoulder or chest carry. The two-strap designs can be carried like a traditional backpack. Both styles are viable and can be used to carry a lot of weight.
Furthermore, the D-rings can be used for clipping on or off the straps. You can also use them to secure your dry bag on a boat, kayak, or canoe. With the help of D-rings and straps, you have many ways to carry your dry bag when travelling.
Size
If you're not aware, it is recommended that your dry bag is big enough so that when you put all of your gear inside, it is only ¾ full. Leaving some space available is preferred as a precaution just in case you need to carry more items, otherwise the extra space can be filled with air and make the bag buoyant.
Dry bags range in size, capable of carrying from 5L to 55L in volume. The 5-liter bag is ideal for protecting your small personal items such as cell phone, keys, jewelry, or snacks. You'll want a significantly bigger bag to carry your gear, clothing, and other snorkeling or scuba gear. Following the ¾ rule above, if you simply have too much gear for one bag then you may need multiple dry bags to protect your belongings.
Bag Construction
How the bag is made will determine its intended use. For instance, many dry bags are constructed using stout seams or fusion-welded seams for more waterproofness. If you intend on bringing a dry bag with you into open water, you need one that has a strong, durable construction. For those looking for a camping bag, it is important to look for a bag that is water and mold-resistant. Check the product description to see how much it can handle.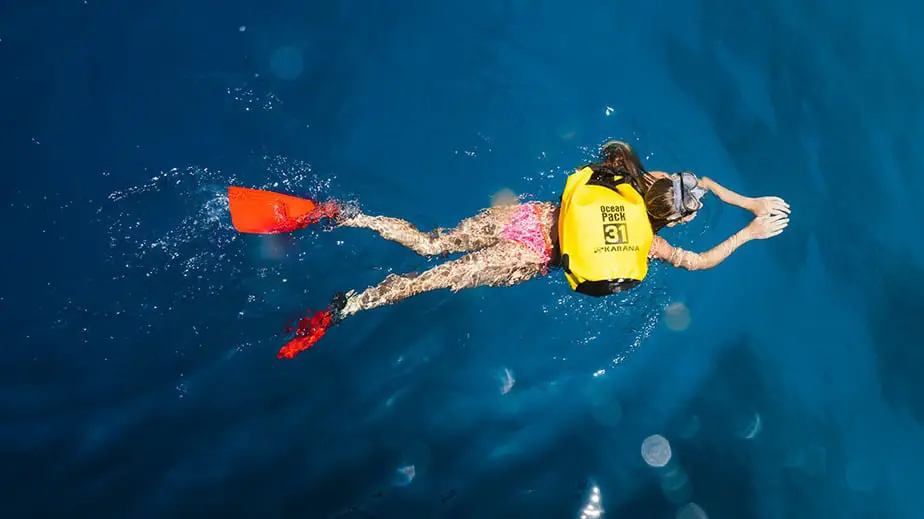 Types of Dry Bags
There are many dry bag designs on the market. Below, we provide a brief overview of the kinds that are available and what they are intended for. Carefully examine each one to decide which style is the right one for you.
Kayak Dry Bags
If you often make trips out to the water, you need to get yourself a dry bag. Most 5L dry bags can fit in the compartment of a kayak for convenient storage. Whenever a kayak tips, then naturally everything inside will get submerged. If you don't have a dry bag to protect your valuables, then that will be one of the most expensive dips you'll take. In rough water, it is recommended to secure the dry bag using D-rings so that you won't lose them.
PVC Dry Bags
Dry bags made with PVC are extremely durable and long-lasting, capable of enduring the most rough conditions. Thanks to PVC's natural waterproofing, it is not only the optimal material to construct a dry bag from, but the strength and robustness adds a layer of protection to your belongings. Unfortunately, its toughness is also its downside, as it is much heavier than other dry bags, but that's the price of protection for you.
Barrel Roll-Top Dry Bags
Yet another popular type of dry bag is the barrel roll-top style which are capable of withstanding any intense water sport activities. Thanks to its cylindrical shape, it is very versatile in where it can fit. Sealing this type of bag is simple; just hold the open ends together, roll it down, and then lock it using the quick-click buckle. This method of closure will ensure water stays out and the contents stay dry.
Lightweight Dry Bags
As with any backpack or carrying case, dry bags also come in various weights. For activities that require you to carry a bag for long periods of time, such as hiking, traveling, or going out into the water, you want a light bag to preserve your stamina. Lighter bags may provide less protection than heavier bags due to the material they are constructed from, however a heavy bag can cut a trip short due to exhaustion.
Backpack Dry Bags
For those looking for a hands-free bag, the backpack style dry bags are what you want. Since backpack dry bags also have the same closure design as barrel roll tops, they are highly similar and the only difference is two straps vs. one.
Electronics Dry Bags and Cases
If you're prone to dropping or losing things, then you'll want a specific bag to carry your phone, camera equipment, or other electronics. Since water can ruin your electronic devices, dry bags for electronics must be as waterproof as possible. For example, waterproof cases for phones will not only keep water out but can let you take pictures underwater.
Camera dry bags are also crucial for taking expensive equipment around when it's raining or there's water nearby. There are two main styles for electronics dry bags – the roll top dry bag which we've already discussed earlier, and a waterproof case. With the waterproof housing, you can take pictures with your camera underwater. Expect to pay a premium for a high-quality dry bag or case for your electronic equipment to ensure you're buying a quality product that won't leak.
Frequently Asked Questions
How Do You Clean A Dry Bag?
Any piece of equipment that gets exposed to moisture can lead to mildew growth. Mildew is a fungus that can harm your lungs and must be cleaned immediately. Furthermore, studies have found that prolonged exposure to mildew may lead to allergies, nervous system disorders, or even depression. Thus, you should let your dry bag completely air dry after it is exposed to water to prevent mildew from forming in the first place.
To clean a dry bag, use warm or cold water. Do not use hot water, as it could damage the seams or shrink the material. Scrub with mild, non-detergent soap gently; don't put it in the washer. For a natural antibacterial soap, mix lemon and salt together and use it on any mildew to get rid of it. Lastly, always air dry your dry bags; putting it in a dryer or washer can damage the waterproofness.
How Do You Seal A Dry Bag?
Your bag won't be very waterproof if you don't know how to seal it. Most dry bags have a roll-top design. To seal, first press the lips of the opening together, then roll it down at least three times. The more rolls the tighter the seal, but three should suffice. Then connect the buckle and your dry bag is officially sealed.
This process is not difficult, but you'll want to practice it a few times on your own. Also, before putting expensive equipment in and taking it with you on a trip, test the limits of your bag at home by splashing water on it and submerging it for a few seconds. Then you'll have a good idea of how much your dry bag can handle should you decide to take it out.
How Do You Repair a Dry Bag?
No matter how durable a product is, all materials will suffer wear and tear, and even dry bags constructed from vinyl or PVC tarpaulin may eventually tear. If and when this occurs, you may be able to fix it with some DIY repairs. You'll need to be cautious, since an improper repair will damage the waterproofness of the bag. You can use either adhesive repair patches (B07HSKRYQW) or repair adhesives (B01BNLAZ2W) to help seal any holes. Repair tapes are recommended for large tears, and adhesives for smaller ones.
What are the Benefits of Welded Seams for Dry Bags?
First, welded fabric seams refers to when two pieces of waterproof material are bonded together to form a larger piece of waterproof fabric. Do this enough times and you have yourself a dry bag (we're simplifying things a bit here). Using an advanced process known as high-frequency welding (HFW), manufacturers are able to make bags with tremendous waterproofing capabilities. It makes the seam as durable as the surrounding material, so you can get an even level of waterproofness and durability across all surface areas of the bag.
What Happens if My Dry Bag Falls Into the Water?
Especially if your bag is full of equipment, will it sink to the bottom of the sea? Thankfully, most dry bags will float. Furthermore, it is recommended that you only pack your dry bags ¾ full and let the remaining ¼ fill with air. This will provide additional buoyancy so that the bag can float.
Can Dry Bags Be Submerged?
Despite the name "dry bags", they will not keep your belongings dry for very long. Depending on the brand, bags from cheaper brands will have less water resistant material and water may enter immediately. More expensive and reputable brands will have better seam construction and durable materials which can keep water out for a short period of time. However, you should try not to submerge your bag underwater, and if unavoidable, try to bring it to the surface immediately.
How Are Dry Bags Made?
Most dry bags are constructed using PVC ripstop tarpaulin and durable vinyl, both of which are rugged, strong, and waterproof. Pieces of these materials are bonded together using high-frequency welding to create a tough seam that keeps water out. In addition, you may find some dry bags made from nylon which is not as water-resistant. However, they are effective at keeping out dirt, sand, and splashes of water from ruining the contents of the bag.
Can You Swim with A Dry Bag?
It is possible to swim with a dry bag, however you should try to keep it out of the water as best you can. Also, make sure that the seal is tightly closed as this is where water will most likely enter. Furthermore, remember to leave some empty space in the bag for air to fill up to add more buoyancy to the bag, helping it to stay partially out of the water to not weigh you down as much.
Last update on 2023-09-13 / Affiliate links / Images from Amazon Product Advertising API