Scrolling through your camera roll, eyeing that epic surfing snap and thinking of a caption that does it justice can be a real wipeout! Your surfing photos deserve the proper captions to do them justice.
This post is your treasure trove of handpicked surfing captions, each one crafted to resonate with every wave lover out there. Dive in to find that perfect line that'll make your Instagram surfing shots stand out.
Surfing Captions for Instagram
Riding waves and making memories.
Salt in the air, sand in my hair.
Finding peace between the tides.
If the ocean can calm itself, so can I.
Every wave is a new adventure.
Sun, sea, and surf – the perfect trio.
The ocean is calling, and I must go.
Life is better when you're surfing.
Taming the sea one wave at a time.
To surf is to embrace the wild within.
Mermaid off-duty.
The sea sets me free.
Heart full of surf, soul full of sea.
Making waves and turning heads.
Surf's up, worries down.
Living in that golden surf hour.
Toes on the nose, head in the clouds.
Saltwater therapy sessions in progress.
Chasing horizons and catching waves.
Dive deep, surf hard, love big.
Let the currents guide your heart.
Ocean lover with a surfer's spirit.
Waves today, memories forever.
In the waves, I find my rhythm.
Surfboard: the best kind of magic carpet.
Dancing with the ocean, one wave at a time.
Breathe in the sea, breathe out the stress.
Seaside and good vibes.
Happiness comes in waves.
When in doubt, paddle out.
Here's to every sunset and surf session.
The waves whispered secrets only we understood.
The tans will fade, but the memories stay.
Seas the day.
Summer forever, please.
Trust the journey, especially when it's on a surfboard.
Surfing: my kind of meditation.
Waving goodbye to all my worries.
Some people go to therapy, I just grab my board.
There's no place like foam.
Find me where the waves are.
Ocean kissed and sun-blessed.
Keep calm and surf on.
The best stories begin with a surfboard.
Nothing soothes the soul like a surf session.
Today's agenda: sun, surf, sleep, repeat.
Sunkissed and sea-touched.
Life's a wave, catch it.
The best kind of blues? Ocean hues.
Just a girl and her board against the world.
Witty Surfing Captions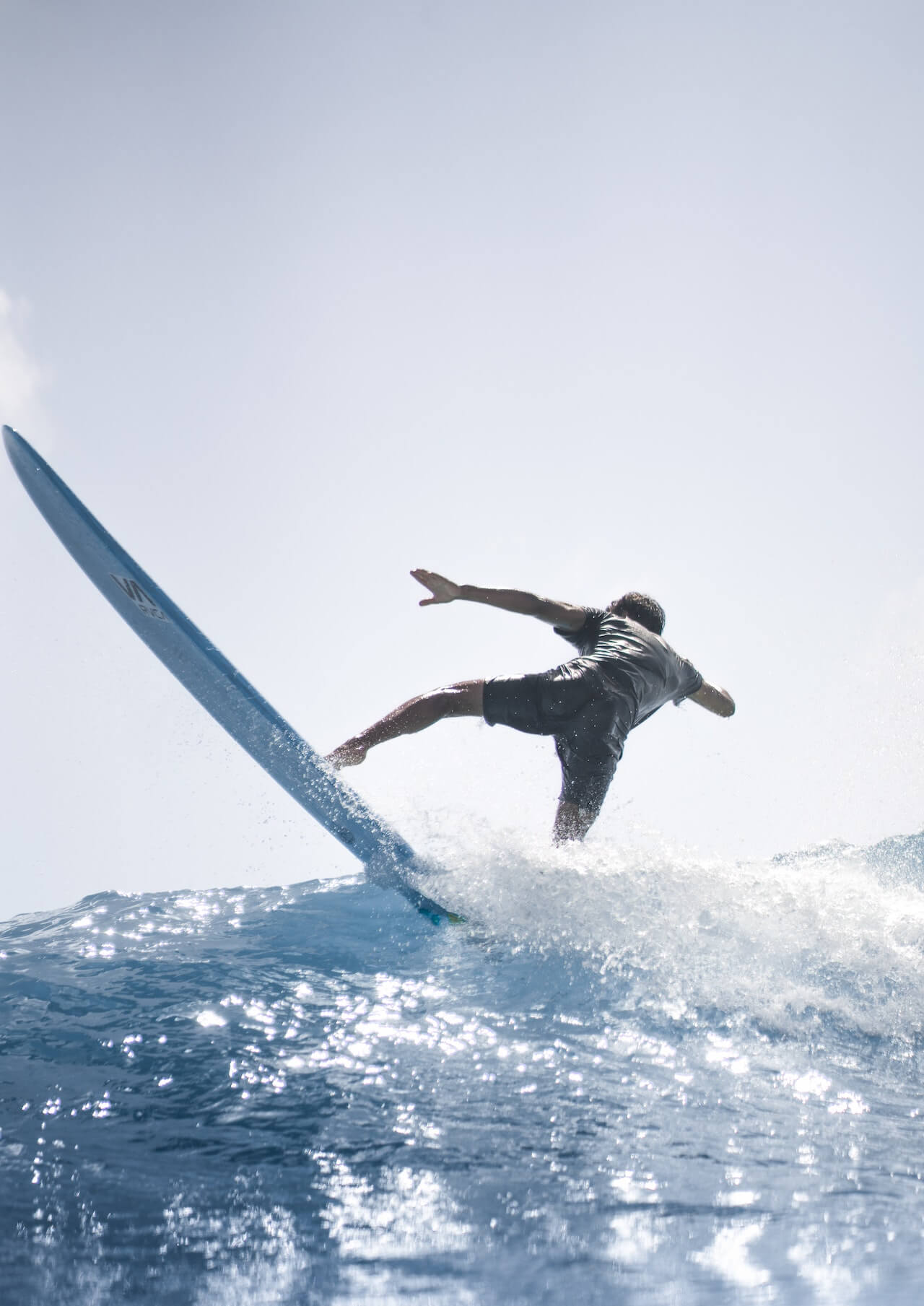 Surfboards: the original water bed.
Why do surfers always look so board?
Surfing: it's all about the ride, not the wipeout.
Making waves, not just riding them.
I wonder if the ocean ever gets tired of me dropping in.
Surfers only ride waves and good vibes.
I came. I saw. I surfed.
In search of salt water, not salty people.
Surfing: where wet dreams come true.
The bigger the hair, the closer to the waves.
Rolling with the waves because standing is overrated.
SPF: Surf, Play, Fun!
Tides change, but my love for surfing doesn't.
Dropping in on waves and crashing parties.
Surf's up, and I'm down for it.
Why be moody when you can ride the booty (of the wave)?
When life gives you waves, surf 'em.
Surf now, adult later.
I do believe it's time to seas the day.
Waves for breakfast, surf for lunch.
Surfers do it on the wave.
Warning: May spontaneously start talking about surfing.
I can't stop the waves, but I can learn to surf.
Making my mermaid dreams reality, one wave at a time.
A day without surfing? That's just swell.
Don't be salty; just surf.
I've got 99 problems but a beach ain't one.
Work hard, surf harder.
If I'm not surfing, tide waiting.
My other car is a surfboard.
Just wave and smile.
Surf hair, truly don't care.
If surfing is wrong, I don't wanna be right.
They say home is where the waves crash.
Surf more, worry less… it's a shore thing.
Always down to paddle out.
Board meetings, beach style.
Salty hair, don't care.
Every day is a good day when you ride.
Surfing: because the best ride is my surfboard.
Surfing – it's soup-er fun!
Off-duty from reality, on-duty with the waves.
Waves are free therapy; let's ride.
I might fall, but at least it's into the ocean.
Surfing: It's the soup of the day, every day.
Wax on, wipeout off.
Trading in heels for booties.
You can't stop the waves, but you can learn to look good riding them.
Going where the tide takes me, as long as it's to the waves.
If you need me, I'll be on a wave.
Short Surfing Captions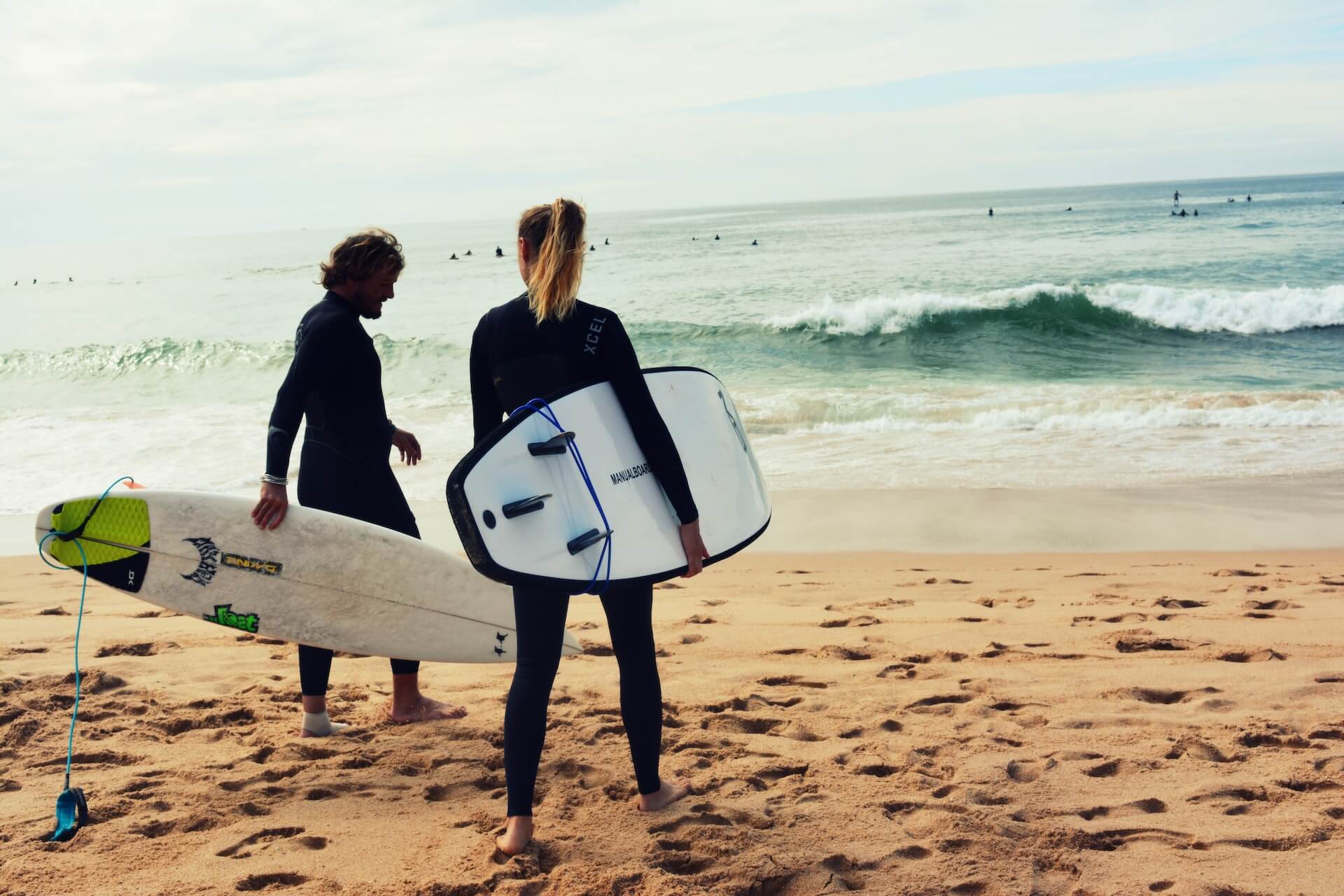 Surf's up!
Wave rider.
Ocean addict.
Salty vibes.
Sea you out there.
Just ride.
Surf therapy.
Wave chaser.
Go with the flow.
Tide's in.
Beachin' day.
Board life.
Stoked.
Surf daily.
Making ripples.
Sun and surf.
Wave hello.
Drop in.
Ocean bliss.
Ride the tide.
Sea seeker.
Wave tamer.
Surf mode on.
Paddle out.
Wave dancer.
Surf life.
Just surf.
Ocean bound.
Wave after wave.
Catching rays & waves.
Shore thing.
Salty and sun-kissed.
Wave lover.
Endless summer.
Surf soul.
Born to surf.
Sea rhythm.
Water warrior.
Wave rebel.
Surf's calling.
Sun, sea, repeat.
Ocean's pull.
Surf day.
Surf dreams.
Sea siren.
Find me in the foam.
On the crest.
Deep blue rush.
Wave whispers.
Surf escape.
Joyful Surfing Captions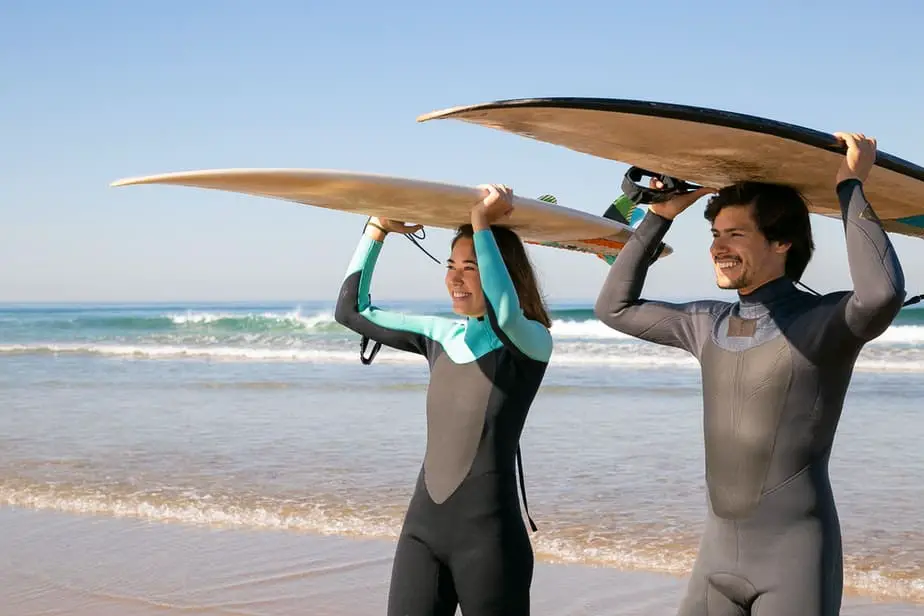 Celebrating life, one wave at a time.
Every wave, a new gratitude note.
Thankful for every splash and ride.
Surfing: my heart's endless joy.
Embracing the sea's gifts, wave by wave.
Every surf, a dance of thankfulness.
Grateful for the rhythm of the waves.
Riding with joy, appreciating the tide.
Surf's up, spirits high, forever thankful!
Every paddle, every wave, pure bliss.
Gratitude in every splash.
Thankful for the ocean's embrace.
The waves teach, I cherish.
To the sea, with all my joy and thanks.
Surfing: where my heart feels fullest.
The best of days begin and end with waves.
Celebrating the ocean's endless wonders.
Sun, sea, surf — life's joyful trifecta.
Cherishing every moment on the board.
Thankful for every tide that lifts my spirit.
Blessed by the sea's boundless beauty.
Every ride, a silent "thank you" to the ocean.
Celebrating the sport that brings endless happiness.
Grateful for every sunrise surf session.
Riding high on waves and gratitude.
The sea gives joy, and I receive with open arms.
Thank you, ocean, for every lesson and thrill.
Where there are waves, there's boundless joy.
Feeling blessed with every surf session.
Waves of joy, tides of gratitude.
Ocean's bounty, surfer's delight.
To surf is to treasure every moment.
Counting waves and blessings.
Joyful heart, thankful spirit, surf's up!
Ocean gratitude, in waves and rides.
Celebrating the thrill, cherishing the calm.
Waves remind me of life's precious joys.
Every drop of ocean water, a drop of joy.
Surfing – my joy, my gratitude in motion.
Appreciating every curl, crash, and calm of the sea.
Riding waves with a heart full of thanks.
Surfing: where my heart finds its joyous rhythm.
Bliss in the waves, thankfulness on the shore.
Every surf session, an ode to joy.
The ocean's gift, my thankful ride.
Waves of happiness, shores of appreciation.
Embracing the joy and gift of every wave.
Funny Surfing Captions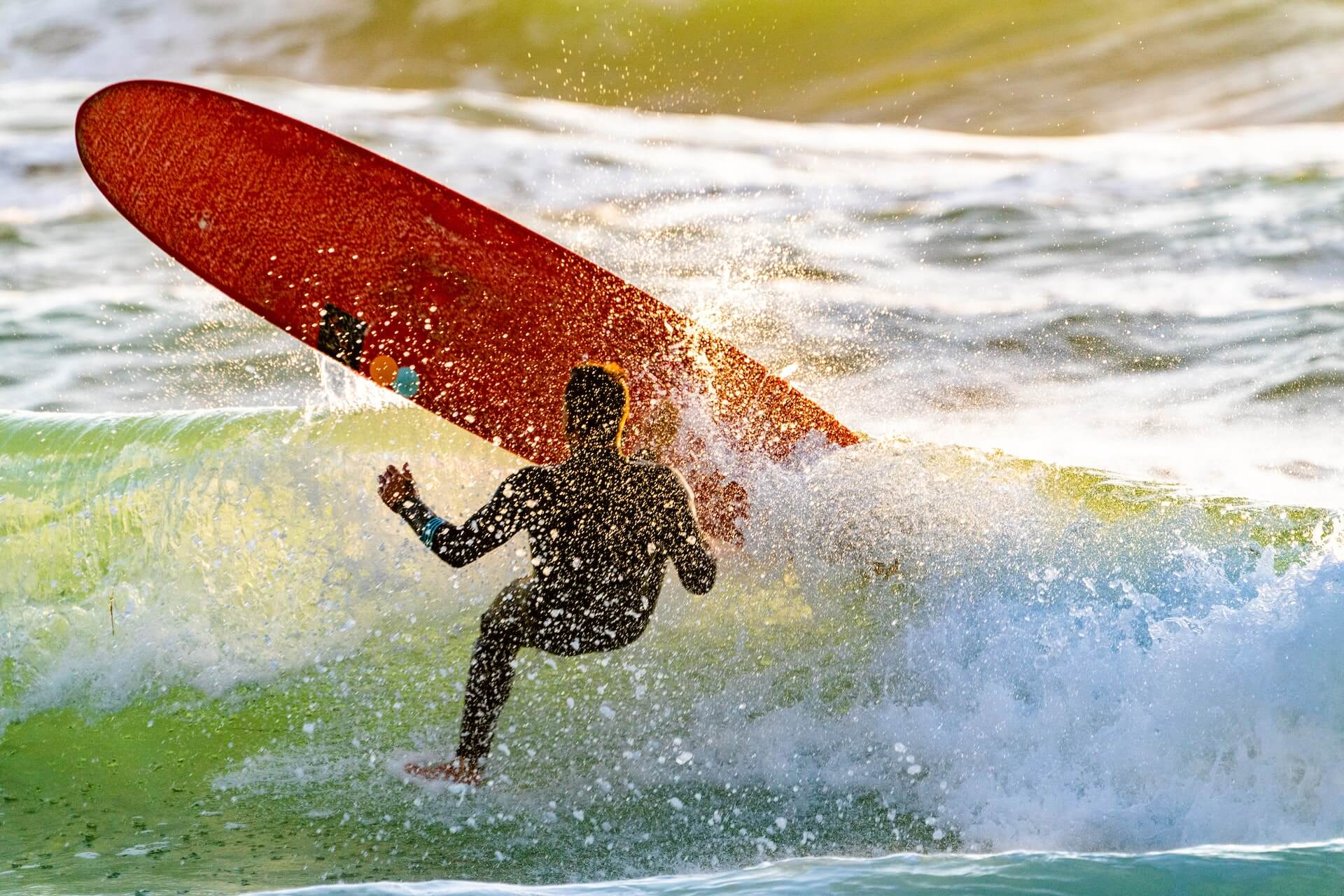 Surf's up! And so is my hair…
I told my board a joke, but it just waved.
I do all my own surf stunts… unfortunately.
When life gives you waves, at least it's not lemons.
Part-time surfer, full-time wiper-outer.
Tried to be a mermaid. Became a surfer instead.
It's a surfer thing; you probably wiped out.
Surfing: Sunburns on the front, board burns on the back.
Eating waves for breakfast… literally.
If I drown, know that the wave was worth it.
The only barrels I like are wave barrels.
I'm on a seafood diet. I see food, I wipe out, I eat it.
Surfing – because therapy is expensive.
My favorite type of board meeting.
Sun's out, buns out, boards out.
What did the ocean say to the surfer? Nothing, it just waved.
"Cowabunga!" says my inner 90s kid.
Surfer by day, exhausted by night.
"Drop in" they said. "It'll be fun" they said.
Wiping out since [year you started surfing].
SPF 1000 and still sunburnt.
Do I look like I surf? Because I'm just here for the snacks.
Surfing: Nailing the art of the elegant faceplant.
Will surf for tacos.
Some call it surfing, I call it "gravity checks."
My spirit animal is a surfer… who falls a lot.
Today's mood: Needs more surf.
When I surf, fish roll their eyes.
Surf's up, sanity's out.
The bigger the wave, the bigger the "oops."
I've got 99 problems, but a beach ain't one… it's all of them.
First rule of Surf Club: Don't talk about the wipeouts.
Surf hair, kinda care. It's tangled.
If in doubt, paddle out. Then, probably, scream.
This is the only kind of board I'll ever be on.
Wipeout Wednesday… and Thursday… every day, actually.
Surfing = Riding waves, eating snacks, and repeat.
Surfers only. Posers will be towed.
SPF: Sun, Paddle, Fall.
Surf diet: Swallow saltwater, spit out pride.
Surfing: Like yoga, but saltier.
Catching waves, and occasionally colds.
Too much salt in my hair, not enough in my margarita.
If the surfboard's rocking, don't come knocking.
Surf today, adulting can wait.
Surfing's easy; it's the standing up part that's hard.
Hang ten… or just hang back with a drink.
Surfing Quotes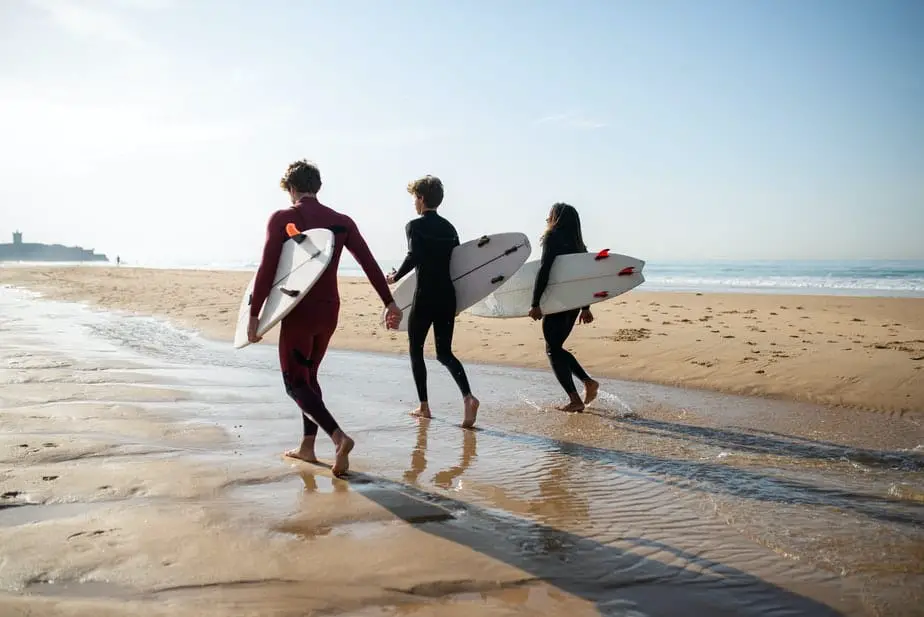 "The best surfer out there is the one having the most fun." – Phil Edwards
"Out of the water, I am nothing." – Duke Kahanamoku
"Surfing is like the mafia. Once you're in, you're in." – Kelly Slater
"The biggest sin in the world would be if I lost my love for the ocean." – Laird Hamilton
"There is no one right way to ride a wave." – Jamie O'Brien
"If in doubt, paddle out." – Nat Young
"Big waves aren't measured in feet, but in increments of fear." – Buzzy Trent
"Surfing is attitude dancing." – Gerry Lopez
"Thank God for a few free waves." – Miki Dora
"I'm just a surfer who wanted to build something that would allow me to surf longer." – Jack O'Neill
"I took off on a wave, went down the side, popped out the other end, and went, 'shit, I'm still alive!'" – Greg Noll
"We're all equal before a wave." – Laird Hamilton
"Surfing's one of the few sports that you look ahead to see what's behind." – Laird Hamilton
"The world doesn't need more conformists. If you don't fit in, celebrate that, and then get ready to stand your ground." – Laird Hamilton
"You can't stop the waves, but you can learn to surf." – John Kabat-Zinn
"Surfing is the most blissful experience you can have on this planet, a taste of heaven." – John McCarthy
"Surfing is for life." – Bruce Jenkins
"Live to surf, surf to live." – Mike Doyle
"Surfing is almost a way to fly." – Jeff Hakman
"When the surf's up, your life is too." – Wilhelm Sverdvik
"Feelings are much like waves. We can't stop them from coming but we can choose which one to surf." – Jonatan Martesson
"It's not tragic to die doing something you love." – Mark Foo