In this article, we'll explore some fantastic pool party ideas that will make your child's 12th birthday celebration one to remember. From unique themes to creative activities, we've got you covered to ensure a splashing good time for your tween and their friends.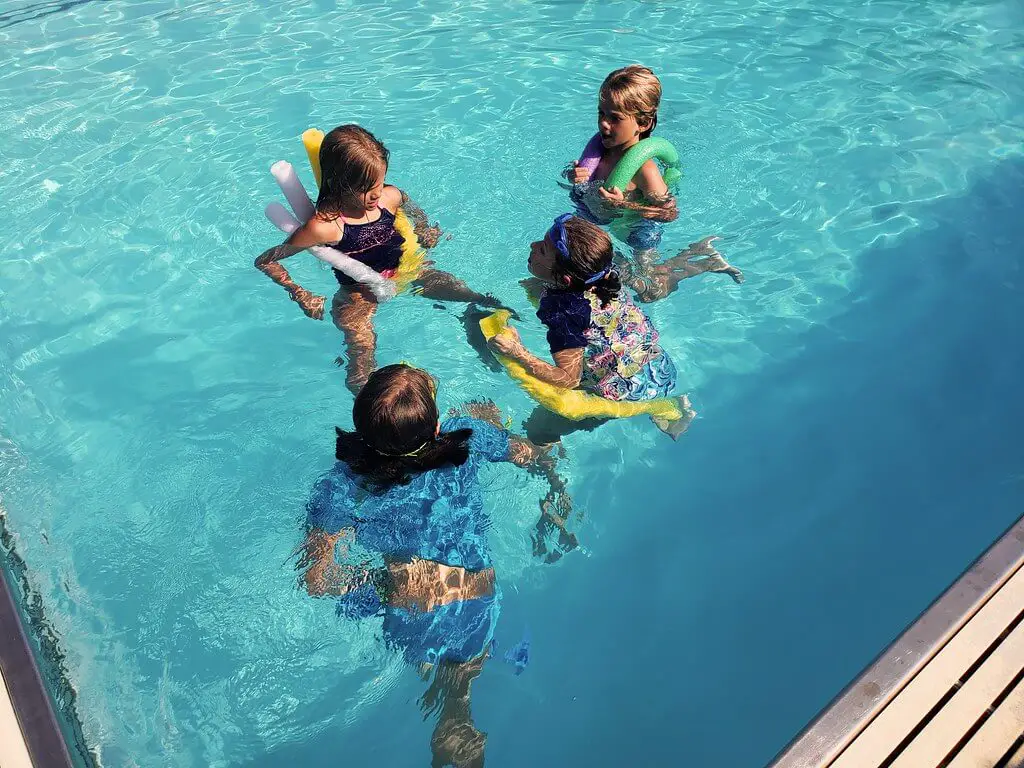 Whether it's a tropical paradise or a Disney-inspired soiree, choosing the right theme will make all the difference in creating an enjoyable ambiance.
We'll also discuss some must-have decorations, snacks, and games that will keep the energy going and entertain guests all day long. Let's get started.
12th Birthday Pool Party Ideas
Invitations
Start by setting the stage for your child's 12th birthday pool party with creative invitations. You can find pool party invitation designs on sites like Etsy, where you can personalize and download a printable file.
Alternatively, make your own by incorporating images of swimming pools, beach balls, or inflatables to give guests a sense of the fun that awaits them.
Themes and Decorations
Select a theme that captures the essence of a fun pool party while appealing to your 12-year-old's interests. Some popular options include tropical, underwater, or beach themes.
Decorate the party area with bright-colored tablecloths, hanging strings of lights, and beach-inspired decor like seashells and fishnet. Don't forget to throw some inflatable beach balls into the pool for an added touch of fun.
Pool Games and Activities
To keep your guests entertained and engaged, plan a variety of pool games and activities such as pool volleyball, Marco Polo, or races using pool noodles. Have water guns and water balloons ready for a water fight.
You can purchase a box set of pool toys for an assortment of options. For those who prefer to relax, provide a selection of pool floats like pineapples, flamingos, or hibiscus flowers.
Setting up a craft station with waterproof art projects is another way to keep guests entertained during the party.
Food and Drinks Ideas
Keep your young swimmers refreshed with an array of poolside snacks and drinks. Offer kid-friendly finger foods like mini sandwiches, fruit skewers, and popcorn, alongside a fun menu of watermelon slices, popsicles, and ice cream.
For drinks, you can set up a self-serve lemonade or mocktail station with colorful cups and straws.
For a unique drinks setup, turn an inflatable inner tube into a floating cooler. Place a bucket filled with ice and bottled beverages inside the center hole of the tube.
Ensure the bucket is larger than the hole to prevent it from falling through, and not too heavy for the tube to stay afloat.
Pool Party Essentials
Sunscreen and Safety
Ensure your guests are protected from the sun by setting up a sunscreen station near the pool.
Offer a variety of sunscreen levels (SPF 15, 30, and 50) that are water/sweat-proof for ample sun protection options.
Supervise the pool area and have a fully stocked first aid kit handy for any accidents or emergencies.
Swimwear and Accessories
Encourage your guests to wear their fun, colorful swimsuits that match the pool party vibe.
Offer funky sunglasses and stylish beach towels as party favors, which not only add to the excitement but also serve as functional items.
You want everyone feeling fashionable and comfortable while enjoying the festivities.
Pool Toys Galore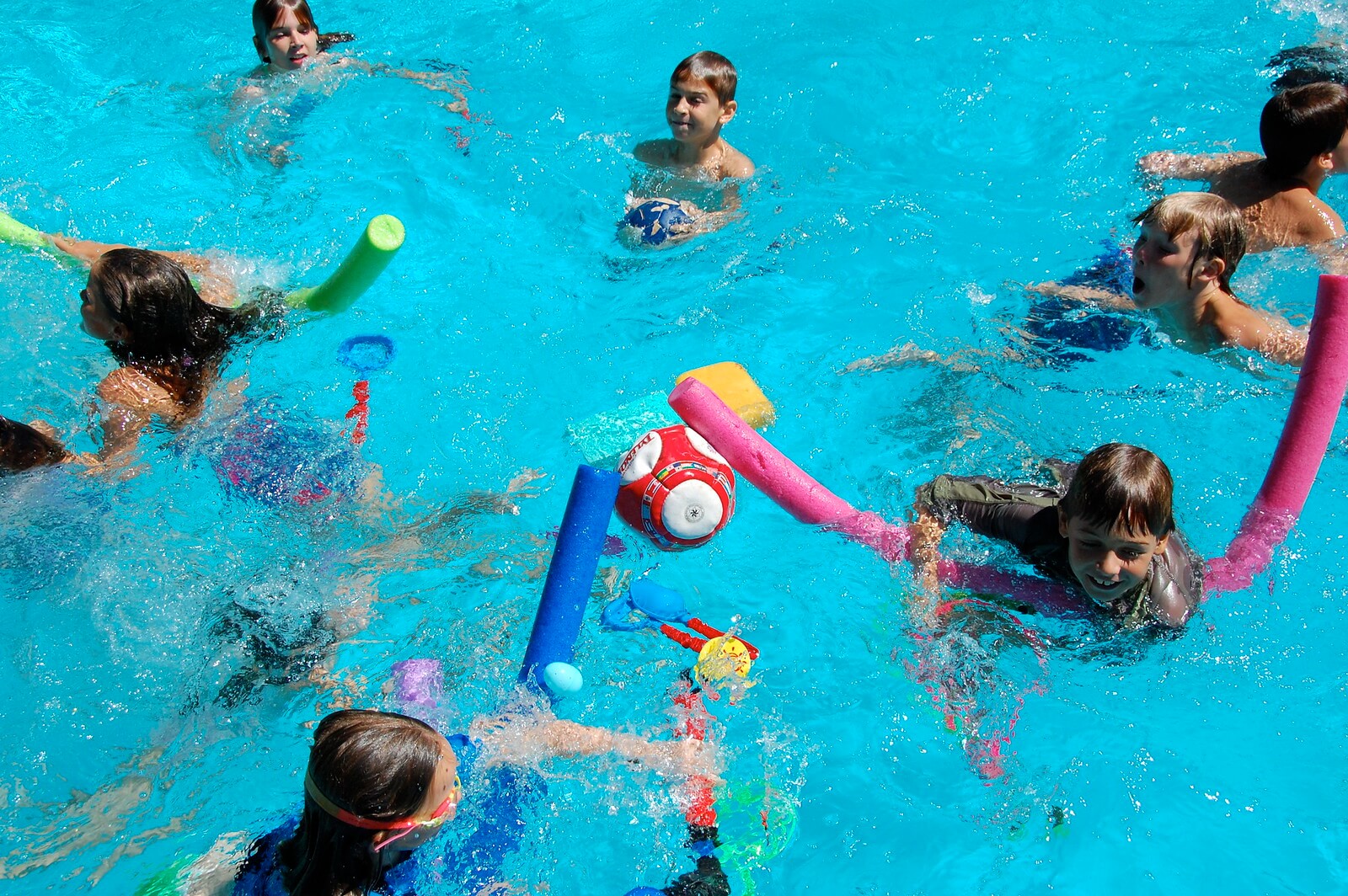 Bring the party to life with an assortment of pool toys, such as pool noodles, beach balls, or even inflatable swans, flamingo, or unicorn floats.
These accessories provide plenty of photo opportunities and fun for all ages. Here are some ideas to entice your guests:
Inflatable pool floats in fun shapes like swans, flamingos, and unicorns.
Beach balls in various sizes and colors for group games.
Pool noodles that can be used in multiple ways, from noodle jousting to water wars.
Don't shy away from being creative with your pool party essentials. The more you cater to your guests' interests and safety, the more successful your 12th birthday pool party will be.
Remember to keep it light, fun, and engaging for everyone in attendance. Your goal is to create lasting memories for both the birthday child and their friends.
Outdoor Entertainment
Poolside Lounge
Transform your pool area into a cozy and fun lounge for your 12-year-old's birthday party. Start by setting up comfortable seating, using a combination of beach towels and inflatable pool chairs.
Scatter colorful cushions and blankets around the space to create a relaxed atmosphere. Hang strings of lights around the pool and on nearby trees or fences for a festive touch.
To keep the bugs away and set the mood, place citronella candles throughout the area. Float multiple beach balls in the pool.
And don't forget to create a playlist with your child's favorite tunes to keep the energy up!
Movie Night
Add a twist to the pool party by organizing an outdoor movie night. You can rent or purchase an inflatable movie screen and set it up next to the pool.
Arrange chairs, bean bags, or inflatable loungers for guests to kick back and enjoy the film.
Choose a movie that is age-appropriate and popular among your child's friends. Prepare a snack station with popcorn, candy, and soft drinks.
Encourage guests to bring their favorite movie-themed floaties or toys to add to the fun.
Tiki Bar
Offer a tropical touch to the party with a tiki bar. Set up a small bar area near the pool with a thatched roof or colorful tablecloth.
Stock the bar with a variety of kid-friendly mocktails that your tween and their friends can enjoy, such as fruity punches and blended frozen drinks. Have fun garnishing the drinks with paper umbrellas, fresh fruit, or colorful straws.
For snacks, serve tropical-themed treats like pineapple skewers, mini fruit salads, or coconut shrimp. As an extra touch, decorate the tiki bar area with tiki torches, leis, or inflatable palm trees.
Encourage guests to dress in Hawaiian shirts or colorful swimsuits, adding to the festive atmosphere.
Sources: