Turning thirteen is a significant milestone in your child's life, and what better way to celebrate this momentous occasion than with a fun-filled pool party?
A 13th birthday pool party not only captures the excitement of entering the teenage years but also allows for unique and creative ways to make it an unforgettable event.
In this article, we'll dive into some fantastic pool party ideas that will make your teen's birthday a blast.
We'll cover themes, decorations, games, and activities to ensure that every guest, regardless of age, can enjoy the celebration. So, get ready to throw the best pool party ever and create memories that will last a lifetime.
Themed Pool Party Ideas
Tropical Paradise
Transform your child 13th birthday pool party into a tropical paradise with vibrant decorations and accessories. Use palm leaves, tiki torches, and colorful flower garlands to set the scene.
Serve a variety of luau-inspired food and drinks like Hawaiian pizza, coconut shrimp, and fruity mocktails.
To keep guests entertained, consider organizing a limbo competition or hula dance contests.
Nautical Adventure
Dive into a nautical adventure with pirate or mermaid-themed decorations for your pool party.
Arrange treasure hunts around the pool area, incorporating beach props like fishnet, seashells, and anchors as part of the decor.
Entertain guests with themed games and a seafood-inspired menu featuring items like shrimp cocktails and fish tacos.
Movie Night Poolside
Turn your 13th birthday pool party into an unforgettable movie night with an outdoor movie setup.
Select a film that fits the poolside atmosphere, and provide comfortable seating using DIY pool floaties. Don't forget to serve classic movie snacks like popcorn, nachos, and candy.
For a more personalized touch, create movie-themed snacks inspired by your chosen film.
Glow-in-the-Dark Party
Illuminate your pool party with a glow-in-the-dark theme. Decorate the area with neon colors, glow sticks, and LED lights, incorporating pool accessories like floating LED balls.
Keep guests entertained with glow-in-the-dark games and activities such as night swimming or a glow stick dance party.
To finish off the theme, serve refreshments in glowing cups and offer glow-in-the-dark face paint for guests to add an extra touch of fun.
Fun and Engaging Pool Activities
Pool Games and Relay Races
Your teen's 13th birthday party pool party will be a blast with these fun and engaging pool games.
Try pool noodle jousting, where two players balance on floating boards and try to knock each other off using pool noodles as weapons.
Or, set up a water balloon toss competition and see who can throw and catch without letting the balloon burst – this is sure to bring laughter and excitement to your pool party.
For even more fun, consider renting an inflatable obstacle course that will challenge your guests' skills and stamina in the water.
Remember the safety of guests, always ensure proper supervision when organizing pool games for your child's 13th birthday party.
DIY Pool Floats and Accessories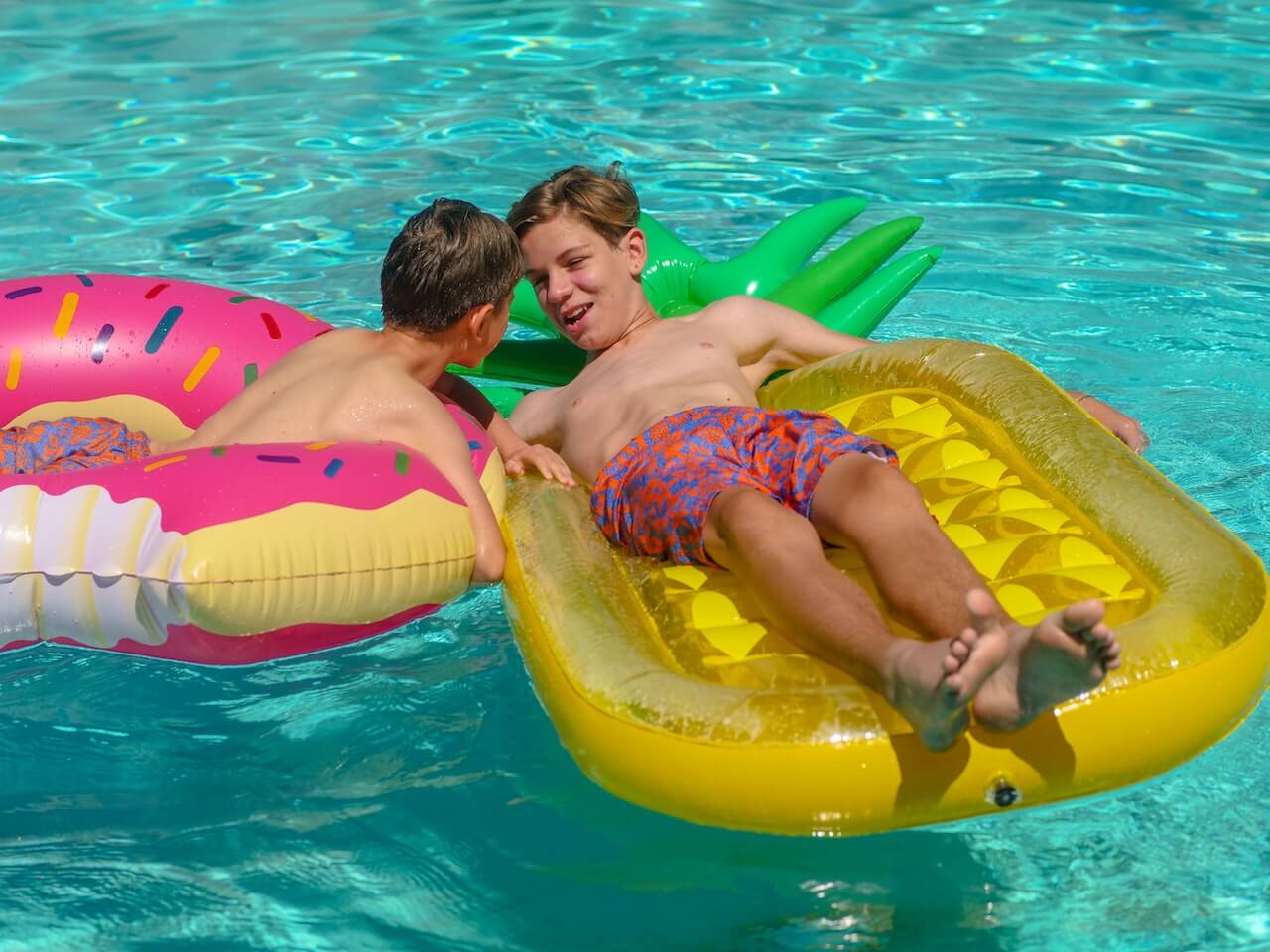 Unleash your creativity and design your very own pool float. Add a personal touch to your child's 13th birthday pool party by creating DIY pool floats that match your theme or favorite colors.
Use inflatable rings or cushions, and customize them with paint, fabric, or other decorative elements. Encourage your friends to participate and create their own unique pool floats as well.
Aside from creating floats, consider adding personalized pool accessories to make the pool experience more enjoyable for the birthday child and their guests.
Customized pool noodles, beach balls, and floating drink holders will make a splash at your pool party.
Poolside Crafts and Activities
Take the fun out of the water with poolside crafts and activities. Organize a personalized flip-flop decorating station, where guests can customize their own pairs of flip-flops to wear around the pool.
Or, teach your friends how to create DIY waterproof phone cases so they can capture all the memorable moments of your child's 13th birthday pool party without risking damage to their phones.
Set up a pool-themed photo booth complete with fun underwater props and backdrops. Not only will it provide a playful activity, but it will also help capture unforgettable memories from your teen's special day!
Delicious Pool Party Food and Drinks
Easy-to-Serve Finger Foods
Throwing a 13th birthday pool party involves planning for crowd-pleasing and easy-to-serve food options.
Finger foods are always a hit with guests, as they allow everyone to mingle and enjoy the festivities. Some great finger foods for your pool party include:
Mini sandwiches or sliders: Create an assortment by using different types of meat, cheese, and spreads, catering to various tastes.
Fruit and veggie skewers: Offer a healthy and colorful option by combining grapes, pineapple chunks, cherry tomatoes, and cucumber slices onto wooden skewers.
Pizza bites: Either make pizza bites from scratch or buy them pre-made. They're always a hit among the younger crowd!
Quesadillas: Customize these with a variety of fillings, such as cheese, chicken, or vegetables.
Refreshing Drinks and Mocktails
Keep your guests cool and hydrated with a variety of non-alcoholic beverages. Experiment with tropical fruit smoothies, virgin piña coladas, and daiquiris.
Additionally, try setting up a customizable drink station where guests can combine their favorite fruit juices, seltzer, and garnishes. This offers a fun and interactive element to your pool party.
Creative and Themed Desserts
Memorable desserts can add excitement to your 13th birthday pool party. Here are some fun and creative ideas to consider:
Pool-themed birthday cake: Create or order a cake decorated with a pool scene, complete with miniature swimmers, pool floats, or beach balls.
Beach ball cake pops: These adorable treats are both delicious and on-theme. Use different colored icing to create realistic beach ball designs on spherical cake pops.
Ice cream sundae bar: Set up a DIY ice cream sundae station with various flavors, toppings, and sauces, allowing guests to personalize their dessert experience.
Remember, for a successful 13th birthday pool party, it's essential to plan delicious and creative food and drink options that cater to a variety of tastes and preferences. By keeping these ideas in mind, you're sure to impress both the birthday celebrant and their guests.
Sources: