A pool party is a fantastic way to celebrate your teen's 15th birthday while keeping everyone entertained and refreshed.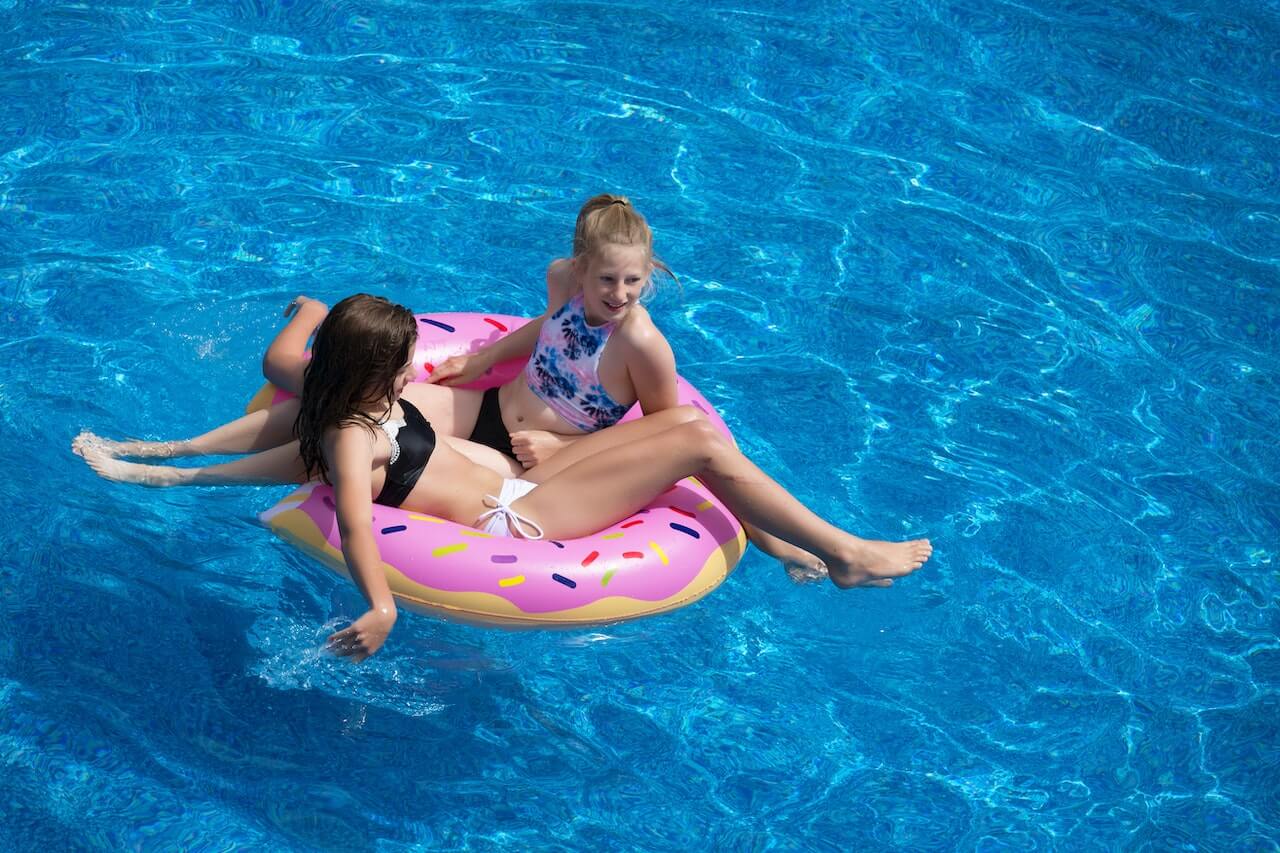 With some creative ideas and careful planning, you can make your child's special day an unforgettable experience for all their friends and family. Keep reading on as we go over some of the top 15th birthday pool party ideas.
Pool Party Themes
You can just throw a regular pool party and there's nothing wrong with that, but you can also throw a themed pool party to make it even more memorable. Consider the following pool party themes.
Tropical Luau Theme
Transform your backyard into a tropical paradise for your 15th birthday pool party with a tropical luau theme.
Start by decorating with colorful Hawaiian leis, palm leaves, and tiki torches. Provide guests with floral shirts and grass skirts to wear for an authentic luau experience.
Serve tropical drinks, like piña coladas and mai tais, in coconut cups, and offer a buffet of Hawaiian-themed dishes, such as pineapple fried rice and kalua pork sliders.
Neon Glow Theme
Brighten up your pool party with a neon glow theme that's perfect for a nighttime celebration.
Encourage guests to wear white or neon-colored clothing, and set up blacklights around the pool area to make everything glow.
Decorate with neon-colored balloons and lights, and provide glow sticks and glow-in-the-dark accessories for guests.
Serve bright, colorful drinks and snacks that will stand out under the blacklights.
Beach Party Theme
Bring the beach vibes to your backyard for your 15th birthday pool party with a beach party theme.
Lay out beach towels around the pool, and add beach accessories and decor like surfboards, beach balls, and sand pails.
Play beach-themed music to set the mood, and serve refreshments like hot dogs, hamburgers, and ice-cold lemonade.
Finish the party off with a classic beach dessert, like s'mores or ice cream cones.
Mexican Fiesta Theme
Host a lively Mexican fiesta for your 15th birthday pool party. Decorate your pool area with vibrant papel picado banners, brightly colored tablecloths, and sombreros.
Create a taco bar where guests can build their own tacos with tasty toppings, and serve churros or paletas (Mexican popsicles) for dessert.
Keep the fiesta spirit alive with a festive Mexican playlist and set up games like limbo or a piñata for guests to enjoy.
Video Game Theme
For the gaming enthusiasts, indulge in a video game-themed pool party. Decorate your pool area with banners and posters featuring your favorite video games or a specific video game (e.g. Minecraft, Fortnite), and provide pool floats that resemble game characters or items.
Set up a gaming station near the pool with waterproof or water-resistant controllers, so guests can take breaks from swimming to play their favorite games.
Serve video game-inspired snacks and refreshments, like power-up energy drinks and pixelated cookies. Remember to keep cords and electronics safely away from the water to prevent accidents.
Pool Party Decorations
Balloons and Streamers
Balloons are an affordable and simple way to add a playful splash of color to your 15th birthday pool party.
You can float balloons on the water or even create balloon garlands to hang around the pool area. Mix and match various colors, sizes, and shapes to enhance your party's visual appeal.
Streamers are another budget-friendly decorating option that can be draped around fences, trees, and patio furniture to create a festive atmosphere.
Pool Floats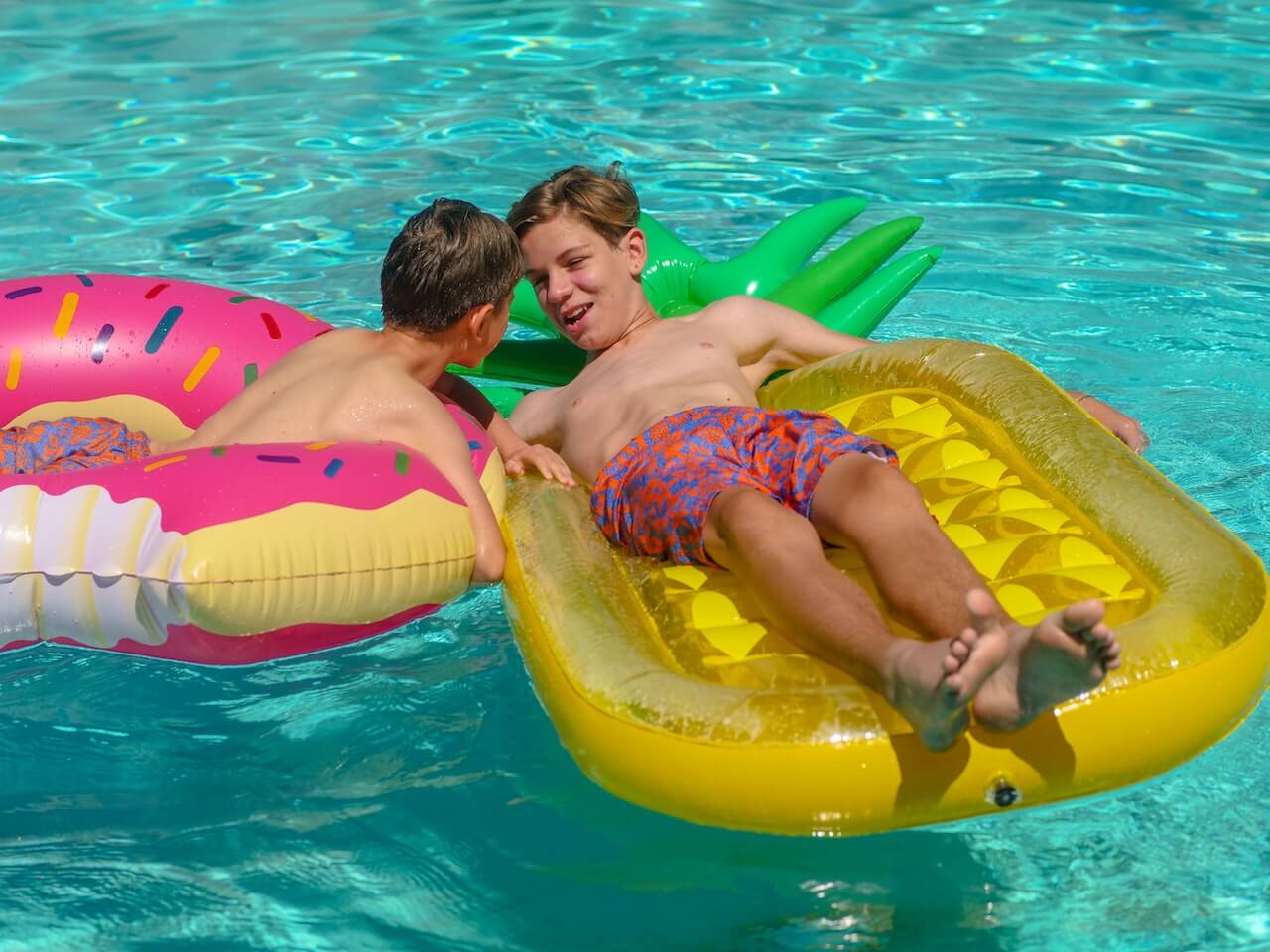 Make the most of your pool space by adding fun and trendy pool floats for your guests to lounge on.
There are countless options in fun shapes and sizes such as flamingo lawn ornaments, donuts, or even pizza slices.
Not only do they provide a functional place to relax, but they also double as decoration and photo opportunities.
Homemade Banners and Signs
Showcase your creativity by making homemade banners and signs to hang around the pool area.
Choose a theme or color scheme for your event and create custom pieces to match. Use weather-resistant materials like cardstock or foam board, and consider adding phrases like "Happy 15th Birthday!" or "Splash Bash" to personalize your signs.
This DIY approach not only saves money, but it also allows you to create decorations unique to your celebration.
Themed Decorations
To make your pool party even more memorable, consider incorporating a theme into your decorations. From tropical, neon, or pastel, the options are endless.
For example, you could have a tropical paradise with inflatable palm trees, tiki torches, and colorful flower garlands. Or opt for a classic retro theme with beach balls, vintage Coca-Cola themed items, and Red-and-white checkered tablecloths.
Remember, the key to exceptional pool party decorations is combining creativity with functionality, ensuring your guests have an unforgettable time while making the celebration uniquely yours.
Food and Drink Ideas
Themed or not, below are some classic options when it comes to pool party food and drink ideas.
Pot-Luck Style Party
Encourage your guests to bring their favorite dishes to share. This adds variety and ensures that everyone can find something they enjoy.
Provide a large table or designated area to place the food, and don't forget to include plenty of plates, utensils, and napkins.
Simple BBQ Options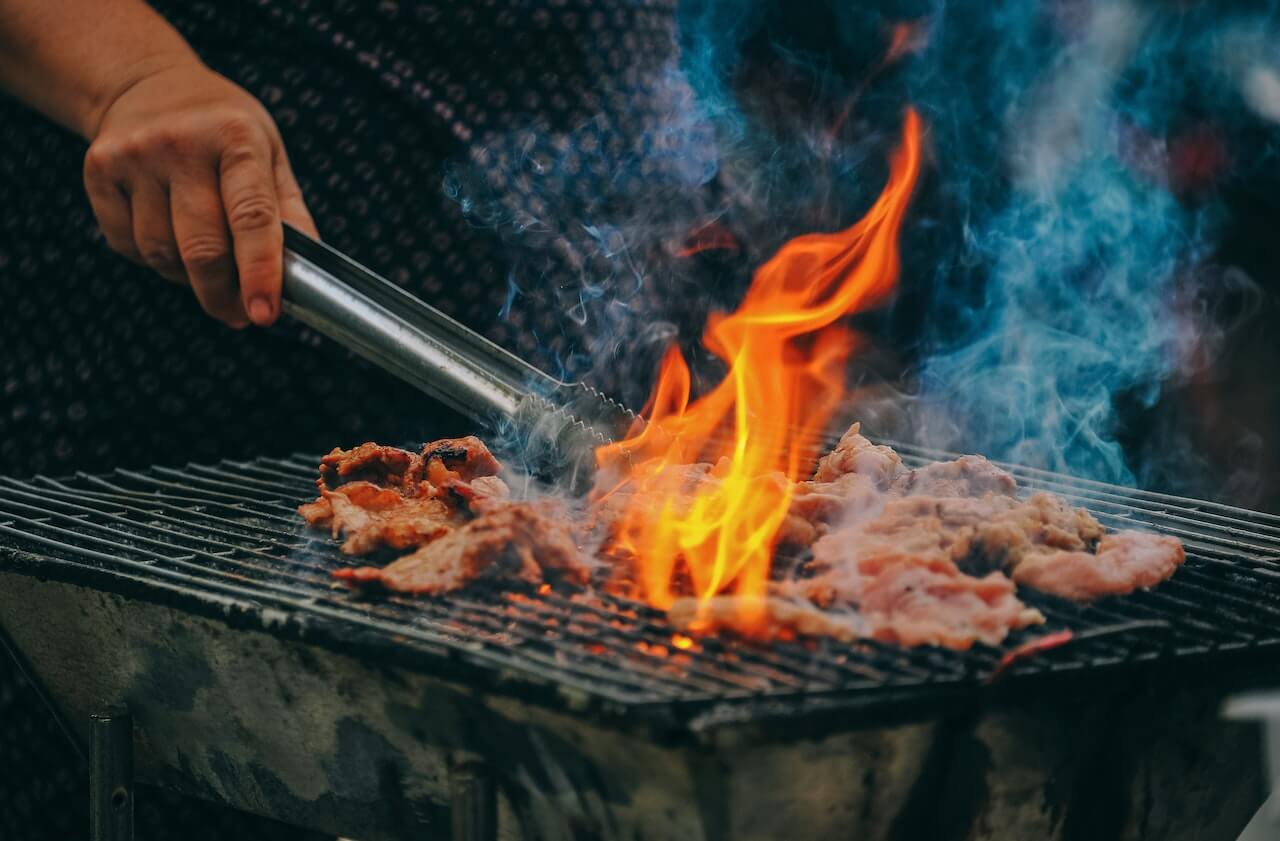 You can't go wrong with a classic BBQ menu for a pool party. Keep it simple: hot dogs, hamburgers, grilled veggies, and kabobs are all great choices.
Provide a variety of condiments, as well as side dishes like a creamy poolside pasta salad or grilled potatoes.
Homemade Mocktails
Get creative with non-alcoholic drink options! Blend up colorful fruit smoothies, lemonades or iced teas, and give them fun names to match the party theme.
Add garnishes like fruit slices, paper umbrellas, or bendy straws for a festive touch.
DIY Food Stations
Encourage guests to customize their food with DIY stations. Try setting up a make-your-own pizza, taco, or burger station with plenty of toppings to choose from.
Another popular idea is a balsamic bruschetta bar, which allows guests to create their own tasty concoctions to enjoy poolside.
Healthy Snack Options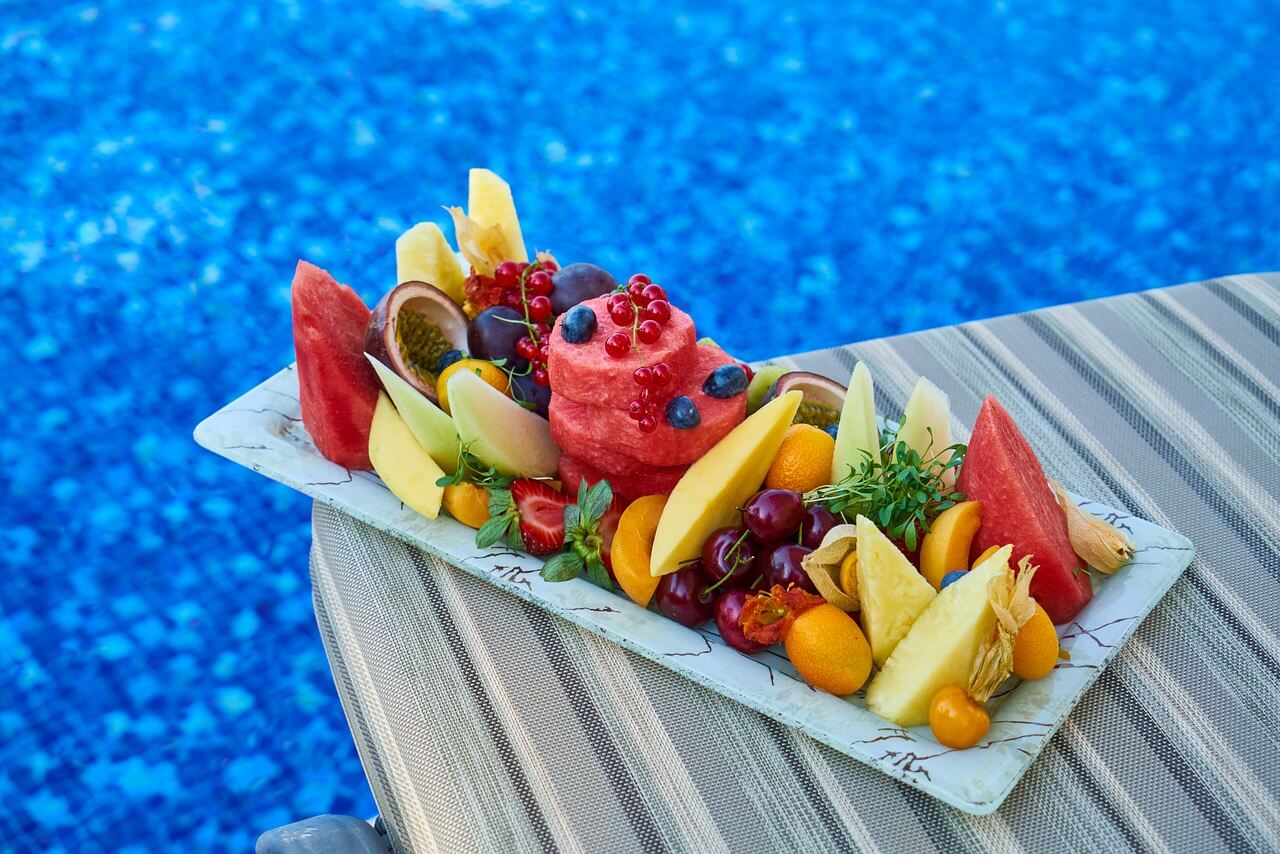 Offer a variety of healthier alternatives like fruit kabobs, veggie trays with hummus, or fruit salad.
Yogurt parfaits with granola and berries also make a delicious and nutritious snack option.
Birthday Cake and Desserts
No birthday party is complete without a cake! Choose a fun design and flavors that suit your teen.
For other dessert options, consider offering cookies, brownies, or even a homemade ice cream bar with a variety of flavors and toppings to satisfy everyone's sweet tooth.
Entertainment and Games
In-pool Games
Some fun in-pool games you can incorporate into your 15th birthday pool party include:
Water Balloon Toss: Pair up and toss water balloons back and forth, taking a step back after each successful catch. The last pair with an unbroken balloon wins!
Noodle Jenga: Cut about 10 pool noodles into foot-long sections and stack them like a Jenga game on top of the water. Try to play without toppling the tower.
Bobbing Apples: Place an apple in the pool for each guest. They'll have to use their mouths to grab the apples as they float around. Whoever grabs the most apples wins.
Pool Volleyball or Basketball: Set up a net or hoop and play these dryland sports in the water!
Out-of-pool Games
For out-of-pool fun, consider these exciting activities:
Tug of War: Set up a rope across the area near the pool, dividing your guests into two teams. Have the teams pull the rope, trying to get the other team across a marked line. Make it more challenging by having everyone standing in shallow water.
Water Gun Relay: Create two teams, and have each team member take turns filling a water gun at one end of the yard, running to a designated area, and squirting the water into a bucket. The first team to fill their bucket wins!
Piñata: You're never too old for a piñata! It's a great way to vent one's frustrations and award interesting treats – what you put inside is up to you.
DIY Poolside Movie Night
Set up an outdoor movie screen and projector for an unforgettable poolside movie night experience. Follow these steps:
Choose a flat, grassy area to set up your screen.
Use a white bed sheet or outdoor movie screen attached to a frame or hung between two trees.
Set up a projector connected to a streaming device or DVD player.
Arrange seating with comfortable poolside chairs or loungers.
Provide waterproof blankets and cushions for guests who prefer to sit on the grass.
Don't forget to include some bug repellent spray for everyone's comfort.
Music Playlist Suggestions
Curate a playlist of your favorite tunes, or let your guests help create the ultimate pool party soundtrack. Some suggestions to get started are:
Latest pop hits
Classic summer anthems
Teen party favorites
Throwback tracks from the early 2000s
Remember to mix genres and tempos, and always consider your guests' preferences to ensure that everyone has a great time at your 15th birthday pool party.
Sources: