Looking to throw an unforgettable 16th birthday pool party? Look no further! We've got you covered with creative theme and decoration ideas, pool-friendly snacks and meals, non-alcoholic drink ideas, and engaging entertainment and activity ideas.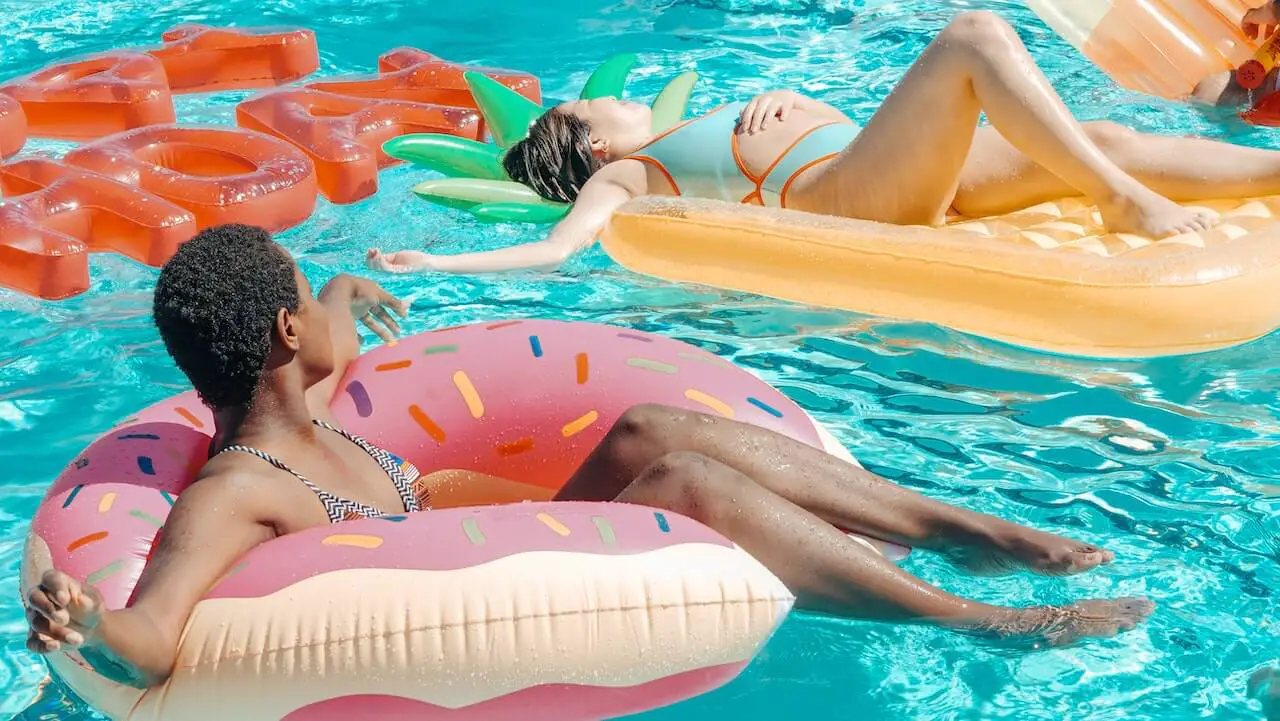 Plus, we'll share practical party favors and tips for setting up a gift registry to make it easier for your guests to choose presents you'll genuinely appreciate. Get ready for a celebration to remember!
Pool Party Theme and Decoration Ideas
Choosing the right theme for your teen's 16th birthday pool party can make for a truly memorable experience. Since it's a special milestone, consider a unique theme that reflects their personality and interests.
Below are 10 themes to consider:
Tropical Luau: Bring the Hawaiian vibe to the party with this popular theme. Decorate the pool area with tropical flowers, palm trees, and flamingos. Guests can wear leis and grass skirts.
Under the Sea: Create a magical underwater world with decorations like inflatable sea creatures, shells, and mermaid or sea creature-themed items.
Neon Glow: This theme is perfect for an evening party. Decorate the area with neon lights, glow sticks, and neon inflatable pool toys. Encourage guests to wear neon colors for a vibrant glow.
Nautical: A classic theme that never goes out of style. Decorations could include anchors, lifebuoys, and navy blue and white striped items.
Summer Beach Party: Turn your backyard into a beach scene. Include beach balls, umbrellas, beach towels, and serve beach food like hot dogs and ice cream.
Pirate Adventure: Set the scene with a pirate flag, treasure chests, and pirate-themed inflatables. Organize a fun treasure hunt game for guests.
Coachella Pool Fest: Inspired by the famous music festival, you can create a boho-chic atmosphere with colorful decorations, flower crowns, and an indie music playlist.
Hollywood Glamour: Roll out the red carpet and let the guests feel like celebrities. Decorate the area with star-shaped decorations, gold and silver balloons, and maybe even a photo booth with props.
Sports Fanatic: Whether it's soccer, basketball, or baseball, you can decorate the area with your teen's favorite sport's paraphernalia.
Unicorn Fantasy: For a whimsical and fun theme, go with unicorns. Decorate with pastel colors, and don't forget the unicorn float for the pool. You can serve rainbow-colored food and drinks to match the theme.
You don't have to have a theme for the pool birthday party, however themes allow for much greater creativity in decorations besides the usual balloons and birthday banners that we are so used to.
Food and Beverages
Pool-Friendly Snacks and Meals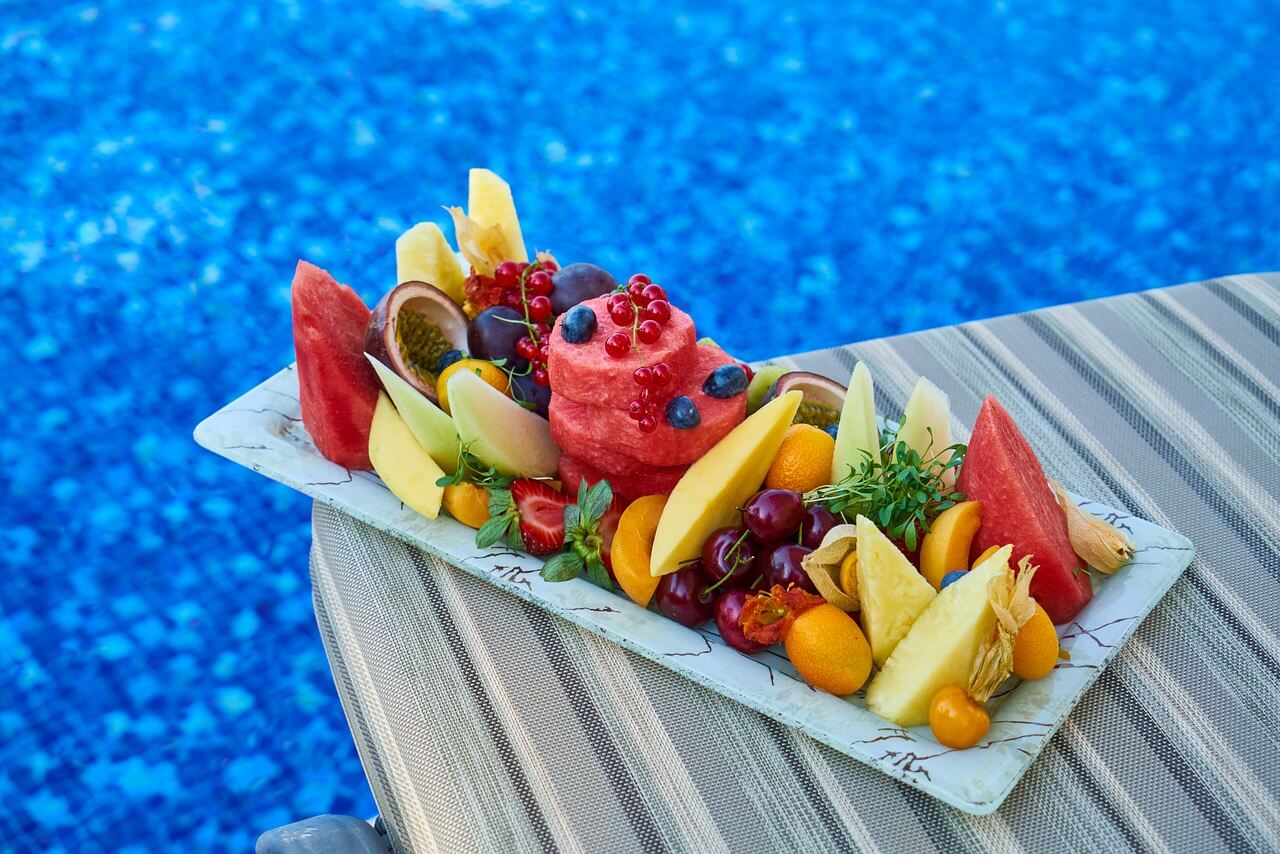 When planning for a 16th birthday pool party, choose snacks and meals that are easy to eat and won't create a mess near the pool.
Consider serving pizza, tacos, burgers, hot dogs, grilled meats, or 6-foot long sub sandwiches as they're perfect for quick, easy-to-grab poolside eating.
Keep it nutritious and refreshing by offering a range of fruits and veggies, such as watermelon slices, veggie sticks, salads, and fruit skewers.
Don't forget to include some easy-to-hold options like corn dogs or shrimp cakes to delight your guests' taste buds.
Non-Alcoholic Drink Ideas
Since this is a 16th birthday party, you'll want to offer fun, non-alcoholic beverages to keep everyone hydrated and refreshed.
Homemade lemonade is a classic choice and a crowd favorite. You can also serve fruity smoothies or tropical mocktails garnished with drink umbrellas to add a festive touch.
Don't forget to provide water infused with fruits like lemon, cucumber, or berries for a healthy, thirst-quenching option.
Remember to have plenty of ice and cups nearby so guests can easily refill their drinks.
Birthday Cake and Desserts
While a traditional birthday cake can be challenging to serve by the pool, you can opt for a more convenient alternative like cupcakes.
Not only are they easier to hold and eat, but they also give you the option to offer different flavors and designs, catering to various tastes.
Another creative idea is to make a cake out of donuts or cookies, arranging them in a festive display as the centerpiece of your dessert table.
Whether you decide to have a birthday cake, some other type of sweets, or both, you can also decorate it in the style of your theme.
Some friends can come even earlier to help out with decorating the sweets or the pool itself for some nice bonding time.
Entertainment and Activities
Music Playlist Suggestions
To create the perfect atmosphere for a 16th birthday pool party, curate a music playlist that sets the mood.
Connect your phone to a Bluetooth speaker, and you can easily control the music wherever you are. You can even get a floating Bluetooth speaker so that it can be right in the pool with you.
Then play popular hits, summer anthems, and classic party tunes that will get everyone dancing. Here are some ideas:
Top Billboard Hits
Summer Dance Party Tracks
Throwback Hits of the 2000s
Don't forget to ask friends for their favorite songs, so the playlist caters to everyone's taste. Or if you think you have the best music taste, you can be the DJ and set the vibe for the party.
Engaging Pool Games and Activities
Keep guests entertained with a variety of pool games and activities. Here are some great options for a memorable, action-packed party:
Bobbing Apples: Place an apple in the pool for each guest, and have them race to collect their apple using only their mouths.
Floating Cup Race: Hang cups with strings over the pool, and have players use squirt guns to shoot water into the cups, moving them across the pool.
Pool Volleyball or Pool Basketball: Set up a net or hoop in the pool for some friendly competition.
Inflatable Float Races: Provide various inflatable pool floats, and have races across the pool.
Pool Noodle Battle: If you have a large enough inflatable to stand on, the goal is to knock the other person off balance and into the water using the pool noodle. If you decide to do it on dry land, make sure there is padding underneath or you're doing it not too far off the ground and on grass.
Offer small prizes for the winners to add excitement and friendly rivalry to the games.
Photo Booth or Selfie Station
Create lasting memories by setting up a photo booth or selfie station near the pool. This can be as simple or elaborate as you like:
Design a backdrop using themed props, inflatables, or colorful fabric
Provide fun party accessories, like sunglasses, pool floats, and hats for guests to use
Offer waterproof or disposable cameras, or create a custom Snapchat filter for easy digital sharing
By including these entertainment and activity ideas, your 16th birthday pool party will be a celebration to remember.
Hiring a Professional Entertainer
For a twist, consider hiring a professional entertainer to surprise your guests. Ideas for poolside entertainment could include:
A professional DJ to spin tunes and elevate the dance party atmosphere
A magician or illusionist to wow guests with mind-bending tricks
A temporary airbrush tattoo artist for unique, pool-safe body art
Make sure to research and book your entertainer in advance to ensure availability.
Favors and Gifts
Practical Party Favors
When planning your sweet sixteen pool party, consider party favors that your guests will appreciate and use.
Since it's a pool party, think along the lines of items that are both fun and functional. Here are some practical favors that are perfect for a poolside celebration:
Beach towels: You can never go wrong with a customized beach towel. Choose a design that fits your theme and even add your guests' names for a personalized touch.
Sunglasses: Stylish sunglasses not only protect your friends' eyes but also serve as great keepsakes from your sweet sixteen party. Plus, they look great in photos!
Sunblock: Help your guests stay safe under the sun by providing travel-sized sunblock with a custom label commemorating your birthday party.
Waterproof phone pouches: Save your guests the worry of damaging their phones by providing waterproof pouches. They'll appreciate the extra safety measure.
Remember to package these favors in cute goodie bags that match your party's theme.
Set Up A Gift Registry
As the birthday celebrant, you might want to create a gift registry to make it easier for your guests to choose presents that you'll genuinely appreciate. This way, you can avoid receiving duplicate items or things you don't need.
To create a successful registry, follow these tips:
Select a range of items: Include a variety of products at different price points, so your guests have options that fit their budgets.
Choose practical and meaningful items: Focus on things you'll use frequently or items that hold sentimental value, such as keepsakes or personalized items.
Share your registry in advance: Ensure your guests have time to browse your list and make thoughtful selections. You can include a link to your registry on the party invitations.
By following these recommendations, you'll have favors and gifts that are functional, enjoyable, and memorable for everyone attending your sweet sixteen pool party.
Sources: