Swimming pools are a haven for relaxation and fun, especially during the hot summer months. There's nothing quite like lounging by the pool with good company, soaking up the sun, and taking a refreshing dip to escape the heat.
Capturing these moments in photos is a great way to remember the good times, but finding the perfect caption can be a challenge.
That is why below, we have compiled a list of swimming pool captions that will perfectly complement your poolside photos. Check them out below!
Short Pool Captions for Instagram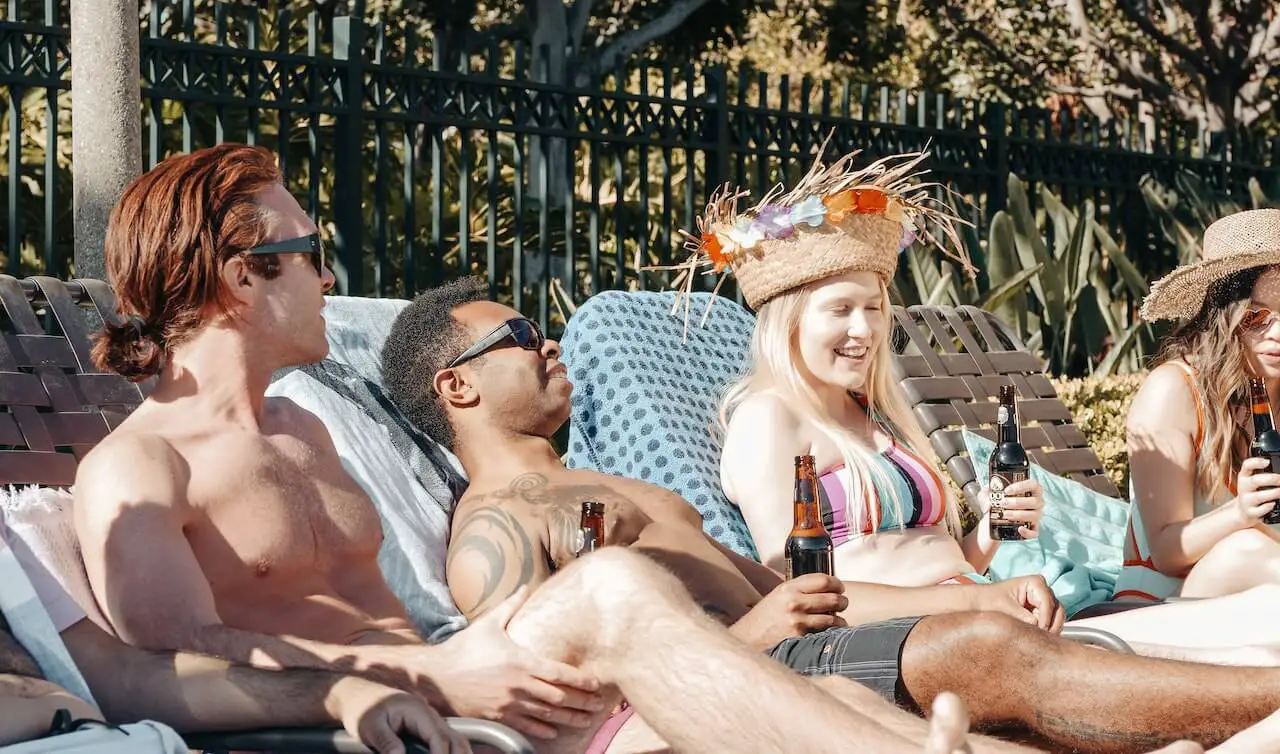 Pool days are the best days.
Making waves and catching rays.
Sun-kissed and poolside blissed.
Just keep swimming, just keep swimming.
Dive into the good vibes.
Life's better by the pool.
Floating into the weekend like…
Pool hair, don't care.
Sunkissed and sea breeze blessed.
Summer's in the air and baby, I'm loving it.
Mermaid off duty.
Drowning out the world, one splash at a time.
Living for that blue water paradise.
Flip-flops and crop tops: pool day essentials.
Vitamin Sea is all I need.
Chasing the sun and finding the fun.
Pool days make the best memories.
Let the currents guide your heart.
Dive deep into the moments that matter.
Sunscreen and chlorine: the scent of summer.
Poolside is my best side.
Making a splash in my own way.
Blue skies, high tides, and good vibes.
Floating through life, one pool day at a time.
Water you doing today? I'm at the pool!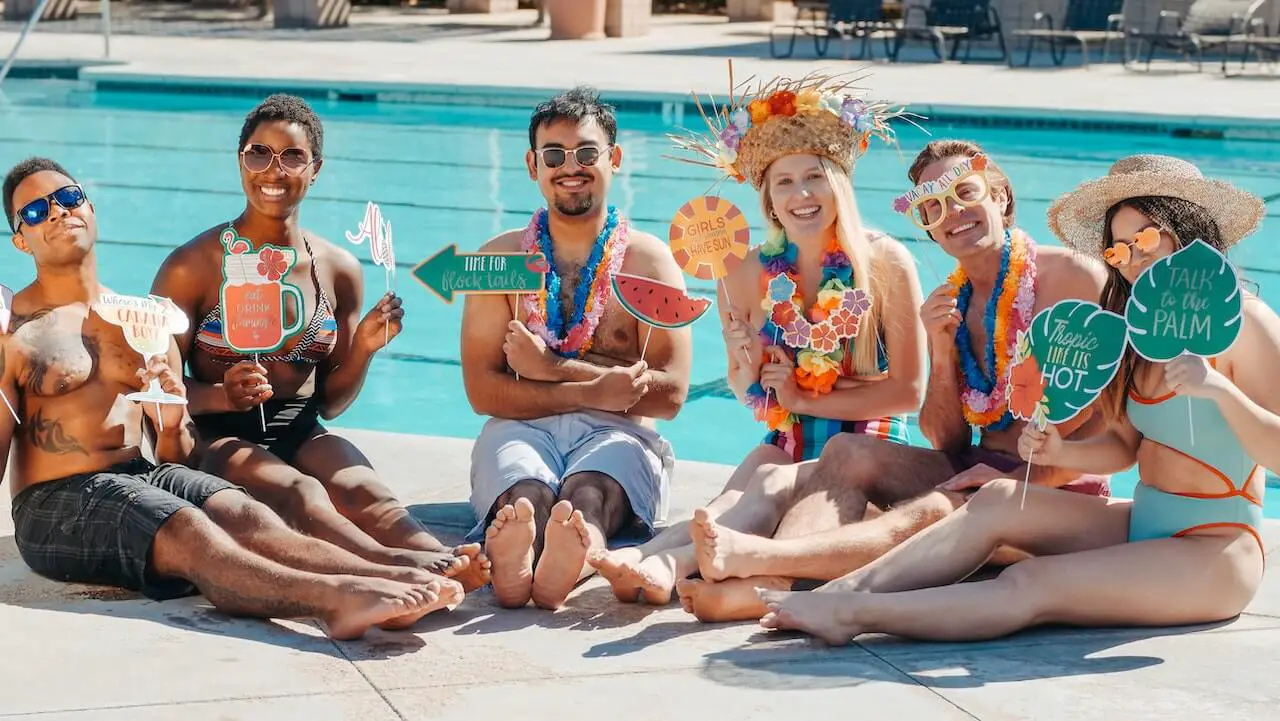 Soaking up every last drop of summer.
Life looks better underwater.
Diving into the deep end of fun.
Pool days = best days.
Just a fish out of water, loving the sun.
Keep calm and swim on.
Sun's out, buns out.
Living in a summer state of mind.
If you need me, I'll be by the pool.
Making every wave count.
Salt in the air, chlorine in my hair.
Here's to tan lines and good times.
Summer loving, happened so fast.
Can't swim away from the fun.
Pool daze, always.
Splashing the day away.
Let's make waves together.
Dive in, the water's fine!
Here's to the endless summer days.
Floating away from my problems.
No one likes a shady beach.
Pool time is the best timeout.
Catch me by the pool, how 'bout that?
Sun, swim, repeat.
Living the pool dream, one splash at a time.
Chill Pool Captions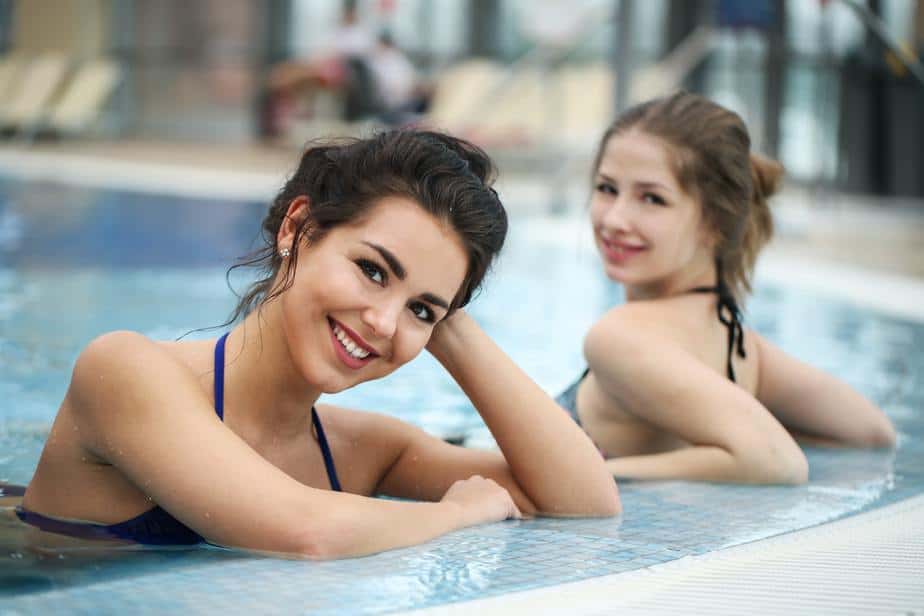 Pool lounging: where time stands still.
Sun-soaked and stress-free.
Letting the water wash away my worries.
Calm waters, calm mind.
Poolside tranquility is my summer therapy.
Dive into relaxation.
Floating on cloud nine, but it's water.
Where the water's calm and the soul's at peace.
Letting the gentle waves lull me into serenity.
Pool days: my kind of meditation.
Sun, silence, and serenity.
Drifting with the sun on my face and not a care in the world.
Here, time floats away.
Poolside, where the world's noise fades away.
Finding my zen between the ripples.
The gentle lap of water: my summer lullaby.
Peaceful moments, poolside memories.
Let the water be your sanctuary.
Floating free from life's hustle.
Pool days: where the world's chaos feels miles away.
Sunlit ripples and a heart at peace.
Sinking into summer's gentle embrace.
Where the water holds you and the sun warms your soul.
Pool Party Captions for Instagram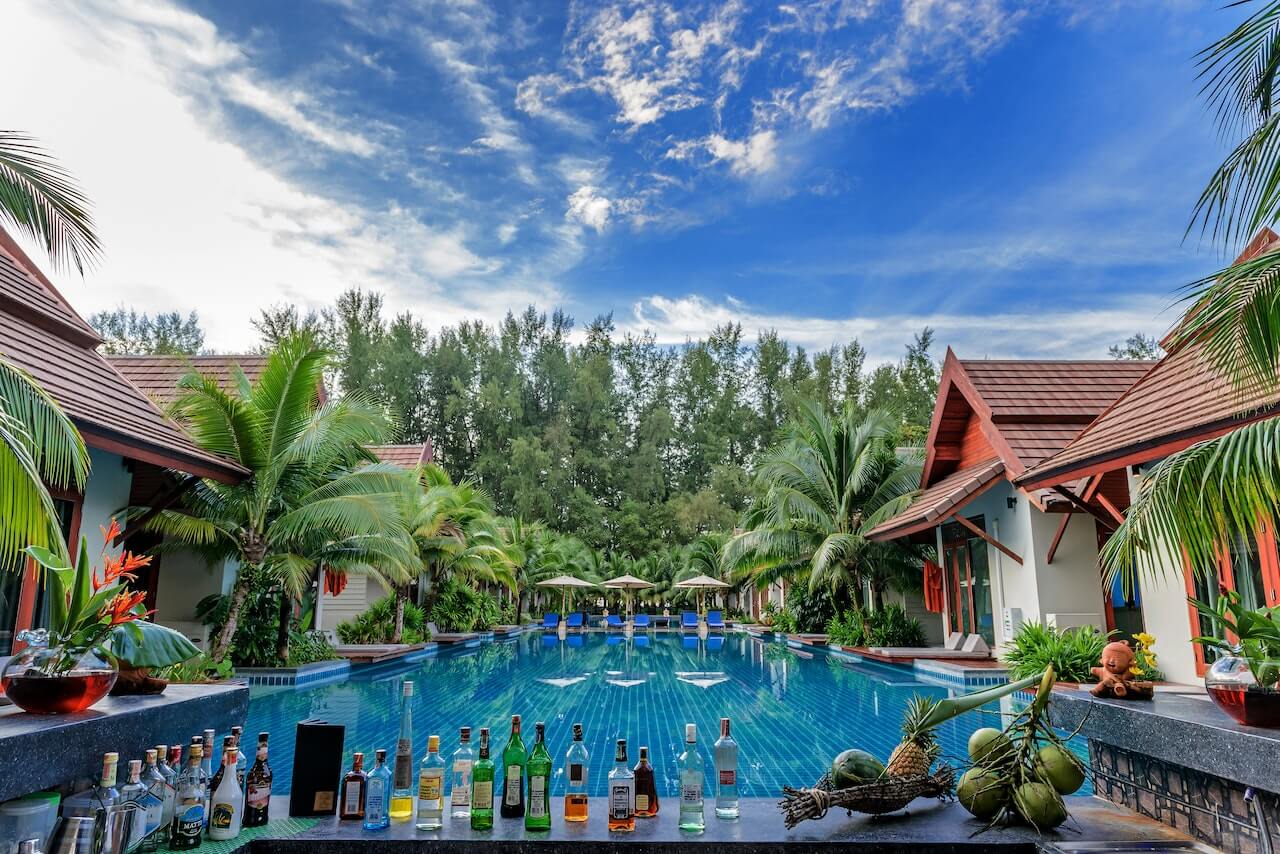 Making a splash with the best crew!
Sun, fun, and everyone.
Chill vibes only.
Where the water's cool and the company's hot.
Poolside with my favorite people.
Sun's out, fun's out!
Making waves and memories.
Pool party today, stories for tomorrow.
Dive in, the party's just getting started!
Good vibes happen poolside.
Floating through the party like…
When life gives you a pool, throw a party!
Pool party: because summer won't last forever, so let's make it unforgettable.
Keeping cool with the crew.
Sun, swim, and a whole lot of fun.
Pool + Friends = Perfect Day.
Life's a party, especially by the pool.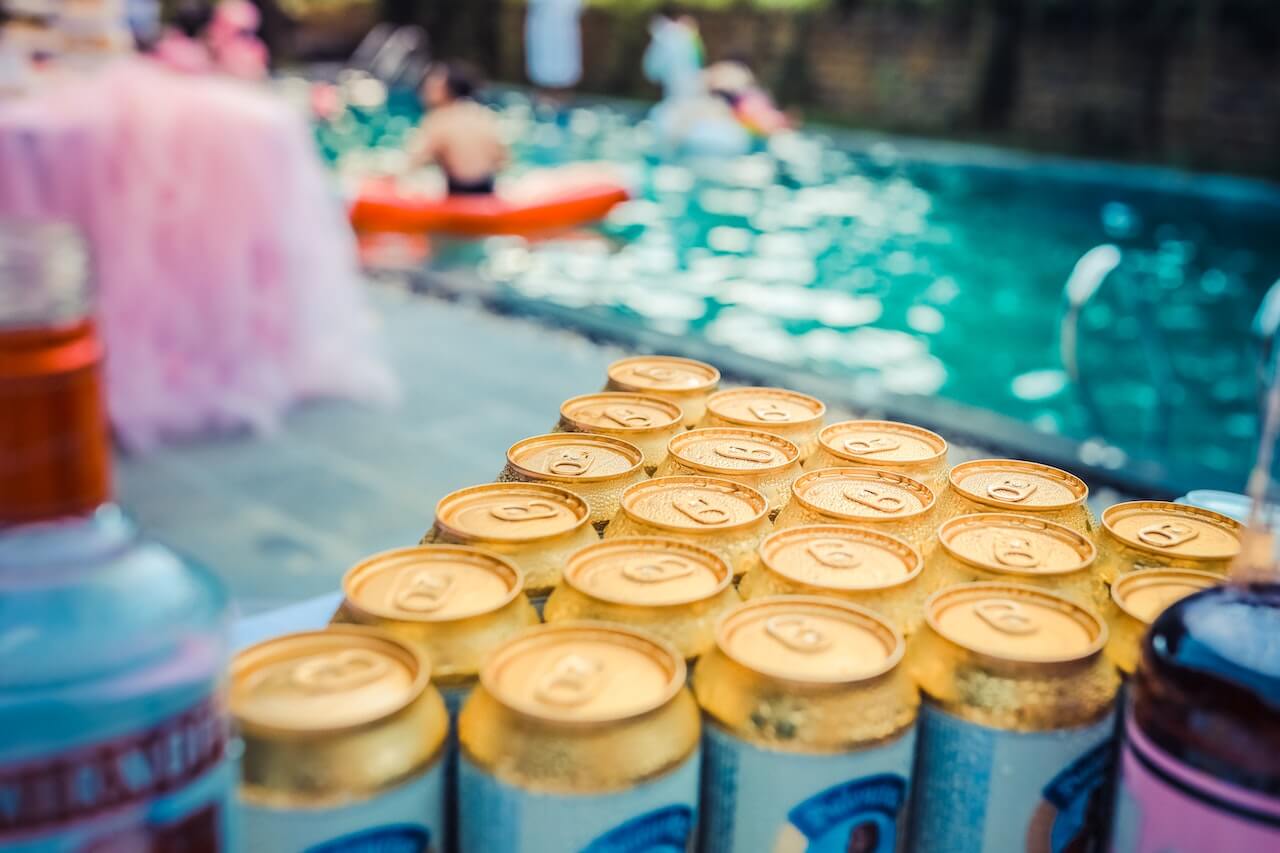 Making every splash count.
Pool party state of mind.
When the sun goes down, the volume goes up.
Pool days, party nights.
Pool party crew on point!
From sunrise to sunset, the party doesn't stop.
Poolside shenanigans in full swing.
Turn up the music, we're making waves!
The best parties happen poolside.
Sun-soaked and party stoked.
Pool party: where the fun's never-ending.
Making poolside memories.
Pool party playbook: splash, dance, repeat.
Pool party alert: bring your floaties!
Good times and tan lines.
Splashing our way into the night.
The best kind of party is a pool party.
Pool party crew: Assemble!
Hanging Out at the Pool with Friends Captions
Making memories one splash at a time with the crew.
Friends who float together, stay together.
Poolside chatter and endless laughter.
With friends like these, every day's a pool day.
Making waves and catching rays with my faves.
Besties and bikinis: the perfect pool day recipe.
Pool days are better with friends to splash.
Friends, floats, and unforgettable moments.
A day at the pool with good company: summer's best blend.
Here's to tan lines, pool times, and lifelong friends.
Poolside is where the best memories are made.
Friends make the sun shine brighter and the pool feel cooler.
Besties in bikinis, making memories.
Pool days with friends are the best kind of days.
Sun-soaked memories with my favorite people.
Floating through the best times with my besties.
From pool floats to deep talks, it's better with friends.
Making a splash in the pool of friendship.
Friends, sun, and pool fun: summer's golden trio.
Dive buddies by day, star gazers by night.
Poolside shenanigans with my favorite crew.
Friends turn pool days into epic tales.
Pool days are the best, but they're better with friends.
Splashes, smiles, and the best company.
Pool day motto: Friends, fun, and sun.
Making waves of memories with my crew.
Poolside with my partners in crime.
Best friends make the best pool days.
Here's to pool days filled with friends and endless play.
Funny Pool Captions
Living my mermaid dreams.
I'm not floating, I'm on a water break.
Pool rule #1: No splashing. Unless I start it.
I've peaked – I've become a professional floater.
Pool day: Where I do my best "wet dog" impression.
Water you looking at?
I've got 99 problems, but the sun ain't one.
I told the lifeguard to save my spot, not my life.
Pool vibes: Less Monday, more sun-day.
Why float through life when you can splash through it?
Pool fact: The best way to make a splash is to cannonball.
I've decided to give up adulting and become a mermaid.
My pool float might be over-inflated, but my ego isn't.
I'm not lost, I'm just exploring the deep end.
Pool day: Where I channel my inner fish… and sometimes inner chicken.
Pool hack: If you can't swim, just make waves.
I'm just here for the pool snacks.
Pool wisdom: Life's a splash, so make it count.
I'm in the pool, therefore I am cool.
I'm not a swimmer, I'm a water enthusiast.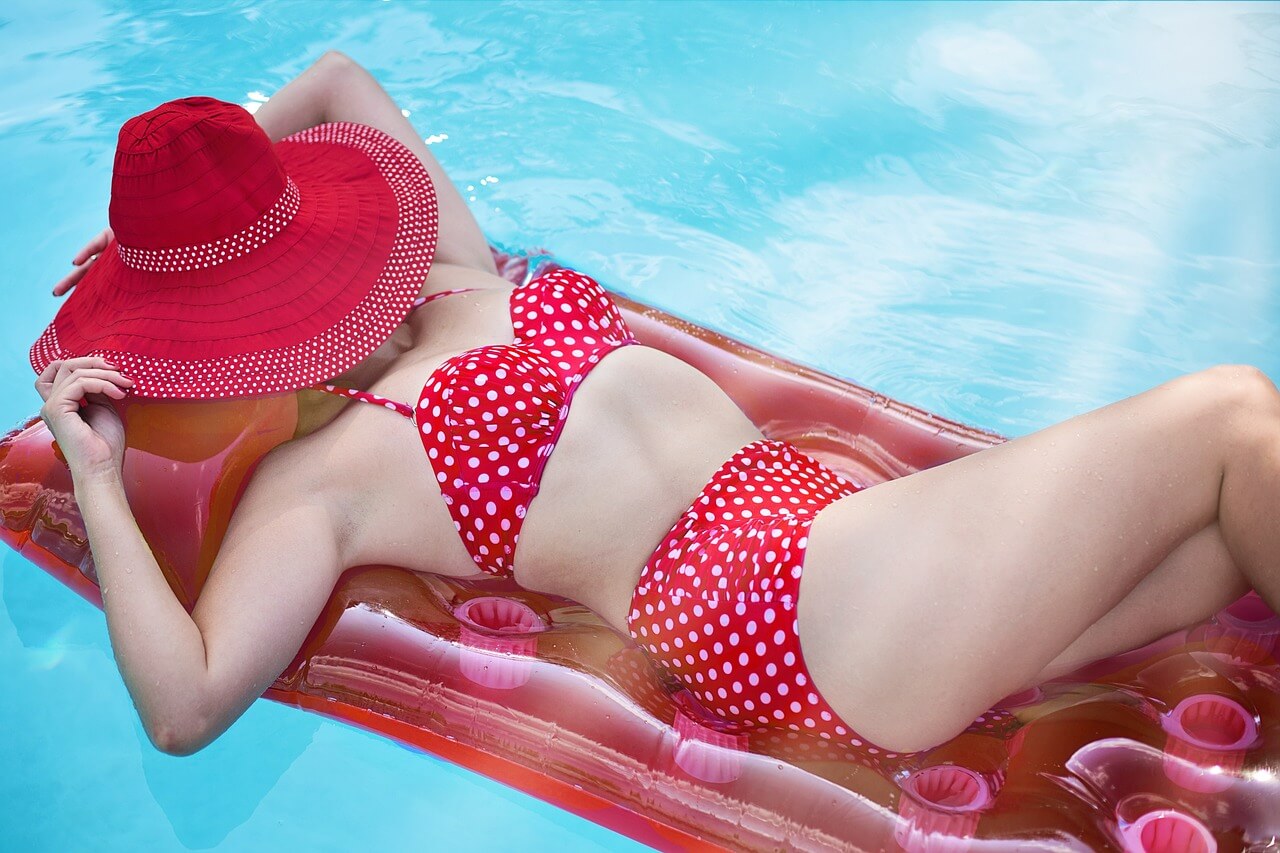 Pool wisdom: The deeper you go, the cooler it gets.
I'm pool-chillin' like a villain.
Pool day: Where I upgrade from a couch potato to a pool potato.
Perfecting my "lost at sea" look in a 5-foot pool.
I'm basically a mermaid, minus the grace, beauty, and ability to sing.
Dog paddling is legit swimming. No cap.
I'm the reason they invented pool noodles. And life vests.
I told myself I'd swim laps today. I just didn't specify how few.
I stay close to the sides of the pool because I live life on the edge.
I've been told I have the grace of a dolphin… if that dolphin was on land.
Pool's open, and so is my invitation for someone to teach me to swim.
I'm the Michael Phelps of doggy paddling.
I'm the reason "no diving" signs were invented.
I'm not lazy, I'm just on a permanent pool break.
I'm the poster child for "swim at your own risk."
Pool day: Where I prove that not all Aquarius' can swim.
I'm not a pool pro, but I play one on Instagram.
Pool day: Where I'm the king of the kiddie pool.
Pool days are where I redefine "swimming" as "not drowning."
I've been told I have a unique swimming style. It's called "fighting for my life."
I'm not avoiding the water, I'm just really into sunbathing.
Pool Sunbathing Captions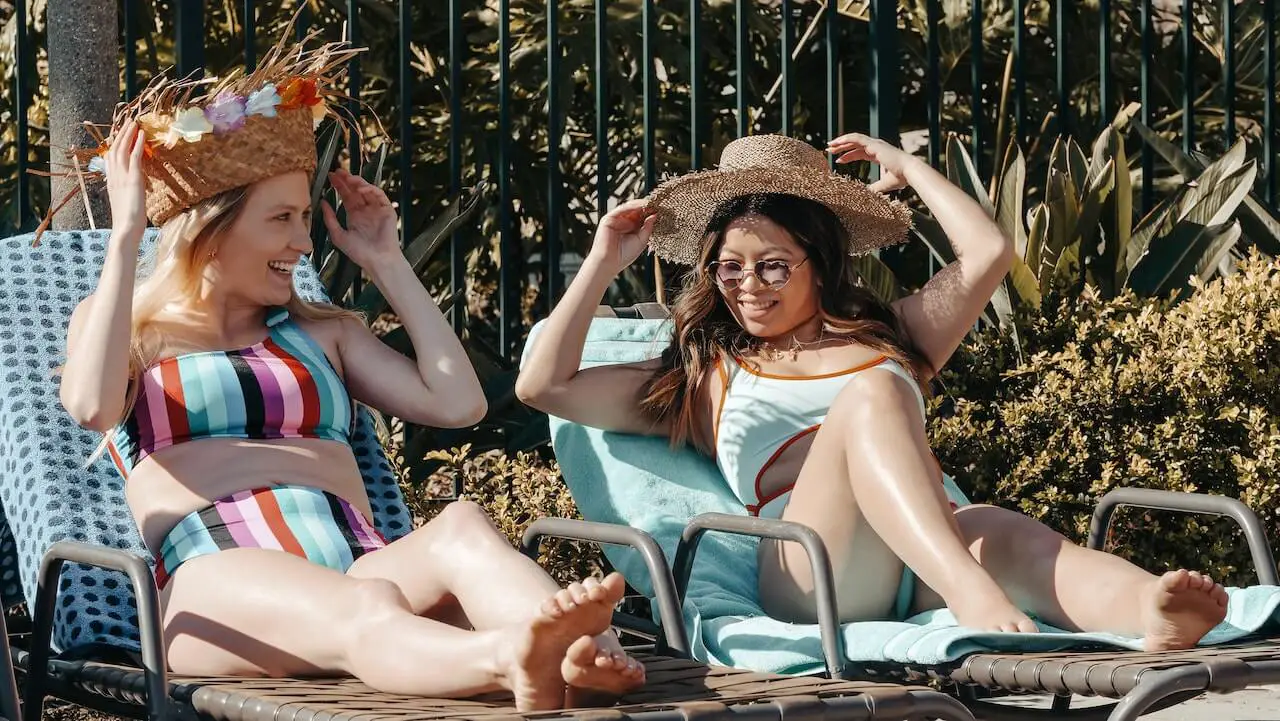 Soaking up the sun and letting the world fade away.
Sun-kissed skin, poolside grin.
Chasing the sun, one lounge chair at a time.
Vitamin D therapy in session.
Golden hours, golden tan.
Sunbathing: because glowing is in season.
Poolside today, bronzed goddess tomorrow.
Let the sun paint me in its favorite shade.
Tanning tales and poolside details.
Sun's out, buns out, tan's on the route.
Bronzing under the sky's spotlight.
Turning up the heat, one sun ray at a time.
Sunbathing state of mind.
Let the sun do its magic.
From poolside to sun-kissed in no time.
Working on my tan and relaxation plan.
Sunbathing: the art of doing nothing and getting a glow.
Catching rays and counting days of summer.
Golden goals by the pool.
Here's to tan lines that tell sun-soaked stories.
Sun, tan, and a drink in hand.
Basking in every sunlit moment.
Poolside bronzing: my kind of multitasking.
Letting the sun wrap me in its warm embrace.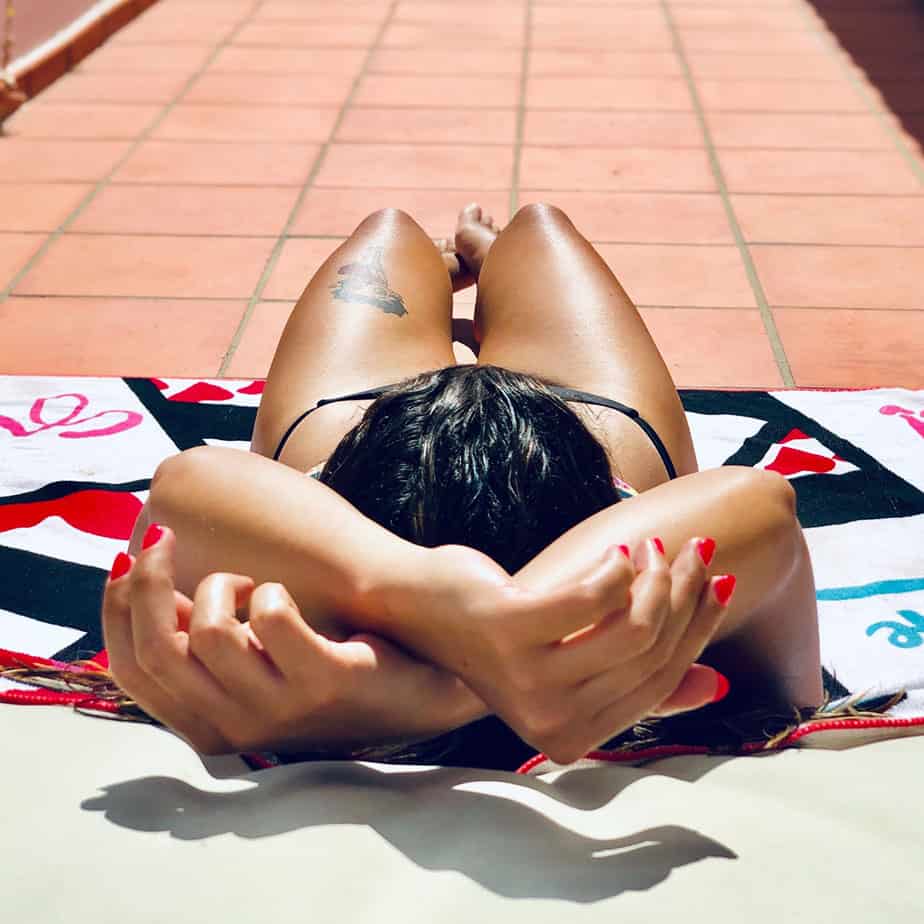 Sunbathing: where the only clock is the shifting shade.
Tanning today, glowing tomorrow.
Poolside is my sunny side.
Soaking in the sun's stories.
Turning the poolside into a tan paradise.
Sunbathing: my favorite summer sport.
From pale to golden, one sunbath at a time.
Let the sun kiss you when the world seems cold.
Bronzed and blissed by the pool.
Sunbathing: the best kind of lazy day activity.
Here's to the sun, the tan, and the poolside glam.
Chasing the sun, one tan at a time.
Letting the sun play artist on my skin.
Poolside tanning: my shortcut to summer vibes.
Basking in the sun's glow and life's slow moments.
Sun-kissed and poolside missed.
Golden hours, sun-powered.
Here's to the tan that speaks of sunny tales.
Sunbathing: the only time doing nothing yields a golden result.
Poolside lounging, sun-induced glowing.
Let the sun paint its poetry on me.
Tanning tales: from the poolside to the sunset ride.
Soaking in the sun, one golden hue at a time.
Poolside tanning: where the sun and I become best friends.
Pool Bikini Captions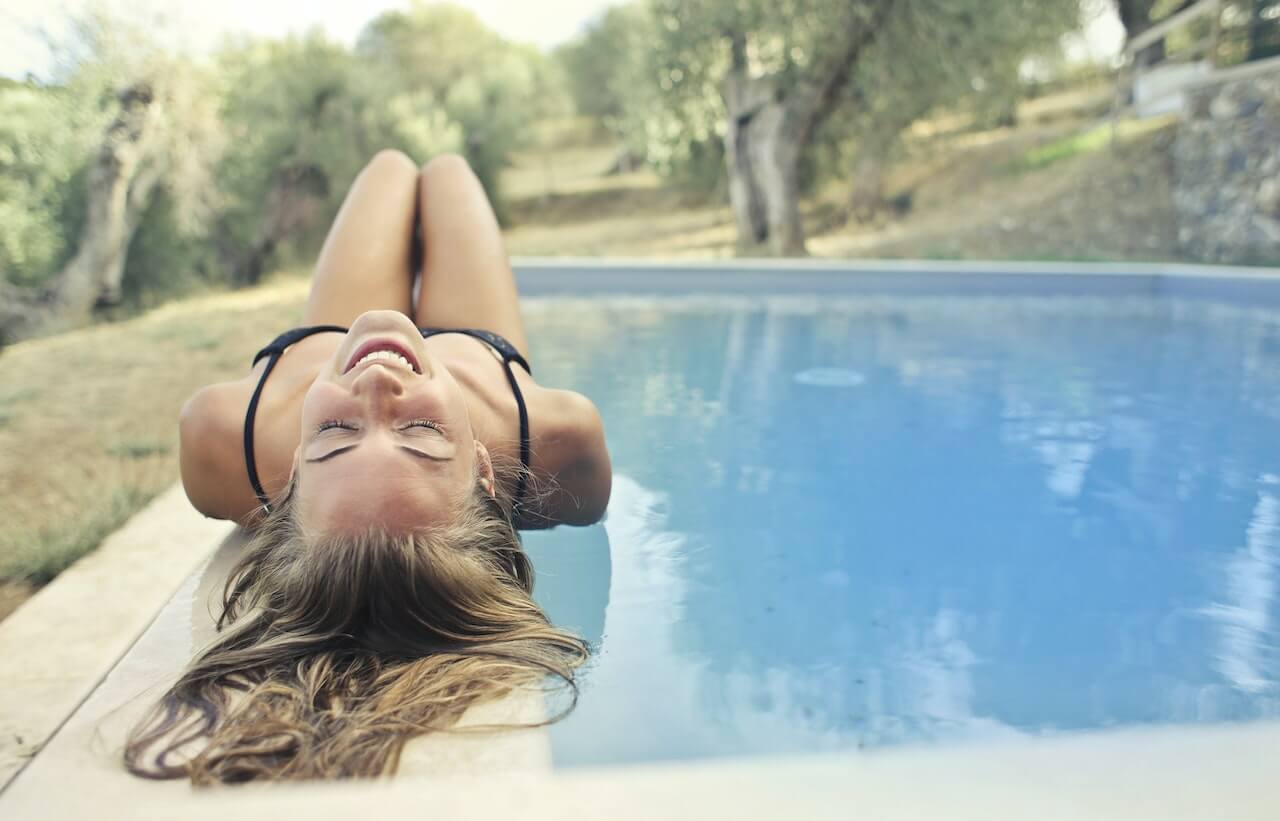 Bikini state of mind, poolside all the time.
Making waves in my favorite two-piece.
Bikini days are the best days.
Sun, swim, and a pop of bikini glam.
Dressed in sunshine and bikini lines.
Bikini on, worries gone.
Poolside posing in my bikini best.
Two-piece, one perfect pool day.
Friends, sun, and bikini fun.
Sun-kissed in my bikini bliss.
Bikini ready, pool steady.
Friends and bikinis: the perfect poolside combo.
Bikini mode: activated.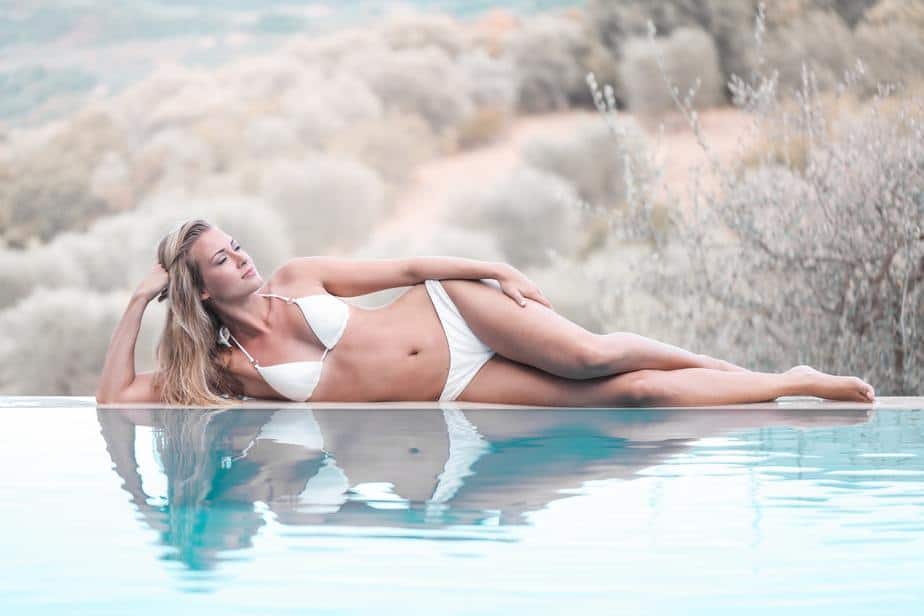 Friends, floats, and flaunting our bikinis.
Bikini days, sunlit rays.
Bikini game strong, pool day long.
Bikini dazzle, poolside sizzle.
Two-piece charm under the sun's warm arm.
Pool day checklist: Friends, sun, and the perfect bikini.
Sun's out, bikini's out!
Bikini days with my sun-soaked baes.
Poolside posing, bikini boasting.
Bikini season is my reason.
Dive in with bikini skin.
Friends, fun, and bikini runs.
Bikini glow, ready to steal the show.
Swimming Pool Quotes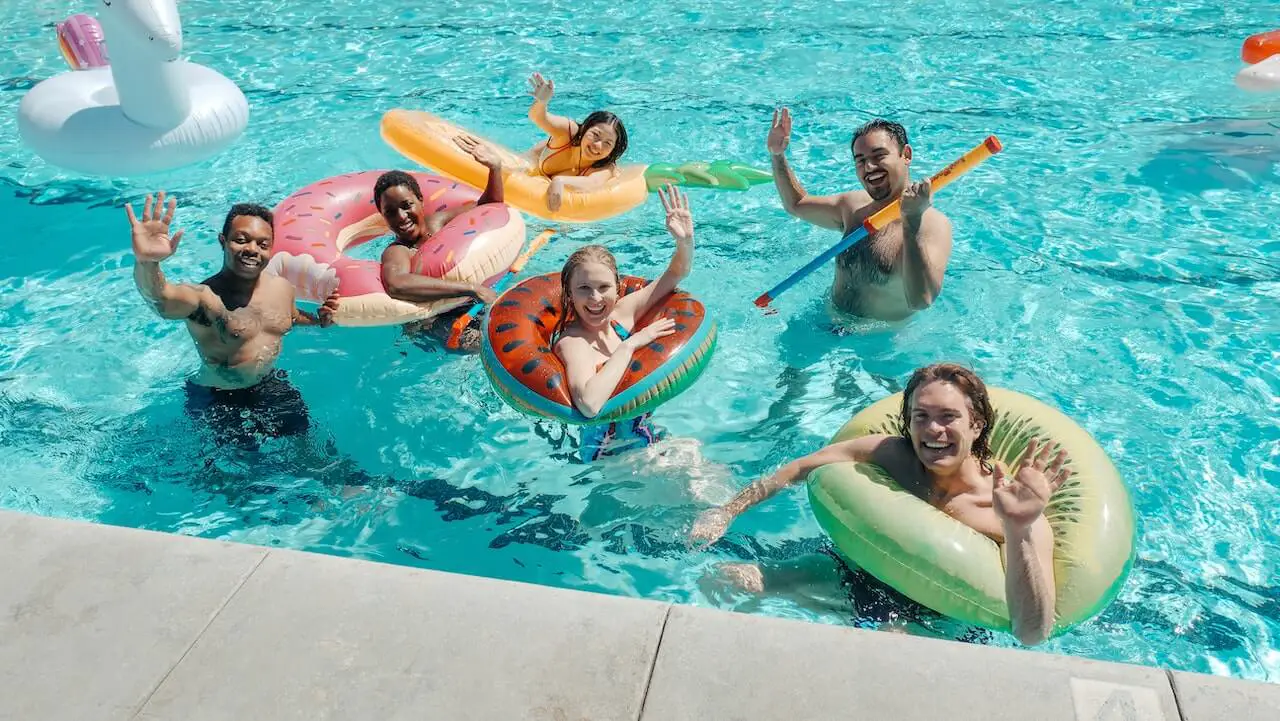 "Just keep swimming." – Dory, Finding Nemo
"This life is like a swimming pool. You dive into the water, but you can't see how deep it is." – Dennis Rodman
"I think everybody pees in the pool." – Michael Phelps
"The perfect pool is bright, But it has no color." – John Tranter
"Somebody said to me, 'But the Beatles were anti-materialistic.' That's a huge myth. John and I literally used to sit down and say, 'Now, let's write a swimming pool.'" – Paul McCartney
"I'm an actor, not a star. Stars are people who live in Hollywood and have heart-shaped swimming pools". – Al Pacino
"Either you decide to stay in the shallow end of the pool or you go out in the ocean." – Christopher Reeve
"Summer is a great time to visit art museums, which offer the refreshing rinse of swimming pools – only instead of cool water, you immerse yourself in art." – Jerry Saltz
"I only really and truly fully relax on my own. Give me a sun lounger, a pool and a sea view, and I'm happy." – Miranda Hart
"When I'm not working, I dress like a surfer. I look like I'm going to come into your house and clean your pool." – Alec Baldwin
"Just do some kind of workout. Doesn't matter if it's going for a walk around the block, going for a jog, doing some calisthenics, lifting weights, going to a pool and swimming – you name it. But do something that gets your blood flowing and gets your mind in the game." – Jocko Willink
"A pool is water, made available and useful, and is, as such, infinitely soothing to the western eye." – Joan Didion
"Wherever I am in the world, my perfect day begins with waking up and heading to the beach or the pool or somewhere I can be semi-comatose. I just wake up and go to the sun." – Zaha Hadid
"There is no better training for chess than swimming. On a Friday evening I like to put in a good long session of breaststroke at the pool near where I live in Budapest with my husband, Gusztav, and my two children." – Judit Polgar
"If it's nice out, I swim pretty much every day for about half an hour. I have a great pool; it's very private and not too many people use it." – Yunjin Kim