Floating down the river with friends is an unforgettable experience, filled with laughter, adventure, and picturesque moments. But when it comes to sharing those memories on Instagram, finding the perfect caption can be a challenge.
Don't worry, we've got you covered with these river tubing captions that will make your posts stand out and capture the essence of your tubing adventures.
River Tubing with Friends Captions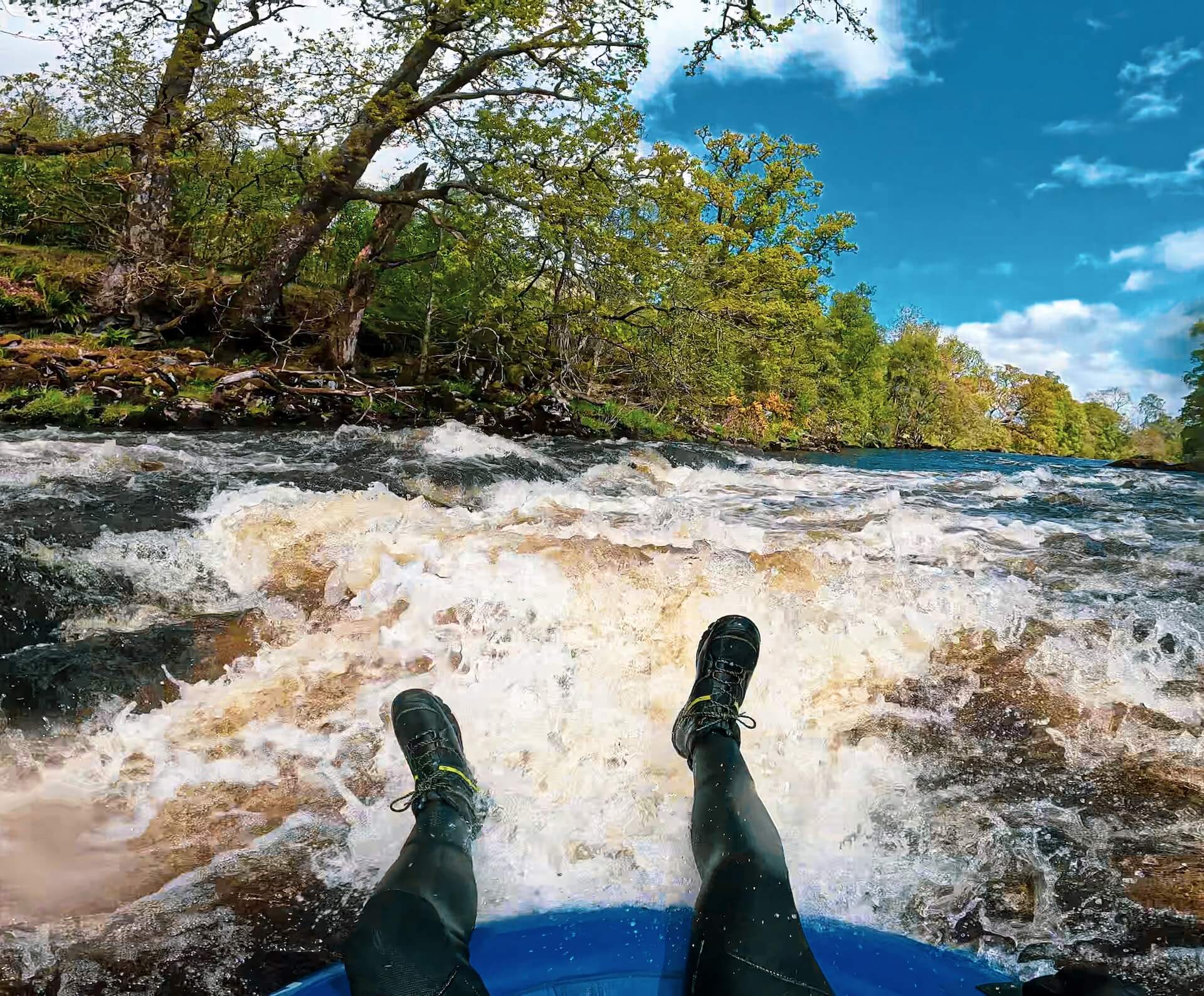 Floating into the best memories with the best crew.
Letting the river take the lead today.
Current mood: drifting with the current.
Tubing tales and river trails.
Just a bunch of floaters chasing the sun.
River days, sun rays, and endless plays.
The river's calling, and we must go.
Life's better when you're floating with friends.
Making waves and catching rays.
Sun-kissed and river-blessed.
Drifting through life, one river at a time.
The river's rhythm is my favorite song.
Nature's lazy river with my favorite people.
Let the water wash away your worries.
River vibes and high fives.
Floating away from reality for a while.
Tubing: the best way to do absolutely nothing, and everything, at once.
Here's to the memories we won't forget and the tan lines we'll regret.
The river doesn't rush, and neither do we.
Sun, fun, and river runs.
Making a splash with every laugh.
River therapy with the best company.
Just go with the flow and see where the river takes you.
Floating into a state of bliss.
The best kind of traffic jam: a river full of tubes.
Nature's waterpark: river tubing edition.
Life's a river, and we're just tubing it.
No place I'd rather be than here with my crew.
Chasing the current and making memories.
River days are the best days.
Tubing: because life's too short to stay on land.
Nature's roller coaster, minus the loops.
Letting the river guide our way today.
Floating on cloud nine, or maybe just this river.
River adventures and endless laughter.
The best stories start with a tube and a river.
Drift, splash, repeat.
Living for these sun-soaked river moments.
The river's our playground, and we're here to play.
Tubing our way into the sunset.
Life's all about finding your own current.
Soaking up the sun and the fun.
Today's forecast: 100% chance of tubing.
Floating free and feeling the breeze.
River daze and endless praise.
Making waves with my faves.
The river's our stage, and we're here to perform.
Tubing tales that never get old.
Just a day of floating and gloating.
The river knows the way, we just follow.
Here's to the rides the river provides.
Life is simple, just add water and good friends.
Funny River Tubing Captions
If you can't find me, check the nearest lazy river.
I'm on a liquid diet – just river water for me today!
Tubing: because walking on water is overrated.
I came, I saw, I floated.
"River hair, don't care" is my summer motto.
I tried to be productive today, but the river had other plans.
If I'm not back in 5 minutes… wait longer, I'm still tubing!
I float therefore I am.
Today's workout: resisting the urge to float into a tree.
The river's my treadmill. It's just set to a very slow pace.
I've peaked, and it's on this tube.
They see me floatin', they hatin'.
I told my boss I was working remotely today.
This is my version of going with the flow.
If lost, please return to the nearest river.
I'm in a committed relationship with my inner tube.
My spirit animal? A rubber duck.
I've decided to become a professional floater.
I'm on river time now, which means I'm late for everything else.
This is the only traffic I'm okay with.
I've mastered the art of doing nothing in the middle of a river.
Tubing: the only time going in circles is fun.
If life gives you a river, grab a tube!
I'm not lazy; I'm just on energy-saving mode… in a tube.
I've got 99 problems, but a tube ain't one.
Today's agenda: float, snack, nap, repeat.
I'm basically a professional water noodle.
I told myself I'd try water sports. Does this count?
The river's my chauffeur today.
I'm living on river time, which means I'm always late.
This is my "going out" tube.
I've decided to take life at a river's pace.
I'm not lost; I'm just exploring the river's scenic route.
This is my attempt at adulting.
I'm in a tube, so technically, I'm on a roll.
This is the closest I'll get to walking on water.
I've decided to trade my bed for a tube.
I'm out of office today. And by office, I mean land.
I'm just a drop in the river, but at least I'm floating.
This is my attempt at water aerobics.
I'm not drifting aimlessly; I'm just taking the scenic route.
Tubing: It's like a lazy river, but with more… river.
I asked the river for life advice. It said, "Go with the flow."
I tried to tube in a straight line. The river had other plans.
The river said I could join its club. I'm now a streamer.
I tried to tube upstream. Spoiler: It didn't work.
If I float away, just know the river and I had a thing.
Tubing: because walking on water seemed too mainstream.
I'm not stuck; I'm just in a river traffic jam.
River Tubing Puns
I'm "oar"-struck by this river's beauty!
Tubing today? That's "in-tube-itably" a great idea!
Let me just "float" this idea real quick: you, me, and river tubing.
"Water" you thinking? Let's go tubing!
I'm "stream"-ly excited about this tubing adventure.
"Current"-ly, there's no place I'd rather be.
I'm "over-float" with joy on this river.
"Rapid"ly becoming my favorite way to spend a day.
I'm just "going with the flow" today.
"Buoy", that was a fun ride!
"Water" way to spend the day!
I'm "whirl"-ing with excitement on this tube.
"Bank" on me to have a great time tubing.
This isn't just a "stream" of consciousness; I genuinely love tubing!
I'm "up the creek" with a tube, and it's perfect.
"Waterfall" in love with river tubing every time.
I "canoe" believe how fun this is!
River Floating Quotes
"A river seems a magic thing. A magic, moving, living part of the very earth itself." – Laura Gilpin
"No man ever steps in the same river twice, for it's not the same river and he's not the same man." – Heraclitus
"The river is everywhere at the same time, at the source and at the mouth, at the waterfall, at the ferry, at the current, in the ocean and in the mountains, everywhere, and that the present only exists for it, not the shadow of the past nor the shadow of the future." – Hermann Hesse, Siddhartha
"Rivers know this: there is no hurry. We shall get there someday." – A.A. Milne, Winnie-the-Pooh
"A river cuts through rock, not because of its power, but because of its persistence." – Jim Watkins
"The river is one of my favorite metaphors, the symbol of the great flow of Life Itself. The river begins at Source, and returns to Source, unerringly. This happens every single time, without exception. We are no different." – Jeffrey R. Anderson.
"Rivers are the arteries of our planet; they are lifelines in the truest sense." – Mark Angelo
"A river is more than an amenity, it is a treasure." – Oliver Wendell Holmes
"In rivers, the water that you touch is the last of what has passed and the first of that which comes; so with present time." – Leonardo da Vinci
"Life is like the river, sometimes it sweeps you gently along and sometimes the rapids come out of nowhere." – Emma Smith
"The river flows at its own sweet will, but the flood is bound in the two banks. If it were not thus bound, its freedom would be wasted." – Vinoba Bhave
"The sun shines not on us but in us. The rivers flow not past, but through us." – John Muir
"A river has many curves, but it always reaches the ocean." – Donald L. Hicks
"The river moves, but it follows a path. When it tires of one journey, it rubs through some rock to forge a new way. Hard work, but that's its nature." – Kekla Magoon
"A river is water is its loveliest form; rivers have life and sound and movement and infinity of variation, rivers are veins of the earth through which the lifeblood returns to the heart." – Roderick Haig-Brown
"The river is such a tranquil place, a place to sit and think of romance and the beauty of nature, to enjoy the elegance of swans and the chance of a glimpse of a kingfisher." – Jane Wilson-Howarth
"The river is constantly turning and bending and you never know where it's going to go and where you'll wind up. Following the bend in the river and staying on your own path means that you are on the right track. Don't let anyone deter you from that." – Eartha Kitt
"We steer the boat, we don't alter the river." – J. Earp
"It is pleasant to have been to a place the way a river went." – Henry David Thoreau
"I've known rivers: I've known rivers ancient as the world and older than the flow of human blood in human veins. My soul has grown deep like the rivers." – Langston Hughes
"So our lives glide on: the river ends we don't know where, and the sea begins, and then there is no more jumping ashore." – George Eliot
"The river asked me who I was to be gazing so longingly into her curving body of cascading dreams and shifting beauty." — Todd Crawshaw
"May what I do flow from me like a river, no forcing and no holding back, the way it is with children." ― Rainer Maria Rilke
"The river has great wisdom and whispers its secrets to the hearts of men." – Mark Twain
"Learn from a river; obstacles may force it to change its course, but never its destination." – Matshona Dhliwayo
"The river waters quench the thirst of all living beings." — Ram Nath Kovind
"Those who stand at the threshold of life always waiting for the right time to change are like the man who stands at the bank of a river waiting for the water to pass so he can cross on dry land." — Joseph B. Wirthlin
"We must begin thinking like a river if we are to leave a legacy of beauty and life for future generations." — David Brower
"A river doesn't just carry water, it carries life." – Amit Kalantri
"A good river is nature's life work in song." – Mark Helprin
"Many a calm river begins as a turbulent waterfall, yet none hurtles and foams all the way to the sea." – Mikhail Lermontov
"True merit, like a river, the deeper it is, the less noise it makes." – Edward Wood, 1st Earl of Halifax
"If the earth is a mother, then rivers are her veins." – Amit Kalantri
"If you have to cross a river, you shall cross the river! Through swimming, through a raft, through walking, through any way possible, you shall cross it!" – Mehmet Murat Ildan