If you happen to be vacationing in Italy, you might want to give Sardinia a visit, particularly if you're a keen snorkeler. Sardinia is the second largest island in the Mediterranean, second only to Sicily, and it offers a fantastic snorkeling experience for everyone.
You can go for a nice hike and finish off with a relaxing snorkeling session in the crystal-clear waters afterwards. You don't have to strain your eyes very hard, or at all, and you can easily spot an abundance of marine life such as sole, wreaths, sars, starfish, sea urchins, and much more.
With 1,200 miles of rocky coastline and dozens of smaller islands and islets, Sardinia is overloaded with possible snorkeling locations. There's so many, it's impossible to list them all, however numerous regions that stand out have naturally become quite popular. In this article, we'll recommend great snorkeling sites in Sardinia, with their crystalline beaches and caves, and abundance of diverse aquatic life, so get ready to pack your snorkel gear for travel.
Best beach snorkeling sites in Sardinia
Cala Brandinchi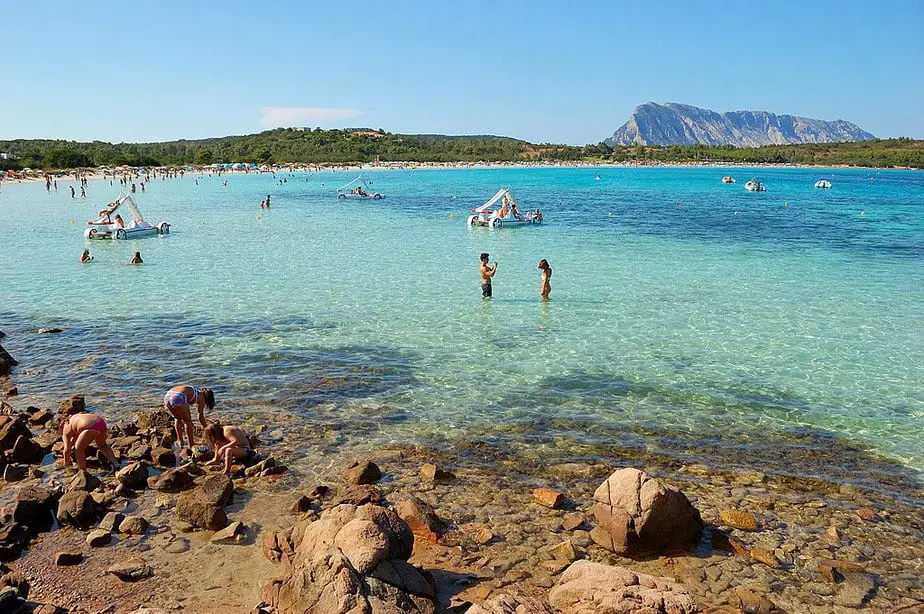 We'll start off with one of the most beautiful beaches in Sardinia, Cala Brandinchi, which has the nickname "Little Tahiti". It is located 4 miles north of San Teodoro.
When you step foot in it, you will be greeted with a sandy white beach surrounded by green pine trees in the background. Additionally, the sandy dunes and crystal clear waters enhance the feeling that you are in a snorkeling paradise.
Not only is the water crystal clear, but it's quite shallow for a distance, making it an ideal snorkeling location for children and adults alike. Beneath the light turquoise water lies a good deal of rock formations that are interesting to look at while snorkeling. In the cracks and crevices of these formations are a variety of vibrantly colored fish species.
Cala Goloritzè
Cala Goloritzè can be found at the base of a ravine, meaning it is only accessible by boat or by hiking. Specifically, it's about 5 miles north of Baunei and a little south of Cala Biriola.
Like in Cala Brandinchi, the sandy white beach and clear turquoise waters are idyllic. You will have excellent visibility, and here you'll also find interesting rock formations and aquatic life living in the cracks. If you choose to hike to Cala Goloritzè, you can think of the beautiful snorkeling experience waiting for you as a reward for your efforts.
That said, you can also travel here via a boat tour along the coast of Baunei. This is also a great option for seeing more diverse marine life; if you're lucky, you can spot octopuses and dolphins. The tour typically ends at Cala Goloritzè, where you are free to go snorkeling for a couple of hours. Before that, the boat will take you to hidden bays, old shipwrecks, and caves where pirates used to hunker down in.
Cala Cipolla
Next, Cala Cipolla is located on the Chia Bay, in the southern region of Sardinia. Many agree that it's one of the best spots for snorkeling in Sardinia. Furthermore, Chia is an ancient coastal town, with plenty of history if that's your sort of thing.
Cala Cipolla is a popular location that frequently attracts surfers during the off-season. The beach itself is almost 500 feet long with plenty of fine, white sand. It's surrounded by juniper and pine trees, giving you plenty of places to rest in the shade. The water is yet again turquoise blue and very clear. Numerous rock formations hide marine life that you can observe while snorkeling.
Cala Luna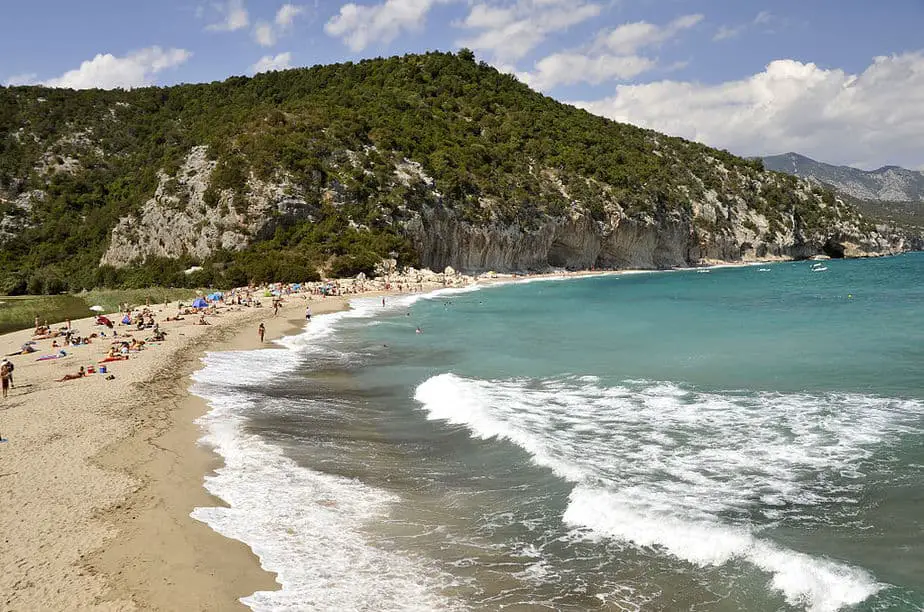 Our next snorkeling destination is located in the Gulf of Orosei, close to Cala Gonone village. Cala Luna is covered with greenery and has tall limestone cliffs that you can peer perilously over. The white sand stretches to the clear blue waters.
The beach is in a secluded space for those who like to be alone, close to the Bue Marino Caves. Inside, you can find stalactites, stalagmites, and rock carvings. You have the option of hiking here or going with a boat tour.
In the summer, the boat tour sets off from Cala Gonone. When you're at Cala Luna, you can snorkel right from the beach. Even if you aren't particularly interested in the nature hike, at least you can still enjoy observing the marine life. This is also a fantastic place for photography.
Tuerredda Beach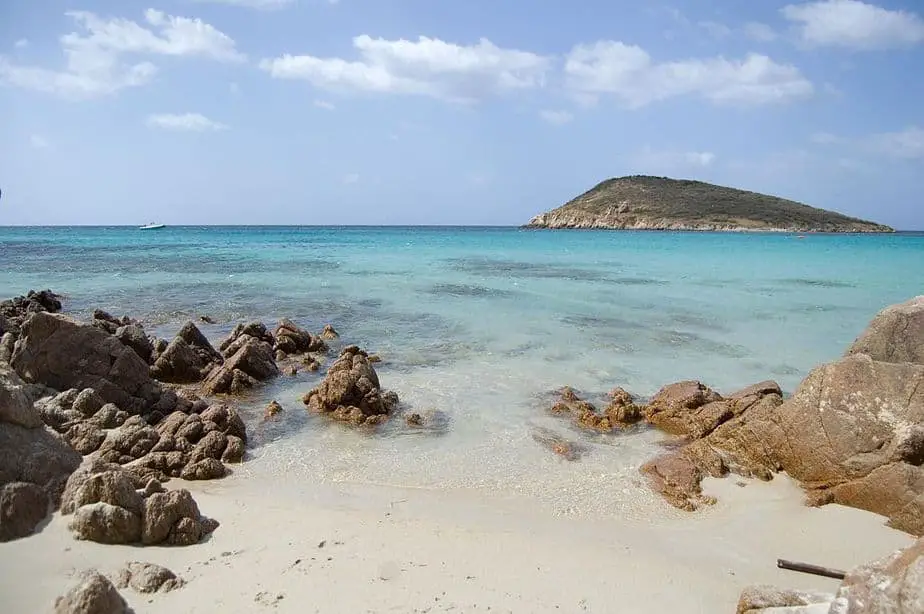 Another beach located in southern Sardinia is Tuerredda Beach. It's located between Capo Spartivento and Capo Malfatano. What makes this cove stand out is that it has a Caribbean vibe, and is often called the jewel of Sardinia.
There's even a small island close by that most people can easily swim to so that they can sunbathe and enjoy the scenery on the other side. You can even rent a canoe so you can combine snorkeling with another water activity.
Another option is to join a boat tour that stops at this beach for snorkeling. The snorkel guides will let you know where the most interesting fish are. You can also learn a bit of Italy's ancient history if you like.
Cala Spinosa
Yet another contender for best beach in Sardinia is Cala Spinosa. This is an idyllic beach located next to Capo Testa village, and is actually three beaches that are surrounded by rocks which shield the waters from the wind. This secluded beach can give you some much-desired privacy and a calmer experience in the waters.
The waters are, of course, crystal clear and the environment is lush, both underwater and on land. Make sure to bring your camera with you for this one.
Spiaggia di Porto San Paolo
The seaside village of Porto San Paolo is a beautiful and popular holiday destination. The main beach, Spiaggia di Porto San Paolo is yet another great snorkeling destination with fine, white sand and clear blue waters.
This beach is easily accessible, even for those with limited mobility. It's also not very busy most of the time which is such a boon. If you want some privacy, you can enjoy it here while looking at the beautiful view of the neighboring Tavolara Island, all without a huge crowd to spoil the moment.
Best snorkeling regions in Sardinia
La Maddalena Archipelago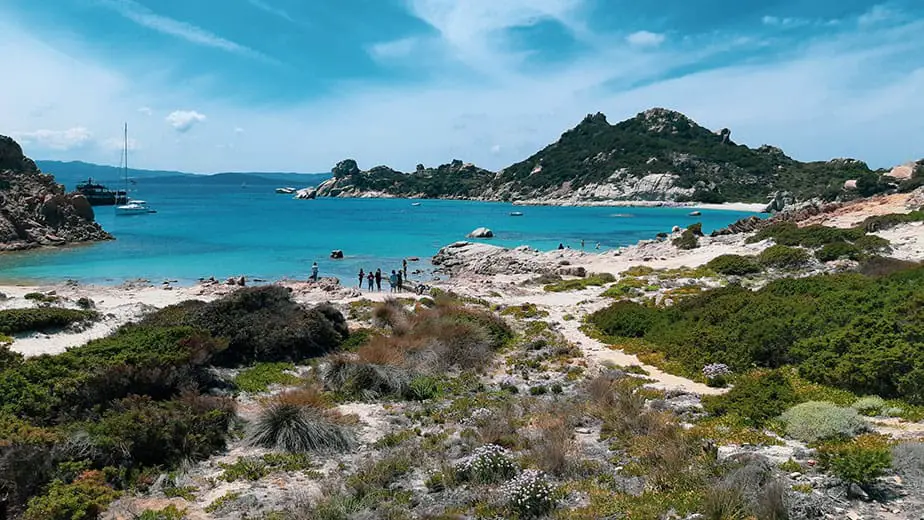 The Maddalena Archipelago National Park is home to 7 islands and innumerable islets and granite rocks. Stretching off the northern tip of Sardinia, the island can be reached from Proto Pollo and Palau. It is the ultimate snorkeling region because of its protected seabed where fishing is prohibited.
The main island of the archipelago, La Maddalena, leads you to Cala Francese, Cala Spalmatore, and Punta Tegge, all of which are accessible from the shore. Further north is the Passo Cecca di Morto, which is a lagoon with shallow, turquoise waters. It is arguably the most famous snorkeling location in the archipelago despite being only accessible by boat.
Olbia region
Another region worth checking out for the purposes of snorkeling is the Olbia region. One such destination is Tavolara Island, which is only a few minutes' boat ride away from Porto San Paolo. Near the jetty, you can snorkel in the turquoise waters of Punta Spalmatore.
A few kilometers south, you will find two fantastic snorkeling sites: Cala Brandinchi and Capo Coda Cavallo. Lastly, if you are staying near Budoni or Ottiolu, you can also check out Porto Ottiolu, Cala dei Francesi, or explore the Pedrami Rocks.
Gulf of Orosei
In the mood to snorkel in more remote destinations? The Gulf of Orosei, with its mountainous coast that stretches between Baunei and Dorgali, is for you.
There are three exceptional snorkeling spots here, which can be reached via boat or hiking. The most famous is Cala Goloritzè thanks to its stunning cove, crystal clear waters, surrounding arch and cliffs. It was declared a national monument in 1990.
A couple of kilometers north of Cala Goloritzè is the excellent Cala Mariolu, with its sheer cliffs that are a sight to behold (and might make your heart race). The third spot is Cala Luna, which is accessible from Cala Fuili.
Sassari region
The Sassari region is located in the northwestern section of Sardinia and it is also a veritable trove of snorkeling locations. Near Alghero, you can find one of the coves of the Costa Corallina, named as such due to the red coral that blankets the area. Technically you can't see them unless you're scuba diving due to their depth at 30 m / 100 ft deep, but many fish and invertebrates can be seen snorkeling by the surface.
On the other side of Alghero is the Porto Conte Regional Natural Park, which is a delight for lovers of the underwater world. Here, you can visit Cala del Bollo (hard to access without a boat) and Cala d'Inferno (boat access only) which are both highly recommended.
Heading along the coast north, you will find a series of coves, each as beautiful as the one before. You can find the Spiaggia di Lampianu, Spiaggia di Rena Majore, and Spiaggia della Nura, all of which have rocky beds and should only be explored by experienced snorkelers.
Aquatic life in Sardinia
Beaches blanketed by white sand and clear, turquoise water are commonplace among the snorkeling sites in Sardinia. However, what about the marine life you can spot underwater?
The Sardinian coastal waters are famous for their bustling, vibrant, and diverse marine life, especially in the protected areas. Here, you can find the likes of: sea bream, mullets, ornate wrasse, and rainbow wrasse in most locations.
In the cracks of crevices of the rock formations, keep an eye out for Mediterranean morays and octopuses. You'll also sometimes  see wide-eyed flounders peeking out from the sand.
If you want to see the more emblematic Mediterranean species, the protected areas are where you can spot: common dentex, amberjack, gilt-head bream, and dusky grouper. If invertebrates are more your thing, Sardinia is full of sea urchins, sea anemones, red sea stars, and sea cucumbers, even in shallow waters.
Make sure your snorkel mask is up to snuff. We recommend wearing a full face snorkel mask so that you can have the largest view of the underwater world. If you are having trouble staying afloat, be sure to wear some kind of flotation device like a life jacket or snorkel vest.
Best time to go snorkeling in Sardinia
The peak season for tourists in Sardinia are in the months of July and August, where it typically coincides with the highest temperatures. Generally, the climate in Sardinia is sunny and mild. From June to September, you can expect temperatures ranging from 20 to 25°C / 70 to 80°F. The rest of the year, the temperatures range from 14 to 20°C / 55 to 70°F.
Similarly, the water temperature averages around 24 and 26°C / 75 and 80°F in the summer months, and around 20°C / 70°F during the months transitioning to and from summer. The rest of the time, the cool temperatures make snorkeling undesirable unless you have an adapted exposure suit to keep you warm.
Even when it's warm, you should not go shirtless. The harsh UV rays will likely burn your back and shoulders. While you don't necessarily need a wetsuit to keep you warm, you should wear a rashguard at minimum for sun protection.
If you don't want to be part of the tourist rush, you can wait until September and October, when most of the tourists have already left. During this time, the water temperatures still hover around 25°C / 80°F at the surface. For those not interested in large crowds, this is the optimal time.
Parting words
If you are vacationing in Italy, then be sure to give Sardinia a visit. It has beautiful flora and fauna with some of the best beaches to snorkel in. The waters are so clear, visibility is great, and it's not very difficult to spot marine life.
What makes these beaches so wonderful is how shallow the water is. For those who are less experienced at snorkeling or have kids that want to snorkel, the beaches in Sardinia are amazing. Oftentimes there will be nearby islands that you can easily swim to as well. Some are even reminiscent of the Caribbean, despite it being the Mediterranean.
Depending on where and when you go, some beaches are extremely packed, and others are hidden gems that seem to be secluded from the world. Some locations can be hiked to, and others are only accessible by boat. Whatever beach you visit, it's hard to go wrong snorkeling in Sardinia.
You might also be interested in our article on scuba diving in Venice, Italy.