Knowing how to measure board shorts gives you the ability to use them to their fullest potential. It's far too often that guys try to find the right size, but end up either choosing a pair that is too large or too small.
There are a few minute details to consider when sizing shorts, including how the legs will fit, and more importantly, the waist. With the help of this thorough guide, you'll know exactly how to measure yourself to the best of your ability so that you can choose the right size of board shorts.
In addition to that, you'll also find that these tips will make it easier to use manufacturers' sizing guides if you're shopping online.
What to Look for in Board Shorts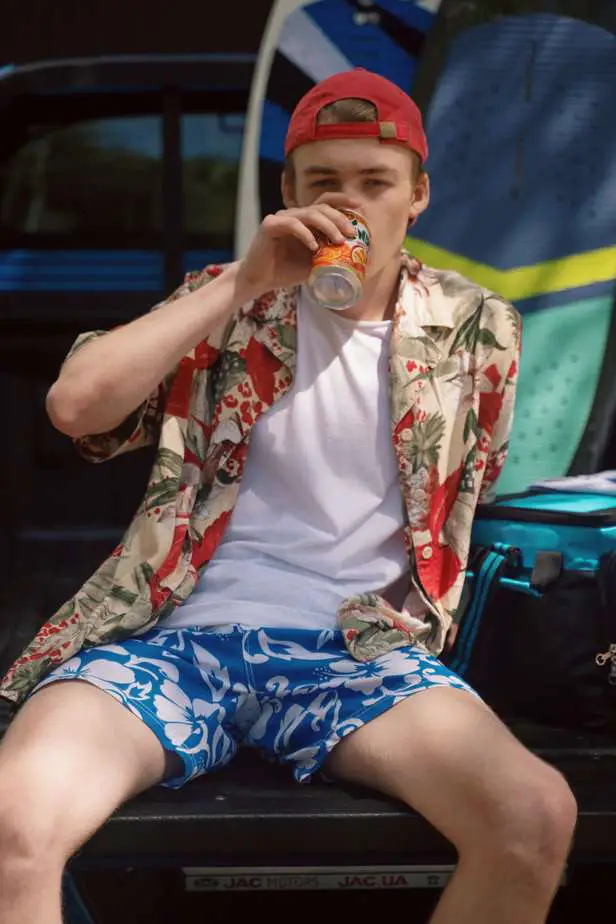 Before you start with your actual measurements, it's important to understand how board shorts are made as this will affect their sizing. For example, performance board shorts will likely be more flexible than hybrid shorts.
Below are the most important things to look for to find the perfect fit.
Type
Let's first go over the type of board shorts you'll be able to find on the market. The three most popular are the standard, performance, and hybrid designs.
Standard
Standard board shorts are the most common, and you'll find that most brands will have an extensive collection of this type. These are designed with the sole purpose of giving you flexibility and coverage without being overly flexible.
Standard board shorts are quite loose around the legs but still offer optimal security around the waist. On average, the inseam will range between 20 and 22 inches, allowing the shorts to fall at the middle or below the knee.
You'll likely find standard board shorts worn by surfers and others who love in-water activities. You might also find that you can wear them for running errands or more casual outings.
Performance
Performance board shorts are incredibly versatile and are highly recommended for people engaging in high-impact, water-based activities. They'll also be quite useful for beach sports, such as beach volleyball. Plenty of people prefer performance board shorts as a great option for working out as well.
Performance board shorts typically have a lot of features and specialized materials. They are designed to wick away moisture, and they will dry substantially faster than most other pairs of board shorts. You'll also find their flexibility is unmatched, as they are designed for heavy-duty activities.
Hybrid
Hybrid board shorts are quite interesting, as they are designed for the type of person who needs a fashionable pair of shorts in and out of the water. As their name suggests, these shorts are a hybrid of regular board shorts and everyday casual shorts.
They typically look like a regular pair of chino shorts but have the same materials and features as board shorts. If you're looking for a versatile and easily transitional pair of swimming shorts, hybrids are your best bet.
Materials
Another important thing to think about when finding the perfect pair of board shorts is the material it is made out of. In the swimwear industry, this varies greatly, as some brands prefer 100% polyester and others prefer a polyester blend.
Every material has its own advantages and disadvantages. The most common options are nylon, polyester, and fabric blends.
Nylon
Nylon is a very popular material to use because it is inexpensive and lightweight. You may also find that it will dry substantially faster than most other materials. However, as nylon is inexpensive, the quality of your shorts will be less than polyester shorts, for example.
Another concern with nylon is that it isn't as breathable as polyester, which will make you feel less cool on the hottest days of summer.
Polyester
Polyester is one of the most popular materials used to create board shorts, and for a good reason. It's a highly adaptable material that offers optimal stretch and comfort. Also, it is very soft, which helps to prevent chafing.
Another advantage of polyester is that it dries quickly and helps to wick away moisture. If you're prone to sweating a lot, you'll want to opt for a pair of board shorts made primarily from polyester.
Fabric Blends
More often than not, you're likely to find a pair of board shorts that has a blend of materials, such as polyester, cotton, and spandex or elastane. Fabric blends can be the most preferable option, as they have all of the advantages of two or more materials. You'll find that they are breathable, quick drying, and highly flexible.
How to Measure Board Shorts
Now that you are fully aware of the most important things to consider when sizing your shorts, it's time to learn how to measure your shorts properly. There are a few steps to follow.
Step 1: Measure the Waist
First, you'll need to get your waist measurement. With the use of a fabric measuring tape, pull it around your waist so that it feels snug. You'll want to focus on the widest section of your hips and ensure the tape is not held too tight.
Step 2: Measure the Inseam and Rise
The inseam is where the shorts will come to when worn. This is very important, as an incorrect inseam measurement could make your board shorts too long or short. For this step, you'll want to measure from your crotch down to your knee, depending on your preferences.
You can adjust the knee measurement to find the best length that you'd prefer to have. At this point, you can also get your rise measurements, as all you have to do is measure from your crotch to your waistline.
A couple of tips for inseam lengths based on average male height include:
18" – Short (well above the knee)
19" – At the knee
20" – Mid (at the knee)
21" – Just below the knee
22" – Long (well below the knee)
Step 3: Measure the Length
The final measurement that you might need is the overall length of the shorts. To get this measurement, all you have to do is measure from your waistline to your knee. You'll want the help of a friend or a family member to get the perfect measurement.
Final Thoughts
Knowing how to measure board shorts will make shopping for one far simpler and help you to choose the perfect pair that make you look your best. You can use this guide to help you find the perfect shorts for any occasion so that you can feel secure and comfortable this summer.