Summer is here and beach season is in full swing once again. It's time to whip out last year's swimsuit and pray that it's still good to go. Many people will be in for a shocking surprise when they find black dots on their swimsuit, or that their swimsuit is now one or two sizes too small, or they find ugly little bobbles of fabric known as pills.
Out of these issues, pilling is probably the least problematic, but it still looks really bad and nobody wants to look bad, right? You've probably experienced pilling with your regular clothes. How exactly do you get rid of them? Pulling them off one by one with your fingers technically works, but that would take forever. There must be a better way.
The best way to remove pills from your swimsuit is with a razor. Get a brand new cheap disposable razor and gently shave off the pills (no shaving cream required). You can also use a Velcro strip, fabric comb, hair rollers, or scissors to help you remove pills from your swimsuit. These are all viable options and we'll discuss how you can use them in greater detail below.
In this article, you will learn what pilling is, the best ways to remove them, and how to prevent pilling in the first place. Let's get into it.
What is pilling?
Pilling is tiny, fuzzy bobbles of thread that are knotted up. You've probably seen them on some of your clothes, and they can show up on swimsuits as well. Pills can turn what was once a beautiful swimsuit into an ugly, fuzzy mess. Thankfully, all you need to do to get rid of them is to find the most efficient way to rip them off your swimsuit.
What causes pilling?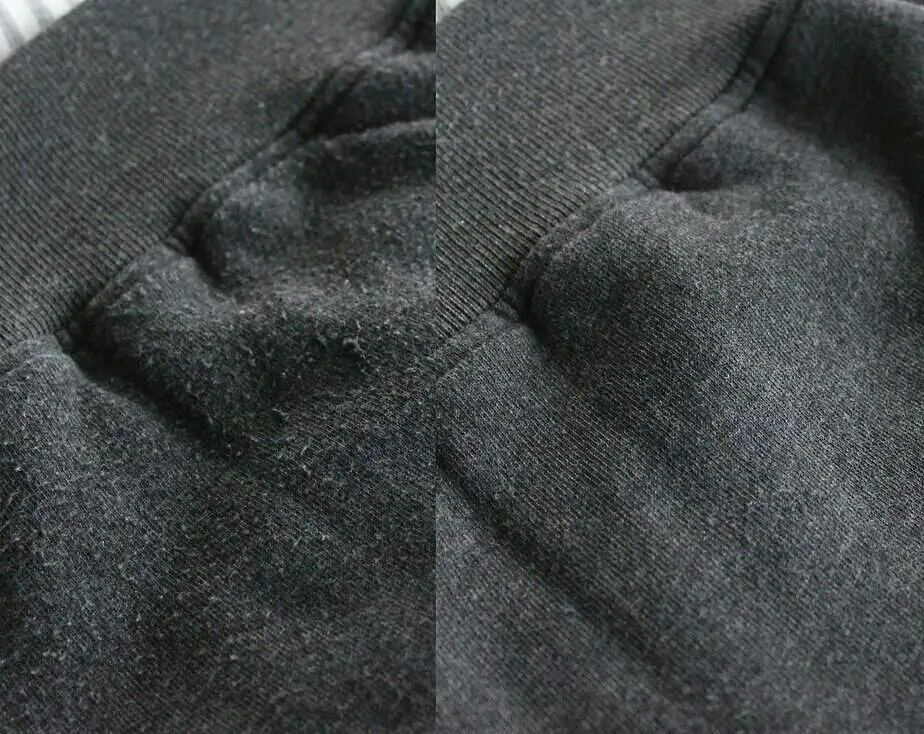 When groups of broken fibers on your clothes become tangled together in a tiny knot or ball, that is when a pill forms. They are most likely to form due to rubbing or abrasion during normal use. You are most likely to find them under the arms of clothes, around the cuffs and collar of a shirt, between the thighs as well as on the rear of the pants, or on the center of bed sheets. Pilling can happen anywhere.
Some fabrics and fibers are more likely to pill than others. It can be difficult to predict which fabrics will pill because so many clothes are made with a blend of fabrics. That said, we can make some generalizations.
Knitted fabrics are more likely to pill than woven fabrics since the threads are looser. Fabrics made of long fibers such as linen and silk are less likely to pill compared to cotton, wool, polyester, and other synthetic fabrics.
When there is a blend of fabrics, one fiber will typically be much stronger than the other. What will happen, then, is that the weaker fiber will break, knot around the other fiber, and a pill is still formed.
Once a pill is formed, it becomes a kind of magnet for other loose threads to become entangled, creating an even bigger pill. If, for example, you notice a pill that has two separate colors, that's because the pill attracted fuzz from another fabric.
The best tools to depill your swimsuit
You don't need any fancy equipment to get rid of the pills on your swimsuit. Chances are good that you already have some of the stuff on this list, such as a razor.
Razor
First, take out a new shaving razor; you want a fresh, sharp blade to cleanly slice off the pills. Don't grab the used, dull one from the shower.
Next, place the swimsuit on a flat surface (preferably a hard surface) and stretch it taut. You can keep it held in place with one hand, and your other hand can gently scrape off the pills using the razor.
Depending on how much pilling there is, the razor may get clogged with pills. Don't toss the blade just yet. You can gently wipe the blade against a paper towel to dislodge the pills from the blade and continue using the same razor.
Not all of the pills will get stuck onto the razor, so you can do a quick cleanup job by using a lint roller to collect the remaining pills.
Using a razor to remove pills is the best option because not only is it effective, but you probably already have a razor at home, and if not, then any cheap disposable razor will do.
Velcro strip
The next option is to use a Velcro strip to get rid of the pills. You also likely have Velcro at home on your clothing or shoes. A Velcro strip has abrasive, hooked ends that can latch onto the pills and pull them off with ease.
Essentially, we will follow the same steps as above but instead of a razor, you will use a strip of Velcro to remove the pills. So get your bathing suit, lay it on a flat, hard surface and stretch it taut. Gently rub the Velcro onto your bathing suit to pull the pills off of it.
Just like with the razor, the pills will get stuck on the Velcro and eventually render it ineffective until you remove the pills from the Velcro. You can use a lint roller afterwards for good measure to pick up any remaining pills.
Hair roller
In a similar vein to Velcro strips, hair rollers feature a similar coarse texture that can grip onto any pills and pull them off cleanly. If you have hair rollers around your home, you can substitute the razor or Velcro strip with that.
Hair rollers are an excellent substitute because they are soft and easy to use. It is very important that you are not too rough with your swimsuit, otherwise you might end up ripping off more than just the pills.
Nose hair scissors
Scissors are the most inefficient method here, probably about as effective as ripping the pills off with your hands, because you need to slowly and very carefully clip off the pills one by one. It might even be better to just use your hands to rip off the pills if you have long fingernails. That said, if you don't want to have a bunch of lint end up in your fingernails (or risk damaging them), then scissors are probably the better option.
Sweater stone
A sweater stone is to your clothing what a pumice stone is to your feet. Essentially, it is an abrasive stone that, when rubbed against clothing with pilling, can help rub the pills off. You just need to gently rub it against your sweater, making sure not to press too hard, and it should swiftly pull the pills off without damaging your sweater. Make sure to hold the swimsuit taut first.
Fabric defuzzer
A fabric defuzzer is an electric tool that is specifically designed to clean up the pills on furniture and clothing, but you can also use it on your swimsuit. It's shaped like a stubby gun with a flat end, but that's where you'll press it against your swimsuit and it will both slice and collect the pill in its container. Clean-up is so simple; just empty the lint stored in the container and continue depilling. If you have a lot of clothes, consider investing in this battery operated device.
Fabric comb
Lastly, you can use a fabric comb to depill your swimsuit. This is not the same as a hair comb; this comb is specifically designed to depill and delint your clothing. It can also be used to clean up your swimsuit. We mentioned such a specific tool last because, chances are you've never heard of it and don't have one conveniently at home unlike a razor.
Using a fabric comb is simple; it's a comb, so use it like you would use any other comb except to brush clothing instead of your hair. Hold down your swimsuit taut and gently brush the pills off using the comb. You might have to exert a little pressure to get the optimal results, since it rips the pills off rather than cutting it.
If you have a lot of clothing with very noticeable pilling or lint on them, then perhaps it would be a good investment to buy a fabric comb. That way, you don't have to sacrifice a razor each time you want to depill a piece of clothing.
How to prevent pilling on your swimsuit
As you can see, there are many ways you can depill your swimsuit. However, it's still a hassle, so how can we prevent pilling on our swimsuit in the first place? Here's how:
Set your washing machine to a gentle cycle/hand wash your swimsuit . As mentioned, pilling is caused by rubbing and abrasion. Thus, one of the most common causes of pilling is when you put it in the washing machine and dryer and it is tossed around in the drum and rubbed against your other clothes with zippers and buttons, causing it to deteriorate rapidly. Your best options are to set your washing machine to a gentle cycle or you should consider individually hand washing your swimsuits and other nice clothing. Also consider air drying your clothes by laying them on a flat surface instead of putting them in the dryer.
Turn the garment inside out. Before washing any clothing, whether it's in a washer or by hand, turn the garment inside out. This protects the exterior from abrasive surfaces. This will cause pilling in the interior, but we care more about how our clothes look from the exterior.
Sort your clothing properly before washing. If you are hand washing your clothes already, then this point is moot. If you are still relying on your washing machine, then separate delicate items from the rest of your clothes. This protects them from rubbing against coarser clothing like jeans or clothing with zippers.
Use a mild detergent. One reason we recommend hand washing your swimwear is because laundry detergent is too harsh on your swimsuit. Definitely do not use bleach either. Instead, you should specifically use a swimwear cleaner. Other detergents may weaken the fibers, causing them to break and pill.
Be wary of rough surfaces. Pilling can also be caused through regular use. When you are outdoors, be wary of sitting on a log or on any stone surfaces. If you find yourself shifting around a lot on these surfaces, this motion can cause fibers to tear and form pills. Consider placing something over these rough surfaces, such as a towel, to reduce the wear and tear on your swimsuit. Otherwise, try not to spend too much time sitting on or leaning against them in the first place.
Store your swimsuit properly. Many issues arise from improperly storing your swimsuit. As mentioned, you can open up your bag to find your swimsuit has mold on it, shrunk, or is covered in pills. Even inside your swimming bag, we recommend storing your swimsuit in a plastic bag or a separate component away from your goggles, dive mask, or snorkel gear. If your swimsuit rubs against these things, it is very likely it will start to pill.
While we cannot promise you that these tips will prevent pilling altogether, they can drastically reduce the chances of pilling and keep your swimsuit looking its best for longer.
They may seem annoying at first, but in practice, it will become a lot more intuitive once you get the hang of it. At some point, these "tips" become common sense, and you can apply these principles to your regular clothing which is probably where you will experience the bulk of your pilling problems.
Parting words
All in all, depilling your swimsuit is a very straightforward task that can be done in just a few minutes if you have the right tools. And, thankfully, the right tools are very cheap and readily available; you probably already own some of them at home. Your best options are to use a razor or fabric comb with a lint roller to pick up any leftover pills.
If you dislike having to depill your swimsuit so often, then you must also learn the ways that you can reduce the chances of pilling in the first place. These include hand washing your swimsuit, using a mild detergent, turning your swimsuit inside out before washing, and washing your delicate clothing separate from your other clothes.
Incidentally, these tips will also ensure that your swimsuits last much longer. You may find that your swimsuits can last multiple summers and you don't have to buy a new one every year. Your friends won't even be able to tell that you're wearing an old swimsuit because of how brand new it will look due to your depilling and washing efforts.
Before you toss your old swimsuit away due to pilling, follow these tips and see if you can revitalize it for at least another season of fun in the sun.
Last update on 2023-11-13 / Affiliate links / Images from Amazon Product Advertising API