Are you scratching your head, wondering what kind of shorts is acceptable to wear for swimming that provides safety, comfort, and utility? In this article, we will go over what you should and shouldn't wear so that you can have the best swimming experience.
What kind of shorts can be used for swimming?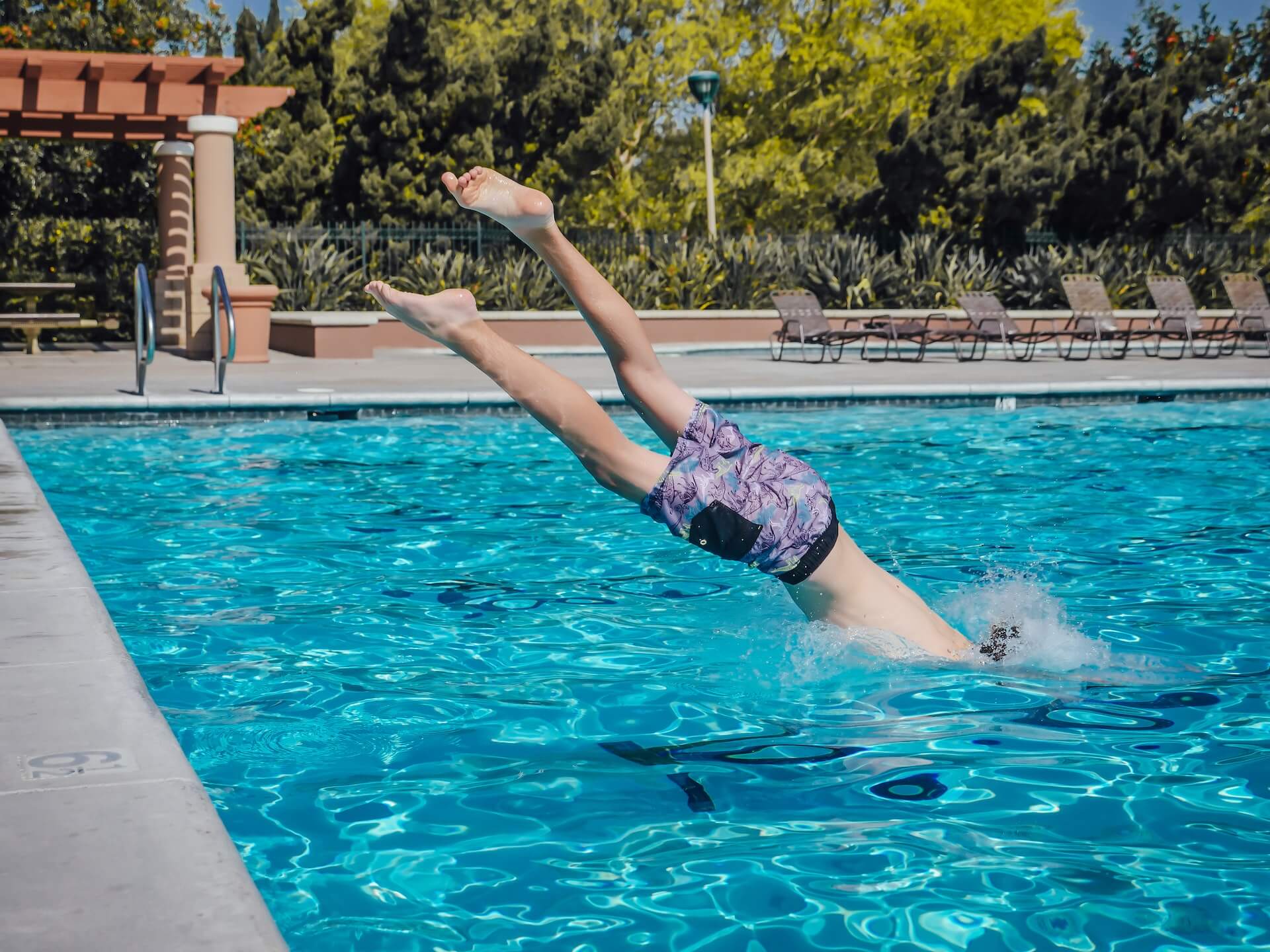 Swimming shorts, often referred to as swim trunks, are specially designed to be worn in the water. They are made from materials that are quick-drying, resistant to chlorine and saltwater, and provide comfort while swimming.
Common materials include nylon, polyester, and spandex. However, you must differentiate between regular shorts made from these materials and actual swim shorts.
Swim shorts often have features like a mesh lining, drawstrings for a secure fit, and UV protection. They come in various lengths and styles, from shorter trunks to longer board shorts.
Can you wear gym shorts to the swimming pool?
Some swimming pools may also have dress code policies prohibiting non-swimwear attire, so it's advisable to wear proper swim shorts.
Swim shorts are made for the pool, designed with quick-drying materials, and often have a mesh lining. Gym shorts, especially those made from cotton or non-swimming materials, can become heavy, uncomfortable, and take longer to dry.
If you are not sure whether your shorts are acceptable to wear at your local pool, it's best to ask them directly to avoid embarrassment, otherwise you may be asked to leave the pool.
What's the difference between swim trunks, board shorts, and swim briefs?
Swim Trunks: These are the most common type of swimwear for men. They resemble regular shorts but are made for swimming. They usually have an elastic waist, come with a mesh lining, and reach mid-thigh.
Board Shorts: Originating from surf culture, board shorts are longer, typically reaching the knee or slightly above. They have a flat, non-elastic waist and are secured with laces or velcro. They usually lack the mesh lining found in swim trunks.
Swim Briefs: Often referred to as "speedos," these are tight-fitting briefs made primarily from spandex or nylon. They offer minimal coverage, are lightweight, and allow for a full range of motion, making them popular with competitive swimmers.
Can you swim in board shorts?
Yes, board shorts were originally designed for surfing but are suitable for general swimming and beach activities. They are typically longer than regular swim trunks and lack the inner mesh lining.
Board shorts are made of quick-drying, lightweight material, making them perfect for water activities. Their lace-up front and velcro closure ensure they stay put while swimming or surfing.
Wearing shorts to the beach vs. the swimming pool
Most swimming pools have a strict dress code that may differ from the beach. Shorts that are made of cotton, denim or other non-swimwear fabrics are not allowed in the pool, as they can damage the filters and affect the water quality.
Additionally, these fabrics can absorb water and chemicals, which can make them heavy and uncomfortable to wear. They can also shed fibers and dye, which can clog the filters and contaminate the water.
Shorts that have pockets, zippers, buttons or other accessories are also not allowed, as they can pose a safety hazard or damage the pool equipment.
Only shorts that are designed for swimming (i.e. swim shorts or board shorts) and are made of nylon, polyester or other synthetic materials are permitted. If you are unsure whether your shorts are suitable for the pool, please ask the staff before entering.
At the beach, you can wear whatever you want, but it's best to still follow the swimming pool dress code because the rationale behind it is solid.
Can you swim in polyester shorts?
You can swim in polyester swim shorts but not regular shorts made with polyester. Polyester is a synthetic material that is lightweight, quick-drying, and resistant to shrinking or stretching when wet. It's one of the most common materials used in swimwear.
Polyester is also resistant to the effects of chlorine, making it an excellent choice for pool swimming. However, ensure the shorts you're wearing are designed for swimming, as some polyester shorts may not have other essential swim features, like a mesh lining or drawstring.
Can you swim in spandex shorts?
You can swim in spandex swim shorts but not in regular shorts made with spandex. Spandex, also known as elastane or Lycra, is a stretchy material that offers a snug fit, making it suitable for activities that require a lot of movement, such as swimming.
Spandex is often blended with other materials, like polyester or nylon, to give swimwear added flexibility and durability. It's especially popular in competitive swimwear and rash guards.
However, pure spandex might degrade faster in chlorinated water, so it's always recommended to rinse them thoroughly after swimming in a pool.
Can you swim in nylon shorts?
You can swim in nylon swim shorts but not in regular shorts made with nylon. Nylon is a durable, lightweight, and quick-drying material commonly used in swimwear. It's resilient against the effects of sun and saltwater, making it a popular choice for beachgoers.
Like polyester, nylon swim shorts often come with additional features suitable for swimming, such as mesh linings and drawstrings. However, if considering non-swim-specific nylon shorts, it's crucial to ensure they will be comfortable and functional in a swimming scenario.
Can you swim in birddogs?
Birddogs refer to a brand of shorts that are known for their comfort and versatility. Many of their shorts are designed with quick-drying materials and include a built-in liner, making them suitable for both casual wear and swimming.
If you own a pair of Birddogs shorts and they are made of appropriate materials (like nylon or polyester) and feel comfortable in the water, they can be used for swimming at the beach but not at a swimming pool.
Can you swim in bike shorts?
Bike shorts are primarily designed for cycling and provide a snug fit using materials like spandex for flexibility. While you technically can swim in them, they might not be the most comfortable or functional choice for prolonged swimming activities.
The chamois padding found in many bike shorts, designed for cycling comfort, can become heavy and cumbersome when wet. If you're in a pinch and need to take a quick dip, bike shorts will suffice, but for regular swimming, it's best to use proper swim shorts.
Can you swim in compression shorts?
While it is possible to wear compression shorts while swimming, it is not recommended. Compression shorts are designed to provide support and reduce muscle fatigue during exercise.
They are not specifically designed for swimming and may not be as comfortable or effective as swimwear that is specifically designed for swimming, such as swim trunks, board shorts, and swim briefs.
How are swim shorts different from regular shorts?
Why do we bother differentiating between swim shorts made and regular shorts? There are many reasons.
Swim shorts are specifically designed for use in water-related activities, whereas regular shorts are typically for casual wear. Key differences include:
Material: Swim shorts are made of water-resistant or quick-drying materials like nylon, polyester, or spandex. Regular shorts can be made from cotton, denim, or other materials not suitable for water.
Lining: Many swim shorts have a mesh lining for added comfort and to prevent the fabric from clinging when wet. Regular shorts usually lack this lining.
Design: Swim shorts often come with a drawstring to ensure they remain secure while swimming. They may also have features like UV protection and chlorine resistance.
Drying Time: Swim shorts are crafted to dry quickly, ensuring comfort post-swim. Regular shorts, especially those made from cotton, can remain damp for a long time.
Do I need to wear anything under my swim shorts?
Generally, swim shorts are designed to be worn without underwear, especially those with a mesh lining which provides added comfort and support. Wearing underwear can hinder the quick-drying properties of swim shorts and may cause discomfort or chafing.
However, personal preference plays a role, and some individuals choose to wear a swimsuit or specific swim underwear beneath their swim shorts for extra support or coverage. If you opt to wear something underneath, it's best to choose moisture-wicking and quick-drying materials such as swim briefs.
Sources: