It's good to start swimming at a young age. The older a child gets without knowing how to swim, the more self-conscious they will feel about it, and the more fear and embarrassment they'll have to overcome in the future. Why let that happen? Plus, swimming is just a fun activity that can pay a lot of dividends down the line in terms of fitness, recreation, and especially safety.
You can begin introducing your child to the water at an extremely young age; before s/he is even 1 year old. There are rough guidelines for what basic swimming skills your child will be taught at what age, such as the back float and backstroke, and we will discuss the skills in greater detail below. However, it is important to understand that even if your child is starting later than these ages, s/he can still acquire all the skills necessary to stay safe and be independent in the water.
When is a good age to start?
For years, both the American Red Cross and the American Academy of Pediatrics (AAP) have recommended parents enroll their children into swim lessons starting from as young as 4 years old.
Parents were already wondering if that was too young an age. Since then, both authorities have changed their stance and now recommend swimming lessons be taught as early as 1 year old, and infants can even be introduced to water earlier than that. You read that right. Essentially, there is practically no age that's considered too young (or old) to learn swimming.
But, how effective is teaching an infant how to swim? At such a young age, surely they cannot even comprehend what is going on around them. The old adage that you need to learn how to walk before you can run doesn't seem to apply here, since apparently infants can swim before even that.
This reasoning is based on a study conducted by the AAP which found that children between the ages of 1-4 who have received formal swimming lessons had an 88% reduction in the risk of drowning.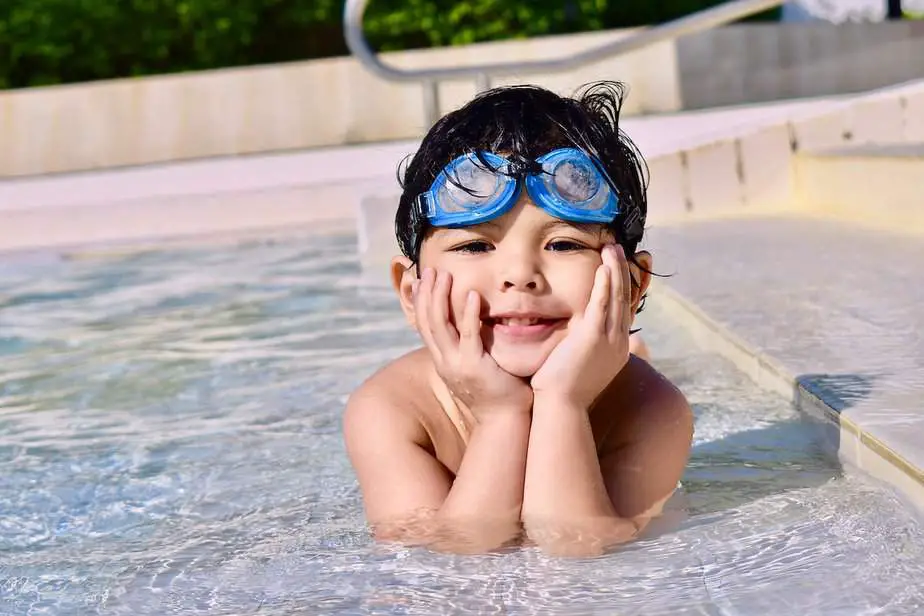 Interestingly enough, in that same study it was found that there seemed to be no decreased risk of drowning in older children (ages 5-19) who had formal swimming lessons when they were younger or even if they were capable swimmers before they died. Therefore, being a strong swimmer does not make one "drown proof."
A conclusion we can draw from this article is that learning how to swim at the earliest age possible is extremely important because the lessons will be the most effective at preventing drowning during these early years where risk of drowning is at its highest.
Learning how to swim early also gives them the option to one day be competitive swimmers or to participate in other water sports like surfing or kayaking where being a strong swimmer is a prerequisite.
So there is practically no downside to starting swimming lessons extremely young, even for families living in landlocked states; you may move in the future and it's just a good skill for your child to have.
With these age ranges in mind, do not be alarmed to see in the next section how young your child can be to learn various swimming skills.
Swimming skills by age
6 months to 1 year old
As mentioned, a child can at least be introduced to the water at a young age, though what they are doing is not quite swimming.
At this young age range, the primary purpose is to acclimate them to this new environment. Naturally curious, a child will quickly get used to the sensation of bobbing up and down as water surrounds them.
The goal here is not to teach them any skills, but to ensure that they don't develop a fear of water as they age.
Since children this young are unable to stay afloat by themselves, parents must keep their child at arm's length at all times and to never take their eyes off their child.
The child must also be wearing a swim diaper to prevent fecal matter from leaking into the pool.
Make sure that the child is warm. Water is an effective conductor of heat and will make anyone cold if one spends long enough time in it. Anything below 85°F (29.4°C) will cause them to shiver eventually, so get out of the pool and let your child get warm.
At this age, children should never submerge their face underwater. Aside from the risk of drowning, they can swallow large amounts of pool water with all of its chemicals and bacteria.
1 to 2 years old
By this age, a child will start to develop some important reflexes that will help keep them safe in the water, and may even begin to embrace being in the water. Continue to let your child get used to the freedom of being in the water.
A crucial reflex the swim instructor will ingrain into your child at this stage is how to back float. Young children should learn how to flip over onto their backs and float on their backs to conserve energy. This ability can potentially be life-saving if they ever fall face first into a pool.
It's crucial that a child is consistently being brought to the pool at this age because large gaps of time between swim sessions can cause them to forget skills they have previously learned.
If this has happened, do not worry. Setbacks happen and are only temporary. Your child has not hit a plateau; s/he simply needs to relearn the old skills before learning new ones.
2 to 4 years old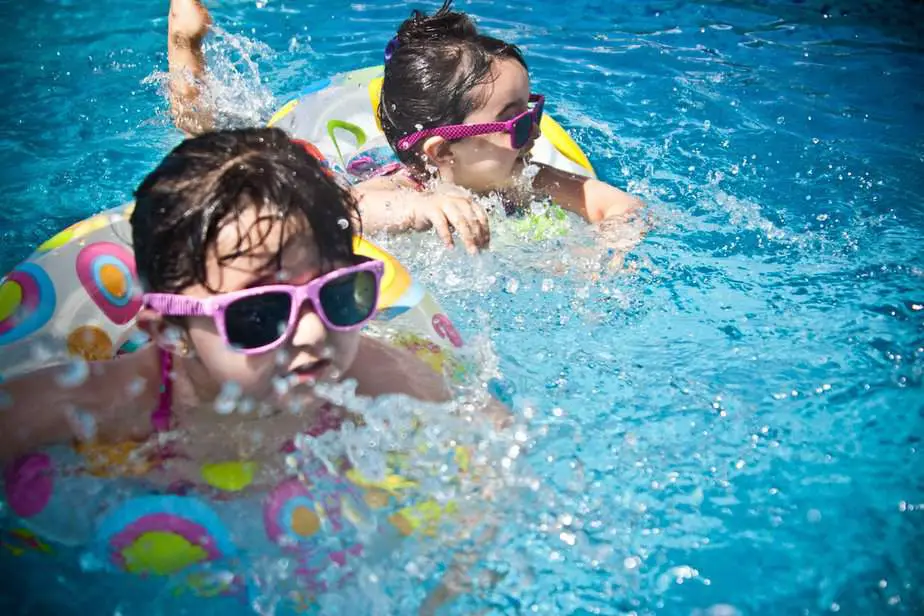 Tremendous physical and developmental growth is happening at this age. There will start to be a gap between kids in terms of aptitude, with some being naturally better and others a bit slower.
If you have not introduced your child to the water yet, this is still a great time. After age 5, it becomes harder to introduce children to the pool because they may start to develop a phobia of water since they have never been in any large bodies of water.
Back floating is still key at this stage. Children must be able to simulate falling face first into a pool of water without goggles on and be able to float on their backs without panicking. There should be less hands-on assistance from the instructor.
At this age, the instructor can begin talking to the kids and getting responses back. At age 4 and onward, children will begin learning about the front crawl or gliding. They should also be able to float on their backs to catch their breath and perform a streamlined flutter kick on their back.
4 to 7 years old
If a child has been receiving formal swimming lessons until now, they should be increasingly more independent.
Swim instructors will continue teaching various strokes on the back, including the backstroke, so that children can swim while keeping their face out of the water and conserving as much energy as possible.
The danger at this point is overconfidence. As the child is progressing in skill and confidence, they may attempt to push themselves too far and misjudge how exhausted they are. Thus, another skill they must learn is how to recognize exhaustion and to get out of the water before they are in an active drowning situation.
Instructors will also encourage children to practice strokes and techniques with their goggles off so that they are not so reliant on them. They should be able to perform all of these techniques with or without goggles on without hesitating or panicking.
8 years and older
At this age, the biggest risk of drowning is pushing themselves too hard or doing something risky. The issue is no longer whether they know how to swim but rather if they have the good judgment to stay safe in the water.
Kids are influenced by other kids, and they may be challenged to compete against a friend or to engage in a risky game.
The swim instructor will need to go through various scenarios with the children to educate them on the proper course of action during these situations.
Instructors will ask questions like what will they do if they are tired and in the middle of the pool, or what will they do if another child suddenly grabs onto them while they are swimming.
Parents can also warn their child about what not to do. Think back to when you were a kid and the kinds of things you got up to.
Discourage any breath-holding competitions, deep diving competitions, carrying anything heavy while swimming, diving headfirst into the pool, running poolside, and so on.
As for swimming skills, instructors will teach kids how to tread water. Treading water is actually an inefficient way to stay afloat; that's what floating on the back is for.
It is useful to help children look around to inspect their environment or to quickly stop and talk to somebody while in the water. Being able to tread water in place is useful but can drain a lot of energy which can put them in danger.
Wrapping up
While there are recommended ages for certain swimming skills to be taught, think of them more like guidelines, not gospel. Nothing is set in stone. Children learn at different paces and many will get started with swimming at different ages.
If your child is already 5 years or older, that does not mean that s/he will be catastrophically behind, unable to learn how to swim. In fact, a child can pick up on everything very quickly if s/he has no fear of the water and is naturally curious. Again, I have to stress that kids learn and grow at their own pace.
Learning how to swim at a young age confers many benefits, especially if you have a pool and you fear your child may accidentally fall into it. Even at the ages of 1-4, simply introducing them to the water and showing them how to roll onto their backs and float can cause an 88% reduction in drowning deaths for this age group.
In other words, the younger a child learns how to swim, the lower their risk of drowning. On a happier note, they also get to do more fun activities like go to the pool or water park with friends and family. At an even older age, they can also learn how to do other water sports like surfing or kayaking more easily, and it all starts with a great foundation of basic water skills learned from a young age.