With summer around the corner, it's time for mojitos, beaches, and boat shoes! Boat shoes are the perfect pair of kicks to wear when you're casually hanging out with friends, having a good time without a care in the world. They are comfortable, water-resistant, and best of all they look fantastic. In fact, boat shoes have been around since the 1930s and are popular to this day.
Close to a hundred years later, there have been so many brands and competitors rising up since the original Sperry Top-Siders were released, and finding the right one for you can be a bit tricky. That's why we've compiled a list of the best boat shoes for sailing and walking so that you can get the right shoe to complete your summer look.
Our Top Picks:
Best Boat Shoes for Sailing Recommendations
Sperry Men's Authentic Original 2-Eye Boat Shoe
Sale
Let's start off with this classic pair of boat shoes, the Sperry Top-Sider, which are the authentic original shoes invented in the 30s by Paul A. Sperry. Sperry was the original company to sell the traditional boat shoe style which is popular even today. With a background in sailing and over 90 years of experience, getting yourself a genuine pair of Authentic Original Top-Siders will set you back anywhere from $50-$200.
This pair of shoes feature just about everything you'd want for casual wear and boat trips. First, it's crafted with unlined, 100% full-grained leather that is resistant to wear and tear caused by water, particularly saltwater. They feature the same stitching style as the original designs. Modern Sperry Top-Siders have rubber soles that are robust and provide good grip on wet surfaces.
You also get the classic two-eye design featuring functional one-piece rawhide laces and rust-proof eyelets. For additional comfort, the Sperry Authentic Original (AO) are crafted with genuine moccasin to conform to the shape of your feet for extra comfort and durability. To further increase the comfort of the AO, the insoles are made with Ortholite for stability, and have a shock-absorbing heel cup.
Next, the 360 degree lacing system lets you easily loosen or tighten up these shoes for a more optimal fit. The Sperry's outsole features a unique Wave-Siping, razor cut design that disperses water out of the soles while providing incredible traction. By having stitched-on non-marking rubber outsoles, you can be sure that the Sperry AO won't be making any scuff marks on the deck of the boat unlike ordinary shoes.
These classic shoes from Sperry's are a great starting point for people looking to get the perfect shoe to compliment their casual summer outfits and sailing adventures.
Pros:
Authentic, long-lasting leather.
Outsoles have a razor cut wave-siping design that purges water from the shoe.
Outsoles have great traction and grip, and will not cause black marks on boat decks.
The 360 degree lacing system makes making adjustments easy.
Cons:
Minimal cushioning and arch support.
Some customers have said that the quality has dropped slightly over the years.
Sperry Women's Angelfish Shoe
Sale
Sperry Womens Angelfish Boat Shoe, Linen/Oat, 8
Genuine all leather upper allows for years of wear
EVA molded midsole provides support and comfort
Razor-cut Wave-Siping delivers ultimate wet / dry traction with non-marking rubber outsoles
The Sperry Top-Sider Women's Angelfish boat shoe is a sleeker version of their Authentic Original boat shoe, and it sports a more elegant silhouette that is designed for a woman's foot. As with all of Sperry's boat shoes, you can expect this shoe to have a genuine leather upper. You can select between premium suede, nubuck, or tumbled leather.
Next, the midsole comes with EVA padding for better support and increased comfort, while the outsole is constructed from non-marking rubber. Furthermore, the outsoles also feature Sperry's classic razor-cut wave-siping design for increased traction. It also has 360 degree lacing that can be adjusted for a more comfortable, snug fit.
Furthermore, the Angelfish shoe also comes in seasonal variations with animal prints and sequins. We love how stylish yet functional they are, and many customer reviews praise it for how comfortable and durable they are. The Sperry Women's Angelfish Top-Sider boat shoe has a winning combo of style and function, making it a top choice for women's boat shoes.
Pros:
A sleeker and more elegant design of Sperry's classic Top-Sider boat shoes designed to fit women's feet specifically.
A wide variety of options to choose from.
Has 360 degree lacing that can be adjusted for a comfortable and snug fit.
Excellent traction on both wet and dry surfaces.
Durable, functional, and also very cute.
Cons:
Sizing can be hit or miss, but it seems to run large so consider sizing down.
Some customers complained that they received an item that was different from the photo.
Crocs Men's Santa Cruz 2 Luxe Loafer
Crocs are well known for their shoes, but perhaps for the wrong reasons. Their foam clog shoes stick out like a sore thumb, but their boat shoes stick out for all of the right reasons. First, they aren't like the usual boat shoes you're accustomed to. The Santa Cruz 2 Luxe Loafers are designed to go well with any beach outfit you'll wear.
They are made with a specially-designed Croslite foam which conforms to the shape of the wearer's feet. In addition, the insole is topped with memory foam which further increases the comfort provided by these shoes. While most people prefer leather shoes, the canvas upper on the Croc's Santa Cruz 2 provides comparable comfort, while giving it a casual and laid back look.
Furthermore, we liked the slip-on style of these shoes so that you never have to worry about laces. They are easy to put on and take off, and makes washing it so much easier. We also loved the lightweight construction which makes wearing them feel like you're stepping on soft clouds. Since these shoes have a well-ventilated design that encourages air flow, you will be less likely to sweat and cause the shoe to have a foul odor over time.
Pros:
Comfortable footbed made with Croslite and memory foam.
Lace-free design that is easy to slip on and take off.
Stylish with a casual appeal that keeps a simple profile.
Breathable and well-ventilated design reduces sweating and dries fast.
Great heel and arch support that lets you walk and stand all day in comfort.
Cons:
No half sizes available, so if you are a size 10.5 you have to either get a size 10 or 11.
The heel is somewhat bigger than reported, which can be an issue for people with smaller feet.
Tommy Hilfiger Men's Bowman Boat Shoe
Tommy Hilfiger is a well-known brand, but not one that many would associate with shoes. However, that doesn't mean they can't make a great pair of shoes, and the Tommy Hilfiger Men's Bowman Boat Shoe surely impresses. They are quite affordable, costing anywhere from $25 to $100. Despite it's affordable price, it is a high-quality pair of shoes, and here's why.
First, the Bowman boat shoes have a fairly safe design that is almost entirely constructed from leather. What makes them stand out though, are the patterns on them and a wide range of color options, making it a great choice for matching it with your current wardrobe.
Next, these boat shoes have a Moc toe, which means your feet and toes are standing on soft soles that have a flexible top portion. Additionally, the Bowman features a lace-up vamp and also includes two side eyelet details that make lacing up these shoes a simple task. Like the Crocs, the Bowman slips on your feet effortlessly, and you won't want to take them off with how comfortable the cushioned insole feels with each step.
Pros:
Provides great value at an affordable price.
Durable and good looking leather that lasts a long time.
Cushioned insole with Moc toe design keeps your toes and feet comfortable.
Slip-on design.
Cons:
Does not have very good traction on wet surfaces.
They can run a bit small.
Dockers Men's Vargas Leather
Sale
Few people realize that Dockers was started by Levi's, the company that is famous for its denim wear. This gives the company some credibility as a leader in the world of fashion, while also providing reassurance that the products will be of a high quality. The Docker's Vargas is a great budget option for people looking to get an affordable pair of boat shoes.
First, the design of the Vargas follows that of most traditional boat shoes, with very minimal branding and a simple, clean look. These shoes are carefully handsewn, demonstrating exceptional care and attention to detail that not a lot of companies have. The Vargas is made almost entirely from leather, with the exception being the rubber sole. There are numerous patterns and colors to select from, though nothing mind-blowing. I guess they really like to keep things simple.
To add some spring to your step, Dockers have fortified the Vargas boat shoe with patterned traction on the outsole to keep your balance on any surface you step on. Furthermore, your feet will be standing on a molded EVA heel cup and cushioned EVA footbed to keep them from getting sore. You can have some peace of mind knowing that your feet will be comfortable and dry all day on the boat.
Pros:
Affordable.
Minimal and clean design for those who prefer that look.
Hand sewn construction shows incredible attention to detail and care.
Cushioned EVA footbed keeps your feet from getting tired.
Cons:
They run a bit small.
The insoles can sometimes come loose if worn without socks.
Margaritaville Men's Anchor Lace Boat Shoe
If you hate getting clammy feet and want a pair of breathable boat shoes, then the mesh design of the Margaritaville Anchor Lace Boat Shoe will be perfect for you. Especially during the scorching hot summer days, you will love how much air can still enter the shoe. When wet, the mesh design will keep the shoe from being waterlogged and help it dry faster.
Next, the Margaritaville Anchor Lace is constructed using mesh, rubber, and leather. The two eyelets allow the shoes to have a snug lace-up closure. Additionally, the outsoles give the Anchor Lace a rugged appearance, like they are capable of handling any seafaring adventure you embark on.
Moving on, the Anchor Lace includes comfortable foam insoles that feel like you are walking on pillows. The tongue and soft padded collar further add to the comfortability of the shoe. The outsoles have a unique design that doesn't just look cool, but increases the traction on all surfaces.
Pros:
Mesh design makes these shoes highly breathable and quick-drying.
Rugged and durable design and aesthetic.
Affordable.
Cons:
Little to no arch support.
Runs half a size small.
Globalwin Casual Loafers
Every once in a while you'll come across a brand that you've never heard of that offers a product at unbeatable prices, and for that reason alone we just had to give Globalwin a shot to prove themselves. Their casual loafers lace-up boat shoes are some of the cheapest on the market, and they hold up surprisingly well.
First, they certainly don't look like they're cheap because they look like what you'd expect a pair of traditional boat shoes to look like. However, it is constructed using fake leather and fabrics, which is how Globalwin kept costs low. The non-skid rubber outsole provides extra traction and helps you keep your balance on all terrain. In terms of aesthetics, the Globalwin casual loafers fit right in with shoes designed for maritime activities.
Next, the Globalwin boat shoes has two eyelets that allow laces to help maintain a snug fit and increase the shoe's durability. In terms of comfort, these shoes won't compare to the big brands, however they are good enough to get you through the day with no complaints.
However, when you get a pair of budget shoes, you can't expect the world. These casual loafers will probably need to be replaced faster than a Sperry's, for example. It doesn't use real leather and they are cheap, however for the price it is surprisingly sturdy.
Pros:
One of the cheapest shoes on the market, perfect for those looking to get started with boat shoes without breaking the bank.
Sleek design that can fit with any maritime activity.
Non-skid outsole keeps your feet firmly planted on any surface.
Cons:
Soles could provide more cushioning.
They run big, so order half a size smaller.
Clarks Women's Jocolin Vista Boat Shoe
If you're looking for shoes with great cushioning, the Clarks Women's Jocolin Vista from their Cloudsteppers collection features a perforated textile-based upper that is highly breathable, with tan-detailing for maximum style.
These shoes also include a lightweight EVA insole that is impact-absorbing, with a high-density foam that offers unmatched cushioning. Furthermore, the removable Ortholite footbed with antimicrobial properties adds even more cushioning to each step and is easy to remove and wash.
Additionally, the Jocolin Vista features a grippy outsole that makes it safe to wear on wet surfaces. With that said, the strength of these shoes is in its comfort, and this is what most customer reviews praise the shoe for.
Furthermore they are 100% textile made, meaning made with yarn, which is not as durable as other shoes made using leather or canvas. However, for how comfortable and lightweight they are, and depending on where you plan on wearing them, they could still provide a lot of value for your money.
Pros:
Textile-based upper allows for good air flow and breathability.
Lightweight EVA sole that can absorb impacts.
Removable Ortholite footbed adds greater cushioning and comfort to the insole, and is easy to wash and keep clean.
Cons:
Textile materials will not last as long.
Runs a little big, consider sizing down.
Columbia Men's Bahama Vent PFG Boat Shoe
The Columbia Men's Bahama Vent PFG Boat Shoe is made from canvas and leather that can withstand rough terrain and heavy use. Next, the midsole of this shoe provides great cushioning, helping you to enjoy each step and save on energy. It also includes a Techlite construction that helps it be one of the lightest shoes in the market.
Additionally, as the name suggests, the Bahama Vent features ports around the midsole that allow air to flow in and water to flow out, letting the shoe breathe and dry quicker. As for the outsole, traction on wet surfaces shouldn't be an issue because of its non-marking rubber sole and razor-siping design. Inside, the textile lining reduces irritation and friction against your skin.
Their Omni-grip design will keep your balance stable even on the most slippery of surfaces. Another unique feature included in the Bahama Vent PFG is their crudely named Blood 'N Guts technology that essentially repels stains, water, and fishing smells from ruining these shoes.
Pros:
Made from durable canvas and leather.
Great cushioning due to the Techlite midsole.
Drainage ports on the midsole purges water and lets air flow in to keep the shoe breathable and dry.
Razor-siped outsoles provide excellent grip.
Cons:
Too narrow for wide feet.
Rugged Shark Bill Dance Pro Boat Shoe
RUGGED SHARK Boat Shoe for Men, Bill Dance Pro, Premium Leather Moc-Toe, Fishing, and Outdoor Shoe...
ALL DAY CUSHIONING: Step into this men's boat shoe and you can feel the comfort, thanks to its fully cushioned, breathable molded footbed. It cradles...
ALL-DAY COMFORT: Supple nubuck leather upper has breathable mesh panels to keep feet cool and comfortable all day long.
WATER DRAINING SOLES: The Bill Dance Pro's bottom has built-in drainage: any water that comes into the shoe will drain from ports on each side of the...
The Rugged Shark Dance Pro shoe is constructed with flexible leather with side mesh panels for added breathability. It was designed with comfort in mind and it shows because of how much cushioning and shock absorption the insoles have. In addition, the Dance Pro is lightweight and comes with a rugged rubber sole that helps you maintain your balance on slippery surfaces.
Furthermore, the Dance Pro is designed such that water will quickly drain out from the soles, preventing your shoe from getting waterlogged. In terms of appearance, these shoes evoke a sense of adventure and they are durable enough to be worn on rough terrain too. Additionally, these shoes are surprisingly lightweight and the midsole is constructed from molded CMEVA material.
Lastly, if you are looking for a pair of shoes that offer plenty of arch and ankle support, then you won't be disappointed with the Rugged Shark Bill Dance Pro boat shoes. You will be capable of withstanding all-day boat trips with these as your footwear.
Pros:
Supportive midsole offers shock-absorption and cushioning that greatly enhances the comfortability of this shoe.
Side mesh panels provide good air circulation, and water is expelled from the soles, meaning this shoe dries very quickly.
Durable and flexible leather materials were used in the construction of this shoe.
Cons:
Not much variety in terms of color.
Polo Ralph Lauren Men's Faxon Low Sneaker
If we had to describe the Polo Ralph Lauren Faxon deck shoes in one word, we would say versatile. They may only be deck shoes, but you can definitely wear them as stylish sneakers in your everyday life. With that said, don't use them for intense workouts, as they will probably break fairly quickly if you do.
But for use on a boat, their lightweight cotton suede construction and low top lace-up design, plus the fact they are made by Polo Ralph Lauren, have made them quite popular as boat shoes. The Faxon Low Sneaker has a distinct retro style, with rawhide laces and metal eyelets to help provide a snug and comfortable fit. The outsole offers extra grip and traction on slippery and wet surfaces.
Sadly, these shoes don't have much to offer in terms of water-resistance and quick drying features. This is a case of the design that leans more heavily on style and fashion rather than functionality. And boy, does it look good.
Pros:
They look really good and pair well with lots of summer wear.
The suede and cotton materials provide a decent level of comfort.
Cons:
Not water-resistant.
They run large, order half a size smaller.
How We Selected the Boat Shoes
Customer and Expert Reviews
First, we consulted with fashion experts on what factors they prioritize when purchasing boat shoes. From that, we could already begin narrowing down shoes that fit their criteria. Next, as part of our selection process we perused hundreds of customer reviews to get a feel for what the general public thinks of each product.
The opinions of our experts give us a good starting point to begin our review, and the opinion of the masses really help bring to light the strong points and weaknesses of a specific product. Additionally, customer reviews are a great way to hear about how these shoes performed in many people's various lifestyles. This helped our grading of the loafers be more concrete.
Brand
Whether you're buying boat shoes for fashion or for actually using them on the boat, the brand makes a big difference on the quality of the product. Boat shoes are not only practical, they are a fashion mainstay in the summer, and they can make for great additions to your summer wear.
With that said, it was very straightforward to find the latest deck shoes from the most trusted brands out there. We browsed through the big brands to find their latest selection and also included new designers in our search as well. By combining these, we had many great options that we had to narrow down to just the ten best.
Price
Price is difficult to factor in since the price range can be wide depending on what features are included in the shoe. For instance, summer boat shoes are usually priced differently to spring boat shoes, and even if they are similar in price, manufacturers often adjust the prices on their products to squeeze more money out of customers for buying in season.
With that said, by factoring in the utility and quality of life features of the boat shoes and how much you're paying for them, we can find a solid price-performance ratio for them.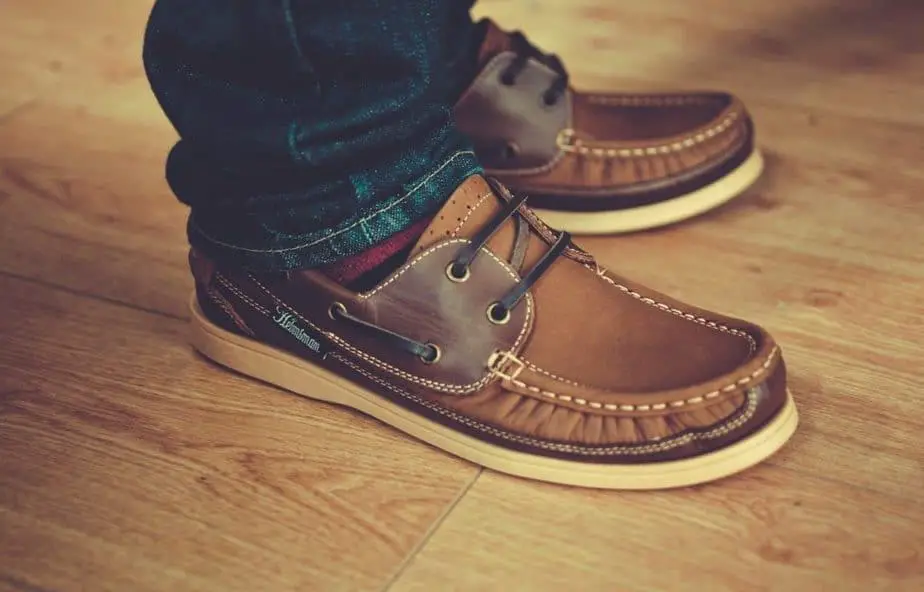 Sailing Shoes Buying Guide
Traction and Grip
Regardless of which pair of boat shoes you look for, you should give extra consideration to the amount of grip and traction they can provide. These two factors are crucial in helping you keep your balance on uneven ground.
Any boat shoe worth their salt should have enough grip to keep you stable even on wet or slippery surfaces and sub-optimal ground conditions. For better grip, the soles should have a tread pattern.
Lastly, the best sailing shoes should be durable enough to walk on walks, sand, or uneven surfaces while keeping your feet protected and comfortable. So before you hand over your hard-earned cash for a pair of boat shoes, make sure it has good soles that have excellent grip and traction.
Material
There isn't a "best" material for boat shoes, to be frank. Each material has strengths and weaknesses, and deciding on which is the optimal one is a bit of a balancing act. The most popular materials that boat shoes are constructed from are canvas, mesh and leather, and there are other categories of boat shoes for sale.
While many people buy boat shoes as a fashion statement, those who plan on wearing boat shoes on an actual boat should look for fast drying shoes. This is crucial, not just for comfort but also for hygiene. A shoe that drains quickly will dry quickly, reducing the chances of mildew and mold growth caused by the dampness.
In addition to air flow, a good pair of deck shoes should be lightweight. This relates to how well it drains, because a soggy and wet shoe will weigh you down. If the shoe does its job well, it should feel comfortable and natural, almost like you're walking barefoot. However, it should also give you good traction and grip, as we covered above.
Whether it's canvas boat shoes, leather boat shoes, or something else, they all have characteristics that are unique to them and you could make your decision based on that already. But, if you're unsure of what to look for, look for boat shoes made from durable materials since they will take a beating and cheaper shoes won't last long.
Construction
How well the shoe is constructed will affect its durability and comfort. Wet shoes will chafe your skin easily. As such, boat shoes should be designed to be as minimal as possible so that there is little on the shoe that could rub against your skin. In the summer, flat lock seams with padded collar and tongue are ideal.
A solid pair of boat shoes should have a supportive midsole for added comfort. Boat shoes are often worn as a fashion statement, and they should not only look stylish, but be functional. Whether you're walking on a boat or walking on land, they are often worn without socks and should not painfully rub against the skin. Furthermore, slip-on loafer style shoes can be worn for casual summer wear or as boat shoes.
Comfort
You're going to spend a significant portion of your day wearing your shoes, so it is vital that they are comfortable. Be careful when purchasing sailing shoes that are too snug, as they will rub against your skin and chafe it. Furthermore, it should be breathable and not squeeze against your toes and heel.
For the best chances of a comfortable and well-fitting shoe, look for ones that have some internal padding. Another suggestion is to buy boat shoes that are half a size up. This way, you can have some wiggle room and not feel like your deck shoes are literally rubbing your skin off.
Water Resistance
How water-resistant a shoe is depends on the materials the boat shoes are constructed from, as well as the construction. This also affects how durable the shoes are, since water can easily destroy products that aren't designed to handle them. Getting yourself a pair of water-resistant boat shoes increases the versatility of the shoe, ensuring you can wear them in all kinds of weather.
Design
Design is a highly subjective factor, and what may look fashionable for one person may look like an eyesore for another. This will depend entirely on what you prefer in how a pair of sailing shoes should look like. There are tried-and-true, conventional designs that you can't really go wrong with.
However, designers are always looking to push the envelope and have experimented with various new designs. If you're not sure what to get in terms of design, stick with smart and trendy.
Color
Color is yet another subjective feature that can either add to your look or detract from it. It is recommended that you pick a shoe that has a versatile color, such as brown, black, or grey, all of which pair well with most colors that you might wear. While some prefer function over form, if you have a keen eye for color, you can have the best of both worlds and avoid committing a fashion faux-pas.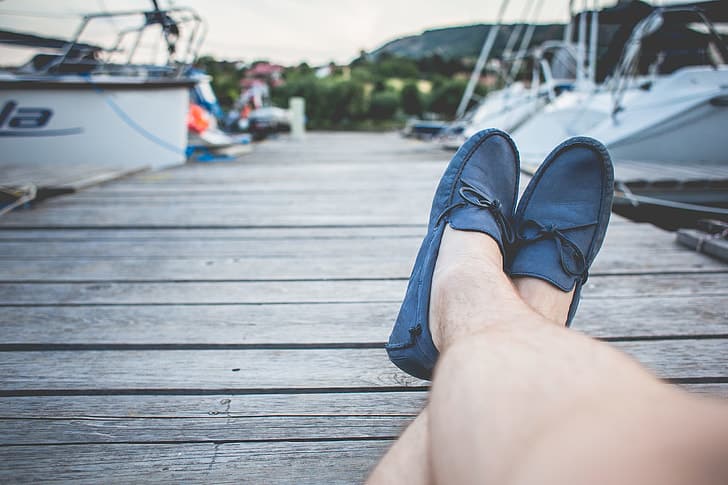 Frequently Asked Questions
What Should I Wear with Boat Shoes?
Boat shoes are flexible and can be worn with shorts or pants and are often worn for casual events or situations, such as lounging with your friends and family on the beach or sailing on a beautiful summer day.
Depending on where you work, they can also work well in a business casual environment. We do not recommend wearing them for formal or serious environments where a suit and dress shoes would do better.
Should Socks Be Worn with Boat Shoes?
If you care about fashion trends, then you should not wear socks with boat shoes, with the exception of no show or lightweight socks that don't stick out from the shoe. However, there is also a very practical reason not to wear socks, and that's when boat shoes get wet.
If you're actually wearing them on a boat, sometimes it will get wet and having damp socks isn't very comfortable. Boat shoes are designed to drain and dry quickly, and waterlogged socks would impede its ability to do so.
The counterargument to this is that not wearing socks can cause clammy, smelly feet which is also undesirable. The degree to which this happens depends on how breathable your shoes are. If you feel it is better to wear socks, it should ideally have some kind of grip so that the shoe won't slip off your foot when worn.
How Do I Clean Boat Shoes?
Anything that gets soaked or exposed to sweat will eventually start to smell a little rank unless you do some basic cleaning on it from time to time. Below is a brief guide on how to properly clean your boat shoes.
Soap and Water
The first step before cleaning your shoes is to remove the insoles and laces. Next, soak the shoes in a bucket of cold water – do NOT use hot water as it can shrink your shoes. Begin cleaning your shoes using mild soap and a soft brush.
Next, clean the insoles in the same way and cover it in foot powder or baking soda after, taking care not to get the powder on brown leather uppers. Once the cleaning process is finished, let your shoes air dry in a cool, dry place making sure to keep them out of direct contact from sunlight as it can damage the materials. Once dry, use a soft cloth and gently coat the shoe with a layer of leather conditioner.
Brushing
There are two main benefits for brushing: to restore the look of the shoe, and to clean it. When brushing, don't make the mistake of brushing in all directions, stick with one direction and keep at it. If there is any stubborn dirt, use steam to loosen it instead of water.
Suede shoes need to be rubbed with a suede bar, then brushed again to take care of stubborn dirt and stains. Lastly, coat the shoes with a protective spray once you are finished with brushing.
Machine Washing
As always, be sure to remove the insoles and laces first. Place both the insoles and shoes in a pillowcase or wash bag to protect them from getting damaged. Use only a small amount of your mildest laundry detergent. Make sure the machine is set to the cold wash setting, as hot water can cause the shoe to shrink.
Once the wash cycle is finished, leave your shoes and insoles to air dry in an open, well-ventilated area away from the sun. The sun's UV rays are harsh and can easily cause the boat shoes to weaken and crack. After the shoe is dry, use conditioning oil to moisturize and revitalize your shoe.
How to Keep Sailing Shoes from Smelling?
There are a few ways to keep your shoes from smelling, and the easiest one is to wear socks to absorb the sweat. However, not everyone wants to wear socks with boat shoes, so here are some tips. First, make sure that your shoes are kept as dry as possible. If you get them wet after sailing, take out the insoles and laces and let them completely air dry away from the sun.
Next, before wearing your shoes again, make sure that your feet are clean and dry. If you own more than one pair of boat shoes, rotate them. Wearing the same pair of shoes everyday will expose the shoe to too much sweat, causing it to get smelly.
In addition, try using antiperspirant deodorants or powders. For instance, talcum powder is a great option for alleviating smells. Antiperspirants will cause the sweat pores on your feet so close up, preventing them from sweating. Do not use deodorants, as these simply mask the smell without fixing the real problem. Foot sanitizers can sterilize any fungus or bacteria on your feet that could lead to athlete's foot and foul odors.
Best Deck Shoes for Sailing – The Verdict
There are many high-quality boat shoes on the market, and even more duds. However, if you stick with a top brand like Sperry, then it's hard to go wrong. And even if you don't much care for brands, there are certain features that boat shoes worth their salt should have. For instance, you want shoes that are comfortable, durable, breathable, lightweight and with good traction, and so on.
Ideally you also want shoes that can easily vent out water so that they won't ever get waterlogged. It also helps improve your comfort drastically, as you won't have that annoying sloshing sound with each step you take. The outsoles should be made of non-marking rubber, and have razor-cut wave-siping to increase the grip on wet surfaces.
And in addition to being functional, the best deck shoes should be fashionable and pair well with your casual summer clothing. Whether you wear socks is up to you, but personally we don't recommend it, and if you do wear them make sure they are no show socks. Whichever boat shoe you get, make sure it has most of these features, if not all of them (does such a perfect shoe exist?!) and you will have yourself a truly commendable pair of boat shoes.
Last update on 2023-09-12 / Affiliate links / Images from Amazon Product Advertising API