For those who are afraid of getting their sneakers wet, water shoes are shoes that are designed to be worn in and around water. Unlike regular shoes, water won't ruin them and they'll dry very quickly too. You can even get yourself a pair of water shoes for your snorkeling adventures! No, you won't be wearing these shoes with your snorkel fins, but you could wear them as you're traveling between your favorite snorkeling locations.
Furthermore, don't you hate it when you walk around barefoot only to get painfully stabbed by sharp rocks, seashells, wood splinters and who knows what? Well, water shoes are nice to have if you do a lot of walking near water because they are very comfy and will protect your feet from sharp objects. They have durable soles that are not only protective, but provide lots of traction. Depending on the type, some water shoes have an open top with lots of mesh material so that they dry quickly.
If you often spend your time by the water, you would likely benefit from owning a pair of water shoes especially if you enjoy hiking, rafting, kayaking, and even snorkeling. In this review, we go over what you should look for in a decent pair of water shoes, as well as provide our recommendations of the best ones.
Our Top Picks:
Water Shoes Recommendations
Aleader Quick Drying Water Shoes
ALEADER Men's Quick Drying Aqua Water Shoes Blue 11.5 D(M) US
【Easy On/Off】Slip-on design provides convenience when you put on or off your water shoes, which significantly improves your wearing experience.
【Quick-Drying】Lightweight water drain outsole quickly drains the water from the water shoes, providing the possibility of flexible mobility in the...
【Breathable】Mesh upper provides excellent breathability, keeping your feet cool and dry even during hot summers.
The Aleader Water Shoes are unique in that it bucks the traditional design trend of using lots of neoprene and instead relies on lots of mesh instead. With so much porous mesh, it is no surprise that the airflow in this shoe is incredible, and most find it to feel comfortable to wear as well.
It's tough to classify these as water shoes, as they are not water resistant at all thanks to all of the mesh material letting water flow in. However, the shoe is designed to withstand water, and since they are made of mesh and rubber, they will dry rapidly. Furthermore, since none of the materials soak up much water, they'll stay lightweight when submerged.
Next, the Water Grip outsole combined with the Solyte midsole results in good grip and performance. Water will easily drain below the shoes, since the sole has many holes that allow water to flow out.
Overall, most wearers really enjoy Aleader's Quick Drying water shoes. The main drawback is that the mesh provides barely any insulation and is therefore it is not advisable to wear them in cold weather. Overall, this pair is unique, stylish, and worth investing in.
Adidas Outdoor Men's Terrex Climacool Boat Water Shoe
Adidas makes some stylish sneakers, or in this case, boat shoes. They look so nice, with a few color schemes to select from, that we were skeptical of how they performed in the water. Fortunately, they are more than just a pretty shoe to ogle at, and are much lighter than they look due to the low-cut design with plenty of mesh.
Next, the grip is solid and Adidas have even included a drainage system that allows water to drain out from the sole and other areas. Some customers didn't like the holes in the soles because there is a chance sand can get in, however that's about the worst complaint this shoe gets.
They may take a few trips to break in, but once you've done so, they are comfortable and perform well both above and below water. Furthermore, the shoes are solidly constructed and feel very sturdy, but the bungee laces are nothing to write home about. If you intend on putting your shoes through the gauntlet, don't expect the laces to last as long as the rest of the shoe.
We feel that the Adidas Terrex Climacool are a solid pair of water/boat shoes that are not only functional, but fashionable. They are durable but they also fetch a premium price. For your first pair of water shoes this may be more than you'd expect to pay, but if you haven't had much success with other brands, then definitely check out the Adidas Terrex Climacool water shoes.
Wave Waterproof Shoes
For those that aren't sure if water shoes are something they'd want, you can't really go wrong with this basic and budget water shoe from Wave. Even at this low price point, you can expect them to do the trick. With a combination of neoprene and mesh, you will get a snug fit that also allows water to drain and air to circulate through. Since these shoes don't absorb much water, you can expect them to stay relatively lightweight even when they are drenched.
Next, the rubber sole of the Wave water shoes is thick and will protect the bottom of your feet from rocks and other sharp objects. The biggest downside of this shoe is its durability. For the price you're paying, don't expect it to last forever. However, the Wave Waterproof shoe is the perfect choice for people looking to test the waters (excuse the pun) with water shoes, or for those that don't often do water activities and don't want to spend a ton of money on something they'll rarely use.
Speedo Surfwalker Pro 3.0
If you're just looking for a basic pair of water shoes, the Surfwalker 3.0 will get the job done. Perfect for those that enjoy walks along the beach, by the river, or even for taking a dip in the lake. The Surfwalker has mesh inserts which can be removed for faster drying. Next, the rubber outsoles of the Speedo Surfwalker are constructed from a durable rubber called TPR, which when combined with a multi-stretch upper lip, ensures a comfortable fit around your feet.
Weighing in at only 10 ounces, the Surfwalker is very light and will not weigh you down when you're walking through water. Next, the rubber soles should provide ample protection for your feet, with the heel measuring at ¾" thick. The high proportion of neoprene to mesh material means it will be comfortable around your feet, but will not drain water as quickly.
With that said, if you're an active individual, don't expect these shoes to last you for many seasons. The occasional long hiking trip is fine, but any more and you should expect to pay for a higher end shoe. For the price, the Speedo Surfwalker 3.0 is an excellent entry-level water shoe that performs well in most aspects.
Keen Newport H2 Sandal
KEEN Men's Newport H2 Closed Toe Water Sandals, Black, 11 US
WATER-RESISTANT: Quick dry washable synthetic straps and lining for active use in and out of the water
SUPPORT & COMFORT: Lace lock bungee capture system provides a secure fit while offering quick and easy on and off; Shock absorbing underfoot support...
TRACTION & PROTECTION: Multi directional lugs with siping channels provide superior grip on slippery terrain; Non marking rubber outsoles leave no...
Can we cheat a little bit and recommend some sandals? Come on, they serve the same purpose as water shoes! Plus they look stylish to boot. The Keen Newport Sandal has midsoles with a multi-direction lug pattern on them that provides unbeatable traction on both wet and dry surfaces. Furthermore, it's constructed from molded EVA for comfort, and Keen's patented toe protection feature will ensure you won't be painfully stubbing your toe anywhere.
Of course, the rest of the shoe is durable as well. You can even machine wash them for easy maintenance. The great thing about these water shoes, err, sandals rather, is that they are highly breathable and easy to slip on. With all of the openings it has, water drains from it immediately, and it takes just a few hours to dry. You can expect lots of solid performance, durability, and comfort with the Keen Newport H2 Sandal.
Water Shoes for Snorkeling Buying Guide
Material
Water shoes are highly versatile, and selecting one with the materials you want depends on the activities you'll be doing with them. When you're doing lots of walking through trails and crossing rivers and streams, then your water shoes must be breathable to allow for ventilation and durable enough to protect you against jagged surfaces. On the other hand, when you're in a pool or the sea, you'll want lightweight materials that give you the most freedom of movement while submerged underwater.
Regardless of the terrain, one important feature that all water shoes must have is the ability to drain water quickly and not absorb it. Shoes that hold onto water will take longer to dry. Some lower quality made with poor materials take as long as 3-4 days to dry. That is too long, as during that time the dampness creates an environment where yeast and bacteria thrive in. Mold will form very quickly, resulting in stinky shoes and feet as well as the possibility of developing foot fungus. Not good.
When you are researching your next pair of water shoes, you'll find that all of them should have a mesh, often made using polyester, nylon or other similar elastic fabrics. The sole is often constructed using rubber. Depending on the brand and model, they may introduce their own combinations of materials for protection and ventilation.
Protection
An important reason why you'd want to wear a pair of water shoes is protection from jagged surfaces thanks to its thick rubber sole. Depending on the shoes, the rubber sole can extend all the way up to the front of the toes, providing some protection there as well. Furthermore, most water shoes are made with either neoprene, mesh panels, or both, and they offer some minor protection for the entire foot as well.
Additionally, the rubber sole should provide increased grip on wet surfaces. You'll notice that the rubber sole incorporates various grooved designs that are designed to increase its traction. This is incredibly important when you're walking across the boat deck, water jetty, or rocks to reach your snorkeling location.
Though most water shoes should provide sufficient protection through its soles, sometimes there is a discrepancy between how much traction a pair of water shoes will offer across the various brands and models available. Depending on the kinds of activities you want to do around the water, having excellent grip may be an important factor in your decision to buy one, and it can be difficult to tell just by looking at the design of the sole. As such, we recommend skimming through some customer reviews to see if anything stands out.
Comfort
Unlike traditional sneakers, water shoes often don't have much padding. With that said, a high quality pair of water shoes should not force you to choose between comfort and function. Rather, if it does its job successfully, a good pair of aquatic shoes should feel comfortable to wear for long periods of time so that you can focus on your water activities instead of the shoes you're wearing.
To give you an idea of what to expect from a pair of high quality water shoes, first it should have outsoles that provide sufficient comfort and support without adding too much weight. After all, you want lightweight shoes, especially if you participate in water sports. Next, the rubber soles must be extremely tough to prevent any sharp debris from poking through and causing discomfort.
Furthermore, how well the shoe fits is a major determining factor in how comfortable it is. The secret to a great fit is to find the balance between snug, but not so snug that it feels like your blood flow is being constricted. Next, the ankle bindings should keep your feet from sliding in the shoe when wet. The optimal fit will keep the shoes firmly on your feet and even during the roughest of waves they should not be swept off to sea.
Overall, a great pair of water shoes should feel light and airy as if you are not wearing shoes at all.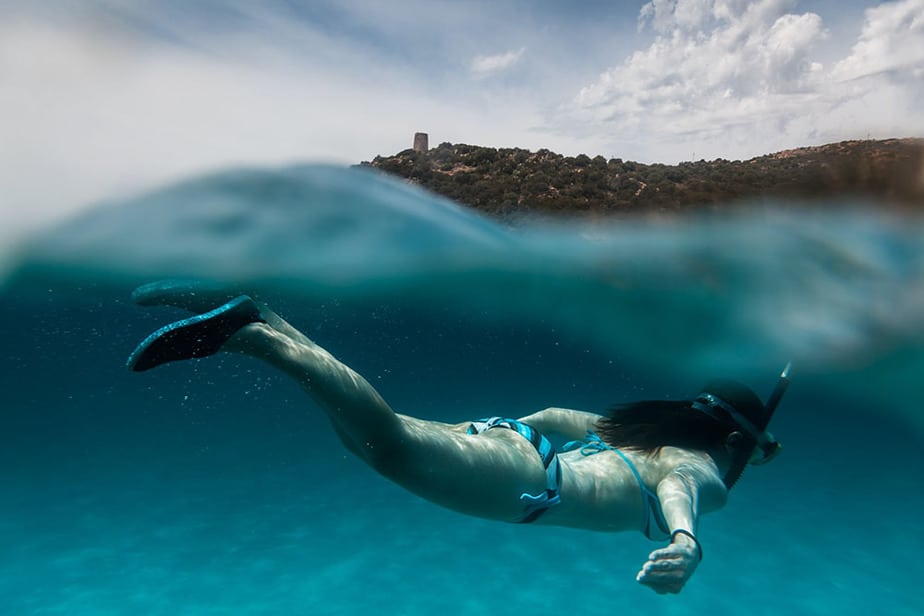 Drainage
Anyone who has ever worn drenched clothes will know just how heavy it is carrying an extra couple of pounds of water with you and restricting your movements. If you were to get traditional sneakers wet, then expect to have difficulty walking, in addition to the annoying sloshing around your feet. Furthermore, wet shoelaces are hard to untie and can become completely knotted.
When it comes to water shoes, one of the key features is how it doesn't absorb water. You'll notice in all great aquatic footwear that the top of the shoe is made from a stretchable mesh that lets water quickly drain out and lets your feet breathe. It also makes it easier for you to remove the shoes when you're done wearing them.
Drying Speed
Thanks to the fact that water shoes drain water quickly, they dry rapidly. However, there's more to it than that. The secret to a fast drying shoe is the synthetic fibers that it is made from. Natural fibers like cotton that you'll find in most clothing absorbs water like a sponge. On the other hand, synthetic fibers are excellent at repelling water. This is the reason why most water shoes are made using polyester and nylon.
In a well-ventilated area, you can expect a high quality pair of water shoes to dry within 24 hours. Do not keep the shoes in small spaces where there is no airflow, such as a cramped locker or bag. Otherwise, even the most water resistant shoe will still be damp and moist and full of bacteria the next day.
Style
It was around a couple of decades ago that water shoes only came in one style: dark and hideous! Old water shoes had weak soles, no arch support, they looked ugly and felt like you were wearing garbage bags wrapped around your feet. Thankfully, we're way past the 90s and early 2000s.
Nowadays, people have better fashion sense, and manufacturers have had to up their style to meet customer's high fashion standards. With that said, now there is a new issue. There is often a compromise of either function or form. That is to say, some water shoes feel great to wear but look like a disaster (all function, bad form). Others look beautiful but are uncomfortable and absorb too much water (all form, bad function). Ideally, the perfect water shoe should be both comfortable and fashionable!
When you think of a water shoe and the first thought that comes to your mind is a pair of crocs, then we have news for you. Today, it is possible to get a fashionable shoe that will protect your feet in and around water, and look great out of it as well.
Price
We understand that there are many things in life that are vying for your money, and the question is how much should you pay for a pair of water shoes? Is it worth it to invest a lot into a pair? And the answer to that depends on what you intend to use it for. People who are highly active and do numerous activities around water, such as rafting, kayaking, hiking, and so on can probably justify spending over $100 for a high quality pair.
As a snorkeler, water shoes are not a necessity and are most often used to walk along boat decks, jetties, or along the shore as you make your way to the next snorkeling destination. And for such minimal use like that, we feel that an investment of around $20-50 per pair would suffice.
That amount will get you durable and stylish shoes, made with high quality mesh, with a sole that should provide adequate protection and grip. Unless you plan on doing more activities than just snorkeling, we recommend you save the money for other snorkeling gear or towards your next vacation.
Frequently Asked Questions
Why Should I Own a Pair of Water Shoes?
Since you've made it this far into the guide, hopefully you've started to see the usefulness of water shoes. But if you're still not 100% convinced you need one, let us try to convince you once again.
If you've been wearing regular sneakers in or around water, you should know by now that it is uncomfortable and tiring to walk with all of that water sloshing around. Water shoes on the other hand will drain the water quickly and continue to provide protection around your feet. The outsoles act as a barrier to keep the sharp rock, broken shell, or unsuspecting sea creature from tearing your feet apart. No more worrying if the next step is a precarious one or not.
Furthermore, with an aquatic shoe you'll have additional traction on wet surfaces or in the water. If you get your exercise through water aerobics, this is crucial since the pool floors are often slippery and having solid grip will make all the difference in a workout.
What are the Differences Between Water Shoes vs. Regular Shoes?
We've already revealed bits and pieces of how water shoes are far superior to regular shoes for use around water. But let's do a recap here.
The materials used in water shoes and traditional sneakers are different. Traditional shoes will soak up all of the water, which weighs you down and takes several days to dry. Since the drying process takes so long, it fosters an environment where bacteria can multiply, resulting in mold and possibly foot fungus the next time you wear that shoe. Furthermore, the outsole will not provide as much grip under wet or slippery conditions. Lastly, there's the cost. You wouldn't want to spend a bunch of money on some nice sneakers only to ruin them in the water.
On the other hand, aquatic shoes are lightweight and do not store water. The materials are very light and breathable, which is both comfortable for your feet but also allows it to drain water fast and air dry quickly. You will get superior traction and protection on slippery surfaces. Lastly, a decent pair of water shoes won't break the bank, and there are various price ranges for different budgets.
How Do I Use Water Shoes for Snorkeling?
When you're actually out in the water snorkeling, you'll probably be wearing your snorkel fin along with a pair of neoprene socks. So where do water shoes fit in the picture? Though they aren't necessarily used while snorkeling, they can prevent your snorkeling session from being ruined by sharp rocks or other dangers to your feet. Instead, you can wear water shoes as you scope out new locations for snorkeling, walk along the shore, and explore the environment in a more amphibious manner.
Are Water Shoes Waterproof?
No, your feet will get wet while wearing water shoes. A common myth about water shoes is that they are waterproof. Water shoes are not intended to keep water out. The reason being, the materials used to construct waterproof items tend to be very stiff and uncomfortable. For instance, imagine walking around in rain boots and how torturous it'd be to go hiking in them. Sure, your feet may be dry, but they might also be chafed raw. Furthermore, when you're submerged underwater, the water will come flooding in anyways.
Instead, water shoes are water resistant. The same meshes that you'll find in all good water shoes not only serve to let air circulate through the shoe for faster drying, but they keep mud and sand from getting inside the shoe. In other words, your feet will be guarded from the elements and comfortable while underwater. However, the point is not to keep water out but to prevent water absorption, which would weigh you down and increase the time it takes to dry.
When Shouldn't I Wear Water Shoes?
With all the praises we've been singing about water shoes, you might get the idea that you can wear them under all conditions. However, the same permeable mesh that makes them breathable and comfortable to wear doesn't insulate your feet very well in cold weather. When it starts to snow or temperatures approach 0 or below, it's time to put on your regular sneakers for your winter walks. Other than that, you can wear water shoes pretty much everywhere, even out of the water for non-water related activities.
Other Snorkeling Gear Reviews:
Last update on 2023-09-04 / Affiliate links / Images from Amazon Product Advertising API