Snorkeling is an amazing activity for many reasons, from the low-impact exercise it provides, to the beautiful sights you can witness. But one thing we love is how calming, relaxing, and peaceful snorkeling can be. Very few experiences can match the underwater views that await, even when you are just leisurely snorkeling along the water's surface. Imagine doing all of this without needing to worry about how to stay afloat, and that's where a snorkel vest comes in.
A snorkeling floatation vest is a safety device you can wear in the water to provide extra buoyancy. It is perfect for people who aren't strong swimmers, but even experienced snorkelers can use it to conserve energy and snorkel longer. There are many factors to consider when looking for the best snorkel vest, and below we provide our rating criteria and recommendations of the best ones.
Our Top Picks:
Snorkel Vest Buying Guide
Style
There are two types of snorkel vest designs: horse collar or jacket. A horse collar vest is worn by putting your head through the neck opening, and securing it on your torso with numerous straps. The jacket style is worn like a jacket and is zipped up from the front. Jacket style vests are nearly twice as expensive as the horse collar style.
When it comes to appearances, most snorkel vests look similar to each other. With the horse collar style, there are some differences between the size, shape, and length of the neck opening. Large neck holes make it easier to put on and securely fasten into position. Between the horse collar and jacket designs, we found that most users preferred wearing jacket snorkel vests because it doesn't have the bottom strap that goes between their legs.
Some negatives about the jacket design are that it has a tendency to ride up when you are in the water. Furthermore, snorkel life vests made from insulating materials such as neoprene are more comfortable than PVC, and will keep snorkelers warmer for much longer in cooler waters.
Materials
Generally speaking, snorkeling flotation vests that use canvas as a lining with plastics like PVC for the interior membrane were much more comfortable and durable than the others. Thus, our recommendations favored those that used neoprene or canvas on the exterior since they are more durable and will insulate you better in saltwater.
For the buckles, we avoided inflatable snorkel vests that used steel anywhere in its design. Even though steel is stronger than plastic, steel will eventually rust when exposed to saltwater for long enough.
Size
Many snorkel vests are one size fits all. We prefer models that have different sizing available, with clear guidelines on what body type each size can accommodate or exact measurements. If the vest only had one size available, we checked customer reviews to see if there were a lot of complaints regarding the fit. If there were, it meant that the provided straps must not have been the advertised length and we moved on to the next product.
But just as important as the size of the snorkel vest is its weight rating. The weight rating indicates how much weight it is able to keep afloat. Check to see that the vest not only supports your weight, but that it can handle even more. The reason being, if something dangerous were to happen in the water you'll want extra assurance that your head can stay above water.
Another though, will only you be using it or will your kids use it too? When shopping for a kid's snorkel vest, make sure that there are smaller sizes available or that the straps can be tightened enough for a comfortable fit. Also make sure that it is rated to support more than your child's weight as well.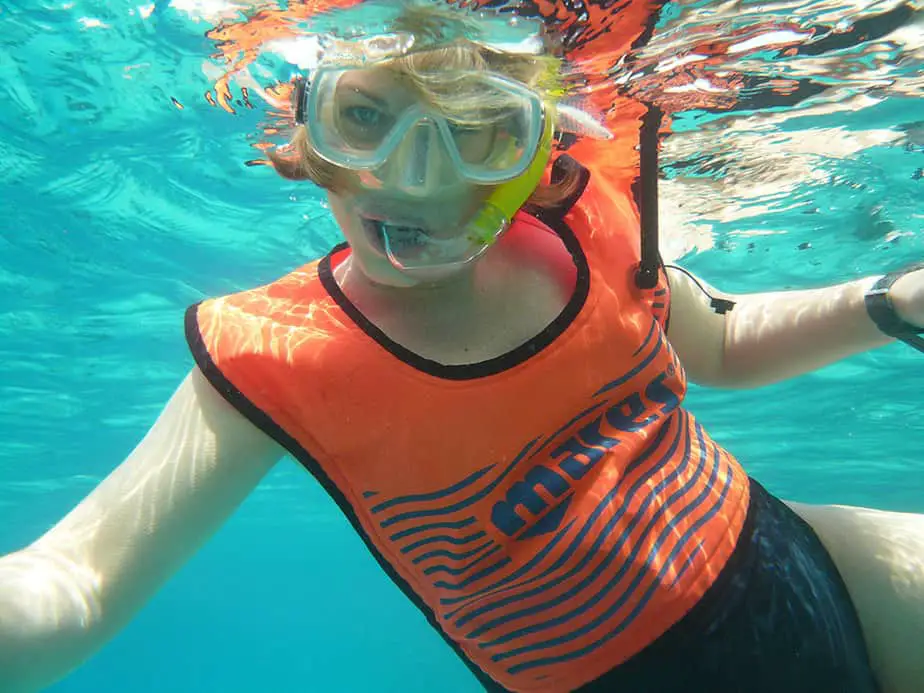 Durability
Nothing is more frustrating than using a product once and having it break on you. Furthermore, if a vest is so low-quality that it fails after just a few uses, then were you even protected in the water? To ensure that we recommended durable products, we looked at what materials it was constructed from and what the customers were saying about the quality.
Versatility
Although the products we reviewed are intended for snorkeling, you can use them for other water sports or training purposes as well. For instance, if you feel like doing rigorous training to improve your stamina, you can train harder and longer with the reassurance of a snorkel vest. Furthermore, it can also be used for other water activities like paddle boarding, surfing, and kayaking.
Extra Features
Who doesn't like extra features and innovations? If a product had something about it that made it stand out from the others, beyond just adding more buoyancy, we took that into account. For example, one thing that only a few buoyancy vests for snorkeling had that we felt was really useful was zippered pockets. On a swimsuit, there usually isn't much in the way of pockets for storing your keys or jewelry.
With zippered pockets, you have the option of keeping these highly valuable items on your person, rather than back at the shoreline or on a boat where it may be stolen. Another feature that stood out was when models had oral nozzles that could be utilized hands-free. We also really liked snorkel vests that included a carrying case so that it is easier to bring with you when traveling.
Are you planning on taking lots of pictures with a waterproof camera? Lots of people these days are using GoPros or even their smartphones in a waterproof case. If you are thinking about doing this, look for a snorkel vest with a D-ring. This allows you to attach the camera to it as you explore. If these extra features don't appeal to you, then you can save money and just shop for snorkel vests that provide the basics.
Avoid Knock-Off Brands
Since many snorkel vests follow a similar design, many low quality copycat products have started flooding the market that are sold at extremely tempting prices. However, from our experience you get what you pay for. Products made cheaply by factories in foreign countries that have been rebranded tend not to work very well.
And since this is your safety we're talking about, it's not worth taking chances on. If you or your child's vest deflates when you're out in the water, you might be in danger. We recommend buying from reputable brands, even if it costs a little more, just for assurance that the quality is up to par.
Best Snorkel Vest for Non-Swimmers Recommendations
Phantom Aquatics Snorkel Vest
Sale
The Phantom Aquatics Snorkel Vest is made from heavy-duty nylon and features durable plastic clips. It is a horse collar style vest that comes in bright yellow or orange for increased visibility. Next, the front is made from durable nylon while the back from neoprene which provides comfort and insulation. Furthermore, the inflation nozzle is made of sturdy plastic and is easy to access.
For added comfort, the collar is framed with smoothed edges. As for how it holds up in the water, the Phantom Aquatics Snorkel Vest can support up to 225 lbs (102 kg) for the adult version. If you're near the cut-off point, we just recommend ordering the next size up, which is the extra large version.
Some customers have had issues getting the sizing right. It may have to do with some people's body proportions, so read some customer feedback to get an idea for sizing. Because other than this complaint, the Phantom Aquatics Snorkel Vest is an excellent and reliable snorkel vest.
Pros:
Made from a mix of neoprene and nylon, which provides comfort and insulation.
Supports up to 225 lbs (102 kg).
Easy access to inflation tube.
Collar has rolled edges for additional comfort.
Extremely affordable.
Cons:
Some customers had trouble with correct sizing.
Scuba Choice Snorkeling Jacket Vest
The Scuba Choice Snorkeling Vest is a one-size-fits-all jacket style snorkeling flotation device that will keep you afloat and feeling comfortable. Since it only has one size, it's intended to fit waist sizes from 30" to 52". The snorkel vest can be tightened with its durable nylon straps. It even has two side pockets that are secured by velcro straps.
We like that this jacket has pockets, however since they aren't zippered, we don't recommend carrying anything too valuable in them as they might fall out. Being a jacket style vest, it fetches a higher price tag than horse collar style vests. However, the Scuba Choice Snorkeling Vest is so easy to put on and comfortable to wear, we feel it is worth the price.
Pros:
Can accommodate waist sizes between 30" to 52", very versatile.
Durable nylon straps will keep the vest secure.
Two side pockets for storing items.
Easy to put on.
Cons:
The side pockets are closed with Velcro straps, not zippers, so there is a possibility items can fall out.
Being a jacket style design, it costs more.
ScubaPro Cruiser Skin Dive Safety Snorkeling Vest
The ScubaPro Cruiser Snorkel Vest gets a special mention because, so far, it is the only hybrid design vest. That's right, it combines the positives of both the horse collar and jacket style vests into one product. First, you wear it around your torso like a jacket that opens from the side.
It is made with durable neoprene and nylon, which can keep you warm in cooler water but will not compromise on your comfort during hot days. Next, having your back covered means you are protected against the sun's UV rays while snorkeling. One nifty feature of the ScubaPro Cruiser is that it not only has a plastic inflator tube, but also a deflator valve. This allows you to adjust your buoyancy levels with more precision.
If you want to keep your valuables on you, the ScubaPro Cruiser has a convenient secure pocket. Furthermore, you can choose between two colors, yellow or orange, and five different sizes. We like how they included an extra-small version, which is ideal for children.
Overall, the ScubaPro Cruiser Hybrid Snorkel Vest has some interesting features, though it is somewhat costly. With that said, it is easy to put on and take off, you get more precise control of your buoyancy, and it includes a pocket. Furthermore, we feel it is on the more attractive snorkel vests you can get on the market.
Pros:
Hybrid design, which lets you slide into it easily from the side and does not require the uncomfortable crotch straps that horse collar vests have.
Deflator valve lets you adjust your buoyancy with more control.
Secure pocket for keeping valuables on hand.
Comes in many sizes, including extra-small for children.
Cons:
Expensive.
Item runs small, consider ordering one size up.
Mares Head Snorkel Vest
A very affordable entry model that we recommend is the Mares Head Snorkel Vest. It is a serviceable basic vest that should suit snorkelers on a tight budget. We recommend it for casual snorkelers, newcomers, or as a kid's vest.
Unlike many snorkel vests on the market, the Mares Head does not have a one-size-fits-all design. It's nice to be able to have more control over how a snorkel vest fits. The sizes range from standard to extra-large and extra-small. The smallest size is great for kids and is rated up to 80 pounds. The standard can support 80 to 180 pounds, and the largest version can support up to 250 pounds. Having this many options is ideal for those shopping for kids or for larger individuals.
Since this is a basic snorkel vest, it doesn't have any fancy features. No pockets or D-rings, however it will keep you and your kids afloat and that's the most important thing.
Pros:
Good quality entry-level vest.
Affordable.
Many sizes to choose from, can support up to 250 pounds at the largest size.
Cons:
No fancy features, such as a D-ring or pockets.
Deep Blue Gear Snorkel Vest
Sale
Deep Blue Gear Snorkel Vest, Adult Small/Large, Yellow
EXTRA BUOYANT – This inflatable adult snorkel vest provides over-the-neck extra buoyancy to aid in the snorkeling experience. You can float on your...
AIRTIGHT – The innovative device is made of 210-denier nylon and is sealed with an RF welding to make sure the ¼ inch weld is permanent and the...
ADJUSTABLE STRAPS – This flotation vest features an adjustable waist and crotch strap for a secure and customizable fit. Men and women can feel just...
Made from durable nylon, the Deep Blue Get Snorkel Vest is resilient and will help keep you afloat on your snorkeling adventures. It features adjustable straps for your crotch and waist that will keep it secured in place and prevent riding up. Furthermore, this allows for a better fit, as there are only two sizes, both intended for adults. It offers excellent buoyancy and comfort for nearly all adults.
Next, the plastic inflation tube is located at a convenient place at the front and can be easily reached. All straps have plastic clips on the end and are made from nylon, which will last a long time and will not get worn down by saltwater. If the standard size vest is not enough, there is an XL version that can support over 220 lbs (100 kg).
Unfortunately, there is no kid's version for the Beep Blue Gear Snorkel Vest. Also, the design is very similar in style to the well-reviewed Phantom Aquatics Snorkel Vest which we covered above. It performs similarly, and we recommend you go for the bright yellow version over the black one for increased visibility in the water.
Pros:
Made from durable nylon with adjustable straps for a tight fit.
Provides great buoyancy and comfort.
Two sizes available, both for adults, the larger one can support over 220 lbs (100 kg).
Easy to pack and travel with.
Cons:
No kids sizes available.
One customer complained about a faulty seal on the valve, though this incident seems isolated.
National Geographic Snorkel Vest
The Nation Geographic Snorkel Vest is yet another solid snorkel vest. You might be thinking that the National Geographic magazine just slapped their name on a cheap product, marked up the price, and called it a day. However, this model is surprisingly high-quality. First, it's a one-size-fits-all model but it can accommodate nearly everyone. It also comes with a lot of accessories which you may find useful.
What makes the National Geographic Snorkel Vest stand out is its D-ring and zippered pocket. These might not seem like much at first glance, but they make a world of a difference. There are many uses for a pocket while snorkeling. It is a convenient, secure location to put keys, jewelry, shells, or any other valuables you want to take with you.
Next, the D-ring is invaluable if you are an avid photographer and want the best photos on your upcoming snorkeling trip. Nowadays, GoPros and smartphones with waterproof cases are widely available, and you can take advantage of it in the water. Just attach your camera of choice to the D-ring and it will record all of the exciting snorkeling adventures as you experience it.
While there's not much to complain about, we feel it's not as rugged as some of the other snorkel vests. It's also one-size-fits-all as we mentioned earlier, so there will be some edge cases where people are either too large or small for it.
Pros:
Surprisingly solid product from National Geographic.
Zippered pocket lets you keep valuables on your person instead of by the shore or boat.
D-ring allows you to safely take a camera with you.
Cons:
Not as rugged as the more expensive snorkel vests.
Frequently Asked Questions
Why Should I Wear a Snorkel Vest?
Though snorkel vests are not necessary for you to have a good time snorkeling in the ocean, they are handy and can benefit anyone. First of all, swimming can be pretty tiring and that puts an artificial time limit on how long you can stay in the water. Being forced to leave the water before you explored everything can be frustrating.
With a snorkel vest, you will be able to conserve your energy and snorkel for longer. Just inflate it enough so that you feel you have sufficient support. By relying on the snorkel vest for some buoyancy, you can focus more of your efforts on enjoying the sights and exploring. You may have spent a considerable amount of money to vacation with your family, and a snorkel vest can help you maximize your time in the water.
How Do Snorkel Vests Work?
Snorkel vests have an internal bladder that holds airs, which is what makes it buoyant. By using the oral nozzle found around the side of the vest, you can fill it up. The snorkel vests often come in bright colors so that you are highly visible to other swimmers as well as boats in case you veer too far away.
When you just want to conserve energy and stay along the water's surface, blow up the bladder using the oral nozzle for extra buoyancy. When you want to dive down, just let the air out and you can now freely dive.
By having a snorkel vest, you have a back-up plan in case you have an unexpected emergency, such as if you get swept out by a current or stung by a jellyfish. If these things were to happen, stay calm and inflate the vest using the oral nozzle so that you can have some help swimming to shore.
Are Snorkel Vests Only Useful for Beginners?
No, even strong swimmers can benefit from wearing a snorkel vest. Believe us when we say a snorkeling vest will change how you approach snorkeling. Even if you have incredible stamina, every second you are out in the water just staying afloat you are using up your energy. At some point you'll have to return to shore to rest up. With a snorkel vest, you can stay out in the water and explore as long as you like.
How Comfortable are Snorkel Vests?
For people who have never worn a snorkel vest before, the closest experience you had was probably wearing a bulky, awkward fitting flotation device that restricted your movements. It probably wasn't an enjoyable experience. You may be happy to hear that snorkel vests are not like that at all. Instead, they are constructed from materials that are comfortable and lightweight.
Between the two snorkel vest designs, jacket style or horse collar style, the horse collar is the one people are more likely to take issue with. If you are going with a horse collar style vest, for optimal comfort, you should make sure the neck hole opening is large enough, and that the straps are long enough.
A small neck opening makes it hard to put on and will feel like you are being constricted. Next, short straps will seriously ruin the comfort factor because one of the straps goes across your groin area. If you'd rather not have straps around your crotch area, the jacket designs are more comfortable but typically pricier.
How Portable Are Snorkel Vests?
Snorkel vests are easy to bring with you while traveling. Jacket style snorkel vests are bulkier but occupy as much space as a pair of jeans. If lack of space is an issue, then the horse collar designs are better suited for traveling because they hardly take up any space. Some products advertise that when their vest is completely folded up in their including mesh bag that they take up as much space as a smartphone.
With such space-saving design, you can even put a horse-collar style vest in a carry-on bag. Plus, when you transfer it to a beach bag as you are heading out to go snorkeling, you'll hardly feel like you brought any extra gear than you normally do.
Differences Between Horse Collar vs. Jacket Design?
The first thing you'll notice is the price difference. Jacket models can be twice as expensive as horse collar models. One reason for this price discrepancy is due to the design, namely that the jacket design is more complicated and the materials used, like neoprene, are higher quality. Premium materials feel more comfortable, and the jacket style is easier to put on or take off. They are also better at keeping you warm, which is beneficial for snorkeling in cooler waters.
Next up we have the horse collar design. To wear it, you have to put it over your head and around your neck, similar to a life jacket. It is more affordable but also doesn't provide much warmth. Furthermore, there are multiple straps, and one in particular goes between your legs to keep the vest from riding up while inflated. Many people find this to be uncomfortable, and if you feel the same, consider spending more money for a jacket design snorkel vest.
Are Snorkel Vests Life-Saving Devices?
No, snorkel vests are designed to assist the user in various water sports, such as snorkeling, and are intended for recreational use only. They will not fully support someone who does not know how to swim. If you want a product that can be used as a life preserver, look for ones that are specifically labeled as such or are approved by the United States Coast Guard (USCG).
Can You Snorkel with a Life Jacket?
Yes, you can snorkel with a life jacket, however it will not be as comfortable as using a snorkel vest or a flotation belt. A life jacket's primary purpose is to keep your head above water and keep you from drowning. Thus, when you try to look down into the water, the life vest will get in your way. Also, with a life jacket you are prevented from diving down, whereas snorkel vests can be deflated to allow for diving.
Parting Words
Though a snorkel vest is not required for you to snorkel, we highly recommend it. Even if you are a strong swimmer, with the help of a snorkel vest, you can conserve your energy and stay in the water for longer. Snorkel vests also have a degree of insulation, which can keep you warm in cooler waters.
Depending on the product you buy, you can get additional features such as zippered pockets or a D-ring. You can clip a waterproof camera to the D-ring, such as a GoPro, to record your underwater adventures. The zippered pockets will protect your valuables such as keys or jewelry. Furthermore, snorkel vests are very affordable for a decent quality entry model. The best life vests for snorkeling hardly take up any room in your suitcase, so there's not much reason not to have one.
Photo Credit: Lars Plougmann cc
Last update on 2023-09-09 / Affiliate links / Images from Amazon Product Advertising API