Full face snorkel masks are a relatively new invention compared to the traditional snorkel and mask combination. Released in 2014, they exploded in popularity and revolutionized the market for snorkeling equipment. Things were fine for many years until suddenly, in 2018, there was a spike in snorkeling related deaths in Hawaii. Many news outlets were quick to put the blame on full face snorkel masks, and this caused many to ask: are full face snorkel masks dangerous?
Our belief is that full face masks are not dangerous provided snorkelers know how to use them properly and they have sufficient snorkeling experience to handle themselves in the water. By sticking with quality masks from reputable brands like SEAC, HEAD (Mares), Subea and Wildhorn Outfitters, you can snorkel safely and enjoy the benefits offered by a full face mask with minimal downsides.
While the deaths in 2018 were tragic, we do not believe full face snorkel masks were the cause. In fact, since there hasn't been such a spike of deaths prior to and following this incident, it calls into question the nature of these deaths. We believe those were isolated incidents and that there were other factors which contributed to the snorkelers' tragic passing.
In this article we will go over the study conducted by the Hawaii government on the safety of full face masks, the pros and cons of full face masks, and the top brands/models that are safe to use.
Our Top Picks:
Hawaii 2018 Full Face Snorkel Mask Deaths
As we mentioned, the full face snorkel mask controversy began with the spate of deaths that occurred in Hawaii in early 2018. The Hawaii government immediately conducted a study which lasted a couple of years examining all snorkeling-related deaths in the state. The results of the study were released in 2020, and you can read it in full here.
To summarize, researchers determined that most of the mysterious deaths were the result of hypoxia induced by Rapid Onset Pulmonary Edema (ROPE). ROPE is "the infusion of bodily fluid into the lungs reducing its capacity to deliver oxygen to the blood." And hypoxia is when there is insufficient oxygen in your blood to meet your body's needs.
ROPE was a phenomenon previously unassociated with snorkeling, with cases identified only in activities like swimming and SCUBA. It is clear now that snorkelers can experience it as well and it can lead to hypoxia with death to shortly follow. Certain health conditions can increase the risk of ROPE such as prolonged air travel or breathing through a snorkel.
This makes it sound like a traditional snorkel and full face snorkel masks have the same risks, however there are other issues specific to full face masks as outlined in the study:
It is impossible to tell how effective the snorkel is by visual inspection.
They are hard to remove in urgent situations, even with quick release features.
Malfunction of the float valve can restrict air flow, leading to aspiration.
No mouthpiece to spit out in urgent situations.
Cannot clear lingering water from the tube by forcefully exhaling.
Cannot dive underwater safely.
With all of that said, the question remains: are full face snorkel masks dangerous? The conclusion of the study is that "full-face masks pose no advantage or disadvantage in terms of resistance to inhalation of air compared to other devices." In other words, when it comes to how difficult it is to breathe using these snorkeling equipment, full face snorkel masks are no more dangerous than the traditional snorkel.
To address the other issues that are inherent in the full face mask design, we highly recommend you purchase a mask from reputable brands such as Subea, HEAD, Wildhorn Outfitters, and SEAC. Below, we will briefly review the safest models from these brands to give you an idea of what to look for.
Which Full Face Mask Brands are Safest?
SEAC Libera
If safety is your number one concern, then in our opinion the SEAC Libera is the top choice. SEAC have got breathing figured out, and any mask you wear from them will feel like you can breathe like normal. It is so easy to get a breath of fresh air when using the SEAC Libera because the snorkel tube is designed to make inhalation as unobstructed as possible.
Unobstructed Breathing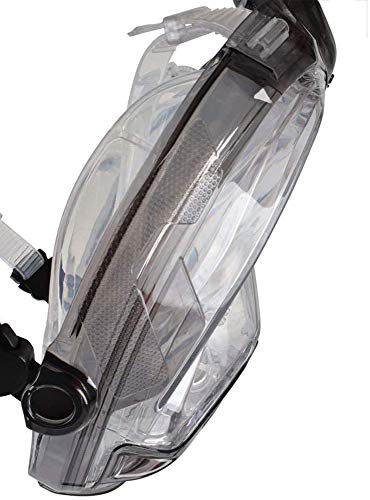 When you exhale, the CO2 exits through different tubes to purge valves located on top of the mask, on the back side. In other words, it tries to keep the fresh oxygen and stagnant CO2 air separated from each other so that each inhale provides 100% fresh oxygen. The downside of this design is that when you submerge the mask underwater, the valves also go underwater and this increases the pressure needed to successfully exhale.
Additionally, while there is no governing body in the US that stipulates how much CO2 levels is acceptable in full face masks, the SEAC Libera meets the European regulations for safe CO2 levels for snorkel tubes. So despite not having any need to provide such a high-quality mask in the US, SEAC has done so anyways and it has paid off. When it comes to how easy it is to breathe, it is head and shoulders above the rest of the full face masks.
Additionally, the Libera has also addressed many of the problems affecting full face masks, and it even comes in a child size so your kids can snorkel safely too. The SEAC Fun is the name of the child-sized version, and it is more affordable than the standard version of this mask.
Dedicated Inhale-Only Snorkel
As we mentioned above, the SEAC Libera's entire snorkel tube is for breathing in. In traditional full face masks, both fresh and exhaled air travel through the same tube, creating plenty of stagnant air. The inhale-only snorkel in the Libera ensures that each breath you take is full of fresh air. This design also keeps the snorkel compact for efficient packing while traveling and a slimmer profile while in the water.
Exhale Valves in the Back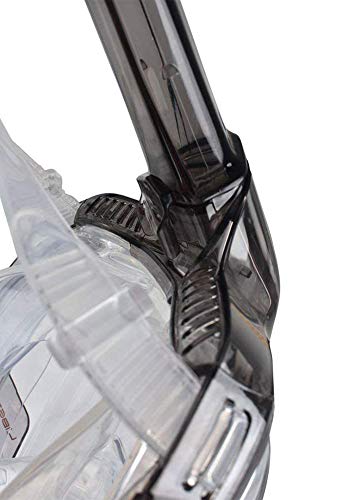 The exit valves are located on the back of the mask itself and not the snorkel. This keeps the distance the out-breath has to travel to a minimum instead of having to travel through the snorkel tube again. Furthermore, when you inhale, the exit valves temporarily close to prevent you from re-breathing expelled air that may be lingering in the tubes.
This design is incredibly innovative, however it has a downside: the valves will be underwater while you are snorkeling. This means that water pressure is acting on the mask, making it harder to open the valves with each exhale. It may seem problematic at first, but you will quickly get used to it.
Flat Lens Design and Reduced Internal Air Volume
By having a flat lens design, the Libera solves many issues at once with minimal downsides. First, the flat lens is significantly thinner than the curved lens. This reduction in size makes it easier to pack, but it does something even more important: it keeps air volume low. The less air volume in the mask, the less "dead space" there is for stagnant air to linger. You will have access to more fresh air and less CO2.
The downside of this design is that it decreases your peripheral vision. In other words, you will not have the same 180° view that many full face masks offer. With that said, the curved lens design distorts the image slightly and may cause some individuals to feel dizzy or nauseous, so it has its own share of downsides as well. We feel the flat lens design solves more problems than it adds, and therefore it's the correct choice.
Silicone Strap and Quick Release Buckles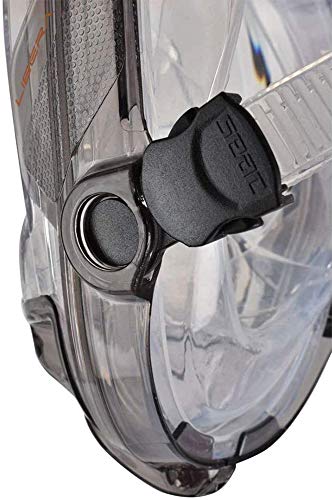 Most full face masks use fabric mask straps, whereas the SEAC Libera uses silicone. Fabric is hard to tighten and difficult to remove in an emergency. The Libera uses comfortable, easily adjustable silicone straps that are attached to quick release clips. Simply push the button on the quick-release mechanism to detach the straps and remove the mask easily. Fabric straps also absorb water and take longer to dry.
Overall
If you are looking for the safest full face snorkel mask that has been tested for safe CO2 levels, then look no further than the SEAC Libera. SEAC's focus on unobstructed breathing has made the most pleasant mask to snorkel with. On top of that, it is highly affordable with excellent safety features such as its quick-release strap and a kids version, making it one of the most versatile masks on the market as well. If you want to stay safe while snorkeling, this is the mask you want to own.
HEAD Sea Vu / Ocean Reef Aria
If for some reason you cannot use the SEAC Libera, perhaps due to a poor fit or unavailability in your region, then a couple of great alternatives are the Ocean Reef Aria or the HEAD Sea VU. We are reviewing them both at the same time because they essentially share the same design and they have both been tested for safe CO2 levels.
These companies use the same testing machines as used on diving rebreather full face masks. During their testing, they found that the more forcefully you breathe (strong inhales and exhales), the less CO2 buildup there is.
In both of these masks, the snorkel has three separate tubes contained within it: one for inhalation, and two for exhalation. In our testing, we found these could not match up to how easy it was to breathe using the SEAC Libera, but they are serviceable.
Additionally, the Ocean Reef Aria now comes with a quick-release clip on the mask strap and that alone makes it worth picking up over the Sea Vu. The Ocean Reef mask also comes with plenty of additional accessories such as a GoPro camera mount, a "snorkie talkie" radio communicator, a marking wing, and optical lens support.
Wildhorn Outfitters Seaview 180° V2
The Wildhorn Outfitters Seaview V2 is yet another full face snorkel mask that has been tested to ensure it maintains safe levels of CO2. The design of this mask is a little different than usual because the snorkel tube is located on its side. This tube has separate chambers for breathing in and out.
We found that breathing in this mask was very easy, but exhaling was more difficult. Upon inspection, we determined that the hole where the breath goes out is smaller than the air intake hole. We hope that they enlarge the diameter of this hole in an updated model so that there is less resistance when exhaling.
Furthermore, the Seaview V2 is physically a large mask. This increases drag in the water, dead air space in the mask, and it also occupies more room in the luggage when traveling. The snorkel can be detached to make it easier to pack.
If you are interested in capturing your snorkeling adventures using a GoPro or similar action camera, then this mask does come with a side mount option for you to mount it on. The location of the mount is ideal since the camera will be next to your face capturing exactly what you are seeing. Full face masks with the camera mount on the forehead area will often pop in and out of the water, capturing inconsistent, unexciting footage.
The Wildhorn Outfitters Seaview 180° V2  is another solid option if you want a mask that is easy to breathe with, with the added benefit of recording your adventures to reminisce for years to come.
Full Face Snorkel Mask Dangers
Carbon Dioxide (CO2) Build-Up
When the Hawaii deaths occurred, people were quick to hypothesize that the deaths were the result of CO2 buildup in full face masks. However, in the same study referenced above, they found that "CO2 buildup is not a physiologically viable explanation of snorkel-related drownings."
With that said, CO2 buildup is a legitimate concern because of the symptoms it produces: nausea, dizziness, sluggishness, and difficulty breathing. So what exactly is it and how do you prevent it?
First, you have to understand the concept of dead air space. In an imaginary, perfectly designed snorkel, air travels perfectly in and out of the tube with perfect efficiency. In the real world, some air gets stuck in the air space of the tube and lingers around. This air space will get mixed up with both fresh air and some exhaled gas, and we refer to this as "dead" air.
When you breathe in and out of a snorkel, you will inhale some of this "dead" air which contains some of the previous exhaled air (CO2). As you continue to breathe in and out, your body may start to feel starved of oxygen as it keeps breathing in CO2. Eventually you will start experiencing the symptoms described above. This is an issue that affects regular snorkels but it is exacerbated in a full face mask because it adds even more dead space.
The best way to mitigate this is to purchase full face masks from reputable brands where the snorkel can properly ventilate the mask. These higher-quality snorkels also have a separate breathing chamber which seals off the mouth and nose area from the eye area, limiting the amount of dead space in the mask.
Another method is to avoid too much physical exertion. This reduces your heart rate which keeps oxygen consumption low, and also reduces how often you breath which reduces the amount of CO2 being exhaled. Snorkeling is meant to be a relaxing hobby in the first place, so just float by the surface and enjoy the nice views.
Improper Fit
If you find it hard to breathe with your full face mask due to CO2 buildup, also consider if the mask is correctly fitting your face. It's not enough that the mask is preventing water from entering. After trying numerous brands and sizes, we actually found that many don't correctly fit properly. How well a mask fits depends on your face size and structure.
In addition to sealing tightly on your face, the breathing chambers should also seal above your nose to prevent exhaled air from escaping into the chamber above where incoming air is entering.If you feel air rushing up past your nose to your eyes when you exhale, then the mask does not fit your face properly. You will be breathing in the same CO2 gases you just exhaled and slowly start to asphyxiate.
Equipment Malfunction
Dry Snorkel
The most dangerous equipment malfunction that can happen to a full face snorkel mask is when the dry snorkel's float valve mechanism fails.
To briefly summarize what a dry snorkel is, it's a snorkel with a mechanism known as a float valve which can automatically seal the opening of the tube if the snorkel is submerged underwater. The float valve "detects" the water level using a buoyant float ball, and this ball will automatically float to the top of the snorkel tube and close the valve if the water level is too high, and unseal the valve when the snorkel is above water.
When the dry snorkel malfunctions, two issues arise:
The valve gets stuck in the sealed position. When this happens, you cannot get fresh air and will start to suffocate.
The valve gets stuck in the open position. Here, the dry snorkel will basically be an open tube that lets water get in and it is a serious choking hazard.
The dry snorkel design is not exclusive to the full face mask; you can purchase a standalone dry snorkel for use with a traditional snorkel mask. When these issues arise in a traditional dry snorkel, the user can quickly spit out the snorkel mouthpiece and surface to get fresh air as needed.
However, the reason why it is particularly an issue in a full face mask is because there is no mouthpiece to "spit out" since the snorkel is built into the full face mask. This issue is further exacerbated because full face masks are hard to remove.
So imagine a situation where the valve malfunctions and the user is scrambling to remove the mask. They may be panicking because they are choking on water or can't get fresh oxygen, and in their confusion, they take even longer to take the mask off. Obviously this is a serious safety issue and it is why keeping a cool head is so important.
Once again, we recommend purchasing masks from reputable brands to ensure the float valves are the highest quality. Lower-quality masks from off-brands may have faulty valves that don't work or break easily.
Other points of failure
All products experience wear and tear and eventually they will fail. High-quality full face masks can last much longer and are worth the money in the long run. With that said, over time straps can get loose, the dry snorkel can get stuck, the lens can get scratched up, and the silicone skirt will stop sealing as tightly against the face.
Unfortunately, there is no equivalent of the Open Water course for snorkeling like there is for SCUBA, the average consumer with no snorkeling experience won't know how to pick out a good product from a faulty one. They will also not be aware of whether their mask is functioning optimally or not.
Human Errors in Judgment
Using it for activities other than snorkeling
Since the barrier of entry to snorkeling is so low, there is a high chance of first-time snorkelers misusing their new full face mask. Keep in mind that full face snorkel masks, as the name suggests, are intended for snorkeling. Many decide to wear it while swimming or free-diving and this can result in issues like the aforementioned CO2 buildup.
Even if you plan on using it for snorkeling, we highly recommend reading the included instruction manual for your specific product to understand its limitations. Perhaps it tells you not to go diving, and if so, then make an effort to stay at the surface of the water and enjoy the underwater sights from there.
Swimming too far out
We get that snorkeling can be a fascinating experience, and many swim further and further out to see more marine life. Unfortunately, many snorkelers who either don't understand their own limitations or don't realize they are floating too far out end up panicking when they realize they are tired and still have a long way to return. To help you conserve energy and keep your heart rate low, we highly recommend wearing a snorkel vest, flotation belt, or rash guard.
Diving with a full face mask
In addition to making errors in judgment, we come back to the basic issue that it is hard to determine the quality of a mask if it is off-brand. So if a snorkeler decides to do a risky maneuver such as diving down with their full face mask, it could lead to disastrous consequences.
There are many reasons why you shouldn't dive with a full face mask. To start, it holds more air volume than a traditional snorkel, making the mask positively buoyant and harder to dive with. You will have to exert more effort just to dive down, and this increases heart rate and therefore greater oxygen consumption.
Another issue is that with a full face mask, you cannot pinch your nose to equalize which can lead to many issues when diving. If you feel a pressure building up in your ears, you must understand how to equalize it or risk damaging your eardrums. In a similar vein, the increase in pressure as you dive down causes the mask to suction tightly on your face, causing pain and discomfort.
Next, when diving down, there is a very high possibility of the dry snorkel failing to seal the tube opening. You would have to be diving down while keeping the snorkel tube pointed up so the float ball can float up and trigger the valve mechanism to seal the opening. If snorkel is angled while you are diving, the float ball won't seal the opening, causing water to flood into the mask.
Since full face masks don't allow you to equalize, plus the high chance of water flooding in, you simply cannot dive very far even if you wanted to.
Panic and Confusion
Let's say the worst happens, and you are struggling to breathe with a full face mask on. Do you think you are experienced enough to stay calm and have enough dexterity to quickly loosen the mask's straps? Unfortunately, many first-time snorkelers panic when water floods down their snorkel or when they are briefly cut off from fresh oxygen.
Panicking is one of the worst things you can do because that results in erratic decision-making and pointless flailing around. Let's borrow some advice from freedivers and try to stay calm at all times. Freedivers understand that even an elevated heart-rate from being nervous causes oxygen to be used up faster. They also keep movement to an absolute minimum and only exert energy when they need to.
Conversely, panic-flailing uses up precious oxygen and increases heart rate which further causes oxygen to be used up faster and leads to more panic. It's a vicious cycle. In order to quickly get out of this predicament, you should be adept at loosening the straps on your full face mask so you can get a breath of fresh air ASAP.
The fabric straps on most full face masks can be difficult to tighten when putting it on, and hard to loosen up when you need it off quickly. You need to put the strap holder around the end of the strap in order to keep it secured to the position you adjusted it to. This strap holder can be hard to reach in an urgent situation since it is behind your head and you will not be thinking clearly. We highly recommend practicing removing the full face mask as quickly as possible so you have the muscle memory to do it in a real life-threatening situation.
The Rise of Off-Brand Full Face Masks
There are a handful of manufacturers that put in tremendous time and effort into ensuring their full face snorkel masks are made to the highest standard. When purchasing a full face mask, we recommend purchasing ones from Subea, HEAD, Wildhorn Outfitters, and SEAC.
Unfortunately, as is the case with many quality products, cheap knock-offs started flooding the market. These are poorly designed copies made from overseas companies that are made with cheap materials and this is reflected in their absurdly low price. They don't provide the same level of safety that masks from reputable brands do.
In the Hawaii study mentioned at the start of this article, one of the downsides of full face masks is that it is hard to visually determine the quality of a mask. You literally cannot know unless you try it out, but who wants to be the guinea pig to do that? It is better to stick with the brands that are trusted instead of playing Russian roulette with an off-brand mask.
When it comes to purchasing equipment that affects your safety, you should not cheap out. Besides, it's not like full face masks are that expensive. Basically all of them are under $100, and most of them are around the $50-60 price range. Are you really willing to jeopardize your safety just to save a few dollars? Hopefully not.
Are Full Face Snorkel Masks Safe?
Inconclusive Evidence Against Full Face Snorkel Masks
Now that the reliability of full face snorkel masks has been put under intense scrutiny, many of its inherent flaws have been put in the spotlight. Despite the all-in-one design providing many advantages in terms of comfort, these same advantages have potentially dangerous downsides that many suspect are what led to the Hawaii incidents.
The main argument for full face snorkel masks is that there is a lack of conclusive evidence surrounding the tragic deaths of the Hawaii snorkelers. Even the study conducted by the Hawaii government admits that full face snorkel masks are just as safe as traditional snorkels, at least when it comes to the risk of experiencing ROPE.
It is also very possible that lack of experience was the main culprit of many snorkeling-related deaths. There is no certification needed for someone to start snorkeling like there is for SCUBA. Anybody can buy a snorkel and a mask and start snorkeling.
If we look at the drowning statistics in Hawaii, the people most at risk are tourists (source). It is likely these individuals traveled from areas that aren't close to any large bodies of water for them to practice snorkeling in. So when they travel to Hawaii, eager to enjoy snorkeling for the first time, they bite off more than they can chew and get overwhelmed in the water.
In that same report, we can see that from the period of 2009-2018, 206 people drowned while performing snorkeling-related activities. Of that number, 189 deaths were from non-residents, and only 17 were from Hawaii residents. The fact that Hawaii has seen an increase in tourism in recent years could also correlate with the increase in deaths as hypothesized above.
Another factor to consider is that many drownings occurred because the victim had pre-existing medical conditions that flared up in the middle of their snorkeling session. Going back to the report, it has been determined that pre-existing medical conditions contributed to approximately 60% of all drownings in Hawaii. While this figure includes drownings from other water activities, snorkeling is by far the most common activity that leads to drowning so it is relevant.
Yet another factor to consider is that snorkeling equipment was not comprehensively tracked until 2017. As of now, there is not enough data to make any conclusions on whether full face snorkel masks are definitively correlated with drownings while snorkeling. However, what little information is available is this: from 2014 to 2018, of the 112 snorkeling-related drownings, the mask type was tracked in 16% of the incidents. It was found that a full face mask was worn in 5 drownings, and a traditional mask and snorkel combo was worn in 11 drownings (source). This is far too little information to work with.
As of right now, inconclusive evidence is both what absolves and damns the full face snorkel mask. You can make either argument – that the mask hasn't been proven to be safe or unsafe. Whichever side you lean on, it seems the biggest causes of snorkeling-related drownings have more to do with inexperience and pre-existing medical conditions than the equipment used. Perhaps the focus should be shifted to the individual and not the gear.
Lack of Safety Standards
Additionally, there aren't any specific safety standards when it comes to the manufacture and design of any snorkeled-related equipment in the US. Traditional snorkel masks and snorkels get a pass because they've been used for decades and have been proven to be safe over time, however a relatively recent invention like the full face snorkel mask is unknown.
For marketing purposes, some manufacturers claim that their product passes the European safety standards for snorkeling equipment, however this is not technically a true statement. The requirements needed to pass the European safety standards apply only to traditional masks and snorkels; as of now there is no safety standard for full face masks.
Since a full face mask is not just a mask, nor is it just a snorkel, it needs to be put into its own category with its own specific standards to be considered "safe." With that said, neither the US nor European countries have such a standard. As a result, since there is no regulation of full face masks, the actual safety of these masks is unknown.
With that said, some brands have been around for many years, particularly Tribord (now Subea), the makers of the original full face snorkel mask. Products from reputable companies are more reliable since they have been tried and tested over the years and have held up. This is probably the closest you can get to having some kind of standard.
We do not recommend purchasing products from off-brand or unknown companies. They are the ones most likely to take advantage of the fact that there are no safety standards. They will write anything on their sales page to trick shoppers into buying it. Their products are often knock-offs made of cheaper materials, so do not expect them to last long nor keep you safe.
Closing Remarks
Ever since the Hawaii drowning incidents in 2018, full face snorkel masks have been marred with controversy, perhaps unjustly so. The debate is still on-going, however we believe that full face snorkel masks from reputable brands should be just as safe as a regular snorkel and mask combo.
As we mentioned above, a definitive link between the drownings and equipment failure has not been established. As far as we know, the biggest culprits are lack of experience and pre-existing heart conditions. We feel that the full face snorkel mask is being used as a scapegoat because people don't want to admit that they simply aren't in the right condition to snorkel. They would rather blame it all on equipment than put in the effort to train themselves properly.
In order to prevent a repeat of what happened in Hawaii, people should endeavor to practice snorkeling in a pool first. They should learn how to properly put the mask on, take it off, and what to do in the event of an emergency (e.g. float valve is stuck, water is entering the mask, etc). If they are not strong swimmers, they need to build up their technique and stamina so they can swim confidently. We highly recommend you know how to swim before you snorkel.
Just as important as swimming technique is learning how to relax and stay calm. Panicking in the water will drastically increase the chances of drowning. In order to have peace of mind, one should be wearing snorkel fins and some kind of flotation device. These will provide much needed buoyancy to stay afloat easily and conserve energy.
If you have a pre-existing medical condition, maybe it's not such a good idea to go snorkeling. Sorry, but it is simply impossible to predict when it might flare up and there is no countermeasure to this issue. It's possible you may never be able to safely snorkel ever again.
Lastly, never snorkel alone. Don't take any unnecessary risks. Stay in shallow waters and always be with at least one other person. This way, you can look out for one another and it is much faster to return to shore should something go awry. Honestly, a lot of this advice is simply common sense, but it seems a lot of people don't have that either.
Armed with all of this information, you should be able to snorkel relatively safely whether you are wearing a full face snorkel mask or a traditional snorkel and mask. Swimming in a large body of water is an inherently dangerous activity, and there is no way to make it completely safe. But by following the advice provided in this article, you can make it as safe as possible so that you can experience the sights that the underwater world has to offer.
Last update on 2023-11-11 / Affiliate links / Images from Amazon Product Advertising API