If a mask doesn't seal tightly against your face, you can expect to have water leaks that limit how long you can snorkel and dive in peace. This problem is exacerbated when you have a small or narrow face and most snorkel masks don't seem to fit your unique facial structure. Fortunately, there are snorkel masks for small and narrow faces on the market that are ideal for youth and adults with a small face.
In order to have the best seal, you have to get a mask that is suited to your facial structure, and the best snorkel mask for small faces should fit perfectly on smaller individuals. Furthermore, having a small mask is great for travel because of how lightweight and compact they are. Many of these masks are highly versatile and can be used to snorkel or dive for a long time without having to clear water due to their tight seal.
With that said, it can be difficult to know which snorkel masks are designed for small faces, and which are just regular snorkel masks that happened to fit someone with a small face. In this article, we review a selection of the best snorkel masks for narrow faces. We also go over how to find a snorkel mask that fits your face whether it's small and narrow, and how you can also make an informed decision should you decide to shop on your own.
Our Top Picks:
Best Snorkel Mask for Small Faces Recommendations
Aqua Lung Technisub Micro-Mask
The Aqua Lung Technisub is a very popular mask among deep diving spearfishermen, and of course it'd do well for snorkeling as well. As the name suggests, this mask is very compact and lightweight, with a beautifully simple design. It almost appears to be a frameless mask, though technically it has a hard frame with a soft skirt that seals tightly on small faces.
Next, the Technisub has an extremely low volume, at nearly half of the volume as most of the masks on the market. This design helps keep the lens really close to the face, allowing its area of vision to be very wide. Additionally, the nose piece is easy to squeeze and reach with one hand. The skirt is soft, yet firm enough to seal tightly, though you may expect some lines to form on your face after a few hours.
As for the strap buckle, it is hinged and attached to the frame which aids in getting a good fit, but makes it less space efficient when folded away. If you find this mask fits your face like how many other customers with narrow faces have, then it will be worth the investment.
Pros:
Extremely low volume makes clearing a breeze.
Compact and lightweight.
The nose piece is easy to access for equalizing the pressure.
Cons:
Mares X-Vision Mid Mask
The Mares X-Vision Mid Mask combines both excellent field of view with a comfortable fit on most small to medium faces. Experience snorkeling and diving with a mask that you'll barely even feel it's there, even if you normally have trouble finding a mask that is suitable for a narrower face.
Part of the reason why the Mares X-Vision is so comfortable is thanks to its hypoallergenic silicone skirt that can conform to the shape of numerous facial shapes, even those with a small or narrow face. The X-Vision provides a wide field of view due to the large single pane window as well as side view windows to expand your peripheral vision.
To further enhance your comfort, use the X-Vision's easy-adjust buckles which are connected directly to the flexible silicone skirt, rather than the frame, that allows the mask to better conform to your facial structure. Lastly, the X-Vision also comes with a low profile protective case, and who can say no to freebies?
Pros:
Windows are angled optimally for the widest viewing angle.
Low internal volume which also keeps the lenses close to your face.
Conforms to numerous facial sizes, including smaller and narrower faces.
Easy-adjust buckles connected to the skirt, which provides greater comfort and hydrodynamics.
Includes a mask box.
Cons:
Some users noticed slight leaking by the nose bridge. Consider applying mask sealant to fix the issue.
Atomic SubFrame Mask
You know that a mask is durable when the manufacturer offers a lifetime warranty against frame breakage. The Atomic SubFrame Mask is touted as being the most durable, nearly indestructible two-window mask out of all of the masks on the market, with a hefty price tag to boot. What exactly makes it so strong?
For starters, it has an internal frame (a subframe) that is molded below the silicone rubber skirt. This gives it unmatched rigidity and strength, in addition to reducing the bulkiness that an external plastic frame would add. Additionally, the lenses are secured using stainless steel retainer locks which also support the bridge and nose area of the mask.
From the lenses, you can expect a great fit and a wide field of view that lets you see what the underwater world has to offer. It combines style, durability, and function effortlessly in one package. Despite the high price, the lifetime warranty takes away much of the risk, and it is a great choice for snorkelers who want an indestructible mask.
Pros:
Has a subframe which reduces the bulkiness and increases its durability to be one of the toughest masks on the market.
Wide field of view and great fit.
Squeeze to adjust buckles.
Lifetime warranty for frame breakage.
Cons:
Expensive.
Missing the ARC (anti-reflective technology) from the normal-sized version which increases light transmission and decreases reflected light for a crisper view.
Cressi Youth Scuba Diving
Cressi Mini Frameless, black
The frameless masks are loved by many snorkelers for their low-profile and comfort. The Mini Frameless is the kids' version of the popular Cressi F1....
Clear wide view by a single lens made with high quality tempered glass, anti-fog.
Made with 100% silicone, a better and longer lasting material than plastic PVC. The best for a perfect and comfortable seal.
While this mask may be marketed to kids, it can also be used by women or any adult who has a small face. Furthermore, Cressi is a well-established brand and you can't really go wrong with their products. At under $30, the Cressi Youth is mighty tempting. Here are some features to tip you over the edge.
First, the mask is 100% constructed from silicone which is highly durable and also comfortable. In addition, the Cressi Youth is a frameless mask that provides great views and has a low volume. The Cressi Youth is versatile and can be used in the pool or open water for snorkeling, diving, and similar water activities.
Furthermore, the Cressi Youth is easily adjustable with its push-button swivel buckles to keep it secure on your face. Additionally, the single lens design provides an unobstructed view. Constructed of anti-fog tempered glass, the lens is resistant to fogging and is highly durable. And all of this for such an affordable price makes this an excellent choice for snorkelers that have a small face.
Pros:
Suitable for women, children, or anyone with a small face.
Competitively priced, highly affordable.
Provides great views and comfort.
Single lens made from anti-fog tempered glass.
Cons:
May still need you to treat it with anti-fog to ensure the lens will not fog up in the water.
Cressi Sub Lince
Cressi Lince, black/black
Mask features 100% silicone skirt with tempered glass lenses
Angled lenses for maximum vision
Designed And Created Using Innovative and Patented Manufacturing Technology
For all intents and purposes, the Cressi Sub Lince can be seen as a smaller version of the well-reviewed Cressi Matrix, due to its dimensions and volumes. Furthermore, it is designed similarly to Cressi's Big Eyes, yet another exceptional product from which it takes many features such as its comfortable skirt designed for women and children, as well as unobstructed visibility.
In order to achieve this, the Cressi Sub Lince has very low internal volume, even by the standards of many free diving models, and even veteran free divers can get a sense of satisfaction wearing these. As for materials, the Lince mask is made completely from silicone, and features a hypoallergenic silicone skirt with a tempered glass lens. The result is that it is compact and lightweight.
Additionally, the materials help to provide its extreme comfort and clear visibility, as well as its efficient and modern strap system makes this model a strong contender for diving and snorkeling activities for those with a small face. Since this is Cressi we're talking about, the price is slightly higher than other masks, however the product you're getting is going to be quality.
Pros:
Extremely low internal volume.
Tempered glass lens with hypoallergenic skirt for more comfort.
Compact and lightweight.
Designed for women and children or anyone with a smaller face.
Cons:
Nose cutout may ride up and cause discomfort on your upper lip area.
Nose bridge can be tough to pinch.
Bare Duo Compact
It can be tough finding a snug fitting snorkel mask for those with a small face, and Bare understands this which is why they rolled out their Duo Compact mask for women and children. This mask features a double edge skirt that provides a tight seal on the face and keeps water out
Next, on the buckle you'll find the push-button wide strap that lets you adjust the tightness of the strap on your face. The Bare Duo Compact is essentially a low volume mask with how easy it is to clear and its wide view. This mask features a twin-lens that is made from tempered glass which is durable and long-lasting.
Lastly, the nose pocket is soft and easy to squeeze with just one hand. This lets you easily perform an ear equalization even if you are wearing thick gloves. A solid snorkeling and dive mask for narrow faces.
Pros:
Double-edge skirt that seals well on narrow faces.
Easy to adjust push-button wide strap.
Twin lens offers excellent view and is constructed of tempered glass.
Has an easy to squeeze nose pocket, can be done one handed with gloves even.
Cons:
May need to treat it with an anti-fog solution to ensure there won't be any fogging.
Scubapro Spectra Mini Mask
SCUBAPRO Spectra Mini Diving Mask with Mirrored Lens, Black
The Spectra Mini's mirrored dual lens design delivers a wide, glare-free view of the underwater world while reducing volume.
Designed to fit smaller faces, the Spectra Mini uses a smart double-sealed silicone skirt for optimum comfort.
Lenses are made from tempered glass for safety and long-term durability, and the ultra-clear no-tint glass delivers optimal clarity.
An ill-fitting mask can ruin a dive, and a person that has a smaller than average face knows this better than anyone. Even among those that have a small face, no two faces are alike. To address this, Scubapro have come out with the Spectra Mini mask that is intended to fit nearly everyone with a narrow face.
To begin, the Spectra Mini has a lower internal profile which can reduce the amount of surface area between the mask and the diver's face. This is possible thanks to its dual tempered glass lens design, which is resistant to cracks and impacts. With the low volume, should water ever get inside, it is easier to clear than other masks.
Next, the Spectra Mini features a double feathered edge silicone rubber skirt. Its mask strap is designed for comfort and seals tightly due to its wide split style silicone construction. Furthermore, the dual lens on the mask allows wearers to experience the maximum intake of light for the clearest underwater vision possible. Re-pressurizing the mask has also been made easier with the one hand soft nose pocket. The Spectra Mini also includes an adjustable swivel buckle system.
Lastly, not only does the ScubaPro Spectra Mini look great, but it feels great to wear. When you're out in the water snorkeling or diving, you need gear that is reliable and durable. The Spectra Mini fits that bill for avid water sports lovers that have a narrow face.
Pros:
Low internal volume.
Lens is made from dual tempered glass that is very durable.
Features a double feathered edge silicone rubber skirt that conforms to the face and is comfortable to boot.
Soft nose pocket makes it easy to equalize the pressure.
Cons:
Will need to apply some anti-fog treatment.
Tusa M-111 Mini Kleio II
The Tusa M-111 Mini Kleio II is for people with a smaller face that prefer their masks to fit snug. It's in the medium price range, however it's worth the money. First, the round-edge skirt is what helps it have such a snug fit and is highly comfortable to boot. The single lens design allows wearers to have a wide panoramic view of the underwater flora and fauna.
Next, the Tusa Mini Kleio II comes with a skirt-mounted buckle system that can be quickly adjusted for the optimal fit. You can expect this mask to fit small and medium faces, which is ideal for youth or female snorkelers. And thanks to its low volume, re-pressurizing is easy and you won't have to worry about fogging as much.
Pros:
Round-edge skirt is comfortable and seals well on a narrow face.
Low volume design keeps the mask close to the face and makes it easy to re-pressurize.
Single lens design means no mask frame in the middle obstructing your view.
Cons:
Customers have no complaints!
Oceanic Mini Shadow
If what you want is a high-quality mask and price is not a concern, then consider getting the Oceanic Mini Shadow. What makes it stand out is that it's a frameless mask with very low volume, capable of folding nearly completely flat.
Since this mask has no frame, it also means that the mask stays close to your face and allows  you to have wide visibility and peripheral vision. It is the perfect companion if you want the best underwater sights or do photography.
Next, the lens is constructed using ultra-clear tempered optical safety glass, and the silicone skirt is made with medical-grade liquid silicone. With how versatile the skirt is, the Mini Shadow should conform to nearly all smaller faces.
Nothing is more irritating than having to stop your snorkeling session and clear your mask every few minutes. The Mini Shadow comes with an easily adjustable strap and buckle that can provide a snug fit, however these can be replaced with third party neoprene straps if you want the most comfort.
Pros:
Frameless design keeps the mask lightweight and offers one of the widest views.
Low volume design.
Easy to adjust swivel buckles.
Skirt is made from medical grade silicone for comfort and a tight seal.
Cons:
One of the more expensive masks.
Straps could be more comfortable.
SEAC Salina MD Mask
The SEAC Salina MD Mask is a very affordable and reliable product from an old and trusted brand. It may not be as mainstream or well-known as some of the other masks out there. But for around $20, it's hard to beat what this mask is offering.
First, it has a single-lens design with the lens constructed from tempered glass. The skirt construction is specifically designed for smaller and narrower faces. Furthermore, it comes with an easy to adjust buckle system that is handy for tightening the mask and optimizing the fit. Thanks to the strap, you can even share the mask with your kids.
You might be worried about the prominent "SEAC" logo in the middle of the lens. Thankfully, when you're actually wearing it you won't notice it at all, nor does it get in the way of your field of vision. Next, the Salina MD comes with a purge valve, so even if there were to be a leak you can easily clear the water by exhaling through the nose. Overall, this is a comfortable mask for narrow faces at a great price.
Pros:
Provides a tight seal on slim faces.
Silicone skirt provides a comfortable fit.
Single tempered glass lens that is durable and offers a wide view.
Cons:
May be better suited for children, as some customers found it didn't work so well for them but was excellent for their kids.
Snorkel Mask for Narrow Faces Buying Guide
Do you find yourself spending an inordinate amount of time messing around with your mask instead of enjoying the underwater sights? Unfortunately, if you have a small or narrow face, you've probably experienced this more times than normal. That's why this section aims to provide you with tips on how to find the perfect fitting mask for you.
When you're snorkeling or scuba diving, you shouldn't be worrying about whether your mask is going to leak or start fogging up any second. With the right mask and proper treatment, these issues will be a thing of the past. By the time you're finished reading this page, you'll have all the knowledge you need to find the best snorkel mask for small faces.
How Should A Mask Fit?
Before you even think about any other factors, the number one most important consideration for a snorkel mask is how well it fits your face. The rubber-like portion of the mask that presses against your face and forms a watertight seal is known as the 'skirt'. If the skirt has a strong seal, it will prevent common problems such as fogging, leaking, fatigue.
If your mask leaks, then either something is wrong with the skirt, or else the mask isn't suited for your facial structure. People with small or narrow faces may find it difficult to get their mask to form a tight seal on their face. As a result, water slowly leaks through the skirt and gets in your eyes. In the worst case scenario, the mask can be so uncomfortable as to be painful.
Additionally, with an ill-fitting mask, you'll have to waste precious time and energy treading water as you try to fix your mask problems. Treading water vertically is more tiring than doing it horizontally, so you are depleting your energy faster. Clearing the water also introduces a secondary problem.
By breaking the seal on your face, you will cause the mask to fog by allowing moist air to enter the mask, condensing against the cold on the surface of the lens. The more air that enters, the more moisture available to condense on your lens, resulting in fogging.
Next, never purchase a mask just because it looks fancy, has a high price tag, or is the "latest and most advanced" mask available. It can have all of the fancy features in the world, but none of that matters if it doesn't fit your face properly.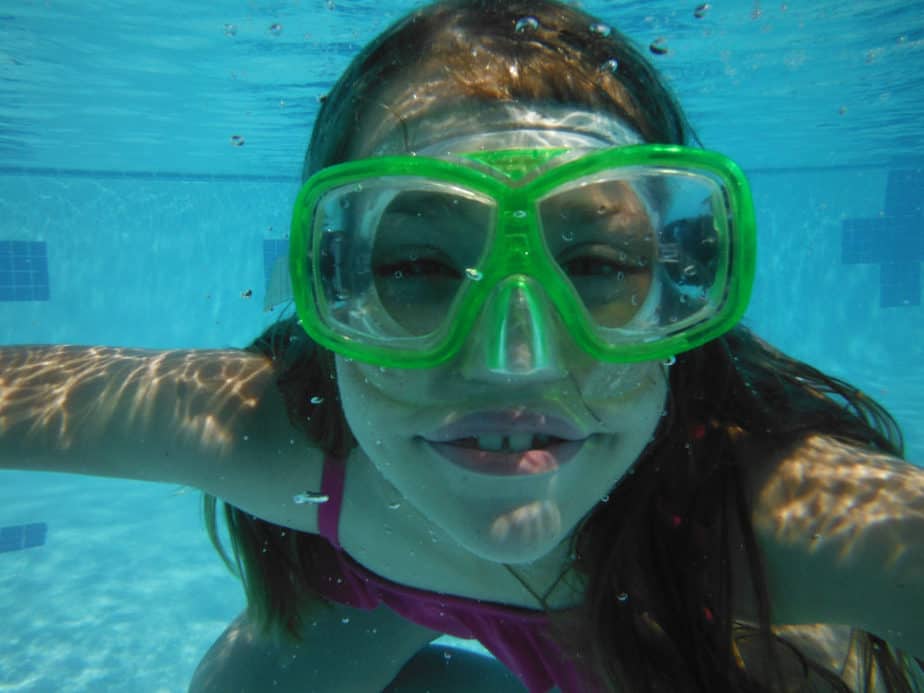 How to Find a Properly Fitting Mask
The goal is to find a mask that is comfortable and seals against your face so well, you forget it's even there when snorkeling. Everyone's facial structure is unique, and yours might be smaller or narrower than most people's. It is therefore hard to recommend a single mask as the "best" since that mask with over a thousand 5-star ratings might not fit on your face. Therefore, for each mask, try the following steps to see how well it fits.
Test the Skirt
When trying on a mask, stop breathing for a moment and place the mask against your face, making sure to press it lightly with your hand. Do not use the strap yet. Next, keep holding your breath but stop supporting the mask with your hand.
A mask that fits well should still remain on your face without you inhaling or holding it in place. During this test, it is important not to inhale because that creates suction. You can make nearly any mask stick to your face if you inhale through your nostrils hard enough, which defeats the purpose of this test.
Masks with skirts that seal tightly against your face are significantly less likely to let water through when you are snorkeling and moving your head through water. This quick test is easy to do and can help you determine if a mask will leak without even using it in water. If any mask fails this test, just move on to the next one.
Test the Strap
Moving on, we're going to test the strap. A well-fitting mask should feel comfortable. It should stay on your face with relative ease, and you shouldn't have to tighten the strap until it digs into your head. Only tighten the strap enough so that the mask will not shift even when you're turning your head. The skirt should provide the majority of the seal for the mask, not the strap.
Dealing with Hair
The seal that the skirt provides can get compromised if strands of hair get in the way. People with long hair or facial hair often come across this issue. Dealing with facial hair can be a bit tricky, but there are ways to get a stronger seal with mustaches and beards. Worst case scenario, you might have to shave off a bit of the mustache.
It is difficult to deal with hair that's caught under the skirt of the mask as you're treading water. It's also a waste of energy, so let's try to keep this from happening. Before putting on the mask, wet your hair and slick it back. Now put on the mask, making sure to run your finger along the skirt to move any strands of hair out of the way.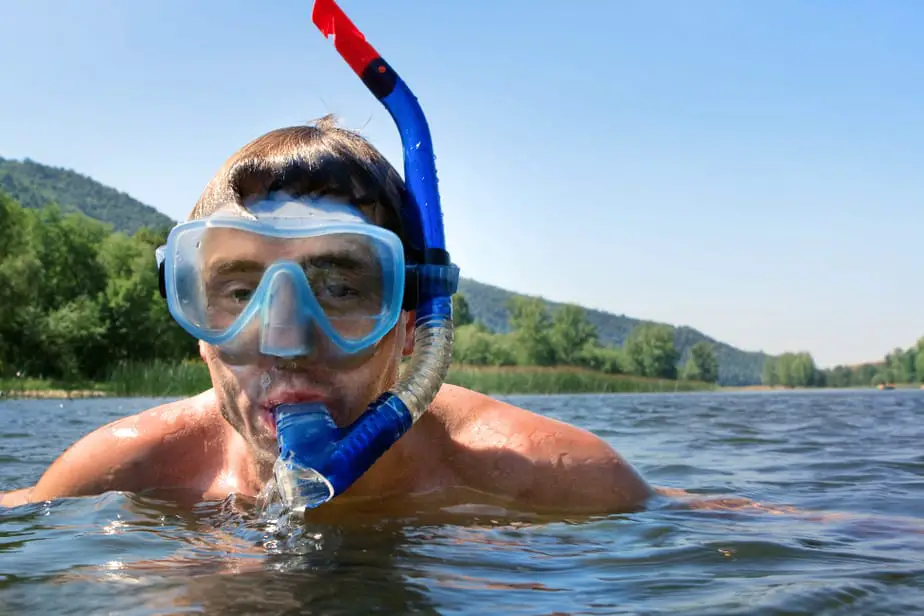 Additional Snorkel Mask Considerations
Now that you've found a mask or two that fits, then we can finally start to consider other features that you may want. Just keep in mind that while having extra features are nice, all of the features below are secondary to getting a mask that properly fits your face.
A Wide Skirt: As you're shopping for a mask, pay extra attention to the edge of the skirt. Remember, that's the silicone or rubber portion that will seal against your face. They come in various widths, and you want one that's wide. For the most part, the more of the skirt that touches your skin, the better the chance of a watertight seal.
Materials: If you're going to buy a mask for yourself, make sure the skirt is made of silicone. Silicone will last for years and years, whereas rubber will degrade and crack over time.
Peripheral Visibility: While keeping your head still and with the mask on, move your eyes in all directions to check out how much peripheral vision you have. Some masks will make you feel tunnel-visioned. Others are reminiscent of looking out of a picture window. Whatever the case, I'm sure you'd rather have a mask that gives you the widest field of view.
No fog lens: Many brands advertise that their masks come with "no fog" lenses. This is a bit of a stretch, as no mask lenses are completely fog-free, and more like low fog, which doesn't sound as good for marketing purposes. Even if you purchase a no fog mask, expect to treat your mask lenses yourself to ensure they remain crystal clear.
Vision Enhancing Coatings: Some lenses are designed to improve underwater clarity during subpar light conditions. That almost makes you sound like you're a Navy SEAL or something. But how this works is that a special tinting on the lenses makes the images sharper and clearer by reducing glare and filtering specific wavelengths of incoming light. The end result is that you can see slightly better underwater. Very few masks have this and it's not that important, though it should be mentioned just for the record.
Low Volume: You should get a low volume snorkeling mask. Why? Well, if you plan on freediving at all, you should know that the deeper you dive the more pressure there is in the mask. And the more pressure there is, the more you have to exhale through your nose to equalize the pressure in your mask. Low volume masks are designed such that the lens is as close to your face as possible, lowering the air volume inside. With less air volume, you don't have to exhale as much, letting you save your breath. Furthermore, the less you exhale, the lower the likelihood of your lenses fogging up.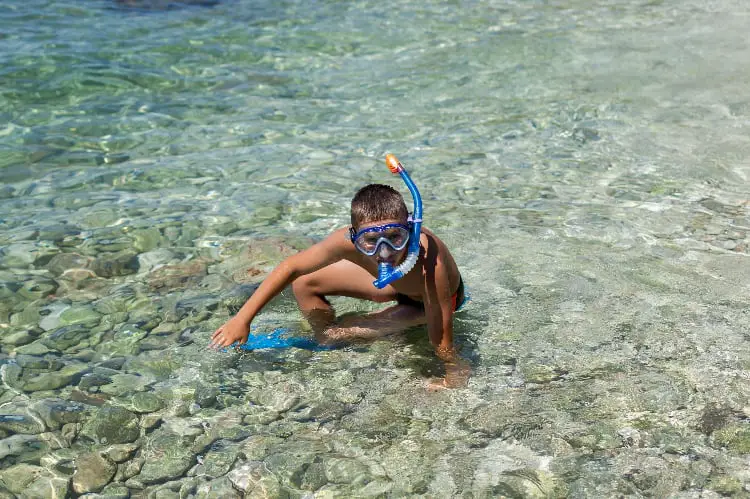 How to Keep Your Small Snorkel Mask from Fogging
Since you'll be wearing a smaller snorkel mask, it will have a lower volume than other snorkel masks which will make it less likely to fog as we explained above. However, let's not rely on luck and figure out how definitively prevent a snorkel mask from fogging.
Make Sure the Mask Fits
Hopefully we've successfully drilled this into your head by now, unless you've been skipping some of the sections above. If so, we recommend you read the "How to Find a Properly Fitting Mask" section again. But essentially, you don't want water to enter, forcing you to take off your mask to clear it.
Try Not To Take Off Your Mask
The rule of thumb is that once you put on your mask, you should leave it on for as long as you can. Taking off your mask introduces new moist air, and this moisture condenses on your lens resulting in fogging. For the same reason, try not to exhale through your nose too much. Only do what is necessary to re-pressurize the mask (see our section on Low Volume for more details) and no more.
Use Mask Defog
Mask Defog is any product or substance that you can use on the inside of your mask lens to prevent condensation, which keeps it from fogging up. Snorkel mask defogging solutions are relatively cheap and work well. They are also widely available at any dive shop and can be ordered online as well.
If you don't have mask defog with you, a quick and dirty way is to use your spit to clean your lenses. Make sure to rinse it off after and shake off as much water as you can. Dry it with a towel if possible to remove as much moisture as you can. Even with mask defog, you have to keep in mind not to take off your mask once you put it on.
Pro Tip: If you feel like the defog solutions offered in your dive shops are too expensive for your liking, you can try using a car windshield cleaner. These should be available in all automotive supply stores, or even at the nearest gas station or Walmart. It should be packaged in a squirt bottle which makes it super convenient to apply to your snorkel mask lens. Windshield cleaner is incredibly cheap and a bottle lasts about a year. Just squirt the product on the mask lens, rub it around with a towel (don't use your fingers because the oil on your fingertips can transfer to the mask lens), rinse the excess solution with water, and dry again before putting it on.
You'll be amazed at how effectively these simple steps can prevent fogging and enhance your snorkeling experience.
Parting Words
Regardless of your facial structure, whether you have a small or narrow face, or a large and wide face, as long as you know how to test a mask to see how well it fits you, it is only a matter of time until you find the perfect one for your face. We highly recommend you purchase a mask for yourself instead of renting, particularly if you have a narrow face because their mask selection may not fit for you. You will end up wasting a lot of time each trip just trying out different masks.
It is better to do any trial and error right now and find a good "mini" mask for you. In this article, we reviewed the 10 best snorkel masks for small faces currently on the market to give you a good starting point. We personally recommend sticking with a trusted brand, such as Cressi or Atomic Aquatics. However, there are also a few surprising budget options for lesser known brands that can serve you well for the price.
Once you finally get a mask that fits comfortably on your face and doesn't leak, you will be glad you spent the time doing the research. Since these masks can last for years, we recommend you treat it as a long-term investment and don't be afraid to pay a bit more for a high-quality mask.
Last update on 2023-09-20 / Affiliate links / Images from Amazon Product Advertising API