Let your child experience snorkeling to the fullest with a full face snorkel mask for kids. Full face snorkel masks can be used by both adults and kids, and they make snorkeling so much more enjoyable. No more biting down on an uncomfortable mouthpiece, no more water leaks, and no more tunnel vision. With a full face mask, you can have peace of mind knowing your child is protected and having a blast in the water.
In this article, we aim to provide a comprehensive guide on full face masks. In the first half, we review the best full face snorkel masks for kids and rate it based on its price and performance. In the second half, we provide a detailed buying guide as well as an FAQ to answer the most common full face snorkel mask questions.
Our Top Picks:
Best Full Face Snorkel Mask for Kids Recommendations
Wildhorn Outfitters Seaview 180° V2
The Wildhorn Outfitters Seaview V2 mask is arguably the best full face snorkel mask for adults, and recently they released an XS size so children can use it too. What we love about the Seaview V2 is its drastic design innovations that fixes many problems that many full face masks have. Let's get into what makes the Seaview V2 so special.
Innovations
At first glance, you will notice that the snorkel is positioned to the side of the mask instead of on top. With the snorkel integrated on the side, it resembles the position where a snorkel would be in a traditional mask and snorkel combo. So what kind of advantages does this provide?
Looking at it from a designer's perspective, this makes a lot more sense for efficient ventilation. The air can enter and exit much faster without having to flow through the rest of the mask. This results in easier breathing, less CO2 buildup, and less fogging. The benefits are tremendous and it makes one wonder why the original full face mask even decided to position the snorkel on top of the mask.
Snorkel Design
To make it even easier to breathe, the design of the snorkel itself has changed in addition to its position. The snorkel tube is angled and then bent halfway through so that the top of the snorkel is facing directly opposite of the front of the mask. This allows your kid to be looking straight down while snorkeling and the snorkel tube will be pointing straight upwards.
The traditional design of full face masks was such that if you looked straight down, the snorkel would actually be pointed at 30-45° angle. To position it such that it is pointing straight up, you had to tilt your head upwards slightly so that you couldn't look directly beneath you, always in front of you. The Seaview V2 lets you look straight downwards while keeping the tube perpendicular to the surface of the water.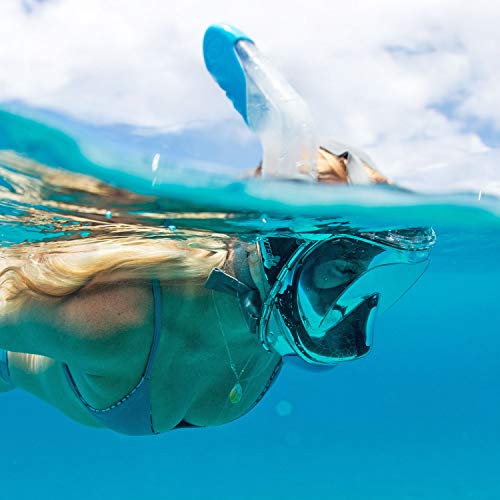 Next, water is kept out of the snorkel thanks to the dry-top design. What this means is that the snorkel tube will automatically seal the opening shut with its float valve if the snorkel is completely submerged underwater, preventing water from entering the mask. Keep in mind that the dry-top design is most effective at the surface. If you decide to dive straight down, there's no guarantee that it can effectively keep water out.
This system is what Wildhorn Outfitters calls "Flowtech", which delivers on its promise to provide easier breathing and superior positioning for more efficient air intake. With all of these features in mind, you can see why the overall experience of wearing the Seaview V2 is much more comfortable and reliable.
Hypoallergenic Silicone Skirt
Another way that the Seaview V2 keeps water out is through its hypoallergenic mask skirt. It is thick yet soft and comfortable on the skin. The skirt will seal tightly against your child's skin, ensuring that no water will enter from the sides. Your kid could wear this mask for hours and not experience discomfort or water leaks.
In the event that water manages to enter the mask through the snorkel or the skirt's seal, then there is an easy way to get it out. Located at the chin is a purge valve which will automatically drain the water out at the surface. Just lift the head out of the water high enough so the purge valve is no longer submerged, and the valve will open and release the water inside the mask without having to remove it.
Lens Design
To further improve the snorkeling experience, the Seaview V2 provides a full 180° frontal view which takes advantage of humans' peripheral vision to see as much as possible. Having an excellent field of view is important not just for enjoyment, but also for self-defense. Many snorkelers lose their life because of collisions with boats. By having such a wide view, there is a higher chance to see objects approaching from the sides and to avoid it.
Keep in mind that there will be a slight distortion around parts of the lens where it is curved. Only the front section of the lens is completely flat and this provides the most accurate view of the ocean. The lens on the Seaview V2 is considered a flat lens, despite having rounded corners. Even if the view from the sides is distorted, it's still advantageous to see a warped image than not.
Camera Mount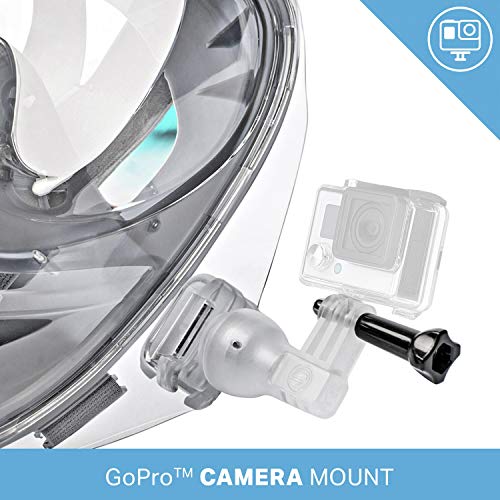 Another innovation of the Seaview V2 is the side camera mount. No, the camera mount itself is not the innovation, rather its positioning is. For some reason, nearly all full face masks have the camera mount on top of the mask, often integrated with the snorkel. Since the snorkel is sticking out of the water, that means the camera is as well, so what exactly is it recording? The surface of the water?
Having the camera mount on the side makes much more sense because the camera will be submerged and recording exactly what you are seeing. It also keeps the camera out of your field of vision, and it can counterbalance the weight of the side snorkel. With a side-mounted action camera, the footage recorded will be a hundred times better and much more memorable when viewed in the future.
Overall
The Wildhorn Outfitters Seaview V2 has revolutionized full face snorkel mask design by bucking the trend and establishing itself as the new gold-standard. With its side snorkel and separate breathing chamber offering unparalleled airflow and fog-free snorkeling, you never have to worry about CO2 buildup or breathing difficulty.
Get an unparalleled view of the underwater sights with the 180° field of vision offered by the wide lens. Furthermore, the side camera mount lets you or your kids film these same views so that you can capture the unforgettable memories forever.
In our opinion, none of the available masks at this time stands a chance at beating the Wildhorn Outfitters Seaview V2. It provides the best airflow and keeps visibility at maximum. Just as we recommended it for adults, we believe the XS version of the Seaview V2 is the best full face snorkel mask for kids.
Subea/Tribord Easybreath
We have to give credit where credit is due; Tribord (now Subea) was the first one to come out with the original full face snorkel mask design. For years, the Easybreath was the gold-standard because it was literally the only option available. It has since received some design changes to keep up with the times, and to this day it is still one of the top full face masks you can get.
With each update, Subea changed the design slightly and managed to reduce the price while maintaining a high quality product. However, as of the latest update the smallest size offered changed to 'S' (for some reason they discontinued the XS size). However Subea claims that the S size should still fit children aged 10 or older.
By default, this mask does not come with a camera mount. You can purchase an optional mount that slides over the mask and ensures that a camera can stay in place. With that said, the positioning of the camera is not as optimal compared to the Seaview V2. If your kid is not interested in snorkeling with a GoPro, then this is not an issue.
Other than this criticism, the Subea Easybreath is pretty much one of the best full face masks on the market, second only to the Seaview V2. After all, the Seaview copied the Easybreath, so many of the benefits it provides are the same as what the Easybreath offers. It has built-in measures to prevent fogging, a good fit, and the overall quality is hard to beat.
You can get the Easybreath in a variety of sizes and colors. If you're buying it for your kid(s), then the S size is what you want. You can't go wrong with getting the original; if you can get it on sale, it will provide some of the best value available.
Ocean Reef Aria Junior
Next up on our list is the Ocean Reef Aria Junior. Think of it like a combination of the Seaview V2 and the Easybreath in terms of its features and design. Therefore, it has many similarities when it comes to their strengths but it also carries with it some of the same weaknesses.
First, just like the Easybreath, the Aria has a lens made out of organic shatterproof polycarbonate. This means the mask is scratch-resistant, durable, and will not break into small pieces if it ever breaks. God forbid the mask should ever break, but you can rest assured that at least it won't break into hundreds of small pieces.
Next, the hypoallergenic silicone skirt is comfortable and ideal for kids with sensitive skin. The skirt will seal tightly on the skin and form a watertight seal. The dry-top snorkel above is also effective at keeping water from entering, however nothing is perfect. If enough water accumulates in the mask, the purge valve at the bottom will drain the water out once it is above water.
Additionally, the Aria is sturdy but flexible at the same time. It even comes with a handy storage bag for convenient carrying. We like to see how Ocean Reef have clearly considered how they can make it easier for people to pack their product while traveling.
As for the action camera/GoPro mount, the Aria borrows the Easybreath design which means it is durable but not very flexible. As always, ever since we've seen how effective the Seaview V2's side camera mount is, we wonder why nobody else thought about implementing this seemingly straightforward solution.
The Aria features a separate breathing chamber which keeps the air from fogging up the lens in normal circumstances. Excessive breathing from too much physical exertion may cause the mask to fog up and fail to vent out the CO2 in time, so be wary of that.
An interesting feature that the Ocean Reef Aria Junior has are special holders on the snorkel. These are intended to hold chemical lights which will provide a bright glow, increasing visibility when snorkeling at sunset. Not only is it a wonderful safety feature, but it may be an exciting visual delight for your kids.
Overall, the Ocean Reef Aria Junior is another great choice as a kid's full face snorkel mask. It has the same issues that other full face snorkel masks have such as a poor camera mount location and ventilation that causes air to pass by the lens, increasing the chance of it fogging up. However,it has some features that make it stand out such as its flexible design for easier packing while traveling, as well as the special holders in the snorkel for the chemical lights. We highly recommend the Ocean Reef Aria Junior.
DCYSO Full Face Snorkel Mask
The kids' full face snorkel masks we reviewed so far looks identical to the adult version, only smaller. What happened to making kid's products look appealing to kids? DCYSO has figured out that kid's products should look fun and exciting! With their patented Shark Appearance, the DCYSO full face mask incorporates marine elements in the mask's appearance.
By making the mask look like a shark head with its mouth open, your kid(s) can have fun pretending to be a shark swimming in the water. The snorkel can act as a "fin" of sorts, which only adds to the shark theme. This mask comes in three colors: blue, grey, and pink, so there's something for both guys and girls, as well as a neutral color.
Aside from its unique design, it has all of the same design features that you'd expect from a full face mask: a wide view, anti-fog lens, adjustable elastic band, a purge valve, dry-top snorkel, medical-grade silicone skirt material, and a separate breathing chamber to keep the lens from fogging up. DCYSO have recommended this mask NOT be used for diving.
Overall, we really like the appeal of the DCYSO full face mask's shark appearance. It's cute and done very tastefully, and it offers all of the same benefits that other snorkel masks do. If we're rating by appearance, then this is the best looking full face snorkel mask for kids with great functionality as well.
Full Face Snorkel Mask for Kids Buying Guide
Full face snorkel masks are not only intended for adults; kids can wear them too! In fact, kids are probably the demographic that are most likely to benefit from wearing a full face snorkel mask. In this section, we will be going over the top factors you should consider when purchasing a full face mask. We will cover their advantages, disadvantages, as well as provide answers to common questions.
Traditional Snorkel Masks vs. Full Face Masks for Kids
In 2014, Tribord (now Subea) released the first full face snorkel mask which revolutionized the snorkeling market. Since then, many brands have made their own full face masks with their own innovations and unique features. Each mask has their pros and cons, but despite their differences, there are certain traits that are shared between all full face masks.
As the name suggests, full face masks cover the entire face whereas traditional snorkel masks only cover the eyes and nose. Especially for kids, a full face mask is more practical because they can breathe with either their nose or mouth without having to hold onto a snorkel mouthpiece.
This seemingly small change makes quite a big impact. Biting down on a mouthpiece for a long period of time can lead to a sore jaw, jaw pain, and general discomfort. Children are also more likely to experience problems breathing through a mouthpiece because they are so used to breathing with their nose. In a traditional mask and snorkel combo, where the mask is cut-off from a fresh supply of oxygen, the experience of inhaling through the nose and not receiving oxygen can be terrifying.
Another important aspect of full face masks is the all-in-one design. It's really easy to lose things, even as an adult. How much more likely is it for children to lose the mask or snorkel in a traditional setup? The all-in-one design of a full face mask means your child will be less likely to forget to bring their snorkel mask with them.
Speaking of the all-in-one design, the built-in snorkel is another important aspect of a full face mask. Typically, the snorkel has a dry-top design meaning it automatically seals shut when submerged to keep water out. If your child accidentally submerges the snorkel, the float valve mechanism will seal the tube opening shut and prevent water from flooding in.
Many snorkeling accidents happen because of panic and confusion. When water enters the tube and the wearer ends up choking on it, the resulting panic-induced flailing wastes even more oxygen and can result in drowning. It has happened to adults, and children are even less mentally prepared to deal with this. That is why the safety features provided by a full face mask are so important.
Additionally, most full face masks offer a wide, panoramic view so that your child can experience the full beauty of the underwater world. Some traditional snorkel masks have thick frames on the sides and only offer a narrow view from the front. Full face masks provide a near 180° frontal view which takes advantage of one's peripheral vision.
Since full face masks trap so much air, it makes the mask exceptionally buoyant. This can be a good thing or a bad thing. It's a good thing if safety is your number one concern because it helps your child stay afloat. It's a bad thing if your child wants to dive down to get a closer look at the ocean floor; the buoyant air will be fighting against them the entire time. We like to err on the side of caution and say this is overall a positive aspect.
Sizing
Most full face masks will have multiple sizes available. If you are buying one for your kid(s), then you should look for masks that have S or XS sizes. Most full face masks should have at least an S size, but some masks have XS sizes or are designed specifically for children.
Whichever size you get, a mask should be able to fit snug over the entire face (eyes, nose, mouth) and the silicone skirt should be able to form a watertight seal on the face. But even knowing that, it can be difficult to select the appropriate size if you are purchasing online.
Here's how you can determine the appropriate mask size for you or your kids. First, measure the distance from the bridge of the nose to the bottom of the chin with the mouth closed. That distance is how you can determine the right size to get. Manufacturers use this same measurement as a reference point for their masks sizes.
When deciding what mask to buy, do not get one a size larger in the hopes that your child can continue to use it as they grow. Masks need to fit snugly in order to keep water out. If the mask is even slightly too big, the silicone skirt may not be able to form a tight seal and water will leak in. The experience will not be enjoyable for your child. Get the appropriate size for your child and purchase a larger mask as they grow older.
Silicone Skirt
Particularly if your child is not an experienced snorkeler, having water leak into the mask can be a panic-inducing experience. That is why it is crucial that the mask fits correctly and that the silicone skirt can form a tight seal on the skin. In order for a full face mask to keep your child's face dry, the watertight seal must be maintained. Here are some ways to ensure that:
First, let's talk more in-depth about the silicone skirt. It is typically made from hypoallergenic silicone and should feel comfortable on the skin. Depending on one's facial structure the mask size, the silicone skirt may or may not be able to form a watertight seal. In order for this to occur, there should be no obstructions; the silicone skirt should have direct contact against your skin.
A common cause of water leaks in full face masks is because of strands of hair compromising the seal between the skirt and your skin. For adults that means they should be clean shaven, but for kids that means that hair should be held back when putting on the mask. Even just one rogue strand of hair in the way of the silicone skirt and skin can cause water to enter from there and compromise the integrity of the seal.
Dry-Top Snorkel
It's possible that water can enter the mask from the snorkel tube itself, but this is mostly prevented thanks to the dry-top snorkel design. Most if not all full face masks have a dry-top snorkel which automatically seals the tube opening should the snorkel be submerged. The process is automatic so users can focus entirely on snorkeling.
Dry-top snorkels use a mechanism called a float valve to automatically seal the opening. The float is a buoyant object, typically in the shape of a ball, that will float to the top as soon as the snorkel dips underwater. The float will push a valve up until it completely seals the tube opening shut, preventing water from entering
To complement the float valve mechanism, many snorkels are also fitted with a splash guard. This is an angled opening that allows air to enter but drastically decreases the chances of rogue waves splashing water down the tube. A splash guard combined with a float valve will keep the majority of the water from entering the mask.
With that said, dry-top snorkels are not 100% effective; some water will make its way inside. Also, if your child decides to dive straight down, then there is a possibility that the angle of the snorkel will prevent the float from rising all the way to the top and sealing the opening.
Think of it like this: the snorkel tube is angled in such a way that it sticks out of the water when one's face is submerged. That means that the snorkel tube isn't pointing directly upwards, it is pointing behind the head to reach the surface. So when diving straight downwards, the angle of the snorkel is parallel to the surface instead of perpendicular. That means the float will not rise up to seal the opening, causing water to flood in.
As such, depending on how the full face mask is being used, water will build up in the mask and your child will have to surface in order to clear the water out. Thankfully, full face masks have a purge valve located in the chin area. This mechanism will quickly drain the water from the mask at the surface without having to take the mask off or break the seal in any way.
In many cases, your child just needs to tilt their head backwards so that the valve is above the water, and it will quickly drain the water inside the mask, thus keeping the face dry.
Lens Type
A big difference between low-quality and high-quality full face masks can be seen in how much distortion there is in the viewing area. The amount of distortion is largely affected by whether the lens is a curved lens or a flat lens. The flat section of the lens provides a clearer view of the underwater world.
Rounded visors will cause the image to be distorted. Typically, lenses will have curved sides with a flat frontal viewing area. The rounded sides provide a smoother, albeit slightly distorted view along the sides of the mask. There will not be any sharp cut-offs in your field of vision. However, the distorted image in a curved lens can cause some to feel nauseous and force them to stop snorkeling to recuperate.
Most high-end masks have a completely flat lens to offer the best frontal viewing experience. To be honest, the reduction of side visibility is minimal and it is a small price to pay to be able to see clearly without feeling dizzy.
In a similar vein, some full face masks may have a mouth/nose chamber made from a nearly transparent material. The reason for this is to provide kids with a more peripheral field of vision by being able to see through this transparent material. In our opinion, while the theory is sound, the advantage is negligible in practice. That extra viewing area is too close to the bottom and is the area your child will have just swam past. Essentially the view provided is one that is always on the verge of exiting the peripheral view anyways.
Lens Material
Another difference between high-quality and cheap full face masks is in the lens material used. High-quality masks use shatterproof polycarbonate material for the lens. This material is durable and scratch-resistant as well. This ensures the view will be crystal clear and can take a beating.
In the event the mask is damaged by a heavy impact, it will not shatter into small pieces that can scratch your kid's eyes or face. A damaged polycarbonate lens will still remain mostly in one piece so that it will not be a safety concern.
Lower-quality full face masks will use cheap plastics that aren't durable and will shatter dangerously into numerous sharp pieces. In our opinion, when it comes to safety, paying a few bucks more for a better quality mask is well worth the investment and the peace of mind it provides.
Field of View
Many full face masks provide a field of view that is larger than regular snorkel masks. This is advantageous not only for a more enjoyable snorkeling experience, but also when it comes to safety. As we have mentioned, a curved lens improves peripheral vision so that your kids can see what's beside them more easily when snorkeling. With a wider, curved lens, they can see objects or people coming toward them and avoid potentially disastrous collisions.
We mentioned that the image viewed through a curved lens is slightly distorted, however it can still serve its purpose of letting the wearer get a sense that something is entering their peripheral vision. Unfortunately, many snorkeling accidents occur when people on boats collide with snorkelers. One way to avoid this is to wear a colorful full face mask and rash guard for increased visibility. However, another method is to simply be alert and use the wider field of view to see danger as it approaches.
Camera Mount
If a picture is worth a thousand words, then how about a moving image? With a full face mask, you can relive your memories of the snorkeling adventures you had with your kids if you record it all using a GoPro (or compatible) camera. Most modern full face masks have a camera mount so that you can attach an action camera and record unforgettable memories that last forever.
With that said, the camera mount doesn't always work well since in many masks the mount is located on top of the mask around where the snorkel is. Since the camera is on top it may even stick out of the water, unable to capture what your kid is seeing.
One way to remedy this is to purchase an optional mount that extends the camera mount so that you can position it underwater. This brings its own share of problems – it's an additional cost, it can obstruct the view, and it is an extra burden on the mask which can compromise the seal.
If you decide that you need a camera mount, the best solution is to simply find one where the integrated mount is positioned more favorably. For instance, the Seaview V2 has its camera mount located on its side which circumvents all of the issues listed above. If you don't care at all about camera mounts, then that's one less factor you need to worry about when selecting a full face mask.
Frequently Asked Questions
Should I buy a full face mask for my kids?
It all depends on your children's preferences, however a full face mask does provide numerous advantages over a regular snorkel mask when it comes to comfort.
First, a full face mask is much more convenient compared to traditional snorkel masks. The all-in-one design makes it so much easier to breathe and removes the need for a snorkel mouthpiece. Furthermore, the large lens provides an unparalleled view of the underwater world, and the design of the mask generally means it won't fog up either.
Second, a full face mask will make snorkeling more fun for children. The mask is designed to be foolproof in many ways so your child can snorkel uninterrupted. For instance, the dry-top snorkel will keep most water from entering the mask, whereas it could be a choking hazard in a traditional snorkel and mask setup. The purge valve located on the chin drains any water that may have entered automatically. Basically, your child could be making plenty of snorkeling mistakes and a full face mask will allow them to still have plenty of fun.
Third, a full face mask is much more comfortable to wear. Whether you're an adult or a kid, the snorkel mouthpiece in a traditional setup is not fun to deal with. No matter how good of a mouthpiece you have, jaw fatigue and discomfort will eventually set in. Full face masks completely eliminate mouthpieces so you can breathe however you want. Also, since a full face mask traps so much air inside it, the amount of buoyancy it provides makes it easy to stay afloat so your kids can focus on the underwater view.
What are the disadvantages of a full face mask?
The main disadvantages of a full face mask have to do with its bulkiness and possible breathing issues. Turns out the all-in-one design can become a double-edged sword when it comes to packing the full face mask in your luggage. Nowadays, full face masks are designed so that the dry-top snorkel can be detached to save space when packing for travel. Unfortunately, full face masks are larger by design since they need to cover the whole face.
In a similar vein, the air trapped in a full face mask when snorkeling means the mask is positively buoyant. We mentioned it before as an advantage for staying afloat. However, if you or your kid(s) want to try diving down while wearing a full face mask, you'll find that the mask is pushing back against you the whole time.
Lastly, the major disadvantage of a full face mask is the potential for carbon dioxide (CO2) buildup. Some lower-quality masks are not capable of expelling all of the CO2 you exhale, which means that over time you will find you are not getting enough oxygen; you will find it hard to breathe and obviously this is a serious issue. To avoid this, it is recommended that you don't exert yourself too much when snorkeling to keep your heart rate and breathing in check. Snorkeling is supposed to be a relaxing hobby where you mostly float at the surface, so just relax and enjoy the view.
You can learn more about the potential dangers of full face snorkel masks by reading this article.
How do I clean a full face mask?
Maintaining a full face mask is very simple, and it's something your kids need to learn how to do themselves. It's no different than cleaning a regular mask. Simply rinse it under fresh water after a snorkeling session and make sure all of the salt, sand, and other particulates are rinsed off.
If the mask has smudge marks then use mild dish soap and apply it with a soft cloth. Be careful not to touch the mask with your fingers because the natural oils will rub off on the mask and you will be back where you started. After rinsing the mask, leave it out to air dry.
When drying the mask, put it in a ventilated location but away from direct sunlight. Though the sunlight can dry the mask faster, the harsh UV rays can degrade the mask quickly. If left in the sun, the mask will become brittle and susceptible to cracks and leaks, particularly the silicone skirt.
It is imperative that the mask is fully dried before putting it back in storage. Even just a little bit of moisture can lead to mold growth which is harmful to your lungs if breathed in. If you are taking the mask out of storage after a long off-season, then the first thing you should do is clean it using the steps above.
How do I keep a full face mask from fogging up?
Full face snorkel masks are designed to be fog-resistant, so ideally you will never have to worry about it fogging up. But what if it does? Then here are some steps you can take to prevent it.
To begin, you can spray the inside of the lens with an anti-fog/defogger spray. If you're not sure what that is and how to use it, then we recommend you read our article on this topic. But to summarize, simply spray the lens evenly and do NOT try to apply it evenly with your fingers. Your fingers contain natural oils that will smear on the lens, so either let it air dry or use a cloth to apply it.
Another method is to scrub the inside of the mask using a toothbrush and toothpaste. If you don't have either an anti-fog spray or toothbrush/toothpaste on hand, then as a last resort, you can use your spit to clean the lens. You heard right, saliva can help clean your lens and reduce the chances of it fogging up. Make sure to distribute the saliva evenly and, once again, do NOT use your fingers to do so because the oils will transfer to the mask.
Why does my mask fill with water? How do I prevent it?
The most common causes of water seepage is from an improper fit, an improper seal, or water entering from the snorkel tube. Water entering from the snorkel tube is unavoidable but manageable. Full face masks come with a water purging mechanism often located at the chin which will automatically drain the water out from the mask at the surface.
However, if the source of the water comes from a poor fit or seal then the mask is completely unusable. In the case of an improper fit, you can chalk it up to bad luck and try a different size that hopefully fits better. If water is entering the mask because of an improper seal, however, then there are ways to prevent this.
We have written extensively about how to form a tight seal in a couple of our articles. The most common reason for an improper seal is because of hair getting in the way. If your child has long hair, help them hold it back and check that not a single strand of hair is getting in the way of the silicone skirt and their skin.
To increase the chances of a watertight seal, you can try applying silicone grease, mustache sealer, or wax hair product on the edge of the skirt to strengthen the seal. Adults or teenagers with beards should shave it off if the hair gets in the way of the skirt.
Parting Words
A full face snorkel mask for kids has to fulfil many roles. It should enable your kid(s) to discover the joys of snorkeling while keeping them safe and comfortable. That's a lot to ask for, and surprisingly, the masks we recommended are up to the task.
With any of the full face masks we recommended, you will be able to have peace of mind knowing your child is protected. Of course, you should still watch them like a hawk, but as long as they aren't recklessly diving down then they should be fine. The masks in our list are not only reliable, but they also won't break the bank. Choose any one of them for your next family vacation, and you and your kid(s) won't be disappointed!
Last update on 2023-03-27 / Affiliate links / Images from Amazon Product Advertising API