Snorkeling and diving is not only about viewing from a distance, but also exploring the underwater world up close. Most people are content with looking at pictures or videos, but if you are a snorkeler or diver, you can get an unforgettable first-hand experience of the aquatic world.
The mask lens is a window that provides you with a clear and unobstructed view of the marine life. As such, you must do everything in your power to ensure that this window remains clear at all times. This is crucial not only for your enjoyment, but for your personal safety as well. You must learn to take care of it so it doesn't fog up, and the best way to do that is with a high quality anti fog spray.
Unfortunately, snorkel, dive masks, and swimming goggles have a tendency to fog up and cloud your view. In this article, we will examine the best anti fog for snorkel and dive masks to keep your mask from fogging up. We will go over the best ways you can care for and prepare your mask to keep it free and clear of fog each excursion.
Our Top Picks:
Best Anti-Fog for Snorkel and SCUBA Masks
Just Add Water Jaws Quick Spit Antifog Spray
The Quick Spit Antifog Spray from Just Add Water is the most popular scuba mask defogger on the market for good reason. It is biodegradable and comes in a convenient spray bottle so that you can quickly and easily treat your dive mask.
You can also use it to treat other masks, such as safety goggles, swim goggles, ski goggles, or any eyewear that can fog up. It's effective on both plastic and glass lenses, as well as wet or dry surfaces where it will cling to the surface and keep it from fogging up.
The formula used in this solution is the same as the spit gel product that Just Add Water sells, but packaged in a convenient spray that lasts 200 sprays.
Pros:
Long lasting. Not only because you get two bottles, but the formula can last the entire day before you need to reapply it again.
Works on wet and dry surfaces. You do not need to dry your mask after rinsing it. It does not matter if there are a few water droplets remaining, the Quick Spit formula will cling to the surface of the lens regardless to keep condensation from forming.
Biodegradable. Do not worry about the Quick Spit anti-fog getting washed off into the ocean; it is made from natural products that will not harm the environment.
Cons:
Does not work if you touch the coating. In general, you should make an effort not to touch the anti-fog coating of any product after application, however the Quick Spit is rendered ineffective if you accidentally touch the lens.
Gear Aid Sea Drops Anti-Fog Cleaner
The Sea Drops Anti-Fog from Gear Aid is an inexpensive snorkel mask defogger that won't break the bank. This anti-fog is very potent and can save you money thanks to how few times you need to apply it even under cold water conditions.
In addition to keeping away the fog, Sea Drops also doubles as a lens cleaner to ensure that your vision underwater is completely clear. This 2-in-1 formula is convenient, alcohol-free, and non-toxic making it safe for your eyes. Additionally, it is biodegradable, making it safe for the environment as well.
Pros:
Affordable. It's cheap, and since you don't need very much of it to be effective, one bottle will last for a while.
Works in cold conditions. Whether you're deep underwater or it's just cold out, you can expect your mask, goggles, or glasses to remain clear.
Gentle formula. The formula used in the Sea Drops anti-fog is alcohol-free and contains no toxic chemicals. It will not irritate your eyes, and furthermore it is biodegradable so it won't harm the environment either. It won't damage any silicone or rubber materials either.
Versatile. Apply it on your mask, goggles, glasses, binoculars, basically anything with a lens that you want to remain clear of fog.
Cons:
Long application time. It can take a couple of minutes to completely dry.
Innovative Scuba Concepts 500 PSI Mask Defogger
Sale
What makes the 500 PSI mask defogger stand out from the rest is its thicker consistency that helps it stick onto the mask lens for longer. When applying other anti-fog solutions it is very easy to miss a spot, but with the thicker consistency of the 500 PSI defogger it is easier to see where you've applied it.
Another benefit of the thicker consistency is that one application can last for a long time, perhaps even several dives, before needing to be reapplied. Lastly, the product comes in a squeeze bottle that should keep .
Pros:
Long lasting. One application can last the entire day, or multiple dives in a day, before you need to reapply more.
Suitable for wet and dry application. When you need to reapply, you don't have to completely dry your mask. Just apply even if there's some water around and it will still work great.
Doubles as a lens cleaner. A clean mask is a clear mask, so getting a good clean while keeping the fog away is excellent.
Cons:
Leaves behind a white residue after drying. The residue can accumulate in the corners of the lens, but thankfully it can be cleaned off.
Happy Snorkel Mask Anti-Fog
The Happy Snorkel anti-fog is yet another solid product that is effective at keeping your mask fog-free while being completely safe for the reef. It is non-abrasive and will not damage your mask lens whether it's made from glass or plastic.
This product comes in a cute 1.25 fl oz bottle that will last you approximately 50 dives or snorkels. Furthermore, the Happy Snorkel anti-fog is fragrance-free with biodegradable properties making it safe for your eyes and the ocean. If you do plenty of snorkeling or diving in the reefs, this is a great anti-fog for the environmentally conscious snorkeling or diver.
Pros:
Small, compact bottle is easy to bring with you anywhere. Stash it in your bag or keep it in your pocket with ease. Despite the small bottle size, it can last up to 50 dives.
Reef safe. Some scuba mask defoggers use too many harmful chemicals that can hurt not only your eyes but the ocean as well if it leaks out.
Long lasting. One drop is all you need to coat your lens. You can be extremely conservative and make the bottle last for a long time. Furthermore, one drop is ideal because too much and it might sting your eyes when you're in the water.
Cons:
Too many drops and it can emit a fume that stings the eyes. Follow the instructions on the proper application of this product to prevent any issues.
Which Snorkel Mask Defogger Should You Buy?
Best Overall: Just Add Water Quick Spit Anti-fog Spray.
You can't go wrong with a product that does what it says, lasts a long time, and comes in an easy-to-use spray bottle for easy application. The Quick Spit anti-fog spray can even last for multiple dives and will save you money by preventing the need for frequent reapplications.
Best Budget Option: Gear Aid Sea Drops Anti-Fog and Cleaner.
Save some of your hard-earned cash by choosing the Gear Aid Sea Drops. It's affordable and doubles as a lens cleaner as well. One bottle can go a long way, and in addition to how easy it is to apply, this product is non-toxic and easy on your eyes.
Longest Lasting: Innovative Scuba Concepts 500PSI Mask Defogger.
For those who SCUBA dive multiple times a day, you should consider this mask defogger from Innovative Scuba Concepts. Unlike the other defoggers, this one has a thicker, gel-like consistency that ensures the mask is properly coated and fog is kept away. You can expect the gel to last a long time and it is easy to apply to boot. You can dive multiple times in one day without having to reapply the anti-fog.
Safest for the Environment: Happy Snorkel Mask Anti-Fog.
This product is non-toxic, made from natural products, and is biodegradable. In other words, you can rest assured knowing that your mask won't fog up and you aren't contributing to reef deterioration. This also means it won't irritate your eyes. With just a few drops, you can expect a safe, long-lasting effect.
Anti-Fog for Dive Masks Buying Guide
SCUBA and snorkel mask defoggers are relatively cheap and will save you from a lot of headaches and frustrations in the water. Some people argue that home remedies are just as effective, such as using diluted baby shampoo or rinsing the lens with your own spit. The former is not always reliable, and the latter some might find to be too gross for their liking.
Additionally, some mask defoggers double as a lens cleaner to ensure that your lens is completely clear while you're in the water. In order to help you make the best choice when researching an anti-fog product, here are some factors you should consider.
Consistency
The consistency of an anti-fog can affect how well it clings onto the lens, which is necessary in order for it to be effective and helpful. You can expect the defogger to come in spray form for easier application.
Typically, the defoggers that have a thicker gel-like consistency clings to the mask for longer and thus can last for an entire day or multiple dives with just one application. However, some people prefer using spray bottles so that they can quickly and easily apply it onto the lens.
Reef-Safe and Non-Toxic
If an anti-fog contains too many strong chemicals, it can emanate harsh fumes that irritate your eyes. You should look for defoggers that are made using non-toxic or natural ingredients so that they won't hurt your eyes. Avoid products that contain alcohol and read reviews from users to see if they complain about irritation.
Another consideration is if it is biodegradable and safe for the environment. You are probably aware that the ocean is becoming more polluted, and marine life and habitats are getting destroyed by chemicals and toxic ingredients.
The anti-fog that you use on your mask can sometimes wash off into the water, so you should check that it is reef safe and non-toxic. If a product doesn't harm the environment, you can also rest assured that it won't be harmful to your eyes either.
2-in-1
Some defoggers double as lens cleaners, and these 2-in-1 products can save you some hassle by simplifying the preparation process. If you really dislike the cleaning process, consider getting a 2-in-1 anti-fog spray.
Price
If the price is an issue, look for products that get you two or more bottles with one purchase. They are the best bang for your buck if your goal is to get the most value. Check the user reviews regarding the application process.
Try to find the answer to these questions. How much product do you need to coat the mask? How long does the product last before you need to apply more? Anti-fog that last the entire day or multiple dives may be better value than ones that must be applied frequently.
If money is really tight, then you can go for the home remedy option. Did you know that your spit is actually an excellent defogger? It's also good in a pinch, such as when you're already in the water. Spit in your mask and make sure the spit coats your lens. Rinse out the spit using saltwater and quickly put the mask on. You should have a clear mask that stays relatively fog-free. Pretty good for free, right?
Another option is to mix a solution using baby shampoo and water. Baby shampoo has anti-fog properties and also won't irritate the eyes. Coat the lens with this solution and then rinse off with either saltwater or freshwater. Quickly put the mask on your face before new moisture makes its way into the mask.
Preparing Your Mask for Diving and Snorkeling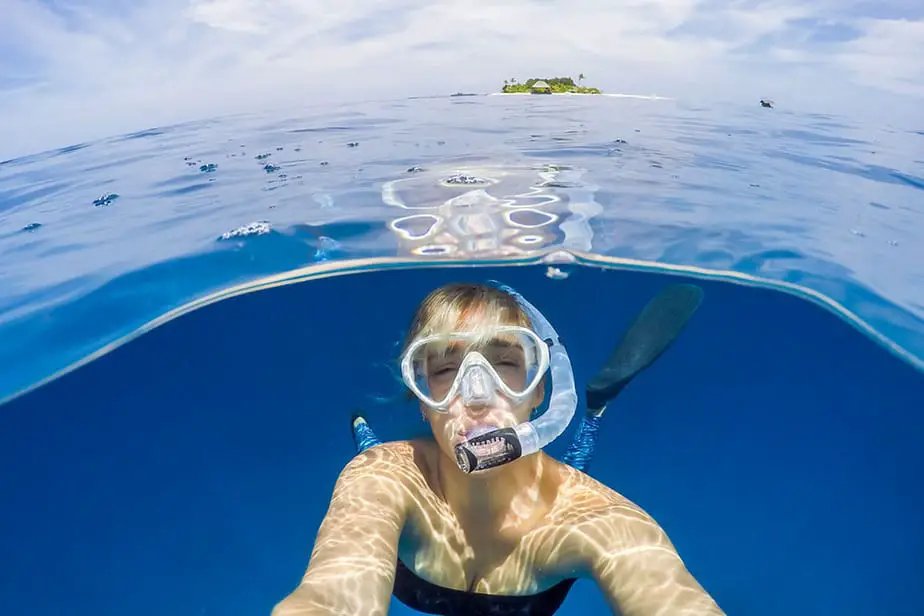 In order for the anti-fog to work with maximum effectiveness, you must first make sure that the mask skirt and lens has been thoroughly cleaned so that there are no lingering oils or debris on the lens.
Before using your mask for the first time, consult the manufacturer's instructions for pre-use cleaning. Some masks come with lenses that have already been treated using their proprietary anti-fog coating and may not need to be coated with anti-fog before using it.
In fact, being too liberal with cleaning may damage any defog treatment that the mask comes with. If your mask does not come with any defog coating, then before using it you should scrub it with a mild abrasive such as toothpaste and rinse well afterwards.
Even though commercial mask cleaners are effective and relatively cheap, home remedies such as non-gel, non-whitening toothpaste work basically as well. You should use a toothbrush to spread the toothpaste and keep the oils from your fingertips from transferring to the lens. Make sure to cover the entire lens and even the skirt with toothpaste.
To further reduce the chances of oils transferring, you should thoroughly wash your hands to remove any oils including cosmetic oils such as sunscreen lotion. It is important that you take these precautions because the oils will mitigate the effects of the anti-fog.
Some people recommend using fire to burn the mask lens prior to first use. The heat from the flame will incinerate the factory produced silicone layer along the inside of the lens where moisture can get trapped. This step is somewhat controversial, as improper heat treatment can cause the silicone skirt to melt. There is also a low risk of burning yourself.
Keeping the Mask Fog Free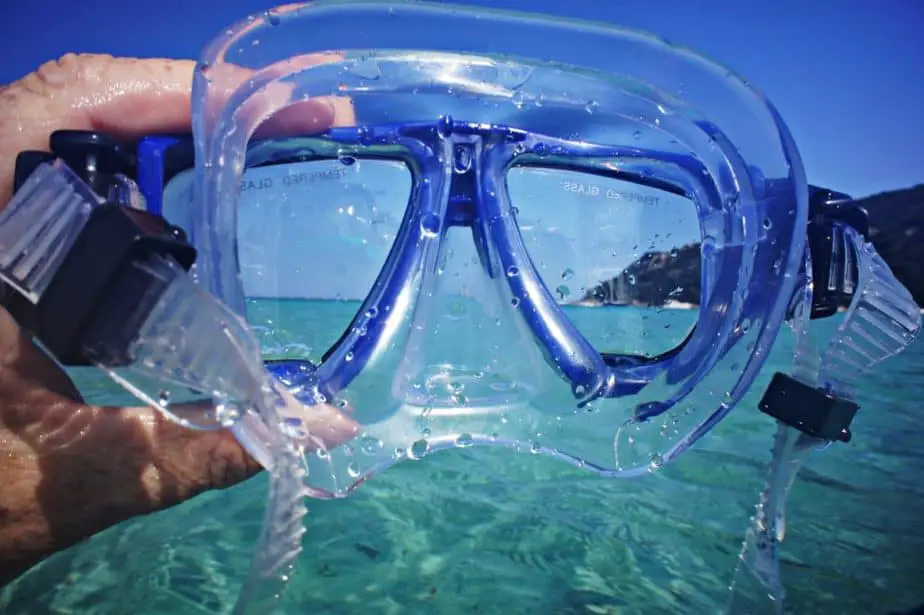 The reason that masks fog up is due to a build-up of moisture inside that condenses on the lens. Even though mask fogging is a major issue, there are numerous simple solutions to keep the fogging to a minimum. For instance, defogging solutions are effective as surfactants that cover the lens and minimize condensation.
Be prepared to clean your mask and to reapply a defogging solution each time you head out into the water. Recently, some defogging solutions have become longer lasting, able to last an entire day of snorkeling or diving. These solutions can be found in gel, drops, paste, or spray bottle form.
Application of the anti-fog varies from product to product. Some are rubbed on the lens and left to dry while others are sprayed on. Before diving, you can even buff your lenses clean. There are many options nowadays to defog one's mask and the methods keep on improving.
With that said, the tried and true methods of using saliva or diluted baby shampoo still work if you don't have any anti-fog on hand.
Common Ways to Prevent Fogging
If you followed the steps above and still experience fogging, then here are some additional tips you can try out.
Double check the seal on your mask. A mask that doesn't seal properly on your face can lead to fogging (and water leaking). Fogging will occur if there is moisture, and if water is seeping in then it can also rinse off the defog solution that you worked so hard to apply. To strengthen the seal, you can try applying mask sealant or silicone grease along the skirt.
Before sealing the mask skirt on your face, make sure no hair is in the way. An easy way to do this is to wet your hair and then slick it to the back. Next, feel around the mask skirt to ensure no stray strands are in the way before forming the seal.
Exhaling through your nose increases the moisture in the mask. You will have to do this in order to equalize the pressure, so keep it to a minimum.
How careful were you not to touch the mask with your fingers? Remember, the natural oils on your body can prevent the anti-fog from working.
Do not expose your mask to sunlight for too long. The increase in temperature can cause condensation to form along the lens. Try to face away from the sun when you are along the surface.
After each snorkel or dive trip, thoroughly clean your mask in soapy, warm water to get rid of any lingering oils or residue that may have found its way onto your mask. Let the mask fully dry before storing it away.
Mask Defogging on the Fly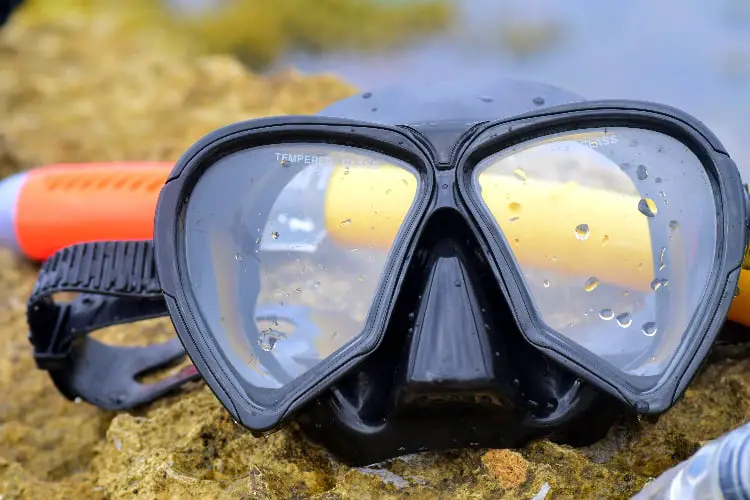 There will be times when you're out in the water and your mask starts to fog up. Maybe your defogging techniques didn't work or you made a mistake, whatever the case you now have to deal with a cloudy mask.
You can try washing your mask, also referred to as clearing your mask. To do this, intentionally break the seal on the bottom of your mask and let a small amount of water rush in. Tilt your head down and swish the water side to side until it has rinsed off the fog. Lastly, forcefully exhale with your nose to clear out the water and close the seal to stop water from seeping in.
If you're by the water's surface, you can use your saliva as a natural defogger. Spit and thoroughly coat the inside lens with your saliva. Rinse off the saliva using the ocean water and shake as much water droplets as you can. Quickly seal the mask on your face before more moisture gets in.
Best Anti-Fog for Snorkel and Dive Masks Recap
There are many anti-fog products on the market, and they help prevent fogging up in both traditional masks and full face snorkel masks.
In addition to their mask defogging properties you should look for ones that are non-toxic, reef-safe, and long-lasting. You can get anti-fog in gel or spray form. One is not necessarily better than the other, but most people prefer to use a spray bottle to defog their lens.
As part of the defogging process, you must first thoroughly clean your mask because any oils or debris along the mask can render the anti-fog ineffective. Some anti-fog products double as lens cleaners so they can simplify this process.
Even after you've treated your mask, you should be aware that you can still cause your mask to fog if additional moisture enters the mask, such as when you exhale or water seeps in. Try not to remove your mask much, if at all, since this breaks the seal and allows moisture from the air to enter which is enough to cause fogging.
Next, it is important to limit how much you exhale with your nose, using it only to equalize the pressure when diving. Low volume masks are better suited for this since it requires less air to equalize. You should also ensure the mask skirt seals tightly against your face.
Lastly, avoid drastic changes in temperature which can result in condensation forming on the lens. This often happens when you surface and allow the sunlight to heat up the air in the mask. Try to face away from the sun or try not to surface for long. If you follow these guidelines, you can find a great anti-fog product and keep your mask free fog-free while snorkeling or diving.
Last update on 2023-11-10 / Affiliate links / Images from Amazon Product Advertising API