You want to return home from a trip with cool stories and memories, not chafed skin or sunburns. With the help of a rash guard for snorkeling, that can be arranged. Traditionally, rash guards were used by surfers to protect sensitive body parts like their armpits, nipples, and neck from getting rubbed raw against their surfboard.
Now, rash guards are used for numerous sorts of water sports, including snorkeling, due to the SPF protection it provides. There are various designs you can choose from, such as short sleeves or long sleeves, loose fitting or tight fitting, and so on.
One thing to keep in mind is that a rash guard is different from a wetsuit. For example, a rash guard does not have as much protection against the cold, unlike a wetsuit. As a result, rash guards are optimal for warmer waters since it can protect you from the rocks, coral, aquatic life such as jellyfish, and of course, the sun.
Below, we go over what you should look for in a rash guard, provide our recommendations, and answer the most frequently asked questions.
Our Top Picks:
What To Look for in a Snorkeling Rash Guard
UPF
It is incredibly important to protect yourself from the sun, and a rash guard is an excellent way to do that. Whether it is protection from rays directly from the sun or reflected off of the water, most rash guards are designed to provide at least 50 UPF to block the UV rays. If you want to spend the whole day snorkeling, you either need a lot of sunscreen (don't forget to reapply) or a rash guard.
Materials
Most rash guards are made from a blend of synthetic fibers, but the most common ones are neoprene, polyester, Lycra, or a mix of nylon-spandex. Each material provides varying levels of warmth, breathability, and stretchiness, but the most important deciding factor is how comfortable it feels on you.
Lycra: A Lycra rash guard provides breathability, optimal stretch, and dries quickly.
Neoprene: Though you shouldn't rely on a rash guard to keep you warm, some do provide a degree of insulation from the cold, and neoprene rash guards are one such type. Furthermore, it is very stretchy and lets you move around freely.
Polyester: If breathability is your main concern, polyester is the right material for you. It can also wick sweat, but unfortunately it lacks the flexibility and stretch of Lycra.
Nylon-Spandex: With a nylon-spandex rash guard, a snorkeler will get an all-around tight fit with decent stretch, quick drying, and breathability.
Tight or Loose Fit
You can choose between a tight or loose fitting rash guard. We recommend tight fitting because it does not cause extra drag, nor will it ride up as easily as a loose fitting one. Those who prefer loose fitting rash guards will need to apply some sunscreen to their lower back as it may get exposed when the rash guard shifts. With a tight-fitting rash guard, it will be easier to wear a wetsuit on top of it as well.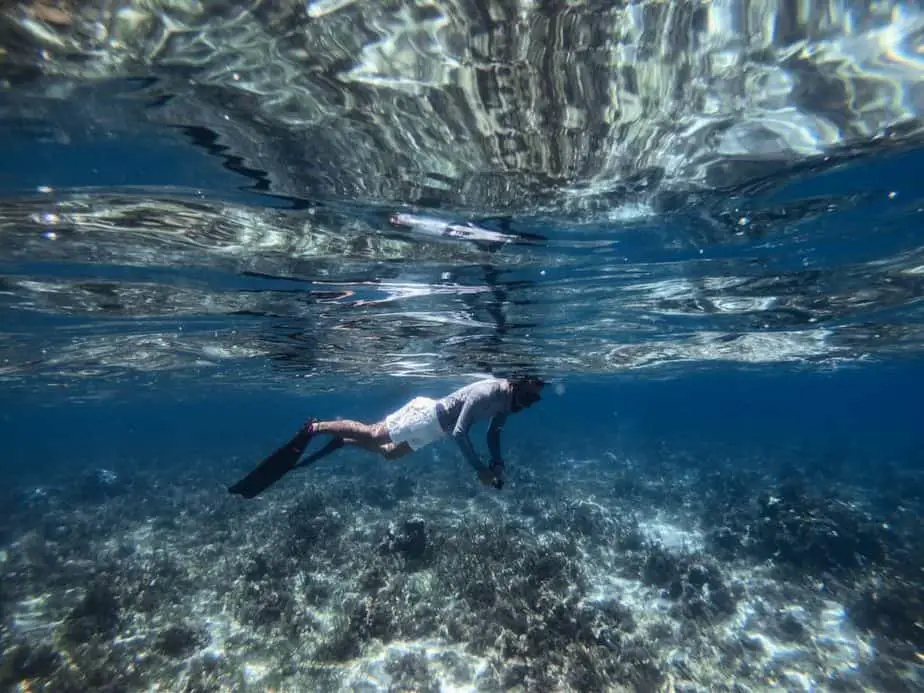 Stitching
Many rash guards use a six-panel construction and flat-lock stitching for the best construction and fit. Some rash guards have over-lock seams, and these could rub and chafe against your skin when you are moving. Look for rash guards with flat seams to avoid any issues with chafing.
Tanks, Long-Sleeve or Short-Sleeve
Tanks and short-sleeves may be used on hot days where overheating may be a concern. You can get more flexibility and freedom of movement, while still getting some protection from the sun.
We prefer long-sleeved rash guards over tanks or short sleeves simply due to the extra coverage it provides. After all, why would you want to expose your arms to the sun, jellyfish stings, abrasions, and so on? If you already made the decision to get extra protection with a rash guard, why not go all the way and get a long-sleeve?
Aesthetics
You always want to look your best, and what better way than by getting a rash guard with awesome designs and artwork on it? This is accomplished in either two ways: heat transfer or sublimation. When buying a rash guard, if you care about how you look, then keep these processes in mind.
Heat Transfer: This method is the cheaper of the two, because it is much easier to do. Think of it like an iron-on graphic. It looks good the first few times you use it, then it will start to peel, crack and fade over time. If you are a casual snorkeler or saving money is your number one priority, then rash guards with heat transfer designs will work just fine for you.
Sublimation: This process is much more expensive than heat transfer. Sublimating a graphic is an arduous process, however the results are worth it. Rash guards with sublimation designs will last longer because the artwork or design is now part of the guard itself. This means it won't crack or fade through normal use. If you plan on snorkeling frequently and want to look great every time, then look for a rash guard with sublimation artwork.
Gender
Some rash guards have unisex designs, meaning there are both male and female versions. The shape will be different, so make sure you buy the right one for the best fit.
Best Rash Guard for Snorkeling Recommendations
O'Neill Men's/Women's Basic Skins 50+ UPF Rash Guard
Sale
Sale
It's hard to go wrong with a product from such a reputable brand like O'Neill. The O'Neill Basic Skins Rash Guard has the perfect combination of style, comfort, and performance. First, it has substantial UV protection with a UPF rating of 50+; it is even approved by the Skin Cancer Foundation.
With a comfortable crew neck, this performance-ready shirt acts much like a second layer of skin. It is perfect for warmer climates, the Basic Skins are constructed using 6 oz. polyester and spandex mix that is quick-drying and durable. It will give you the flexibility to move around freely while being breathable.
In fact, the design allows enough moisture and heat to escape that you can feel cool when it is hot. Even if you are sweating, the moisture wicking material will make sure you won't overheat. Furthermore, the flat-lock stitching and well-placed seam locations will prevent chafing and add extra comfort. With a good balance between performance, style, and comfort, the O'Neill Long Sleeve Basic Skins Rash Guard comes highly recommended.
Pros:
50+ UPF, recommended by the Skin Cancer Foundation.
Flat-lock stitching with polyester and spandex mix prevents chafing is comfortable.
Sweat-wicking, breathable, and will keep you cool in the heat.
Has both men's and women's versions.
Cons:
BPS UPF 50+ Men's Rash Guard
Sale
BPS Men's Long Sleeve Swim Shirt/Rash Guard with Sun Protection (Black, S)
HIGH-QUALITY SWIM SHIRT/RASH GUARD - With the high-neck collar and sun protection, the BPS Long Sleeve Swim Shirt/Rash Guard is here to become your...
DURABLE, LIGHTWEIGHT & BREATHABLE - Easy to get on and off and is designed with minimal seam placement to prevent chaffing and give more comfort....
PROTECTION ALL DAY LONG - Protects sensitive parts such as the neck (thanks to its high collar), back, and armpits from the friction of saltwater. It...
The BPS Men's Rash Guard is made from high quality, fast-drying Lycra combined with poly fabric. This helps it be not only breathable but gives it significant stretch as well. With its 50+ UPF sun protection rating, your skin will be safe from UV rays even during the scorching summer heat.
Furthermore, the BPS Men's Rash Guard features a boardshort connector loop at the bottom that will keep the shirt from riding up while snorkeling. Next, its minimal seam placements serve to improve its relaxed and comfortable fit and keep the guard lightweight. BPS has a "next-level" guarantee that lasts for 12 months, where you can return the item for a full refund or get a replacement.
Pros:
Comfortable and quick drying.
Stretches four ways easily thanks to the Lycra.
50+ UPF sun protection.
Boardshort connector loop keeps the shirt in place.
12 months warranty – full refund or replacement.
Cons:
Seam construction may not be the best.
O'Neill Youth Basic Skins Long Sleeve
Kids can and should be out in the water too, and with O'Neill making products for children, now they can have the same protection as adults. The younger kids are, the less likely they are to know about the importance of sun protection. If they are wearing the O'Neill Youth Basic Skin, you won't have to worry about chasing after your kids to reapply sunscreen as much.
This rash guard is composed of 11% elastine and 89% polyester, and can be safely machined washed. The materials used make it soft, lightweight, and breathable. Kids are very active and can heat up quickly, so it's good that the Youth Basic Skins Rash Guard can wick sweat and let some heat escape. Plus, kids will love how there's so many colors to choose from!
Furthermore, the stretchy fabric and slightly loose fit will allow more freedom to move around. The long sleeves will protect the arms from exposure to harmful UV rays and keep them snug if the water gets too cold. With how much of a hassle children can be sometimes, you can relax knowing that this durable rash guard will keep them safe, snug, comfy, and free from rashes and sunburns.
Pros:
50+ UPF, recommended by Skin Cancer Foundation.
Soft, lightweight, and breathable.
Will keep your kids cool and protect them from coral and jellyfish stings.
You won't have to remind your kids to reapply sunscreen as much.
Cons:
Some buyers complained about the quality of the stitching.
Stains easily.
Frequently Asked Questions
Do You Need a Rash Guard to Snorkel?
We highly recommend you wear a rash guard when snorkeling. Unless you already have a wetsuit, a rash guard will protect your back from getting badly sunburnt as you will be spending a lot of time lying horizontally. With all of the sights that you're seeing, you may easily lose track of time, forget to reapply sunscreen, and get badly burnt.
Aside from protecting you from the sun, a rash guard can also protect you from the underwater environment. Of course you know to stay away from coral, but sometimes accidents happen anyways. Coral is very sharp and some species will give you a bad sting. A rash guard will reduce the damage you take, as well as protect against jellyfish stings and sharp rocks.
For those planning on snorkeling in a cooler climate or for only short periods of time, then perhaps you will not be at as much of a risk of being sunburnt. However, you would still be susceptible to the other dangers, and you will have to carefully track the last time you applied high SPF sunscreen. Honestly, it's quite the hassle; why not just wear a rash guard and not have to worry about any of this?
Why Don't I Just Wear A T-Shirt Instead?
Beginners often underestimate the effectiveness of a rash guard, thinking they either don't need one or that a T-shirt would be an acceptable alternative. It is not. T-shirts provide a negligible amount of protection, only 5 SPF, which is better than nothing but not very good.
Plus, when a shirt gets soaked, that SPF rating gets even lower. If you are exposing your back to the sun's harmful UV rays for the entire snorkeling session while thinking a T-shirt is adequate protection, you will be in for a painful surprise when your skin starts peeling off.
What Can I Wear with A Rash Guard?
Men can simply wear a rash guard with standard swimming trunks or board shorts. Women can wear a standard bathing suit underneath or the bottom part of a bikini with a rash guard.
How Tight Should a Rash Guard Be?
In order for a rash guard to be effective, you have to make sure it fits properly. Remember that there are loose fitting and tight fitting rash guards. Which type is better for you depends on what you intend to use it for. For example, a tighter fit is better for performance since it will have the least amount of drag in the water.
On the other hand, a loose fit rash guard can reduce your performance since the extra resistance can be cumbersome while swimming. Thus, if you want to swim faster and farther, then your rash guard should fit tight. On the other hand for casual snorkelers who just want some extra UV protection, just get the one you prefer to wear.
Is Sunscreen Still Necessary?
Yes. Rash guards do not cover every square inch of your upper body, especially if you decide to buy a short sleeved one. You will still need to apply sunscreen exposed skin that the rash guard does not cover. For those wearing a loose fitting rash guard, consider applying sunscreen to sections the rash guard may leave exposed if it were to ride up, such as the lower back.
How is a Rash Guard Different from a Wetsuit?
While rash guards do fulfil a similar role to wetsuits for snorkeling, namely protection from the sun or keeping you warm, there is a significant difference. A wetsuit simply covers more of your body and provides more protection, and in really cold water you could even wear a rash guard underneath a wetsuit.
Whether you wear one over the other, or both, depends on the temperature of the climate you are in. If you have to deal with cold winds and cold water, you may be better off with a wetsuit if you could only pick one. A general rule of thumb is, if the water is warmer than 75 degrees fahrenheit, then you don't need to wear a wetsuit.
The Bottom Line
While it is not absolutely necessary to snorkel with a rash guard, we believe it is greatly beneficial. With one, half of your body will be protected from the sun's rays, you only have to apply sunscreen to the remaining exposed body parts, and you have some protection against abrasions and stings. A T-shirt is not an adequate substitute because it barely offers any SPF protection. We recommend you get a long-sleeved, tight fitting rash guard for optimal protection.
Last update on 2023-09-02 / Affiliate links / Images from Amazon Product Advertising API