The best swimsuits for snorkeling should not only look and feel good, but also provide a satisfactory amount of sun protection and coverage. Your swimsuit should stay secure on your body as you're moving around and provide physical protection from jellyfish stings.
Don't be fooled by how the media portrays beachgoers; not every woman is wearing a bikini and not every male is shirtless with the body of a Greek god. If you can roll that way, more power to you, but know that when it comes to swimwear there are many options available.
As a general rule of thumb, it is a good idea to cover any exposed skin, especially if you plan on snorkeling all day. Otherwise you will have to take frequent breaks to reapply sunscreen which really ruins the flow. Furthermore, by wearing a rashguard or swim leggings, the additional coverage can protect you from stings or scratches as well as the sun's UV rays.
In this article, we'll go over the types of swimwear that are available, as well as the factors you should consider when searching for the best swimsuits for snorkeling.
Types of Swimwear
One-Piece Women's Suits
In terms of style and function, modern swimsuits have come a long way compared to the past. Since most one-pieces tend to stay secure on the body better than two-piece suits, they are an optimal choice if you plan on doing rigorous water activities like SUP boarding, diving, bodysurfing, snorkeling, etc. If performance is important, look for tight-fitting, cross-back streamlined suits designed for minimal drag in the water.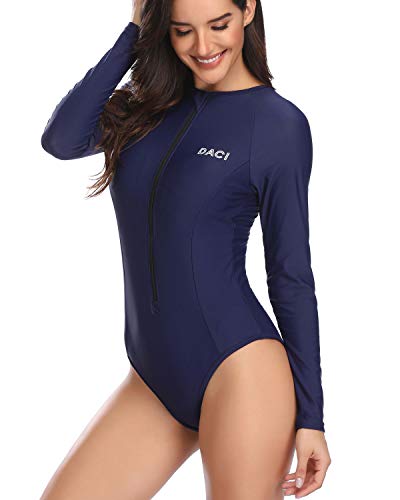 Two-Piece Women's Suits
It's easy to customize two-piece suits for your body type and preferred water sport since top and bottoms are sold separately. When shopping for two-piece suits, make sure to buy products from active brands that are designed to stay in place and for performance. One advantage of two-piece suits is how convenient they are for bathroom breaks compared to one-piece suits.
Tops on two-piece suits have various styles, however they can be lumped together into two main categories:
Bikini: These include the bra or bralette-style top and the classic triangle top.
Tankini: Tank tops for swimming that generally cover the midriff.
Swim bottoms have a wide range of coverage, from the usual bikini bottoms to ones with higher leg cuts and more coverage. Additional options include boy short styles or swim skirts.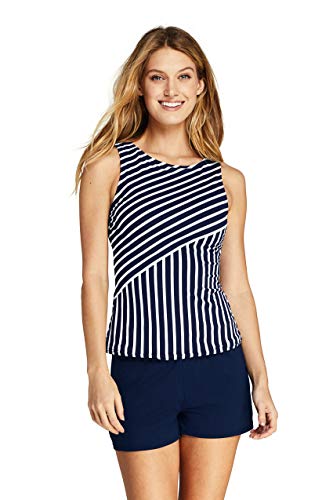 Men's Swim Trunks
For a more casual and laid-back look, you can't go wrong with swim trunks. They provide decent coverage ranging from short to about knee length, and usually come with elastic waistbands, snaps, or drawstrings. For additional support, swim shorts may come with an inner mesh brief. For added variety, swim trunks can be baggy or tailored.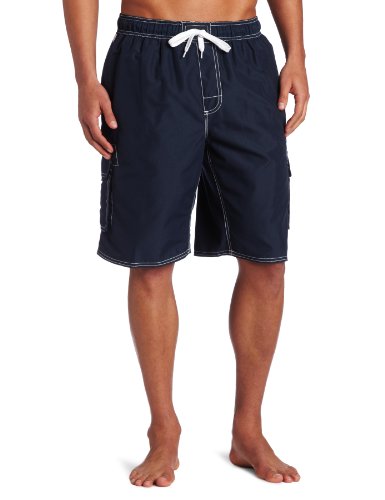 Men's Swim Briefs
If you need to perform at your best, then these form-fitting, brief-shaped bottoms are essential if you want your free range of motion and speed to be unencumbered. Swim briefs are great for rigorous water sport activities such as water polo and swimming where drag must be belt to a minimum.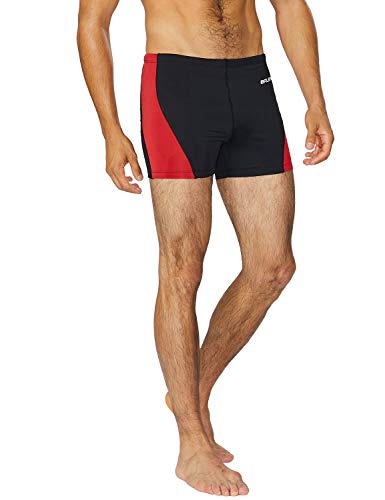 Swim Leggings
For maximum sun protection on your lower body, you can wear swim tights, also called long swim bottoms. When you are surfing, paddleboarding, snorkeling, or doing any sport activity where you will be exposed to the sun for several hours, it's really annoying to reapply sunscreen when you can just cover up your body with UPF fabric. Depending on the material, it can even provide some insulation in chilly waters.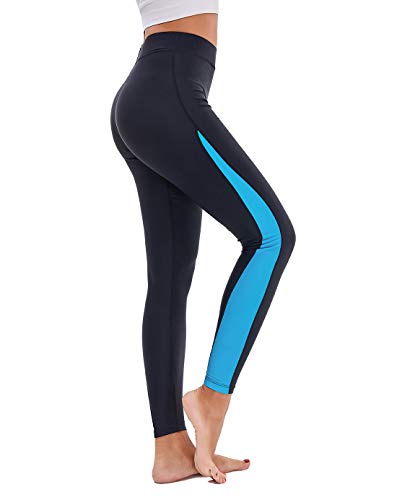 Board Shorts
Board shorts have a lot of variance in their coverage. For example, women's board shorts tend to be more revealing, often with a 2-inch inseam. On the other hand, men's board shorts are around knee length and this extra length protects thighs from chafing against paddle boards and surfboards. Of course, women can wear men's board shorts as well as long as the waist measurements match.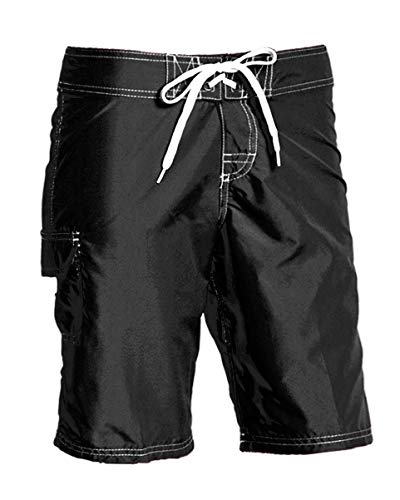 Jammers
Jammers are form-fitting shorts that hug the thighs and bottom. Think of them like bike shorts minus the padding. Like all snug-fitting swimwear, they are ideal for swimming since they have less drag than other swimwear.
Rashguards
Rashguards come in many styles – long sleeve, ¾ sleeve, short sleeve, cap-sleeve, loose-fitting or form-fitting, zip-top or pull-over. As the name suggests, they are shirts that protect you from rashes and chafing during those long hours you will spend surfing, paddling, swimming, or snorkeling.
They're stretchy, lightweight, and incredibly comfortable. With a long-sleeve UPF rashguard, most of your upper body is covered and protected from the sun's UV rays. They also offer some protection against jellyfish stings.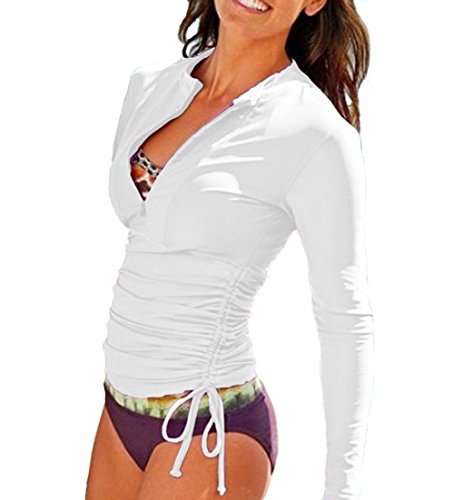 What Makes An Ideal Swimsuit?
Sun Protection
Clothing should not only be worn as a fashion statement; they also have a very practical benefit of providing you some protection from the elements. Swimwear is clothing you wear in the water, so you should hold it to the same standard. The ideal swimsuit should also be comfortable and made from quick-drying fabrics.
Did you know that one of the most underestimated threats to your well-being while snorkeling is the sun? When you're spending all day floating along the water's surface with half of your body completely exposed to the sun, you are allowing harmful UV rays to damage your skin. Even if you've applied sunscreen, it's very easy to lose track of time and forget to reapply it, or to have areas where the sunscreen wasn't applied evenly.
Thankfully, swimsuits can offer sun protection that is superior to sunscreen in terms of blocking UV rays. You can get swimwear with a UPF rating of 50 which will absorb over 98% of both UVA and UVB rays, whereas some sunscreens only block UVB rays. Additionally, with UPF swimwear you don't have to apply any sunscreen as long you're completely covered up.
Furthermore, not all sunscreen is biodegradable or reef-safe. Sunscreen often contains ingredients that are harmful to coral reefs and contribute to their deterioration.  In some cases, even sunscreen marketed as reef-safe still has a negative effect. In other words, since alternative forms of sun protection exists in the form of swimwear, the less sunscreen you use the better.
Form-Fitting and Secure
You can get swimwear that not only looks good, but has many other practical benefits. Just make sure to stay away from Bikini Village and check out a sports store instead. You're looking for swimwear that won't get undone as soon as a wave splashes on you.
Stay away from flimsy spaghetti straps and head toward tank tops or tops that are similar to sports bras. For bottoms, look for boy shorts of briefs with thick waist bands or robust drawstrings to ensure it stays on you. Look out for these features, but you can also consider a form-fitting one-piece swimsuit as well.
Factors to Consider when Selecting a Swimsuit for Snorkeling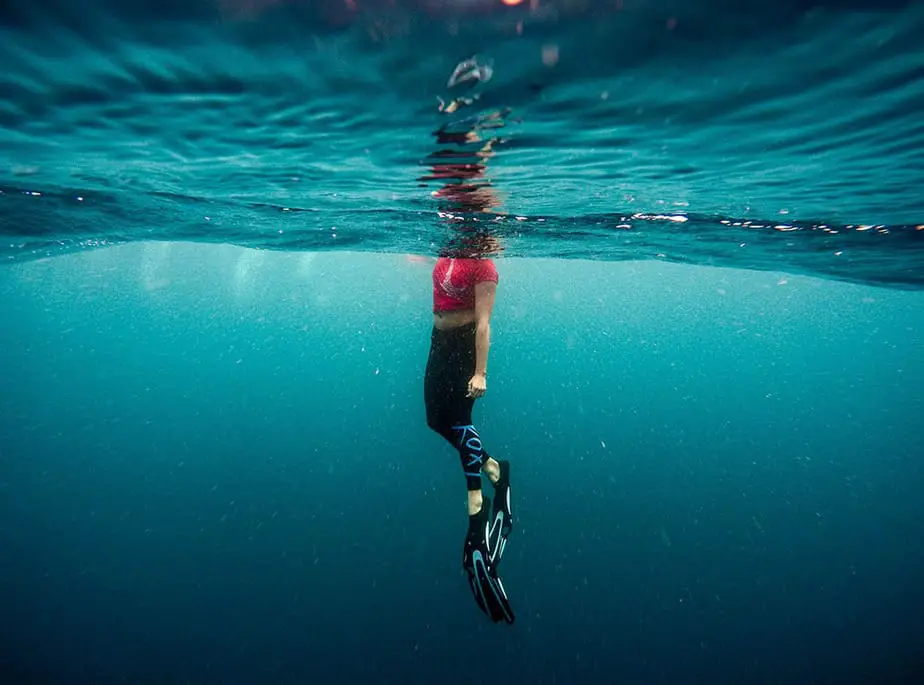 Select swimwear based on your intended use. Consider the way you move in the water and how much you are exposed to the sun to help narrow down your choices. If you are frequently on the move and ducking waves, for instance, then you want to make sure your swimsuit stays secure. Look for a rashguard, a one-piece suit, or a top with thick crisscross straps or racerback to ensure it stays on.
Determine how much coverage you want. We understand that not everyone wants to completely cover their body for total UV protection. Perhaps you plan on doing a little bit of sunbathing as well. You can wear a more revealing swimsuit to start, then layer up by wearing a rashguard and board shorts once you've soaked up enough sun.
Decide on the fabric and features you like. If you want to carry important items with you, then zipped board-short pockets are a godsend. Quick-drying fabrics helps you transition from water activities to land activities in a breeze.
Find something comfortable. All of these factors above won't mean anything if it's so uncomfortable you're just dying to take it off. If the swimsuit is doing its job, you won't even remember it's there. Your time ought to be spent focusing on snorkeling, not adjusting your bottom because it keeps riding up.
What to Look for in a Swimsuit for Snorkeling
Quick-drying fabric 
If you plan on spending time out of the water in your swimsuit, then consider wearing swimwear made from fast-drying fabric. An additional benefit is that it can reduce chafing by wicking away the moisture on your skin. Keep in mind that suits with cotton blends or thicker fabrics will take longer to dry.
UPF Rating/UV Protection
If you notice the swimsuit has an ultraviolet protection factor (UPF) between 15 to 50+, that means it is made using sun-protective fabric that blocks over 90% of the sun's harmful UV rays and will keep you from getting sunburnt.
The higher the UPF, the greater the protection, though there is not that much difference between UPF 15 and 50 (94% UV radiation blocked vs. 98%). Sun protection clothing will block both UVA and UVB rays, whereas most sunscreen only blocks UVB rays unless it is stated to be broad spectrum.
Inner Liners
Men's trunks may come with inner mesh brief or other such lining to reduce chafing and increase coverage. Women's suits may include liners for similar reasons, as well as for greater opacity when wet. Some include special linings that keeps the suit clinging firmly to your body even in turbulent waters.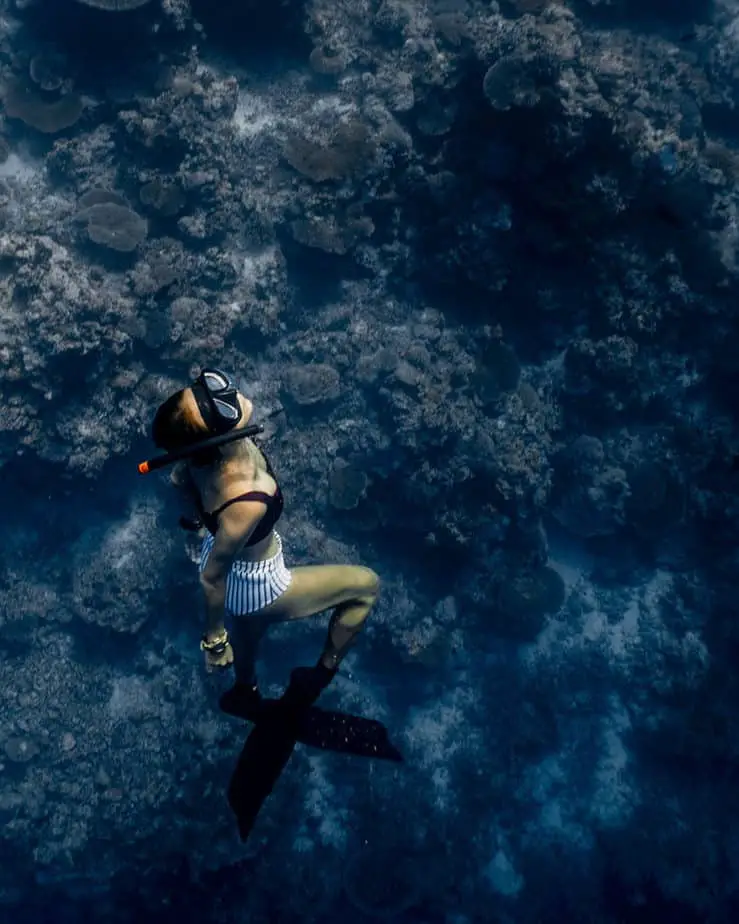 Removable Bra Cups
Some women like the increased coverage and larger bust size they get with padded bra cups, but if this isn't your thing you can just as easily remove them.
Pockets
If you want to keep your lip balm, car keys, or other small essentials close by while snorkeling then you can do so by wearing swim shorts with zippered pockets or inside mesh pockets.
Swimsuit Strap Styles
The straps on women's swimwear are not just there for looks. Their function during active sports is crucial for comfort and support. When selecting a swimsuit, look for ones with wider straps because narrower ones tend to dig into your skin and feel uncomfortable.
Furthermore, adjustable straps allow you to tighten or loosen them to accommodate your specific body shape and are useful for dealing with straps that have loosened over time. Next, bathing suit tops that have back closures can make it easier to don and take off, particularly when it is wet.
Suits that have racerback/crisscross strap styles are excellent for arm and shoulder range of motion while keeping a tight fit. Lastly, halters have straps that wrap around your neck and provide additional support for women with larger busts (though the straps can sometimes dig into the neck and cause discomfort).
Swimsuit Fit
If you prefer to do your swimsuit shopping online, expect some trial and error. The best way to get one that fits you perfectly is to try it on in person and move around to determine where it sags or is too constrictive.
How should it fit?
For more fitted styles, the goal is to strike a balance between nice and snug without feeling too tight. Here are some ways to determine proper fit. If your suit tends to ride up or the waistband or straps are causing you discomfort, consider going up a size. If the straps keep falling off, the fabric sags, or the waistband isn't keeping your trunks in place, then size down.
Bra Support and Fit
Some swimsuit bras include removable soft cups to provide additional shape and modesty. A few suits have underwire or built-in shelf bras to support bigger busts (ensure that the underwire doesn't pinch anywhere and is laying flat).
Tips for Selecting a Swimsuit for Snorkeling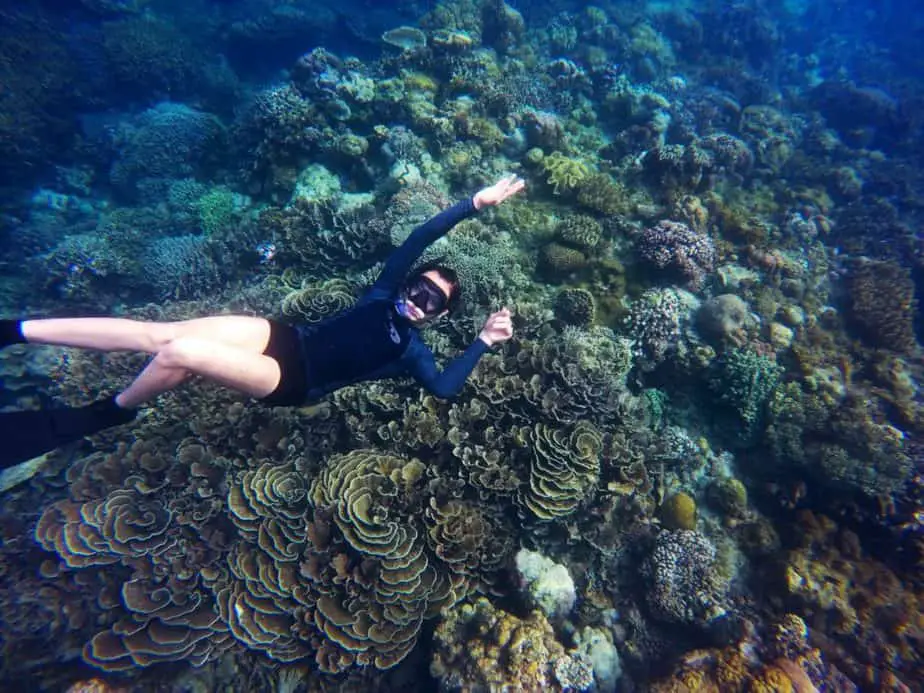 Should you wear bikini briefs or boy shorts? One-piece or two? How much coverage do you want? The answer to these questions is highly personal, and it depends on how you intend to use it and what you want out of your suit.
Additional Top Support
If you want more support up top, then look for tops with higher necklines, one-piece suits with adjustable straps in the back and a halter, or suits with wider shoulder straps for additional bust support.
Some other features you should keep an eye out for are back closures, built-in shelf bras, and elastic bands that stretch under the busts. Swim tops should have a modest cut around the bust to keep your sides fully covered.  Another great option for full-busted women are tankinis.
Heat and UV Protection
Protect your skin by covering it with UV blocking swimwear. You don't have to keep yourself covered up for the whole day! Consider pieces with layering potential so that you can take off or put on pieces whenever you feel it's necessary.
Just as an example, you can start the day off with a bikini top and then throw on a swim cover-up or a rashguard in the afternoon when the sun is at its brightest. Wear board shorts over your bottom after you finish snorkeling, or layer up with a UPF hoodie.
For Intense Water Activities
Avoid anything with ties. They can easily get caught on something and get undone. Also, when you've been snorkeling for a while and the string occasionally brushes against you, you're going to be wondering if a sea creature just brushed against you or if it was some kind of phantom sensation. Either way, not very pleasant to deal with.
What you should be looking for instead are suits with drawstrings or secure cross-back straps that let you cinch bottoms or tops for a stable fit. Another option is racerbacks that keep straps away from your shoulder. If you spend a lot of time in the water, you shouldn't be concerned about if your top is about to fall off or your bottoms are rolling up.
Swimwear Care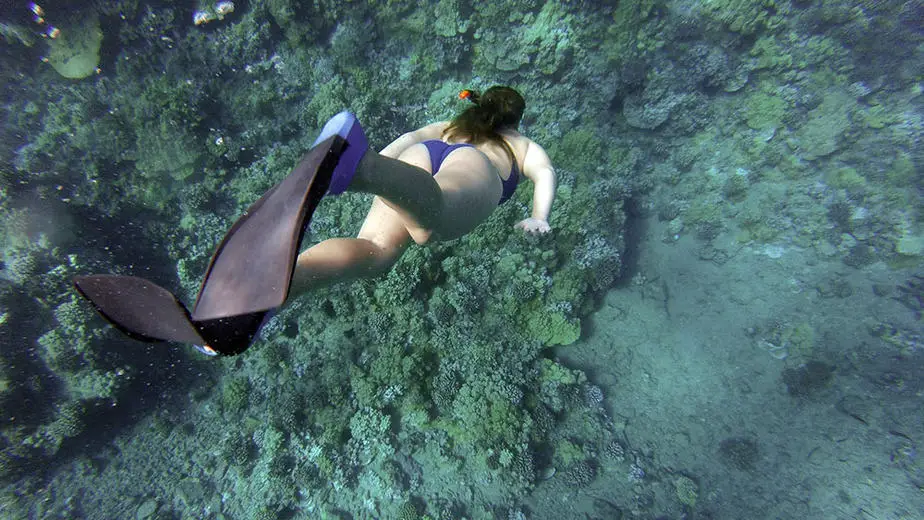 After all of that effort finding a great swimsuit for snorkeling, it would be a shame if it didn't last long due to improper care. The more effort you put into caring for your swimwear, the longer it will look and function like the day you got it.
Below are the steps you should follow to keep your swimwear lasting for many years of fun snorkeling adventures.
Rinse in freshwater after each use. Make sure to scrub thoroughly. If you've been in a strongly chlorinated pool or saltwater for a long time, then let it soak for 10-15 minutes.
Be gentle when squeezing. Don't treat your swimsuit like a dirty old rag. Wringing or twisting it aggressively can damage it and wear it down fast.
Dry in the shade. Particularly if you have swimwear with a high UPF rating, you might think it is okay to let it dry in direct sunlight. All this does is degrade your suits synthetic fabrics faster than normal. Instead, hang dry in the shade in a well-ventilated area. You can even leave it in the bathroom with the fan on.
Machine-wash sparingly. You can throw it in the washer every 3-4 uses. Make sure you use cold water with a gentle detergent intended for baby clothes and delicate fabrics. You should preferably hand-wash it each time.
Always hang-dry! Don't ever take it to the cleaners or tumble dry. Also avoid bleaching it.
Best Swimsuits for Snorkeling Recap
Hopefully now you have an idea of what to look for in a snorkeling swimsuit. Make sure to consider not just looks, but also coverage, protection, and comfort. I am confident that you will be receiving numerous compliments at the beach if you decide to wear one of the pieces recommended here.
To recap, the best swimsuits for snorkeling are not just fashionable, but have great utility as well. That means it has sun protection, security, and comfort in addition to a tight fit all in one package.
By wearing sun protection clothing, you are not only saving your skin, but also the environment by not wearing sunscreen. You are making a conscious decision to reverse our negative environmental impact and promote ocean conservation.
Lastly, ladies remember you can check out the men's section if you want a solid pair of swim trunks to match with your tankini or sporty bikini top. As long as the waist and hip measurements are right for you, then you can definitely give it a go.