After being cooped up indoors all week, few things are better than spending a relaxing day out in the sun. However, you don't want to overdo it; you have to protect your skin against the sun's UV rays which can cause cancer and rapidly age your skin. Furthermore, you shouldn't be wearing just any sunscreen; it should also be reef-friendly meaning it doesn't contain any toxic chemicals that can harm the coral reefs.
Shopping for a reef safe sunscreen in a market flooded with expensive brands with dozens of hard-to-pronounce scientific ingredients and confusing labels can be a daunting task. That is why we have simplified the process for you by researching and rounding up the best reef friendly sunscreens so that you can focus on enjoying your day off, instead of deciphering the labels on each eco-friendly product.
In the next sections, we will go over why it is so important to wear reef-safe sun protection and the harmful effects of conventional sunscreen on the environment. Then we discuss the factors to consider when researching sunscreen. Lastly, we provide a list of our recommended reef-safe sunscreen that adhere to the criteria we outlined. If you want to skip straight to our review, then click here.
Our Top Picks:
What You Should Know About Sunscreen UV Protection
Sunscreen protects your skin by blocking UV rays. There are two types: UVA rays and UVB rays. UVA rays cause your skin to age faster. UVB rays cause your skin to get sunburnt. Exposure to either one for prolonged periods of time increases your chance of developing skin cancer.
All sunscreen offers protection against UVB rays, but not all of them protect you against both UVB and UVA rays. The ones that do are known as broad spectrum sunscreen, and this is the type of sunscreen you should be looking at for total sun protection.
If you can't remember which UV ray does what, think of the "A" in UVA to mean aging, and the "B" in UVB to mean burn, and you should have an easier time remembering.
What Does "Reef-Safe" and "Reef-Friendly" Mean?
The sunscreen you get should not only protect you from both UVA and UVB rays, but it should also preserve the coral reefs. There is currently no agreed-upon definition or regulation of what the terms "reef-friendly" and "reef-safe" mean. Thus, brands have a lot of leeway on marketing their product as reef-safe.
Therefore, it is up to us to do our due diligence. We must be well-informed on which ingredients are toxic, and which aren't. Then, we must check the label to ensure that none of the toxic ingredients are found in the product you are thinking of buying.
Toxic Ingredients to Avoid
Did you know that the largest human organ is our skin? Yet, many people mistreat it by neglecting to wear sunscreen, or wearing sunscreen with toxic chemicals. Reef-friendly sunscreen is not only good for our oceans, but also our overall health. When shopping for sunscreen, check the label and make sure it does NOT contain the following ingredients from the "HEL List":
Oxybenzone (interrupts coral reproduction resulting in coral bleaching)
Octinoxate (causes coral bleaching)
4-methyl benzylidene camphor 4MBC (an ingredient proven to cause coral bleaching which is legal in Europe and Canada but not in the USA or Japan)
Octocrylene
Triclosan
PABA
Parabens
4-Methylbenzylidene Camphor
Homosalate
Any nanoparticles or nano-sized zinc or titanium
Any form of microplastic
Another major consideration when shopping for sunscreen is the size of the particles. Nanoparticles are an important factor in whether a product is reef-safe or not. If there are nano-sized ingredients (<100nm), then the reefs can absorb these ingredients and potentially die. You need to look for non-nano products instead.
Furthermore, avoid sunscreen containing mineral oil, or petrolatum, which takes years to biodegrade and are harmful to marine life during that time.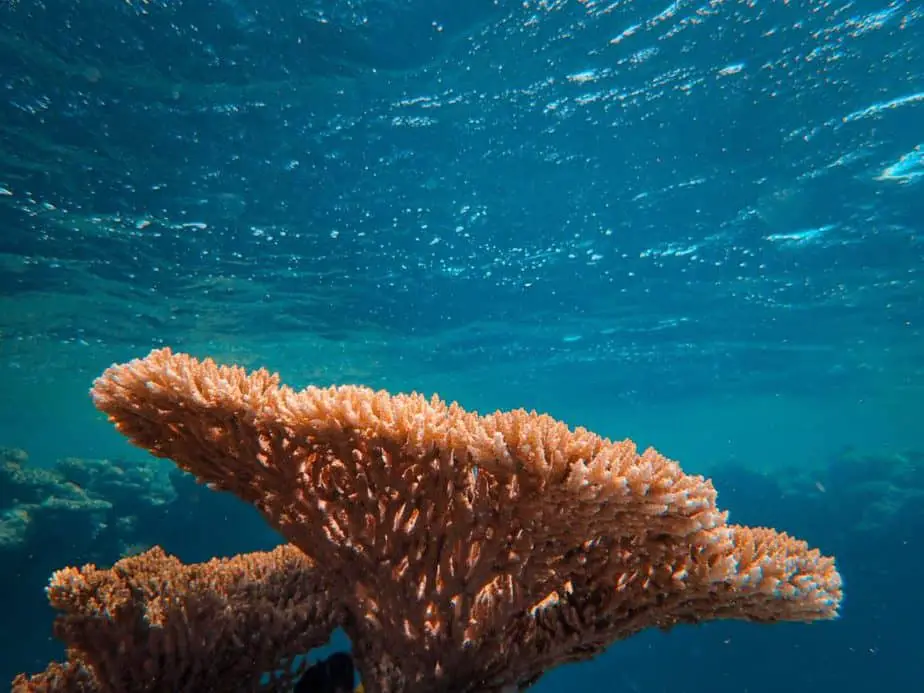 "Eco-Friendly" Sunscreen
Now that you know what ingredients to avoid, you have to worry about another problem: products deceptively marketing themselves as reef-friendly when they actually aren't. This is known as "greenwashing", where companies take advantage of technicalities or provide misleading information to trick customers into purchasing their product. This is a technique often used in beauty products.
Just because a product has the words eco-friendly, sustainable, green, reef-safe/reef-friendly, cruelty-free, and vegan doesn't necessarily mean what you think it means. As we mentioned, you must read the label to see if it contains any of the ingredients listed in the Ingredients to Avoid section. It's important that you know whether a brand genuinely cares for the environment so that you can trust their products.
Next, you should look for sunscreen that is water-resistant so that it does not wash off your body as quickly. This is good not just for the ocean, but for better sun protection. "Water-resistant" sunscreen will last up to 40 minutes, and "water-proof" sunscreen lasts up to 80 minutes. Read the product label to see how long that specific product can last before it must be reapplied.
Lastly, find a sunscreen that is biodegradable. This means its ingredients will quickly and safely break down in the water before it can affect the marine ecosystem.
Types of Sunscreen
We have been using the term "sunscreen" pretty liberally, but there are actually two categories of sun protection products: absorbers and reflectors.
Absorbers are what is commonly referred to as sunscreen. These products protect the skin from UV rays by absorbing them before they reach the skin.
Reflectors are commonly known as sunblock. These deflect the UV rays from the skin.
Both types of products are made with numerous chemical compounds, and it is up to us to determine which ones are reef-friendly and which ones aren't.
Some people will have allergic reactions to their sun protection product. That doesn't mean that they are incapable of wearing sunscreen. They are probably allergic to a specific ingredient used by the product. Try a different product that uses different ingredients. Typically, people with sensitive skin should use sunblock instead.
Sun Protection Factor (SPF) Rating
You may have noticed that the various sun protection products have an SPF rating. What does it mean? SPF stands for Sun Protection Factor, and the larger the number, the better its effectiveness against UVB rays. Most SPF ratings are between 15 and 30, and higher-end products can have an SPF rating of 50 to 100.
Despite the seemingly large difference between SPF-15 and SPF-100 sunscreen, all sunscreen within that range is effective. This study states that "SPF-15 or higher is the recommended blocking strength, and manufacturers can label it as reducing the risk of skin cancer and early skin aging."
From that same study, they found that "SPF-15 can block 94% of UVB radiation, while an SPF-30 can block 97% of UVB radiation." The difference between SPF-30 and SPF-50 sunscreen are negligible: 97% versus 98%, only a 1% difference. At SPF-100, 99% of UVB rays are blocked, so as far as effectiveness goes, anything above SPF-30 gets severely diminishing returns.
To provide the best protection, look for a broad spectrum sunscreen that can block both UVA and UVB rays. With that said, none of this matters if the sunscreen is quickly washed off as soon as you enter the water. You must also look for a water-resistant sunscreen that will stay on you for longer. You should also be reapplying sunscreen at least every 30 minutes.
Best Reef-Friendly Sunscreen: Recommendations
Stream2Sea Reef Safe Sport Mineral Sunscreen
The Stream2Sea Sunscreen is a broad spectrum, reef-safe sunscreen that is very effective at protecting your skin from harmful UVA/UVB rays, while protecting the reef at the same time. The company is very eco-conscious; they are one of the few companies that bothers to test the impact their product has on coral reefs and marine life to ensure that it is not toxic to them. This product performs well in both higher and lower temperature environments.
There are many variations of the Stream2Sea sunscreen to choose from: their tinted and untinted versions, as well as SPF-20 and SPF-30 versions for both. The SPF-20 untinted version has a thinner, smoother consistency that appears very white out of the tube, but dries much less white. The SPF-30 variation has a thicker consistency and is less white on the skin. We like seeing the white color because it gives a visual indication of how much is remaining and when it needs reapplication.
Next, the tinted versions are similar in application, sun protection, and ingredients. The only differences are the presence of some iron-based coloring so that it can match nearly every skin tone, for those who aren't fans of the white hue. However, it seems that the iron easily stains light colored clothing. In fact, it will probably stain everything you touch. It comes off easily enough with some soap and light scrubbing, but this issue is annoying enough that we recommend staying away from the tinted versions.
Furthermore, the Stream2Sea sunscreen uses a non-greasy formula that is very water-resistant. It should last for up to 80 minutes in the water before reapplication is needed. However, it is easy to scrub off in the shower using soap and a washcloth. Reapplication can be done on both wet or dry skin; it may even work better on wet skin to be honest.
Lastly, whether you use the SPF-20 or SPF-30 versions, both should be more than adequate for protecting your skin over the length of a regular snorkeling session. If not, you can always reapply it, however the Stream2Sea sunscreen lasts a very long time. We found the SPF-20 version will give your skin some more color compared to the SPF-30 version. It also has a very faint scent, though it is technically unscented.
If you are an avid snorkeler who wants to spend a lot of time in the sun while doing your part in preserving the environment, look no further than the Stream2Sea Reef-Safe Sunscreen.
Active Ingredients: 8.8% Titanium Dioxide (Non-Nano) Inactive Ingredients: Deionized Water, Aqueous Extracts of Camellia Sinenis (Green Tea) Leaf, Ocimum Tenuiflorum (Tulsi) Leaf, Alaria Esculenta (Wakame Seaweed) and Olea Europa (Olive) Leaf, Caprylic/Capric Triglyceride, Aloe Barbadensis (Aloe) Leaf Juice, Cocoglycerides, Glycerin, Cetearyl Alcohol, Cetyl Palmitate, Polyhydroxystearic Acid, Sorbitan Olivate, Cetearyl Olivate, Methylcellulose, Cocos Nucifera (Coconut) Oil, Stearic Acid, Acrylates Copolymer, Magnesium Aluminum Silicate, Sorbitan Palmitate, Tocopherol, Xanthan Gum, Alumina, Benzyl Alcohol, Salicylic Acid, Sorbic Acid. Certified Organic
All Good Sport SPF-30 Sunscreen
Next, the All Good Sport SPF-30 uses a non-greasy, long-lasting formula that is neither thick nor thin. Its primary blocking ingredient is a non-nano Zinc Oxide at 16%. It is nearly clear after application, with just a faint hint of a white hue on your skin, which is useful for you to see if you missed any areas or if it has rubbed off.
Moreover, it does an excellent job of preventing sunburns while snorkeling. It is water-resistant and designed to last for 80 minutes between reapplications. From our testing, we found this to be true, and the All Good Sport sunscreen was able to last for over an hour of snorkeling. It even reapplies well over wet skin.
Overall, we found the All Good Sport sunscreen does exactly what it claims on the tube. Of course, it is also oxybenzone-free and reef-friendly.
Active Ingredients: Ingredients: Zinc Oxide 16% (Non-nanoparticle), Inactive Ingredients: Aloe Barbadensis (Aloe) Leaf Juice*, Arachidyl Alcohol, Arachidyl Glucoside, Behenyl Alcohol, Bisabolol*, Butyloctyl Salicylate, Butyrospermum Parkii (Shea Butter)*, Calendula Officinalis (Calendula) Flower*, Camellia Sinensis (Green Tea) Leaf Extract*, Caprylhydroxamic Acid, Capryloyl Glycerin/Sebacic Acid Copolymer, Caprylyl Glycol, Cellulose Gum, Cetearyl Alcohol, Cetyl Alcohol, Citric Acid, Coco-Glucoside, Cocos Nucifera (Coconut) Oil*, Diheptyl Succinate, Glycerin, Helianthus Annuus (Sunflower) Seed Oil*, Mauritia Flexuosa (Buriti) Fruit Oil*, Microcrystalline Cellulose, Olea Europaea (Olive) Fruit Oil*, Polyhydroxystearic Acid, Rosa Canina (Rose Hip) Seed Extract*, Rubus Idaeus (Raspberry) Seed Oil*, Sodium Gluconate, Sodium Hyaluronate, Sodium Stearoyl Glutamate, Theobroma Cacao (Cocoa) Seed Butter*, Tocopherol, Water.
Thinksport SPF-50 Sunscreen
We've used the Thinksport SPF-50 a number of times and we found it did a great job. Typically, SPF-50+ sunscreen with non-nano Zinc Oxide tends to be very thick which can be hard to apply and leaves your skin very white. However, these issues were not present in this product; it goes on easily, dries clear, and is non-greasy. It's thicker than many of the other products in this review, however it's still acceptable.
The Thinksport SPF-50 sunscreen is also water-resistant with an 80-minute uptime before it needs to be reapplied. It holds up well if you plan on doing long snorkeling sessions. We did not get any burns or even a tan the entire time, which means this sunscreen successfully did its job.
However, this product is not listed as reef-safe. The reason why we included it in this review is because its active ingredient is Zinc Oxide, and as far as we can tell, it does not contain the toxic chemicals that are known to damage reefs such as oxybenzone. However, it has not been determined if this is truly safe for reefs.
Active Ingredients: Zinc Oxide 20% (Non-nano), purified water, aloe barbadensis leaf juice, capric caprylic triglycerides, sorbitan stearate (coconut based), pine wood resin, vegetable glycerin, cetyl dimethicone, hydrogenated castor oil, magnesium sulfate (epsom salt), sunflower oil, jojoba oil, ascorbic acid (vitamin c), tocopherols (vitamin e), olive oil, raspberry seed oil, cranberry seed oil, hyaluronic acid (made from vegetable), glucose & glucose oxidase and lactoperoxidase, currant, citrus paradisi.
Babo Botanicals Clear Zinc SPF-30 Sunscreen
Next, the Babo Botanicals Clear Zinc SPF-30 sunscreen is another tried and true reef-safe product that comes in both a scented and unscented version. We prefer unscented, however perhaps you want the "Summer Scent" fragrance on you.
Moving on, this sunscreen has Zinc Oxide at 19% as its primary sun blocking ingredient. Despite being advertised as Clear Zinc, this is a nano-sized Zinc. Despite not being labeled as reef-friendly on the tube (a marketing faux pas, perhaps), on their site they have labeled it as such. It does not contain any oxybenzone, a notorious killer of coral reefs which is a good sign.
Our personal gripe with this product is that we did not like how watery it is. We found the application process to be a little annoying because it tends to drip from your hands before you can fully lather it on your body. That little bit of waste is irksome, and the product seems to be watery even if you shake it thoroughly.
Other than that minor gripe, it spreads easily, dries quickly and clear, and has a non-oily texture when absorbed into the skin. LIke all of the products reviewed so far, the Babo Botanicals sunscreen is rated for 80 minutes of water-resistance, and we found this to be true in our testing. The watery nature of the product makes reapplication irksome as well, at least for us.
Active Ingredients: Zinc Oxide 19.0% (Non-Nano), Aloe Barbadensis Leaf (Aloe Vera Gel) Juice*, Aqua (Deionized Water), Argania Spinosa (Argan) Oil*, Butyrospermum Parkii (Shea) Butter*, Calendula Officinalis Extract,* Caprylic/Capric Triglyceride, Caprylyl/Capryl Glucoside, Caprylyl Glycol, Caryodendron Orinocense (Kahai) Oil, Chamomilla Recutita (Chamomile) Extract*, Glycerin*, Glyceryl Stearate, Helianthus Annuus (Sunflower) Oil*, Hexylene Glycol, Hippophae Rhamnoides (Sea Buckthorn) Oil), Hydroxyethylcellulose, Nasturtium Officinalis (Watercress) Extract*, Polyhydroxystearic Acid, Potassium Sorbate, Pueraria Lobata (Kudzu) Extract*, Rosa Canina (Rose Hips) Oil*, Rosmarinus Officinalis (Rosemary) Extract*, Sodium Bicarbonate, Spiraea Ulmairia (Meadowsweet) Extract*, Stearic Acid, Xanthan Gum, Zemea (Corn) Propanediol. *CERTIFIED ORGANIC INGREDIENTS
Badger Sport SPF 35 Unscented
We have used Badger's sunscreen in the past and found it effective. Now, their Sport SPF-35 formula is even better. It is highly water resistant, causing water to bead off thanks to its slightly oily consistency. Unfortunately, oily sunscreens can get rubbed off if you're not careful, exposing the skin underneath to the sun's harsh rays. It has a white appearance when applied, probably because it is an SPF-35 sunscreen.
The Badger Sport has a light sunflower oil scent because that is one of the five ingredients it uses. We found the minimal ingredients list to be very refreshing because it is much easier to check for reef-safe ingredients. As you can see below, it contains mostly organic ingredients and the zinc-oxide is a non-nano, uncoated version that should not be absorbed by the coral reef.
Active Ingredients: Non-Nano Uncoated Zinc Oxide 22.5%, Helianthus Annuus (Organic Sunflower) Oil, Cera Alba (Organic Beeswax), Simmondsia Chinensis (Organic Jojoba) Oil, Tocopherol (Sunflower Vitamin E).
Goddess Garden Sport Natural SPF 30
With a name like Goddess Garden, we were eager to test out how effective this sunscreen is. This sunscreen has a thin consistency, verging on being watery, which helps it spread easily and completely coat your skin. Some reviewers didn't like how thin it is, and we also agree. If you can apply the sunscreen quickly, there are no issues. If you take too long, certain sections will dry too quickly which makes spreading it difficult. As such, we are recommending the stick version for easier application.
Additionally, the Goddess Garden sunscreen is non-oily and becomes nearly transparent once dried for an SPF-30 product. This can make it difficult to tell where you have already applied the sunscreen, and where it might have worn off. While we don't like products that give your skin too much of a white hue, not being able to see it at all can pose problems as well.
It takes this sunscreen 15 minutes to fully dry and get absorbed into your skin. Once that has happened, you will find it to be as water-resistant and UV-resistant as the Stream2Sea sunscreen. You can expect it to last for over an hour before reapplication is needed. We had no issues reapplying it while wet. The Goddess Garden sunscreen is slightly easier to see when reapplying it, though it is usually transparent on the first application.
Active Ingredients: Titanium Dioxide (6.4%), Zinc Oxide (6.0%), Aloe Barbadensis Leaf Juice*, Aluminum Hydroxide, Butyrospermum Parkii (Shea Butter)*, Caprylhydroxamic Acid, Caprylic/Capric Triglyceride (Coconut Oil), Carthamus Tinctorius (Safflower) Seed Oil*, Glycerin, Glyceryl Caprylate, Glyceryl Stearate Citrate, Helianthus Annuus (Sunflower) Seed Oil*, Polyhydroxystearic Acid, Sorbitan Oleate, Stearic Acid, Tocopherol (Vitamin E), Water, Xanthan Gum *CERTIFIED ORGANIC
RAW Elements Face + Body SPF 30
Another reef-safe sunscreen for your consideration is the RAW Elements Face + Body sunscreen. We found it to be oily and easy to spread and apply over the skin. It has a sunflower oil fragrance, dries slightly white, and is very water-resistant.
Something to be cautious of are sunscreens that use oil as their primary water resistance method. Since oil can be rubbed off easily, so too will your UV protection and this can result in more sunburns. If you are careful this is not so much an issue.
Active Ingredients: Zinc Oxide 23%, Organic Sunflower Oil, Organic Green Tea, Organic Black Tea, Organic Coffee, Organic Hemp Seed Oil, Organic Cocoa Butter, All Natural Mango Butter, Organic Beeswax, All Natural Rosemary Oil Extract, All Natural Vitamin E.
Products that didn't meet our expectations
Just because a sunscreen is reef-safe does not automatically make it a good product! A reef-friendly sunscreen should still fulfill its primary purpose, which is to protect the wearer from sunburns. We have tested many products during our time snorkeling, and the following brands simply did not compare to the products listed above. The brands listed below failed to provide adequate UV protection. It either came off easily (in the water or by coming into contact with any surface) or was difficult to apply, leading to sunburns. They are:
Mexitan/Coral Safe
Rubber Ducky
Very Bare Belly Organics
Aubrey Organics
Soleo Organics
Caribbean Solutions/Hawaiian Sol
Why Do We Need Reef-Friendly Sunscreen?
First, how it affects you specifically: sun protection is essential whether you are swimming, snorkeling, surfing, or just laying in the sand. Without it, you will be badly sunburnt, age faster, and have an increased risk of developing cancer.
Second, reef-friendly sunscreen will help snorkelers preserve the coral reefs because the ingredients used are not as harmful and they are also biodegradable. Thus, you can get all of the benefits of the UV protection while also protecting the reefs.
It is estimated that approximately 50% of the corals in the Great Barrier Reef, the largest collection of coral reefs in the world, have died. While the majority of this decline is attributed to global warming, we should do our part to protect it by wearing reef safe sunscreen.
Conversely, conventional sunscreen will wash off in the ocean and leave behind harmful chemicals. These chemicals will lead to coral bleaching, and they may take years to degrade. Scientists estimate that these chemicals have already damaged 10% of the world's reefs.
With consumers purchasing sunscreen more than ever, thanks to the increase in popularity from marine tourists who want to scuba dive or snorkel in an exotic location, the reefs have been affected more than ever. It's good that people are taking measures to protect themselves, but they must also consider how their actions can have an impact on the environment.
Although sunscreen has varying degrees of effectiveness according to their SPF rating, many of them have over 20 chemical compounds. Furthermore, within 20 minutes of entering the water, approximately 25% of the sunscreen will be washed off and dissolved into the water, where it can potentially harm the coral reefs.
How Are Sunscreens Harming the Ocean?
Conventional sunscreens usually have no consideration of their harmful effects on the environment. Manufacturers will use toxic chemicals and nano-sized ingredients that, when absorbed by the reefs, can seriously harm them. According to this study, researchers found that "sunscreens, by promoting viral infection, potentially play an important role in coral bleaching in areas prone to high levels of recreational use by humans."
As awareness increased over the years, numerous tourist destinations have finally started to ban the sale and use of certain sunscreens to preserve their reefs. Some popular destinations include Hawaii, Aruba, the US Virgin Islands, Bonaire Island, and The Pacific Island Nation of Palau.
But how badly is sunscreen affecting the reefs exactly, you may be asking? Here are some facts you should consider:
6,000 tons of sunscreen are washed into the reefs each year.
Certain ingredients have been proven to damage the fragile ecosystem of coral reefs.
Baby coral that have absorbed octinoxate and oxybenzone demonstrate signs of distress and results in coral bleaching.
Coral bleaching refers to when corals expel the algae (zooxanthellae, try saying that 10 times in a row) living in their tissue, giving them a white appearance, and increasing their chances of dying.
Certain ingredients washed into the ocean can also harm other species of marine life, including marine organisms and certain fish.
How to Apply Sunscreen
Applying sunscreen is very straightforward, yet many people still do it wrong. Here are some quick tips to help you get it done the right way.
First, give your sunscreen container a good shake. You want to make sure that the compounds haven't settled and clumped up. And if they have, this will mix all of the ingredients together and provide the sun protection you expect. It also makes it easier to squeeze the product out.
Second, apply the sunscreen liberally and evenly. This is the most common mistake people make. They either apply not enough, or too much in certain areas while completely missing other areas. Make sure to apply sunscreen behind the ears, behind the knees, on top of your feet, and on the neck. The amount of sunscreen needed to adequately coat your boat is enough to fill a shot glass.
Third, make sure you apply the sunscreen 30 minutes before heading out. This gives the product time to be absorbed into your skin. This way, it is less likely to immediately be washed off when exposed to sweat, water, or physical contact.
Lastly, just because you have sun protection doesn't mean you are completely safe. There is always a chance portions of the sunscreen have been washed off, or you may have forgotten to reapply it in a timely manner. Therefore, whenever possible, try to stay in the shade or wear sun protection clothing so that you do not have to rely entirely on sunscreen.
Reef-Safe Sunscreen Alternatives
One of the best ways to reduce the harmful effects of sunscreen is to simply use less of it. By wearing sun protection clothing, such as swimwear with UPF ratings and rash guards for snorkeling, you can cover up large sections of your body and protect yourself from UV rays.
The benefits of wearing sun protection clothing is numerous. Not only do you not need to use as much sunscreen, but you don't need to worry about reapplying the sunscreen every few minutes. You still need to apply it on often forgotten areas that aren't covered up such as the back of your neck because any exposed areas can still get sunburnt.
Last update on 2023-11-10 / Affiliate links / Images from Amazon Product Advertising API