As much as we love the complicated engineering that goes into the movement of our analog watches, a mechanical piece cannot be worn for every occasion. Some jobs require more precision and durability than an analog watch can offer, and that's where a digital dive watch comes in.
In this article, we will be reviewing the best digital dive watches on the market. As far as robust and durable digital dive watches go, few can compare with the Casio G-Shock line of watches. Its shock resistance alone is enough to outperform all other digital quartz watches out there. Make no mistake, this is a watch that you wear for the toughest of jobs and it shows.
With so many G-Shock models available, we will cover the most popular ones as well as review some great alternatives. Let's get into it.
Our Top Picks:
Best Digital Dive Watch: Recommendations
Casio G-Shock DW5600E-1V
Sale
Design
The G-Shock DW5600E-1V is one of the most popular models due to its price, but it offers so much more than just affordability. This watch has a water resistance rating of 200m/660ft, a battery that can last 10+ months on a single charge, and a rugged design – all qualities to be expected from a G-Shock watch.
Additionally, it has a rectangular case that is made from matte black resin with chamfered corners. Its dimensions are 42.8mm wide x 48.9mm high x 13.4mm thick. For a G-Shock watch, this is considered relatively small. The lugs are "hidden" on the bottom side of the case so that it has a seamless look to it. The back of the case has a stainless steel plate held by four screws.
Looking at the lugs, they only have a width of 16mm which is an unusual size, and they are designed to fit Casio straps specifically. This is important to keep in mind if you are planning on swapping out the straps; you may have to purchase a special adapter kit in order for it to fit properly.
Next, the function buttons are located at the four corners of the case and they are made of polished stainless steel. The buttons are protected by guards to their left and right, and there is also a raised ring on the face of the face which protects the LCD screen. These guards are the reason why the G-Shock is so durable. With that said, you cannot push any of these buttons while underwater as it will cause water to leak in.
The overall appearance of the G-Shock DW5600E-1V is that of bulges and angles which gives an idea of how rugged this watch is.
Usability
Turning our attention to the LCD screen, we see that the DW5600E-1V has a black panel surrounding the LCD screen with a white outline. The screen is protected by a rectangular hardened mineral crystal with chamfered corners to match the shape of the case. The text is displayed on a clear background in a digitized black font. It doesn't look very attractive, however it is highly functional and supports the utilitarian style of the G-Shock line.
The strap of the DW5600E-1V is a black resin strap with polished stainless steel buckle and tang hardware. The strap has a width of 25.5mm at the biggest portion where it meets the case so that it seems to seamlessly blend into the case.
However, on the reverse side the band steps down to 16mm at the point where it connects to the case to further hide the seam between them. Looking at it from the front, the band tapers down from 25.5mm to 19mm at the ends. Casio have designed the straps to fit the proportions of the case perfectly.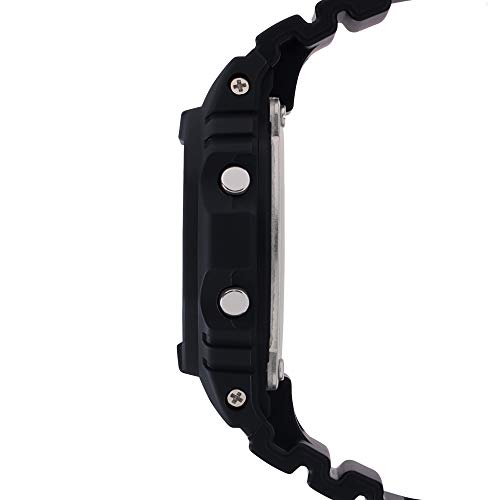 With how often we mention the ruggedness of the G-Shock DW5600E-1V, you might be wondering how comfortable is it to wear it? Sports watches are designed with comfort in mind; after all, any discomfort will become unbearable during active use. Casio understands this and has designed their G-Shock series with comfort in mind.
In the case of the DW5600E-1V, here are some reasons why it will feel great on your wrist: the case and strap material is made from soft-textured resin, the strap is highly flexible and tapered, the watch is surprisingly lightweight, the function buttons are recessed into the watch so they will never contact your skin, and so on.
Inside of the DW5600E-1V you will find a digital quartz movement that is highly accurate and durable. The DW5600E-1V uses the Casio caliber 3229 battery-powered quartz. It has an accuracy rating of +/- 15 seconds. You can take advantage of its auto-calendar, as well as other useful features like timer, date alarm, and hourly chime alarm.
Using the watch in the dark is possible thanks to the long-lasting and bright EL backlight which can be activated by pushing a single button. The DW5600E-1V has an auto-backlight feature that accompanies its timers and alarms. You won't have trouble reading from the LCD screen in the dark. However, pressing the button while underwater may result in leaks.
Overall, the G-Shock DW5600E-1V offers the core functionality and performance that G-Shock watches provide at an entry-level price. At around $40, there is no reason not to get a rugged watch that can endure rigorous yard work, house work, sports, kids, rain, etc. Few watches at this price point can keep up with an active lifestyle, so if you are on a budget then this is the one for you.
Casio G-Shock GWM5610-1
Sale
Casio G-Shock GWM5610-1 Men's Solar Black Resin Sport Watch
Casual solar-powered watch with multiple functions including multi-band atomic timekeeping, shock resistance, LED backlight, world time (29 time...
Approximate battery life: 10 months on full charge (without further exposure to light)
Water resistant to 200 m (660 ft): In general, suitable for professional marine activity and serious surface water sports, but not scuba diving
Design
The G-Shock GWM5610-1 also sports a square-style case with dimensions of 43.2mm wide x 46.7mm high and 12.7mm thick. Its lugs are hidden on the underside so that the strap appears to seamlessly integrate into the case. This watch has a water resistance rating of 200m/660ft and is highly durable.
At the four corners of the GWM5610-1's rectangular case are function buttons made of polished stainless steel. They are protected by guards to their left and right sides to keep them from being accidentally pressed or damaged. The screen has similar protection with a raised ring on the face around the case which acts as the first layer of defense against impacts.
The GWM5610-1's dial mainly consists of a solar panel with an inner grey outline and outer red outline that surrounds the LCD screen. The rectangular dial is protected by a hardened mineral crystal, and the crystal is protected by the aforementioned raised ring. The text displayed on the screen is in a digitized style and consists of black text on a clear background.
Similar to the DW5600E-1V, the GWM5610-1 has a black two-piece resin strap. Where it meets the case, it has a width of 25.5mm. However, if you look at where it connects to the lugs on the underside, its width is only 16mm. The band tapers down to 19mm the further it moves from the case for a more comfortable fit.
Some of the G-Shock models can get very chunky, however the GWM5610-1 is not one of them. While its dimensions are not particularly small and its case is rugged, this model somehow manages to feel extremely comfortable on the wrist. This is possible because of the soft-textured resin materials, the ergonomic design of the strap which tapers down, how lightweight the watch is, and the level of adjustability provided by the strap.
Where many rugged watches are too thick to the point that they cannot slide under the cuff anymore, the GWM5610-1 manages to be thin enough to fit under most cuffs. This also depends on the type of shirt you are wearing, however the GWM5610 is a lot more wearable than you'd think.
Usability
Providing its timekeeping functionality is the 3159 battery-powered quartz movement with a solar-recharging battery. This movement is highly advanced and supports atomic clock synchronization so that it is perfectly accurate. Without this calibration, the movement has an accuracy of +/- 15 seconds a day. You should keep this watch near a window to ensure it syncs properly.
The GWM5610-1 comes pre-programmed with hour, minute, and seconds in both 12-hour and 24-hour formats. It also has an auto-calendar feature so that it will always display the accurate date as well. This watch utilizes Multi Band 6 technology which lets the watch automatically adjust the daylight savings time. If you are a frequent flier, the GWM5610-1 can track a second time zone with options for 48 cities and 29 different time zones.
Where digital watches surpass analog watches in functionality is in its watch functions. The GWM5610-1 has numerous alarm, stopwatch, and timer settings. Let's go into each one in more detail.
For alarms, the GWM5610-1 lets you set up to four different alarms which can trigger at a specific hour or minute. A snooze alarm can be set which sounds every 10 seconds every five minutes once the time is reached, and users can stop it by manually disabling this alarm or letting the alarm run its course seven times. An option for an hourly chime is also present.
Next up is stopwatch functionality. With the GWM5610-1, you can use the elapsed time, split time, and two-finishes stopwatch mode. The GWM5610-1 can track the elapsed time accurately down to one-hundredth of a second. If you are a stickler for precision then this is perfect.
The final timekeeping function is the countdown timer. The timer can be set to a minimum of 1 minute up to 24 hours. For some reason, the GWM5610-1 doesn't let you set a timer shorter than 1 minute. Also, the GWM5610-1 is missing an auto-repeat feature, so you have to manually set the timer each time.
You can use the GWM5610-1 in the dark thanks to its EL backlight which is activated by a button press. The illumination is not nearly as bright compared to the cheaper DW5600E-1V for some reason. With that said, this watch has an auto-light switch which detects when it is in the dark and turns on illumination automatically.
Powering the GWM5610-1 is a special CTL1616 rechargeable battery. It recharges through a solar panel located on the face of the dial. The battery life is rated to last 10 years, and it has a power reserve of 10 months on a single charge. Assuming you even wear it occasionally, then it will not run out for years. A low-power mode helps the battery last even longer.
The Casio G-Shock GWM5610-1 is an impressive sports watch that deserves a place in everyone's watch collection, whether you are a collector or not. It's the perfect watch for activities like housework, yardwark, swimming, camping, hiking, etc. The GWM5610-1 is more expensive than the DW5600E-1V, and what you are getting is a 10-year solar recharging battery and atomic clock synchronization. Considering the huge benefit this adds, we feel the price is worth it.
Casio G-Shock Rangeman GW-9400-1
Sale
Design
The next step up from the DW5600E-1V and the GWM5610-1 is the G-Shock Rangeman. This is one of the best outdoor watches on the market, hands down. You can just tell by its rugged design that this is a step up from the aforementioned G-Shock watches and that this thing can take a beating.
We have already covered what G-Shock watches have to offer in terms of standard features like timekeeping functionality and durability. So that we don't retread too much of the same ground, we will primarily focus on what features and design choices make the G-Shock Rangeman stand out.
The Rangeman is designed for the outdoorsman. If you need a digital compass, barometer/altimeter, 200m water resistance, sunrise/sunset notifications, and typical Casio bulletproof protection, then this watch should be right up your alley.
How tough, exactly, is the Rangeman? First of all, it has a case diameter of 53mm and a thickness of 17mm. This watch is beefy! It's also sealed tightly to prevent dust, dirt, and water from entering. It can resist temperatures down to -10°C (-14°F) and is shock resistant. Casio tested the Rangeman by dropping it from a height of 10m (33ft) and it held up strong like nothing happened.
Even if you do drop the Rangeman, all of the thick plastic covering the face will absorb most of the impact so that the face and buttons remain unscathed. The buttons themselves are recessed and made of internally reinforced stainless steel. Basically, you would have to be trying very hard to break the G-Shock Rangeman, and even then, you might fail.
Usability
Some of the core functionality of this watch lie in its triple sensors – compass, barometer/altimeter, and temperature sensors. These sensors provide invaluable information regarding your environment and display it simply on the screen for you to cycle through via the top right hand button.
The compass shows you your bearings so that you always know which direction you are heading. The barometer provides pressure data so you can be notified of any upcoming storms. The altimeter tracks your altitude (height). And lastly the temperature tracks the ambient temperature around the watch. For the most accurate temperature reading, leave the watch out for a few minutes so that it is not affected by your own body temperature. All of these readings can be stored in the internal memory for later reference.
Another noteworthy feature that the Rangeman offers is its sunrise/sunset feature. If you input your longitude (via a nearby city location) and latitude, it can then provide you with estimates regarding when the sun will rise or set at your current location. Very useful, indeed.
The Rangeman series can also connect to 6 worldwide towers via its Multi Band 6 technology which provides it atomic clock synchronization. In other words, you never have to worry about your watch de-syncing over time. It can literally run at a perfect accuracy of ± 0 seconds. The watch will sync with the atomic clocks at 3am daily or you can manually tell it to sync
Never worry about the battery running out thanks to the solar charging capability of the G-Shock Rangeman. It will pick up any ambient light and charge the battery on its own. The battery can last 7 months on a single charge, and you only need to replace the battery once every 10 years. If the battery is almost out of juice – which almost never happens unless you keep it in a drawer most of the time – then simply leave it by a window or use a solar charger to quickly charge it up. The Rangeman has a battery indicator to let you know its current charge level.
As for the standard watch features, the Rangeman has the usual: countdown timer, stopwatch, hourly reminders, and 5 alarms. You can get the Rangeman in three main color variations: khaki green with yellow accents, black with red accents, and a camo/black hybrid with red accents.
If you are someone that does a lot of hiking, camping, dirt biking, swimming, or any other outdoor activities and need a durable watch that can take the abuse, then look no further than the Casio G-Shock Rangeman.
Seiko Prospex Fieldmaster SBEP003
Design
In the world of durable digital watches, the Casio G-Shock line is the undisputed champion and that is why we are recommending so many of them in this review. But what if the G-Shock watch just isn't for you? Perhaps you don't like the aesthetic or its comfort level. What alternatives can hold a candle to a G-Shock? Enter the Seiko Prospex Fieldmaster SBEP003, otherwise known as the "Digital Tuna".
The SBEP003 has big shoes to fill. So how big is it exactly? With a case diameter of 49.5mm, and a thickness of 14.3mm, it's about as chunky as a G-Shock. What adds a lot of width to the Digi Tuna is the shroud that surrounds the case and the bezel. This shroud makes the SBEP003 look kind of like a can of tuna, hence its nickname. We recommend getting the version with a satin black finish which makes this watch appear smaller than it actually is.
Even though it is quite bulky, the Seiko SBEP003 only weighs 80g. This is incredibly light compared to steel mechanical watches with steel bracelets. You could easily forget you are wearing it during physical activity, whereas mechanical watches will start to feel like a brick is strapped to your arm as you fatigue.
The Pepsi bezel design is reminiscent of a traditional mechanical dive watch. Turning this 43mm unidirectional rotating bezel may seem challenging at first, but once you understand the technique it becomes easier. You simply have to apply pressure at the right angle and it will turn smoothly. It has a lumed pip to help you monitor elapsed time in the dark.
Between the bezel and digital display lies the SBEP003's solar panel. This is similar in design to G-Shock watches; but in the case of the Digi Tuna, the circular panel blends in perfectly.
Usability
A plethora of information can be found on the digital display. When it is in its main time-telling mode you will see the following: the time, a second time zone, the date, the seconds, the battery indicator, the stopwatch if it is running, and the minutes outside of the dial. This sounds like a lot, but it's still manageable even at a glance. A curious design choice is that you need to tap the face to activate the backlight which some users dislike.
Powering the watch is the Seiko Caliber S802. The solar panel that keeps it charged is the Seiko V147. You cannot replace the battery in the SBEP003 on your own and it can last for five months on a full charge. The power saver mode will turn the watch into a low power state when it is not in use. This extends the charge so that it can last up to 20 months; simply tap the watch to wake it up from hibernation. The battery is designed to last 60-70 years (essentially a lifetime), but if there is a malfunction of some sort, then the battery replacement must be done by Seiko.
Putting the Seiko SBEP003 to practical use, we found the rotating bezel to be redundant since it already has a stopwatch feature which measures time more accurately. It was much easier to measure lips and splits with this feature. Furthermore, the stopwatch deactivates the marks around the outside which the bezel relies on, rendering the bezel useless anyways. At least the Pepsi design is aesthetically pleasing.
Additionally, the Digi Tuna claims it has a water resistance rating of 200m/660ft/20 bar but it is not ISO 6425 certified. With that said, there is definitely enough water resistance for leisurely swimming and perhaps even some casual diving. You shouldn't worry about holding back in the water unless you tend to dive really deep.
Next, the included fanned accordion silicone strap is fantastic. Seiko straps can be hit or miss; for instance, the one that the SKX comes with is junk. This one, however, is awesome. The black 22mm strap fits perfectly on ~7-8" wrists, give or take. The black buckle and silicone keeper keep the strap secured and comfortable. The only downsides to the strap are that it's a lint magnet and the fanned portion often gets caught on cuffs.
If you are adamant that you want a watch that isn't a Casio G-Shock, then we think the Seiko Prospex Fieldmaster SBEP003 is a suitable alternative. It has all of the same functionality including a comprehensive stopwatch feature. This watch is a solid piece that can keep on chugging along for decades without any repairs or battery replacements. If a G-Shock is out of the question, then the Seiko Prospex Fieldmaster SBEP003 is the solution.
Best Digital Dive Watch Buying Guide
Features
Digital dive watches don't just tell time; they come with a plethora of features that can assist you on a dive. For instance, a modern digital dive watch may come with a timer, stopwatch, GPS, a heart rate monitor, ability to track multiple time zones, and ability to check the weather condition.
Some of these features may require you to purchase a higher-end dive watch in order to get, however it is well worth the money. Of course, you may not even need some of these features in the first place so there is an opportunity to save money if you only need barebones functionality.
Material
Most digital dive watch cases are made using the following materials: stainless steel, plastic, and/or mixed rubber. You want a durable case that can withstand not only the water pressure at depth, but also from accidental impacts.
The watch face or dial is often made with plastic and glass. The glass, or crystal, on lower-end models is often mineral crystal. Higher-end watches use a scratch-resistant sapphire crystal which is more durable but also more expensive.
Steel and mixed rubber is often used in the body chassis. The straps are also often made using the same material for consistency, but not always. Since the straps are replaceable, you always have the option for purchasing a third-party strap to replace the default one if you are not satisfied with it for any reason.
Size
Generally, dive watches are larger than other types of watches because of how durable they have to be. Dive watches are tool watches; they serve a specific purpose which is to be water resistant to a certain depth and to help you track elapsed time so you know when to surface.
You will be hard-pressed to find a dive watch with a case diameter that is less than 40mm. Most dive watches are in the 42-44mm range, if not more. This is a size that should fit an average sized wrist (approximately 7" in circumference).
Another factor to consider is the lug-to-lug distance, which is the distance from the furthest point of the top lugs to the lowest point of the bottom lugs. For example, a 44mm dive watch may have a lug-to-lug distance of 48mm. This affects how big the watch looks on your wrist and whether it hangs off your wrist or not.
Strap Type
The strap is a very important part of the dive watch because it is what keeps the watch secured on your wrist. The strap also greatly affects comfort, so if you plan on wearing it all day then you need a high-quality strap.
It is normal to have multiple straps so that you can switch between them as needed. You can have a stainless steel strap for casual wear, but then switch to a NATO/Zulu/rubber strap for diving. You can even get strap extensions if your strap isn't long enough to wrap around a thick wetsuit, though ideally the strap should be long enough on its own.
Durability
Some digital dive watches are cheap, but others can cost several hundred if not thousands of dollars. As such, they are not something that you want to replace frequently. Ideally, your dive watch should be durable enough to last for years, assuming that you are properly taking care of it.
A digital dive watch should have sufficient water resistance, magnetic resistance, and impact resistance. If you accidentally hit your watch against a rock or a doorway, you don't want to see that the crystal or the case has cracked. A dive watch should also be able to withstand the elements so that you can also take it hiking and camping.
The watches in Casio's G-Shock line are legendary for their feats of endurance. From enduring a slapshot from a professional hockey player, to withstanding the load of a 25 ton truck, the G-Shock watches give off the impression that they are indestructible. Take a look at this video if you aren't convinced.
Timekeeping/Alarms
Where digital watches have a clear advantage over mechanical ones are in its various timekeeping and alarm features. They come pre-programmed with auto-calendars, tracking multiple time zones, multiple alarms, synchronization with the atomic clock so that its accuracy is literally perfect, and stopwatch/timer functions that last longer than 60 minutes.
In comparison, mechanical watches can only track the time, day/date, and track elapsed time only up to 60 minutes. With that said, they have more utility since they can be operated while underwater whereas one cannot press any of the buttons on a digital dive watch unless they want water to compromise the internals.
Water Resistance / ISO 6425 Certification
As we have briefly mentioned above, a dive watch should obviously have some amount of water resistance. The minimum water resistance rating should be 100m or 330ft. Anything less than that and it shouldn't even be considered a dive watch.
What's so special about the 100m depth rating? That is the minimum water resistance rating needed to qualify for ISO 6425 certification. This certification is a seal of approval from an international authority and only the cream of the crop can get ISO 6425 certified
Oftentimes, you will see manufacturers claim their watch has 200m or 300m or water resistance yet suspiciously they aren't ISO 6425 certified. This means that you should take their specifications with a grain of salt since they have not actually been proven to be as good as they claim. User reviews are a must, since some brave soul already decided to risk their safety to test the water resistance rating for you.
Furthermore, there is more to the ISO certification than simply water resistance. It also tests for magnetic resistance, impact resistance, corrosion resistance, and a myriad of other factors. As such, if a watch is ISO 6425 certified, you can buy it without worrying about its quality because it has been thoroughly stress-tested.
Frequently Asked Questions
Are there different types of digital dive watches?
There are not any major varieties of digital watches so far. However, based on their design and features we can broadly categorize them as "traditional" digital watches and "hybrid" digital watches.
A traditional digital dive watch is exactly what you'd expect – a bulky design with a large watch face and huge buttons around the dial. They also come with useful features like GPS, stopwatch, timer, an internal memory, multiple time zones, and so on.
The hybrid digital watch is one that includes a digital and analog display. They may be more streamlined and give off more of a smartwatch feel. Digital watches with an analog display are a popular choice for businessmen, professionals, and managers.
What are the differences between a digital and analog watch?
The biggest difference between a digital and analog watch is how they display their information.   However, there are other differences and we will discuss all of them here.
In an analog watch, you have markers and hands to tell you the time. The markers consist of hour, minute, and second markers. The hands also consist of hour, minute, and second hands. All of these are used to tell you the exact time down to the second and can be adjusted by unscrewing the crown and then rotating it. Most mechanical watches also provide a date window and may also display the day of the week (i.e. Mon, Tues, Wed, etc.).
The markers and hands on a mechanical watch are filled with lume. Lume is a material that charges by absorbing light so that it can glow in the dark. This allows you to continue to use your dive watch at night or deep underwater where it is completely dark.
Furthermore, digital can be powered by either a quartz movement or automatic movement. Quartz movements are more accurate and are powered by a small battery. Automatic  movements are less accurate and have no battery; instead they can convert and store energy from your wrist movement.
Digital watches, on the other hand, use an LED or LCD display to tell you the time. They use a battery that should be replaced every few months. Digital watches are more accurate than mechanical watches.
Furthermore, they are much easier to read because a digital watch literally just tells you the time without you having to do any mental calculations in your head. Analog watches, particularly ones that have a minimal dial for the sake of a clean aesthetic, can take a moment for one to process what time it is.
Another difference is that digital dive watches are operated using buttons instead of a screw-down crown. These buttons are protected by guards much like a crown would be to protect them from accidental impacts.
As we have mentioned in the buying guide, digital watches also come with many features that analog watches don't have such as GPS, heart rate monitor, weather condition, and so on.
While it may seem like a digital dive watch is the choice to go, there is something to be said about analog dive watches. Mechanical dive watches can be incredibly stylish and can be worn in non-diving situations to make a statement. For example, at a social event they can be a great conversation starter and draw attention to you, if that's what you want.
A digital dive watch is better suited for those who care more about functionality than looks. You probably won't wear your digital dive watch to a formal event, whereas you might wear a stylish mechanical dive watch. We can say that analog dive watches are more versatile in terms of how often and where you can wear them, but they are light on features. The reverse is true for a digital dive watch.
Think about what you want out of your watch to help you decide whether a digital dive watch or an analog dive watch is the right choice for you.
Best Digital Dive Watch: The Verdict
This review primarily focused on watches from Casio's G-Shock line, and for good reason. You asked for the best digital dive watch, and we reviewed three of the most popular ones out of the dozens in its full line-up.
The Casio G-Shock DW5600E-1V and GWM5610-1 are perhaps the most affordable, entry-level G-Shocks you can get. As a baseline, you can expect 200m/660ft water resistance, numerous timers, a stopwatch, alarms, multiple time zones, and an auto-calendar.
Furthermore, despite their low cost, you get the same exceptional durability that made the G-Shock name famous. The GWM5610-1 costs more than the DW5600E-1V, and what you get is the same features the DW5600E-1V has plus Multi Band 6 technology to sync with the atomic clock as well as a solar recharging battery with a 10 year lifespan.
The G-Shock Rangeman takes it a step further and offers all of that plus GPS, sunrise/sunset estimates, a compass, a barometer/altimeter, and temperature sensors. All of this data can be stored in its internal memory for review later.
We have also reviewed a fantastic G-Shock alternative, the Seiko Prospex Fieldmaster SBEP003, which is known as the "Digital Tuna". It manages to balance function with aesthetics and can be used for various physical activities like swimming, cycling, and diving. If you are not a fan of G-Shock watches but want comparable usability, then consider the Fieldmaster.
Out of all of these options, which one should you get? It depends on what kind of features you want and how much you are willing to pay. You can start out with the DW5600E-1V for the bare minimum digital dive watch functionality, and at some point upgrade to a GWM5610-1 or even a Rangeman as your needs grow. The Rangeman is objectively the best digital dive watch on this list, however the Fieldmaster is a solid alternative if you don't need certain features like GPS or temperature sensor and want an aesthetic digital watch on your wrist.
All in all, you can't go wrong with any of the digital dive watches in this list as long as their features meet your requirements and the price is right.
Photo Credit: JustBlueFish Watch Reviews
Last update on 2023-03-19 / Affiliate links / Images from Amazon Product Advertising API