The Casio Duro "Marlin" MDV 106-1AV is a dive watch that is well-known for providing great functionality for its price. It is a favorite among both divers and budget-minded watch collectors. In this review, we will be going over what exactly this watch provides to give you an idea of why it is so well-known.
What makes it stand out is its exceptionally low price and the fact that it is a true dive watch. Unlike many watches in this price range which are simply "dive-inspired", the Casio MDV106-1AV puts them all to shame with its full suite of dive watch features. A quick cursory glance and you might think this watch is much more expensive than it actually is. On top of all of this, the Duro is a highly accurate quartz-powered watch and possibly the best affordable dive watch you can get. Let's get into what it offers.
Casio Duro "Marlin" MDV106-1AV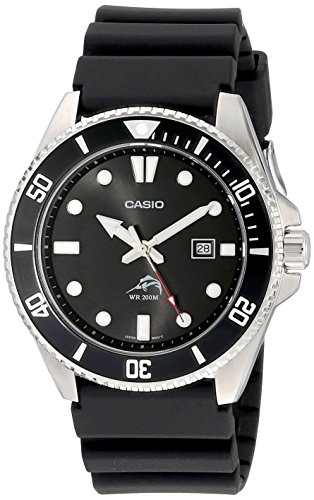 Specifications
Water Resistance: 200 meter/660 feet/20 bar
Crystal: Mineral
Case Material: Stainless Steel with resin band
Case Diameter: 44mm
Lug-to-Lug Distance: 48mm
Case Thickness: 12mm
Band Width: 20mm
Weight: 92g (case only)
Screw-down crown and screw-lock caseback
Movement: Japanese quartz
Battery: SR626 with 3-year battery life
Unidirectional rotating bezel
Case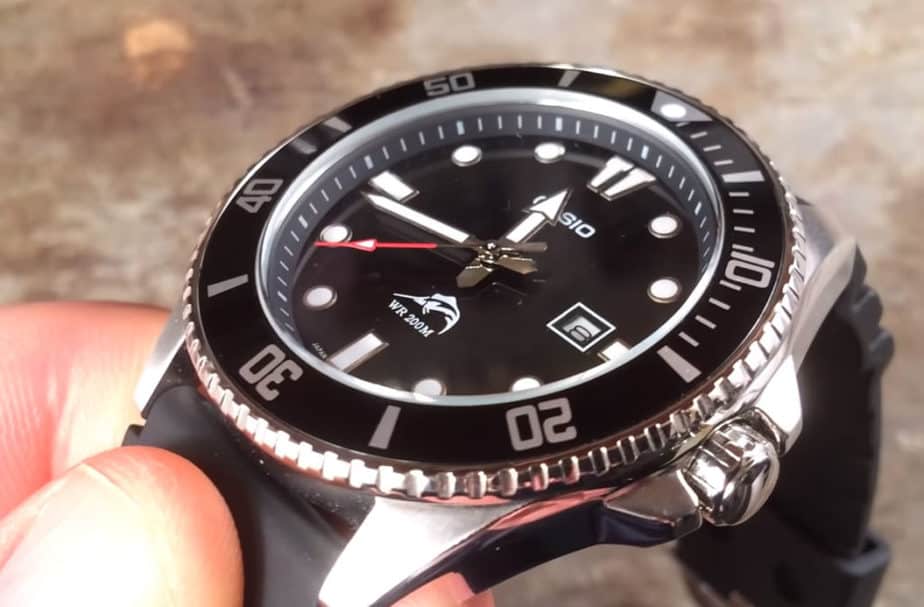 The Casio Duro MDV106-1AV has a highly angular stainless steel case, with various curved corners around the crown and lugs. The lugs are relatively short which keeps its lug-to-lug distance low, and are curved downwards to adhere to the contours of one's wrist.
With its large 44mm case diameter, the curved lugs help the Duro fit snug even on smaller wrists. People with wrists in the 6-7" range can comfortably wear this watch without the lugs overhanging.
Moving over to the sides, we can see that the Duro sides have been polished to a nice mirror finish. Additionally, the bottom of the case and the tops of the lugs have also been brushed for a less reflective finish.
Examining the case closely, we were unable to find any imperfections left behind by the manufacturing process; if there are any, they are very well hidden. Based on other user's impressions, this appears to be the norm. Casio appears to have extremely high quality control over their products, and even their budget watches get that same treatment.
Caseback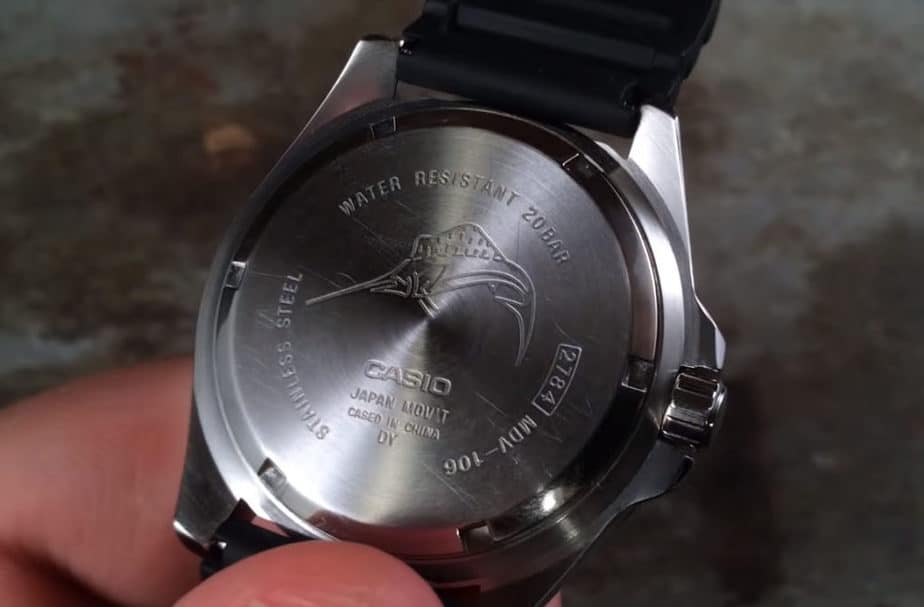 Heading over to the caseback, you can see the marlin engraving from which the Duro gets its nickname "Marlin" from. However, there's something off about the way it is positioned. It doesn't take a magnifying glass to see that the positioning is not perfectly aligned with the rest of the case. This slight mispositioning is not something you'd find in a higher end watch, such as the Omega Seamaster. Omega have even patented a mechanism for achieving the perfect alignment each time. Anyways, this is just a minor cosmetic complaint; the real question is, how well does the caseback function?
The engraved marlin isn't just there for show. Casio uses this emblem to signify that this watch is indeed a dive watch with 200m of water resistance. If the screw-down crown and screw-lock caseback aren't enough of a sign, this right here is another, along with the text "WATER RESISTANT 20 BAR" just above. Looking at Casio's other offerings with a rating of less than 100m, you will not find the marlin emblem anywhere.
Overall, the case looks simple and straightforward. There isn't much to complain about, but there isn't much to compliment it on either. It gets the job done and that's just fine.
Crown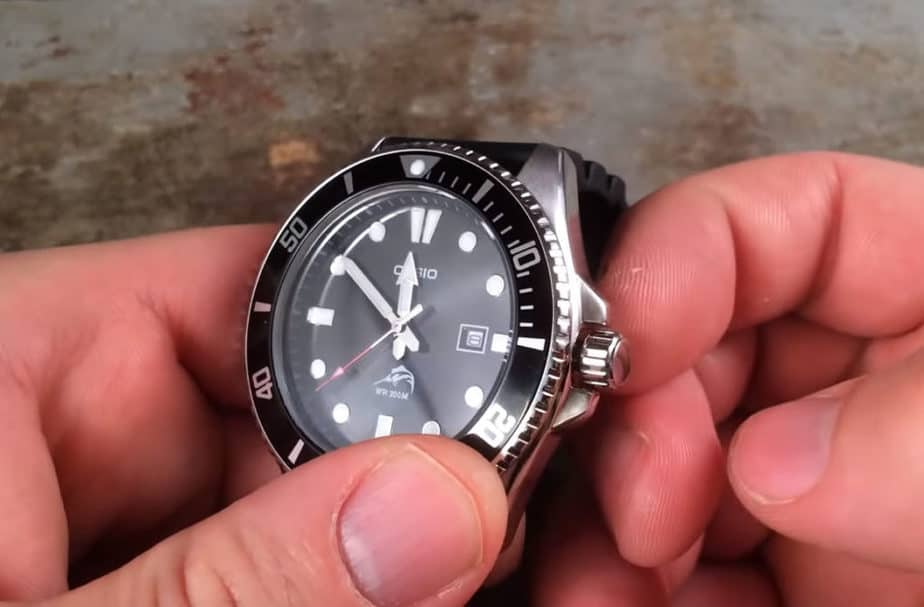 The screw-down crown on the MDV106-1AV has notched ridges which provide extra grip. It has a polished, mirror-like reflective finish to it. It is sandwiched between two crown guards which provide some protection against impacts.
If you turn the watch over to its back, you will see that the bottom half of the crown extends well below the guards. This lets your fingers turn it more easily from the bottom, but it also reduces the protection that the guards can provide.
The Duro's crown is perhaps the weakest aspect of its design. It looks small and undersized compared to the rest of the case. When tightening and loosening it, the crown felt fiddly and cheap. It gives off the impression that if one is too rough while adjusting it, that the crown could break right off. It doesn't help that it's not as well protected by the guards on the bottom.
On a more positive note, since the MDV106-1AV has a quartz movement, its superior accuracy means one will not need to sync the watch as often compared to an automatic one. The only times you will need to unscrew the crown is to advance the date at the end of a month with fewer than 31 days.
Crystal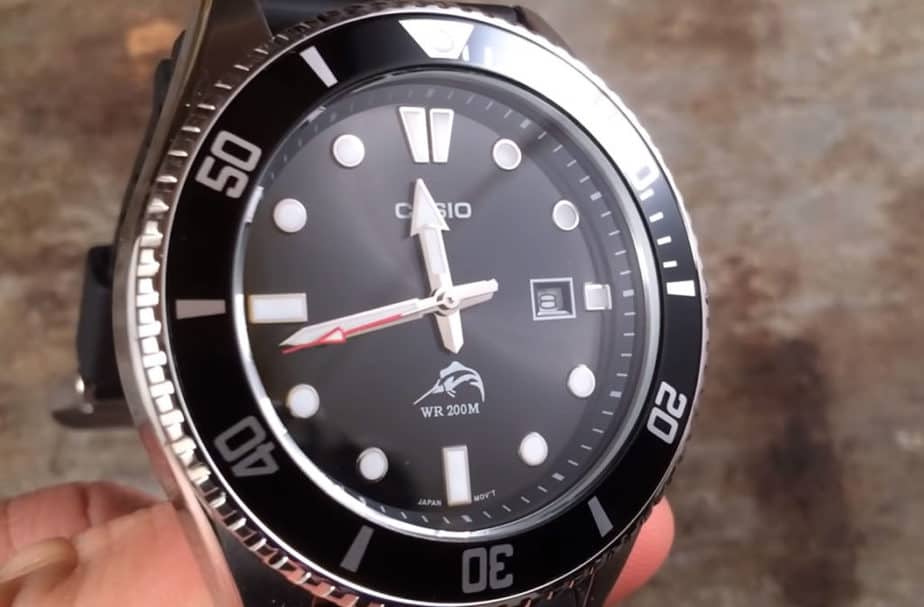 Next up, the MDV106-1AV has a mineral crystal. It's not surprising, for a watch at this price point, that it doesn't have a sapphire crystal. The top of it protrudes slightly above the height of the surrounding bezel, and its edge looks to be slightly bezel. Mineral crystals are not as scratch-resistant than sapphire which is why it is often used in cheaper watches.
So far it has held up strong with a few months of on and off use, however your mileage may vary. Since it is just a very standard mineral crystal, there isn't much to say here except that it's adequate.
Bezel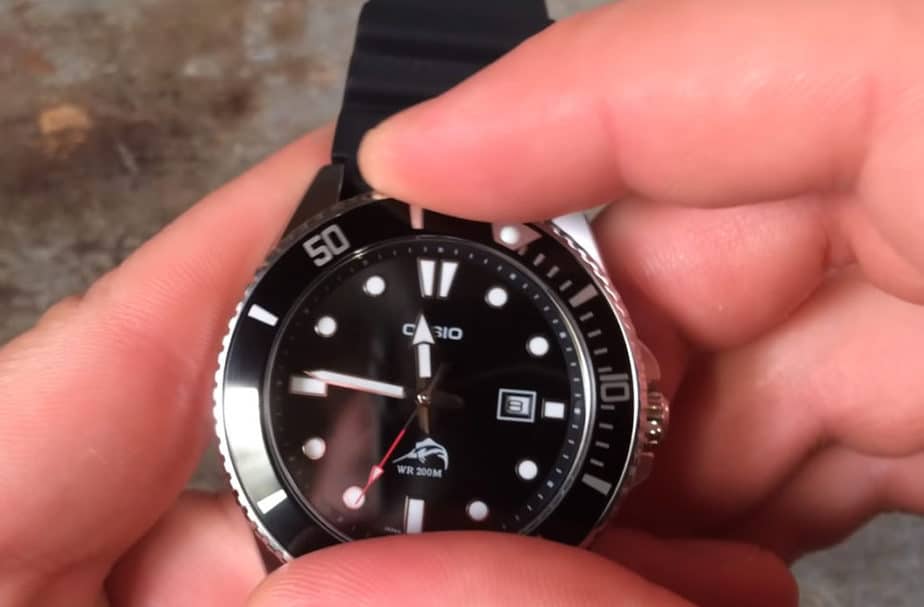 Next we have the bezel. Being a dive watch, the MDV106-1AV has a unidirectional rotating bezel. The bezel features a black insert with white markings for every 10 minutes, with 5 minute positions indicated by thin, somewhat tapered rectangular bars. The first 15 minutes of the bezel has markings for every minute with smaller bars, and this design is undoubtedly a nod to the Rolex Submariner.
Notched edges on the bezel provide good grip so that it can be easily turned even when wet or with thick gloves on. It is intentionally stiff so that it will not turn unless you try to turn it, but not so stiff that you can't even turn the darn thing.
As you turn it, the 120-click bezel provides a tactile click sound that is not only satisfying to hear and feel, but useful information to know just how much time you just set it to track. It doesn't lock in as well compared to the more expensive divers, but the bezel is not so bad that it jiggles on its own like in cheap dive watches.
The 12 o'clock marker features a large luminous pip, the only lumed filled point found on the bezel. This is the bare minimum needed for one to get a reference point of where the 12 o'clock position is, and then estimating approximately how much time is left. Ideally, there would be a lumed marker every 10 minutes for greater accuracy.
What's the purpose of a unidirectional bezel?
There is often a misconception on the purpose of the rotating bezel and why it only turns in one direction. It actually doesn't have anything to do with monitoring the remaining air supply. After all, it's not attached to the tank and there is no sensor to gather data. Also, what happens if you suddenly start using oxygen faster than normal due to sudden increased exertion?
The true purpose is to monitor elapsed time to try and reduce the likelihood of experiencing decompression illness ("the bends"). When a diver inhales too much compressed air, excess nitrogen is absorbed into one's blood and tissues. As a diver ascends to the surface and the nitrogen is slowly removed by the lungs, some excess nitrogen may form bubbles that accumulate throughout the body. This leads to the various symptoms experienced when one has the bends.
As such, one should not stay underwater for too long in a single dive.The dive watch will warn you to ascend after a maximum of 60 minutes. The unidirectional design of the bezel ensures that it will only turn in one direction even if it gets bumped and turned accidentally. Should it turn, it will do so in the direction that shows you've spent longer time underwater than you actually did so that you will surface more quickly.
Turning the bezel in the other direction means the bezel will show that you have spent less time underwater than you thought, making you think you can spend more time underwater and drastically increasing the chances of experiencing decompression sickness. Obviously this situation should be avoided, which is why bezels are unidirectional and turn in the more conservative direction.
With that said, analog watches have largely been replaced by digital dive computers which use complex algorithms to create a "dive profile" for the diver. It has many sensors and can actually track the remaining oxygen in the tank, heart rate, nitrogen load, and so on, and update this information on the display for users to monitor. Dive watches are still used by some old-school divers or as a backup to a dive computer.
Dial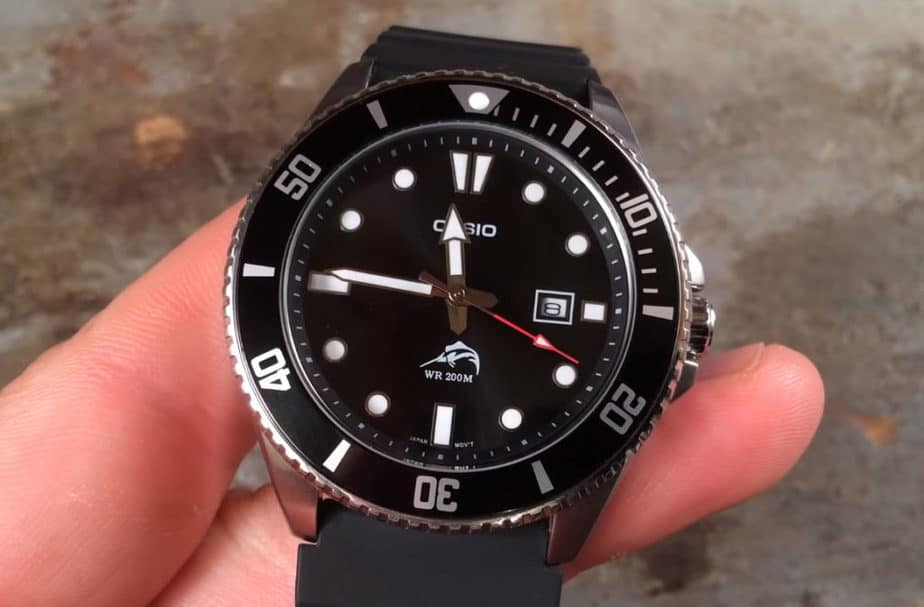 Looking at the dial, you will find a beautiful, minimalistic design. The Duro has a black, white, and chrome color scheme. It does not have any numerals, instead relying on thicker markers for the 3, 6, 9, and 12 o'clock positions, and circles for the rest. The date window can be found at the 3 o'clock position, cutting the marker in half.
The brand name is featured below the 12 o'clock marker, and the iconic marlin logo with the text "WR 200M" is printed above the 6 o'clock marker. Once again, the Duro is proud to show off that it is indeed a dive watch. There is also a very small text at the bottom of the watch which says "JAPAN MOV'T".
It's hard to notice in pictures, but the dial reflects a starburst pattern depending on the viewing angle which provides a much needed accent to this simplistic dial.
The applied lumed markers have a chrome edge and stand above the black of the dial. We appreciate the attention to detail displayed in a watch at this price range, such as the markers aligning perfectly to the dashes on the chapter ring.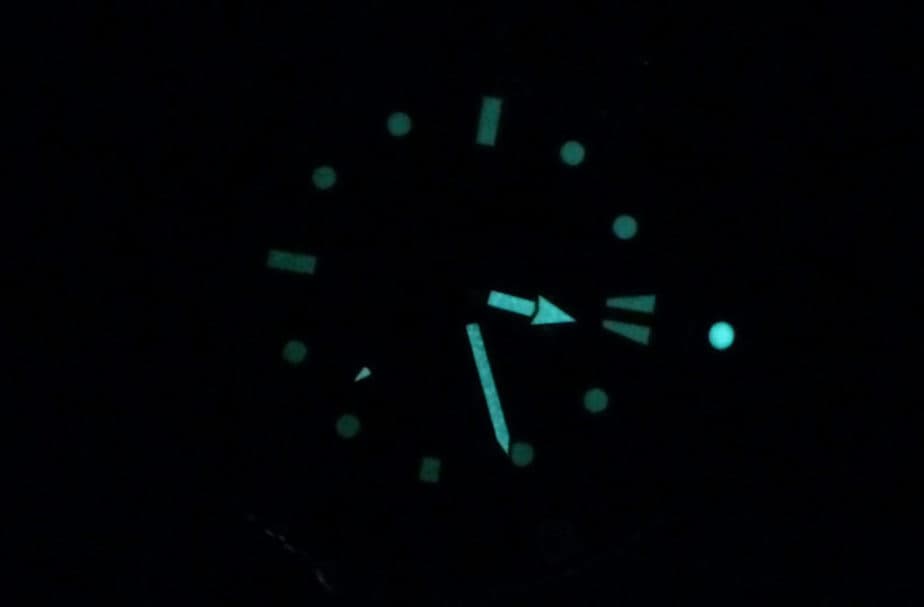 Hands
Looking more closely at the hands, we can see that the minute and hour hands are an arrow and sword respectively, and both are lined in chrome and filled with lume. The second hand is a thin, long arrow with a long tip. There is a small amount of lume in the arrow head. It starts off a dark color up until the midsection, where from then it is red all the way to the tip.
All three hands have large counterbalances which may partially obstruct the lume on the other hands depending on how it is aligned.
With each passing second, the second hand jumps forward with a slight rebound which is common among quartz watches. What's not common is that the second hand is surprisingly accurate, with each tick lining up to the seconds markers found on the chapter ring. This seems like a small detail, but this level of accuracy is appreciated in a watch as affordable as this.
Date Window
The date window is displayed as black numerals on a white background at the 3 o'clock position. The marker found here is necessarily smaller here to make room for the date window. We are happy to see that at least there is a marker there, albeit a smaller one. Many watches completely forgo the marker and the absence of lume in that position in the dark is noticeable, but not so here.
The cutout is emphasized with a surrounding white box. It does not display the day, and the font is somewhat misaligned. Furthermore, the cutout appears to have a rough edge. On top of that, it's small and older divers may find it difficult to read. The date window is nothing to write home about on the MDV106-1AV.
Movement
There's not much information to be found regarding the Japanese quartz movement that powers the MDV106-1AV. Being a quartz watch, we know it is accurate, with a rating of +-30s/month. Ours was much better than that, being accurate to about +-5 seconds a month.
The movement is powered by a SR626 battery which should last about 3 years. It can be easily replaced by your local jeweler, dive shop, or even by yourself. If you decide to go the DIY route, we still recommend bringing it to a dive shop afterwards to pressure test it for water-tightness.
Band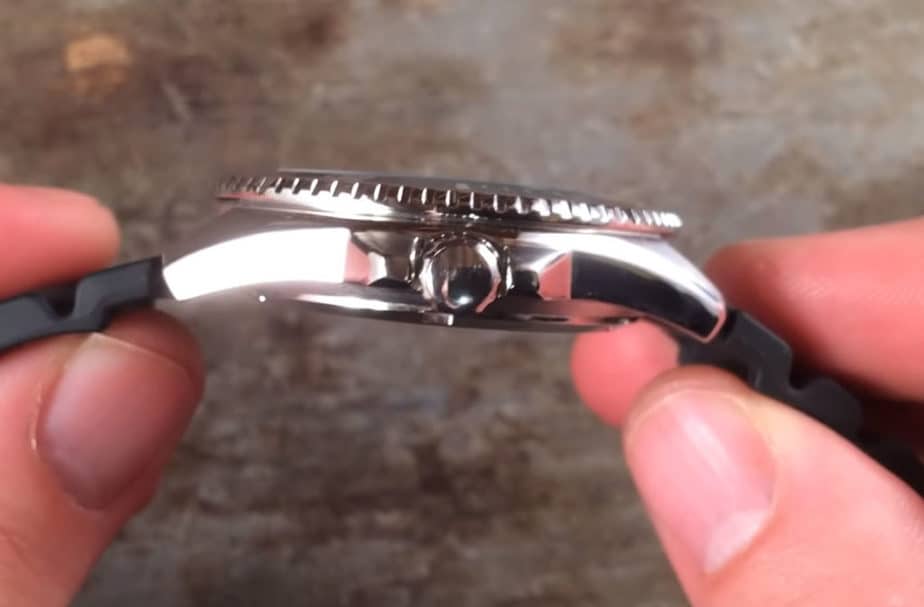 The Casio Duro includes a standard resin band. It is relatively comfortable, and this softer band actually feels more comfortable than the band included with the Seiko SKX007. With that said, it doesn't look very good nor is it enjoyable to wear in the summer with sweaty arms.
Thankfully, you can easily swap the strap with a nice third-party strap. We recommend purchasing a NATO strap, and if you are feeling adventurous, perhaps you can get away with a more colorful strap. Or if you prefer to dress up more formally, you can even get a sleek stainless steel bracelet for the Duro.
Casio MDV106-1AV Duro Alternatives
Seiko SKX007 / SKX009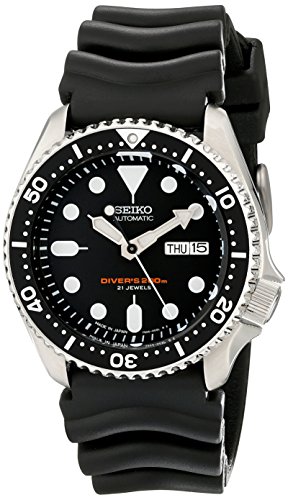 You may have come across this name while searching for the best entry-level dive watch. The Seiko SKX007/SKX009 are perhaps the most recommended, overall "best" entry-level dive watch.
When we say "best", in this case we don't mean best in terms of price but rather best in terms of functionality. The SKX line of watches have a 200m water resistance rating like the Casio Duro, however it has the added bonus of being ISO certified. In other words, it has been rigorously tested and confirmed to have a true depth rating of 200m.
Whereas other watches may claim they are water resistant to 200m, without an ISO certification, those claims should be taken with a large spoonful of salt. The SKX007 is truly a professional dive watch and not just in name only.
Even if you never plan on diving with your SKX007, you can at least feel a sense of confidence (and perhaps a little snobbery) knowing it can be completely submerged in water without issue.
The downside of the SKX007 and SKX009 is that it is significantly more expensive than a MDV106-AV, though it still falls within the "entry-level" category. Furthermore, they have an automatic mechanical movement which is powered by the user's movement compared to the battery-powered quartz one in the Duro.
Unfortunately, the SKX007/SKX009 have since been discontinued by the manufacturer, so that has only increased the price of the remaining supply. However, if you have the funds for it, it's well worth the money for a true dive watch.
Seiko are starting to phase out the SKX line with their newer Seiko 5 Sports divers. Unfortunately, these new ones do not have the iconic history of the SKX watches, and only have a 100m water resistance rating.
Orient Kamasu / Mako / Ray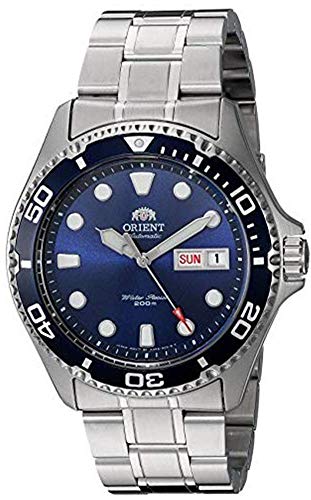 If you are willing to pay a bit more than the Casio MDV106-1AV's incredibly low price tag, and plenty more options suddenly become available to you. Some options are the Kamasu, Mako, and Ray, all of which are Orient dive watches.
Orient has been making amazing affordable automatic dive watches, in particular the Kamasu, Mako and Ray. They offer a ton of good specs while still keeping the price tag low, but not quite on the same level of affordability as the Casio Duro.
Still, for the higher price tag, you are getting a few upgrades over the MDV106-1AV to justify the expense. For starters, you will get a watch with a sapphire crystal instead of only a mineral one. The included bracelets in these Orient watches are made of stainless steel, and a mechanical movement means you don't have to worry about the battery running out. They also have 200m of water resistance like the Casio Duro.
Any of these three watches from Orient are solid options for someone who is willing to spend a bit more for a watch with higher build-quality, but if we had to recommend one, we think you should choose the Ray.
Invicta Pro Diver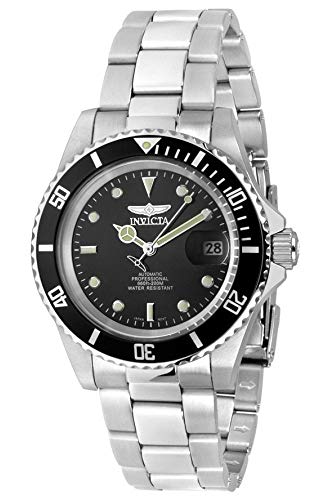 If you want another watch that is similar in price to the Casio MDV106-1AV, then some of the watches in Invicta's Pro Diver line would interest you. They are simply the cheapest automatic dive watches you can get, however their build quality isn't the greatest.
Invicta watches can be hit or miss when it comes to build quality. They are not as sturdily built as the above-mentioned Orient watches, nor can they hold a candle to the Seiko SKX watches. With that said, they still come with a rebranded Seiko automatic movement (NH35A) and their aesthetic is clearly inspired by the Rolex Submariner.
Conclusion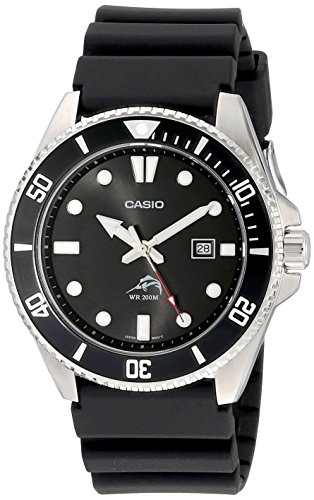 If you are looking for a solid dive style analog watch but don't want to break the bank, then the Casio MDV106-1A Duro is perhaps the best inexpensive watch you can get. At a price well under $100, you get a watch that you can wear while swimming, snorkeling, diving, boating, or any other activity where a watch can get wet.
This little watch can handle the abuse of a rigorous backpacking, camping trip, or whatever you throw at it. If the marlin emblem and screw-down crown is any indication, this watch isn't afraid to get wet. You will be hard pressed to find a watch that looks as good as the Casio MDV106-1A Duro and is as water resistant as it is, at the price point it's being sold at.
Pair all of this up with a decent level of build quality and a streamlined design, and the Casio Duro provides incredible value for anyone looking for a dive watch on a budget. If this is your first time buying a dive watch, or even if you are an avid collector, this is one for you.
Photo Credits: 555 Gear