The Orient Kamasu (Japanese for "Barracuda") is one of Orient's latest dive watch models intended to replace their highly popular Ray and Mako line. It is available at a price point that makes it competitive against the revered Seiko SKX watches, and it has a lot to offer.
When it comes to reviewing newer iterations of existing products, there is always the temptation to say "it's just like the old one, but better." We will try to avoid that lazy way of reviewing and judge the Kamasu based on its own merits. When you purchase an Orient Kamasu, here's what you can expect.
Orient Kamasu Review

Specifications and Overview
Case Diameter: 41.8mm
Case Thickness: 12.8mm
Lug-to-Lug Distance: 46.8mm
Band Width: 22mm
Water Resistance: 200m/660ft
Weight: 6oz/170g
Case Material: Stainless Steel
Movement: F6922 Japanese-automatic movement with 40 hour power reserve
Crystal: Sapphire
So far, so good. What these specs don't tell you is that the Orient Kamasu excels in its wearability, as the case is well-proportioned.
For instance, the Orient Kamasu has a case diameter of 41.8mm, however it wears closer to a 39 or 40mm case, which is further helped by its compact lug-to-lug distance of only 46.8mm. Typically, dive watches are bigger to help with diving, however when comparing the Kamasu to a popular everyday model there's barely any difference in size.
You can easily fool someone into thinking it's actually a 40mm piece with how snug it can fit on a 6.5" wrist. Through a combination of wearable and balanced proportions, Orient has focused on an aspect of watch design that many brands have not prioritized in recent years.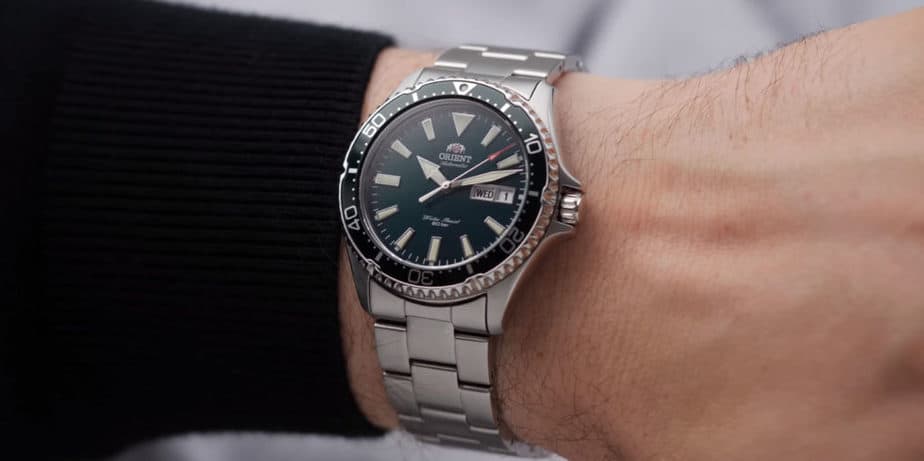 How this is achieved can be seen when viewing the Kamasu from its side profile. You will notice that the lugs are curved, and they tuck without reaching lower than the bottom of the screw-down caseback. The lugs have a brushed finish that gradually transitions to the polished sides of the case.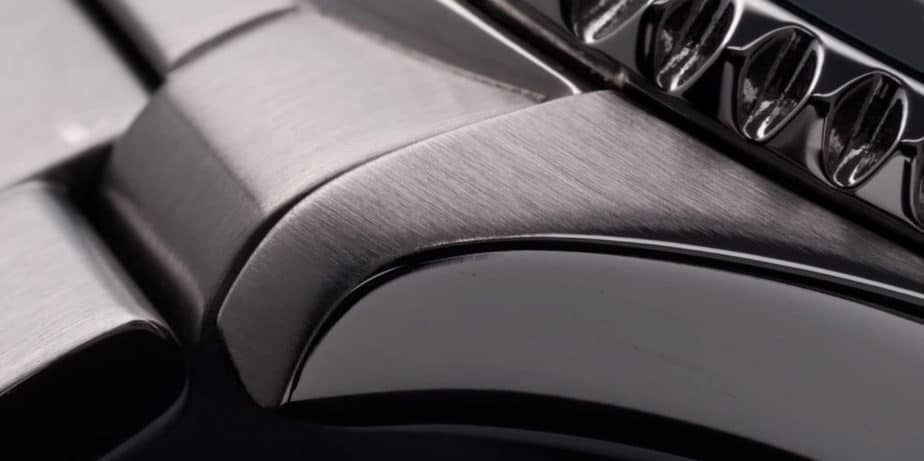 Next, the Kamasu comes with a stainless steel bracelet with a fold over safety clasp as well as double push button release stamped with the Orient logo, and folded end links. Despite this, the pins on the bracelet squeak a lot. If you didn't know any better, you'd think there was a hamster or mouse nearby. However, the bracelet holds the Kamasu case up and has 4 micro-adjustment options for a better fit. The links can be removed using a simple push pin system.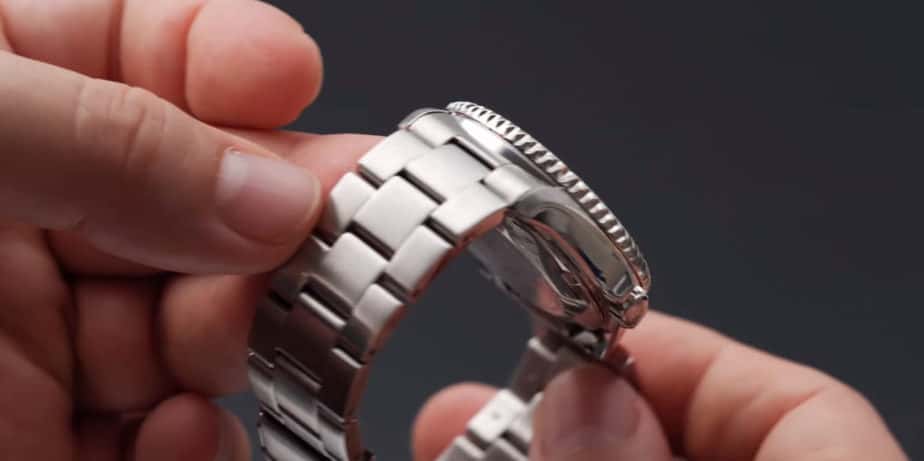 Contributing to the Kamasu's 200m water resistance rating, if you look to the back you will find  a screw-down caseback with a dolphin motif. You just know that whenever you see an engraving of an aquatic animal that the dive watch means business. The screw-down crown also helps with keeping water out.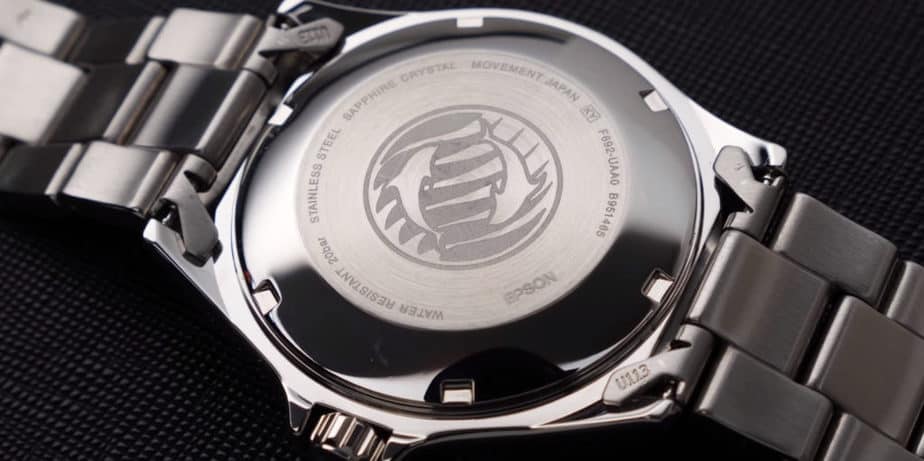 Next, the Kamasu runs a F6922 automatic caliber movement with a 40 hour power reserve, with a stated accuracy rating of -15/+25 seconds a day. This Japanese automatic movement provides hacking and handwinding functionality. That's something not even the Seiko SKX models claim to have.
You know what else the SKX watches don't have? A sapphire crystal – which the Kamasu can proudly lord over its competitors. This crystal will shield the beautiful sunburst dial from the elements as well as any devastating impacts.
The Dial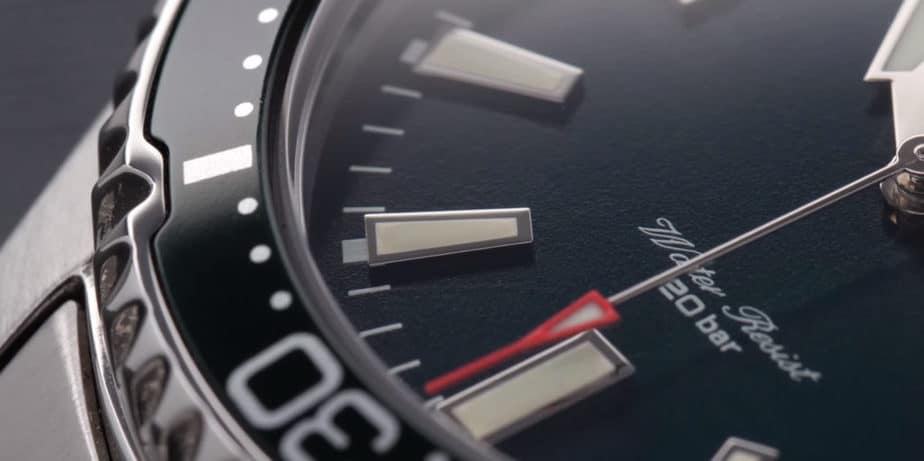 The focal point of any dive watch is its dial, and the Kamasu has one of the most dynamic dials on a dive watch we've seen; the range of color the Kamasu has is truly impressive. It comes in many color variations, however one consistent aspect is that the dial will have a subtle gradient that provides the aforementioned dynamism.
In the winter months or at night, the bezel and dial will spend most of the time providing a subdued, muted color, whereas in the summer months or during the day the gradient will display its colors more vibrantly. At any given time when you look down to your watch, you will see a different shade of black, blue, green, red, or anywhere within that sliding scale depending on which version you are wearing.
Don't let the dial distract you too much from its surrounding elements, the hands, indices, and applied logo. It's difficult, since the way the sunburst dial refracts light is quite the sight to behold. The red tip on the second hand looked out of place at first, but on Sundays it compliments the red on the date wheel, as well as the shield part of the Orient motif.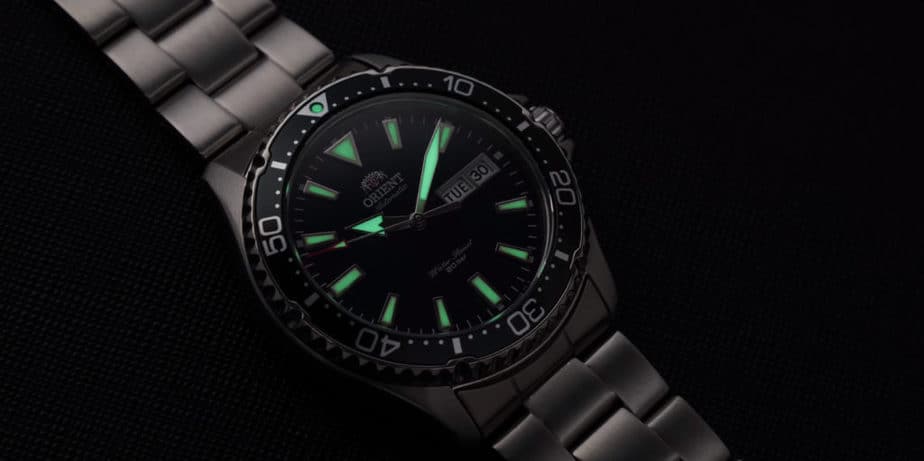 If you think this thing shines during the day, then wait till you see it at night. Unsurprisingly, the lume is bright and highly visible; the hands, dial, and bezel pip have been given a large amount of what appears to be the same kind of lume found in Seiko watches. (Orient and Seiko have the same parent company, so the occasional sharing of resources can be expected). Seeing the watch light up in the is reminiscent of the joy felt in childhood days of waving a glow stick in the dark, except now it's a sleek dive watch.
The Bezel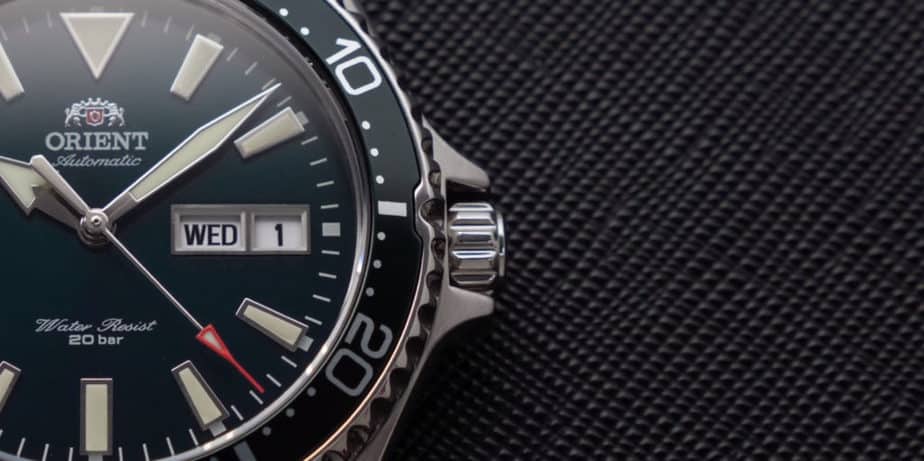 Next, the Kamasu comes with a 120-click unidirectional bezel that rotates smoothly and easily thanks to its deeply grooved notches on the bezel edge. There is a minor amount of play in the bezel, however it's nothing to be concerned about and ultimately upholds its purpose of preventing understatement of time.
When interacting with it, the bezel action provides a satisfying click. We appreciate the tactile feedback it provides as this can be vital information to know exactly how much time is being tracked.
Additionally, the markers and lettering on the bezel are a step up compared to what is offered in the Orient Ray II and Mako II, for comparison.
The Movement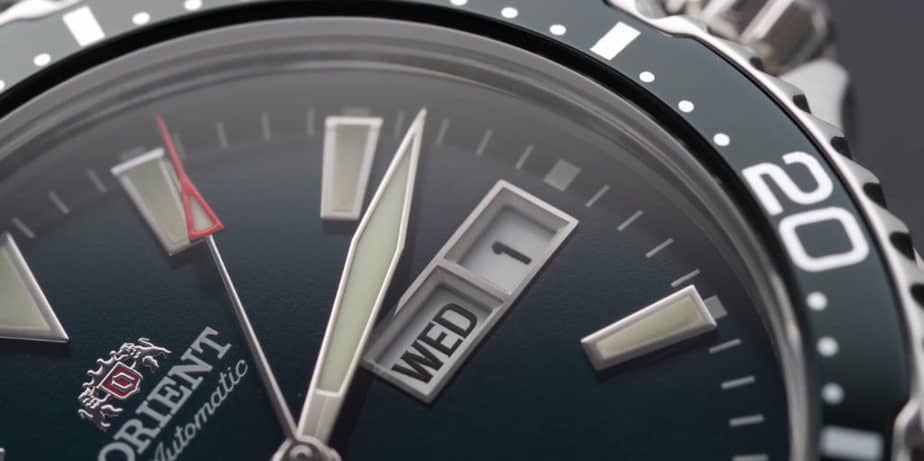 The Kamasu uses the F6922 caliber automatic movement which has the much desired handwinding and hacking functionality.
Even though the screw-down crown does not thread nicely, and winding the mainspring is not a particularly exciting event, the existence of this functionality is much appreciated. It is reassuring to be able to prepare the mainspring at the day's start and know that the watch is ready to go for the rest of the day. In some watches when the mainspring relaxes, you would have to shake your wrist to start it back up again.
Furthermore, those who are sticklers for accuracy can rejoice – the F6922 lets you manually sync your Kamasu down to the second. Though we don't keep detailed spreadsheets of the accuracy of a timepiece, we are happy to see that Kamasu is catering to this particular audience.
Additionally, the quickset date function feels sturdier than other watches in a similar price range. Not once did we have trouble cycling through the days and dates, nor did we feel like we were straining the automatic caliber.
Shortcomings
To criticize a watch that provides so much – sapphire crystal, automatic movement with hacking and handwinding, 200m water resistance, and beautiful dial all for under $500 – seems a tad nitpicky. However, it is perhaps the smallest of details that can make or break a watch, and leaving out any of the shortcomings no matter how small would be remiss of us.
One of the most obvious things you will notice as soon as you put the Kamasu on your wrist is how heavy it is. No, it doesn't feel like strapping a cinder block on your wrist but it is definitely on the heavier side for a dive watch with hollow end links and a stamped clasp.
We suspect that the movement and caseback are the culprits, and while this extra heft may not be an issue for those with larger wrists, a smaller individual who has to wear the watch for 9+ hours over the course of a workday may find it to be unbearably heavy.
The included bracelet does a decent job of securing the Kamasu to the wrist without feeling top heavy, but perhaps an aftermarket bracelet would provide additional comfort by potentially balancing the weight distribution.
Some other wishlist items we wish the Kamasu had are: color matching date/day wheels, solid end links, and a taper bracelet. Once again, at this point we are simply nitpicking. If the Kamasu included all of these features, its higher price point would mean it is no longer considered an affordable entry-level dive watch. It would certainly make a watch collector happy, but more people would be hurt by this change than benefitted.
Orient Kamasu vs. Seiko SKX
If you landed on this page because you were searching for the best entry-level automatic sports watch, then chances are you may have also read about the Seiko SKX line, specifically the SKX007/SKX009. The SKX is the reigning champ, the OG, the gold standard that all entry level dive watches are compared to. It is the yardstick for all dive watches. Even though it's been decades since it was first released, the Seiko SKX's reign isn't over. Now, a new challenger appears to challenge the champion.
The Kamasu, being a much newer model, is objectively better. It has superior components and is available at a competitive price. If all dive watch purchases were made with pure rationality as the primary decision-making driver, then the Kamasu would win hands down.
However, purchasing something is as much emotionally-driven as it is practically or financially-driven. Just because something has better components or a lower price doesn't mean it's going to phase out the old guard.
The Seiko SKX watches are appealing for a myriad of reasons. At this point, they have a long, storied history with a lineage of military, cultural, and practical use. The SKX looks really nice, every watch collector knows what it is, and it is a great conversation starter. You can revel in the SKX's legend and feel the gaze of those nearby as they marvel at its timeless aesthetic that allows it to compete with contemporary designs.
Think of two competing giants in other industries. BMW vs. Mercedes, Nike vs. Adidas, Android vs. iPhone. You will have supporters who swear by one and curses the other, who have been long-time supporters of a brand, who will defend to the death their brand of choice. That kind of brand loyalty can't be reasoned with.
Perhaps you have a preference already, or perhaps you are still on the fence. Whatever the case, both the Kamasu and the SKX are fantastic options, but if we had to pick one, we choose the Kamasu.
Conclusion

Overall, the Orient Kamasu provides a whole lot of watch for its price point. It has numerous color variations as well as a bracelet or rubber strap version. Considering it has a sapphire crystal, quality lume, a 200m water resistance rating, and overall specs, it more than justifies its price point which is well below $500.
Though looks are subjective, those who have seen the watch mostly agree that it looks good. It has a tried-and-true, one-size-fits-all type of design, with some nice details that elevate it higher such as the gradient on the dial and some good looking hour markers.
There were few noticeable drawbacks. We felt the watch was a bit on the heavier side, though larger individuals may think it sits just right. Also, the crown action was a bit wobbly, but when surrounded by the crown guards, it is not really noticeable. The bracelet is a bit on the cheap side with its hollow end links, but this is understandable given the price point.
Our verdict is that the Orient Kamasu is a great tool watch that can satisfy one's needs for aquatic activities, all the while being good looking enough for everyday wear. There are alternatives at this price, most notably the Seiko SKX009, however the combination of specs, looks, and reliability of the Orient Kamasu ranks it fairly high among them.
Photo Credits: Horology House