The Citizen Promaster Diver is a solar-powered, analog quartz watch with a stainless steel case. It is part of the Promaster Sea Collection which is a line-up of professional diver's watches made by Citizen. Each watch in this collection meets ISO 6425 specifications, meaning they can be safely used while scuba diving or for any other water sports and activities where water damage may occur.
When you factor in Citizen's innovative Eco-Drive technology, which essentially means their watches can passively absorb light and the battery never needs to be replaced, then it is no surprise that the watches in the Promaster Sea Collection are as beloved as they are. What's more, somehow Citizen has managed to keep the price point under or around $200, making them some of the most affordable high-quality dive watches on the market.
In this review, we will be looking specifically at the BN0151-09L and BN0150-28E models from this line-up.
What are the Differences Between the BN0151-09L and BN0150-28E?
The reason we are reviewing both of these models in the same article is because there are virtually no differences between them. They are both part of Citizen's Promaster Sea collection however you might as well consider them to be the same watch.
Besides the color scheme, both the BN0151-09L and BN0150-28E models are exactly the same. They are constructed from the same materials, have the same design, have the same features, and weigh the same.
The difference is only in the color scheme. Specifically, the BN0151-09L has a blue rubber strap and dark blue watch face. The BN0150-28E, on the other hand, has a black rubber band and black dial.
In other words, the reason why you'd pick one model of the other is based on whether you prefer having a blue watch or a black watch. Furthermore, since there are virtually no differences between these two models, we will be reviewing both of them in this review.
Citizen BN0151-09L / BN0150-28E Specifications
Analog quartz movement, caliber E168.
Anti-reflective mineral crystal glass.
44 mm stainless steel case.
Polyurethane strap with buckle, ripples, and dive tables.
ISO 6425 certified with 200m / 660ft water resistance.
Date window at 4 o'clock position.
12-hour time markings and hands filled with lume.
Screw-down crown at 4 o'clock position.
Unidirectional rotating bezel.
Eco-Drive technology – the watch is powered by light and its battery essentially lasts forever.
Citizen BN0151-09L / BN0150-28E At A Glance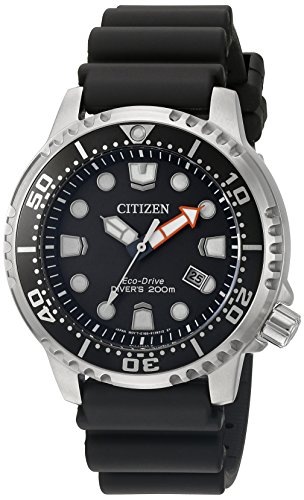 As soon as we opened the box, we were beheld a very solid and extremely durable watch. The case is made of stainless steel, and the watch measures 44mm across and has a thickness of 12mm. With a weight of 15.2oz, this diver's watch had some real weight to it, but it's not so heavy that it'd tire you out.
Both models have a heavily textured bezel which we liked. As we mentioned above, the BN0151-09L has a dark blue color scheme, whereas the BN0150-28E has a black color scheme. You will notice the differences in color on the dial and polyurethane rubber strap, which also comes with a stainless buckle clasp.
Looking at the dial, you will see luminescent hands and hour markers which show up visibly in low-light conditions. Part of the reason why it is so clear to see is thanks to the anti-reflective, mineral crystal glass display. Lastly, the lugs on both of these models are a standard 20mm across, making it easy to customize the straps to a third party one of your liking.
The Bezel
In order to meet the strict ISO-6425 requirements, the stainless steel bezel on these watches are designed to be harder to rotate while underwater. The justification is that this reduces the chances of it getting accidentally adjusted if something knocks or brushes against it. Furthermore, the bezel is unilateral which means it turns in only one direction.
Next, the bezel has notches around its side for extra grip and can track up to 60 minutes of elapsed time. It also has a ratchet mechanism which emits audible clicks as it is turned. Each 'click' means it is set to track half a minute, and this provides an easy way to tell how much time is being measured. Of course, these watches also have luminescent markings along the bezel which label minutes and ten-minute intervals.
The Dial
Depending on the model you get, the dial will either be black or dark blue. The watch face is only about 30mm wide, and the rest is part of the diver's bezel.
The dial is very straightforward. The time markers are white, which contrasts really well against dark blue and black. Additionally, on the outer rims of the indices, the edge of the hands and date display are all polished so that they are highly visible even in direct sunlight.
The Citizen Promaster has 12 time markings on the dial, with a date date window found on the 4 o'clock position. On many watches, the date window would simply cover up one of the markings due to lack of space. Not so on the Promaster. Citizen have included half of a marking (with lume) so that wearers can still see that point despite being partially obstructed, which is a nice touch.
You will find three hands on the dial which is standard practice. There is the hour hand, minute hand, and second hand. All of them are relatively wide to accommodate the lume, even the thin second hand. The minute hand stands out the most, being not only the longest but also a different color with a sharp tip. When combined with the lume, it truly pops out from the rest of the components so you can see it at a glance.
Not much writing can be found on the dial. Of course, you will find the Citizen logo displayed proudly just beneath the 12 o'clock hour marking. Next, the model name and water resistance indicator is found above the 6 o'clock position, from the bottom. This is all very standard practice.
One thing to point out is that the 12 hour index is uniquely shaped compared to the rest. This is to differentiate it from the other indices so that you can easily orient the rest of the markings relative to it in low visibility conditions. For instance, if you can see this shape, then you know that it is pointing upwards and the other direction must be downwards.
On the outer bevelled ring, there are markings for every minute of the hour. It is simple and fits nicely into the overall design of the dial without detracting from the other markings.
Overall, the dial of the Promaster Diver is straightforward and does what it needs to do without overloading the user. If you prefer a more minimalistic design on the hands and dial of your watch, then this is for you.
The Crown
The crown is located at the 4 o'clock position so as not to dig into the wrist. Its purpose is to set the time. A common way for moisture to enter a diver's watch is through the crown; that is why it is imperative that the crown must be fully screwed down. As such, you must never pull the crown out when moisture is present.
We recommend turning the crown occasionally to maintain the flexibility of the gasket and to prevent corrosion from lack of use.
Analog Quartz Movement
The Promaster Diver features an analog quartz movement which is the most accurate type of movement a watch can have. If accuracy is a major concern for you, then this is the best that you can get.
Furthermore, this watch is also solar-powered. In other words, when you're wearing it outside, it will absorb all of the natural and even artificial lights to keep its hands moving. Basically, without needing to replace the battery, the Promaster Diver will keep on ticking for decades.
Then again, it also means that you will keep hearing the second hand ticking away forever. We personally found it very quiet, but some more sensitive wearers may find it annoying when they are trying to sleep.
Another point of note is that the caliber in the Promaster Diver is E168. In other words, the accuracy of this watch is + or – 15 seconds per month assuming normal temperatures of 5-35˚C, which is reliably accurate. There may be a small margin of error of a few seconds per month, but it may average out over time.
Battery
Eco-Drive Technology
Citizen's Eco-Drive technology can absorb both natural and artificial light and convert it into electrical energy by using a thin disc of amorphous silicon found beneath the dial. This energy is stored in a rechargeable titanium Li-on battery.
Since Citizen does not use the toxic chemicals commonly found in ordinary batteries, these batteries are much more environmentally-friendly. Furthermore, they can literally last for decades before needing a replacement, so the amount of waste it generates is a fraction of what other battery-powered devices produce.
Recharging the Battery
Thanks to Eco-Drive, you do not need to specifically recharge your Promaster watch. You can go about your day as usual and it will absorb and convert to energy all of the ambient light it is exposed to, no cables or battery replacements necessary.
If your watch is low on battery, the second hand will begin to jump in 2-second intervals, signalling that it needs to recharge. Once it is fully charged, normal operation will once again resume.
There are a few things to keep in mind regarding how to keep your Citizen watch charged. First, you may need to make some effort to keep it charged in the wintertime compared to the summer. This is because the watch will mostly be kept under shirt or jacket sleeves, which limits its exposure to light.
Therefore, you may need to make an effort to expose the watch to artificial light to make up for its reduced light exposure. If it is safe to do so, perhaps try to roll up your sleeves and let natural sunlight shine on it. If you are using an artificial light source, keep it at least 2 feet away from the source so that it doesn't overheat.
To improve your charging rate threefold, then pull out the crown while exposing it to a light source. Keep in mind that this is how water or moisture can get inside this normally waterproof watch, so do so only under ideal conditions.
Lastly, the batteries found in Eco-Drive watches are designed to last for life. Even after two decades of usage, it was found that the battery degraded to hold only about 80% of its original charge, which is still quite impressive considering how quickly batteries in other devices fail and need to be replaced.
Watch Band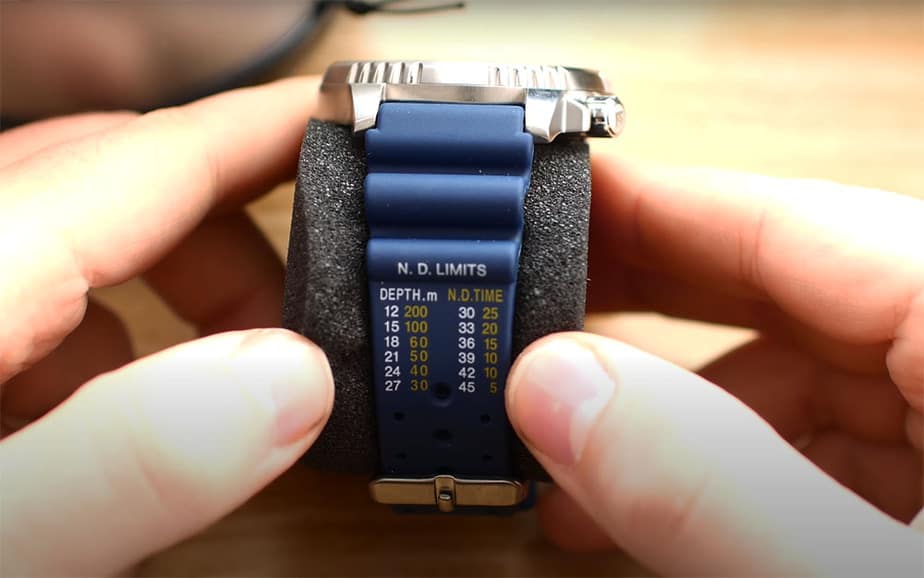 Depending on if you got the BN0151-09L or BM0150-28E model, the polyurethane band will come either in dark blue or black. Both models have a handy Dive Table for No Decompression Limits printed on one side.
As expected, we found the band to be very durable. It is ribbed so that it has some flexibility, yet it sits firmly over a dry or wet suit when scuba diving. The band may feel stiff when you first get it, however it doesn't take long to break it in and it gets more comfortable after that. This band is the style you will find in a classic diver's watch.
The lug has a standard width of 20mm which makes it compatible with most other band types. If you don't like the original band, you can personalize your watch by trying out different third party bands until you get one that suits your needs. Personally, we found the band it came with to be adequate.
Water Resistance – ISO 6425
Not everyone who wears a diver's watch actually dives with it. In fact, most people don't and that's just fine. However, to cover all of our bases, we're going to talk about exactly how durable the watch is, particularly when exposed to water.
There are numerous manufacturers selling watches that claim to be diver's watches, however they only look the part and fail to actually meet the international standard. In other words, if they claim to be water resistant up to 100m, 200m, 300m, and so on, they may only be able to endure it for a short period of time or they may fail far sooner than that.
Meeting the ISO 6425 certification means it reaches international standards of watch durability and can be considered a legitimate divers' watch. And yes, both the BN0151-09L and BN0150-28E meet these stringent requirements.
You may find other products with a WR200/WR300 rating. This only means that it passes the standard for water-resistance when performing activities such as surfing or other such water sports. It is not as stringent as the standards required for scuba diving, which includes pressure testing. Not to say that WR200 or WR300 ratings are bad, but that they are intended for individuals who only need minor water resistance.
Furthermore, in order to meet ISO 6425 standards, the stainless steel casing of the Promaster watches will protect against the corrosiveness of saltwater. It can be used at great depths, under immense pressure, for long periods of time without issue.
In other words, if you are ever worried about the watch getting ruined because of a little rain, well, you forget that you are wearing a diver's watch.
Maintenance and Repairs
We already mentioned above that you will never need to replace the battery on your Promaster diver's watch. However, the same cannot be said about its gears and gaskets; these will deteriorate much faster and should be replaced every 2 to 3 years. Send it in to an authorized Citizen service center; doing so will extend the watch's lifespan.
Hands-On Impressions
With all of these nice features available, the most important question is yet to be answered: how does this watch actually perform?
First, the crown screws down. Any high-quality diver watch must have this feature. This ensures that it doesn't accidentally open up underwater, breaking the waterproof seal and ruining the watch. Additionally, it has guards protecting it so that it will not unscrew even if it gets bumped.
Next up is the lume. Lume can be found on the twelve markers and along the edges of the three hands, and even on the circle of the rotating bezel.We especially like how the second hand is filled with lume since not all manufacturers do this for their watches.
Charging the lume is very simple. Like the eco-drive technology, all you need to do is expose it to light and it will charge up. Even an artificial lightsource, such as from a flashlight or desk lamp, can charge it up. Going about your daily life, you will most likely expose it to sufficient sunlight to never have to specifically charge your watch.
Finally, we have the important unidirectional rotating bezel, which is a staple on a diver's watch. It is pretty standard. Unidirectional means it turns in only one direction, so you can't accidentally add time during a dive. This means you don't have to worry about running out of air before the elapsed time.
You can find thin markings with a circle on top for every minute on the bezel, a larger baton for 5 minutes, and a square marking and printed numbers for every ten-minute mark. The dark bezel with white indices make the markings stand out which not only looks pleasing, but helps them stand out underwater.
The Negatives
We felt that the date display, located on the 4 o'clock position, was a little small for our liking. Granted, it isn't the most important piece of information, however it should ideally be easier to read.
Your mileage may vary, but if you have large wrists or will be wearing a thick wet or dry suit, then it is very possible that the watch strap will be too small for you. Based on reviews, some users had problems with the strap being too stiff. As we mentioned above, it takes some time to soften up. Some users never reached that point and felt that it was simply too uncomfortable to bear.
Thankfully, the lug width is a standard 20mm, so if you do have any issues with the strap, then you can always swap it out for one that fits you.
Lastly, this is not an issue with the quality of the watch itself, but there have been some cases of users receiving a watch that seems suspiciously used. Check that your watch comes with instructions manuals or other such papers and that it is in mint condition. If not, then if you ordered from Amazon, you can always return it for a refund or a replacement.
Citizen Promaster Diver Review: The Verdict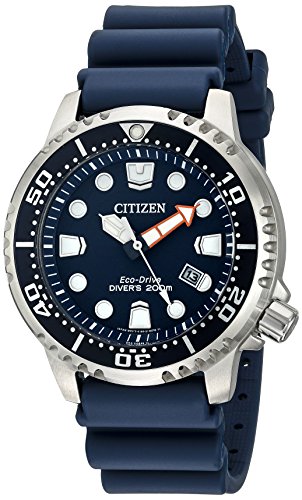 Overall, we were impressed by the durability and performance of the Citizen Promaster BN0151-09L and BN0150-28E Diver's watches. It did everything we needed it to do and we had no issues with it on numerous dives.
What you are getting is a large, classic Men's Diver's watch that can stand up to anything you throw at it. Its stainless steel case is corrosion-resistant, the mineral crystal glass is anti-reflective, scratch-resistant, and capable of withstanding impacts, and the watch band is sturdy and comfortable.
The strap also compliments the watch face, as they share the same color. It may feel somewhat stiff when you first wear it, but softens up quickly to feel snug on your wrist. The positioning of the luminescent markers and hands is good and they show up clearly under dim lighting.
To top it all off, we love the convenience of the Eco-Drive technology and how it eliminates the need for battery replacements. Whether you decide on getting the BN0151-09L or BN0150-28E model of the Citizen Promaster diver's watch, you are getting an excellent low-maintenance watch at an unbeatable price.
Photo Credits: Wound Up – Watch Reviews