In this review we will primarily be focusing on one particular model in Invicta's Pro Diver collection, the Invicta 8926OB, which is the most popular and best-selling model. It was so popular, in fact, that it put Invicta on the map as a watch manufacturer to keep an eye on.
One of the reasons for its success is Invicta's desire to create high-quality timepieces and sell them at reasonable prices so that they are no longer exclusively the domain of wealthy watch enthusiasts. That business design has helped Invicta flourish, and they have since added many more beautiful diver's watches at affordable prices in their Pro Diver collection.
We will be reviewing the most popular models that are sure to look great on your wrist without breaking the bank.
Our Top Picks:
Invicta 8926OB – The Best Invicta Pro Diver Watch
To start, the Invicta 8926OB looks like the Rolex Submariner which it takes its inspiration from. The biggest difference from Rolex watches is its price point – the Invicta 8926OB as well as other Pro Diver watches are extremely affordable. Furthermore, it is water resistant down to 200m (making it a true diver's watch), simple to use, and looks good on anybody's wrist.
Not everyone is a fan of homage watches like this one because many prefer the original to a copycat. However, since most people can't justify spending thousands of hard-earned dollars for a Rolex, they are a fantastic option for the average person like me and you.
Invicta 8926OB Pro Diver Features
Like other professional-level diver's watches, the Invicta 8926OB has similar features which makes it a great buy:
Day display on 3 o'clock position with cyclops window.
Automatic winding.
Water resistance of 200m / 660ft.
Guarded screw-down crown.
Unidirectional rotating bezel to track remaining time.
Robust steel case and bracelet.
These are the same features you will find in other, more expensive watches, but the Invicta is available for under or around $200. It's hard not to like, and the Invicta 8926OB specifically has such a clean, iconic look that you will probably fall in love with it at first sight.
Invicta 8926OB vs. Rolex Submariner
Since the Invicta 8926OB is so heavily influenced by the Rolex Submariner, let's just get this out of the way: how do they compare?
First up, the Invicta Pro diver only has a maximum water-resistance rating up to 200m compared to the Rolex Submariner's 300m. To be honest, most people who wear a diver's watch have never done a dive in their life, nor do they plan to with their expensive Rolex, so this is mostly a moot point.
Second, since the Invicta 8926OB was inspired by the Submariner, it makes sense that it has a similar aesthetic. However, there are some key differences to keep in mind:
The ten-minute markings on the Invicta are missing the "10" whereas it is present on the Rolex. This gives it an asymmetric look that may bother some people.
All Rolex Submariners have a cyclops magnifier on the day display window which only some versions of the Invicta have.
The Invicta Pro Diver has a more prominent crown guard than the Submariner.
Invicta has slimmer lugs than the Rolex Submariner.
Lastly, the biggest difference of all: Rolex has greater brand recognition. Wearing it is a sign of high social status and prestige. However, for the average person, it simply isn't affordable nor worth the money.
Dial & Bezel
If you are already familiar with the Submariner, then you should know what to expect from this homage watch. The markers are standard with thin minute markers, larger markers for every 10 minutes, and the date window.
The dial is protected by mineral crystal glass which, though not as scratch-resistant as sapphire, must be expected at this low price point. Though it is not anti-reflective, it is still suitable for reading in most situations.
Below the 12 o'clock position, you will find the Invicta logo. They have further branded the watch by adding a small section of their logo on the tail end of the second hand. The hour and minute hands are reminiscent of Rolex's design. The date window and magnifier can be found at the 3 o'clock position, just like in the Submariner.
One area the Invicta Pro Diver falls short is in the quality of lume on the markers. Based on our testing, it is not that visible in dim-light and fades quickly. In other words, if you are relying on it while you are diving, it can truly be an issue if you cannot see the markers.
Next, the bezel is large and clear, however we found it somewhat difficult to rotate due to how stiff it is and the machining of the edge doesn't make it any easier. As we established with the subpar application and quality of the lume, this is an issue if you are actually diving with the watch. At this point, we can confidently say that if you plan on diving with the Invicta Pro Diver, you should probably look for a different watch.
Otherwise, as long as it looks good on your wrist, then it doesn't matter.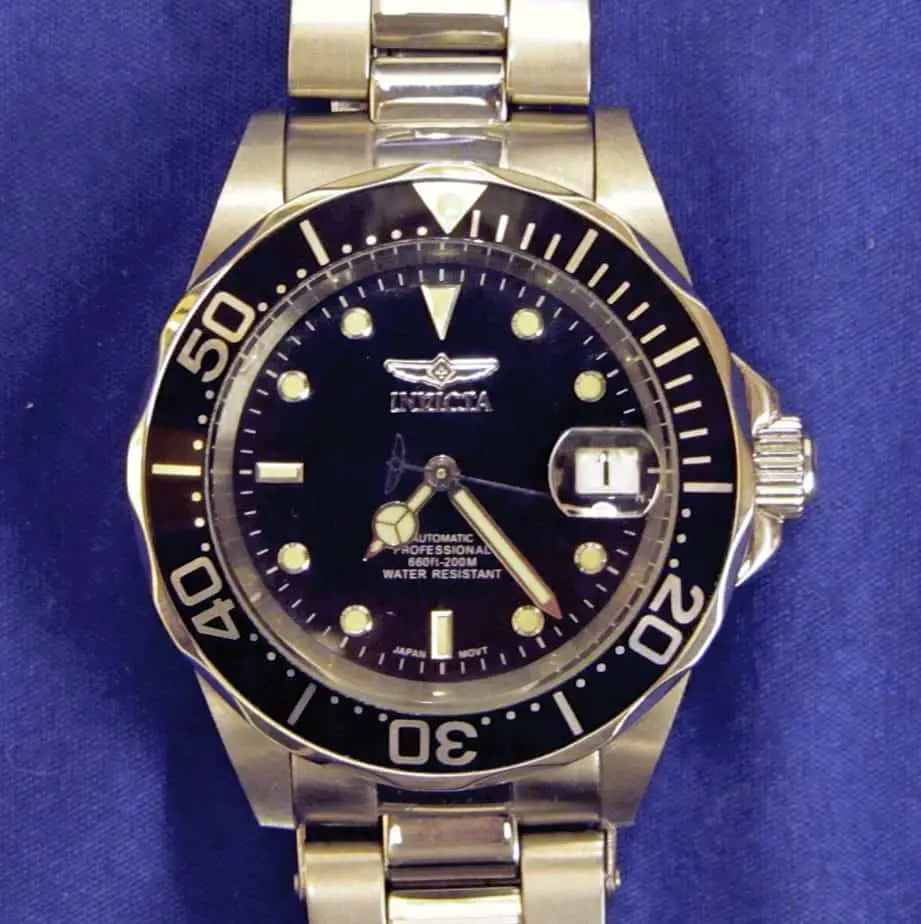 Bezel Differences between the 8926 and 8926OB
Don't you just love finding differences between similarly named models? When you are shopping for a Pro Diver watch, keep an eye out for the model number. If you find a model labeled 8926A or simply 8926, there is a slight difference between that and the bezel of the 8926OB, which is what is being reviewed in this article.
The "OB" in 8926OB stands for Original Bezel and it has a coin edge. What this means is that it has a rougher edge just like the Rolex Submariner which provides more grip. The 8926 has a scalloped edge which is much thinner and tends to lack grip, making it harder to rotate.
The Case
The Invicta 8926OB features a stainless steel case with a mixture of polished and brushed surfaces, both of which have been machined to an impressive level considering the price. The case is a similar size to the Submariner, which many wearers have praised for how versatile it is for many wrist sizes.
With that said, the Pro Diver has a lug to lug size that is marginally larger which may be larger than what the product description indicates. With that said, on skinny wrists, it still feels very comfortable.
Branding
Once again, there are similarities to the Rolex, however there are some Invicta branding differences which some people may find off-putting. The first of these can be found on the crown; there is a large logo cross on it.
Next, below the crown on the lip of the case back, you have the Invicta brand name displayed a little too prominently. You can also see the sides of the case also have the Invicta brand in huge letters. While there is nothing wrong with displaying your brand proudly, unfortunately when you don't have the same level of brand recognition as the company you are imitating, Rolex, then it comes off as being desperate to get recognition.
Crown
In order to qualify as a diver's watch, the Invicta Pro Diver has a screw-down crown to prevent water from entering during a dive. We found the crown to be easy to operate thanks to how grippy it is. You can quickly hand wind the watch and set the time to your liking. The crown guards are larger than the Rolex Submariner which gives it additional protection against glancing blows.
Movement
Inside the Invicta Pro Diver is the classic Seiko NH35A automatic movement that can be seen through the exhibition case-back. This is an accurate, high-quality movement that you usually find in microbrand watches that are several magnitudes more expensive than Invicta watches. The 8926OB features a custom Invicta rotor, which stands out in this watch with an otherwise conservative color scheme.
Bracelet
The bracelet has some good points and bad points. Past the hollow end-links, the bracelet is made of sturdy, stainless steel links that are polished in the center and brushed finishes. Though somewhat jangly, they are decent for the price – they have some weight to them and suit the watch's aesthetic.
With that said, the fold-over clasp leaves a lot to be desired. It gets the job done, however it does not quite match the quality of the rest of the watch. Its saving grace is that it has four micro-adjustment points for added safety, ensuring that it will not come undone or catch onto something.
Overall Impressions of the Invicta 8926OB Pro Diver's Watch
While it is an homage watch, the Invicta 8926OB is still a wonderfully aesthetic watch to look at and will turn heads as it adorns your wrist. There's a reason why the Submariner design is imitated so often; because it looks so damn good. The question remains: should you buy one?
If you want an affordable watch that looks like a Rolex while providing decent diver's watch functionality, then the Invicta Pro Diver 8926OB could be the watch for you. Its price point, though affordable, is slowly increasing as time goes by owing to its continued rise in popularity.
While Invicta sometimes provides some bizarre timepieces, their watches often incorporate Seiko movement and are surprisingly high quality for the cost. Thus, the watches in their Pro Diver line-up, particularly the 8926OB, are selling well because they are worth the cost.
Pros:
Solid Seiko automatic movement.
Versatile size fits many wrists.
High-quality bracelet and case.
Looks like a watch that is exponentially more expensive than it actually is.
Affordable price.
Cons:
Unoriginal design due to being an homage watch.
Too much branding is distracting and takes away from the beautiful aesthetic.
Polishing may not please some wearers.
Invicta Pro Diver Collection Reviewed
Out of all the watches made by Invicta, the ones featured in their Pro Diver collection consistently remain best sellers. Thanks to their water resistance, stylish looks, general durability, and incredibly affordable price, they are suitable for a variety of occasions both formal and informal, and can actually be purchased by the average consumer.
In this section, we will be reviewing some of the other watches from the Pro Diver line-up.
Invicta 8928OB
The Invicta 8928OB is another automatic watch similar to the 8926OB. Both have a date window found on the 3 o'clock position with cyclops magnifier, luminous hands and markers, brushed and polished stainless steel bracelet and case, and 200m of water resistance.
Where these watches differ is in their appearance. The 8928OB has a much more vibrant, lustrous look compared to the muted color scheme of the 8926OB. Specifically, it has a gold and silver steel band, with a bold blue dial that will be sure to turn heads. Overall, the color combination of this watch will make it stand out on your wrist and net you numerous compliments whenever you wear it out.
Invicta 6981
The Invicta Men's 6981 features an accurate Swiss quartz movement that ensures the time is always accurate. Its dial is covered by a scratch-resistant mineral crystal, and this watch has a black polyurethane band that is resistant to corrosion, tearing, and UV rays.
Both the crown and bezel are constructed from gold colored stainless steel, resulting in a watch that is durable and looks a lot more expensive than it is. Invicta no longer manufactures this watch, which is why now is as good of a time as any to own this unique and beautiful watch before the supply runs out.
Invicta 9937
The Invicta 9937 is yet another one of the more popular models from the Pro Diver collection. Though its excellent craftsmanship is something that can be seen throughout its entire design, what really stands out is its Swiss automatic movement. Rather than using batteries, the 9937 is powered by your wrist's movement as you wear it and go about your daily life.
This magnificent engineering accomplishment involves the combination of hundreds of delicate, interwoven parts moving in perfect synchronicity to ensure that time is told accurately and retains its accuracy longer than Japanese movements. It also helps the watch retain a high resale value if you are ever eyeing another watch.
Besides its automatic movement, the 9937 has other great features like luminous hour markers and silver toned hands, scratch-resistant sapphire crystal glass, and 200m of water resistance.
Invicta 0070
Another notable product in Invicta's Pro Diver collection is the 0070. It's build quality is excellent thanks to being constructed with high-quality materials such as a flame fusion crystal dial window, Swiss quartz movement, luminous hands and hour makers, and up to 200m of water resistance.
There are a few features that make it stand out. First, you will notice that it is quite a large and heavy watch. Sometimes you just want something big and bold on your wrist to stand out, and a watch like this will certainly draw eyes to it.
Additionally, the 0070 is incredibly well-priced. In addition to the features described above, you will also be getting a full stainless steel build, Swiss components, chronograph and date display; you will find that few other watches give you this much at a price point of under $100.
With its blue dial and beautiful finish, the Invicta 0070 is the complete package that will look fantastic on your wrist.
Invicta 18618
The Invicta 18618 is an interesting model and one that clearly stands out from the rest of the divers in this collection with its unusual color choice. At a glance you will find a watch with a blue nylon strap which is different from the typical strap choice in Invicta's Pro Diver collection. However, nylon is a flexible, light material that is ideal for active individuals.
Next, you will see a gold dial that is complemented by black and white hour markers, and surrounded by a blue steel case. All in all, the color scheme is quite unique, and definitely stands out because it's not something you see everyday.
As for functionality, the 18618 includes Swiss quartz movement and will accurately tell the time; a nice feature to have at this price range. The 44mm diameter makes it suitable for medium to large sized wrists. For those who are looking for something more flamboyant to wear on their wrist, the 18618 is one that stands out from the pack and provides quality features at a low price.
Invicta Gold 19837SYB
If you want to wear a watch that looks like something King Midas would have worn, then the Invicta Gold 19837SYB is perfect for those who want a little flair on their wrist. This large watch has a diameter of 49mm, and both the case and bracelet is made of 18k gold ion-plated steel. In other words, this watch is both large and has a prominent gold sheen; if you want to stand out, wear this watch on your wrist.
There's a lot going on on the dial. It has luminous skeleton hands and hour markers to let you read the time in any condition, and you don't have to wear the watch everyday to keep the Swiss quartz movement powered. However, Invicta have gone a bit overboard with 3 subdials behind the main dial which can get a bit confusing to read.
Unlike most of the other watches we've reviewed so far, the Invicta Gold has a water resistance rating of 300m. Even if you do plan on going on the occasional dive with this watch on, chances are you won't exceed a depth of 300m so its water resistance will never hold you back.
On the other hand, if you do not have large wrists or prefer a watch with a subtler design, then this may not be the optimal choice. However, the value that the Invicta Gold 19837SYB provides is hard to overlook.
Invicta 3044
Next we have the Invicta 3044, which is a classically styled diver with a sleek aesthetic and great utility. Unlike the Invicta Gold which has three subdials, the Invicta 3044 maintains a clean look with only the main dial and no subdials. You will find luminescent hands and markers on the black dial, with a date window on the 3 o'clock position.
Sometimes simplicity and straightforwardness is elegant, and that applies to the 3044. Furthermore, its minimalistic design is what makes it so easy to read the time at a glance and operate. The 3044 is automatically powered and never needs a battery. You can get a glimpse into the engineering marvel that allows this to happen by looking through the case's back window.
Since the 3044 is part of the Pro Diver collection, it has water resistance capabilities down to 300m. The diving helmet logo further supports the diving moniker, however it isn't just for show. It will keep reliably ticking under immense water pressure, and the diver's buckle clasp ensures it will stay on your wrist.
One thing that stands out about the 3044 is its size. With a diameter of 47mm, it is large and has some weight to it. It is better suited for individuals with medium to large wrists. Whether you are in a boardroom meeting or swimming with sea turtles in Maui, you don't need to go bankrupt just to own a nice diver, and the 3044 is an affordable diver's watch.
Invicta 16230
The Invicta 16230 is a diver watch with a classic look. Its round hour markers and thick hands coated with lume are reminiscent of a typical diver's watch, complemented by an attractive orange finish and chronograph dials. The date window can be found at the 3 o'clock position, and we are happy to see that it does not obstruct the marker, though the date window has to be quite small as a result.
Next, the band is made of black polyurethane and will do an excellent job at keeping the watch on your wrist against nature's destructive elements. Inside you will find a Japanese quartz movement which does not need to be worn everyday to accurately keep the time, unlike many other automatic models.
It has a diameter of 48mm, making it quite a large watch, so it is better suited for individuals with large wrists.
Photo Credit: Stefan Bellini, CC0, via Wikimedia Commons
Last update on 2023-03-27 / Affiliate links / Images from Amazon Product Advertising API