Imagine buying a Tesla: it's new, it's high-tech, and it looks amazing. It's something that you'd be proud to show off to family, friends, and even strangers. Now imagine it sitting parked in your garage for half the year just waiting to be used. It'd be a shame for something so beautiful and expensive to stay unappreciated in storage, right?
It's not a perfect analogy, but this applies to dive computers as well. You spend hundreds or thousands of dollars on a sleek, powerful dive computer. It's something you wear on your wrist when diving and it even looks like a watch. And yet, most dive computers aren't designed to be worn outside of diving; you'll find that they are too bulky, uncomfortable, and don't have basic watch functions.
We think it's a shame to keep such a sophisticated piece of wearable technology in a storage case for most of the year; it deserves to be worn year-round! Nowadays, there are dive computers that are versatile enough to be worn for both diving and everyday wear. They come with removable straps as well as a dedicated Watch Mode so that they can look and function like a digital watch.
If your dive computer can also double as a high-end watch, then you have the perfect excuse to show it off to the world. In this review, we will help you find the best watch dive computer that can also be worn in daily life so you can take full advantage of your investment.
Our Top Picks:
What is A Watch Dive Computer?
Dive computer watches are, first and foremost, full-featured dive computers that can track your dive profile and make real-time decompression calculations. They also happen to be watch-sized and come with a dedicated Watch Mode which essentially turns it into a digital watch. They are not to be confused with traditional dive watches, which are depth-rated timepieces whose primary purpose is to tell time.
Despite their small size, dive computer watches have the same functionality as their larger counterparts. The high-end dive computer watches can compete with "pure" dive computers by providing the same capabilities like air integration, Nitrox/Trimix support, CCR and sidemount operation, a digital compass and so on.
With that said, the strength of a watch dive computer is also its weakness. While its small size is what allows it to be worn comfortably outside of diving, its small display makes it harder to read and operate while scuba diving.
If that doesn't sound like too much of a downside to you, and the idea of wearing your dive computer outside of diving is appealing, then let's head onto our review of the top dive computer watches.
Best Watch Dive Computers Under $500
Watch dive computers tend to be more expensive than their larger counterparts because some serious engineering wizardry is required to fit all of the advanced features into a watch-sized frame. With that said, there are many quality watch dive computers under $500, and the ones that stood out the most to us are the following:
Atmos Mission One
Form Factor
Let's start their review off with the Atmos Mission One, a mid-range recreational watch dive computer that is reasonably priced for what it offers. At first glance, you can't even tell the Mission One is a dive computer; it just looks that good as a watch. It is currently only available in black, but a white model is in the works. You can purchase a set of colored straps to mix-and-mix with your outfits.
The Mission One has a solid construction thanks to its stainless steel bezel, and it comes in a fiber reinforced case. Weighing only 90g, the Mission One feels light and comfortable on your wrist. It has four large buttons that are spaced apart and easy enough to press even with gloves on.
Interface and Display
Its good looks are not only on the outside. Once you boot up the device, you will be treated to a clean and intuitive interface. We found it much easier to learn and navigate than other dive computers. The information is easy to read at a glance thanks to the large, bold font and its amazing display.
What makes the Mission One stand out is its use of a transflective color LCD that allows the screen to be viewed in virtually every condition, whether in direct sunlight or in dim environments via backlight. The color LCD is used effectively to highlight important information. For instance, cautions and warnings are displayed in yellow and red to make them stand out.
The Mission One has a motion-activated backlight that you can turn on with a quick twist of your wrist. The backlight duration can be adjusted in the settings, but basically it is really easy to read the information from the Mission One's display.
Features
Of course, the Mission One wouldn't have even made it onto this list if it didn't have watch functions. Currently, it has smartwatch functionality that allows it to receive notifications from your phone (only iOS is supported currently).
You can get notified of text messages, emails, notifications from popular messaging apps like WeChat, WhatsApp, Facebook, etc. This is similar to what the Garmin Descent MK1 can do, which we also cover later on in this review.
The battery life on this device is excellent. It lasts 40 hours while diving with the backlight off, 15 hours on the "mid" setting, and in Watch Mode it lasts up to two weeks. The Atmos Mission One provides excellent bang for your buck, and it is hard to find a watch dive computer that does as much as this one at a similar price.
We focused mostly on the watch aspects of the Atmos Mission One in this brief review. If you want to learn more about the diving functionality as well as other nifty features like its digital compass, GPS, Bluetooth connectivity support and much more, then we recommend you read our full review here.
Aqualung i200C
Sale
Aqua Lung I200c Wrist Dive Computer Dark Charcoal
4 operating modes. Air, Nitrox, Gauge (with run timer), and Free Dive (tracks calculations to allow unrestricted switching between Dive and Free)
User-changeable standard battery and data retention. Uses globally available standard batteries found at supermarkets and drugstores. Maintains...
High visibility LED alarm light. For additional diving safety
Form Factor
The Aqualung i200C is a durable and highly functional watch dive computer. It is available in six colors, from the more reserved Grey and Dark Grey to the more vibrant Aqua, Blue, Bright Pink, and Hot Lime to really make yourself stand out.
If you are brave enough to wear the Bright Pink or Hot Lime, you will be sure to get comments from passersby if you want the attention.  It weighs only 76g and we felt the i200C was quite solid on our wrist without feeling cumbersome or heavy.
The reason we are recommending the i200C instead of the newer i300C is because there aren't many differences between the two, so why not get the cheaper one. On top of that, the actual size of the i200C is slimmer which is better when you plan on wearing it as a watch outside of the water.
Interface and Display
The i200C has a segmented LCD display to improve readability in low-light conditions. The screen is slightly on the small side, which we view as a plus in this case for divers who also plan on wearing it as a watch. It also makes it less cumbersome to wear for longer periods of time whether you are in or out of the water.
Additionally, the i200C includes an LED alarm light so that you can get warnings when something needs to be brought to your attention.
There are four buttons located along the side of the watch that are spaced apart so you can easily press the right one even with thick gloves on. There is a dedicated button for displaying the time and depth of your most recent dive. It also has a button-activated backlight for when you need to read something during a night dive.
Features
The Aqualung i200C has five operating modes: Air, Nitrox, Gauge, Freedive, and Watch Mode. It only supports Air and Nitrox mixes, with no support for Trimix. The i200C runs the Pelagic PZ+ algorithm which is a solid balance that gets you the most bottom-time without compromising on safety.
Some functionality in the i200C is automated to help forgetful users. For example, the watch is water-activated, meaning it will turn itself on and default to the last used settings if users forget to turn it on before diving in. Additionally, the i200C supports automatic altitude adjustments between 3,000 – 14,000ft (916-4,270m). At less than the minimum, it will default to "seawater".
In Watch Mode, you get access to the normal digital watch functions such as time/date settings, alarms, timers, stopwatch, and so on.
If you are looking for a solid, entry-level watch dive computer then the Aqualung i200C is a well-priced option. It is designed for casual divers who want a versatile dive computer that can double as an everyday watch. Switching between watch and dive modes is easy, and reading from the display is convenient even in dim-lighting thanks to the LED backlight.
Check out our full review of the Aqualung i200C here.
Oceanic Geo 4.0
Oceanic Geo 4.0 Wrist Computer
The Geo 4.0 connects to your smartphone through the free DiverLog+ App
CHOOSE THE RIGHT ALGORITHM FOR YOUR DIVE Oceanic's patented Dual Algorithm lets you choose the decompression algorithm that best suits your diving...
Geo 4.0 Modes of Operation WATCH, AIR & NITROX, GAUGE, FREEDIVE Version WRIST WATCH Bluetooth 4.0 YES Color BLACK, WHITE (BLUE, YELLOW, SEA BLUE...
Form Factor
The Geo 4.0 is the upgraded version of the 2.0, which has been a favorite of divers for many years. The Geo 4.0 retains most of the functionality that the 2.0 has, and its appearance has been updated to be more sporty. It is an ideal choice for ladies and gents who are active individuals who want a watch that can keep up with their lifestyle.
There are five strap color options to select from: Blue, Sea Blue, Black, Yellow, and White. Despite its compact design, it is easy to read and operate thanks to its large digits which should be highly visible even while deep underwater.
Interface and Display
Next, the Geo 4.0 features a backlit display, and its text size is 33% larger than its predecessor the Geo 2.0. Navigating the device is straightforward with its four-button setup. You can easy scroll through the menu, switch gases, change between the two algorithms, plan your next dive, and much more.
Depending on which mode is selected, the Geo 4.0 will display different data such as time, depth, and the no-decompression limit. With the press of a button, divers can view data about their last dive such as maximum depth and time spent at depth.
There are numerous alarms and warnings that can appear, such as low battery warnings or safety violations. The Geo 4.0 will flash, and the interface will make it clear that something warrants your attention.
Features
The Geo 4.0 has four operating modes: Norm (Air/Nitrox), Gauge, Freedive, and Watch Mode. You can monitor and switch between three gas mixes while underwater. Gas switching can only be done within the first 10 minutes of a dive.
A unique feature that Oceanic dive computers have is its ability to switch between two decompression algorithms: the Pelagic DSAT and Pelagic Z+. The DSAT is the more liberal algorithm, and the Z+ is more conservative.
We really like how the Geo 4.0 has Bluetooth connectivity to sync your dive data to your preferred smart device. Due to its limited dive log capacity of 24 dives, Bluetooth is basically a necessity.
Overall, the Geo 4.0 is a solid recreational watch dive computer. It has a long battery life, Nitrox support up to three gas mixes, and dual algorithm functionality. It also incorporates useful extras like a digital compass and Bluetooth connectivity. And of course, the Geo 4.0 can double as a sports watch outside of diving; what's not to like about it?
Read our full review of the Oceanic Geo 4.0 here.
Mares Smart
Form Factor
The Mares Smart features a slim, sleek profile that helps it pass off as a sports watch despite being a dive computer. It comes in numerous color options, including: Black, Black/Grey, Black/Red, Black/White, White/Lime, and White/Lilac. It seems black and white is a common theme, however neutral colors pair well with anything so it should be easy to incorporate it into your outfit.
Next, the Mares Smart has a simple interface that is designed to be navigated with only two buttons. In our opinion, any dive computer with less than three buttons is cumbersome to navigate. It means that each button is responsible for multiple functions, and you have to learn when you should do a single press or long press, and overall it can be annoying.
Interface and Display
Despite relying on two-buttons for operation, the Mares Smart's clear mineral glass display more than makes up for it. It features a segmented-display which provides the information in three rows. The first two rows cannot be altered, and they will output such information as depth, safety stop, and dive time. The bottom row can be customized by the user to suit their diving preferences.
Due to its strong backlight, you will be able to read from the Smart in almost every situation, whether at the surface or deep underwater. However, since it is so strong, you need to decrease the duration so that it won't drain the battery so quickly.
Features
The Mares Smart is an entry-level watch dive computer that provides what a beginner diver needs. It has four operating modes: Air/Nitrox, Gauge, Freediving, and of course, a Watch Mode. Unlike other beginner dive computers, however, the Mares Smart puts up some nice numbers.
The maximum operating depth is 150m (492ft), and it can support two Nitrox mixes up to 99% oxygen and allows switching between them. When traveling, you are sure to be diving in locations at different altitudes. Thankfully, the Mares Smart can automatically adjust the altitude settings for you.
Additionally, the Smart has a relatively small dive log capable of storing only the last 25-30 dives. Thankfully, it makes up for it with Bluetooth connectivity so you can backup your dive profiles easily to your smartphone or tablet. Unfortunately, despite it being called the "Smart", the Mares Smart does not have any smartwatch capabilities.
If you are a beginner looking for an affordable watch dive computer, then the Mares Smart is a solid choice. It incorporates all of the basic diving functionality that a beginner needs with a simple, intuitive interface. In other words, beginners will not be overwhelmed by tons of information they don't know how to use or even need to know. With the Mares Smart, you can get a frustration-free, safe diving experience and a sleek sports watch all from one affordable device.
For our in-depth review of the Mares Smart, click here. If you are interested in the air integrated version, the Mares Smart Air, then check out this review.
Oceanic OCi
Oceanic 04.8792.07
Air Integrated Dive Computer
Modes Norm, Tech, Gauge, Comp, Watch, Free Dive, Tech Free Dive
PC Interface: Diverlog - MAC (mobile, cloud & comp), Oceanlog - PC (comp only)
Form Factor
Yet another wristwatch style dive computer from Oceanic, the OCi is designed for both recreational and experienced divers alike owing to its air integration support. Like the Geo 4.0, it has a sporty and sleek aesthetic. The four-button operation allows you to quickly customize the settings and get the information you need.
There are numerous color combinations you can select from: Black, White, Black/Blue, Black/Red, Black/Yellow, and Black/Titanium. If you prefer a darker color scheme, it seems like the OCi is geared more towards that.
Since the OCi is so sporty, it is best suited for very active individuals in a casual setting as it may look out of place in a business meeting or other formal situation. Furthermore, it may be considered slightly bulky for people with small wrists. We like to describe it as robust and durable.
Interface and Display
For the most part, we found the device easy to set up and glean information from at a glance. Thanks to the four-button navigation, we were able to make our way through the menus and adjust the settings we want.
At depth, we were able to use the backlight to illuminate the display and had little difficulty with reading from the small, watch-sized screen. Some may find watch dive computers to be difficult to read off of, however that's the price you pay for versatility.
On the display, you can expect to see the basics like air time remaining, no-decompression limit, and current depth. Other displays include nitrogen tissue loading bar graph, oxygen loading bar graph, temperature, and a compass as well.
Features
There is no shortage of features in the Oceanic OCi. To start, you have five operating modes: Norm (Air/Nitrox), Gauge, Freediving, Tech-Free, and Watch Mode.
The maximum operating depth for the OCi is 180m (495ft) in the Gauge and Freedive modes, and 100m (330ft) in Norm mode. Next, the OCi has a deep stop function with a countdown timer so you can meet your safety stop times easily.
Like other Oceanic dive computers, the OCi utilizes dual algorithm technology to allow you to switch decompression models easily. Select between the Pelagic DSAT and Pelagic Z+, which is based on the Buhlmann ZHL-16C algorithm, to dive safely while maximizing your bottom time.
The OCi can support up to four nitrox mixes up to 100% O2. The OCi can also support wireless air transmitters, which is a feature that clearly caters to experienced divers. With that said, you have the option to purchase air transmitters at a later time as you gain experience and grow as a diver.
Unfortunately, the OCi has an underwhelming dive log capacity of only 24 dives. It uses Bluetooth connectivity so you can sync your dive history before it gets deleted due to lack of space.
Overall, for a mid-range watch dive computer, the Oceanic OCi fits the bill for nearly everything you'd need like air integration, gas switching, and watch mode. It isn't quite high-end enough to support Trimix or rebreather modes. Aside from its low memory capacity, there's not much to criticize about it. The OCi is a solid device for beginner to intermediate level divers at a good price point.
If you'd like to learn more about the Oceanic OCi, then read this review.
Best High-End Watch Dive Computers
If you truly want a watch dive computer that can do it all, then there are three devices you want to keep an eye on: the Shearwater Teric, Suunto D5, and Garmin Descent MK1. These computers are the best of the best in terms of features and it is reflected in their high price.
Whether you are interested in recreational diving, technical diving, or freediving, these computers can meet all of your diving needs. And just like the rest of the dive computers in this review, they also look incredibly stylish and are designed to meet your everyday watch needs.
In this section, we are going to pit the Teric, D5, and Descent MK1 directly against each other to see how well they compare and determine if there is a clear winner in terms of price to performance.
Shearwater Teric
Shearwater Research Teric Wrist Dive Computer
Nitrox Trimix decompression dive computer in wrist-watch form factor
Bühlmann ZHL-16c algorithm with configurable Gradient Factors
Supports optional wireless tank pressure transmitters
Suunto D5
Suunto D5 Wrist Dive Computer W/ Usb Cable Black
Modes: Air / Nitrox / Free / Gauge / Watch. Suunto Fused 2 RGBM decompression model
Exchangeable straps with Quick Release spring bar (both for diving and for everyday style). Weight: 90g
Water resistance 100m. Rechargeable lithium-ion battery
Garmin Descent MK1
Garmin Descent Mk1, Watch-Sized Dive Computer with Surface GPS, Includes Fitness Features,...
Premium full-featured GPS dive computer in a sleek watch-style design; with bright 1.2" color display and topo mapping
Built-in sensors include 3-axis compass, gyroscope and Barometric altimeter as well as GPS and GLONASS capability that lets you Mark your dive entry...
Supports single-gas, multi-gas, gauge and apnea diving, including nitrox and trimix; plan your dives directly on the device
Teric vs. D5 vs. MK1 Overview
Out of the three, the Shearwater Teric was the first to come out with a high-end watch style dive computer that was intended for technical diving. Suunto didn't want Shearwater to have all of the glory, so they came out with the D5 shortly after to compete with the Teric in terms of looks and functionality.
Garmin's Descent MK1 is a bit of a special case because not only can you wear it for diving, but it also functions as a general-purpose activity tracker with smartwatch capabilities. It feels like it can do a little bit of pretty much everything, however its technical diving functionality is not as impressive.
All three dive computers allow you to track and switch between multiple Nitrox mixes up to 100% oxygen. For the Teric and Descent MK1, you even have the option to dive with Trimix or with a rebreather.
Display
The Shearwater Teric has the best display compared to the D5 and Descent MK1. Whether we were at the surface in bright sunlight or deep underwater, we never had any issues reading the bold letters and numbers from the Teric. Shearwater has done a good job utilizing the screen real estate to display all of the crucial dive data on a watch-sized screen.
The D5's display has a powerful backlight display that is also very clear to read. The main screen can be customized so that the information you prioritize is the first thing you'll see. We didn't have any major issues with the D5's display but we found the Teric's to be less visually cluttered and overall more enjoyable to read off of.
With the Descent MK1, it is clear that the display is not nearly as optimized for diving compared to the Teric and D5. At the end of the day, while the Descent MK1 can be used for recreational diving it is better to think of it as a fitness tracker than a pure dive computer. As such, the text size is on the small side and the backlight isn't as powerful. We found it the most difficult to read from out of the three devices.
Menu Navigation
Your dive computer is your lifeline when you're several hundred feet underwater. As such, you need to be comfortable operating it as if it were an extension of your body. The last thing you want is to be frantically trying to figure out how to change some setting when your tanks are almost running empty.
That is why the button placement, amount of buttons, and purpose of each button on a dive computer needs to be carefully considered. Thankfully, all three units have pretty similar options and intuitive interfaces. They come with at least three buttons to help you navigate the menus.
Suunto D5 Interface
Suunto's three button navigation focuses on using the central button to step through the menus. Once you are inside a menu, if there are more submenus, then you can continue cycling through using the same button. If you want to go back one screen, long-press the central button. Putting so many functions on one button makes it more difficult to use.
Shearwater Teric Interface
Next, the Shearwater Teric has a four button interface that is quite different from the Suunto D5. Each button will do something different depending on the context, and spreading the functions to more buttons makes it faster to navigate the interface once you know what each button does. It is easier to use than the three-button operation of the D5.
Garmin Descent MK1 Interface
Lastly, the Garmin Descent MK1 has five buttons that you can use to navigate the interface. Personally, we feel that four buttons is the sweet spot, and five starts to feel overwhelming. This is in addition to the fact that the Descent MK1 is not only a dive watch, but also a fitness tracker. Thus, the number of menu options is even greater and will take longer to learn.
Overall, we feel the Shearwater Teric strikes the best balance between the number of buttons and how easy it is to navigate the menus with them. In terms of how clean the interface is, we prefer the simplicity of the Suunto D5's. The Descent MK1 is the hardest to work with due to the sheer number of choices it presents to users.
Decompression Model
Both the Shearwater Teric and Garmin Descent MK1 use the Bühlmann ZHL-16C algorithm with gradient factors. The Suunto D5 runs their modified RGBM Fused 2 algorithm. The ZHL-16C algorithm is the preferred model for technical divers. Suunto's algorithms have been frequently criticized for being too conservative.
With that said, their new RGBM Fused 2 algorithm marks the first time where Suunto has allowed users to adjust the algorithm to be more liberal. Previously, they only allowed users to make their already conservative algorithm more conservative.
Once you set the RGBM Fused 2 to its most liberal setting, it will get closer to the Bühlmann calculations. All dive algorithms are designed to keep divers safe even at their aggressive settings. However, it is still up to the user to follow the alarms and warnings the computer provides.
All three devices can handle Air and Nitrox mixes up to 100% oxygen. Gas switching is also possible, and the algorithm will even let you know when a better gas is available to switch to.
Air Integration
The Suunto D5 and Shearwater Teric support optional wireless air integration. The wireless air transmitter must be screwed onto the first stage regulator and then paired with the dive watch. Once that is done, you can get a more accurate reading of your tank pressure and get your true remaining air time. Multiple transmitters can be used to track multiple tanks, or even another diver's tanks if you are an instructor.
The Descent MK1 does not support wireless air integration; if you want to track your tank pressure, you will either need a console with a pressure gauge to monitor your tank's fill-level, and connect it to the tank through a hose.
Battery Life
When Diving
All three dive computers in this comparison have rechargeable batteries that are not user-replaceable. You can expect the batteries to last for 200-300 dives or two years, whichever comes first. Afterwards, it is recommended that you send the device to a service center to get the battery replaced because the battery may be near the end of its life.
When you send your device in, the technicians there will do more than just replace the battery. They will also calibrate and pressure test the dive computer to ensure it is in perfect working order. That is why even for dive computers where you can replace the battery yourself it is still a good idea to send it to a service center if you've been using it for a couple of years or more and have never gotten a check up.
In order to make the battery life last longer, there are a few tricks you can do. First, if you can adjust the brightness and duration of the backlight, then you may wish to decrease them to a level where you can still see all of the information while saving some energy. Also, the freediving mode in some watches is battery intensive and will quickly deplete the battery, so be wary.
For Everyday Wear
The benefit of the dive watches in this comparison is that they can be worn outside of diving as your everyday watch. In Watch Mode, all monitoring and deco calculations will cease and this drastically increases the battery life. You can expect one charge to last a week or more in watch mode. Just be sure it is fully charged before you head out for a dive.
The Garmin Descent MK1 is a bit of a special case, since you can also use it as a fitness tracker and smartwatch in addition to a watch and dive computer. It can track your heart rate and the steps you take in a day and more.
It will also alert you to any text messages, emails, or calls you receive on your smartphone. Since the Descent MK1 is always tracking something, it's not surprising that it is constantly using up its battery. Thus, you should expect to be charging it a lot more than the other two devices.
Watch Functionality
When Watch Mode is selected, you will get access to the standard functions that you'd expect to find in a modern digital watch: date, time, stopwatch, timer, alarms, dual time zones, and so on. You can also customize the display by changing the color scheme and how the watch face looks.
Thanks to the sporty design of these watches, you proudly show off to the world your stylish dive computer slash daily wristwatch. At bars or social events, people will no doubt compliment you on the nice watch you have on your wrist. Little do they know that what you're wearing is more high-tech than a Rolex.
Strap Options
All three devices have removable straps so you can switch to a more comfortable, stylish strap for everyday wear. The included straps are standard length and suitable for the majority of divers, but you are free to purchase third party straps or watchbands for larger wrists.
Garmin Descent MK1 Straps
You have many strap options for the Descent MK1, from leather straps to silicone straps to metal straps, even a titanium one. The metal straps are better suited for everyday wear because they are stylish, but they don't hold up well in underwater conditions. Silicone straps are water-resistant and will feel more comfortable while diving.
The metal straps have a latch design so that they won't open when you are going about your daily life. They also have no give and can't stretch over a thick wetsuit or gloves, unlike silicone, which is stretchable and is perfect for underwater environments. Garmin has designed the Descent MK1 to have easily removable straps in anticipation of the constant switching one will do.
Suunto D5 Straps
Suunto has provided numerous colored straps, as well as leather and textile versions for various occasions, whether you are diving or at a social event. The D5 does not have any metal straps unless you can find some third party ones. We found it harder to change the straps for the D5 compared to the Descent MK1.
Shearwater Teric Straps
Rather than provide you with many strap options themselves, Shearwater have decided to make the Teric support a standard watch band size, so you can have your pick of any third party options and they should all fit since they are user-changeable. However, you need to have the proper tools to change the straps.
Dive Log
If you are someone that dives leisurely and just wants to enjoy the view at shallow depths, that is completely fine and a large dive log probably won't be a priority for you. However, if you care about your growth as a diver, the ability to track and look over numerous detailed logs of your past dives is invaluable.
Decades ago before dive computers became the norm, divers had to use pen and paper to log their dives. Furthermore, they also had to do all of their deco calculations on their own. Today, dive computers handle all of this for you and can display a neatly formatted, accurate measurement of your dive profile.
All three of the dive computers in this section have large internal memory capacity to store hundreds of dive logs which you can load onto your smartphone or computer for easier review.
Note: How many hours of diving/number of dives can be stored depends not just on storage capacity, but also how detailed the logs are. The more parameters a dive computer tracks, and also the sampling rate at which it records the data, will have an impact on how quickly the internal memory will fill up.
Suunto D5 Dive Log
The D5 can store 200 hours of dive data which comes out to roughly 400 dives. The data can be transferred from the dive computer to a smart device such as your smartphone, tablet, or Bluetooth capable computer, by using the Suunto Movescount cloud system.
Once connected to the software, users can view all of their past dives in more detail by displaying it in graphs, making notes, tagging their best dives, and so on. Since this is all done wirelessly, there's no need for cables.
Shearwater Teric Dive Log
Next, the Shearwater Teric has a larger dive log storage capacity. At a sampling rate of 10 seconds, the Teric can store up to 500 hours of dive data or 1,000 dives. Just like with the D5, the Teric also has Bluetooth connectivity that lets it connect to smart devices.
Using this connection, you can transfer data and also change the settings in the dive computer directly from your smartphone. The benefit of wireless connectivity is more than just not requiring cables, but you don't need to bring a bulky laptop or tablet with you anymore. Today, everybody has a smartphone. You can easily backup everything to your smartphone while traveling from location to location and you can travel light.
Garmin Descent MK1 Dive Log
We found the dive log capabilities of the Descent MK1 to be the weakest out of the three. We suspect the reason is that Garmin is new to the diving market, as they are normally known for their fitness trackers and smartwatches, which the Descent MK1 also is.
As such, its logs are also designed to track all kinds of activities, not just scuba diving. With that said, one advantage it has over the others is its heart rate monitor. This is a special feature that few other dive computers have, and it is missing from the Teric and D5. If that is something you are interested in seeing in your dive logs, then the Descent MK1 can provide that for you.
You can transfer the dive logs on the Descent MK1 to your smart device using Bluetooth.
Garmin Descent MK1 Special Features
The reason why the Descent MK1 is not nearly as powerful as the D5 and Teric in regards to its diving features is because it is also a general purpose fitness tracker and smartwatch. It is seriously impressive what Garmin have managed to fit into this watch-sized device.
Outside of diving, you can also use it to track other activities such as running, cycling, even golfing. It also provides location tracking thanks to its GPS connection. If you pair it to your phone, you can get notified about text messages, emails, and phone calls on the MK1's display.
Much like the Descent MK1, if you are an active individual who does more than just scuba dive, then perhaps you can overlook the compromises it makes in its advanced diving features if you can also take advantage of its activity tracking and smartwatch capabilities.
Overall
With that said, all three devices are excellent at what they do and will keep you safe during a dive. If you are a recreational or technical diver, you cannot go wrong with any of the three.
Out of these three, the Shearwater Teric is probably the best dive computer with watch functions. In terms of diving functions, it has everything the other two has, if not more. The Suunto D5 is the closest competitor in terms of diving functionality, however it loses out in terms of watch functionality.
The Teric has a very nice feature to change the screen to display different faces, giving users more options in how they wish to present themselves. On top of that, it provides wireless charging and can be used as a clock on your nightstand while charging.
As we mentioned above, the D5 has excellent diving functionality and basic watch functionality. It doesn't have all of the bells and whistles the Teric has, which is why it's a few hundred dollars cheaper.
The MK1 tries to sell itself as a jack-of-all-trades. If you can take advantage of its non-diving features, then it is truly worth the price. However, if diving is a priority for you, then the non-diving features of the Garmin Descent Mk1 just get in the way and are the reason why the Descent MK1 doesn't have some functionality for diving such as wireless air integration support.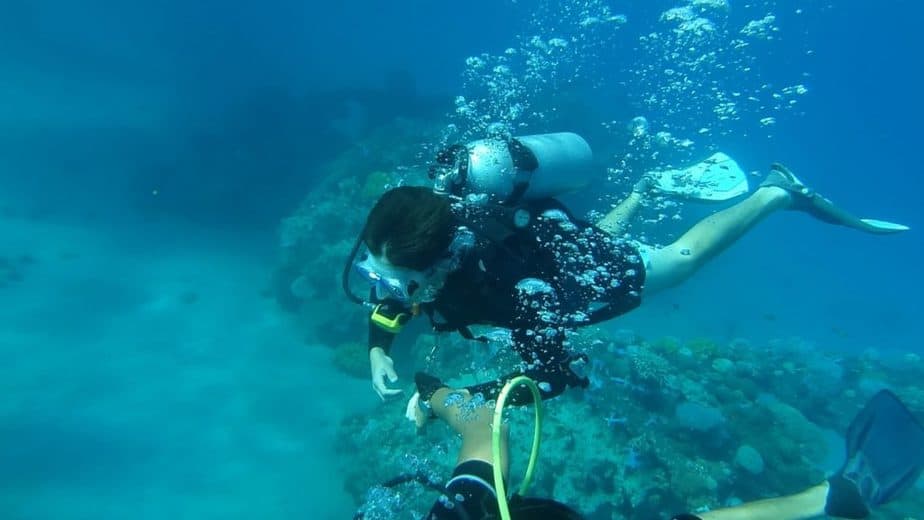 Frequently Asked Questions
What are the differences between watch dive computers and regular ones?
Other than the form factor and watch functions, there are not many differences because at the end of the day they are both dive computers. You can honestly do an apples-to-apples comparison between devices in similar price ranges and find almost no differences in functionality.
If price is a concern, watch dive computers tend to be more expensive, likely owing to their increased versatility and stylish looks. If you are not interested in the watch functionality at all, then look for a regular dive computer to save a few bucks.
Why should I buy a watch dive computer?
If you are serious about scuba diving but also don't want your investment to stay in storage most of the time, then a watch-style dive computer can provide the perfect mix of style and diving functionality. Whether you are hundreds of feet underwater or enjoying a night out on the town, you can keep the dive watch comfortably on your wrist.
Their compact form-factor makes dive watches such a joy to wear and travel with. One should always be looking to reduce weight and save space where luggage is concerned, particularly with how strict airline rules are regarding checked-in luggage these days.
Speaking of streamlining dive equipment, many dive watches nowadays have a built-in digital compass. I don't know about you, but there were plenty of times where I unpacked my bags only to realize I forgot the compass for the umpteenth time. That's no longer an issue now and it's one less measuring instrument I need to bring with me on a dive. Many compasses can even be used on the surface for land navigation.
Next, even if you are already content with your dive computer, a dive computer watch makes for a great backup device for fail-safe diving in case something happens to your main one. Once again, its small form factor is a benefit since it is less weight to worry about. Just be sure to find a dive watch with a similar algorithm to your primary computer.
Since you are always wearing it on your wrist, you will never forget to bring your dive computer with you while traveling.
Lastly, if fashion is your thing, then don't you think a nice watch just completes the look? People will be walking up to you to ask about your watch not knowing that it is also a fully-functioning dive computer.
What are the downsides of a watch dive computer?
Watch dive computers are not without their downsides. There are some things you should know before you decide to invest in one.
To start, divers who are visually impaired or who will be diving in low-visibility conditions may find the smaller screen and text size to be impossible to read. In a similar vein, the smaller buttons can be difficult to press with thick gloves on.
Additionally, since they are also designed to be worn on one's bare wrist, the strap size may be inadequate when worn over a thick dry or wetsuit.
Lastly, replacing the battery can be more cumbersome. Due to their small form factor, the parts are packed tightly together and therefore not designed for user-replacement. As such, many watch dive computers must be sent into a service center for an authorized technician to swap the batteries and do any necessary repairs. While you are waiting for it to be shipped there and back, you will be short a dive computer.
Best Watch Dive Computer Review: The Verdict
The best watch dive computer has the perfect mix of functionality and style that make it more than just a dive computer or watch. By satisfying both form and function, it is to the modern diver what dive watches were to early scuba divers.
Whether you just want a dive watch for beginners, or one that fulfills all of your technical diving needs, dive computer watches can stand their ground against their larger counterparts. With so many to choose from today, there are lots of options to help you find one that fits your style, diving needs, and budget.
Last update on 2023-03-27 / Affiliate links / Images from Amazon Product Advertising API