It's impressive how many features you can pack into such a small device nowadays, and Shearwater's first watch-sized dive computer, the Teric, has blown our expectations away. At first glance, you would think it's just a nice looking sports watch. However, the Teric is a high-end, full-spec technical dive computer that caters to the most serious divers.
The Teric has modes for all kinds of diving, from recreational scuba diving, freediving, and technical diving. Each operating mode is the complete package. The freediving mode, for instance, isn't something that was tacked on for marketing purposes; it was legitimately designed to fulfill the needs of experienced competitive freedivers.
As a bonus, the Teric is also a beautiful looking watch that is begging to be worn out of the water as well. It even has an accompanying watch mode so you can do just that. Honestly, we wouldn't be surprised if it also had a built-in laser cutter straight out of Goldeneye.
But seriously, let's look at what it has to offer.
Shearwater Teric At A Glance

Shearwater's first foray into the wearable dive watch design is with the Teric, and they've done a great job.
The Shearwater Teric has a stretchy and durable silicone black strap. Whether you are wearing a wetsuit, dry suit, or without a suit, the dive computer will stay firmly and comfortably around your wrist. Furthermore, an extender strap is also provided if you need the extra length to wrap around a thick wetsuit.
The strap is secured firmly to the main body of the Teric with stainless steel watch lugs. You can unscrew and replace these lugs using 1.5 mm hex screwdrivers which are included in the box, as well as spare lug screws.
Color-match the Teric with the rest of your Scuba equipment by choosing between Pink, Blue, White, Green, and Yellow dual-color wristband options. If you are not satisfied with the default 22mm strap, then you can replace them with third party options. The size should be compatible with most bands.
Display
The display is one of the most crucial things about a dive computer, since it is where your crucial dive information is shown. The Teric's display is made of sapphire glass which is incredibly scratch-resistant. There's not much that can scratch it besides tougher material like Diamond.
Furthemore, your eyes are treated to a visual feast thanks to the high-definition, full-color AMOLED display. It measures 1.39in (35.3mm) in diameter. The colors are vivid, and the deep blacks make the other colors pop out. You have the option of changing to the "BIG" layout for larger fonts if the default size is too small.
Navigating the Menus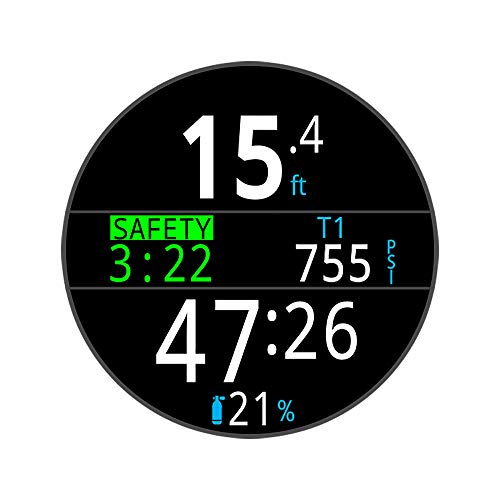 On the home screen, you will find the most important data such as the current depth, no-decompression limit, battery percentage, and so on. There is also a minimalistic compass in the form of a North arrow that is always hovering around the edge of the watch. You can customize the home screen to display tissue graphs on the edge as well.
Next, the Shearwater Teric features four menu buttons that are made from 316 Marine Grade stainless steel which has been extensively tested in cold water and can be used with dry-gloves on.
Shearwater dive computers have always had intuitive interfaces that are easy to navigate. One of the four buttons is programmable so that you can quickly access your favorite diving or watch tools, such as the compass, stopwatch, dive log, and so on.
As part of your pre-dive check, you should make sure that your dive watch is turned on and the correct mode is selected. Technically you don't have to enter dive mode manually, since the Teric can automatically activate dive mode once it's submerged. However, it's good practice to check the battery level and your dive configuration to ensure everything is optimal. With auto-on activated, the Teric will load up the last configured dive settings.
Operating Modes
The Shearwater Teric has five dive modes to select from: OC Rec, OC Tec, CCR/BO, gauge, and freedive mode. For each mode, you can select two customizable layouts.
OC Recreational Dive Mode
This mode is intended for no-decompression scuba diving. While active, the Teric can monitor three gas mixes, and only oxygen and nitrogen can be used (no support for helium). The OC rec mode also features a NDL bar graph and adaptive safety stop so you will know when to stop and stay within your limits while diving casually.
Open-Circuit (OC) Technical Dive Mode
This mode is intended for technical dives, such as planned decompression dives. You can have air, Nitrox, or trimix with up to five OC gases. The Time-to-Surface (TTS) is displayed front and center when using this mode and there are no safety stops.
Closed-Circuit/Bail-Out (CC/BO)
The CCR/BO mode was designed for tracking a closed-circuit rebreather with a quick switchover to Open Circuit Use and Bail-Out functionality. You can program up to 5 OC/5CC gases, and constant ppO2 is maintained in this mode to decrease decompression restrictions.
Gauge Mode
The standard Gauge mode that monitors depth, dive time, and has a resettable stopwatch and timer function. There is no decompression monitoring or tissue tracking while in Gauge mode.
Freedive Mode
The Freedive mode has special monitoring that tracks dive data pertinent to freediving. While in this mode, the Teric will have freedive focused screens, such as Max Depth and Last Dive Time featured on the home screen. It will also use the Big Layout by default. Like in OC Rec and Gauge mode, the right section of the home screen is customizable in the Big Layout.
Since decompression tissues are not monitored while Freedive mode is active, switching to and from Freedive mode will reset the deco tissues, so keep that in mind.
The sampling rate while in freedive mode is 4 samples per second to accurately and rapidly track your dive. Furthermore, its ascent and descent rate is displayed in feet per second (fps) or meters per second (mps) instead of per minute.
You can also set custom "Freedive Sets" which are alarms that trigger when certain conditions are met. By default, there are three presets: deep, pool, and repetitive.
Watch Mode
The Teric also functions as a wrist watch outside of diving. It even has a dedicated Watch mode which is automatically activated after 15 minutes out of the water. The watch mode adds a lot of versatility to how you can wear the device. You can choose between three watch faces: digital, analog, and orbits. You can also customize the color combinations for over 100 possible configurations.
Watch Tools
When Watch Mode is active, users get access to the Watch Tools. These are a set of features that provide all of the basic watch functions you'd expect a watch to have, such as Alarms, Timer, Stopwatch, different watch faces, and a Flashlight. You can also select between a 12-hour or 24-hour time format.
Alarms
You can set two independent alarms with an adjustable snooze duration. Both alarms can be scheduled to activate at various times, such as once a day, everyday, only on weekdays, or only on weekends. The Watch Mode alarms do not trigger the same notification settings as Dive Mode alerts so as not to distract you on a dive.
Timer
The Teric's timer can count down for a maximum of 10 hours, and will run even in the background. Once the count finishes, a DONE notification will pop up even if the watch has been turned off.
Stopwatch
Not exclusive to just the Watch Mode, you can access the stopwatch across all of the Teric's modes. For instance, starting the stopwatch in Watch Mode but then switching to Freediving mode does not interfere with the stopwatch; it keeps going until you manually stop it yourself.
The stopwatch is shown on the homescreen by default in Gauge and Freedive mode, but it can be customized to appear in every dive mode. Additionally, the stopwatch is capable of running for 24 hours in the background, has a 10 millisecond resolution, and will continue working in the background even if the device is turned off.
Flashlight
Despite the name, the Flashlight function really should not be used like a flashlight. When active, the Teric's screen changes to full brightness to provide as much light as possible in an emergency. It is not strong enough to illuminate the ocean depths, but it might be just what you need in a close-quarters, low-light environment such as a cave.
You can see how the Shearwater Teric compares to other watch dive computers in this comparison.
Rechargeable Battery
You can charge the Teric wirelessly using the induction charger that is included in the box. To make things more convenient, the Teric is also compatible with all Qi-compliant chargers, meaning the same wireless charger you use for your smartphone works with the Teric as well.
That's one less charger to bring while traveling, which saves on precious space in your travel bags. In dive mode, the battery can last approximately 30 hours and up to 50 hours in watch mode.
Optional Wireless Air Integration (AI)
The Teric can connect wirelessly to a PPS air transmitter and monitor up to two tanks. You do not need to purchase a transmitter in order to effectively use the Teric. A transmitter is not included in the price of the Teric and you will have to purchase it separately. You may decide to invest in a transmitter later on once you have grown more as a diver.
Many air integrated computers have to be synced with the transmitter each time you switch tanks. With the Teric, a transmitter can be permanently paired so you don't have to wait around waiting for it to sync.
Installing the air transmitter is simple. Each Shearwater air transmitter comes with a unique serial number. After you screw the transmitter into the first stage of the regulator, enter the serial number into your dive computer to pair the devices. You can even connect two transmitters to give you the option to track two tanks and let you do side mount diving.
Once the transmitter is installed, you can select which information that the transmitter tracks should be displayed on the home screen. You can also view the information on a separate air-integration info screen. The options are gas time remaining (GTR), surface air consumption (SAC), and T1 and T2 (tank 1 and tank 2).
Gas Time Remaining (GTR)
The is yet another metric to accurately track your dive limits (in addition to the no-decompression limit) so that you have an even better idea of how much time you have left at your depth before you need to ascend to the surface (at a maximum rate of 10m (33ft) per minute).
The GTR is constantly calculated in real-time to adjust to changes in your diving behavior, such as if you suddenly start swimming faster or if you change depths.
Surface Air Consumption (SAC)
The GTR calculations aren't possible without the SAC data. The SAC display tracks how much gas you are breathing in, and it will provide warnings related to how much gas time is left. To further inform you of when you should begin your ascent, the time will be displayed in yellow once five minutes or less of gas is remaining, and in red if you have less than two minutes remaining.
Bluetooth Smart Wireless Technology
All of the wireless tracking is possible thanks to Bluetooth Smart. The Teric can do a lot more than just support wireless air integration. With Bluetooth, you can also download your dive logs to your smartphone, tablet, or desktop computer. In other words, it is Windows, Mac, iOS and Android compatible.
In order to interface with your dive computer, you must first download the Shearwater Cloud Desktop or Shearwater Cloud Mobile from your phone's app store. Make sure Bluetooth is turned on on your phone/computer. Then, find your Teric in the list of scanned devices and it should be paired. Now, you can download your dive log and easily update your device.
Once the data is transferred to your preferred device, you have the option to view, edit, and sync your dive data. With Bluetooth, you can easily update your dive computer by letting the computer do the heavy lifting.
Wireless connectivity also means there is no need to purchase a USB connector to interface with your devices, which is common in many dive computers without wireless features. It is also great for traveling, since you will always have your smartphone with you to sync the dive log, but not necessarily your computer.
Customizable Features
Not everyone uses their dive watch exactly the same way, and thankfully the Teric has numerous customizable options so that you can make it your own. First, there is the option of which color straps you would like of which there are five colors to select from. Furthermore, the straps are a standard 22mm size, so you can easily swap it with a 3rd party option if you'd like.
Second, in Watch Mode you can choose between three watch faces, each with a slightly modified interface. Thanks to the color AMOLED display, there are 15 screen color choices to choose from, and the font color can also be configured.
Third, the home screen is where critical dive information is displayed. You can select between the 'standard' layout, and the 'big' layout. Divers with aging eyes should consider switching to the 'big' layout. In standard layout, you can independently customize which information is displayed on the home screen for each dive mode.
No matter which data you prioritize, the rest of the information is still available by scrolling through the computer. So non-critical dive information such as water temperature, your ceiling, maximum depth, etc., don't have to be on your home screen but they can still be accessed.
Fourth, to make things even more convenient, the Teric has a customizable function button. This button can be programmed to launch your most commonly used tool such as the gas switch or compass function with a single press of the button.
These features seem like they'd be hard to use. However, why do you think there are four buttons along the bezel? They are even labeled to remind you of their purpose, which is to help you easily navigate the interface. Within two minutes, we were able to figure out how to use the buttons to make our way through the menus.
Safety Features
Shearwater has a reputation for making some of the safest and most durable dive computers on the market. You want to make sure that your dive computer can withstand the rigors of the dive, but also provide you with reliable calculations and warnings that could save your life.
The Teric has numerous safety features, and a significant one is its audible and haptic (vibrating) alarms to warn you about low air, rapid ascents, and many other safety violations. You have the option of adjusting the frequency of the alarms or turning them off completely if you don't want to make any noise when spearfishing for example.
Next, the screen will also change color to visually indicate the severity of the warning. Green indicates the values are within normal ranges, yellow to indicate that you should be cautious, and red means danger. Examples of functions that can lead to these warnings are ppO2, CNS toxicity, no-decompression time, maximum operating depth reached, and so on.
The technical diving capabilities of the Teric also increase its safety factor. For instance, thanks to the Bühlmann ZHL-16C algorithm, you can see the gradient factors of the various compartments. Furthermore, you can customize the safety stops and it won't lock you out for violating a safety stop, though we don't recommend doing that.
Decompression Model
We briefly mentioned above that the Teric uses the Bühlmann ZHL-16C decompression model. The benefit of this model is that you can apply gradient factors to give you more control over where your deco stops should be.
For instance, you can adjust the values to have deeper first decompression stops and longer shallow stops. In general though, Shearwater recommends the default values be kept as they are unless you fully understand how changing them can affect your dive.
Maintaining Your Teric
Maintaining your Teric is not much different from other dive computers. Remember to thoroughly rinse your dive computer with fresh water to remove any salt residue and contaminants that remain after a dive. Do not allow salt deposits to accumulate.
Avoid using detergents or other potent cleaning agents because they may damage the Teric. We recommend using fresh water and at most mild soap to clean your device. Do not use high-pressure water to clean off the salt deposits, because the force can damage the depth sensor.
Once you are finished rinsing, let the dive computer air-dry in a cool, well-ventilated area away from direct sunlight. Leaving it exposed to the sun's UV rays can cause the strap to become brittle and crack.
Shearwater Teric vs. Other Dive Computers
The Teric is a high-end model and that is reflected in its price and features. It is intended to be used at the very highest levels of recreational, technical, and freediving. There aren't many dive computers that can match up to the Teric in terms of advanced capabilities, but the few that do are no slouches.
Before the Teric, there was the Perdix AI, another dive watch from Shearwater. The Perdix has reliable nitrox, trimix and rebreather capabilities, along with a maximum operating depth of 260m (850ft). You'll notice that the Teric also has these features, and more.
For instance, the Teric has a dedicated freediving mode, Timepiece Mode, configurable 4-button menu, haptic alarms, a scratch resistant sapphire crystal screen with AMOLED color display, numerous customizable options, and so on. Whether these features are important to you will decide whether you would rather pay more for the Teric, or go with the tried-and-true Perdix AI.
Read our full review of the Shearwater Perdix AI here.
Introduced in 2016, the Aqua Lung i450T has been a competitor of Teric's for many years. It's also a stylish wrist-mounted dive computer that provides numerous customizable features and convenience that the Teric is also known for.
The i450T has four diving modes, but it does not have the CC/BO rebreather mode and automatic features of the Teric's OC rec settings. The i450T has an easy to read segmented display, but no color options which the Teric uses to great effect to make the text pop out.
With that said, the i450T has excellent air integration, capable of controlling up to three transmitters, whereas the Teric can only handle two. It has a user-changeable battery as well, so experienced users can replace their own battery when the time comes.
For the most part, the Teric has superior specifications. However, divers who know exactly what features they need can get the i450T for much cheaper than the Teric.
Looking from a purely technical standpoint, it would appear that the Garmin Descent MK1 is the superior choice since it has similar functionality and it's cheaper. However, we think the MK1 is actually worse than the Teric in a few ways.
First is that the Descent's screen is small, even smaller than the watch-sized Teric's screen. We also found the Teric's buttons and menus to be more intuitive.
Second is that the Descent has a controversial function where it will lock you out of using the device if you miss a deco stop. The idea is that locking you out will prevent further diving and keep you safe, however it feels like you are being disciplined. Thankfully you can disable this feature, though it is on by default.
Third, it feels like the Descent is trying to be a jack-of-all-trades and master of none. It is a solid choice if you dabble in other water sports, but for technical diving we feel safer with the Teric on our wrist instead
Check out our full review of the Garmin Descent MK1 here.
The D6i Novo from Suunto is yet another reputable product that is in direct competition with the Teric. It has a similar price tag, though it precedes the Teric by a few years so it is less technically impressive than the modern Teric. However, it has been used by many experienced divers over the years and has been proven to be reliable.
The Teric has more features than the D6i Novo, such as its dive mode for CC/BO rebreather tech, however the Novo can also support a wireless air transmitter. The D6i's black LED screen cannot compare with the Teric's color AMOLED display.
It is also not as connected, since it does not have the Bluetooth connectivity that the Teric has. However, the user-changeable battery means one less trip to the dive shop every year.
Overall, the D6i is starting to get a bit dated when compared to the Teric, however it was one of the best for its time and is still good today. If you can find the D6i on sale, it may be worth your while to get it.
Yet another slightly older model, the Oceanic Oci is in a similar price bracket as the Teric and performs well and looks great as well. It doesn't have the color AMOLED display that the Teric has, but its wireless transmitter support is incredible.
For starters, you can control up to four transmitters, whereas the Teric only supports two. Additionally, the Oci package includes the transmitter, meaning for the same price as a Teric without the transmitter, you can get the Oci with it. If you desperately need air integration but lack the funds, well the Oci is probably your best bet.
It is an older model, but in regards to reliability and wireless transmitter capacity, it is as good if not better than the Teric. The Oci does not have as many features, but that might not be an issue if you have no need for some of them. There is no Bluetooth connectivity, so transferring dive log data and receiving firmware updates is harder.
But if you can take full advantage of the wireless air transmitters, then the Oci is an attractive option as well.
Shearwater Teric Technical Specifications
AMOLED color display provides excellent readability underwater.
Scratch-resistant sapphire crystal display.
Air/Nitrox/Gauge/Trimix/CCR/Freedive Modes.
Wireless rechargeable battery.
Maximum operating depth of 200m (650ft).
Air integration support.
Bühlmann ZHL-16C dive model with Gradient Factors.
Central Nervous System (CNS) tracking.
Switch between five gases in CC/BO and OC Tec mode.
Four buttons, including a configurable Function button so you can easily access your most used function.
Logbook memory capacity of 500 hours.
Ascent rate monitor and alarms.
Configurable audible and haptic (vibrating) alarms.
Shearwater Teric Review: The Verdict

Shearwater's first watch-sized dive computer is just filled to the brim with excellent features for CCR and technical diving. Whether you want to do some open or closed circuit tech dives, or you are a recreational diver looking to make that leap, the Teric is a device that will grow with you.
We like dive watches that include a freediving mode and the Teric seems to have something for every diver. Even freedivers and spearos can get the benefit of the haptic alerts and precision tracking.
In addition, the Shearwater Teric is stylish and is designed to be worn out of the water too. It has a comprehensive watch mode that lets you choose between three watch faces and various other watch functions. Whether you're hundred meters underwater or in a boardroom meeting with the Teric, it won't look out of place.
Pros:
Packed with great features for technical diving, including a wireless air transmitter.
Highly customizable. Nearly every setting can be adjusted in some way.
Suitable for every type of diving: recreational, technical, CCR, freediving, you name it.
Easy to navigate the menus thanks to an intuitive interface and four buttons.
Can be worn as a daily timepiece thanks to its stylish looks and Watch Mode functionality.
Bluetooth wireless technology means transferring the dive log and updating the device can be done easily on-the-go without the hassle of cables.
Can use your smartphone's wireless charging dock for convenient charging.
Cons:
Extremely expensive, especially if you also purchase a wireless transmitter. With that said, its features are really good and you get what you pay for.
Since it is watch-sized, it doesn't display as much information on its screen compared to larger dive computers. You are able to scroll to see the rest of the information.
Missing a heart rate monitor.
If you want to know how the Shearwater Research Teric compares to products in a similar price range, then check out our comprehensive review of the best air integrated dive computers.