If you are a recreational diver looking to get into more advanced diving or a technical diver looking to replace your air integrated dive computer, you are in the right place. In this review we go over the best air integrated dive computers currently on the market. We cover what each air integrated device on our list provides, and we have also written a comprehensive buying guide in case you want to do some additional research of your own.
Nowadays, air integrated devices are becoming more and more common. There may soon come a day when even dive computers under $500 or entry-level dive computers have them as well. As it currently stands, buying an air integrated dive computer is a major investment and one that you should not take lightly.
Let's go over what the top models currently on the market have to offer.
Our Top Picks:
Best Air Integrated Dive Computers Review
Shearwater Research Teric
Starting this review off is the Shearwater Research Teric, which is a highly versatile wrist-mounted dive watch with numerous gas options and dive modes.
The Teric was designed for recreational, technical, and even free diving. It supports both Nitrox and Trimix mixes and can sync with two wireless transmitters to track the gas mixes in two tanks for recreational and technical divers. Once you have paired the Teric with the transmitters, it will be permanently paired so you don't have to do it again each time you dive.
Next, the Teric comes with a full-color LCD display. The 1.39-inch high resolution display is a bit on the small side, but it still manages to make the data pop out thanks to its powerful backlight, deep black background and bright colors.
To personalize the device, the Teric is highly customizable and allows you to change the display layout so you can prioritize what to see. Each dive mode can be customized in this way. You can also switch between the 'standard' layout and a 'big' layout if you are having trouble reading the information.
To navigate the menus, you must use the four buttons located along the bezel. The buttons are spaced appropriately apart so that you can press them easily even with thick gloves on. One of the buttons is a customizable function button which you can program to open up the function you use the most.
Once you have logged enough dives into the logbook, rather than downloading the data to the computer using a cable, you can wirelessly sync dive logs to your smartphone or computer using Bluetooth technology. The Teric can also be wirelessly charged using the same wireless charger that smartphones use.
This feature means you can easily charge your dive computer even when you're travelling. Assuming your smartphone also uses a wireless charger, then you only need to bring one docking station for both devices.
Let's not forget that the reason the Teric looks the way it does is because it legitimately is also a stylish wristwatch. It even has a watch mode which gives you access to basic watch functions like a timer, stopwatch, two time-zones, and so on. It wouldn't look out of place in a boardroom meeting or when you're going about your daily life.
If the functionality of the Teric meets your expectations, but the wristwatch design and small size isn't to your liking, then you should consider the Shearwater Perdix instead (also covered in this review). It has similar functionality as the Teric, has a bigger display, and is aimed squarely at technical divers.
Pros:
Highly versatile; can be used for recreational, technical, freediving, and even doubles as a wristwatch thanks to its comfortable and lightweight design.
Has 6 diving modes including open-circuit and closed-circuit rebreathers, fixed PO2, and free diving.
Has audible and haptic (vibration) alerts.
Cons:
It is one of the more expensive dive computers at around $1000, and that is before factoring in the cost of the wireless transmitters.
You can read our full review of the Shearwater Teric here.
Shearwater Perdix AI
We can't talk about the Shearwater Teric without also mentioning the Perdix AI, which is a very famous air integrated dive computer that can be considered the Teric's big brother. In fact, the Perdix AI is the type of dive computer Shearwater is generally known for, and the wristwatch style Teric is the outlier.
Designed solely with technical divers in mind, the Perdix has a significantly larger display, making it incompatible for everyday wear. However, its technical features are nothing to scoff at: it supports CCRs, trimix, and multiple mixes. It also has wireless Bluetooth connectivity and a 3D compass.
The large display makes reading the data at a glance very easy. The interface is also highly intuitive as well. Thanks to its clear and simplistic design, you can easily check your gas pressure and remaining air time and various other parameters. Like the Teric, the Perdix supports connecting to two wireless air transmitters, which is ideal for tech and sidemount divers.
Unlike most dive computers which rely on rechargeable batteries, the Perdix is powered by disposable AA batteries which are easily user-replaceable. If you are fine with the recurring cost, keeping a pack of AA batteries on hand means you can keep swapping batteries and not worry about calling it a day when the battery dies.
The Perdix AI is capable of storing the last 1,000 hours of dive log data and has 5 open-circuit gas presets. Like the Teric, the biggest barrier to getting this device is its exorbitant cost; at around $1,000 without the transmitters, it is a costly investment.
Pros:
Designed solely with technical divers in mind.
Large display is easy to see all of the data at a glance.
Can store up to 1,000 hours of dive log data.
Supports two wireless air transmitters.
Supports five open-circuit gas presets, CCRs, trimix.
3D digital compass.
Cons:
Once again, the extremely high price tag can put a lot of people off. At around $1,000 without transmitters, it is one of the more expensive dive computers.
Runs on AA batteries, which some may find annoying to constantly replace.
Read our in-depth review of the Shearwater Perdix AI here.
Suunto D5
Sale
The Suunto D5 is a stylish wrist-mounted dive watch that supports many diving modes and comes with its own durable travel case.
At first glance, you can tell that this display is slightly bigger than most other wrist-mounted dive computers, and it has a vibrant LCD color display. As a result, the color options allow the readings to pop out, making it easy for divers to check their depth, decompression limit, and other critical data easily.
Since the D5 can also double as a daily wristwatch, it features a stainless steel bezel, numerous customizable colored straps, and a reinforced composite casing. In other words, not only does it look good, but it is extremely tough as you'd expect a dive watch to be.
The D5 has the following operating modes: air, Nitrox, freedive, gauge, and watch mode. While diving in air/nitrox, you can add up to three gases and switch easily between them. In freedive mode, you can set up to 5 custom depth notification alarms.
A stand-out feature of the D5 is its audible and haptic (vibrating) alarms which will shake when you are ascending too quickly. This is also great if you don't want to scare any fish away; just turn off the audible alarms but leave the haptic alarm on.
The menus have a simple design and it is easy to navigate through them to change settings and dive modes. Even beginners should be able to learn how to use the device easily, allowing them to focus their attention on actually scuba diving instead of tinkering with their device.
Furthermore, the D5 has a maximum operating depth of 100m (328ft), with a logbook memory of 200 hours of 400 dives. Transferring the data can be done easily through Bluetooth or the included USB cable. The sampling rate is fixed at 10 seconds, and 1 second in freedive mode. You can adjust the altitude between sea level and 3,000m.
If budget is a concern, then a slightly less feature-rich but more affordable air integrated option from Suunto is the Vyper Novo. The main differences are that it does not have a color display and due to its larger size, you can only wear it for diving. If missing those features are not an issue for you, then we recommend the Vyper Novo as the cheaper option.
Pros:
Vibrant LCD color display.
Select between numerous color silicone straps easily thanks to its quick release system.
Has haptic (vibrating) alarms which are less annoying and great for fish-watching.
Can be worn as a daily wristwatch thanks to its sleek design and watch mode.
Supports 5 custom depth notify alarms in freediving mode.
Large logbook memory that can be easily transferred using Bluetooth.
Has a 45 degree tilt-compensated digital compass.
Cons:
Suunto dive computers have a lockout feature on by default. If you ignore its ascent rate or deco stop warnings, it will lock the device into gauge mode for 24 hours, effectively forcing you to stop diving for the day. It's great for beginners, but annoying for experienced divers. You can turn this feature off.
The battery life could be better at only 6-12h of continuous diving.
Check out our full review of the Suunto D5 here.
Suunto Vyper Novo
If you want most of the features of the Suunto D5 but at a lower cost, then the Vyper Novo is a good alternative. The Vyper Novo is one of the more affordable air integrated computers, coming in at under $500 without the transmitter.
As you'd expect by how affordable it is, the Vyper Novo is designed with the recreational user in mind. In addition to its air integration support, it features all of the basic features like nitrox support, 3D compass, a rechargeable battery, backlight, and intuitive display with a four-button interface.
Due to its large screen monitor and high contrast, all of the information pops out despite not having a color display. You can change the units from imperial (feet) or metric (meter) to suit your preference.
There are four dive modes to choose from: air, Nitrox (3 gas mixes), gauge, and freedive. The Vyper Novo even includes a 3D compass that is tilt-compensated up to 45 degrees. While the Vyper Novo is primarily wrist-mounted, you also have the option of mounting it in the console.
The Suunto Vyper Novo has a resilient and rugged design which makes it good for diving but an eyesore if you plan on wearing it as a daily wristwatch. Its larger size means it is uncomfortable to wear out of the water, but at least you get more screen real-estate.
Furthermore, the Vyper Novo has a logbook memory of 140 hours (at a 20s sampling rate). You can adjust the sampling rates from 10/20/30/60s or 1/2/5s in freediving mode, though this will use up the logbook memory much more quickly.
The backlight duration is configurable to last for 5/10/20/30/60s or turned OFF. The battery is user replaceable and needs to be replaced once every 1.5 years, or 150 dives. The Vyper Novo has a maximum operating depth of 80m (262ft).
Overall, the Vyper Novo is a good mid-range dive computer for recreational divers. It can grow with divers by introducing inexperienced divers to new features. Eventually, divers can decide to get into technical diving by taking advantage of the wireless air integration support. In the future, divers can upgrade to the more advanced Eon Core/Steel and reuse the Suunto Tank PODs for an easier transition.
Pros:
It is one of the most affordable air integrated dive computers you can buy.
Has a tilt-compensated 3D compass.
Dive-planning mode helps you plan for future dives.
User-replaceable battery saves a few trips to the service shop.
Numerous customizable settings, including sampling rate, backlight duration, and changing between units.
Cons:
Must use USB cable to transfer dive log data; no Bluetooth support.
The audible beeps have a high frequency where some older divers report having difficulty hearing them.
You can read our full review of the Suunto Vyper Novo here.
Scubapro Galileo Luna
SCUBAPRO Galileo Luna Complete
Hoseless gas integration, Full-Tilt Digital Compass with Bearing Memory
Extra large Dot-Matrix Display, Updatable Processor that can be Reprogrammed via Infrared by the User
EN Certification to 1082 feet (330 meters)
The Scubapro Galileo Luna is starting to become somewhat dated, however we argue that its reliability and functionality has stood the test of time. Even a decade later, it still holds strong, and here's why.
To begin, the Galileo Luna has an extra large dot-matrix screen with three display options. You can choose from classic, full, or simplified depending on how much data you want the screen to display. Selecting the simplified display just means what is shown is displayed at a larger font, which is great for older eyes.
Next, navigating the Galileo Luna's menus is straightforward with its three-button setup. The interface is kept clean and simple so that there is little to no confusion when you want to change settings, and this device definitely has some neat features that you want to tinker with.
For instance, the Galileo Luna has a micro-bubble setting with five levels to select from, and this allows you to track the accumulation of nucleus-sized bubbles that will appear in one's body during a long dive. While these micro-bubbles won't result in decompression sickness, if enough build-up in the body then it may become serious.
You may have heard of another similar product by Scubapro, the Galileo Sol, and you may be wondering what the differences are between these two products. The Galileo Luna contains all of the core features of the Galileo Sol, with the exception of the Predictive Multi-Gas feature and heart-rate monitor. You are able to purchase these upgrades for the Luna, however if you don't need them, then you can save the money.
Additionally, the Galileo Luna runs on the ZHL8 ADT MB algorithm that allows you to program a nitrox mix up to 100% oxygen. The conservatism of this algorithm can be adjusted by changing the aforementioned micro-bubble levels, letting you tweak the algorithm to suit your age, experience level, and physical condition.
The Galileo boasts some impressive numbers when it comes to its maximum operating depth at a whopping 330m (1,082ft) and huge logbook memory which can track the last 100 hours of diving. Its battery is nothing to scoff at either, as it runs on the user-replaceable CR12600SE or CR2NP battery that can last 3-5 years (300-500 dives) before it needs to be changed.
Some other features that you may be interested in are its active backlight, bookmark function, full-tilt compass with bearing memory, optional Trimix algorithm which can be downloaded from the Scubapro website, as well as freediving and gauge modes.
Pros:
Large dot-matrix screen is easy to read, with three display options which lets you customize the way the data is presented.
Screen can be rotated 180 degrees to adjust how you like to wear the device.
Micro-bubble tracking.
Freediving and gauge modes.
Maximum operating depth of 330m (1,082ft), several times the depth of other dive computers.
User-changeable battery, which only needs to be replaced once every three to five years or after 300 to 500 dives.
Cons:
There are numerous optional upgrades for the Galileo Luna, such as its Predictive Multi-Gas upgrade (unlocks support for three nitrox mixes) and Heart-Rate Monitor upgrade. They are available for purchase, but it leaves a bad taste in the mouth knowing that Scubapro could have simply included this in the first place.
Only supports one nitrox mix by default.
Aqua Lung i450T
The Aqua Lung i450T is a wristwatch style air integrated device that features an intuitive design and menu navigation along with a patented Gas Time Remaining Algorithm which provides accurate real-time gas management.
At first glance, you can see that it has a round LCD display with a clean interface, large font size, and strong backlight to help you read in low-visibility conditions. What you might not know is that the finish is made of durable PVD, which means this device can shrug off a few impacts without issue.
Underneath the hood, this watch is a powerful dive computer with four dive modes: Air, Nitrox, Gauge, and Free Dive. Its Nitrox mode can track three air Nitrox mixes as well as support three wireless transmitters to give you the individual PO2 points for each mix. Also, once you pair the transmitter(s), they are permanently paired and you don't have to worry about pairing them in future dives.
Since the i450T is so affordable on its own, you could even purchase a wireless transmitter and it would still be cheaper than the Shearwater Teric or Perdix AI without a transmitter, for those who are on a tight budget but still want air integration support.
Some additional advanced features include a digital compass, which also supports a return bearing lock, North reference, and declination adjustment. Another feature is its watch mode for the days when you aren't diving, which includes lap timer,alternate time zone, stopwatch, countdown timer, and daily alarm.
Plan for future dives using the pre-dive planning feature, which allows you to confirm your no-decompression limits and see what the watch has in store for your next dive.
This particular model does not have Bluetooth capability, however it does come with a USB cable which is a nice gesture. However it is slightly soured by the fact that if you want to transfer your dive log data to your computer, you will have to purchase its DiverLog software separately for more features.
Overall, the Aqua Lung i450T is one of the more affordable air integrated dive computers that even includes a freedive mode. It can also be worn out of the water as your daily wristwatch thanks to its stylish looks and advanced watch functionality. It is the perfect air integrated dive watch for recreational divers on a budget.
Pros:
Sleek and sporty watch design with a durable PVD finish so you don't have to hold back while diving.
Supports three nitrox mixes and three wireless air transmitters with individual PO2 points for each mix.
Intuitive menu that is easy to navigate and browse even in low-light conditions.
Automatic altitude adjustments and real-time calculations let you focus on your diving.
Has a digital compass with many navigation features.
Has a freedive mode and watch mode.
Very affordable; you could buy both the dive watch and a transmitter and it'd still be cheaper than the more expensive air integrated dive computers.
Cons:
The digital compass is slow and difficult to use, though functional.
The screen protector can somewhat obstruct the display.
Suunto Eon Core
If you're in the market for an air integrated dive computer with a large, high-resolution screen display, then consider the Suunto Eon Core. Thanks to its generous screen real estate, it will display your total depth, depth with no decompression, dive time, tank PSI, and much more. It is very easy to read the display thanks to the color display which contrasts well against the deep black background.
Diving with multiple gases shouldn't be a problem with the Eon Core, since it can connect and track up to 10 gas mixes using 10 different air transmitter PODs. This is perfect for scuba dive instructors that need to monitor the remaining air time in their students' tanks. Just connect the transmitters to the first stage regulators on 10 tanks to do so.
With Bluetooth technology, it's a straightforward process to sync the log data from the device to your smartphone, computer, or tablet after each dive. Using the wireless settings, you can also change the settings on the Eon Core if you don't like fiddling with the device itself.
In order to sync the Eon core with your smartphone, you will first need to download the Suunto Movescount App. There are many features included, such as dive planning and the ability to customize the display, among others.
The Suunto Eon Core is on the higher end of the price range since it is designed with experienced technical divers in mind (I just don't see how a beginner could make full use of tracking 10 different tank PODs).
A very comparable dive computer is the Suunto Eon Steel, which is also often recommended. In terms of technical capability, there aren't many differences between the Eon Core and Eon Steel. The main differences are in terms of size, with the Eon Core being smaller and lighter, and in terms of operating depth, with the Eon Steel resisting water pressure up to 150m (492ft) vs. 80m (262ft) for the Eon Core.
The Suunto Eon Core is very obviously designed with experienced, technical divers in mind. Its main selling point is its support of up to 10 separate Suunto Tank PODs for unparalleled gas tracking. Recreational divers are unlikely to have the need nor the budget to do so.
Pros:
Large, high-resolution color display is extremely easy to read and the always-on backlit LED display helps with viewing the display underwater.
Buttons are easy to press, even with thick gloves on.
Features a tilt-compensated 3D digital compass for superior navigation.
Suitable for nearly every type of technical diving, including air, gauge, Nitrox, Trimix, and fixed-point.
Track up to 10 gas tanks; perfect for Scuba instructors monitoring a group of students.
Easy to sync data, update the firmware, and customize the settings using the app and Bluetooth technology.
Cons:
Extremely expensive, especially if you want to take advantage of tracking 10 different tanks.
To get all of the functionality, you need to use two apps: the Suunto app (to transfer dive log data) and the SuuntoLink (for firmware updates) which is somewhat annoying.
Mares Smart Air
Sale
Mares Smart Air Dive Computer Wrist Watch with or Without LED Transmitter (Black with Transmitter)...
Now with Air Integration Technology, Optional with or without Hoseless Transmitter, Simplistic Interface Design, 3 Gases Ranging from 21% to 99% O2,...
Doubles-As-Watch: Dual Time Zones, Alarms, & Calendar, Customizable Audio Alarms, Surface Interval Countdown & Residual Nitrogen Reset, Dive Log...
User Replaceable CR2450 Battery, Battery Life of 100 to 150 Dives, LCD Segmented Display & Backlight for Optimal Visibility, Memory Capacity: 95...
Not to be confused with the plain ol' Mares Smart, the Smart Air is a more advanced version capable of supporting air integration. It can transmit the tank data for up to three wireless air transmitters to help you accurately track your true remaining air time. Beyond that, the Smart Air supports 3 gas mixes and has a larger logbook capacity than the Smart.
While the original Mares Smart is considered to be an entry-level dive computer, it is still a very capable device on its own right, and now it has air integration support. Beyond that, its three-row layout is very clean and displays all of the relevant data including your tank pressure. Two of its fields can be customized to display ancillary information.
The Smart Air has four dive modes: air, Nitrox, gauge, and freediving, and a watch mode as well. It supports three gas mixes up to 99% oxygen and allows you to switch freely between them during a dive. The logbook is capable of storing the last 95 hours of diving information.
Make sure your future dives go just the way you want them to with the decompression dive planner. Know exactly what the no-decompression limit is for your future dives, and thoroughly plan out your surface intervals. The planner will factor in your recent dive profile to make accurate predictions about your next dive.
For those who like to dabble in freediving, the Smart Air comes with a dedicated freediving (apnea) mode with numerous dedicated depth alarms that will notify you as you reach those depths. The Smart Air also comes with a stopwatch and bottom timer mode with resettable average depth.
When you're not diving, you can also wear the Smart Air as a wristwatch since it comes with complete watch functions. We also like how it has a user-replaceable battery, which will save you some time and money if you know how to perform your own maintenance.
To top it all off, the Smart Air is highly affordable. If you can catch it on sale, you can get a Mares Smart Air with transmitter included for a bit over $500. For divers who are looking for air integration on a budget, or for those who are looking for a dive computer that they can grow with, this is a great starting point.
Pros:
It is one of the more affordable dive computers even with the transmitter included.
Segmented dot-matrix display provides excellent clarity in what is shown.
Easy to read three row layout that can be customized to display the parameters that you prefer.
Comprehensive decompression dive planner.
Automatic altitude adjustment.
Powered by a user-replaceable CR2450 lithium battery, which is widely available for purchase for cheap.
Seriously, it's really affordable as far as air integrated dive computers are concerned.
Cons:
Automatic sync doesn't always work, but can be done manually.
The backlight is not very bright.
Strap is on the short side, so consider purchasing a strap extension.
Check out our full review of the Mares Smart Air here.
Scubapro G2
Scubapro G2 Wrist Dive Computer W/Transmitter and HRM
Computer, Molded Case, Read First Manual, 3M Foil Screen Protector, USB Cable, Retractor Clip, Transmitter, Heart Rate Monitor, Owner Manuals
Scubapro G2 Dive Computer, Transmitter and Heart Rate Monitor:
Complete System to Monitor Dive & Heart
The Scubapro G2 features a full-color screen with numerous color-settings and diver-friendly functionality. It wouldn't have made it onto our list if it didn't also have an intuitive and easy-to-read interface.
You can easily navigate the menus using its 3-button operation that lets you enter each menu and change settings efficiently. The readings are very visible thanks to the 320 x 240-pixel resolution, 2.2 inch display.
Let's dig into what the G2 can actually do. It was designed for both recreational and technical diving in mind, so it was a wide range of features. It has the following operating modes: Air, Nitrox, Gauge, Trimix, CCR & sidemount.
Using the wireless transmitter is straightforward and you can track up to 9 tanks. It will blink colors that correspond to the remaining air pressure in the tank. Green means full or high air pressure, yellow means midway, and red means low on air. The benefit of this is that it is easy for your dive buddy to notice your air pressure just by looking at the transmitter.
You can select between four dive screen templates to see as much or as little dive information as you'd like. You can even change the menu listings, colors, and orientation to suit your preferences.
But what truly makes the Scubapro stand out is how detailed it can calculate your diving profiles. Few diving computers can say that it factors in the wearer's heart rate, skin temperature, current water temperature, and breathing rate for the most accurate no-decompression limit.
Furthermore, the Scubapro G2 is extremely long-lasting. Its rechargeable battery can last for up to 50 dives, and you can store up to 1,000 dive log hours thanks to tsi 485mb internal memory. When you want to transfer this data to a smartphone, you can do so easily via Bluetooth and their LogTRAK app, or to a computer with the included USB cable.
The Scubapro G2 runs the ZH-l16 ADT MB PMG algorithm, and despite its confusing name, it is a very reliable algorithm that will provide the most accurate calculations to keep you safe. The maximum operating depth of the G2 is 120m (394ft).
If you are the type of person who is meticulous about tracking data and want the most accurate dive profile, the Scubapro G2 provides truly one-of-a-kind dive profiles. It is quickly becoming a favorite for recreational and technical divers alike, and that is thanks to how reliable this device is. If you prefer, the Scubapro G2 also has a console-version as well.
Pros:
One of the most advanced diving profile calculations ever, which factors in heart rate, breathing rate, water temperature, and even skin temperature.
Supports 9 transmitters and 8 gas mixes.
Supports Trimix and Nitrox up to 100% oxygen.
Extremely long battery life.
Can store 1,000 hours of dive profiles.
Full-color TFT display that is easy to read.
Digital compass built-in.
Cons:
Blocky shape and plain interface; more effort could have been put in towards improving the aesthetics of the device.
For our full review of the Scubapro G2, click here.
Oceanic OCi
The Oceanic OCi can be used by divers of all experience levels, but experienced divers will be the ones to take full advantage of this high end device.
To start, it is an air integrated wrist dive computer with a clear LCD display. You can get your essential information at a glance, such as the dive depth, no-decompression limit, remaining dive time, variable ascent rate, and more. Any ancillary information, such as water temperature, can be accessed by toggling the screens.
There's a lot of features packed into the lightweight housing of the OCi. For instance, the OCi runs on Oceanic's innovative dual algorithm technology, allowing you to switch between the Pelagic DSAT or Pelagic Z+ algorithms. The Pelagic Z+ is the more conservative of the two algorithms, so switch to DSAT if you want more bottom-time.
Additionally, the algorithms can support switching between and tracking 4 gases, calculate nitrogen accumulation during a freedive, switch between salt or freshwater calculations, and even automatically adjust your altitude settings. To sweeten the deal even more, the OCi features a built-in digital compass and customizable alarms.
If you forget to manually start tracking a dive, then after a brief delay the OCi will automatically start tracking your dive. Should you feel the algorithms are too liberal, you can customize the safety factors to be more conservative.
With the wireless transmitter installed, you can receive real-time updates regarding your Air Time Remaining and Dive Time Remaining based on the tank data. The OCi will factor in your current depth, breathing rate, tank pressure, ascent time, and decompression status to accurately display how much air time you have left.
By taking into account the Air Time Remaining as well as your nitrogen and oxygen absorption, the OCi will display either the Air Time Remaining or Dive Time Remaining, whichever has the lesser value. In other words, you can get the most accurate estimation of how much longer you can stay underwater.
Outside of diving, you can even wear it as a wristwatch. No need to stow it in your gear bag with all of your other scuba equipment. Just activate the advanced watch functions and take advantage of the lap timer, stopwatch, daily alarm, dual time zone, and countdown timer.
Some other features are: a variable maximum operating depth of 150m (495ft) in freedive mode and 100m (330ft) in NORM mode, a user-replaceable CR2450 battery that can last for 300 dive hours (~150 dives),  ascent rate alarms, log capacity of 24 dives, and much more.
Pros:
Multiple display options.
Innovative dual algorithm technology: switch between the Pelagic DSAT or Pelagic Z+ algorithms.
Supports 4 gas mixes.
Automatic altitude adjustments and dive tracking.
Numerous alarm options.
Cons:
Small display.
Logbook capacity is even worse than some entry level dive computers.
Battery needs to be pressure tested when swapped.
You can check out our full review of the Oceanic OCi by clicking here.
Air Integrated Dive Computer Buying Guide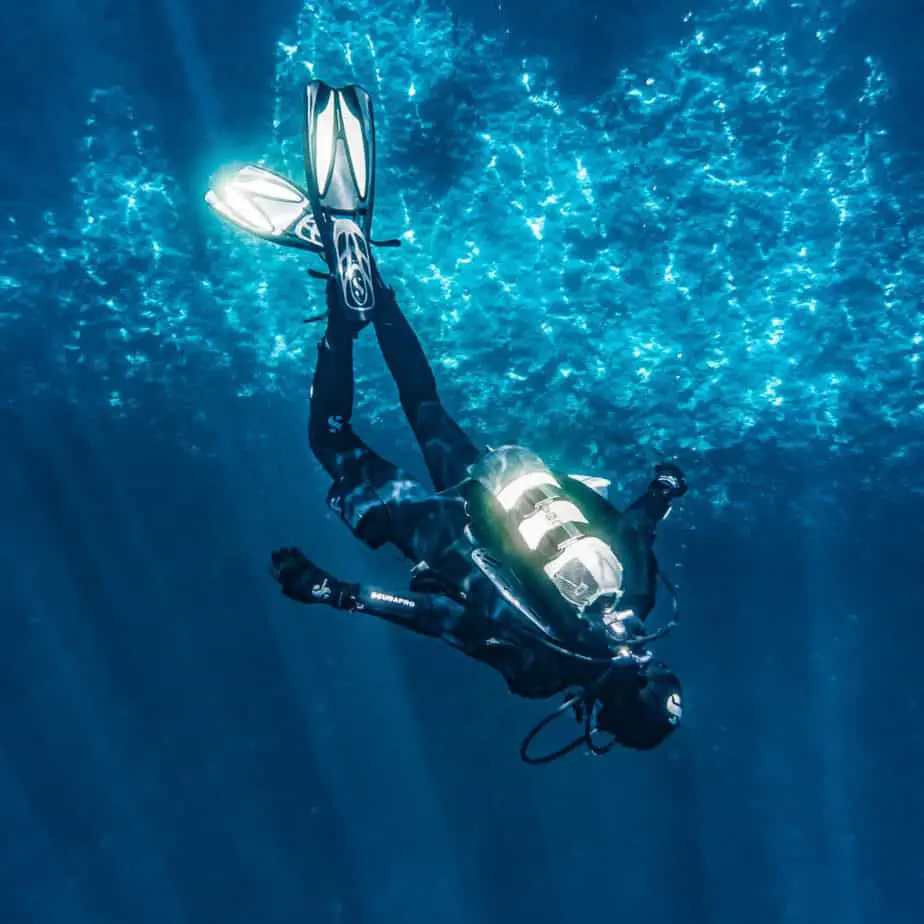 Whether you're a casual scuba diver or a seasoned vet, you will be relying on a dive computer to track your stats and provide you with warnings to keep you safe. Since your life literally depends on it, selecting the right one is a big decision. Every few years new innovations are made in dive computer technology, and one that has become a staple in high end models is air integration support.
All dive computers come with basic but essential functions that monitor your current depth, time, maximum depth, no-decompression time, water temperature, and so on. Other vital features include alerts for deep stops, safety stops, and ascent rates. If you are looking to get into technical diving, you can add another feature to this list: air integration (AI).
Air integration helps you to easily monitor the remaining air in your tanks. Before air integrated computers, divers had to use a submersible pressure gauge (SPG) to monitor how much air was remaining in their scuba cylinders. Even though air integration has made the SPG somewhat redundant, some divers like to keep it around as backup in case one fails.
On the other hand, some divers prefer to treat their air integrated computer as a standalone device and to have a leaner setup. It is up to you whether you want to use both an SPG with air integration or to streamline your gear by using only a wireless air transmitter.
Air Integration Setup
Dive computers with air integration support are capable of monitoring the air pressure (PSI/BAR) and calculates the time remaining for each tank. It tracks this data in one of two ways:
Via Wireless Air Transmitter
This setup is the more popular of the two. A wireless transmitter is screwed into the first stage and then paired with your device. Your dive computer will begin to receive the data from the transmitter and you can get an accurate reading of your remaining air from your wrist-mounted dive computer.
A major advantage for wireless transmitters is that some dive computers allow more than one transmitter to connect to it. This allows you to track more than one tank at a time. If you are a scuba instructor, you can even track the tanks of your students to get an idea of how they are doing.
Many divers prefer the wireless option because they want to lessen the amount of hoses that are on their regulator set
Via Hose
For this option, a hose is connected to your first stage and there is a pressure sensor attached to the hose. The tank information is then sent to a console-type dive computer which is often worn on a boot.
Divers that are using this setup need to make sure that the regulator is safely stored so the dive computer will stay out of harm's way, since the dive computer is always attached to the regulator. A high-pressure disconnect feature is useful so that divers can quickly remove the dive computer from their regulator after each use.
Depending on personal preference and experience, divers can decide for themselves which style they prefer to safely accomplish their diving goals.
Price
Not all dive computers come with air integration support. Dive computers with air integration support are significantly more expensive than computers without it. This is not even accounting for the extra cost of the transmitter itself, which may be included as part of a package or must be purchased separately.
When you purchase an air integrated dive computer, you do not have to purchase the transmitter right away. The dive computer will still function without it. Think of purchasing an air integrated dive computer as an investment. You can use it for a while and grow with it. In the near future when your skills have improved, you can purchase a wireless air transmitter.
Wrist or Console-Mounted?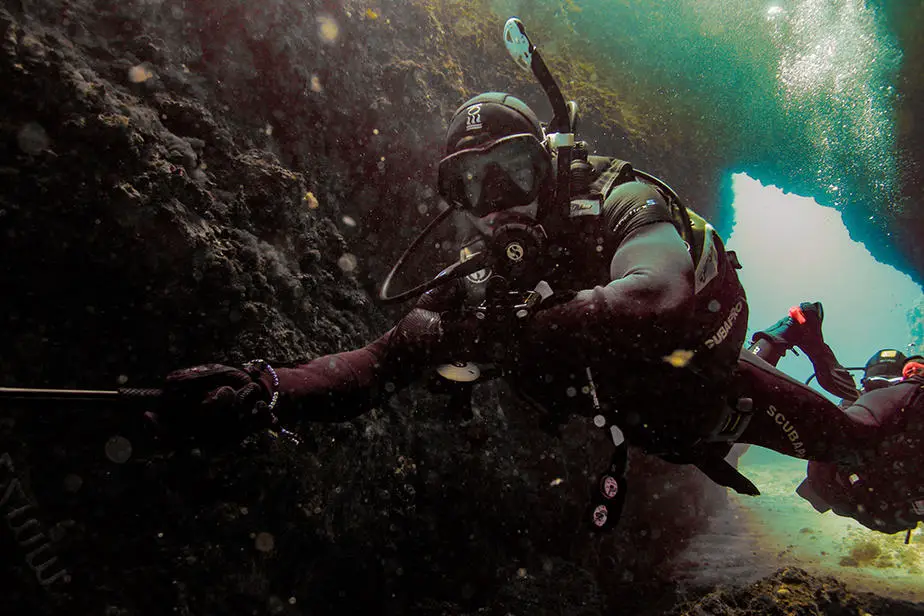 Wrist-Mounted
There are two types of air integrated dive computers: wrist or console type. Wrist-mounted dive computers are usually very compact and worn like a watch. They often have a dedicated Watch mode which gives you access to normal watch functions.
Wrist-mounted devices connect wirelessly to the air transmitter which is installed on the high-pressure port of the first stage regulator. This option provides the ultimate in comfort and freedom by eliminating the need for a high-pressure hose.
One downside of the smaller watch design is the reduced screen size which makes it harder to see the readings underwater, particularly in low-light conditions.
The upside is that wrist watch style dive computers come equipped with more features suited for technical diving. For instance, many brands include a wrist strap extender or bungee wrist strap to make it easier to wear the device over a thick drysuit or wetsuit.
Furthermore, the low-profile design of the dive watch means it can be worn as a daily timepiece outside of diving. They may also come with watch features like two timezone settings, stopwatch modes, and wake-up alarms.
Console-Mounted
Conversely, the console mounting is embedded to your dive console which is then attached to the high-pressure hose. While the high-pressure hose may be seen by some as a nuisance, they are generally more dependable than wireless setups in cases of transmitter failure.
Redundancy
Prior to getting an air integrated dive computer, you may have only been using your SPG as your only air monitoring instrument. With an air integrated device, you may be tempted to have only one or the other. As we mentioned above, there's no reason why you can't use both.
An SPG can complement your air integrated dive computer and we cannot stress how important it is to have a safeguard in case one or the other fails. Imagine being over 100m underwater and not having a clear idea of how much air is remaining in your tank. It can be anxiety-inducing and will mark the end of your dive.
Display
The larger a dive computer is, the more screen real estate you have to view all the graphs, bars, and numbers on the device. After all, air integrated dive computers do more than just track your tank pressure; they also track other important parameters like dive time and depth that you should also keep an eye on.
It is crucial that the dive computer has a clean interface so that you can easily read and understand the information presented at a glance. Some high-end models will have high-resolution color displays to make the dive data pop-out.
Multi-Gas Support
The standard base gas used in scuba diving is air. However, technical dive computers and even some entry-level dive computers support diving with multiple gas mixtures. If you want to improve as a diver, you may want to learn how to take advantage of this feature. Air integrated dive computers support many gas mixtures and tracking them is a lot easier with air integration.
Any decent air integrated dive computer should be compatible with air and Nitrox, and some can even handle Trimix. For technical divers, consider getting a dive computer that supports a large number of multi-gas variations that includes Nitrox 40 and Trimix. However, if you are just a recreational diver, then there's no need to get a dive computer that supports switching between a large number of gas mixes.
Navigation Features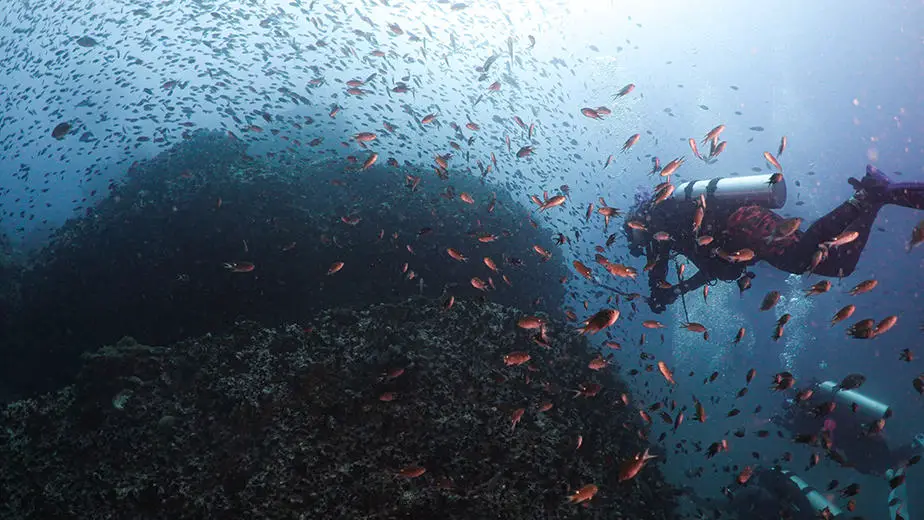 Some additional high-end features that are often included in high-end air integrated dive computers are a built-in compass and GPS. With a built-in compass, you do not need to bring a bulky analog compass with you.
The compass is usually quite minimalistic. Typically an arrow pointing towards true north will always be present along the edge of the screen. However, not all digital compasses work the same, so check the manual to see how yours works exactly.
Some dive computers have a more advanced compass, known as a 3D digital compass. It provides greater guidance on compass direction compared to normal digital compasses. You should keep an eye out for tilt-compensated 3D digital compass functionality on your air integrated device. This feature is generally offered on computers with a larger display.
Logbook Capacity
All dive computers, including entry-level ones, have a logbook that stores your most recent past dives. How detailed the logs are depends on how many parameters your dive computer tracks and also the sampling rate. The sampling rate is the frequency at which data is logged, and faster sampling rates means more detailed logs that take up more space.
If tracking your data is important to you, then you need to look for a dive computer with a large logbook capacity. You should expect a high-end dive computer to be able to store at least 100 dives in its log.
When your dive computer runs out of space, it will start to delete the oldest logs to make space for the newest one. Before this happens, make sure to download the data to your smartphone or computer. Most air integrated dive computers should support wireless Bluetooth transfers so that you can download the data without using a cable.
Otherwise, you may have to purchase a USB connector separately just for this luxury. If a dive computer has wireless features, then that is a huge plus since it means one less cable to worry about.
Bluetooth Connectivity
When you are traveling abroad, you can bring your laptop with you if you'd like, however almost every single person will be bringing along their smartphone. In this day and age, it's rare to find someone who doesn't own a smartphone and for good reason. They are compact and can do basically everything a computer can do, like connect with your dive computer using Bluetooth.
Bluetooth lets you download the dive log data to your smartphone or computer without the need to use a USB cable. You can also use it to install firmware updates and change the settings on your dive computer through your phone or computer.
To begin transferring, you will first need to install the respective software or app on your smartphone or computer to interface with your dive computer. The software should allow you to analyze your dive data in greater detail and plan for future dives. Make sure the software or app is compatible with your device. Some apps have more functionality in their iOS counterpart than Android, for example. For computers, double check that the software can run on Mac/PC/Linux.
After you have installed the app and transferred the dive log data, there are more options available. For instance, you can choose to display your data in bars and graphs. There may be options to add notes, or to share video, pictures, and the dive log data with your family and friends on social media.
We really appreciate dive computers that have wireless capabilities. After using one, it's hard to go back to using anything with cables. The convenience of having complete access to your dive computer in the palm of your hands cannot be overstated.
Freediving/Spearfishing Modes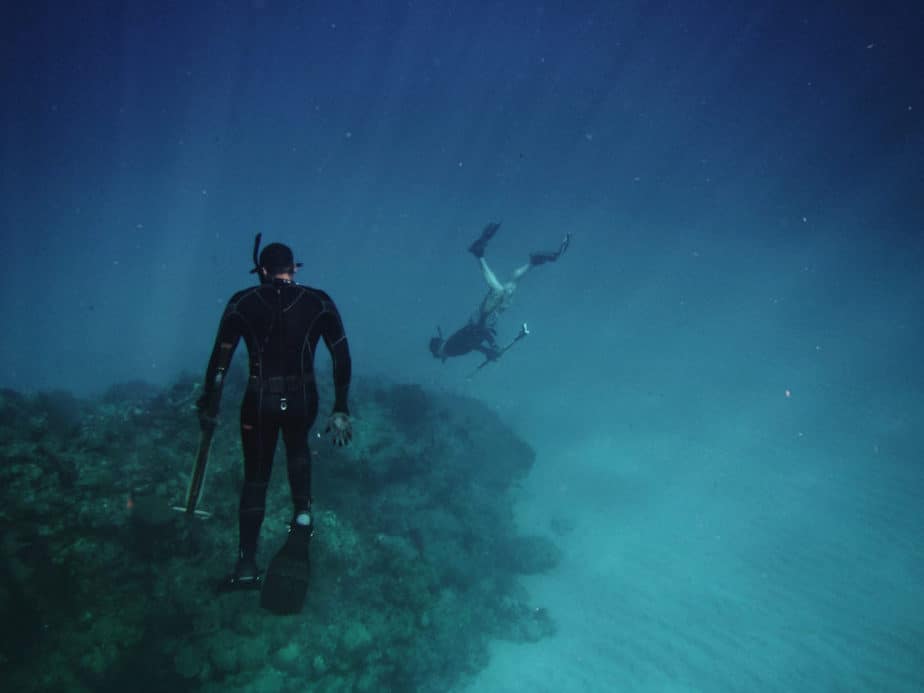 Air integrated dive computers are top-of-the-line devices, and many companies are eager to impress by packing in as many features into their computers as possible to justify their $1,000+ price tag. In some dive computers you may find dive modes dedicated to freediving or spearfishing.
The benefits provided by the freediving mode (sometimes labeled simply as FREE or Apnea) are faster sampling rates and more control over alarms.
Faster sampling rates are essential since a freedive only lasts a few minutes at most. Therefore each second that passes, a lot is happening underwater that needs to be logged. This also means that the logbook will quickly reach capacity due to the highly detailed logs from freediving.
Many freediving modes give you extra alarms to work with. You can set numerous depth alarms that alert you when a certain depth has been reached to help you pace yourself and get an idea of your progress.
In spearfishing mode, the alarms will provide haptic (vibrating) warnings instead of the usual audible and visual warnings. This will allow you to still receive the warning without alerting nearby fish to your presence.
Keeping Expectations In Check
Even though air integrated dive computers are high-end models with advanced features, that does not necessarily mean that they have all of the bells and whistles. You can expect a baseline level of performance and functionality, such as gas switching or a compass. However, here are some features that might not live up to your expectations.
Varying Levels of Detail in Tracked Dive Data
If you are a data junkie, then you will have to pay close attention to the sampling rate and also the data analysis functionality of the device and respective interfacing software. They are not all equally detailed. If you are really into dive planning, look into getting a Shearwater dive computer since they are known for their advanced features and number of parameters tracked.
Number of Air Integration PODs
Not every dive computer has air integration support, but every single one in this review does. Now the question becomes, how many air transmitters can they support? This is a limitation that is often found in mainstream air integrated devices, which is that they might only support one or two transmitters. This isn't a big issue if you're a recreational diver, but it can be a deal-breaker if you are a technical diver or instructor.
Scuba instructors and dive guides need to be able to track the tank pressure of everyone under their guidance. When you have to look after another person's safety, getting an accurate reading of their tank pressure is crucial.
Knowing how much air is remaining for the diver that has the fastest rate of air consumption is crucial. Factors like fitness level, stress, or sudden bursts of physical activity can drastically change the rate of air consumption and affect bottom time for an individual. Instructors must be able to monitor everyone to know when to end the dive before any problems arise.
Dive computers that do support tracking multiple air transmitters may first need to be activated by going through the submenus and connecting to each sensor manually.
Depending on how you plan on using your air integrated dive computer, devices that support only one air transmitter may be all you need. If you are a recreational diver who dives with only one mix at a time, you can save money by purchasing these models instead.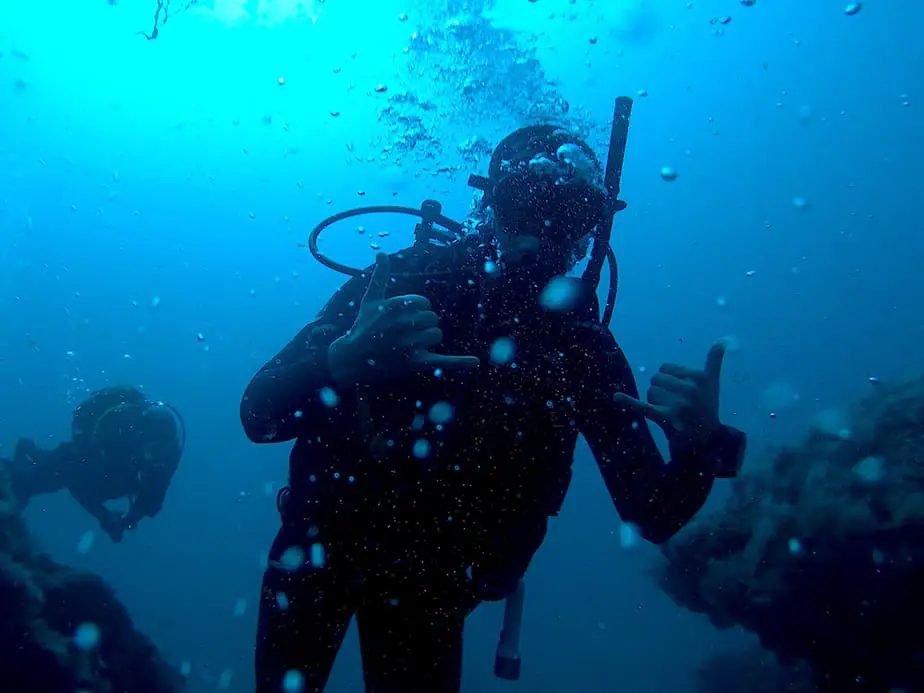 Frequently Asked Questions
What are air integrated dive computers?
Air integrated dive computers are a type of computer that can track how much air is remaining in your tanks either through a wireless transmitter or a hose connected to the high-pressure port of your regulator. Before air integrated devices became popular, divers had to rely on a submersible pressure gauge (SPG).
However, air integration has made SPGs slightly redundant, since you can now get the same data from a device that also has more functionality. With that said, air integrated dive computers can very rarely fail, so perhaps keeping the SPG around is a wise idea.
The air pressure data is displayed on the screen either in a wristwatch or console style device. Wireless air integrated devices have the advantage of tracking multiple tanks using multiple air transmitters, including tanks that other people are using, so that you can monitor their progress as well.
Do I need an air integrated dive computer?
If you are a recreational diver, you can still safely dive with a non-air integrated dive computer by using a SPG. Air integration provides an accurate estimate of how much air is remaining in your tank based on air pressure and how quickly the air is being consumed.
Traditional SPGs rely on a pressure and needle system which provides a visual indication of how much air you have consumed. It does not provide you an estimate of how much time is remaining, so more guesswork is involved.
If you plan on scuba diving regularly, particularly if you want to dabble in technical diving, consider investing in an air integrated dive computer. In addition to showing you how much air is remaining, it can also help you track the dive time, current depth, water temperature, and other parameters.
How do I pair my wireless transmitter?
There are two parts to consider when setting up. The first is the dive computer display itself, many of which are wrist-mounted but some are console-mounted. The second component is the air transmitter.
The air transmitter must be installed into the first stage of your regulator. In hose-connected setups, this is where the hose would connect to instead. Then the air transmitter will transmit the information to your dive computer in real time using Bluetooth or radio frequency.
What the air transmitter is really tracking and transmitting is the air pressure. By measuring the pressure and how quickly it is dropping, the dive computer can crunch the numbers to provide an accurate estimate of how much time you have remaining.
While many models only need to be paired once, some dive computers may need to be re-paired each dive if others on the same boat are using a similar model. This is why pre-dive checks are important, so pay attention!
Best Air Integrated Dive Computers Summary
Each air integrated dive computer covered in this review covers a diverse range of features, with some more technically advanced than others but all of them reliable nonetheless. For instance, some of the devices listed above are cheaper and intended only for recreational scuba diving. Others are clearly catered to dive instructors who need to track their students' gas tanks.
If you need air integration on a budget, then look for the computers that support only two or three transmitters. Furthermore, you technically do not need air integration if you have other forms of tracking your air pressure, such as an SPG. However, if you want to get into technical diving, then investing in an air integrated dive computer is an excellent choice.
Higher end models will support Trimix and CCR, however these models are on the expensive end of the price range. No matter which one you get, make sure that it suits your diving style. Wrist dive computers are more compact and do not have to be connected with a hose thanks to wireless technology, whereas console-mounted devices are larger and must be connected to a hose.
Lastly, if all of this talk about technical specs and complicated algorithms is making your head hurt, then you can't go wrong with buying a product from top-tier scuba gear companies like Oceanic, Mares, Suunto, or Shearwater just to name a few. Just make sure that you factor in the price of the air integrated dive computer AND wireless transmitter before making a purchase, otherwise you will be in for an expensive surprise! Now go out there and dive to your heart's content.
Last update on 2023-11-17 / Affiliate links / Images from Amazon Product Advertising API