The Zoop Novo and the Vyper Novo are the upgraded versions of the Zoop and Vyper respectively. These two dive computers from Suunto are similar in many respects since they are from the same manufacturer, however at the end of the day the Zoop Novo is targeting the beginner market and the Vyper Novo caters to more experienced divers. In the battle between the Suunto Vyper Novo vs Zoop Novo, let's see which one is right for you.
In this comparison article, we will look at the similarities and differences between the Vyper Novo and the Zoop Novo. Though they appear similar at first glance, the Zoop Novo is an entry-level dive computer and thus does not have as much functionality compared to the Vyper Novo. Once you gain enough experience to begin technical diving, you will need a dive computer that can switch between multiple gas mixes and support air integration, and the Vyper Novo fits the bill.
Let's go over what else these two dive computers can do.
Suunto Vyper Novo Dive Computer Review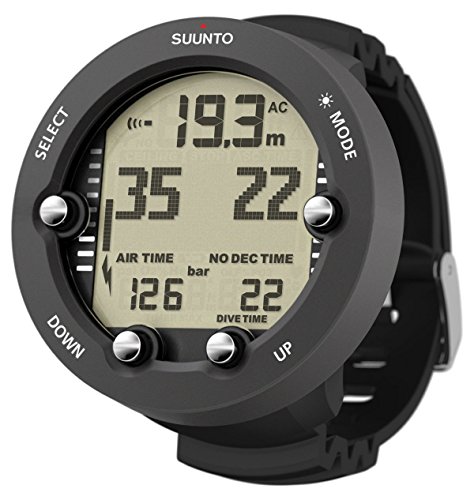 Despite looking nearly identical to the Zoop Novo, the Vyper Novo is drastically different under the hood. In fact, it is these differences that make the Vyper Novo a dive computer geared towards advanced divers, thanks to its capability of handling wireless air integration and its multi-gas support.
Display and Basic Features
To start, the Vyper Novo is slightly larger than the Zoop Novo, and is quite a large wrist dive computer overall. Its large display provides all of the information you need in a clear and legible font. Like the Zoop Novo, it has a 4-button interface which is ideal for navigating its intuitive interface. Divers who have used previous Suunto dive computers will be quite familiar with how the menus look.
The Vyper Novo can store up to 140 hours of dive data at a sampling rate of 20 seconds and this can be adjusted to record more data. If you want to upload this data to your computer to analyze and plan future dives, thankfully the Vyper Novo includes a USB cable to do so.
Next, the Vyper Novo's battery should last around 2-3 years (assuming you do 50 dives a year). It has a user-replaceable CR2450 battery, and replacement kits can be purchased online for cheap.
Like all Suunto dive computers, the Vyper Novo uses Suunto's modified RGBM algorithm to calculate deco stops. In addition to its default setting, there are two conservatism levels if you want the calculations to be more conservative. The Vyper Novo has a maximum depth of 80m (262ft).
As for dive modes, the Vyper Novo offers five: Air, Gauge, Nitrox, Freedive, and Off mode. Off mode just means the device stops tracking dive data, allowing you to perform more casual dives in the water without worrying about the data affecting your real dive data. Freedive mode turns the wrist computer into an innovative apnea timer, making it a great choice for divers who practice both Scuba and freediving.
Advanced Functionality – Air Integration and Multi-Gas Diving
This is where the Vyper Novo blows the Zoop Novo away, because up until this point there haven't been any noticeable differences. Its ability to track and calculate three different gas mixes (with O2 levels up to 99% and ppO2 between 1.2 and 1.6 bars) and support three wireless transmitters, helps you maximize your bottom time. Furthermore, it has deep stop functionality and a built-in digital compass.
Digital Compass and Audible Alarms
No matter how complicated the underwater landscapes are, using the Vyper Novo's integrated 3D digital compass, you will be able to easily navigate through it all. Even when set at a 45 degree angle, it will give you an accurate reading.
To further ensure your safety, the Vyper Novo provides numerous visual and audible alarms to warn you about things like maximum depth, dive time, gas time, tank pressure, deepstop violation, and decompression ceiling violations, and so on. Basically if you are about to make a potentially dangerous mistake, you will be warned.
Even for experienced divers, having a reliable reminder is reassuring because you may be too busy looking at an amazing shark or beautiful underwater vista to notice a safety violation on your own.
Overall
The advanced functionality in the Vyper Novo places it firmly in the high-end market targeted to advanced divers. Since it supports three different gas mixes, the option to switch between them mid-dive, an integrated 3D compass, and option wireless air integration support, incredible logbook memory capacity, and numerous dive modes, the Vyper Novo provides incredible functionality. Advanced divers should definitely keep the Suunto Vyper Novo in their radar.
With that said, it is quite a large wrist dive computer. Some prefer watch-style dive computers, however the large display means the data is easy to read. For advanced divers who are looking to buy a wrist dive computer, the Vyper Novo is a strong choice.
You can read our full, in-depth review of the Vyper Novo by clicking here.
Suunto Zoop Novo Dive Computer Review

The Suunto Zoop Novo is the baby brother of the Vyper Novo. It's slightly smaller, looks nearly identical, but it is first and foremost an entry-level dive computer that is catered towards beginners and those looking for their first dive computer. As such, one cannot expect the same level of functionality compared to the Vyper Novo.
Appearance and Display
As we mentioned above, the Zoop Novo looks very similar to the Vyper Novo, so be careful when selecting which one to buy. Though, due to the large price difference between the two, it'd be hard to make that mistake. Since this is another product from Suunto, you can expect a similar interface. The Zoop Novo also has 4-buttons and the data shown is presented using a clear font.
Since the Zoop Novo does not track as much data as the Vyper Novo, the screen is not as cluttered and it is easy to read each section. However, it can record the last 140 hours of dive data at a sampling rate of 20 seconds. If you want to transfer the data to your computer, you need to purchase a USB cable separately.
The Zoop Novo is quite a large wrist dive computer and not something you'd wear outside of scuba diving. You can purchase the Zoop Novo is black, blue, and lime colors.
Dive Functionality
There are five dive modes to choose from: Air, Nitrox, Gauge, Freediving, and Off. The Zoop Novo supports oxygen levels up to 50% in Nitrox mode. The Zoop Novo runs on Suunto's RGBM algorithm, with two additional conservatism levels.
Next, the Zoop Novo will warn divers of safety violations, such as max depth, dive time, deep stop violations, and the like. If a warning has been ignored, the audible and visual alarms will activate. The ppO2 limit is between 1.2 and 1.6 bars, and this device has a maximum operating depth of 80m (262ft).
Overall
The Zoop Novo is essentially the same as the Vyper Novo, with the exception of advanced functionality like air integration, a digital compass, and inferior Nitrox support. These are all extremely powerful features that are intended for advanced divers. They also significantly increase the price of the product.
Since the Zoop Novo is intended to be a beginner dive computer, beginners do not need those features and likely won't for a long time. What the Zoop Novo does provide is all of the basic dive functionality and safety features to help a complete newbie get through their first few years of diving. At its price point, it is a very attractive and reliable first dive computer.
Suunto Vyper Novo vs. Suunto Zoop Novo Comparison
Appearance and Display
When you first look at the Vyper Novo and the Zoop Novo side by side, you would think they were the same model. However, the Vyper Novo is slightly larger in diameter and height compared to the Zoop Novo. The size difference is so small that people might miss it; perhaps about 0.2 inches.
Furthermore, both of these devices are wrist mounted computers, though the Zoop Novo also comes in a console version if that's what you prefer. The Zoop Novo comes in three colors: black, blue, and lime, whereas the Vyper Novo only comes in black and white.
The display of these two dive computers are similar in size and quality. They are both rather large, which is good because it makes the critical information easier to see. The size means you probably won't be wearing them as wrist watches, however.
Next, the Zoop Novo and Vyper Nov both have backlights and are phosphor-luminescent meaning they can glow in the dark if you shine a light directly on them. The more ways that the dive computer makes its information clearer to see, the better, especially in low-light conditions.
As for the display, the Vyper Novo's display is a bit more crowded simply because it has more features and therefore more data to track and display. The Zoop Novo, being the entry-level device, has more space on the screen because it has less information to display. The interface for both devices is clean and you are able to see the numbers easily.
Dive Functionality
The Suunto Vyper was designed to be the next step up from an entry-level dive computer, and now that the Vyper Novo is out with all of its new features, it can finally be considered a high-end model. Seriously, it blows the Vyper out of the water and the Zoop Novo is no exception.
Since the Vyper Novo is a high-end model which is indicated by its price and additional features, it's obviously better than the Zoop Novo if you are an experienced diver who can actually take advantage of them.
To start, the Vyper Novo can handle three different gas mixes up to 100% oxygen, whereas the Zoop Novo can only handle Nitrox up to 50%. To further set these devices apart, the Vyper Novo supports wireless air integration to track the remaining dive time for each of these three gas mixes. Furthermore, the Vyper Novo has an integrated digital compass. The Zoop Novo does not have air integration or a digital compass.
The Zoop Novo doesn't have as many features as the Vyper Novo and that's okay. It wasn't designed for experienced technical divers; it was designed with beginners in mind. As such, it only has the necessary features to get started to keep the price affordable.
Both of these devices have five dive modes: Nitrox, Air, Gauge, Freediving and Off mode. Similarly, the log capacity in both of these dive computers is the same: a whopping 140 hours with a default sampling rate of 20 seconds, which can be adjusted.
The Suunto RGBM algorithm can be found on both of these devices. They can both handle Deep Stops, whereas the pre-Novo models cannot. The Vyper Novo's algorithm is more advanced since it can do calculations for three different gas mixes instead of the one gas mix for the Zoop Novo. Furthermore, both devices have two additional conservatism settings in case you feel the default algorithm is too liberal.
Suunto Vyper Novo vs. Suunto Zoop Novo: The Verdict
In case it is not obvious, there really is no comparison between the Vyper Novo and the Zoop Novo. The Vyper Novo is the superior product because it was designed for technical divers and those with plenty of experience scuba diving, and the Zoop Novo caters to the beginner diver.
The advanced functionality and target audience is reflected in the Vyper Novo's price, which we feel is still affordable because of what it does. You can even add air integration at a later time, and the overall cost is less than other high-end models with air integration.
With that said, the Zoop Novo is not a bad product. It just looks bad compared to higher-end Suunto dive computers like the Suunto Vyper Novo or Suunto D5. When comparing it to other entry level dive computers, such as the Cressi Leonardo or Mares Puck Pro, it is not lacking in features and the price is just right.
If you are just starting out with scuba diving and are looking to get your first dive computer, the Suunto Zoop Novo is a fantastic choice. The features it has is sufficient for your first 100-200 dives and it will keep you safe the entire time. Don't be in a rush to buy the newest and most expensive model for your first dive computer, since you never know what is going to come out in a few years' time.
If you are an experienced diver or a technical diver, the built-in digital compass and capability to handle multiple gas mixes as well as wirelessly track them makes the Vyper Novo a reliable companion for your technical dives.
We feel that comparing a beginner dive computer like the Zoop Novo to the high-end Vyper Novo wasn't very fair, but some people were interested. You can see how the Zoop Novo fares against other entry-level dive computers, such as vs. the Cressi Leonardo here and vs. the Cressi Giotto here.