Both the Cressi Giotto and Suunto Zoop Novo are dive computers that beginner divers can use, though the Giotto is slightly more expensive and has more functionality. For this reason, there is more room for a diver to "grow" with the Giotto since it has a higher ceiling in terms of usability. With that said, both devices provide features that can support an entry-level diver as they start their diving career.
When we say that a dive computer has enough functionality for a beginner, we don't mean that these dive computers are lacking in any way. For an experienced diver, yes, there may be some features that it is missing for someone of that level. However, for those who have done less than 100 dives, the functionality these devices have is more than enough. Even if one or two things are missing, those features aren't essential for beginners anyways.
So let's take a look at how these popular dive computers compare against each other. In the battle between the Cressi Giotto vs. Suunto Zoop Novo, which one is a better option?
Cressi Giotto Dive Computer Review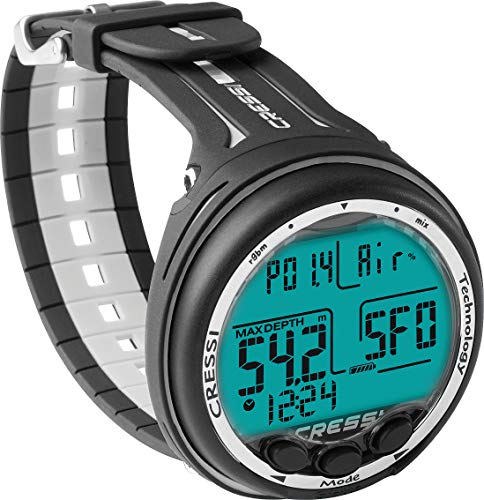 Selecting the right dive computer is crucial if you want to dive safely. You need to pick a model that is appropriate for your skill level because it'd be a waste of money to get an expensive model where you never end up using most of its features. For this reason, the Cressi Giotto might not be the right choice for complete beginners.
With that said, the Cressi Giotto is a powerful dive computer that can be used by both beginners and experienced divers. It has more features than the Suunto Zoop Novo, which is also why it has the higher price tag. As a result of its extra features, beginners may find it to be less intuitive to use, but having the options there is nice as you continue to develop your diving skill.
Appearance and Display
The Cressi Giotto comes in many color variants. You can pick one that stands out the most to you or looks the most stylish to you. It comes in black/yellow, black/red, white/lilac, and black/green variants.
Next, the screen is a wide, edge-to-edge high-definition LCD screen. The information is sectioned using thick, solid lines so that you can clearly read the data without confusion. The Giotto has three navigation buttons, however we found that they were placed too closely together. If you are wearing thick gloves, it'd be really easy to press the wrong button especially in low-visibility conditions.
Dive Functionality
There are three dive modes that the Cressi Giotto can run: Nitrox, Air, and Gauge. In Nitrox mode, it can handle oxygen levels between 21% to 99%, and can also handle switching between two gas mixes even during a dive. The logbook memory can store your last 70 hours of dive data (60 dives) at a sampling rate of 20 seconds.
To ensure your safety, the Giotto has audible and visual alarms that will warn you of safety violations, such as depth decompression, CNS toxicity, max depth, air/nitrox decompression, ascent rate warnings, and so on. Furthermore, the ppO2 limit is adjustable between 1.2 and 1.6 bars. The maximum operating depth of the Giotto is 120m (393ft).
The Giotto runs on Cressi's own modified RGBM algorithm that is based on the Haldane/Wienke model. Since the Giotto is also intended for intermediate level divers, the algorithm is more liberal. You can change the conservatism level if you want to err on the side of caution.
Suunto Zoop Novo Dive Computer Review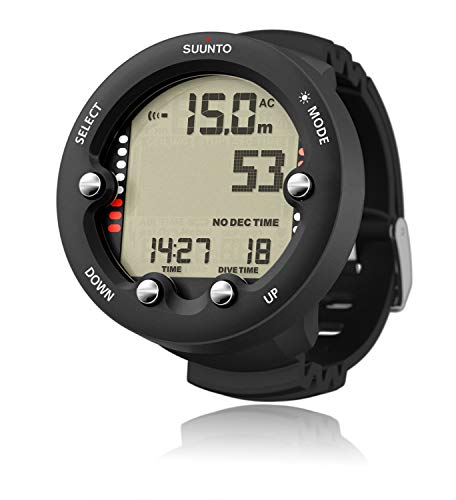 The Suunto Zoop Novo's target market is beginner divers, but that isn't to say that experienced divers can't benefit from using it either. Its strength lies in how easy it is to use, and for an entry-level dive computer it has some great functionality that even mid-level divers can use.
With that said, you can't expect the Zoop Novo to have advanced features like air integration expansion; not even the Giotto has that capability, so complicated, technical dives are out of the picture. WIth that said, the Zoop Novo provides excellent value for the money, and here's why.
Appearance and Display
We like how clean and neat the display is. Despite not being sectioned with lines like the Giotto, the data is spaced so that beginners can still easily read and decipher the information. Furthermore, it does not have confusing abbreviations and the data has enough spacing so that divers can differentiate each section.
As a wrist watch, the Zoop Novo is quite large and is not something you'd wear outside of diving. The benefit is that the large size lets you easily read its wide display even while underwater. Additionally, we like how its four buttons are spaced apart so there's no way you can press the wrong one, even while wearing thick gloves. The Zoop Novo is available in three colors: blue, black, and lime.
Dive Functionality
The Zoop Novo has five dive modes: Nitrox, Air, Gauge, freedive, and off mode. While in freediving mode, the dive data is tracked every two seconds, and the off mode allows you to perform casual dives without tracking any data that would affect the data from your "real" dives. Speaking of dive data, the Zoop Novo can track up to 60 hours of dive data with a 20 second sampling rate.
In Nitrox mode, the Zoop Novo supports oxygen levels between 21% to 50%, and it also allows you to switch between two different gas mixes even while underwater. As for warnings, the Zoop Novo's alarms will trigger if certain conditions are met, such as dive time, max depth, decompression, deep stop, high ppO2, ascent rate, and so on. The ppO2 limit is adjustable between 1.2 and 1.6 bars. The maximum operating depth of this device is 80m (262ft).
Much like Cressi, Suunto uses its own modified RGBM algorithm. You can adjust the conservatism level to your preference, however the Zoop Novo is already a conservative dive computer.
Now that we've gone over both the Cressi Giotto and Suunto Zoop Novo individually, let's see how they compare head on.
Cressi Giotto vs. Suunto Zoop Novo Comparison
Navigation
Let's start off with the obvious. The Cressi Giotto has three buttons and the Suunto Zoop Novo has four buttons to help navigate through the menus. There isn't much difference in this case, though we like how far apart the buttons are in the Zoop Novo. In the Giotto, the three buttons are placed closely together which means it is easier to accidentally press the wrong button, especially if you are wearing thick gloves.
Compared to other entry-level dive computers which may only have one or two buttons to try to make it less confusing for a beginner, we feel that it makes navigating the menu very clunky. On the other hand, having three or four buttons is the sweet-spot.
If you make a mistake when navigating through the menus, you can easily go backwards and forwards. If you've ever used a dive computer with only one button, then do not take this basic functionality for granted. There is also a button to enter the menu and change the setting. With at least three buttons, doing all of these operations is much easier.
Whether it is three buttons or four buttons, the overall functionality of both of these devices is not that different.
Dive Modes
Both the Giotto and Zoop Novo have Nitrox, Air, and Gauge modes. The Zoop Novo also has a freediving and off mode on top of that. Off mode is useful if you want to just dive leisurely without recording data that could affect the calculations for your next dive. It will also conserve battery since the computer is not working as hard.
Reset Mode
The Giotto does have a unique feature which is the ability to fully reset the device after each dive. Resetting the device clears the memory of data from past dives. This feature is fantastic for dive instructors or dive shops that rent out dive computers. This way, each new diver can use their dive computer from a clean slate.
Of course, if you have purchased a Giotto for your own personal use, then make sure to never use this option because it will remove all of the personal data that you have recorded. Otherwise, the calculations the computer makes in future dives may be inaccurate if it cannot draw on information from your past dives.
Wrist or Console Mount
The Giotto can come as either a personal wrist dive computer or as a console setup. If you go for the console setup, you can choose between having a compass or pressure gauge. The Zoop Novo only comes as a wrist dive computer. Both of the devices are too large to be worn as a daily watch outside of diving.
Battery
The Giotto uses a 3-Volt CR2430 lithium battery, whereas the Zoop Novo uses a 3-Volt CR2450 battery. Both are user-replaceable, and battery replacement kits can be purchased for around $20. If you feel up to you, you can change the battery yourself or send it to a professional to get it done.
You can expect the battery life to last 2-3 years, assuming you do about 50 dives a year. If you do more than a hundred dives a year, then be prepared to change batteries once a year to a year and a half.
Logbook Memory
Both the Zoop Novo and the Giotto have a comparable memory capacity of approximately 60 hours and 70 hours respectively, with a 20-second recording interval. When using the freediving mode in the Zoop Novo, it has a 2-second sampling rate and 3 hours of memory capacity.
This gives you ample time to connect the device to a PC or Mac and upload the data from the dive computer. Using the software provided, you can then store and analyze this data and plan future dives based on the data.
Furthermore, if you like to share your unique diving experience with family, friends, or basically anybody you want on social media, then the Suunto provides better features for this. For instance, using the Suunto Movescount portal, you can download the data and add video, pictures, and geo-location data. Then, you can put it all together into a multimedia scrapbook and share your dives with the world.
Nitrox Handling and Advanced Functions
The Zoop Novo handles Nitrox up to 50%, whereas the Giotto handles up to 99%. Furthermore, the Giotto allows for gas switching during a dive, but the Zoop Novo cannot. It makes sense, since the Giotto is a higher end model that costs more.
Both dive computers rely on an RGBM model for their real-time calculations. There are differences; each company has modified the RGBM model to suit their preferences. We found that the Cressi algorithm is more liberal and the Suunto is more conservative. That's not to say that one is better than the other, it depends on your safety preference.
Just keep in mind that if your dive buddy is using a Suunto device and you are using a Cressi device, then your deco stops probably won't match up unless you adjust the conservatism settings for your dive computer.
Missing Features
What separates these devices from higher end models is that neither dive computer has a digital compass or air integration built-in. However, these are features that experienced or technical divers would want, and casual divers probably won't ever need to use them.
Furthermore, not having these advanced features will not hinder a beginner's growth as a diver. A beginner should be able to dive for a hundred hours or 100 dives easily using the basic features that entry-level dive computers like the Zoop Novo provides. The Giotto is slightly more expensive with more features, so it can last longer before you need to upgrade.
Even when you begin to outgrow your first dive computer, you can keep them around as a backup dive computer in case your higher end model encounters any issues.
Cressi Giotto vs. Suunto Zoop Novo: The Verdict
You can't go wrong with either of these dive computers, however if you only plan on doing a few dives a year, then there's no need for a device that has more features and also costs more like the Giotto. In that case, you'd be better off with the Suunto Zoop Novo instead.
However, if you are getting started with diving and you know that you will be diving a lot, then it would make sense for you to invest in the Cressi Giotto. Since it offers more functionality, you will be able to rapidly gain experience, take full advantage of all of its capabilities and get your money's worth.
In terms of conservatism, the Cressi Giotto has the more liberal algorithm since it is designed for intermediate-level divers as well. The Zoop Novo is designed for beginners and, in order to ensure their safety, the algorithm is more conservative. Some divers complain about this, especially when they have to make a deco stop before their diving buddies.
In general, a conservative algorithm is a good thing for beginners. However, when you plan on upgrading to a more sophisticated dive computer in the future, then you might want to look at a model with a more liberal algorithm like the Giotto.
Unless you live very close to the water and will dive frequently, it doesn't make sense to buy a high-end model right off the bat. You must first gain enough experience to fully maximize your investment. That is why we recommend beginners start with something like the Zoop Novo, so that by the time they want to upgrade, there may be an even more advanced model at a better price that outclasses the Giotto. You can then keep your old device as a backup.
If you're interested to know how the Cressi Giotto compares to other dive computers, such as the Mares Smart or even Cressi's other entry-level dive computer, the Leonardo, then click on the links to check out our reviews. Check out how the Zoop Novo compares against the Vyper Novo here and the Cressi Leonardo here.