As the successor to one of the most popular entry-level dive computers, does the Suunto Zoop Novo live surpass its predecessor to maintain its foothold on the market? If you're just starting out and shopping for your first dive computer, you might be deciding between this product or other beginner dive computers like the Cressi Leonardo or Mares Smart.
Picking the right device can be tricky with so many options, but the Zoop Novo is one you cannot go wrong with. It has all of the important safety features to keep you safe in the water at an affordable price. In this Suunto Zoop Novo review, we will go over each of these features in detail and help you decide if this is the right dive computer for you.
Suunto Zoop Novo Overview
We know you're a busy person, so here's a quick overview of the Zoop Novo to save you some time. Our full review is in the next section below.
Who is it for?
The Zoop Novo is designed with beginners in mind. The first thing you'll notice is the generous screen size of the Zoop Novo. This big display screen is what makes it easy for divers to see the crucial dive data that is being updated in real-time. With how the information is laid out, it is easy to read it all at a glance. Unfortunately, due to the large screen, it cannot be used as a wristwatch outside of diving.
Navigating the menus is very straightforward thanks to the 4-buttons on the front. Other entry-level dive computers often have less buttons. For example, the Cressi Leonardo only has one button to navigate the menu which is quite cumbersome. With 4-buttons, it is easy to go forwards and backwards through the menus, and to change the settings with as few button presses as possible.
Features
Next, the Zoop Novo runs on Suunto's RGBM algorithm which is said to be conservative. It also has a large logbook to store all of the dive information and multiple diving modes, such as Nitrox up to 50% oxygen and a ppO2 limit between 1.2 and 1.6 bar.
To warn you about safety violations, the Zoop Novo has audible and visual alarms to make sure you are aware of the possible risk you are taking. The maximum operating depth of this device is 80m (262ft).
Overall, the Zoop Novo is a fantastic dive computer for beginners that provides all of the safety features that you need. It's the perfect starting computer to help beginners gain experience, get familiar with a dive computer, and transition to a better one a few years later. Even then, it can be kept around as a backup device to continue being useful.
The large display and four navigational buttons makes reading the display and navigating the menus very straightforward. Furthermore, it looks good, keeps you safe, and does all of this while maintaining an affordable price point. As far as beginner dive computers go, the Zoop Novo is definitely one of the best and one you can't go wrong with as your first one.
Suunto Zoop Novo Review: An In-Depth Look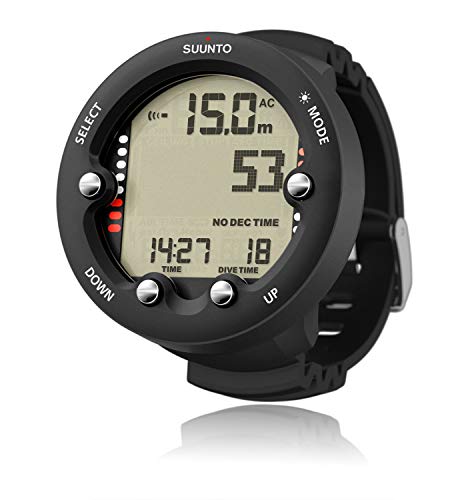 Here's what makes the Suunto Zoop Novo stand out from its competition.
Key Features:
Five modes: Air, Gauge, Nitrox, Freediving, and Off.
Continuous decompression algorithm.
Built-in dive planner.
User replaceable battery.
4-button navigation.
Large, clear display with backlit screen.
Record 140 hours (100 dives) of data.
Appearance and Display
Typically, the design of the dive computer isn't a key feature to point out, since it is often very subjective and up to the buyer to decide if it looks attractive to them. However, in the Zoop Novo's case you will see that it has a huge display, which is a big plus. The screen measures 1.33inch/4cm in diameter and is shielded by durable acrylic to help it withstand the occasional knock.
The benefit of having such a large screen is that reading the digits on it is very easy, even if your eyes aren't what they used to be anymore. You'll notice the interface is nice and clean, and the font used is very legible. The information is separated clearly and it is obvious what each number refers to. Also, the display information can be adjusted to display metric or imperial units, and Celsius or Fahrenheit.
One downside of having a big wrist dive computer is that you can't wear it as a daily wristwatch. The Zoop Novo is simply too large and cumbersome outside of scuba diving. With that said, the design Zoop Novo is robust, practical, and very functional.
Interface
One improvement the Zoop Novo has over the Zoop is a new, fourth button, to make navigation even easier. The functionality of each button is as follows: mode, select, up, and down, which are clearly marked. Combine this with its simple interface and large display, and it is super easy to step through the menus to get to the settings you want.
Where most beginner wrist dive computers don't even have 4 buttons (some only have one or two), the Zoop Novo's are big and easy to press thanks to their ergonomic placement. The spacing is enough so that you won't accidentally press the wrong button, but not so far that it becomes cumbersome to reach. Even with gloves on, you will be able to press the button you want.
Conservatism Settings and Altitude Adjustments
You can get decompression sickness if you are not careful or have certain risk factors that increase your chances of DCS (age, circulatory issues, obesity). The Zoop Novo can help reduce the chances of this by providing options to adjust its conservatism levels to be even more conservative than normal. There are two additional conservatism modes in addition to the default mode.
Furthermore, the altitude settings can be adjusted up to the maximum of 3,000m (9,843ft). The altitude settings do not change automatically, it is up to you to adjust it yourself each time your altitude changes.
It is important to make sure the altitude settings on your device matches up with your elevation. Going to a higher elevation will affect the equilibrium of dissolved nitrogen in one's body. Thus, you should also wait at least three hours at the new altitude before making any dives.
Changing the Altitude settings on the Zoop Novo adjusts how it calculates your no-decompression times. At higher altitudes, it will calculate shorter no-decompression times.
Lastly, the no-fly time is displayed in the center of the screen beside the airplane icon. It is a warning to not travel or fly to a higher altitude as long as the Zoop Novo displays the no-fly time.
Dive Mode and Nitrox
By default, the Suunto Zoop Novo should be in dive mode. It is water activated so it will automatically change from surface mode to dive mode once you are 4 feet (1.2m) underwater. Just to be safe, you can manually check that the Zoop Novo is in dive mode during your pre-dive safety check.
Once dive mode is active, the graphical user interface will appear, the backlight will switch on, and you'll hear a beep. Now it will start displaying and calculating the dive data, such as altitude, depth, gas content, ppO2 values, as well as any personal settings you may have made.
For gas mixes, diving in Nitrox mode is easy. First select Nitrox mode in the menu, then enter the percentage of oxygen being used (21%-50%) and the ppO2 limit (1.2 to 1.6 bar). Then confirm these settings and start diving.
Audible and Visual Alarms
When you're too busy taking in the beautiful sights, you can accidentally reach or pass important limits without noticing. Thus, the Zoop Novo will beep and glow at you to let you know about an important warning. Don't worry, unless you're making huge mistakes every few minutes, it's not as annoying as it sounds.
When the Zoop Novo beeps, there are different tones it makes to differentiate between low and high priority. For example, the high priority beep will trigger if you have passed the decompression ceiling depth, or the gas mix in use is not suitable for the current depth, or if you are ascending faster than the maximum rate of 10m/32ft per minute. When scuba diving or freediving, the low priority alarm will activate once you reach the maximum depth.
Logbook Memory
Out of all the entry-level dive computers, the Zoop Novo boasts one of the largest memory capacities. Capable of storing up to 140 hours of data (roughly 100 dives) at a 20 second sampling rate, you can go a long time without worrying about the data getting overwritten by new dive data. With that said, in freediving mode the sampling speed is much faster, and thus only 35 hours of data can be recorded.
The dive log can be transferred from the Zoop Novo to the computer so you can analyze it and plan for future dives. The software to do this is free and can be downloaded from Suunto's website, however the USB cable must be purchased separately.
With that said, you could always review the dive data on the device and copy it down by hand. This is a very old-school way of doing things and it works too. The USB cable is, unfortunately, not cheap like most USB cables that you might be thinking of, so this is a way to save some cash at the expense of some of your time.
Dive Planner
The Zoop Novo includes a dive planner which can be easily accessed by hitting the PLAN button anytime during surface mode. This is where you can adjust the calculations for a no-decompression stop. Use the bottom two buttons to increase or decrease your maximum depth. After you've confirmed your setting, the Zoop Novo will calculate your no-decompression time.
Remember that changing your conservatism levels as well as altitude settings will after the no-deco time limits. The dive planner will also factor in data from your last 4 days of dive data, including oxygen toxicity levels and residual nitrogen levels. The no-deco times for the various depths will be shorter than before your first 'fresh' dive.
Dive Algorithm
The Zoop Novo runs on Suunto's modified RGBM model in collaboration with Dr. Bruce Wienke, the original creator of the RGBM. This version of the RGBM algorithm is better than the Haldane model used in some other dive computers because it can calculate the free gas and dissolved gas in the tissue of divers.
By tracking closely spaced repetitive dives, surface intervals, diving multiple days in a row, and reverse profiling, the Zoop Novo's decompression algorithm can modify its calculations to take all of these factors into account for the most accurate dive profile. It also factors in any dive that surpasses the maximum depth of your previous dive.
We like how the Suunto RGBM utilizes continuous decompression when the no-decompression limit is reached. This lets you slowly ascend so that you don't have to completely stop for staged decompression. It feels smoother than waiting during lengthy deep stops.
Some divers complain that the Suunto algorithm is too conservative. Keep in mind, the Zoop Novo is intended for absolute beginners, and this may be many people's first dive computer. As such, is it really such a bad thing that safety is prioritized? It can be annoying if your dive buddy has a more liberal dive computer.
But as far as safety is concerned, we feel that the Suunto algorithm's conservatism level is acceptable for a beginner dive computer, particularly if you do multiple dives everyday. Some diving practices increase the likelihood of experiencing decompression sickness. For instance, dives with short surface intervals, numerous deep dives in a row, fast ascents, and so on.
The Suunto RGBM can factor all of this into its calculations and will warn you of safety violations. The Zoop Novo's calculations will allow you to continue diving safely and within your limits.
Battery Life
At some point, the battery on a dive computer is going to die. Suunto recommends that the Zoop Novo should get a full service every 2 years or 200 dives, just for a frame of reference. A full service includes testing all of the functions, checking calibration, and ensuring the seal remains watertight.
You can actually replace the battery on your own without having to send it off to a registered service center. Just purchase a battery replacement kit for the Zoop Novo which is often $20 or less and comes with a screwdriver, O-ring, and the battery itself. Replacing the battery is straightforward and something you should learn how to do.
It's also good to keep a battery replacement kit on hand if you suspect that your battery is about to die soon. If you are on a vacation or out on the boat and the battery dies, then having a replacement will be really handy.
Keep in mind that any damage you cause due can void the warranty. Common beginner mistakes are not closing the battery compartment and not resealing it properly. As such, if you do not want to do it yourself, then send it to a service center.
General Maintenance
To ensure your device continues to work well for years, you must perform some regular maintenance. After every dive, rinse the device in freshwater until all of the sand grit and salt crystals are removed. Make sure that the water contacts are rinsed clean. Use a soft brush with fresh water to assist you. Afterwards, dry it and store in a well-ventilated, dry place until the next time you need to use it.
Some common oversights beginners make are not cleaning the band, clasp, or metal components thoroughly enough. Over time, these places are the most likely to accumulate sunscreen, sea salt, and perspiration.
Lastly, make sure not to expose your Zoop Novo to direct sunlight, extreme heat, or strong chemicals. Although the device is very robust, it can be worn down over time. Furthermore, extreme impacts such as hitting it against the tank cylinders or dropping it on hard ground can quickly crack the screen.
Missing Functionality/Shortcomings
The Suunto Zoop Novo is designed with beginners in mind, and is often recommended as a first dive computer. It has all of the basic functions that will keep a newbie safe as they gain experience. It can help them transition into more advanced diving. In order to keep the cost low, and also because a beginner has no real need for them, some functionality is missing from the Zoop Novo.
Surface Interval
We can hardly fault a dive computer catered to beginners for being conservative. However, we would be remiss not to let readers know that its surface interval time is quite lengthy compared to other dive computers. It has a minimum surface interval of 5 minutes. If you dive again before the 5 minutes are up, it will treat your current dive as a continuation of the previous one.
Digital Compass, Air Integration,or Tri-Mix
Compasses are widely available and cheap. On the other hand, air integration and the ability to handle multiple gas mixes is something that you won't find on beginner dive computers. If you want a built-in digital compass and air integration, then you should take a look at the Vyper Novo instead.
Wireless Connectivity
The Zoop Novo does not have Bluetooth connectivity. If you want to upgrade your firmware or transfer dive log data, then you must purchase a USB cable separately to do so.
No-Fly Icon
When the Zoop Novo is on standby mode, the no-fly icon is not displayed. You need to manually activate the device in order to see if the airplane icon is still on, so be sure to do that before you hop on a flight too quickly.
Suunto Zoop Novo Review: The Verdict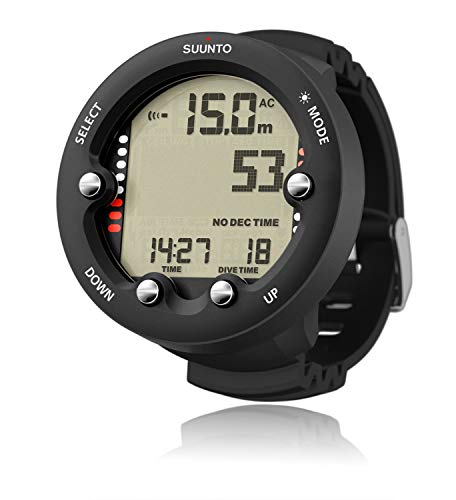 As far as entry-level dive computers are concerned, the Suunto Zoop Novo is difficult to beat. It might not have the advanced algorithms or functions that technical divers want, and it might be too bulky for freedivers. But what it does offer is a level of safety and reliability that is perfect for casual and recreational divers.
Get all of the data you need at a glance thanks to its large screen. Switch between menus and dive modes easily with its 4-button navigation. Dive to your heart's content thanks to its algorithm that can take into account multiple dives in a day and multi-day diving. Combine all of this with a durable frame, intuitive interface, and an affordable price, and the Suunto Zoop Novo might be the best dive computer for beginners.
Pros:
Large display makes it easy to view the data while underwater.
Straightforward and intuitive menus combined with the 4-button navigation help make the Suunto Zoop Novo incredibly beginner-friendly.
Adjustable backlight duration.
Highly affordable for the first-time buyer; can also be purchased as a back-up computer.
Off mode allows you to leisurely dive during your surface intervals without worrying about the data being recorded and interfering with the data from your serious attempts.
Durable body that can take a beating.
Long-lasting battery that can last for 200 dives or 2 years. Even when it runs out, you can replace it yourself with a battery replacement kit.
Extremely generous logbook memory of 140 hours (100 dives).
Can set up numerous dive profiles of varying conservatism levels for added safety.
Cons:
The large display means the Zoop Novo is too large to be worn outside of diving, unless you can put up with its large size.
Does not come with the USB cable needed to transfer the dive data to your computer.
No built-in compass, air integration, or other advanced features since it is an entry-level device.
Once you feel you've outgrown the Zoop Novo, then consider the Suunto Vyper Novo for your next dive computer upgrade. This time you get a dive computer with air integration, a 3D compass, and many other great features which you can read about in more detail here.
You may also be interested to know how the Suunto Zoop Novo compares to other dive computers. Check out these links below.
Click here to read our comparison of the Suunto Zoop Novo vs. Vyper Novo.
Click here to read our comparison of the Suunto Zoop Novo vs. Cressi Giotto.
Click here to read our comparison of the Suunto Zoop Novo vs. Cressi Leonardo.