The best dive computers under $500 are perfect if you are just a beginner or a recreational diver. At this price range, you can get a device that covers all of the basics to keep you safe while diving. However, they may be missing some of the fancy features like air integration or a digital compass that higher end models will have.
Within the past few years, dive computers have made huge strides in innovation compared to the years before. For well over a decade, the market for dive computers had remained stale, with many "new" models coming out that were just a rebranded version of an older model. It was mostly just simple LCD screens, minor tweaks to the algorithm, and an updated look.
Nowadays, features like color computers are starting to be available in lower price ranges, whereas previously only the $1000+ highest-end models had that functionality. Thanks to new competitors entering the market, the market is being shaken up and the latest models are offering features that weren't available before.
In this review, we will be going over the best dive computers under $500 that we feel are the best bang for your buck. We have compiled this list based not only on their price, but also criteria like their screen quality, algorithm, customization, as well as any other unique features that make them stand out. Here are the top ones we recommend.
Our Top Picks:
Cressi Leonardo
Cressi Leonardo, black/grey
A single button Dive Computer makes it effortless to set Air, Nitrox and Gauge modes. Ideal for beginners in Scuba Diving. It is easy to use and easy...
FO2 adjustable between 21% and 50%. PO2 adjustable between 1.2 bar and 1.6 bar. CNS oxygen toxicity graphic indicator.
Three levels of user adjustable conservatism. Visual and distinct, easy-to-hear audible alarms
The Cressi Leonardo is a dive computer designed for recreational use and affordability. At a glance, you will find a user-friendly computer with all of the features a beginner or casual freediver needs with an emphasis on efficiency, safety, and reliability.
Its interface is very intuitive and can be navigated with only a single button for those who just want to get into the water quickly without worry about any complex features. The Leonardo is available either as a console or wrist-watch.
Display:
A major selling point of the Cressi Leonardo is its edge-to-edge, high-definition LCD screen. It has been designed to have the optimal balance of proportions, screen contrast, and digit size. The information is further sectioned by clear lines.
These little details make all of the difference in low-visibility conditions and can really help a diver in stressful situations. For instance, the oversized digits make monitoring critical information much easier.
We like how crucial information like the battery indicator is displayed prominently on the main display, as is the depth, time, and temperature. The secondary display shows information regarding the gas mix (Nitrox or air), the ppO2 setting, and any conservatism setting.
Lastly, the backlight activates if you hold down the button for five seconds, and is automatically turned on if the alarm triggers.
Diving Modes
The Cressi Leonardo has three diving modes: Nitrox, air, and gauge. Divers can change the ppO2 levels to between 1.4 and 1.6. Furthermore, the Leonardo can only be used for Nitrox mixes up to 50%.
Next, the air diving mode is automatically activated by water once you go below 1.2m (4ft) and once you ascend above that depth the surface interval countdown timer will start automatically. Keep in mind that this dive computers' minimum surface interval is only two minutes, so once two minutes have elapsed it will count as the next dive if you dive again.
Lastly, gauge mode functions as a bottom timer and can be used as a basic freediving mode. It displays the dive time in minutes and seconds, though the Leonardo does not have a dedicated apnea timer which other entry-level computers do.
Adjustable Alarms
Before you encounter any trouble, the Cressi Leonardo's audible and distinct alarms will alert you to critical information. For instance, it has a depth alarm, ascent rate alarm (the maximum rate is 10m or 32ft per minute), and a no-decompression limit. Furthermore, there's even a safety stop alarm which displays a STOP icon with the depth and time of any dive performed beneath 32ft.
These audible alarms are accompanied by an on-screen indication for depth, and if you exceed the recommended ascent rate, it will display a SLOW icon. This can be irritating, but it should get the point across. If you don't want to be hounded by all of these warnings, you can turn the alarms off. For beginner divers, this is not recommended.
Conservatism Settings
The Cressi Leonardo has three conservatism settings you can choose from. It is one of the most conservative dive computers on the market, which is ideal for beginner divers who want to play it safe.
However, once you start getting a few dives under your belt, you may start to notice that you keep approaching deco well before your buddy. To minimize this, set the conservative level to Safety Factor 0 (SF0).
Battery
The battery is designed to last for three years (estimated that a user would perform 50 dives per year), so recreational freedivers will probably stay within that limit. But even if the battery were to die quickly for some reason, the CR2430 battery it uses can be easily replaced by the user without any tools.
If you ever find yourself with a dead dive computer when you've just set sail on a liveaboard, you will have a much better chance of getting it fixed. Other dive computers require the user to pay quite a bit to send it to a dedicated service center just to replace the battery.
Decompression Model
The Leonardo utilizes Cressi's Reduced Gradient Bubble Model (RGBM) algorithm, which is a modified version of the Haldane model with integrated RGBM factors created with help from Dr. Bruce Wienke.
Dr. Bruce Wienke is a pioneer in the field of dive algorithms and he created the original RBGM algorithm which many algorithms are based off of. He has worked with Suunto since the late 90s to make the most advanced dive algorithm, and he has lent his expertise to Cressi for this dive computer.
The adapted version used in the Cressi Leonardo is modeled after the nine tissue compartment model with saturation half times between two and a half and 480 minutes. This dive algorithm also takes into account silent micro-bubbles and is conservative in regards to multi-day diving and repetitive dives.
To put it into simpler terms, the RGBM algorithm used in the Cressi Leonardo uses a timer and depth sensor to determine how much gas is theoretically being inhaled and exhaled by your body. By calculating this data, the computer then determines your no-decompression limit (NDL).
Since this dive computer is very conservative, you may find yourself reaching your NDL faster than your dive buddies who use other brands. However, you can adjust the conservatism level by changing the safety factor. There are three values: SF0, SF1, SF2, with the factory setting being SF0.
Overall
The Cressi Leonardo is one of the best beginner dive watches as well as a fantastic dive computer under $500. In fact, it may be the perfect first dive computer for recreational divers.
There's lots to like about it: it has an easy-to-read, clear display, color options, multiple diving modes, a great algorithm, one menu-navigation, visual and audible alarms, and many more features.
You can take it with you on numerous dives thanks to its larger logbook memory of around 70 hours (60 dives) and long-lasting, user replaceable battery. Furthermore, it has a depth display of up to 120m (393ft) and altitude adjustments up to 3,700m (12,139ft).
By holding its large single button for 5 seconds, the backlight will turn on allowing you to see the display in low-visibility conditions. Speaking of the single button, the menu navigation is very intuitive and easy to maneuver with just that button. It also makes it easier to operate if you are wearing thick gloves.
Lastly, the Cressi Leonardo comes at a very attractive price point. It's hard to beat a dive computer with all of these features from a reputable manufacturer like Cressi when they are selling it for such an affordable price. The Cressi Leonardo is a solid and robust dive computer that does everything it says on the tin at an attractive price, and we highly recommend it as your first computer.
Pros:
Intuitive one-button menu navigation.
Attractive price.
Logbook memory of 70 hours (60 dives).
Loud alarms will keep you alerted of any safety violations.
Three conservatism modes to choose from.
The battery is easily replaceable by the user without special tools. Other dive computers may force the user to send it to a dedicated service center at great expense.
Can easily reset the computer to erase the memory of past dives. This is perfect for dive centers, schools, and shops that rent out dive computers so a new diver can start fresh.
Cons:
With the menu designed around one button navigation, it is very simple to cycle through the options and get to the menu you want. However, if you accidentally pass the menu you were looking for, you have to cycle through all the others just to get back as there is no back button.
While this computer isn't large, it's still not practical for use as a daily watch.
Read our full review of the Cressi Leonardo here.
Suunto Zoop Novo
The Suunto Zoop Novo is the upgraded model of the Suunto Zoop, which is one of the world's best-selling entry-level dive computers. As its successor, it has some added functionality, but is it enough to justify upgrading, and how does it fare against other entry-level dive computers?
Design
Let's start with how it is designed. Normally the overall design isn't a key feature worth fussing about in a dive computer, but in the case of the Zoop Novo, it's a major plus. For starters, it has a massive display at 4cm (1.33in) in diameter and is guarded by tough acrylic which makes it able to withstand the odd impact.
Furthermore, the large and legible digits make reading it at a glance very easy, even for those with less than perfect eyesight. Unfortunately, due to its size it is not ideal for normal everyday use, but as a dive watch it is fantastic thanks to its practicality, durability, and functionality.
Navigation
The Suunto Zoop Novo has four buttons to make navigation easier. The buttons are: mode, select, up, and down, all of which are clearly marked. Combined with the large display, and it is a breeze to navigate through the menus and get to the screen you want.
Additionally, the four buttons are ergonomically placed and big, so that they are not only well-spaced but easy to press on the right button, even if you have thick gloves on.
Adjustments
As you already know, there is always a risk of decompression sickness when diving. Particularly if you have certain risk factors (obesity, circulatory issues, age) then you should change the algorithm setting to be more conservative.
Thankfully, the Zoop Novo lets you select between three modes for an extra level of security: P0, P1, and P2. The first setting, P0, is the default setting for ideal conditions. On the other hand, P2 is the most conservative setting, and P1 is somewhere in the middle.
Additionally, the altitude settings can be adjusted which let you change the computer's decompression calculations. The display information can be switched between Fahrenheit and Celsius, as well as metric or imperial.
Alarms
There are many things to keep track of when diving, and beginners often lose track of them due to nerves or excitement. With the Zoop Novo, the numerous audible alarms will let the diver know if important limits are passed or reached. Don't worry, the computer won't be beeping at you every two minutes.
To indicate low or high priority, the Zoop Novo uses different tones to distinguish between them. For example, high priority alarms will start sounding if the current depth is too deep for the gas mix you are using, if you're ascending too quickly, or if the decompression ceiling depth is exceeded.
Whether one is freediving or SCUBA diving, the low priority alarm will trigger when the defined maximum depth is reached.
Logbook Memory
Never lose the data from your past dives thanks to the Suunto Zoop Novo's massive logbook memory which can store 140 hours of data (roughly 100 dives). This gives you ample time to upload that data to a computer before the information is lost. However, in freediving mode the logbook memory can only record the last 35 hours.
Unfortunately, the Suunto Zoop Novo does not have wireless connectivity, so if you want to transfer the data to your Mac or PC you will need to purchase a USB cable separately. The software that transfers the data is free to download, however.
Decompression Model
The Suunto Zoop Novo uses a proprietary RBGM model which was developed in collaboration with Dr. Bruce Wienke. What makes this decompression algorithm stand out is how it can adapt its calculations by monitoring repetitive dives, short surface intervals, reverse profiling, and multi-day diving.
Another thing that stood out to us is how the Suunto RGBM makes use of a full continuous decompression if the diver has exceeded the no-decompression limit. What this means is instead of making numerous stops at fixed depths, the Zoop Novo will calculate in real-time the rate and ceiling depth so that you can continuously ascend.
Furthermore, if you have exceeded the NDL, the algorithm will extend your surface intervals so that you get enough time to recover before the next dive. This computer is intended to be used on planned decompression dives. If this is your intention, then the best option is to put the Zoop Novo into gauge mode and use it as a bottom timer in addition to your dive plan.
Some divers expressed frustration at this dive computer, claiming that it is far too conservative. We feel that it is not a fair criticism, as this watch is intended to be an entry-level watch for beginners, and we feel there is nothing wrong with being conservative. It may get somewhat annoying if your diving partner has a more aggressive computer, but it is better to be safe than sorry.
Overall
The Suunto Zoop was widely regarded as a fantastic entry-level computer, and the Zoop Novo is the newest model that has improved on the original in many ways. It has five diving modes: off, Nitrox, air, gauge, and freediving. It has a built-in dive planner, as well as a full continuous decompression algorithm that was designed in collaboration with Dr. Bruce Wienke.
Never lose track of the time thanks to its timer in air and Nitrox modes, innovative timer for freediving, and audible alarms to remind you if you have reached or passed specific important limits. Never lose your dive data thanks to the Suunto Zoop Novo's massive logbook memory which will store your last 100 dives (~140 hours of diving), giving you plenty of time to upload that data to a computer before it gets overwritten.
After using the Suunto Zoop Novo, we feel it is one of the top choices for a dive computer under $500. It has all of the basic functionality for casual and recreation SCUBA divers. It may not have the fancy features like gas switching or an algorithm for the most hardcore of tech divers, but what it does offer you is a easy and safe way to dive while logging all of that important data. For a highly durable, reasonably priced and super intuitive dive computer, the Suunto Zoop Novo is one of the greats.
Pros:
Large, clear display with backlight.
Intuitive menu which can be navigated with its four ergonomically placed buttons.
Attractive price point.
Very sturdy and can withstand rough conditions.
Personal dive profiles let you adjust the algorithm to be even more conservative.
Long-lasting battery that can be replaced by the user.
Cons:
Due to its large size, this dive computer probably won't be worn as a wristwatch for daily use.
USB cable must be purchased separately.
No digital compass.
User manual is sparse in information, however a quick online search will yield the answers you want.
You can read a more in-depth review of the Suunto Zoop Novo here.
Cressi Giotto
Cressi Giotto Wrist Computer, Black/Gray
The 3 buttons dive computer provides all the necessary information in regards to depth, dive times, possible need of decompression, ascent rate and...
Dive program: full processing of dive data, including decompression if applicable, for every dive performed with air or nitrox.
Full setting of FO2 parameters (oxygen percentage) and PO2 (oxygen partial pressure) with the option to set PO2 between 1.2 bar and 1.6 bar, and FO2...
Yet another offering from Cressi, the Giotto is a dive watch catered to beginners to medium-experienced divers. It is a large wrist or console-mounted dive computer that provides ample screen real-estate to display all of the critical information you need to know at a glance.
Navigating the interface is relatively straightforward and intuitive thanks to its three buttons. For the features that it provides, the Cressi Giotto is priced competitively with other entry-level dive computers.
Design
One of the first things you will notice about the Cressi Giotto is the clean interface that displays information in a concise manner with minimal confusing abbreviations. The body of the device is shaped like a traditional wristwatch, but due to its size it can't be considered as such.
Some beginner divers make the mistake of thinking that the more compact a dive computer is, the better. That's not necessarily true because you need to be able to easily see the information on the dive computer. Due to the Giotto's size, parsing the information at a glance is very easy to do.
Capabilities
The Cressi Giotto has three different diving modes: Nitrox, air, and gauge. It is a wrist-mounted diving computer that can also come two other versions, including one with a compass or a mini pressure gauge. Due to its size, you probably won't be using it as a wristwatch outside of diving.
The large display adds bulk, but also makes it easy for divers to see critical data at a glance. In terms of presentation, the data is sectioned and the most important information is displayed with a bigger, bolded text size.
One of the things displayed on the screen is the battery level. Once it runs out, the battery can be replaced by the user without needing to bring it to a service center and paying an expensive fee.
Navigating through the menu is done through three large buttons at the bottom. Pressing the buttons may get a little tricky if thick gloves are worn, but it is still possible due to the spacing of the buttons.
Compared to dive computers with only a single button, using three buttons to navigate the interface is much smoother in comparison. For instance, you don't have to go through every single menu just to reach the one you want. With the forward and back buttons on the Cressi Giotto, you can easily switch between menus.
Safety is of utmost importance, and it is the reason why dive computers are used when SCUBA diving. Thus, the Giotto has many audible and visual warnings to indicate when a safety violation has occurred.
The alarm will trigger when certain conditions have been met, such as:
Maximum depth.
Dive time.
High rate of ascent.
CNS Toxicity.
High ppO2.
Decompression depth, air, and Nitrox warnings.
Deep stop warning.
Technical Capabilities
The Cressi Giotto can handle oxygen levels between 21%-99% in Nitrox mode. It can monitor and switch between two different gas mixes. The ppO2 limits for this computer can be set between 1.2 and 1.6 bars.
Next, the maximum operating depth for this computer is 120m (394ft). If you plan on diving at higher altitudes, you can adjust the altitude levels up to 3,700m (12,139ft) from four different altitude settings.
The Cressi Giotto runs on Cressi's own modified RGBM algorithm, which is based on the Haldane model and adapted to their needs. We found the algorithm to be quite liberal, but thankfully you can adjust the conservatism levels if you want to err on the side of caution. There are three conservatism levels to select from, but by default the computer is just running the Cressi model with no safety factor applied.
Additionally, the Cressi Giotto has a dedicated display to highly the oxygen toxicity level for the central nervous system (CNS). This display takes into consideration the diver's exposure time to partial oxygen pressure and the resulting toxicity level of oxygen is displayed in real-time as a graph on the screen.
Dive Log and Connectivity
Capable of storing up to 70 hours of dive data (roughly 60 dives) with a constant sampling rate of 20 seconds, the Cressi Giotto can hold a respectable amount of dive data. You can view the data on the device itself, but for a more in-depth overview, you will need to transfer the dive log to a computer.
Unfortunately, there is no wireless connectivity, so you must purchase a USB connector separately. The software needed to analyze the detailed dive information is included with the dive computer.
Mission Functionality
Like many entry-level dive computers, the Cressi Giotto lacks a built-in compass and air integration, both of which are available when you purchase a console. Since these are premium features, most dive computers in this range will not have these features and you should expect to pay more to get them.
With that said, most casual divers don't need these functions and the Cressi Giotto already provides a set of features that is sufficient for recreational diving.
Overall
The Giotto is yet another excellent offering from Cressi for beginner to intermediate recreational divers. This dive computer is designed by one of the trusted brands in the SCUBA diving gear community, and gives you all of the basic features to get you started.
There's lots to like about it. The display is sharp and makes it easy to parse the data at a glance to get the essential information you need. With its three buttons, navigating the menus is super easy and convenient. You can switch between three dive modes: air, Nitrox, and gauge. Furthermore, you can switch between two Nitrox mixes, as well as in the middle of a dive.
The functionality provided by the Cressi Grotto makes it a solid choice at a desirable price point. Divers who are just getting started with SCUBA, and even intermediate divers can use it and grow with it.
While it doesn't have advanced functionality like air integration, most divers won't need it in the first place. Plus, the lack of air integration is probably what's keeping the price low. If you are on a budget and want a solid dive computer that can do all of the basics from a trusted brand, then the Cressi Giotto is for you.
Pros:
Large display that is sharp and easy to read, with three buttons to navigate the interface.
Dive log memory that stores the data of the past 60 dives (70 hours)
Maximum operating depth of 120m (393ft).
Complete reset mode that is perfect for any establishment that rents out dive computers.
Cressi's own modified RGBM algorithm.
Easy to replace Lithium battery, no need to send it to a service center.
Cons:
Too large to be worn as a wristwatch.
No air integration.
Read our in-depth review of the Cressi Giotto here.
Atmos Mission One
This new dive computer from Taiwan-based manufacturer Atmos provides an impressive suite of features that you'd expect to find in high-end models at an affordable price point. What makes this a top choice out of all of its competitors? Almost everything.
First, the Atmos Mission One has an incredible display for its price. The screen is high contrast, 1.2" with a resolution of 240×240 pixels and displays colors. To get a better screen than this, expect to pay at least triple the price for something like the Shearwater Teric, but instead you can get the Mission One for under $500.
Second, the Atmos Mission also comes with a digital compass and dive planning. Once again, these are premium features that you wouldn't normally find in this price range. Furthermore, it also supports Nitrox, has audible and visual alarms, and has freediving and gauge modes.
Algorithm
The Atmos Mission One runs the Buhlmann ZHL-16c algorithm which is one of the best algorithms out there because it is well-tested, not proprietary, and easy to understand. What makes the Mission One stand out is how adjustable its conservation factor is using gradient factors.
For casual divers, just set the GF hi value to around 70 for conservative dives, or if you're feeling adventurous, set it to 95 for an aggressive dive profile (95 is akin to the DSAT algorithm).
Since this computer gives you the freedom to customize, it means divers can also change their GF lo to a higher value like 50-60, which changes their first decompression stop to be much shallower. Many recreational diver computers hard code these values in, and if the GF lo is in the 30 range it leads to "deep stops."
Pros:
High contrast, 1.2" color screen and 240×240 pixel resolution; these are premium features that are typically only available in higher end dive computers.
Packed with features like a digital compass and dive planning and more.
Small profile for less drag – watch style instead of puck style.
Runs the Buhlmann ZHL-16c algorithm which is one of the best there is.
Features a comprehensive watch mode so you can wear it out of the water.
Cons:
No air integration but which sub-$500 dive computer does? Plus it already has so many premium features you can hardly complain.
Since it is Taiwan-based, not many manufacturers in the USA carry it though it can be purchased online.
Relatively new company to the dive industry, we shall see if their quality keeps up.
Read our in-depth review of the Atmos Mission One here.
Mares Puck Pro/Plus
The Mares Puck Pro is a reliable and compact dive computer with numerous useful features at a low price. It has a large interface that can be navigated with just a single button, whether it is to seamlessly switch between the three diving modes (Air, Nitrox, and Gauge) or to adjust the algorithm settings.
This dive computer comes included with features that many entry levels typically don't have, such as a stopwatch, calendar, and capability to adjust altitude. The Puck Pro has a maximum depth of 150m (492ft), which is a large enough distance for most divers.
Record up to 36 hours of dive data which can be uploaded to a computer to be analyzed further. However, you will need to purchase a USB separately in order to do so. The next model up, the Mares Puck Pro Plus features wireless Bluetooth capability so that you can send the data to your computer or smartphone.
Another great feature is this ascent rate monitor which will warn you if you are going up too quickly. Prevent safety violations by getting a reminder with its alarms regarding not only the ascent rate, but also if the battery is low, a decompression stop is missed, or if there is high PPO2 readings.
Overall, the Mares Puck Pro price is a solid dive watch for the price. Furthermore, it is a product from Mares, a trusted manufacturer of diving equipment and should be on everybody's list of budget entry-level dive computers.
Pros:
Large interface that has been clearly sectioned to provide data in a clear and concise manner.
Three diving modes: Air, Nitrox, and Gauge.
Capable of keeping a dive log of the last 36 hours of diving.
Generous maximum depth of 150m (492ft).
Cons:
Need to purchase a USB cable separately in order to access data. The next model up, the Mares Puck Pro Plus, solves this with Bluetooth capability.
Read our in-depth review of the Mares Puck Pro Plus here.
Aqua Lung i200c
Aqua Lung I200c Wrist Dive Computer Dark Charcoal
4 operating modes. Air, Nitrox, Gauge (with run timer), and Free Dive (tracks calculations to allow unrestricted switching between Dive and Free)
User-changeable standard battery and data retention. Uses globally available standard batteries found at supermarkets and drugstores. Maintains...
High visibility LED alarm light. For additional diving safety
In the past few years, Aqua Lung have manufactured many competitive dive computers in the low to mid price range. The majority of these models were based off of their classic Oceanic Geo and Veo models, which have since been rebranded under the Aqua Lung name since Oceanic's acquisition.
So is the Aqua Lung i200c literally just a rebranded watch, or is there more to it than that? In our opinion, it has made some big improvements and it hits the sweet spot when it comes to price and features.
What's new? Well, compared to older models, this one comes with bluetooth connectivity. As a result, you do not have to separately purchase a USB cable just to get the data from your watch to your computer. Many companies charge a ridiculous price for their USB cables because they know that divers need access to this data.
The Aqua Lung i200c has 4 diving modes: Air, Nitrox, Gauge (with run timer), and Free Dive which tracks calculations to allow seamless and unrestricted switching between Dive and Free. It can handle two gas mixes with up to 100% oxygen.
Pros:
Based off of the Oceanic Geo 2.0, an already acclaimed dive watch.
Wireless Bluetooth connectivity lets you transfer data to your computer and smartphone without needing to purchase a separate, expensive USB cable.
Z+ algorithm is decent, though a bit on the conservative side.
Dual gas Nitrox mode up to 100% oxygen.
4 physical buttons to make navigating the interface very convenient.
Cons:
The LCD screen is starting to feel dated, with many cheaper models having a comparable screen.
Battery can only be serviced by factory.
No air integration.
Even with the bluetooth technology, we feel that their listing price is a bit steep, though it still falls under a "budget" computer.
Read our in-depth review of the Aqua Lung i200C here.
Mares Quad
Sale
Mares Quad Computer (Black)
Easy to Use: The four button user interface let you navigate forwards and backwards and in and out of the menu structure to adjust settings and...
Three dive modes make the Quad easy to use with minimal complications, Air, Nitrox and Bottom Timer mode is all you need for recreational diving and...
Modes: Air, Nitrox, Bottom Timer
Yet another dive computer from Mares, the Mares Quad makes it onto this list because it has a strong advantage in usability compared to the other products in this price range.
Most dive computers taut only their dive features. While the Mares Quad doesn't lack in that department, Mares put special attention into the large screen with four physical buttons for unmatched usability. Most other budget computers only have one or two buttons and a tiny screen. That makes navigating and looking at the data more cumbersome than it ought to be.
With the Mares Quad, you can get the info you need at a glance, and you can navigate the interface to change the settings easily thanks to its numerous buttons. Despite looking like it, the Mares Quad is not bulky or awkward to wear and you will learn how to use the menus in under 5 minutes.
As for features, it has three diving modes: Air, Nitrox, and Bottom timer, with a battery that can last approximately 200-300 dives before replacing. It uses the RGBM Mares-Wienke algorithm and has a maximum depth display of 150m (492ft.)
Pros:
Large screen with four physical buttons makes navigating the menus a breeze.
Readability is further increased with sectioned information and intelligent placement of data.
Has a large maximum depth display of 150m (492ft)
Has a decompression dive planner that can be easily adjusted.
Long battery life that can be replaced on your own.
Cons:
Basic LCD screen.
No air integration.
RGBM algorithm is slightly dated.
Best Dive Computer Under $500 Buying Guide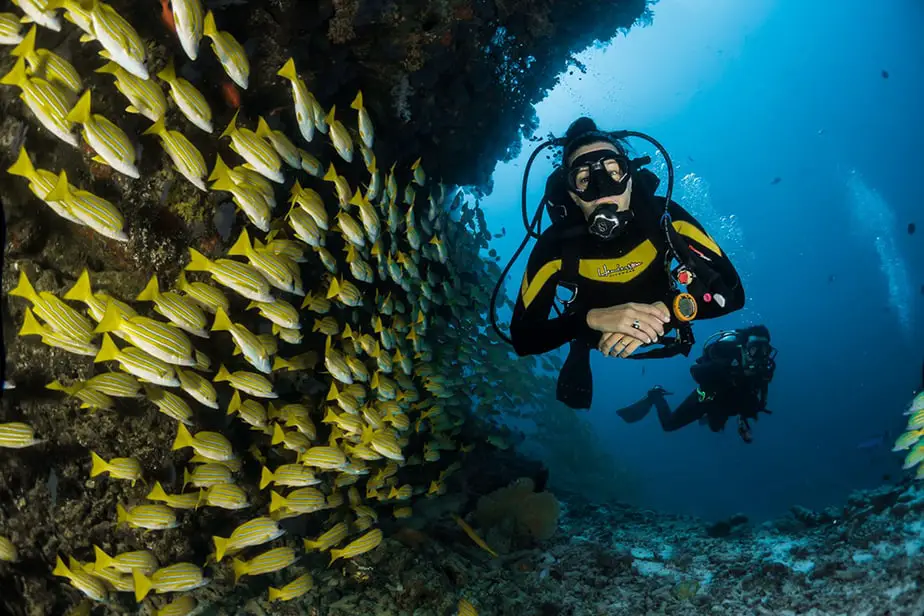 When you are shopping in this price range, you can only get entry-level dive computers with only basic functionality that are reliable enough to keep you safe during a dive. As for the specific features, here is what to expect.
RGBM Algorithm with Adjustments
Basically every dive computer manufacturer has their own Reduced gradient bubble model (RGBM) algorithm that continuously calculates your dive data at different sampling rates.
With these calculations, the dive watch can determine how much time you have left underwater based on how quickly the oxygen in the tank is being used, whether you are ascending too fast, your max dive depth, current depth and other useful information.
If your diving buddy has a dive computer from a different manufacturer, you can expect the dive calculations to be different, so rely on your own dive computer.
Most algorithms can have the conservatism of their calculations be adjusted so that it is more conservative. This ultimately provides you with a greater safety margin and peace of mind when diving.
Gas Mixes
Dive computers under $500 will have the capability of having one Nitrox mix and support oxygen levels up to 50%.
Since you're looking for a "budget" dive computer, you are most likely either a beginner or recreational diver and managing one gas mix is usually enough. In fact, if you are only a casual SCUBA diver, a single gas mix may cover you for a few years or maybe even a lifetime.
Most newer and higher end models can handle up to two gas mixes. Again, depending on how much of an enthusiast you are, this may not be an important feature for you. For recreational divers, it is generally a non-issue.
Audible and Visual Alarms
You can expect all dive computers within this price bracket to provide audible and visual alarms to alert you of a possible danger. You can expect the following to trigger an alarm:
Dive time exceeded.
High rate of ascent.
Maximum depth violation.
Missing a decompression stop.
High pO2.
Beginners are the most likely to make these mistakes, and thankfully all dive computers have alarms that alert the diver of any issues.
Dive Log
Memory is critical, and you can expect even dive computers under $500 to be able to store the data of at least the last 20 dives. In fact, some models have such impressive memory, they can record over 120+ hours of data, or roughly 75 dives.
Generally, the dive data will be sampled at a fixed rate. Some models allow you to adjust this rate, for example you can potentially set it to record data at 10, 20, 30, or 60 second intervals.
USB or Wireless Connectivity to Computer
Unfortunately, while most dive computers on their own may be less than $500, some require you to purchase their USB and software separately. Doing so may potentially increase the price to around or over $500.
However, some may allow you to use Bluetooth to wireless send the data to your smartphone or computer. Before purchasing a dive watch, look very carefully at how the data can be accessed so that you don't unexpectedly have to pay extra for a USB cable and software.
Missing Features
Alas, it would be great if you could get the best dive watch under $500 with all of the shiny bells and whistles, however at this price range you might be missing some features. Once again, if you are a recreational diver the missing features may not be of much concern to you since you may never need to use them anyways.
Dive Planner
Even though dive computers at this price point won't come with a dive planner, you can upload the dive data to your computer and make dive plans on the computer.
Air Integration
It is highly unlikely that you will find a dive computer with air integration at this price. If you're patient and wait for a good deal, you may find one on sale that is capable of air integration, but you probably won't find a dive watch with an air transmitter included.
Digital Compass
If you want an integrated digital compass, it's something that is available in the next price range above. Generally, once you start looking at dive computers in the $800-$1000 price range, you will start to see digital compasses being the norm as part of their main features.
Conclusion
SCUBA equipment is expensive, and dive computers are no exception. With that said, there is a large selection of excellent dive computers under $500, and the best ones will provide all of the basic features that will keep you safe as you're diving underwater. As dive computer technology improves, you can even start to see features that were previously reserved for high-end dive models start appearing in entry-level computers.
Which dive computer you select depends on how you plan to dive and your personal preferences in terms of its style and usability. Are you fine with wearing an oversized computer, or do you prefer to wear a watch-sized model which can also be worn as a wristwatch in your daily life?
There are trade-offs for each style. A large display makes it easier to read the critical information while in poor-visibility conditions. The large size also makes battery replacement much easier. On the other hand, watch-sized devices often need to be sent to a service center for battery replacement, and it is harder to read the display.
Furthermore, do your due diligence and actually look at the technical capabilities of each dive computer. Yes, popular ones from trusted brands are relatively comparable in terms of numbers and they should cover all of the basic features. But it is your duty to what exactly its maximum operational depth is, for example, or what kind of decompression algorithm it uses.
Remember to also check its conservatism settings, because the whole point of using a dive computer is to make diving safer, so being able to adjust the safety settings is crucial. If a dive computer from a trusted brand meets all of your requirements and it is under $500, then buying it should be a safe bet.
Last update on 2023-09-11 / Affiliate links / Images from Amazon Product Advertising API