With so many brands on the market across a wide spectrum of price ranges, it can be daunting to find the best dive computer for beginners. What kinds of specs and features should you be looking for? Which ones are essential, and which ones are just fluff?
Typically, the best dive computers for beginners should provide a good user experience, meaning it is easy to use with a clear interface, has just the right amount of features, and is available at an affordable price. Don't be tempted by PDCs with impressive specs and endless features that only experienced divers would care about.
In this article, we have narrowed down the massive list of available options and honed in on the best beginner dive computers with an emphasis on affordability and ease of use. We have also written a buyer's guide detailing many popular features such as automatic activation, air integration, dive Nitrox, etc., so that you can do some research on your own if you'd like. Without any further ado, let's head on to the review.
Our Top Picks:
Best Dive Computers for Beginners Review
Cressi Leonardo Underwater Diving Computer
Sale
Cressi Leonardo, black/grey
A single button Dive Computer makes it effortless to set Air, Nitrox and Gauge modes. Ideal for beginners in Scuba Diving. It is easy to use and easy...
FO2 adjustable between 21% and 50%. PO2 adjustable between 1.2 bar and 1.6 bar. CNS oxygen toxicity graphic indicator.
Three levels of user adjustable conservatism. Visual and distinct, easy-to-hear audible alarms
The Cressi Leonardo is a wrist-mounted dive computer that caters to beginner divers. It's quite bulky but its size makes it easy to read the display and navigation can be done through a single button on the device. Despite its affordable price, it is considered to be a high-quality and reliable piece of equipment by thousands of SCUBA divers.
Features
This dive computer comes with many useful features such as air, gauge, and Nitrox modes, a backlight for night/low-visibility dives, alarms, large digits for clear reading, and easy access to the on/off button. With that said, it is an entry-level computer so it is missing some features that can be found in higher-end dive watches.
Not only will this dive computer provide accurate real-time readings of your dive times, ascent rate, decompression status, and depth during your dive, but it has been designed to be easy to read thanks to the backlit display and large digits. Visibility is often an issue the deeper you go, so being able to safely monitor your data is critical.
Additionally, the Cressi Leonardo comes with a data reset feature which is ideal for rental companies whose primary customers are beginners. For those who are worried they might accidentally wipe their own personal data, it's quite difficult to stumble into this section and delete your data without following the manual, so you would have to be intentionally trying to wipe it.
Another great feature that the Cressi Leonardo has is its visual and audible automatic warnings to warn you if you are ascending too quickly or if you are running out of oxygen. The watch visually represents this by using a stack of arrows to indicate something is wrong, and the audible alarms are loud enough that you can hear it underwater.
Technical Capabilities
The Cressi Leonardo is designed to be fully operational up to a maximum of 120m (393 feet) below the surface. Its dive algorithm is based on Cressi's own Reduced Gradient Bubble Model (RBGM) which is based on the Haldane and Wienke algorithm.
This algorithm can accurately calculate your decompression limits, even if you do numerous dives within a short span of time. The Cressi Leonardo will continuously monitor your body's Nitrogen absorption and release.
Furthermore, it takes into account how much inert gasses and other mixtures that you can use. You can even further adjust the way the algorithm calculates the data for a safer dive experience. For instance, the nitro levels can be set for oxygen levels between 21-50%, and the PO2 limits can be changed to 1.2-1.6 bars.
Dive Log and Connectivity
The built-in dive logs keep track of the last 60 dives (~75 hours). Furthermore, the data is sampled every 20 seconds during a dive for the most accurate record of your past dives. You can then transfer this log to your PC, however you need to purchase a separate device in order to do so. Once the data is on your PC, you can plan future dives by running dive simulations.
Missing Functionality
Remember that the Cressi Leonardo is an entry-level dive computer, therefore it does not have all of the bells and whistles that a more expensive model has. For example, it does not have a compass nor does have air integration.
With that said, for beginner divers air integration is not a priority. However, as your skills and experiences grow, you may eventually want to upgrade to a dive computer with more functionality.
Overall
The Cressi Leonardo is possibly the best dive computer for beginners by providing all of the basic features at an affordable price. It is well built and designed by a reputable company. It does not have all of the shiny new features, such as air integration, that higher end models have. However, for beginners or those who want a reliable back-up watch, then this is a top tier choice.
Pros:
Large, easy-to-read display with simple one-button navigation.
Air, Nitrox, and Gauge modes.
Dive log can keep track of 60 dives (75 hours).
Adjustable safety factor settings.
Data can be completely reset after each dive, ideal for dive shops.
Cons:
No compass or air integration.
Backlight could be brighter.
Bulky.
Read our full review of the Cressi Leonardo here.
Suunto Zoop Novo
Yet another excellent contender for best dive computer for beginners is the Suunto Zoop Novo. Like the Cressi Leonardo, it is also an oversized wrist watch designed to have a large display screen so that the diver has no difficulties reading the information at a glance, even in low-visibility conditions.
Navigation the interface is done through the 4 buttons located in the front. The Suunto Zoop Novo also comes in a console-mounted version if you prefer that over the wrist mounted style.
Features
The Suunto Zoop Novo can switch between five different dive modes: Air, Nitro, Gauge, Freedive, and Off mode.
Navigating the interface is simple, even for beginner divers who have never used a dive watch before. Suunto have taken great care to place the buttons in ergonomic positions so that they are easy to reach and press, even if thick gloves are worn. With four separate buttons, navigating is easier than trying to step through each screen with only a single button compared to other models.
The Suunto Zoop Novo has audible and visual warnings for various conditions like dive time, max depth, high pO2, deep stop and decompression ceiling violations, and ascent rate. With that said, the screen only displays black and white, so the visible alarm is not as prominent compared to models with a color display.
Technical Capabilities
Let's talk about nitty-gritty numbers. The Suunto Zoop Novo can handle oxygen levels between 21%-50% in Nitrox mode. The pO2 limits for this dive watch can be adjusted between 1.2 and 1.6 bars. The maximum safe dive depth is 80m (262ft), with altitude adjustment settings up to 3,000m (9,843ft).
Algorithm
The Suunto Zoop Novo's algorithm is Suunto's own which was developed in cooperation with Dr. Bruce Wienke, the creator of the Reduced Gradient Bubble Model (RGBM) that is used in many dive watches today.
What's great about this algorithm is its ability to allow the diver to tweak the conservatism of the algorithm for a safer dive experience. Just change the dive profile to conservative and enjoy an extra level of safety.
Off Mode
Another nifty feature is Off Mode. Activating it will prevent the dive computer from changing into dive mode just because you are in the water. This feature saves battery life if you are in the water but don't want it running at full power.
Diving Log and Connectivity
The Zoop Novo has an immense storage capacity that can store the last 140 hours of data, which is equivalent to roughly 75 dives. You can set the sampling time to be either 10, 20, 30, or 60 seconds which lets it maintain a detailed logbook of your past dives.
Unfortunately, if you want to access this data on a desktop computer, you will need to purchase a USB connector and software for both PC and MAC. You may be able to purchase the device with a USB cable together.
Seeing as how you need a USB cable, it should go without saying that this device does not have Bluetooth connectivity. In order to extract data from the dive computer, you need the USB cable to connect it to your computer.
Once connected, the data can be uploaded to the Suunto Movescount portal. You will be able to see all of the exercise data, and you can also add photos and videos to your dive data from this portal.
Missing Features
Since this article focuses on dive computers for beginners, you should expect these entry-level products to be missing some features. Much like the Cressi Leonardo, the Suunto Zoop Novo is also missing a compass and air integration capability. If you are looking for a device with air integration, consider getting the Suunto Vyper Novo instead. Recreational divers won't need this feature, unlike veteran divers.
Overall
The functionality offered by the Suunto Zoop Novo is about what you'd expect from an entry-level dive computer. It has all of the basic features but no compass or air integration. Furthermore, there isn't the option to add air integration either.
As such, it is not ideal for divers who are trying to hone their skills and are planning to switch to air integration in the future. With that said, recreational divers either don't need to worry about this feature, or it may be years until they need it and by then they can just upgrade to a new device entirely.
With the 5 dive modes, 4 easy-to-access buttons, and over 140 hours (75 dives) of data storage, the Suunto Zoop Novo is a fantastic dive computer for beginners.
Pros:
Easy to navigate the interface thanks to its 4 ergonomically placed buttons.
Features Suunto's own RBGM algorithm, made in collaboration with Dr. Bruce Wienke.
Four dive modes: Air, Nitrox, Freediving, Gauge, and a special Off Mode.
Can record the last 140 hours (75 dives) of data, with a sampling rate of 10, 20, 30, and 60 seconds.
Excellent entry-level device for beginners.
Cons:
No compass.
No air integration.
Check out our in-depth review of the Suunto Zoop Novo here.
Mares Puck Pro Plus Dive Computer
The Mares Puck Pro Plus is an updated version of its acclaimed Puck Pro dive watch, which was already considered to be one of the best entry-level diving computers for its time. With their refreshed Puck Pro Plus, Mares has made a good product even better.
To start, navigation on this device is handed via an intuitive single button. Next, the Puck Pro Plus has been improved so that it can connect to your computer or smartphone wirelessly with a Bluetooth clip connector. No more annoying USB cables are needed to access the dive log on your other devices.
More upgrades have been made on the Pro Plus in regards to connectivity, such as firmware updates and easier data exchange between your smartphone. Even personal maintenance of the device has been simplified, with the battery being easy to swap out yourself. No more sending it to a service center or authorized dealer if you're willing to do it yourself.
Features
The Mares Puck Pro Plus provides an intuitive, highly legible display with split sections. By segmenting the information into three lines, it allows the device to display all of the critical information on its large display.
There are three diving modes to choose from: Air, Nitrox, and Gauge.
Furthermore, it can deal with different gas mixes that you can easily switch between during a dive with oxygen levels up to 99%. Avoid safety violations with its alarms which trigger when the ascent rate is too high, battery is low, decompression stop is missed or ignored, and there is high PPO2 and high CNS (over 100%).
Technical Specifications
Let's get down to the nitty-gritty. The Mares Puck Pro Plus has a maximum depth of 150m (492ft). Its onboard dive log size records the last 36 hours with a sampling rate of 5 seconds. It has a Nitrox setting up to 99% oxygen, and can switch between metric and imperial units.
Overall
The information of each dive that is recorded by dive computers are so important, and it can be a pain in the butt having to buy a USB cable and software separately just to access your data. For this reason, the Bluetooth wireless connectivity of the Mares Puck Pro Plus is a godsend and is honestly worth it just for that feature alone.
If you want quick access to your data just send it to your smartphone. No more having to wait until you return from your vacation, or lugging around a laptop just so you can see your data. Furthermore, you don't have to worry about your dive log getting overwritten before you can upload it to a computer if you can send it wirelessly long before that happens.
Of course, it has all of the features you'd expect from an entry-level dive computer as well. The updated design of the Puck Pro Plus makes it look more sophisticated and there are various colors to choose from. Overall, the Mares Puck Pro Plus can be your intuitive decompression calculator for years to come whether you dive Air or Nitrox.
Pros:
Bluetooth connectivity allows you to wirelessly send dive data to your smartphone or computer without a USB cable. This feature alone is worth getting the dive computer for.
Three dive modes: Air, Nitrox, and Gauge.
Usable up to 150m (492ft) below the surface.
Logs the last 36 hours of diving data with a 5 second sampling rate.
Cons:
If you already have the older Mares Puck Pro, there may not be enough new features to make it worth an upgrade.
Check out our comprehensive review of the Mares Puck Pro here.
Best Dive Computers for Beginners Buyer's Guide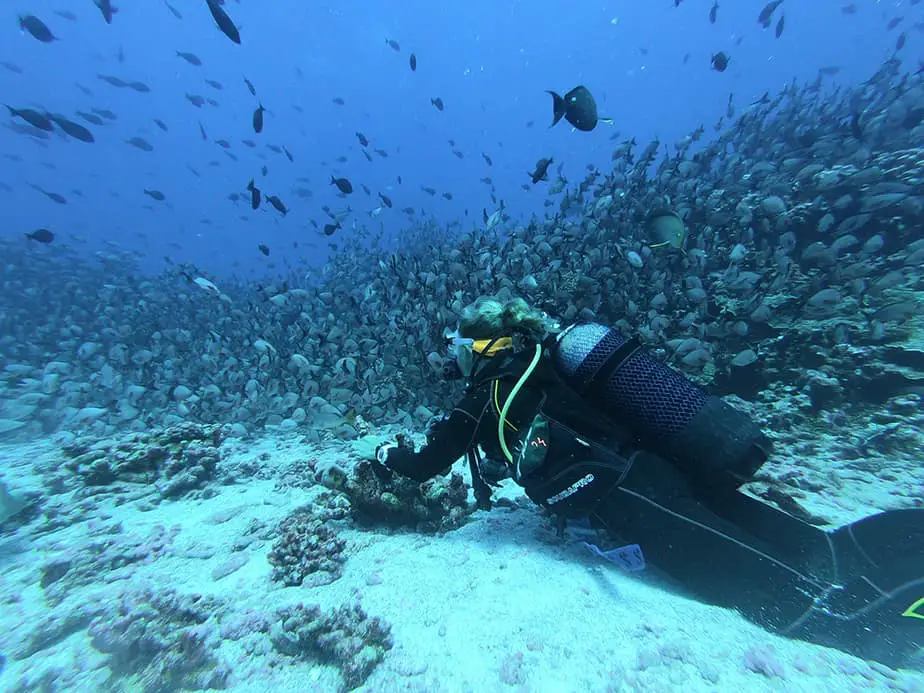 If you're not aware of what a Personal Dive Computer (PDC) is and why it is so useful, it is a device designed for SCUBA divers that tracks the depth and time of a dive according to a pre-programmed algorithm.
Today, dive computers have become so prevalent and accepted that it is considered as important a piece of equipment as your regulator. Its popularity is not without merit; it is constantly monitoring your dive and displaying a safe dive profile and ascent rate to help prevent decompression sickness.
While it is not compulsory for a SCUBA diver to have a dive computer, they are an essential piece of equipment if you plan on diving frequently. This is because the information that you would normally calculate by using a dive table can be done with more accuracy and detail using a dive computer.
While dive tables are a great tool to help divers figure out how long they are able to stay underwater at specific depths and if a decompression stop is necessary, they are slowly becoming obsolete. Before dive computers were introduced to the public, knowing how to read dive tables was an essential skill for frequent divers and is taught as part of any diving course.
However, to the untrained eye, decompression tables are confusing and take a fair bit of practice until one becomes proficient at reading them. With that said, to err is human, and even professional divers make mistakes sometimes in their calculations.
Thankfully, dive computers can do all of these calculations for you so that there is no chance of a mistake when calculating diving periods, safe diving depths, and decompression stops. SCUBA diving computers can track precisely the time spent underwater and the depth in real-time.
Due to the constantly changing information, the dive computer can recalculate as you are moving, while a dive chart is static and cannot be adjusted in real-time. With the calculations that a PDC makes, you can decide on-the-fly whether you would like to spend more or less time at depth.
With the information provided by a dive chart, any sort of unforeseen circumstances can lead to longer decompression stops and less time spent at depth. There's so much more that a dive computer can do, and you can read about the features in the next section.
Dive Computer Basic Features
All dive computers will display four crucial pieces of information that all SCUBA divers must keep track of throughout their dive. They are:
Current Depth of the dive.
Maximum Depth reached for that dive.
NDL/No Stop Time: The time available for a specific depth without needing to go to a decompression stop during ascent.
Overall Dive Time: The amount of time spent underwater measured from descent to the beginning of the ascent to the surface.
These features are available in all dive computers so if they are all that you need, then you can go ahead and invest in a budget one. Higher end models come with numerous advanced features that may not be available in other models.
Dive Computer Additional Features
The higher end models come with numerous features that will make the diving experience a lot smoother. For instance, the Suunto Eon Steel dive computer comes with a pressure sensor that instantaneously sends the information wirelessly to the main device when it is held close to the tank. Here are some common features you can expect to find in higher-end PDCs.
Ascent Rate Monitors and Warnings
When one is ascending, one must make sure to do so slowly in order to decrease the chances of getting decompression sickness. With that said, it is hard to know exactly how fast or slow one is going even after calculating the optimal speed with a table.
With a PDC, you can completely remove the guesswork by accurately telling you in real-time if you are swimming too fast. Most models even have a warning system built-in to alert you.
Navigation
An important part of a SCUBA diver's gear is their compass. While you can use an analog compass on your dive gauge, you could also use the integrated digital compass on your dive computer. With this, you will always know which direction you're headed and how to return to shore or the boat.
You can supplement or even replace your old-fashioned compass with a dive computer. The advantage of this is they can digitally display your information for easier reading, and you don't even have to keep the instrument perfectly level to get a proper reading.
Air Integration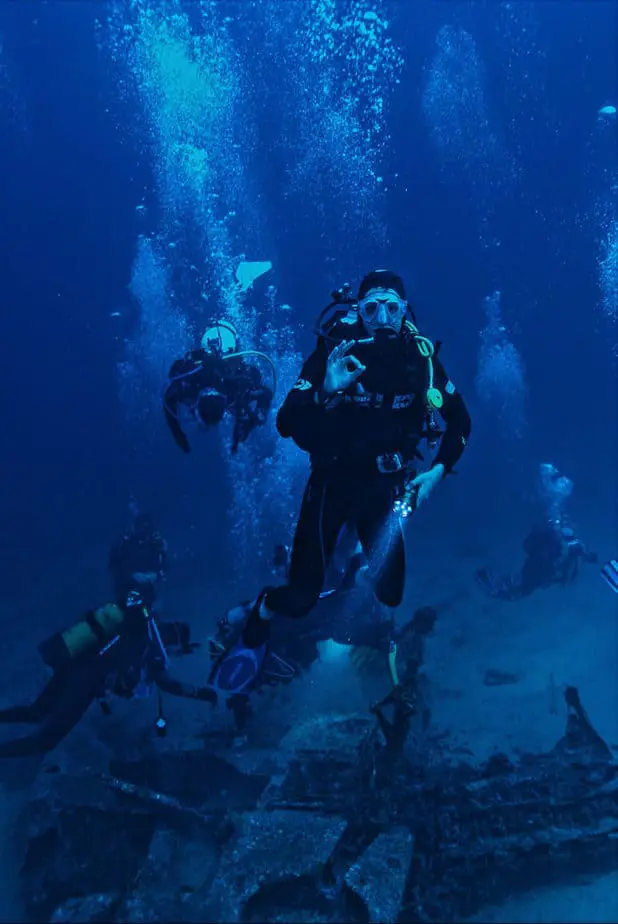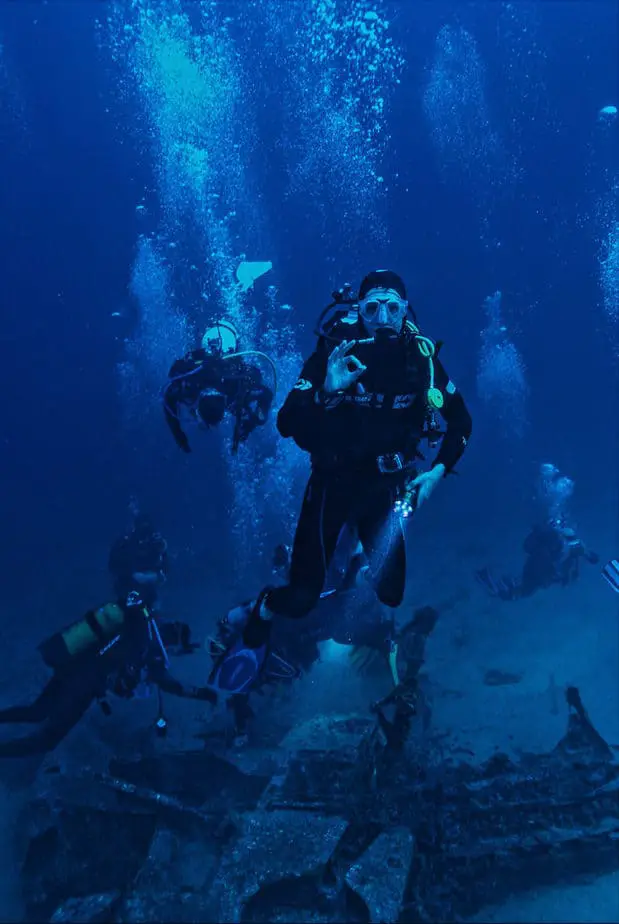 SCUBA computers with an Air Time Remaining (ATR) or air integration system provide an additional layer of security. Having air integration removes the need to have a separate pressure gauge.
Knowing how much oxygen is left in the tank is crucial, and the air integration monitor will keep track of this and alert you about how much time left you can safely spend in the water.
This information is calculated by measuring the diver's air consumption rate, the capacity of the air tank, and computing how much time is left. Since this is done in real-time, any increase or decrease in the consumption rate will get factored in, and the display will be updated.
The PDC can also factor in how the time remaining changes due to turbulent water conditions or at different depths. For instance, in the middle of strong currents or any situation that causes the diver to exert themselves more than usual, the air consumption will most likely increase and the time remaining will change.
While a submersible pressure gauge can track how much air is remaining in the tank, the dive computer does that as well as provide time-related information.
Although air integrated computers are very advanced and thus cost a pretty penny to buy, their prices have come down over the years. Many divers feel that the AI's other features, such as audible low-air alarms, transmitter connections, quick disconnects, and the main feature justify the higher price tag.
Nitrogen Monitoring
Many dive computers for beginners also track the nitrogen level in your system using a Tissue Loading Meter. A nitrogen monitor is yet another layer of security to help divers avoid decompression sickness. By monitoring how much nitrogen has accumulated in your system, you will know how much time to spend at a decompression stop.
Similar to the ascent rate monitor, the nitrogen monitor can be set as an alarm so that you can receive a warning in case you need it. Keep in mind this is separate from the no-decompression limit.
Dive Nitrox
If you're a Nitrox diver, this feature is designed specifically for you. Since a different composition is used in the air tanks, there is an increased risk of central nervous system (CNS) oxygen toxicity, tracking the exposure to oxygen is paramount.
Dive computers can calculate how much time one can be continuously exposed to the oxygen while still staying safe. This information is typically displayed as minutes left within a safe time limit. Another way a PDC can display this information is through percentages.
Dive Log
Having the data for each dive is important for keeping track of your progress as a SCUBA diver. Doing it by hand is tedious and error prone. A PDC can track all of this information for you so that you don't have to do it manually. For example, the Mares Smart Wrist model tracks the data of the last 25 hours, and even features a dive plan mode.
The information logged by the dive computer can be conveniently transferred to a desktop computer where it can be viewed as a digital log. A cable that links the PDC to a desktop is included in the packaging.
Activation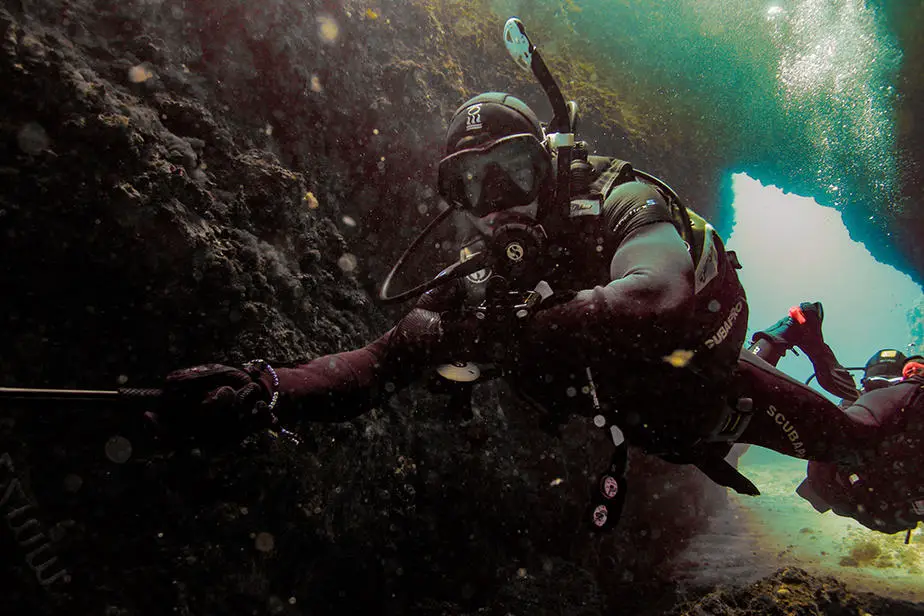 Dive computers have two ways they can be activated: manually or with water. Some PDCs require the diver to press a button before heading into the water for information to pop up on the computer's display.
Many dive computer manufacturers have noticed that divers tend to forget to press the On/Off buttons on their device. To address this issue, some dive computers have been designed so that they activate when one enters the water. This feature ensures that you will always have details of your dive, however this feature increases the computer's price tag.
Memory
All dive computers provide a dive log function so that you can review your most recent dives. The amount of dives logged depends on the model. Before choosing a computer, make sure it has the memory capacity to keep a log of numerous dives at any given time.
Older models typically only show the most recent dive. Current models generally log the data of the last 10 dives.
Miscellaneous
Some models come with various nifty quality-of-life features, such as the ability to track and record a dive log history, the option to set visual or audible alarms, as well as a backlight for nighttime or low-visibility dives. Color displays are starting to flood the market and it is becoming more commonplace.
Wrist or Console Mount
Modern dive computers come in two varieties: the wrist or console-mounted type.
Wrist Mount
Wrist computers are stand-alone devices that are kept in a boot and connect to the wrist using a bungee or durable watch band. They can be purchased in a small watch style that can be used for everyday wear, or a standard puck size.
The wrist style PDCs are a solid choice for divers that want to update an older console setup or are looking for a way to remove a hose from their current regulator setup. Some wrist mounted dive computers give the option of buying an AI transmitter that lets the device monitor the tank pressure through a wireless link.
Console Mount
Console computers are mounted in the SPG console and typically replace the depth gauge. If it is air integrated, it can replace both the pressure and depth gauges in a typical console setup.
Why Use a SCUBA Computer?
Dive computers are incredibly useful pieces of diving equipment that make the experience safer thanks to its real-time monitoring and accuracy. Simply put, using one will surely extend your bottom time.
As opposed to dive charts that only calculate "square diving profiles" which only take into account your max time and max depth after a dive, a dive computer will calculate data based on actual time and depth of your current dive.
We humans are error-prone, and there's already so much to keep track of during a dive. For instance, knowing your exact depth underwater without a dive computer keeping track means you have to estimate and you'd probably be off by at least a few meters, if not several.
Wearing a PDC helps you keep track of all kinds of information that you wouldn't be able to keep track of by yourself in real-time. You can get the precise information regarding nitrogen and oxygen levels, decompression stop times, and how much air is remaining in the tank.
The ability to accurately measure time and depth means dive computers will warn you as you are approaching bottom-time or max NDL. Additionally, it can help time your safety stop and even trigger a warning if you have an excessive ascent rate.
Safety should always be a top priority whether you are diving with a PDC or still using tables. With that said, it is clear that dive computers are the safer option by providing you with extra control over the numerous variables you have to keep track of.
Since a dive computer is constantly updating its data based on real-time variables, you get the benefit of being able to safely stay underwater for longer and enjoy a bit more spontaneity in your dives.
If it is within your budget, you should invest in a dive computer for beginners of your own. There are numerous models each with useful features, and the most important ones have been covered in the previous section.
Lastly, it is up to you to decide which features are the most important for you. You can easily save money if the features you want are available in an entry-level model.
Dive Computer Maintenance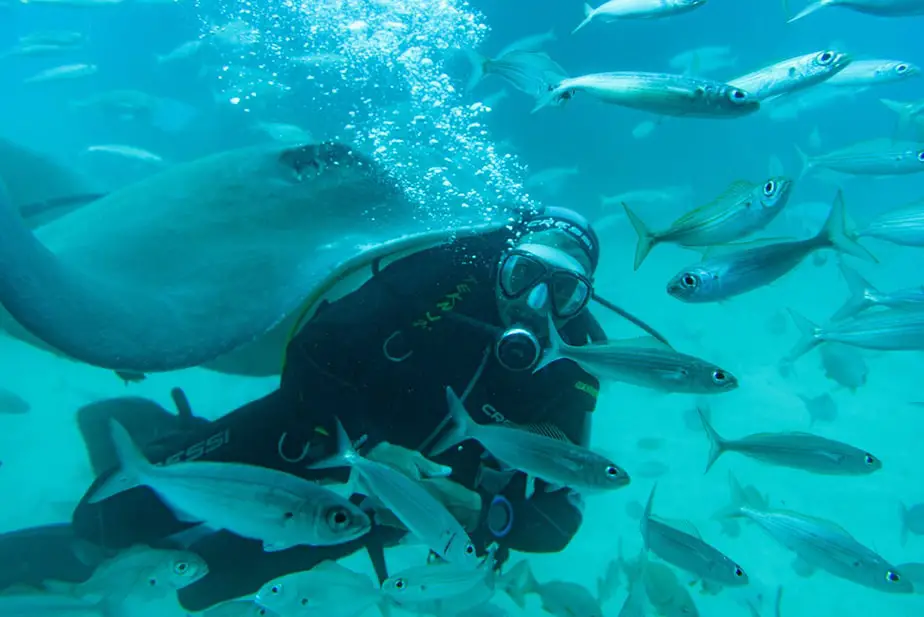 Knowing how to maintain your dive computer is important if you want to keep your advanced diving tool in perfect working order. If you're not sure how to do that, then this section is for you.
After each dive you must give all of your SCUBA gear a thorough rinse with freshwater, including your dive computer. If you were diving in saltwater, this step is even more crucial since salt can harden around the buttons which causes them to get stuck or malfunction.
Always consult the manufacturer's instructions if you're unsure of what to do. Most manuals should tell you to soak the computer in freshwater for at least five minutes while pushing the buttons to get rid of any salt build-up.
Once you've finished washing the computer, dry it and store it in a protective case in a cool and dry place to keep it safe while not in use.
Depending on which model you purchased, your computer may need to have its battery replaced every one to two years so it won't suddenly die on you in the middle of a dive. Most dive computers are designed so that the user can easily replace the battery themselves.
Battery kits should come with a replacement battery as well as an O-ring which helps seal the computer and prevent any water leaks even under intense pressure.
Once again, consult the manufacturer's instructions to safely replace the battery. Otherwise, it can be very easy to damage this delicate piece of equipment. As a beginner SCUBA diver, you might even want to let a certified specialist do it for you the first time so that you can watch and learn.
What Should You Do if Your Computer Dies During a Dive?
The first thing you should do in case anything goes wrong during a dive is to stay calm. Then next thing you should do is alert your dive buddy that your computer is dead and that you want to end the dive. Ascend slowly, safely, and if you still remember any of the information that the computer displayed before it died, then take that into account.
You should not rely on your dive buddy's computer because they may have a different setup than you. Unless you have a back-up computer, the diving session is effectively over for you. Do not attempt any more dives once you resurface until you have access to a working dive computer.
Dive computers sometimes fail due to leaks in the compartment where the battery is held, from battery failure, or if the battery runs out of juice. If you have a spare dive watch, you can continue diving safely even if your main diving computer is out of commission. It is prudent to bring along a spare battery just in case you encounter battery issues.
Experienced divers will generally change the batteries of their dive computers by themselves. As a beginner, be sure to follow the instructions carefully so that not only can you replace the battery, but prevent further leaks in the future.
Are Dive Computers Ideal for Beginners?
All divers can make good use of a dive computer, particularly beginners. In fact, PADI recommends that all divers should have their own dive computer. If you're just starting out and only plan on diving recreationally a handful of times a year, you might want to get an entry-level one instead of one with all of the bells and whistles.
The more advanced the dive computer is, the more complicated it is to use particularly if you are just starting out. As dive computers keep on improving, the user experience has thankfully improved. Manufacturers are constantly innovating and developing a display that can be easily understood, operated, and seen even during low-light conditions.
Practice using the dive computer before heading out into the water so that you at least have an idea of how it works. That way, you spend less time fiddling around with it and more time diving. If you plan on getting certified to dive with Nitrox, then you need to find a dive computer with this functionality. You'll also need to learn how to switch between Nitrox and Air modes as needed.
Last update on 2023-11-13 / Affiliate links / Images from Amazon Product Advertising API