The Cressi Giotto is to recreational and medium-level divers what the Cressi Leonardo is to beginner divers. Think of it as the next model up with its more advanced functionality that divers can take advantage of as they grow in experience. In this Cressi Giotto review, we'll go over the improvements it has over the Leonardo as well as how it compares to other devices.
When you purchase the Cressi Giotto, you get a large display that displays all the critical information on an edge-to-edge, high definition screen. The data is clearly separated into their own sections using their Priority Compartment Digit Display (PCD) system to help you get the information you need at a glance.
If you already know that you will do numerous dives in the future and have the money to spare, perhaps beginners could even purchase the Giotto as their first dive computer. You'll be spending a little more, but at least you'll have a dive computer that will last many years and expose you to features that some entry-level devices don't have.
Cressi Giotto Overview and Review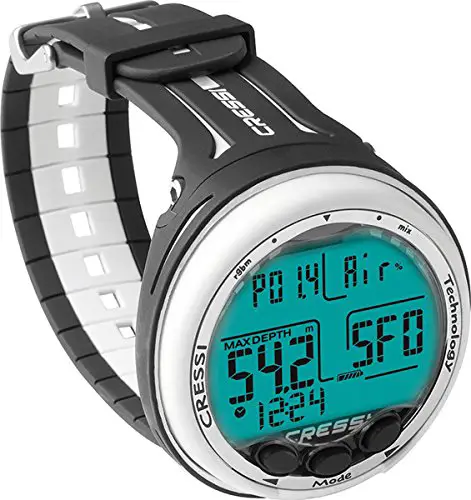 Technical Specifications and Features
3-button navigation. Helps divers effortlessly step through the menus and switch between diving modes.
Three programmable diving modes: Air, Nitrox, and Gauge mode.
Oxygen percentage between 21% and 99% in Nitrox mode.
Can handle two mixed gases and switch between them in the middle of a dive.
High-definition large display and the Priority Compartment Digit Display (PCD) system helps you see the information very easily.
Full reset functionality. Fully wipe the dive data after each dive. Ideal for rental shops and dive instructors that loan our dive computers.
Runs the Cressi RGBM algorithm which will accurately calculate safe decompression times even through repetitive multi-day dives and multiple dives in the same day.
Switch between Imperial and Metric units.
Visible on the front display: Depth, Decompression, Dive Times, Surface Intervals, Nitrogen Absorption and Release.
ppO2 value between 1.2 and 1.6 bars.
Maximum depth display of 120m (394ft).
Altitude adjustable up to 3,700m (12,139ft).
User replaceable 3-volt CR2430 battery.
Dimensions: 2.6" diameter, 1" thick (65 x 27mm).
Weight: 135g (4.77oz).
Cressi Giotto vs. Leonardo
Since the Cressi Giotto and the Leonardo are so similar, we need to clear up the differences between these two offerings from Cressi. The Giotto is, without a doubt, the higher end model and is objectively better. It also costs about $100 more, so it'd better be. Here are the differences.
First, three button navigation in the Giotto versus only one button for navigation in the Leonardo. Having more buttons is better, usually. Where it becomes an issue is when wearing thick gloves. Due to the placement of the three buttons in close proximity, it can be difficult to press the right one with gloves on.
As for the interface, it is largely the same but easier to navigate with the extra two buttons. Switching between diving modes is much easier as a result.
Second, the displays are quite similar. Where they differ is in what is shown on the screen. The Giotto tracks everything the Leonardo does, but it also displays the diver's CNS toxicity level as a graph on the front of the screen.
Third, the battery is also the same. For both dive computers, they both use a user-replaceable 3-volt CR-2430 battery. This gives owners the option to replace the battery themselves instead of sending it in for repairs.
Fourth, the Nitrox mode in the Giotto is much superior. The Giotto allows gas mixes up to 99% oxygen, whereas the Leonardo can only support up to 50% oxygen. The Giotto can also support two gas mixes and allows switching between them during a dive, and the Leonardo cannot.
Both the Giotto and Leonardo have full reset functionality to get rid of the data tracked between dives, which is perfect for Scuba equipment rental shops.
In summary, the Giotto has many similar features compared to the Leonardo. Some features are exactly the same, but others are straight upgrades. The downside is that the Giotto is much more expensive than the Leonardo. You can read our more in-depth comparison between these two dive computers from Cressi here.
Appearance and Display
You'll notice that the Cressi Giotto is a relatively large console-mounted or wrist dive computer. The size is in large part due to the large screen which helps make the data easier to read. Unfortunately, the large size also makes it not suitable to wear daily as a wristwatch.
At a glance, you'd think that the Cressi Giotto looks similar to the Leonardo. However, the most obvious difference is the fact that it has three navigation buttons, whereas the Leonardo only has one. You'll also notice that the interface is clean and not filled with any unnecessary information or confusing abbreviations. All of this contributes to the navigation being very straightforward and intuitive.
Next, the Cressi Giotto is available in a wide range of colors. You can get it in combinations of black with either red, blue, green, grey, yellow, pink, black, or white. Or if black just isn't your thing, it also comes in white and lilac.
Basic Functionality
With the three navigation buttons, you'll be able to access and change settings easily. You can select between three dive modes: Air, Nitrox, and Gauge mode. As we mentioned earlier, the Giotto also comes in console-mounted setups. You can get two different console versions, one that comes with a pressure gauge and the other with a compass. Whatever your setup is, the Giotto excels as a capable and reliable dive computer.
Navigation
Since there are three buttons on the Giotto, you can easily step through each menu. Compared to its one-button predecessor, the Leonardo, making a mistake isn't such a big deal since you actually have a "back" button now. No more looping through all of the menus again just to get back to where you were.
Unfortunately, if you are wearing thick gloves, we feel that the buttons are placed too closely together. It is easy to press the wrong one with gloves on, but overall it should not be a problem for most divers.
Battery
Next, the battery indicator is always present on the screen. Keep a close eye on it because you don't want it to suddenly die on you. Thankfully, the Giotto has a user-replaceable battery so that you can fix it yourself with a little DIY. No need to send it in to a repair shop!
Audible and Visual Alarms
What good is a dive computer if it doesn't warn you about any potential problems? Fret not, the Giotto has many audible and visual warnings that can trigger for all kinds of reasons (none of them trivial). For example, if there are any violations regarding dive time, max depth, CNS toxicity, ascent rate, deco stops, high ppO2, and so on, then it will start flashing and beeping like crazy. It will definitely grab your attention and save your life.
Advanced Functionality
Now we get to the juicy stuff. What makes the Giotto more "advanced" than other entry-level dive computers? For starters, in Nitrox mode it can handle oxygen levels between 21% to 99%. The Giotto can also track two different gas mixes, and you can even switch them during a dive. The ppO2 limits for this device can be set between 1.2 and 1.6 bars.
Next, the Giotto has a respectable operating depth of 120m (394ft). There are 4 different altitude settings, and the highest altitude setting is 3,700m (12,139ft). Keep in mind that you should not dive for 3 hours after changing altitudes just to be on the safe side.
Like the Leonardo, the Giotto also runs on Cressi's RGBM algorithm which is based on the Haldane model. By default, the algorithm is quite liberal, but there are numerous conservatism settings you can switch to if you would like higher safety margins. Remember to change from the default settings to the two other safety settings if you are an absolute beginner who wants to stay as safe as possible.
Oxygen toxicity is an ever-present danger, and that is why the Giotto has a specific display to track the oxygen toxicity level for the diver's central nervous system (CNS). This display is closely related to the ppO2 levels and is calculated based on the diver's exposure time. The data is displayed as a graph on the screen, and reaching too high of a level will cause the alarm to trigger.
Logbook Memory
The dive log will track and store the data from the last 60 dives (70 hours). The sampling rate is set at 20 seconds and cannot be modified. You can access this information directly on the device, but you can also transfer the data to a computer. On a computer, you can run dive simulations and plan future dives using this information.
However, in order to do so, you must purchase a USB separately. Some devices have wireless bluetooth connectivity, but the Giotto does not have that feature. The software needed to transfer the data is free and can be downloaded from Cressi's website.
Missing Functionality
Even though the Giotto has more functionality than most entry-level dive computers, it is still far away from being considered a high-end model. As such, the Giotto does not have the more sophisticated features that a more expensive model would have.
For example, the two missing features that stand out the most are lack of air integration support (which you can get through the console) and no built-in digital compass (also available via the console). Both are powerful and expensive features that won't be available in entry-level dive computers in the foreseeable future, so you can only get them if you pay a premium for a high-end device.
Since the Giotto is designed for recreational divers in mind, it is unlikely that divers of this skill level are ready to take advantage of those features. They probably won't even realize these features exist, so it is not a problem for the typical diver. What the Giotto does provide are a basic set of features that are more than satisfactory for recreational diving.
Cressi Giotto Review: The Verdict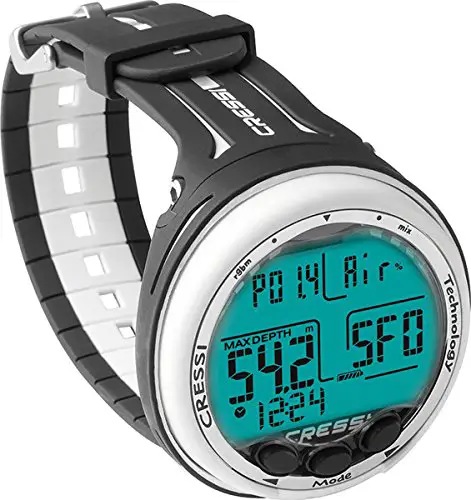 There's lots to like about the Cressi Giotto. It is basically a better version of the Cressi Leonardo, which is already one of the best-selling entry-level dive computers on the market. What the Giotto does better is provide more features such as 3-button navigation, more advanced Nitrox settings and gas switching during a dive.
Since the Giotto was designed by Cressi to target the recreational diver, it has more features than most entry-level devices. With that said, that also makes it a good choice for one's first dive computer if one intends to grow with their dive computer and eventually take full advantage of what it has to offer.
Since the Giotto is a rather large device, it probably isn't a good idea to wear it as a wristwatch. The display is large and clear thanks to the high-definition screen. You will be able to easily get the essential data at a glance. The Giotto is an excellent device for recreational divers that will last for many years.
Beginners can take advantage of this as well if they intend on diving frequently and rapidly gain the experience to use features like gas switching.
What we like:
Three-button navigation is a drastic improvement over many entry-level dive computers' one or two button design.
Large numerical displays that are very clear and sharp.
Full reset functionality.
Useful features for beginners and experienced divers.
Large logbook that can store 70 hours of dive data.
What we didn't like:
Too big to wear as a watch.
The backlight is not the greatest and may not be effective in murky water.
You may be interested in how the Cressi Giotto compares to other beginner dive computers: