The Scubapro G2 (or Galileo 2) is next in the Galileo line of computers. It retains all of the good features from its siblings the Galileo SOL and LUNA, and adds even more. Now you can experience everything that made the Galileo an award-winning dive computer now in a full-color, more intuitive and powerful wrist-mounted dive computer.
From its easy-to-use interface to its advanced technical diving functionality like Trimix, air integration, and CCR mode, there's lots to like about the Scubapro G2. Find out whether it is the right dive computer for your recreational or technical diving needs in this review.
Scubapro G2 Review Summary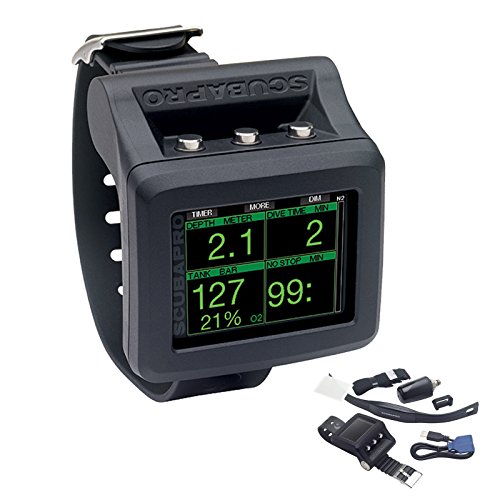 For those short on time, here is a summary of our Scubapro G2 review. If you'd like to read our in-depth review, please read from the next section onwards.
The G2 is the newest in the Scubapro Galileo line of dive computers. The updated G2 features advanced data tracking and features that technical divers need, and is accessible through an interface that even beginners can easily understand.
Owners of the Galileo will be familiar with the intuitive 3-button operation of the G2, and any Galileo accessories are also compatible with the G2. The large display can be easily read at a glance and is energy efficient to prolong the battery life.
The interface has four display modes, allowing divers to see as much or as little information as they need. Beginners can select the simplified mode, whereas technical divers can opt for more information (and a more cluttered screen).
But what makes the G2 truly stand out among other dive computers is its incredible monitoring capabilities. Few other dive computers can track and factor in the user's heart rate, breathing rate, skin temperature, and water temperature to provide the most precise dive profiles on the market.
Pair of all of this with wireless air integration support, gas switching between 8 Nitrox/Trimix mixes, an integrated compass, freedive, rebreather mode, and it is no surprise why it has quickly become a favorite among technical divers.
All of these advanced features are reflected in its high price. Whether you are a recreational or technical diver, if you have the means to invest in a Scubapro G2, then understand that its wide range of features and customizability will last you a long time.
Pros:
Full-color TFT screen is easy-to-read and energy efficient.
Extremely accurate real-time dive profile adjustment that takes into account heart rate, breathing rate, skin temperature and water temperature.
Can be worn on either wrist and oriented so the buttons are facing upwards or downwards.
Plenty of advanced diving functionality for technical divers including CCR and sidemount.
User-replaceable CR2450 battery is widely available and rechargeable.
Cons:
Price.
LogTRAK software could be more intuitive.
Scubapro G2 In-Depth Review
First Impressions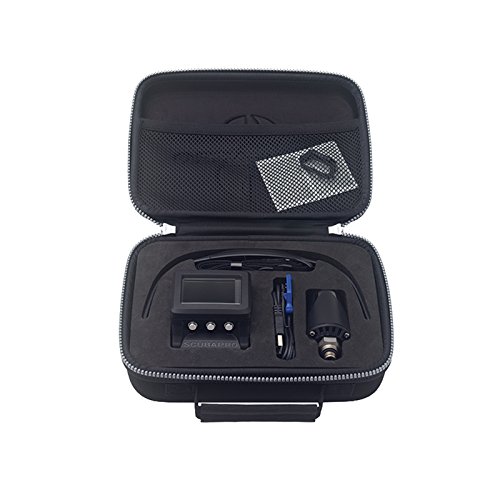 Most people will probably start off with just buying the computer and perhaps an air-integrated wireless transmitter. However, you also have the option to purchase the heart rate and skin temperature monitor as well as the LogTRAK software.
Right off the bat, we got the impression that the G2 is built like a tank. It looks like it can take a beating and feels robust. Three buttons are located along the top of the computer, and there is the option to flip the screen orientation 180 degrees so that the device can be worn upside down with the buttons on the bottom. They are easily accessible no matter which wrist you wear it on and even with thick gloves on.
Pressing a button requires a very deliberate action so that it is difficult to accidentally press the wrong one or for other equipment to hit it and change the settings. This safeguard is especially useful for technical divers where switching between gases should be intentional and this can potentially save lives.
Once we turned the device on and played with the device a little bit, we found the menu system to be intuitive and easy-to-use. The device labels what each button on each screen will do (e.g. up, down, return, enter) so you always know what options are available in each context.
There are 4 display templates you can change to: light, classic, full, and graphical. If you find the default display to be overwhelming, you can limit the amount of menus and information displayed by selecting "light".
By default, the G2 comes with a standard recreational dive mode selected. High-end features like CCR, Trimix, Apnea (free dive) and sidemount will need to be manually turned on. This goes a long way in helping users get familiar with the device before they start exploring what it can fully do.
We also noticed that the G2 comes with standard straps, but the mounting points on the case suggested support for optional bungee straps.
Display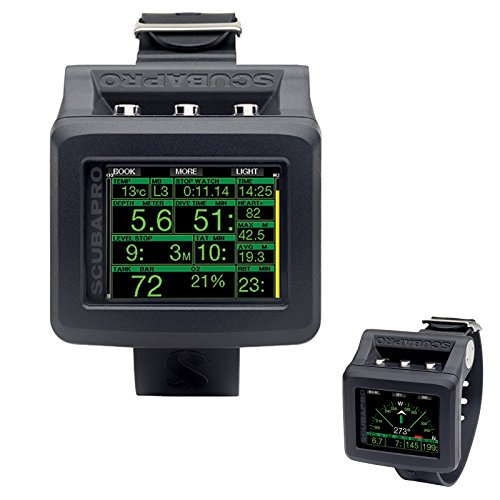 The G2 has an impressive full-color TFT (Thin-Film Transistor) display which increases readability and is energy-efficient. What this means is that the colors are more vibrant, the digits are crisper than ever before on this 320×240 resolution screen, and the battery will last longer.
As we mentioned above, there are four display modes to select from:
Light is the most beginner-friendly, as it only displays the basic information such as depth, dive time, no-decompression limit, and tank pressure if an air transmitter is installed.
Classic provides even more important information than Light.
Full provides nearly all the information that the G2 tracks on one screen, and to be honest it can get quite cluttered. It should be used only by experienced divers.
Graphical provides numerical information alongside the current dive profile represented in a graph. Like Classic, it is a solid middle-ground between Light and Full.
No matter which mode is selected, you can access additional information by long-pressing the menu button to see your full dive profile and current tissue compartment loading graphs.
We were able to read the information from the display even at the surface with the sun shining down at us; there was no reflection and the color-coded displays were easy to see no matter the situation. The only time we had an issue was with Full mode at the surface, however as soon as we headed underwater it became more manageable once the sun was out of our eyes.
With that said, Full mode definitely requires some practice to get used to. The labels for each section are very hard to see and you would do better to just memorize what each section represents rather than try to read the labels each time. We suspect the average diver would be better off sticking with the Classic mode and access additional information by pressing the menu button rather than display everything at once.
Diving Modes
The Scubapro G2 supports multiple dive modes: Scuba, Freediving, Gauge, CCR and Sidemount. By default the freediving, Trimix, CCR and Sidemount modes are turned off and must be manually activated.
Thanks to its predictive multi-gas algorithm, divers can dive with up to 8 Nitrox/Trimix mixes and enriched air. All of these features provide users with plenty of flexibility for the ultimate diving experience.
We also appreciate that all of these advanced features are available out of the box and you don't have to pay to unlock certain features (e.g. the VPM-B mode in the Shearwater Perdix AI, and two extra gas mixes in the Scubapro Galileo Luna; it seems Scubapro has learned their lesson this time around).
Decompression Model
The technical diving community has generally preferred the Bühlmann decompression model, and the Predictive Multi-Gas ZHL-16 ADT MB algorithm found in the G2 is Scubapro's latest version of the tried-and-true Bühlmann model that's been in use for decades.
While testing it in a recreational environment, it functioned similarly to the original Bühlmann model. Where it differs is if you are wearing the optional chest strap monitor, which will provide the algorithm with more data such as your heart rate, breathing rate, skin temperature, and water temperature. In the event that there is a drastic change in these values, the algorithm can adapt to the increase in workload.
For recreational diving, there is a lower likelihood of such a situation occurring. However, in the realms of technical diving where more extreme situations can occur, a sudden increase in workload can lead to significant gas absorption and higher risk of decompression sickness (DCS). By modifying the dive plan in realtime, the new algorithm can reduce the risk of a DCS hit.
Furthermore, the Predictive Multi-Gas (PMG) functionality will alert divers if there is a better gas available, and will take into account failed or unplanned gas switches in its calculations for the most accurate predicted decompression stops.
Lastly, there is also the Profile Dependant Intermediate Stops (PDIS) feature, which will notify divers when they should perform a deep stop based on their current dive profile instead of some arbitrary stop at a specific depth.
Wireless Connectivity
Hoseless Air integration
An advantage of air-integrated wrist dive computers is its wireless connection. You just simply need to screw the air transmitter into the first stage regulator and pair it with the dive computer, no hose required. This allows for a more streamlined setup, however we still recommend you keep an SPG around in case of any malfunctions in the connection.
The air transmitter allows you to monitor tank pressure and provide a more accurate, "true" remaining bottom time (RBT). The tank pressure data is also factored into the decompression calculations. The Scubapro G2 can monitor up to a maximum of 9 transmitters when all features are turned on.
Your remaining air level is displayed not only on the dive computer, but also on the transmitter itself. It will blink Green, Yellow, or Red depending on the remaining air level. This can communicate to your dive buddy your current air situation (or vice versa) and is an extra level of security to prevent accidents.
Bluetooth Connectivity and Dive Log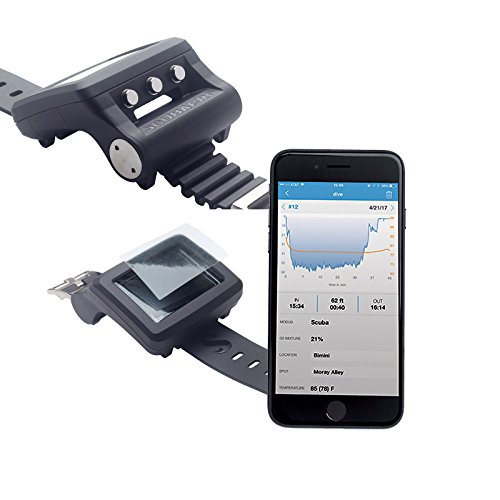 The G2 has a large 485MB of memory which can store 1,000 hours of dive profile data and even pictures. You have the option to transfer this data to your handheld device or computer using a USB cable or wirelessly through Bluetooth. You must use the LogTRAK software in order to make this transfer. Once transferred, you can analyze your dive data in-depth and plan for future dives.
The software also lets you share your dive log to family and friends on social media. You can also include pictures with your dive log for reference during a dive, such as an underwater landmark or dive map, or pictures of the kinds of fish you'll see to get you pumped up.
Customizable Options
There are few dive computers with as many customizable options as the Scubapro G2.
To start, you can adjust it to see as much or as little information as you want by selecting between the four display modes. There are four color modes to help you . You can also customize the menu listings so that you can easily access your most common settings.
Scubapro's Customizable ZH-L16 ADT MB lets you program up to 8 Nitrox/Trimix mixes for any recreational or technical diving scenario.
You can select from 19 language choices, so if English is perhaps your second or third language, you will still probably find your native language to be supported by the G2.
The G2 is designed so that it can be worn on either wrist. You can flip the orientation 180 degrees so that the buttons are on the side you prefer.
Battery
The G2 is powered by a standard CR2450 Lithium user-replaceable battery. It is rated to last for 150 to 200 dives or three years, whichever comes first. When replacing the battery, make sure to replace the O-ring to ensure a tight seal each time. Thanks to the energy-efficient TFT display, you can expect the battery life to last longer than usual. When it runs out, you can recharge it via USB.
Technical Specifications and Features
Full-color TFT display, 320 x 240 resolution.
Four different color options and four different display modes: Light, Classic, Full, Graphical.
Three button operation.
458MB of internal memory can store 1,000 hours of dive profile data.
User-replaceable CR2450 Lithium battery is rechargeable, and must be replaced after 150-200 dives or three years.
Gas switching between 8 Nitrox/Trimix mixes.
Track up to 9 transmitters.
Bluetooth compatible.
Numerous diving modes:Freediving, Trimix, CCR and Side-mount modes.
Runs the Predictive Multi-Gas ZHL-16 ADT MB decompression algorithm.
Altitude adjustable from sea level up to 4,000m (13,300ft).
Tilt-compensated digital compass with half compass rose and bearing memory.
Maximum operating depth of 120m (394ft).
Depth resolution: 0.1 until 99.9m, then 1m at depths greater than 100m.
Data tracking accuracy is within 2%.
Operating temperature of -10°C to +50°C (14°F to 122°F).
Air transmitter pressure readout from 0 to 300 bars (4,350 PSI).
Transmitter needs only to be paired once.
Download dive log data to the computer using LogTRAK software, where you can analyze past dives and plan for future ones.
Scubapro G2 Review: The Verdict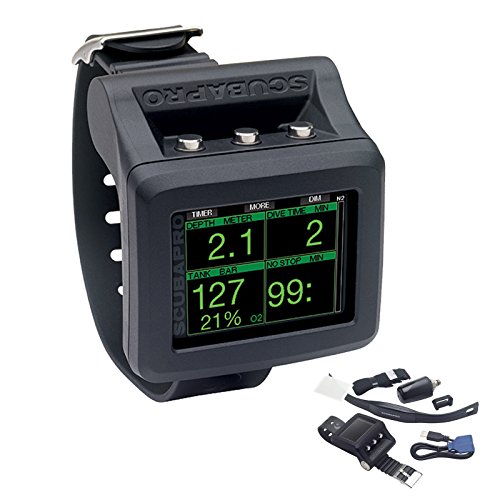 What We Liked
It is clear that the Scubapro G2 is capable of giving tech divers the critical information they need, while still being capable of supporting beginners without overwhelming them with too much information. This is all thanks to the many display options available so that divers of all skill levels can get some use out of this device.
Furthermore, the unique ability to monitor the human condition: heart rate, breathing rate, skin temperature, and even water temperature with the help of wearable tech gives it that extra edge over competitors. Its dive profiles are the most accurate and all of its calculations are done in real-time. The G2 is a must-have for tech divers that want to be prepared for all possible contingencies in future dives so that they can come out of it safely.
What We Disliked
The high price and staggering amount of features will intimidate beginners. It is likely not a good option for no-stop recreational diving. If there are features you like but also many features that you don't anticipate ever using, then we recommend choosing a simpler and less expensive air integrated dive computer, such as the Suunto Vyper Novo or Mares Smart Air.
Who Should Use the Scubapro G2?
Despite catering to technical divers, the G2 is surprisingly beginner-friendly thanks to its choice of display modes. On each screen the buttons are labeled with what they will do in that context, so it is always clear which one you should be pressing.
Experienced divers can take advantage of all of the diving options like Trimix, air integration, CCR and sidemount. Beginners probably won't need to use these features, however the option is available for them as they grow into more experienced divers.
Even though the G2 has all of these nice features for beginners, it is still unlikely that they would invest the money unless they plan on taking advantage of all the features. They would be better off getting a budget dive computer like the ones in this review.
Overall
Scubapro has built up a sterling reputation over the years and they continue to uphold their tradition of making feature-packed, reliable dive computers with the G2. It has all of the features that people loved about the Galileo line of computers, refined and improved for the modern era, with features that technical divers will love.
If you are an experienced diver that wants to push yourself to the limits, then the G2 is that durable, robust computer that will be by your side each step of the way. Furthermore, if you find other dive algorithms to be unnecessarily conservative and holding you back, then the updated decompression model on the G2 should be right up your alley. No-stop divers may find the G2 to be more computer than they will ever use.
Photo Credit: Jeff Goodman, Scubaverse.com