If you've been diving for a while and you still haven't heard of the Oceanic OCi, well, today's your lucky day. The Oceanic OCi is a popular and highly reputable air integrated dive computer. Oceanic have packed this model with plenty of cutting-edge functionality, all in a sleek, aesthetic wrist-mounted frame.
Though this the OCi was not designed for novice divers specifically, they would still be able to get great value out of it as they grow with the device. For technical divers, it is a great investment for a high-end air integrated dive computer. Indeed, this is a step up from mid-range dive computers, at a price that is equivalent to an entire scuba diving set-up for the novice diver. The question, then, is whether it is worth it or not.
Oceanic OCi Dive Computer Review Summary

Oceanic have designed some great dive equipment before, and they continue their legacy of doing good work with the Oceanic OCi. To start, it is a combination of their popular OC1 advanced dive computer with the aesthetics of the OCS, and the result is the OCi.
What kind of innovative features can you expect from the OCi? For starters, the dual algorithm setup means you can choose between the Pelagic DSAT or Pelagic Z+ so you can get the conservatism levels just right.
Furthermore, the OCi uses wireless air integrated technology, and users can select between numerous freediving modes, including a freediving mode. You can take the OCi with you down to depths of 150m (495ft). It also has a Watch Mode that provides it with functions like a daily alarm, countdown timer, stopwatch, alternate time zones, and a lap timer.
Not only is the OCi a capable device, it is also quite a looker on your wrist. After all, with the Watch Mode, you can easily justify wearing it around as your daily wristwatch. It comes in five different color combinations and will look great underwater or on land.
Additionally, the firmware is easy to update wirelessly using Bluetooth connectivity, for those who like to have the most current versions of gear. While diving, you can track up to four air transmitters, with nitrox mixes of 21% to 100% O2. Some additional features include deep stop, data retention when swapping batteries, declination adjustment, an advanced digital compass, and gauge mode with run time.
Pros:
Dual algorithm functionality; get more control over the conservatism settings by switching between the Pelagic DSAT or Pelagic Z+.
Supports up to four wireless air transmitters, with nitrox mixes of 21% to 100% O2.
Data retention when hot-swapping batteries.
Looks great and includes a Watch Mode so you can wear it outside of the water.
Cons:
Small logbook capacity that can only store 24 dives.
Being a watch dive computer, some may find the display to be too small.
Summary
The Oceanic OCi is a competitive and affordably priced wrist-mounted air integrated dive computer that caters to the high-end market. It includes basically everything you need to get started with tech diving. It is highly versatile, since you can use it for not only various types of diving, but also for a daily wristwatch, which makes it very easy to track flight times and altitude levels.
Unfortunately, one potential deal breaker of the Oceanic OCi is its pitifully small logbook capacity. Seriously, even entry-level dive computers have a larger logbook memory for dive profiles. It can only store up to 24 dives before you need to upload the data to your smartphone or PC. Thus, a long diving trip may force you to transfer the data while you're still on the boat.
That issue aside, we feel the Oceanic OCi have way too many good features not to recommend it. It is the ideal dive watch for recreational users looking to get into technical diving, and for experienced divers who can work around the limitation of the small logbook memory. It is also available at a reasonable price and has basically that most technical divers need.
Oceanic OCi Technical Specifications
Supports four air transmitters and four Nitrox mixes.
Four-button operation.
Wrist-mounted.
Watch-sized display with Watch Mode functionality.
Dual algorithm functionality.
NOAA altitude and O2 basis.
Automatic altitude adjustments.
Automatically water-activated, can be manually activated.
Multiple deep stops.
Automatic safety stop prompt.
Audible and visual alarms.
Maximum operating depth of 150m (492ft) for gauge and freedive modes, 100m (330ft) for air and Nitrox.
Logbook memory of 24 dives.
Three optional display settings.
Freediving mode included.
Built-in digital compass.
Has a backlight.
Using the Oceanic OCi: Features Explained
Getting Started
The Oceanic OCi is a wrist-mounted, air-integrated watch dive computer. As such, the display is unsurprisingly on the small side, however it is very clear in terms of visibility. The LCD screen displays all of the essential dive information on the main screen, including gas selection, NDL, current depth, remaining dive time and variable ascent rate. You can view other, less critical information such as water temperature if you toggle to the secondary screen.
Before you jump straight into the water, you will want to set up the device. Calibrating it is easy; the device will guide you through the exact steps needed the first time you start it up. You can also consult the instruction manual or watch a video to help you get started. Honestly, despite being such a sophisticated tracking instrument, it's not any more complicated to use than a regular watch.
Even if you forget to manually start the dive computer or adjust your altitude settings, fortunately the OCi can automatically calibrate itself and turn on when exposed to water. Thus, there is some leeway in its operation even if you make a few mistakes. However, there will be a slight delay in its calculations if it activates on its own.
Display
The OCi features four navigational buttons, made of stainless-steel and designed to be responsive. They are easy to press even with thick gloves on, and provide feedback with a mechanical clicking noise to inform you of a successful button press. The interface is straightforward to navigate and the four-button operation is intuitive.
On the home screen, you can see the air time remaining, oxygen and nitrogen loading bar graphs, no-decompression limit, air time remaining, low battery indicator and compass. The display can be displayed in over five different color combinations, so select one that makes the data pop out the most for you. Less important information such as the water temperature can be seen by toggling to the secondary screen.
It's not always easy to read the display when conditions aren't optimal. The OCi uses the OceanicGlo backlight technology to illuminate the display so that it is readable even in dark environments. It should not be surprising to hear that deep-water and cave divers often use the OCi during their dives.
One issue some dive computers have with the backlight is that it's either not strong enough, too strong, or drains too much battery. With the Oceanic OCi, this is an issue of the past. The device has a sensor that detects the lighting condition, and the computer will automatically adjust the brightness setting for you. For cases when a backlight isn't needed, it will be turned off to conserve battery power. You can also manually set the backlight duration.
Diving Functionality
In its sales page, the Oceanic boasts that the "i" in "OCi" stands for incredible. Cheesiness aside, let's find out if that description is accurate by looking at what kinds of diving functionality it offers.
First, there are five operating modes: Norm (Air/Nitrox), Gauge, Freediving, Tech-Free Dive, and Watch Mode. Mentioned above, you can manually select which mode you want, or it will default to the last dive mode selected if you jump into the water without selecting one. The OCi supports up to four nitrox mixes between 21% to 100% O2 which you can freely switch between.
In Norm Mode, the maximum operating depth is 100m (330ft). In Gauge and Freedive mode, it increases to 150m (495ft). The OCi includes a deep stop function with countdown timer to let you see how many safety stops you need to do.
Like all Oceanic dive computers, the OCi supports dual algorithms. You can switch between the Pelagic DSAT or Pelagic Z+ algorithms. The DSAT algorithm is the more liberal of the two for those looking for longer bottom times. Depending on your safety preferences, you can pick one or the other. Each algorithm can have their conservatism further adjusted.
Should you forget to adjust the altitude settings while travelling, the OCi has you covered with automatic adjustments. Its altitude algorithm is based on NOAA, as is its O2 limit. The adjustment range is between 610m to 4200m, and you can rely on the OCi to inform you of flight countdowns and altitude adjustments.
Next, the OCi has a built-in digital compass to help divers orient themselves. Knowing which direction you are heading is an invaluable piece of knowledge for all divers, whether you are a beginner, an instructor, and particularly if you are in the rescue sector.
We've talked about how the OCi can be used for cave divers and rescue operations. In order for it to be used in such a way, it is constructed to be heavy-duty and durable. The strap and bezel are resilient; both can withstand lots of punishment. Furthermore, the display is protected by a high-density acrylic screen that is resistant to scratches and impacts.
And of course, the inclusion of wireless air support (up to four transmitters) is sure to change the way you dive. With air integration, divers can more accurately track their remaining dive time and how much air is remaining in the tank. The transmitter(s) sends the tank pressure data to the dive computer. Then, the OCi factors in the current depth, your breathing rate, decompression status, tank pressure, and many other parameters to provide the most accurate estimate of air and dive time remaining.
Logbook Capacity
Data junkies who love to track their data and amass a huge collection for future reference will be disappointed to hear that the Oceanic OCi only has the capacity to hold 24 dives. That's not very much, particularly if you are on a long trip. You will be forced to transfer the data using a USB cable (may not be included, check carefully) so that you won't run out of space.
In a similar vein, many dive computers now support wireless Bluetooth connectivity. With wireless connectivity, you can easily transfer the data to your smartphone, change the dive computer settings using the app, and easily update the firmware. The OCi is from a slightly older time, so it does not have this functionality.
Alarms
The OCi has multiple alarms that you can set. Alarms will trigger to warn you about your dive time remaining, maximum PO2 reached, freedive elapsed dive time and countdown timer. There are also alarms for high O2 and high PO2, safety stop alarms, as well as your regular watch alarms like stopwatch and regular alarm clock.
Battery
The OCi is powered by a user-changeable CR2450 battery, and the transmitters use a 3.6V CR2 battery. The CR2450 should last 200 hours or approximately 150 dives before it needs to be replaced. The transmitter has a battery life of 1,500 hours. The OCi supports hot-swapping, meaning it will retain all of your dive data even after a battery has been replaced.
You will know when to replace the battery by looking at the low battery indicator, which is a graphic display that is shown on the main screen. Unfortunately, one downside is that Oceanic recommends pressure testing the device by the dealer or factory when replacing the battery, so in other words they do not recommend replacing the battery on your own.
Oceanic OCi vs. Other Air Integrated Dive Computers
When shopping for a dive computer, even if you have the funds, it is important to think about whether you will take full advantage of the air-integrated features it provides otherwise you will be spending a small fortune on what is essentially an overpriced watch.
The dive computers that cost around $1,000 without transmitters are packed so full of features that beginners would probably never use. Mid-range dive computers sacrifice some functionality so they can descend into the realm of affordability. Each dive computer has strengths and weaknesses.
The best way to understand where the OCi stands in terms of functionality and price is to compare it to other intermediate to high-end dive computers.
vs. Scubapro Galileo Luna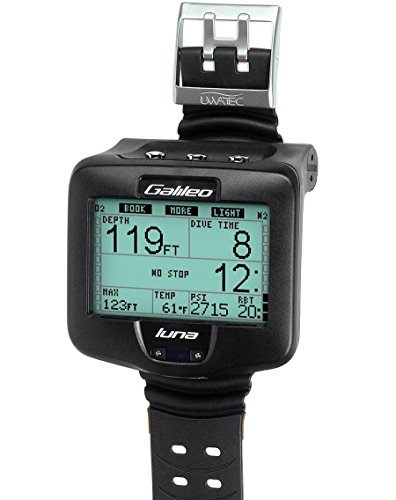 Dive computers have similar features, and so the comparison is often in how these features stand out. Does the interface or design look better, can it support more dive modes, does it have more alarms, etc., and of course, does the price match what it offers?
The Galileo Luna basically has the same features as the Oceanic OCi. However, its logbook memory can store 100 hours of dive data, or roughly 80 dives, which is much better than the OCI's 24 dives. On top of that, the Galileo Luna has a maximum operating depth of 330m (1,082ft) which is more than double that of the OCi.
Furthermore, the Galileo Luna has optional support for high-end features such as Trimix, heart rate monitor, and a predictive multi-gas feature, all of which you must pay additional money for. As you'd expect, the Galileo Luna with optional add-ons is expensive. The base model, however, serves as a good competitor to the Oceanic OCi with the option to add on more features when you want to.
vs. Scubapro G2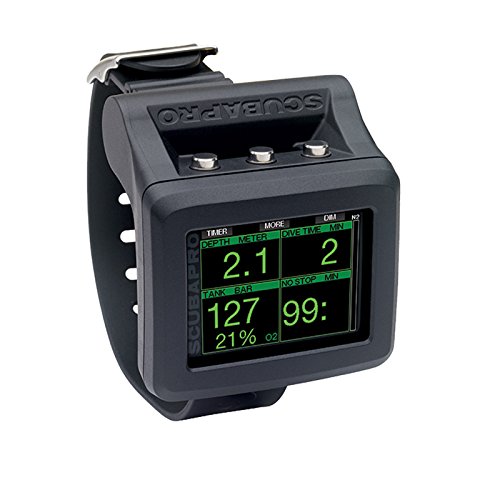 If you are really bummed out by the small logbook capacity of the OCi, here is a dive computer that goes in the complete opposite direction. One of its strengths is its massive 485MB of internal memory, which can store up to 1,000 hours of dive profiles. You can basically go on several trips in a row without the logbook filling up.
Furthermore, the Scubapro G2 is highly customizable, with multiple screen displays, numerous helper dive-related functions, and many ways to adjust how the graphical data is presented to you. Its interface is somewhat ugly, however the TFT screen is energy-efficient and results in a long battery life. Unfortunately, its maximum operating depth is only 120m (394ft), which is 100 feet less than the OCi, and it only has three buttons to the OCi's four.
Check out our full review of the Scubapro G2 here.
vs. Aqua Lung i450T
Yet another air integrated dive computer that is similar to the OCi, the main selling point is its Gas Time Remaining Algorithm which has been patented by Aqua Lung. This algorithm can accurately calculate the gas levels in real-time. Additionally, its multi-gas support can track each mix at separate PO2 set points.
Another key feature is a freedive mode with dedicated memory. The digital compass comes with declination adjustment and return bearings, which is more or less the same as in the OCi. Furthermore, while in freedive mode, you can adjust your bottom distance, diving depth, and surface times.
What We Didn't Like About the Oceanic OCi
The OCi, for the most part, should cover most of your bases. With that said, nothing is perfect, and there are some features that need improvement or are missing from the OCi that we wish it had. To start, it does not have an ascent rate exceeded alarm. This seems like a minor complaint, but having one will go a long way in preventing decompression sickness.
Another complaint we have is with its small logbook capacity. Even entry-level dive computers can store more than 24 dives, yet this air-integrated dive computer can't. This wouldn't be an issue if the OCi had wireless Bluetooth connectivity.
Bluetooth would allow you to conveniently transfer your dive profiles to your smartphone. Instead, the OCi needs a USB cable to transfer the data, meaning you will need to bring a laptop with you when travelling, otherwise you risk losing data. Recreational, beginner or infrequent divers may not encounter issues related to the above complaints, however experienced divers may find it frustrating.
Lastly, the "user-replaceable" battery is somewhat  of a deceptive description, as Oceanic recommends the device be pressure-tested after a battery swap. In other words, they recommend you still need to bring the device to a dive shop or service center, which means the battery isn't exactly user-replaceable.
Who Shouldn't Buy the Oceanic OCi?
The Oceanic OCi was one of the more expensive and feature-rich air integrated dive watches when it came out, but by now it has become truly overshadowed by higher-end models like the Shearwater Research Teric and Suunto Eon Core, whose base price without transmitters already exceed the cost of the OCi with a transmitter.
Data junkies who love to track their dive data and view them as bar graphs and displays while underwater will be disappointed at the lack of visual representation of their data. Also, divers with older eyes may find larger LCD or OLED displays to their liking, however this is a matter of preference since a larger screen also entails an overall bulkier device.
More technical divers may be disappointed to find that the OCi does not support CCR or Trimix modes. A larger display would also allow the dive computer to display everything at the same time without the need to go to a secondary screen. Dive computers with larger displays may allow for more customization of the main screen.
In other words, experienced technical divers may find the Oceanic OCi lacking. Unless you are capable of the highest level of scuba diving, the Oceanic OCi should cover all of your needs. At its price point and what it offers in terms of functionality and design, the OCi is a reliable air integrated dive watch.
Oceanic OCI Review: The Verdict

There are few air integrated dive computers that can match the Oceanic OCi at this price range. It has a stylish, sporty look with watch functions, advanced safety features, and air integration all at a competitive price point. As dive watch technology progresses, the OCi continues to hold strong and solidify its reputation as a reliable and dependable dive watch.
If you are a technical diver or just a diving enthusiast who goes on dozens of dives a year, do yourself a favor and think about the long-lasting benefits that investing in an OCi will provide you.
From the many customizable display and dive settings, to the dual algorithm and hoseless setup, to the automatic water activation and altitude adjustments, the OCi has so many convenient features to make diving effortless and safe.
Divers who want air integration support on a budget are going to really enjoy the Oceanic OCi since you get so much value at its price point. Furthermore, the device is versatile since it can be worn outside of the water as a daily wristwatch, which only adds to its usefulness. In the interest of length, we haven't even fully covered all of the features in the OCi.
If you want an affordable air integrated dive computer full of great features, then you can't go wrong with the Oceanic OCi. If you like what the Oceanic OCi has to offer but you don't need air integration support, then we recommend you check out the Oceanic Geo 2.0 or the newer Geo 4.0 for a budget alternative.