Next in the line of the Geo models of dive computers is the 4.0, which is a major upgrade thanks to its larger text display, Bluetooth connectivity, and dual algorithm setup. With the Geo 4.0, Oceanic continues to provide high-quality wristwatch style dive computers and their latest model is looking better than ever. Read on to find out what it has to offer.
Oceanic Geo 4.0 Features

Style
While the functionality is important, there's nothing wrong with wanting a nice looking dive computer on your wrist. So let's start with how it looks: the Geo 4.0 is available in black and white, with five strap colors available: black, white blue, yellow, and sea-blue. While this may seem like the usual fluff in a review, the fact is if you actually plan on wearing the Geo 4.0 like a watch outside of diving, fashion takes on greater importance.
Next, the frame of the Geo 4.0 is sleek, stylish, and has a style similar to a sports watch. It is also quite durable and wouldn't look out of place if you wore it with you to the bar or to casual gatherings. It has all of the normal watch functions, but little do people know that what you have on your wrist is not just a watch, but actually a powerful dive computer.
Display
Despite being watch-sized, the Geo 4.0 has a large, backlit display. The larger text size is 33% bigger than the Geo 2.0 and is easy to read and even while underwater. It is not quite as big as the Veo 4.0, however we had no issues reading from it and we suspect most people won't either.
The Geo 4.0 is operated using the four buttons located around the bezel of the watch. With the newly redesigned interface, navigation is quite straightforward. The "step back" button is a fantastic quality-of-life upgrade that lets you navigate forwards and backwards to quickly scroll through the interface to switch gases, check your dive log, plan your next dive, and so on.
Depending on which dive mode you select, different data will be displayed on the main screen. No matter which mode you choose, the Geo 4.0 will always display the depth and dive time. With the press of a button, users can view their previous dive data to quickly compare against their latest dive.
The battery indicator will display a warning when the battery is running low, and an alarm will trigger if you still aren't on your way up. You don't want to be stuck underwater with a dead dive watch, so we appreciate these warnings. A word of caution: once the low battery alarm sounds, the backlight will be turned off to conserve battery life, so it is crucial you pay attention to the indicator before the situation worsens.
Operating Modes
The Oceanic Geo 4.0 has four operating modes:
Watch: Get access to the standard watch functions such as the current time, alarms, timers, dual time zones, and so on.
Norm (Air/Nitrox): The standard dive mode for recreational scuba diving activity. Includes diving with standard air mixes or Nitrox mixes up to three gases up to 100% oxygen. Gas switching must be done within the first 10 minutes of a dive.
Gauge (with run timer): Track the user's time and underwater depth, but divers must set their own deco stops by consulting with a dive table.
FREE (freedive): Provides more detailed tracking at a faster sampling rate and depth alarms for diving without extra oxygen.
When you're not diving, switch the device to Watch mode to stop all calculations and conserve battery life. If you are interested in dive watches with a freedive mode, then we highly recommend you read our review of the top ones.
Decompression Algorithm
A unique feature of Oceanic dive computers are its dual algorithm settings. Divers can switch between two different algorithms, each with their own conservative factors. They algorithms are:
Pelagic DSAT: The more liberal of the two algorithms, the DSAT is better for recreational divers that want longer bottom times. It determines the no-decompression limit (NDL) by factoring in past dive data and current levels of exposure to compress gas.
Pelagic Z+ (Buhlmann ZHL-16C): This algorithm is more conservative than the DSAT. It takes into account all of the same factors, such as dive time, gas mixes used, repeat dives, and so on to recommend a more conservative NDL even at shallow depths.
If you are a beginner, we highly recommend sticking with the Pelagic Z+ algorithm. More advanced divers who want to maximize their time in the water should use the Pelagic DSAT.
Wireless Connectivity and Dive Log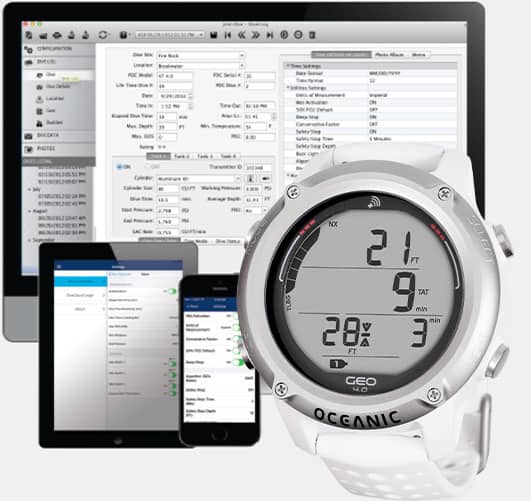 One feature that we love about the Geo 4.0 is its Bluetooth connectivity which allows you to easily sync your data to your smart devices as well as update the firmware. Using the DiverLog+ application, you can preserve your dive history and also change your Geo 4.0's settings on another device.
If you don't like using the Geo 4.0's buttons, use your smartphone to change your algorithm, switch gases, view your dive profile, etc. During your pre-dive check, you can make all the changes on your smartphone and send the instructions to your dive computer. After the dive, the process is reversed by sending the recent dive profile back to your smartphone. When transferring data, you can even attach pictures and videos to your dive logs.
This ease of transferability is much needed since the Geo 4.0 has a small storage capacity of only 24 dives. Once the storage is full, it will erase past dives to make space for new ones. As such, we recommend regularly transferring the data to the DiverLog+ app. Without it, the Geo 4.0 will only display a summary of your past dive profiles. Only through the app can users get the full insight and plan for future dives.
On a long trip where you will be diving many times, it is very cumbersome to have to bring a USB cable and a laptop to back-up your dive logs. Without Bluetooth technology, your only choices are to lug around a laptop and cable or allow data to be erased. Nowadays, everybody has a Bluetooth capable smartphone which you can wirelessly connect to instead of a bulky laptop.
If you are not sure how to pair your Geo 4.0 with your smartphone using the DiverLog+ app, then please view this video for more information.
Automatic Features
Some functionality in the Geo 4.0 is automated for your convenience. For instance, if you forget to turn on your computer before heading into the water, the Geo 4.0 can detect when it is submerged underwater and turn itself on. It will default to the same settings as your last dive. Users can turn this feature off by setting "wet mode" to OFF in the menus.
Additionally, the Geo 4.0 can automatically adjust the altitude settings from between 3,001ft (916m) to 14,000ft (4,267m). At elevations higher than this and the calculations provided by the Geo 4.0 will not be accurate. You can decrease the altitude when automatic altitude adjustments kick in by enabling the Conservative Factor for safer diving.
Battery
This computer is powered by the commonly used, user-replaceable CR2430 lithium battery. The battery should be replaced after 300 dive hours or two years, whichever comes first. The CR2430 battery is available at most stores and is very cheap. When replacing the battery, you should also replace the O-ring as well.
The Geo 4.0 will retain your dive history when you swap the battery. However, in case of any malfunctions, we recommend you make a backup on your smartphone or computer.
Depending on how you use the Geo 4.0, the battery can drain very quickly. For instance, you can preserve the battery life by reducing the duration of the backlight. Additionally, freedive mode is very battery intensive because of its significantly faster sampling rate. Switching the Geo 4.0 to Watch mode will stop its dive calculations which will also preserve battery life.
Missing Features
When buying a dive computer, it is important to find a dive computer that fits your diving style so that you can get your money's worth out of it. With the Geo 4.0, it is clearly designed for beginner to intermediate level divers and is not capable of technical diving. For beginners on a budget who just want to dive casually, this is perfectly fine, but for others this can be a dealbreaker.
Air Integration
With air integration, divers can more conveniently and accurately determine how much air is left in their tank just by looking at their dive computer. It is particularly useful for deep divers, cave divers, or night divers where the chances of something going wrong during a dive is higher. What may seem like a convenient but optional feature can mean the difference between life or death in an extreme situation.
If you are interested in this feature, then we recommend you read our review of the top dive computers with air integration here.
Integrated 3D Digital Compass
Again, this seems like an optional, quality-of-life feature. Most divers would be fine with bringing their own compass. Maybe we are starting to get spoiled by high-end devices, but having the compass built-in to the dive computer streamlines our setup by just a little bit and makes underwater navigation so much more enjoyable because of it.
Advanced Diving Modes: Trimix, CCR, Sidemount
These diving modes are only available in the most advanced, high-end computers intended for technical diving. Beginners and recreational divers probably won't ever need to use these features.
Factory Reset Option
Dive instructors or dive shop owners who lend out dive computers will want a dive computer that can be fully reset. In other words, the dive computer will erase all of its past logs and any dive history so each user can start from a clean slate. Having past dive data from other divers would affect the Geo 4.0's calculations and provide inaccurate decompression stops, etc., for the current diver. If you are looking for a dive computer with a reset option, then a dive computer from Cressi is a good option.
Any of the features listed above would drastically increase the cost of a dive computer. However, if you want to grow as a diver and see yourself one day taking advantage of these features, then it may be worth it for you to invest in a more expensive dive computer with all of the bells and whistles.
Technical Specifications and Features
Dive computer that can also be worn as a daily watch.
Bluetooth 4.0 connectivity.
Track and switch between three gas mixes up to 100% oxygen.
Beginner-friendly user interface with "step back" function.
Dual Algorithms: Pelagic Z+ and Pelagic DSAT.
Operating Modes: Watch, Norm, Gauge, and Freedive.
Store data from 24 dives/99 free dives on internal logbook.
User-replaceable CR2430 lithium battery.
Maximum operating depth: 330ft (100m)
Automatic altitude adjustments from 3,001ft to 14,000ft (916m to 4,276m).
Duration adjustable backlight.
Watch mode: dual time display, daily alarms, stopwatch, countdown timer.
Oceanic Geo 4.0 Review: The Verdict

The Oceanic Geo 4.0 is a highly versatile dive computer that combines a sleek design with functionality that caters to a recreational diver's needs. Despite missing some technical features, it provides a dual algorithm setup, long battery life, gas switching between three nitrox mixes, and a larger font size for easier reading.
Furthermore, the Bluetooth connectivity is a significant quality-of-life improvement by allowing divers to connect to their smartphone using the DiverLog+ app. With it, you can easily change the settings on the Geo 4.0 and backup your dive log.
When you are not diving, you can still use the Geo 4.0 as your daily wristwatch thanks to its Watch mode. Once activated, it will work just like any other watch, except this one you can take with you 100m underwater. It has a sleek and sporty design so you can take it with you to the bar or to watch the game and it would fit right in.
While the Geo 4.0 is not the best choice for professional divers, it has enough features to cater to the beginner and recreational diver. At the price point that it retails at, we feel that it provides excellent value for the money and it is a step up from the older Geo models.