Freediving is a hobby that requires your absolute effort and focus in order to reach the deepest depths and make the return trip as well. Therefore, you do not have time to be worrying about things like how long you've been underwater, how deep you currently are, how long you need to rest between dives, and so on.
These things do matter, but they can also lead to overthinking, panic, and loss of focus. Rather than keeping all of this in your brain, you should outsource it to an external brain otherwise known by diving enthusiasts as a freediving watch.
The best freediving watch will take care of all of this information and will automatically track all aspects of your dive data so you can review it later. In freediving mode, a dive watch will provide numerous alarms and warnings to keep you informed about your dive progress. Some have such advanced tracking that they can even monitor your oxygen level and notify you when the levels are dropping so you have time to return to the surface.
In this freediving watch review, we will go over the best freediving watches currently available on the market. We will also cover our selection process, and how you can find a freediving watch yourself. Let's get started on our review.
Our Top Picks:
Best Freediving Watch Review
Shearwater Research Teric
Shearwater Research Teric Wrist Dive Computer
Full Colour, High Resolution. AMOLED. 1.39" display with deep blacks, and vivid colour display
Optional Air Integration. The Teric can connect with up to 2 transmitters
Rugged Construction. Sapphire crystal window, and 316 stainless bezel & buttons
The Shearwater Teric is the first watch-sized dive computer from Shearwater. Despite its small size, it is designed for experienced, no-nonsense technical divers and competitive freedivers as well. Don't be afraid to take the Teric with you out of the water as it is a stylish, full-spec watch that deserves to be worn daily.
Despite having five different diving modes, of particular note is the fact the freediving mode is not tacked on like it is on some other dive watches. In freedive mode, you can customize "Freedive Sets" to set up alerts for various freediving disciplines. By default, the presets are: deep, pool, and repetitive.
Store up to 500 hours of dive data in the logbook memory. With its 200m (650ft) depth rating, you never have to worry about the water pressure damaging the device. Avoid decompression sickness thanks to its detailed CNS tracking and Buhlmann ZHL-16C algorithm with gradient factors.
Check out our full review of the Shearwater Teric here.
Customizable Features
The Tetric has a plethora of customizable features. To start, it has a stretchy and durable silicone strap that comes in six color options. With its standard 22m strap size, most off-the-shelf straps should work with the Teric as well.
Next, the Teric has three different faces to choose from, and each one has a slightly different interface. Customize how your interface looks with 15 screen color choices, and the option to switch the font color as well.
The home screen of a dive watch is crucial, as this is what displays all of the important dive data you need to see. Switch between the "standard" or "big" layout to change how the information is displayed. In standard layout, you can fully customize what information is displayed on the home screen for each dive.
No matter which layout you pick, all of the information is accessible by scrolling through the computer. Any information that you deem not important enough, such as the temperature or your maximum depth, can still be accessed but it will not get priority display.
Furthermore, the Teric also provides a function button. This button can be configured to open up your most frequently used tool, such as the compass or gas switch function.
With all of these functions, it sounds like the Teric would be nightmarishly complex to use, but that couldn't be further from the truth. Thanks to its four navigation buttons and intuitive interface, using the Teric is a breeze. Each button has an icon next to it to hint at what functionality it provides if you press it. In just a few minutes, you will have already memorized each function.
Alarms
The Shearwater Teric has two types of alarms: audible and haptic (vibration). You can customize which ones will turn on: one or the other, both, or completely off if you don't want to get beeped at during a dive.
These can be further customized for freediving so that they warn you when you reach certain points of the dive or at certain time intervals. This is particularly useful for freedivers that don't wear a mask.
Battery
Recharge your battery wirelessly using the induction charger that the Teric comes with. Even better, the Teric works with Qi-compliant chargers, meaning you can wirelessly charge your dive computer using the same wireless charger that your smartphone uses. This saves you bringing an extra charger when traveling. What's more, the battery lasts for 50 hours in watch mode and 30 hours in dive mode.
Overall
If you are serious about improving your freediving skills, Shearwater has designed a powerful dive watch just for you. Whether you are a recreational diver looking to grow with the watch, or a competitive freediver who prefers the extra haptic alerts, the Teric can accommodate a wide range of divers from beginner to advanced. Furthermore, it looks extremely good out of the water and can be worn as your daily watch.
Garmin Descent MK1
The Descent MK1 by Garmin might look like an everyday watch, but it is also a highly advanced freediving watch that is packed with useful features for freedivers and technical scuba divers. Garmin has combined its expertise of environmental measuring tools and put it all into a sleak, all-in-one, full-spec dive computer.
Apnea Hunt Mode
The Descent MK1 has five dive modes, but of particular is its Apnea Hunt mode designed with spearos in mind. Once activated, as soon as you descend the device will start tracking your dive information, and end tracking as soon as you return to the surface.
GPS Tracking
The Descent MK1 is the first dive computer to provide GPS maps and tracking on its 1.2-inch vibrant color display. View plotted points and maps on the screen or a smartphone connected to the device using the Garmin Connect app. Never forget a dive location ever again by storing the GPS coordinates in your device.
The GPS tracking is activated automatically while in dive mode. Points can be plotted manually on both land or water. Mark the launching and landing points from wherever you'd like.
Alarms
Set alerts for surface intervals, dive time, depth markers and more in the dive settings. Faster data readouts are shown on the display during a dive on a single breath. The Descent MK1 will calculate data in realtime as it detects changes in hydrostatic pressure.
All of the settings and alerts can be customized before you embark on a dive, which we found very useful. Let your freediving watch track depth and time and give you helpful alerts while you remain completely focused on your breath-hold.
Dive Information
The Descent will store all of the data of your recent dives in its logbook. Each log is saved internally once you reach the surface of the water. While diving, the real time information shown on the screen includes: current depth, max depth, water temperature, time of dive, and heart rate.
Log the GPS coordinates of the dive by sticking your arm up with the watch and wait for the red ring around the device to turn green. This signals that the GPS coordinates have been saved.
Overall
The Garmin Descent MK1 is another powerful dive watch with numerous freediving and spearfishing functions that make it stand out from other dive computers. Specifically, the GPS tracking is useful for tracking where you've been so you can return for more freediving and spearfishing in the future.
If you are an active spearfisher or freediver and have the budget, then you should definitely consider getting the Garmin Descent MK1. Due to the Fenix 5X platform, in-water readouts, and GPS tracking, you are looking at an industry-leading product.
Read our full review of the Garmin Descent MK1 here.
Suunto D4i Novo
The Suunto D4i has a very comprehensive freediving mode that makes it invaluable for freedivers and spearos. Its clean and clear display and intuitive layout will keep you comfortable and safe while underwater.
While in freediving mode, the D4i operates as a timer and depth gauge only, and no longer provides any deco or wireless air integration information, nor does it track the ascent speed.
What it does offer is two specific alarms that are exclusive only to the freedive mode. They are the Depth Notify and Surface Time Notify alarms.
Depth Notify: This alarm activates once you reach the depth that you set before you started diving.
Surface Time Notify: This alarm will remind you of how much time you need to spend at the surface between dives.
While in freedive mode, the Suunto D4i's main display will show the following information:
Total dive time in minutes and seconds.
Max depth.
Current depth.
Any applicable notifications.
Additionally, the freediving mode has a function called Day History. When accessed, it will display the following information:
Average depth of all dives for the day.
Longest dive.
Time and deepest depth reached for the day.
Total amount of dives and time spent underwater for the day.
By starting a new dive in freedive mode the following day, the D4i will reset the data from the previous day and start with a clean slate.
There are a few downsides to the Suunto D4i, and both are in regards to its battery. First, you cannot replace the battery yourself. You must send it into a dive shop to get it serviced. Second, the battery cannot be "hot-swapped", meaning all data on the device will be lost once the battery is removed. Before sending it in for a battery replacement, make sure to transfer all of the data from the watch to your computer.
Overall, despite the battery issues described above, the Suunto D4i has lots to provide from every recreational Scuba diver and freediver, regardless of their skill level. The D4i has a high degree of customizability, and it has numerous alarms to keep you safe. All of the settings are structured logically and easy to learn. If you are a freediving enthusiast, you need this dive watch!
You can check out our full review of the Suunto D4i Novo by clicking here.
Sherwood Amphos
Sherwood Scuba Amphos 2.0 Dive Computer and Watch
Wear the stylish Amphos 2.0 watch every day and use the dive computer when diving.
Large characters and easy to read screen is 15% larger than most watch style dive computers.
Four Mode Watch including: Time, Scuba Dive, Free Dive, Gauge Only.
The Sherwood Amphos is capable of supporting diving with double-nitrox mixes, and was designed with full watch functionality as well. It looks slightly bigger than your standard watch, however we found it sits comfortably on the wrist and can be used for everyday wear; perfect for people who want both a dive computer and wrist watch in one.
Using the Amphos is simple thanks to its four navigation buttons. They are large enough and spaced far enough to press easily even with thick gloves on. The display is sectioned into top, middle, and bottom areas. The screen is large enough to show the important data thanks to its clear and sharp digits.
Next, the Sherwood Amphos has three modes: Normal (air and nitrox), Gauge, and Freedive mode. In freedive mode, the Amphos makes its nitrogen and depth gauge calculations based on the default FO2 of air, as well as how much is remaining from the previous dives in the last 24 hours.
Once in freediving mode, you can see the following information displayed in either the main or alternative displays:
Current and max depths.
Dive time remaining (DTR) and No-decompression (NDC) icon.
Nitrox Loading Bar Graph (NiBG), as well as if you have any remaining nitrogen from past dives.
Time.
Temperature.
Remaining Countdown Time.
In freediving mode, the Amphos has specific displays and sets of alarms can be activated when certain conditions are met, such as:
Freedive Elapsed Dive Time (EDT) alarm, which is different from the EDT in Nitrox and Air modes.
CDT alarm which will beep once the time reaches 00:00.
Freedive depth alarms (FDA); three can be set at progressively deeper depths.
NiBG alarm that activates if the nitrogen accumulated from recent dives raises to the Caution Level (4 segments on the bar) while freediving. An audio alarm will trigger and the NiBG will start flashing.
If you ignore the warning and allow the watch to increase to Deco level with all 5 bars filled up, then the watch will enter Violation Gauge mode for 24 hours, which soft-locks the device for your safety.
The Sherwood Amphos can store your previous 24 dives in its logbook. Using History mode, you can check detailed information of past dives, such as number of dives, total time spent underwater, max depth achieved, which dive modes you were using. To view the information in greater detail, you need to transfer the dive history to your computer by purchasing an interface capable and downloading special software.
Overall, the Sherwood Amphos is a great wrist-watch full of functions that is durable, comfortable, and stylish both as a dive computer and a wrist watch. It is easy to set up, and tracks plenty of information about your dives. The freediving mode is very extensive, and the amount of customization it offers will keep you safe while diving.
Cressi Leonardo
Sale
Cressi Leonardo, black/grey
A single button Dive Computer makes it effortless to set Air, Nitrox and Gauge modes. Ideal for beginners in Scuba Diving. It is easy to use and easy...
FO2 adjustable between 21% and 50%. PO2 adjustable between 1.2 bar and 1.6 bar. CNS oxygen toxicity graphic indicator.
Three levels of user adjustable conservatism. Visual and distinct, easy-to-hear audible alarms
If you're looking for a budget freediving watch, then the Cressi Leonardo should be on your radar. It features a simple and intuitive design and has a single-button interface that simplifies its usage.
The Leonardo will display your max depth, current depth, battery level, temperature, and dive time on its front screen. You will be able to easily see all of this information at a glance because the Leonardo has an edge-to-edge, high-definition LCD screen. Each piece of information is sectioned with thick lines, and the font is clear and easy to read.
There are there diving modes to select from: Air, Nitrox, and Gauge. Of note is the Gauge mode, which basically serves as a bottom-timer and can be used as a freediving mode. Unfortunately, the Leonardo does not have a dedicated apnea timer, however you can make do with the Gauge mode.
Even with its generous screen-size, the Leonardo is slim enough to be travel-friendly. It's probably a bit large to be worn for daily use, but for freediving it's the perfect size for displaying your dive data.
Next, the Leonardo comes with a CR2430 user changeable battery. This battery is standard and can be purchased in any dive store and most supermarkets. You can expect the battery life on the Leonardo to last 2-3 years if you are casually freediving.
Additionally, the Leonardo has a maximum operational depth of 120m (393ft), and altitude adjustments up to 3,700m (12,139ft). The dive log has a capacity of 60 dives or around 70 hours.
The Leonardo runs on Cressi's RGBM algorithm and it is considered to be very conservative. You may find yourself with less bottom time, however its calculations will help you avoid decompression sickness.
Some customers feel that the strap is slightly too long when the grabber is released, which can be an issue when you're underwater with a loose band. However, the Leonardo is a solid watch for those on a smaller budget and it can serve well as a first freediving watch.
You can read our in-depth review the Cressi Leonardo here.
Oceanic Geo 2.0
Oceanic Geo 2.0 Wrist Computer, Slate Blue Grey
2 nitrox mixes to 100% oxygen, deep stop with countdown timer, intuitive user interface with step back, time, date & temperature
Audible alarms with user acknowledgment, gauge mode with run-timer, history mode and 24 dive/99 free dives on-unit log book
Last dive display: max depth and dive time, diver-replaceable battery with data retention, user upgradeable firmware
Yet another freediving watch for the budget-minded freediver is the Geo 2.0 from Oceanic. We like how the segmented screen is large and easy to read at a glance. Furthermore, the interface is easy to navigate because the Geo 2.0 has four menu buttons, including buttons that allow you to move forwards and back easily, something the Cressi Leonardo struggles to do.
The Geo 2.0 features four diving modes: NORM (Air and Nitrox), Gauge, Free, and Watch mode. The Watch mode has its unique functions like Alternate time, Countdown Timer, Alarm, and Chrono. Free Mode will monitor the dive calculations and allows seamless switching to NORM mode. The Gauge mode comes with a run timer.
Capable of withstanding the water pressure up to 100m (330ft), the Geo 2.0 also comes with a powerful backlight to help you read the display in the low-light conditions at deep depths. You can adjust the duration of the backlight to save battery.
Furthermore, the Geo 2.0 features exclusive dual algorithms that can be customized so be more conservative or liberal depending on which you prefer. For instance, there is an option to remove deco times. The Geo 2.0's strap comes with an extender to make it easier to wear over a wetsuit. It also comes with a wristband to sit comfortably on the wrist.
Many customers like how the Geo 2.0 has a clear contrast between the crystal clear background and large black lettering to make the numbers and letters pop out. It is also easy to distinguish between the information, and is one of the reasons why Scuba divers and freedivers like using this dive watch.
Lastly, the Geo 2.0 is intuitive to use; it only took us a few minutes of pressing the 4 buttons to learn how to navigate its interface. You can check the quick start guide to learn how to fully customize each feature. Overall, the Oceanic Geo 2.0 is a reliable and affordable dive watch for both beginner and advanced freedivers.
You can read our full review of the Oceanic Geo 2.0 here as well as our review for the newer Geo 4.0 here.
Digital Multifunction Sports Wrist Watch
Pyle Digital Multifunction Sports Wrist Watch - Waterproof Smart Fit Classic Men Women Water Sport...
5 MODES: The Pyle Sports Multifunction Digital Watch act as your own data center all within arm's reach. Provides you w/ function modes such as...
WATERPROOF DESIGN: The smart sport fitness wrist tracker provides water resistance up to 10 atmospheres or 330 feet. Works in fresh and saltwater w/...
UNDERWATER DIVE MODE: Automatically activates once over 1.5 meters deep. It displays water temp, depth, dive time, current time w/ submerging and...
If you are a beginner freediver, swimmer, or snorkeler on an extremely tight budget, then you should consider getting the Digital Multifunction Sports Wrist watch by Pyle. This watch was designed for highly active individuals participating in all manners of water sports.
First, it is designed to last thanks to its highly durable, marine-grade waterproof material. It can withstand the water pressure up to 100m (330ft), and works in both saltwater and freshwater while still providing accurate tracking. Just make sure to select which one before going on a dive.
Second, this sports watch features a smart diving alarm that will automatically monitor your speed and beep if you ascend faster than 6m/minute. Fast ascents can lead to decompression sickness and shallow water blackouts, so the various alarms will remind you if you are about to do something potentially dangerous.
Third, the Digital Multifunction watch comes with numerous operating functions to make your dive smoother. The functions are: dual time, current time, chronograph, countdown timer, and diving mode.
Next, this watch from Pyle features an electroluminescent backlight display which means that it will glow in the dark so that it is easy to see even in low-light conditions. One annoyance we had was that the watch quickly resets the data once you emerge from a dive. However, the dive is stored in its logbook memory, which can hold 100 dives of data, so you can review it at a later time.
Mares Smart Apnea
Sale
The Mares Smart is a sleek and versatile dive watch that can be worn both in and out of the water. It has a watch mode that includes a wake-up alarm, date functions, stopwatch, second time zone, and the like. Its screen and interface are easy to read, and we've never had a problem seeing the data.
There are many modes to switch between including a freedive mode. You can change the settings using the two side buttons, which are intuitive to use. We would have liked more buttons to make navigation even smoother.
Before embarking on a dive, make sure the right mode is selected and that you are using the plan function. Dive planning is crucial if you are doing multiple dives a day, and the Mares Smart will take into account your past and current dive data to give you the best recommendations.
Keep track of all of your dives by viewing the dive log or transferring it to your computer to plan for future dives. You'll need to purchase a USB cable separately, but this is par for the course for many dive watches. The logbook memory can store the last 35 hours of diving, or roughly 25 dives. This is on the low-end, however the Mares Smart has an impressive 5-second sampling rate.
Next, the Mares Smart has a safe mode which can help to preserve battery life. The Smart uses a user-changeable CR2430 battery, which is quite common and can be purchased in most supermarkets. The battery should last 2-3 years for recreational use. Avid divers may have to replace the battery once a year.
Thanks to the slim profile of the Smart, it's lightweight and small enough to be worn like a normal watch. This also makes bringing it along while travelling much more convenient, since you can just wear it like normal.
For an entry-level freediving watch, the Mares Smart is a great choice at an affordable price. It can also be used as a normal watch when you switch to watch mode, and looks very stylish to boot. Whether you are Scuba diving, freediving, or just going about a normal day, you can rely on the Mares Smart to help you out.
You can read our in-depth review of the Mares Smart here.
Suunto Zoop Novo
The Suunto Zoop Novo is a large and powerful dive watch that is easy to operate thanks to its four menu buttons. It runs on the Suunto RGBM algorithm, which tracks multi-day diving and multiple dives in a day. The recommendations it gives you, such as the surface interval time and no-decompression limits, factors in your most recent dives for greater accuracy.
You can use the four menu buttons to seamlessly switch between its Air, Nitrox, Gauge, and Freediving modes. The Zoop Novo weighs 120g (4.23oz) and has a logbook memory of 140 hours with an adjustable sampling rate (default 20 seconds) and bookmarking functionality.
Due to the Zoop Novo's large size, at 1 ⅓ inches (40mm) in diameter, divers can easily see what is displayed on the screen. It is designed with durability in mind, which is why it is made from hard-wearing acrylic that can withstand the occasional impact. Although the Zoop Novo is wrist-mounted, due to its large size, you probably won't be wearing it as an everyday watch.
It is a good habit to turn on the Dive Mode during your pre-dive checks, but if you do forget then the Zoop Novo will automatically turn it on once it is 0.5m (~1.5ft) underwater. Additionally, the standard dive alarms are fully adjustable so you can set it to be more liberal for additional dive time and depth.
The Zoop Novo uses a user-changeable CR2450 battery. It should last for about two years before it needs replacing, though you may have to switch it out once a year if you dive frequently. Just a reminder, you should replace the O-ring each time you change the battery.
Overall, the Suunto Zoop Novo has great functionality for entry-level and recreational freedivers. Thanks to its large screen, automatic water activation, and four navigation buttons, the Zoop Novo is easy to operate. In addition to its affordable cost, it is another great choice for a first dive computer.
Read our full review of the Suunto Zoop Novo here.
Aqua Lung i200C/i300C
Aqua Lung I200c Wrist Dive Computer Dark Charcoal
4 operating modes. Air, Nitrox, Gauge (with run timer), and Free Dive (tracks calculations to allow unrestricted switching between Dive and Free)
User-changeable standard battery and data retention. Uses globally available standard batteries found at supermarkets and drugstores. Maintains...
High visibility LED alarm light. For additional diving safety
The Aqua Lung i200C features a fresh and sporty design. It has four menu buttons located on its sides and all it takes to learn how to use them is to press it a few times. One of the buttons is dedicated to switching between its dive modes: Air, Nitrox, Gauge (with run timer) and Freedive mode.
To ensure that the dive watch fits you, the i200C comes with an extender strap so that it can be worn over a wetsuit if needed. There are also numerous color options to select from, however the extender strap only comes in black, so it can be tough to match the colors.
Of particular note in the i200C is its wireless Bluetooth connectivity. You can easily transfer your dive logs to your smartphone using Bluetooth and the Dive Log+ App. Using this app, you can also change the settings on your dive watch through the smartphone. So if you find using the buttons to switch menus to be annoying, just do change all of the settings using the app.
You can also use the Bluetooth function to share images, videos, and notes alongside your dive log to your social media accounts. Let your family and friends know what you're up to.
Once again, we have recommended a dive watch that has a user-changeable battery. Being able to change the battery yourself can save a lot of time and money if you know what you're doing. Furthermore, the computer's calculations and memory will be retained after changing batteries.
Overall, we really enjoyed the convenience that the i200C provided, especially due to its Bluetooth connectivity. Furthermore it is comfortable, full of useful features, and easy to use. We can't stress just how convenient the Bluetooth functionality is. Nowadays everybody has a smartphone, and using your phone to change the settings is very appealing. If you want a reliable and versatile dive watch that can also be worn daily, then this is for you.
Check out our full review of the Aqua Lung i200C here and the i300C here.
Do You Need a Freediving Watch?
Think of a freediving watch as your co-pilot, and you are the pilot. Technically you don't need one, but having one around will not only give you peace of mind, but the information it provides can literally save your life. It will give you warnings and reminders so that you won't do anything reckless, like diving too many times with insufficient rest in between.
When you're diving and in the zone, it is very easy to lose track of your depth and how long you've been underwater. Furthermore, constantly worrying about these things will affect your performance. Why not leave this up to the dive watch to track automatically?
The dive computer will log plenty of useful information about the dive every few seconds, such as the current depth or the water temperature. You can compare the differences in temperature at different depths which may be useful to spearos.
For instance, if you find a fish at a certain depth, knowing the water temperature can help you increase your fishing knowledge and gives you a reference so that you can compare it to the estimates provided in books or online.
Additionally, many dive watches come with an integrated GPS system. If you find the best fishing or diving spot, you can save the coordinates in the GPS system. You will never have to worry about losing a dive spot ever again.
Nobody likes to hear an alarm early in the morning. However, when you're underwater, hearing an alarm may save your life. Dive watches are not just passively logging your information in the background. When certain thresholds are met or exceeded, such as a rapid ascent rate, low oxygen levels, or dive depth reached, then its alarm system will activate.
Without a dive watch, you may not realize that you were in any danger so it is crucial to pay attention to your dive computer. Not all dive computers are equal; some have more safety features than others and can track more data.
Freediving Watch Features
Dive Planning
Doing too many dives in rapid succession is risky without getting enough rest. This period where the diver is resting at the surface between dives is known as the surface interval, and it is an important period because many divers don't rest long enough before heading back underwater.
Diving is very taxing on the body, and a rest period that is at least two to three times the length of the last dive is required. The dive watch will recommend you a surface interval time and start the countdown for you. Don't rely on your own estimations which may or may not be accurate and just focus on resting at the surface.
Most dive watches will calculate the no-decompression limit (NDL) based on the algorithm they are using, however some models allow you to enter your own data to receive a custom result.
Next, all dive watches allow you to change between the type of water you will be diving in: saltwater or freshwater. Depending on which one you choose, the calculations to the NDL will be different, and this also affects any other calculations. Remember to switch the setting to the correct one, otherwise there will be a slight discrepancy between the data shown and the actual numbers.
Depth and Location Tracking
All freediving watches have a maximum operational depth, around 80m on the lower end, to well over 120m. The pressure at those depths is immense, so you need to make sure that the dive watch you are interested in can withstand the pressure.
The dive watches track your depth as well as ascent and descent rate. These indicators are important so you have an idea of how far you are from depth. There is also a mode that will display the maximum depth for your dive, and an alarm will trigger once you reach it.
GPS signals can't be reached underwater, so you may need to stay at the surface until your start and endpoint coordinates are recorded before diving. An easy way to do this is to raise your hand above water and the GPS signal should be received quickly by your watch.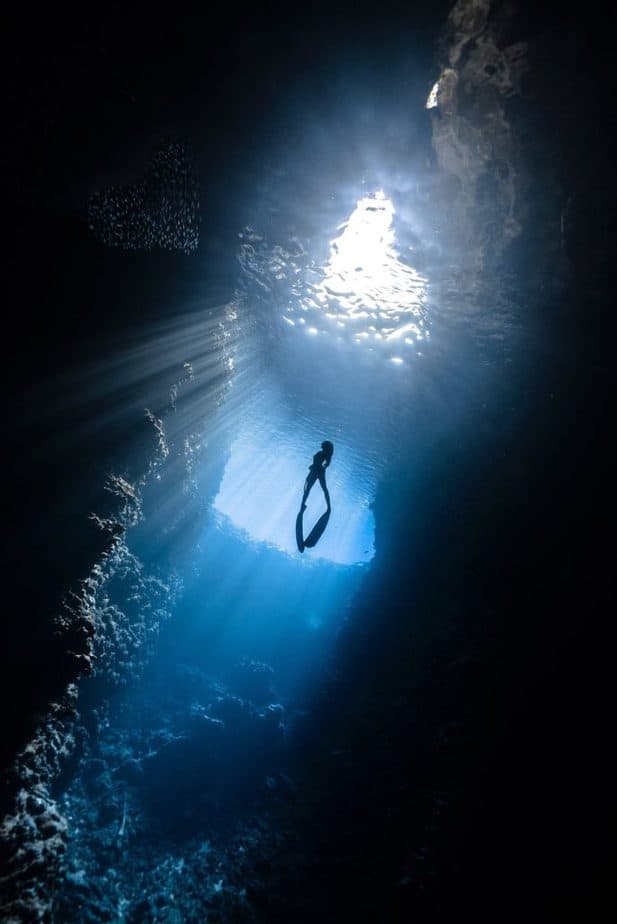 Dive Modes
During any dive, you can view your dive data, such as the dive conditions and your physiological data. Dive watches have many modes, most of them designed with Scuba diving in mode. However, the modes to pay particular attention to are Gauge mode (bottom-timer) and Freediving mode.
When diving in gauge mode, the dive watch will display the current dive conditions, a dive compass (if your particular model has this feature), dive stopwatch, and heart rate. Gauge mode is not commonly used by recreational divers.
Another mode that freedivers and spearos should use is Freedive mode or Apnea mode. When it is activated, your surface time, current dive conditions, heart rate data, map, and even last dive data will be displayed.
Dive Straps
When it comes to wearing dive watches, there are two common ways it is mounted. The majority of dive watches are worn on the wrist. Some can be mounted onto your chest, a strap, or even your BCD.
Wearing the watch on the wrist is the most popular option since watch straps are easier to replace and affordable. Most straps are made from rubber, and extension straps are available if you need some extra strap length to wear it around a wetsuit or any other reason.
Additional Features
Most freediving watches should have a heart rate monitor. It may be displayed all the time, or only when gauge mode is on. As to how accurate the heart rate monitor is, it should be accurate because divers primarily rely on their legs to help them while their arms (and dive watch) hang idly by their side which makes tracking much easier.
Some freediving watches allow 3rd party apps to be installed. Just keep in mind that they may be disabled during a dive since there is a possibility that they could interfere with the critical functionality of the dive watch.
Lastly, some freediving watches have wireless Bluetooth connectivity so that it can sync up with your smartphone. If your dive watch does not have any wireless features, then you will have to purchase a USB connector separately in order to transfer the data on the watch to your computer. Whether you are using a smartphone or computer, you must download the specific app for your watch in order to access the data.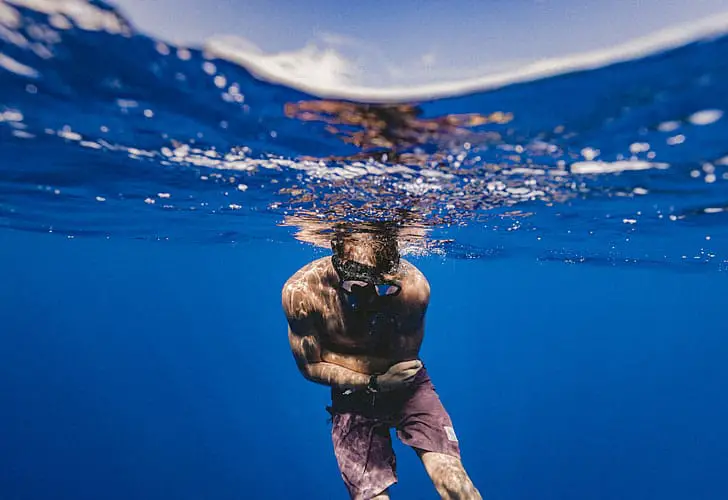 Freediving Watch Maintenance Tips: How to Make it Last
Battery Care
How often should you charge your freediving watch?
You should check that your dive watch is fully charged before each dive. Charge it the day before a dive just to be safe. Just like with other electronic devices that use rechargeable batteries, such as your smartphone, the battery's capacity to hold a charge will decrease over time.
In other words, the battery will become less efficient as time passes. Thankfully, many dive watches have user-replaceable batteries, such as the CR-2430 battery, which you can buy at most supermarkets and dive shops. Other models may require you to send the device to a service shop, where they will also calibrate your device in addition to changing the battery.
Check the user manual to see how long the battery is expected to last for. The estimates provided are based on a casual diver that dives 50 times a year. In this case, a battery may last as long as 2-3 years before it needs to be replaced (can't hold a charge for long anymore). More frequent divers may need to replace the battery as quickly as once a year.
Charging the Watch
When charging electronics, it is generally a good practice to unplug the device once it has fully charged. Leaving it plugged in when the battery level is full may deteriorate the battery faster. As such, we do not recommend leaving it plugged in overnight.
Typically, a charging cycle can last around 3-5 hours depending on the watch and how low the battery was prior to charging. The larger devices with bigger batteries will take longer to charge.
How long the battery lasts during a diving session also depends on the battery capacity and how large the display is. The backlight is a major drain on the battery, so the duration should be adjusted to be shorter.
Additionally, freediving mode is a major drain on the battery as well. Unlike in other modes where there is a larger interval between each sample of data, in freediving mode the data is recorded every couple of seconds. You can expect the dive watch to last 6-12 hours depending on how heavily it is used.
Firmware Updates
Keeping your freediving watch up-to-date is important because it can provide new functionality and fix any bugs in the old firmware. If there is a new update available, we recommend you take it. It may also extend the battery life by utilizing the hardware more efficiently or changing how calculations work behind the scenes.
In order to update your dive watch, you either need to use a USB connector or use the wireless Bluetooth function if your device has it. These features are also what allow you to transfer the data off your device so you can analyze the data.
Cleaning Your Dive Watch
After each diving session, you must remember to thoroughly rinse your dive watch along with all of your other diving equipment using freshwater. If you forget to do this, a sophisticated piece of equipment like a dive watch can start to malfunction or wear down faster than intended.
Make sure to rinse every nook and cranny. Doing so will remove salt and other debris that have been deposited onto the external components. Salt can cause the band, backing, and housing to deteriorate and crack. Even if you only used the device in the pool, you should rinse it all the same to get rid of any chemicals.
Let the watch dry in a cool, dry place away from direct sunlight along with the rest of your equipment and they will last you for many years.
What to Look for in a Dive Computer
Brand
A dive watch made by a reputable manufacturer is often more reliable and easier to troubleshoot or repair if anything goes wrong. Dive computers are a major investment, so you want to make sure that you have one that is high-quality and reliable. Established brands have a reputation to uphold, and newer ones want to make a name (they aren't all bad), and we've identified the best brands to look out for in our review section.
There are examples of many knock-off products in the market offered by unknown sellers, and these can be easily identified by how few reviews there are, or if every single review is suspiciously positive. If a product has a price that is too good to be true, the quality will probably not be what you expect.
We don't want to say that established brands are always better, because that isn't a true statement either. However, there's a reason why some brands have survived for decades and made a name for themselves, so they are at the very least a safe bet.
There are so many dive watch brands and models on the market, but when it comes to your safety you should be very choosy. There are trusted companies that have been manufacturing diving gear for decades, and those are the ones you should pay attention to. Some examples are: Cressi, Suunto, Mares, and Oceanic.
Price
If you've been freediving for a while, then you know that freediving focused watches are quite the investment. As with products from any niche hobby, the good ones cost a fortune because there are few alternatives. Freedivers on a tight budget already know this harsh reality, and it would be a shame for potential freediving hobbyists to be held back by this.
As such, we've had to make a few compromises in our review. We want as many people who are interested in freediving to get access to proper gear. We've scoured the market for freediving watches in various price ranges. You will find pure freediving watches, and you will also find Scuba dive watches with a freediving mode built-in in our review. This way, there are more options available.
Intuitive User Interface
Few things are as frustrating as wasting time and oxygen underwater trying to figure out how to get your freediving watch to display the information you want. A complicated watch is basically like diving without a watch. That is why you want one with an easy-to-use interface so that it can actually be a benefit to you instead of a source of frustration.
Dive computers with at least three buttons are easier to navigate the menus with. They can also allow you to switch dive modes and features seamlessly with just the press of a button. It is harder to do this on dive computers with only one or two buttons.
Another key feature is to look for freediving watches with a strong backlight so that you can always view the information in low-light environments.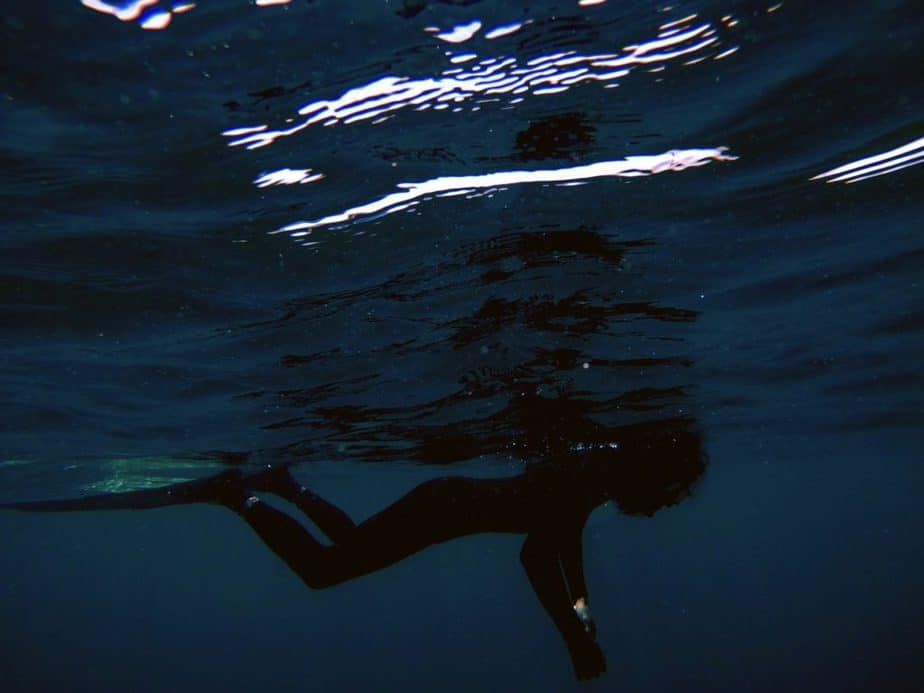 Large Logbook Memory
During freediving mode, the dive watch is recording data every couple of seconds. This takes up lots of memory very quickly, so watches with low memory will run out in just a few dives. A larger logbook memory means you can dive for longer without worrying about erasing past data, or being in a rush to upload it to your smartphone or computer.
How likely are you to transfer your data every single day? It would be more convenient to get all of your diving done for the trip and transfer it at the end. Also, you may not have access to your computer all the time, so having more internal memory gives you leeway to dive without worrying about transferring your dive log.
Alarms and Alert Types
One of the most important features on a dive watch for freedivers are the alarms. When descending, you have to keep your arms to your side and thus you cannot keep an eye on your device. Alarms help a lot in this regard, and there are many types and ways they can be activated.
For example, there are dive depth alarms which will trigger once you have reached a certain depth. This is a common feature and you can choose to set multiple depth alarms for specific points, such as the point at which you reach neutral buoyancy and also when you start to freefall.
You might set an alarm to remind you to relax and stop finning during a dive. The second alarm could be to remind you to equalise just before reaching depth. Perhaps a third alarm can be set for when you reach depth and remind you to start heading back up.
There are other types of alarms besides depth alarms. There are also alarms for heart rate, dive time, minimum surface recovery time, depth intervals so you can set an alarm every few meters, and so on.
Alarms are only useful if you can notice them going off. You will find dive watches that have audible, visual, and even physical warnings (vibrations). For visual alarms, there are auto-backlight illuminations, glowing LEDs, and flashing warnings. Specific alarms can be turned off, for instance if you prefer only to feel the vibrations but want to turn the rest off.
Dive Watch Depths
A feature that doesn't get talked about often but is actually really important is the maximum operational depth of the dive watch. Some of the dive watches we recommend can only go as deep as 80m (260ft).
This sounds unbelievably deep right now, but top freedivers have blown past this depth. Who knows, perhaps in a year or two you might be able to reach this depth with serious effort and dedication. Since dive watches tend to last for years, you need to consider how deep you plan on diving before buying a watch.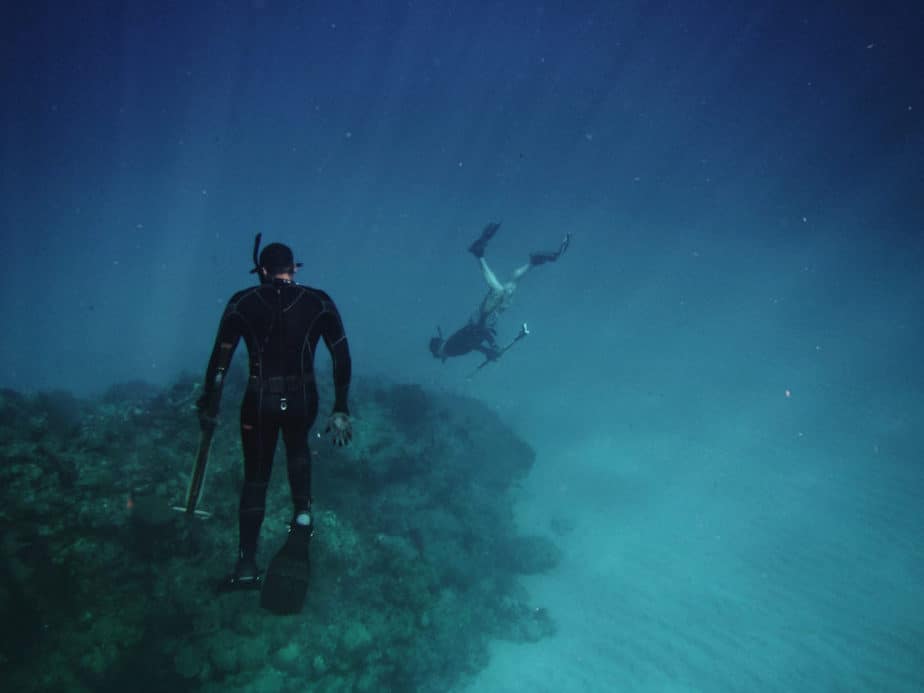 Types of Dive Watches
Freediving Watches vs. Scuba Watches
Not all the dive watches that we covered in this review are pure freediving watches. The majority of them are Scuba diving computers that have a freedive mode on them. There are a few that are designed solely for apnea use, and you will find that these have more functionality for freediving built-in.
Since so many dive watches are designed with Scuba diving in mind, as a freediver you need to find ones that have the features you want. For instance, we recommend looking into watches where you can customize what's shown on the main display. Freedivers should prioritize seeing the current depth and dive time at a glance, for instance.
You also have to factor in the size, since a bulkier dive watch is extra weight that can cause you to become negatively buoyant. Remember to adjust your dive weights to compensate for this, whether it is taking a small weight from the weight belt or neck weight. With that said, a bigger watch is easier to read with larger fonts, so the trade-off is up to you.
Spearfishing Watches
Spearos spend hours in the water, which could be over a hundred dives or more. It is important that the dive times are not too long, otherwise the surface interval times will be even longer. When searching for a spearfishing watch, you want one that can simplify your hobby.
As such, you want to look for ones that can accurately track dive times and surface times. We also recommend a watch that has a conservative algorithm so that you can stay safe while diving. You will have less bottom time, but you will also drastically reduce your chances of shallow water blackout.
Frequently Asked Questions
How does a dive watch help?
Freediving is an inherently risky hobby. There are ways to mitigate some of the danger, such as by always diving with a buddy. The thing is, humans are error-prone, and we often make mistakes in judgments.
That is why having a freediving watch is so important. It's like having a reliable and objective partner with you (in addition to your actual diving buddy, who should also have his own watch) to ensure you're following all of the dive protocols instead of relying on guesswork. Even a cheap dive watch has features that can save your life, such as surface interval timing and calculating your CO2 levels.
Scuba divers are more likely to experience nitrogen narcosis and decompression sickness (DCS) than freedivers since they are constantly inhaling compressed air and spending a longer time underwater.
With that said, freedivers can still experience DCS if they do not spend enough time resting at the surface. That is why it is so beneficial to have a dive watch calculate your current dive data, including your most recent dives, so that it can provide accurate surface interval times and keep you safe.
All it takes is one shallow water blackout and that could be the end of you (this is a reminder to always dive with at least one other person). Any time you do a breath-hold, you increase your CO2 levels to potentially dangerous levels. Particularly when you can stay underwater for several minutes at a time, the risk only increases.
You want to be able to focus on your dive instead of worrying about factors like how long you should be resting between dives. Let a dive watch take care of tracking time and performing the complex calculations so you can free up your mind to other important matters.
Can I use a dive watch for both Scuba and freediving?
Yes, you can. Whether you are a Scuba diver, freediver, or someone who dabbles in a bit of both, you should definitely get a dive watch. A dive watch provides so many benefits, not just in terms of convenience but also for your safety.
For instance, you can track surface intervals, dive depth, heart rate, CO2 levels, GPS coordinates, safety warnings, and so on. If you also scuba dive, there are plenty of other features you can take advantage of like switching between gas mixes and deco stop warnings.
Don't rely on your own intuition or estimates when diving. Let a freediving watch take all of the guesswork out of a dive. Keep track of your dive statistics with perfect accuracy while focusing entirely on your dive, and you will be safer and happier for it.
How many dives can it log?
The amount of dives kept in the logbook depends on how detailed the logs are (based on the sampling rate and how many factors it keeps track of) and how large the internal memory is in the device. Once the memory is full, the oldest dive will be wiped to make room for the latest dive. Before this happens, you should transfer your logbook to your smartphone or computer.
Some dive watches allow for expansion cards, such as microSD cards for additional storage space. If you are a number junkie and want a meticulous log of all of your dives, then you should get a device with a large internal memory and an expansion slot.
Keeping a backup of your logs on your computer is recommended in case your dive watch breaks. Some people like to play it old-school and log their data by hand. This way they avoid the need to purchase a USB connector. Bluetooth wireless connectivity also removes the need for a cable to transfer logbook data.
How do you want it to look?
When selecting a dive watch, you want to strike a balance between a watch that you are proud to show off and one that can display the information in a clear and concise manner. Most watches come in one of two shapes: round or square. Typically, round watches are what most people pick due to fashion purposes, but square screens usually display more information than round ones for more practical reasons.
Which strap material do you want?
The dive watch band needs to be made from a durable material, but it also shouldn't hurt your wrist when you wear it for hours. A common band material found in most dive watches is polymer because of how tough and resistant to water damage it is.
Most straps have a common length, however some straps can be fitted with extension straps to increase the length. This is useful for wearing the watch over a thick wetsuit or if you simply have large wrists.
Furthermore, some freediving watches have a metal band that is sized to your wrist when you purchase it. However, we do not recommend this because the band may not fit over a thick wetsuit, so you should look for a non-metallic band instead.
How big of a dive watch do you want?
When talking about the size of a watch, we are referring to the screen size. Small screens are sleek, fashionable, comfortable to wear, and lightweight. However, it is harder to see the information displayed on the screen and the buttons may be difficult to press since there is so little space to work with.
On the other hand, larger screens are bulkier, heavier, and less comfortable to wear, but they display more information at a larger text size. You can see all of the information all on one screen without having to navigate to a different menu for less important information, such as the temperature.
With that said, a large screen will drain the battery faster resulting in a shorter battery life and longer charge times. With that said, visibility is often an issue underwater, and being able to see all of the information at a glance is a huge benefit that cannot be understated.
What is your budget?
The more expensive a dive watch is, the more advanced the features that it has are. For these high-end models, what you should be paying attention to is whether you need those features or not. For instance, many advanced features have to do with Scuba diving, such as air integration or Trimix. Unless you also Scuba dive, you're paying a premium for no reason.
With that said, freedivers can take advantage of some advanced features like the digital compass, color display, GPS, and more detailed dive tracking in a high-end model. Even a cheap freediving watch is better than nothing, since they have all of the basic functionality like surface intervals, stopwatch, and alarms to assist you with your dives.
You can read our reviews on beginner dive watches and dive watches under $500 for a few examples of reliable dive watches that won't break the bank, though some of these do not have a freediving mode.
Best Freediving Watch: Final Thoughts
To be frank, a freediving watch is not an absolute necessity when freediving the way a dive buoy and freediving line or freediving fins are. Not everyone has the money to purchase advanced diving equipment like this, even the budget ones.
With that said, if you do have the money, we highly recommend you invest in a freediving watch. Not only does it enhance your overall freediving experience, but it allows you to view vital dive information and provide crucial warnings that can potentially save your life one day.
When selecting a freediving watch, first consider its appearance. Are you comfortable with the size? Is the display clear and is the information easy to read? Ideally, you want a high-definition screen with segmented or sectioned data. We also prefer a watch that has at least three buttons for easier navigation.
Next, how are its functions? All of the watches we recommend in our review have a freediving mode, which typically provides exclusive alarms and displays not found in the other dive modes. You may also want to have watch functionality so that you can also wear your dive watch as an everyday watch.
We also like to recommend watches that have user-changeable batteries. Especially if you are an avid diver, being able to replace your own battery will save you lots of time and money. Having to send your watch into a dive shop once a year is annoying and costly.
Lastly, the freediving watch must fit your budget. There are many dive watches that are designed with Scuba diving functionality in mind, and you may be paying a fortune for features you will never fully use. Make sure a dive watch has the functions you need at the price point you want, and it will probably be a good choice for you overall.
Now, what are you waiting for? Get yourself a dive watch, go out there, and smash all of your old depth records!
Last update on 2023-11-16 / Affiliate links / Images from Amazon Product Advertising API