The Mares Smart dive computer is a great entry-level dive computer, and it comes with all of the features that beginner Scuba divers and freedivers would want. You can optimize your dive by choosing a dive mode, switch between two gas mixes, as well as many other great features that we'll cover further along in this review.
Furthermore, it is also a fully functioning watch with various useful features like a stopwatch function, wake-up alarm, date functions, second time zone, and so on. As such, the Mares Smart is not only a great dive computer, but it is also designed to be sporty enough to wear everyday as your daily wristwatch.
For divers who are looking to grow with their dive computer, the Smart Air is a more advanced version that provides optional support of wireless air integration.
Mares Smart Review Summary

If you don't have the time to read our full review, we have summarized it here to help you save time.
Why should you buy the Mares Smart?
The Mares Smart provides features that a beginning diver needs without overwhelming them with features that they'll never use. Furthermore, its slim and sleek design makes it smaller than most wrist-mounted dive computers. As such, you can even wear it as a sports watch thanks to its small frame.
Navigating the menu is straightforward because the Mares Smart only has two navigational buttons. Furthermore, due to its small profile the display is on the small side as well.
Safety Features
One safety feature that makes the Mares Smart stand out from its competitors is its ascent rate lockout feature. You'll either love this feature or hate it, but you can't say that it isn't effective. Essentially, if the recommended ascent rate is exceeded for more than one-third of the depth of the dive, then the Smart will lock itself for 24 hours. This is a drastic but effective way to help users avoid decompression sickness and other nitrogen-related injuries by completely locking them out, dissuading them from further diving.
To further keep you safe, the Mares Smart has alarms designed to warn you about your deco stops so that you don't exceed the safe oxygen saturation. In addition to all of these safety features, there are also features that will help you traverse the waters safely such as its various diving modes.
The Mares Smart has an impressive maximum depth of 150m (492ft) which is comparable to high-end models. It is unlikely that a recreational diver would dive further than this for many years, and the other features are sure to last just as long.
Pros:
Lots of safety features, such as its ascent rate lockout, that will prevent you from making mistakes.
Audible and visual alarms will remind you of any safety warnings.
Affordable price point.
150m (492ft) maximum operating depth, which is comparable to high-end models.
Slim profile means it won't get in your way when diving, also it can be used as a sports watch.
Cons:
Onboard dive log is lacking compared to other dive computers.
Small display due to its small size.
No advanced functionality like a digital compass or air integration.
Summary
If you are looking for a dive computer for beginners with numerous safety features at an affordable price, then the Mares Smart is right up your alley. This sleek dive watch may not have the fanciest features, but it has the basic functionality you need and lots of safety features that you never knew you needed. Add on to that an affordable price point, and the Mares Smart is a strong contender for best beginner dive computer.
Mares Smart Overview
Technical Specifications
Watch-sized wrist dive computer.
Segmented Dot Matrix display type, sectioned into 3-rows.
Modes: Air, Nitrox, Gauge, Watch, Freediving.
Supports switching between two gas mixes.
User-replaceable 3-volt CR2430 lithium battery.
Memory Capacity: 35 hours, 25 dives.
Maximum operating depth of 150m (492ft).
Audible and visual alarms.
Dive plan mode.
Automatic sensors and timers to track dives even if you forget to start them yourself.
Automatically changes altitude settings for you.
Comes with numerous watch features, such as stopwatch, wake-up alarm, date functions, second time zone, etc.
Can interface with a computer with a USB connector.
At a Glance
Compared to other dive computers like the Mares Puck Pro or Suunto Zoop Novo, which are close to the size of a hockey puck, the Mares Smart bucks the trend with its slim and sleek profile. In fact, it could pass for a sports watch and nobody would even realize it is actually a dive computer until you tell them. The Smart has an aesthetically pleasing design and is available in many colors.
You'll notice that the Smart only has two buttons to navigate the menus. At least it is better than the Cressi Leonardo's single button design, however with only two buttons, navigating the menus is intuitive but can be somewhat cumbersome. The display is separated into three distinct windows which display the depth, safety stop, and the last screen is up to the user to customize what to display.
Diving Features
The Smart is designed to provide all of the functionality a beginner needs. However, we feel that it has enough functionality that even mid-level divers could make good use of this device. It has five modes: Watch, Air, Nitrox, Gauge, and Freediving.
The nitrox mode is capable of handling mixes between 21% and 99% oxygen. Furthermore, it can handle two gas mixes, and you can switch between them during a dive. We feel this functionality is impressive for an entry-level dive computer, since many only allow one gas mix and only up to 50% oxygen.
Next, the maximum operating depth of the Smart is 150m (492ft), more than enough for a recreational diver. If you have to travel a lot in order to reach your diving destination, normally you would have to constantly adjust your altitude and decompression settings. Thankfully, the Smart has automatic decompression timing and altitude correction so you don't have to manually change the settings.
Furthermore, the maximum altitude level without decompression is from the sea level to 3,700m (12,139ft).
Ascent Rate Lockout
A major selling point of the Smart is its ascent rate lockout feature. Most dive computers (the Smart included) have an alarm that triggers if you exceed the recommended ascent rate of 10m/minute. If you reach speeds of 12m/minute then that causes the Smart to both beep and flash as a final warning.
If the Smart detects that your ascent rate exceeded 12m/minute for more than one-third of the depth of your dive, then it will lock itself for 24 hours to prevent you from diving for the rest of the day.
Some people may feel that punishing the diver for not listening to the warnings is juvenile, however it just goes to show the gravity of the situation and how dangerous it is to ignore warnings. The ascent rate lockout will help beginners avoid getting decompression sickness or other injuries related to ascending too quickly.
Since this device is designed for beginners, we feel that the ascent rate exceeded lockout is an excellent safety feature and an important selling point for this device.
Audible and Visual Alarms
Aside from exceeding the recommended ascent rate, there are numerous other ways that can set off the audible and visual alarms. Here are some other ways the alarms can get triggered: missing a decompression stop, low battery reached during a dive, CNS toxicity level exceeding 75%, and exceeding a safe ppO2 level. The alarms serve to warn you about potential dangers, and heeding them will keep you safe while diving.
Temperature Range
The Mares Smart should only be used in water within the temperature range of 14°F to 122°F (-10°C to 50°C). Using the Smart in anything outside of this range can damage the device. Furthermore, the device may not provide accurate readings regarding the water pressure and depth outside of these ranges.
Since the Smart is a dive computer catered to beginners, it is unlikely that the diver will expose the device to such extreme temperatures. Generally speaking, the temperature range is very generous and is not something you normally have to think about when Scuba diving.
Battery
The battery life of the Mares Smart is estimated to last 2-3 years under normal use. It is estimated that the average diver will go on 50 dives in a year. If you go on 100 or more dives a year, then expect to replace the battery once a year.
One of the ways the battery gets drained is by using the backlight excessively. The backlight on the Smart is very bright, which helps the user read what's on the screen easily even in low-light conditions. Since it is so bright, it is recommended to limit its duration by adjusting the timing settings for the backlight.
Once the battery dies, you have two options.
1) Send it to an authorized service center or dive shop. In addition to changing the battery, they will also check its calibration and pressure test it to ensure it is working perfectly. However, this option costs a lot and takes time.
2) Replace the battery yourself. You have the option of changing the battery yourself because the Smart uses the user-replaceable 3-volt CR2430 lithium battery. You can purchase a battery replacement kit for cheap, which comes with an O-ring and screws in addition to the battery. If you go this route, you save time and money but your device does not get calibrated by professionals. Furthermore, if you make a mistake and damage your device, you void any warranty your device comes with.
Dive Algorithm
Mares have not disclosed which algorithms the Smart uses to calculate decompression or altitude settings. However, it most likely runs on the Mares RGBM algorithm, which is middle-of-the-road in terms of how conservative it is.
There are three conservatism settings to select from: standard, intermediate, and conservative. Changing these settings will also affect the altitude and decompression settings.
Logbook Memory
The Mares Smart has an onboard dive log that stores the last 35 hours (25 dives) of dive data at a 5-second sampling rate. This capacity is on the low end considering there are dive computers like the Suunto Zoop Novo that are capable of storing 140 hours (100 dives) of data, albeit at a much slower 20-second sampling rate.
Since you have less memory to work with, you have to quickly copy down the dive data before it gets erased. We recommend transferring the dive log to your computer where you can examine it in more detail and run dive simulations. However, you will need to purchase a USB cable separately in order to do so.
What We Like About the Mares Smart
The Mares Smart has all of the necessary features for beginners presented in a clean, easy-to-read interface, with straightforward menu navigation. Mares have designed the Smart to keep beginners safe without overwhelming them with too many confusing or unnecessary options. It is all packaged in a dive watch that is attractive enough to double as a sports watch for daily wear.
Next, the price point of the Smart is extremely affordable. As a beginner, especially one looking to buy their first dive computer, this is appealing in of itself. Don't let the low price fool you, this is a high-quality product. It's a good entry point for a newbie to learn and practice using a reliable dive computer until they need to upgrade. Until then, this will last a long while.
Additionally, the Mares Smart allows switching between two gases. In more advanced dive computers, this is a common feature. The Mares Smart only allows two, however most beginner dive computers lack this feature at all. As such, the Smart provides a perfect opportunity for beginners to learn and practice this feature without getting overwhelmed.
What We Don't Like
We like the Mares Smart, but it's not perfect. Here's where we had some issues.
Wearing the Smart as a watch will drain its battery rapidly. The backlight features are much more active during watch mode, and it will whittle down the battery life much faster than the expected 2-3 year battery life that Mares has projected. If you wear this watch everyday, anticipate switching the battery once a year instead. You have to take steps to conserve battery life, such as reducing the backlight duration.
In a similar vein, the user-replaceable battery is a great feature, however it has the potential to cause issues as well. For instance, a beginner may fail to properly re-set the seals. Without a proper seal, water leaks will occur and damage the dive computer. Any warranty will be voided if this occurs. You might want to let a professional handle this.
Next, the two-button navigation is easy to use but can be cumbersome as well. It can take a while to step through each menu and sub-menu to select or change the setting that you want. At least it's better than the Cressi Leonardo's one-button operation, but just barely.
The ascent rate lockout is ultimately an excellent safety feature, but it is possible to trigger it accidentally. If the freediving mode is set-up incorrectly, it is possible for the Smart to think that both the Scuba and freediving mode are running simultaneously. Thus, you can accidentally lock your device for 24 hours while casually freediving.
The onboard log is on the short end with only 35 hours or 20 dives of memory. Even with the 5-second sampling rate, it is on the low-end.
Who is the Mares Smart Designed For?
The Mares Smart is better suited for beginners. You can rely on it to provide all of the critical dive information in its compact, easy-to-read screen. To experienced divers' chagrin, the Smart does not provide too much extra features or information that would confuse new divers. This way, it is able to keep its cost low and be easy to use.
More experienced divers looking for a dive computer that displays more information, has larger dive logs, and allows more customization options will find the Mares Smart lacking. The Mares Smart is not intended to match a high-end dive computer. It is designed for beginners, and its low cost is a very big selling point.
With that said, the Mares Smart's dedicated alarms and freediving mode provides useful functionality to people who are serious about the sport. Its ability to support two gas mixes and switch between them is a feature not normally found in entry-level dive computers. It allows beginners to get experience with gas switching so that they can more easily transition to a high-end model in the future.
Who is the Mares Smart NOT For?
If you are a technical diver, or just someone with lots of diving experience, you will probably find the Mares Smart lacking. For example, advanced functionality such as GPS, air integration, or a digital compass are all missing from the Mares Smart beginner dive computer. Surprisingly, the Mares Smart does support two gas mixes and allows you to switch between them during dives.
Furthermore, people with poor eyesight may struggle to see the information displayed on the small display. In that case, you would be better off looking for a device with a larger screen, color options, or with a touch screen.
If you're a number junkie who loves to meticulously track each and every little bit of data from your Scuba equipment and filter all of that data into Excel spreadsheets on your computer, the Mares Smart will disappoint you. This device only tracks basic information regarding your bottom time, ascent rate, and general diving data.
Additionally, its dive log only tracks the past 35 hours of diving which isn't very much relative to other dive computers. However, it does have an impressive 5-second sampling rate, so what it does track will be very detailed.
Mares Smart Review: The Verdict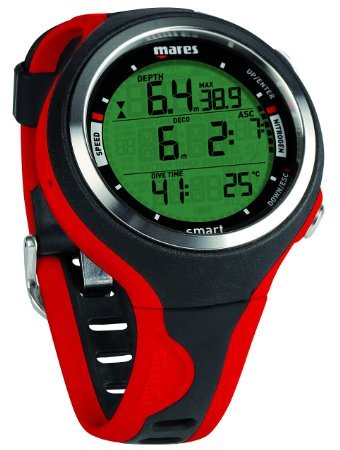 To sum it all up, the Mares Smart is a great introductory dive computer and we highly recommend it as a new diver's first dive computer. The Smart provides the necessary basic information, and beginning divers will not be overwhelmed or confused by what is shown.
Thanks to its three-segmented display, the information is laid out clearly in their own sections. Mares have tried to simplify the menu navigation with only two buttons to work with. While it is definitely simple to use, it takes many button presses. We would have liked having at least three or four buttons instead.
The dive plan mode is intuitive to use, and the Smart has automatic timers and sensors for dives that will track dives for you even if you forget to manually start a dive. Get alerted to warnings with the audible and visual alarms that will remind divers of any potential safety violations. There is even a 24-hour lockout function to prevent further diving if the user ignores its ascent rate warnings.
There are some slight durability concerns, especially when it comes to replacing the battery. Users might fail to properly seal the battery compartment or damage the insides during replacement.
Overall, the Mares Smart is definitely a contender for best beginner dive computer. It has a beautiful, sleek design, as well as all of the necessary features at an attractive price point. Since it looks so good and has a small profile, it can be worn as a sports watch outside of diving. Just be careful about the backlight draining the battery quickly.
Beginners can use this device for a few years to learn the ropes and then transition to a feature-rich dive computer afterwards. More experienced divers should keep their expectations in check, or else spend a lot more for a high-end model.
Other articles you may be interested in: