If you're in the market for an easy-to-use, reliable, and affordable dive computer, then you may have come across these two products from Mares: the Puck Pro and Smart. Both are entry level-dive computers that are packed with industry-standard features and they come in a wide range of colors. Pair that with a low price tag, and it can be hard to decide which one to get.
When shopping for a simple dive computer at a good price point, there are some sacrifices to be made in the form of missing advanced functionality. With that said, beginners probably aren't even aware of these features so they wouldn't use them in the first place and it isn't an issue.
Furthermore, Mares is a trusted manufacturer of scuba equipment, so you're in good hands. When comparing the Mares Smart vs. Puck Pro, which one should you get? Below we review each product on their own and then compare them to see which one should earn your purchase.
Mares Smart Dive Computer Review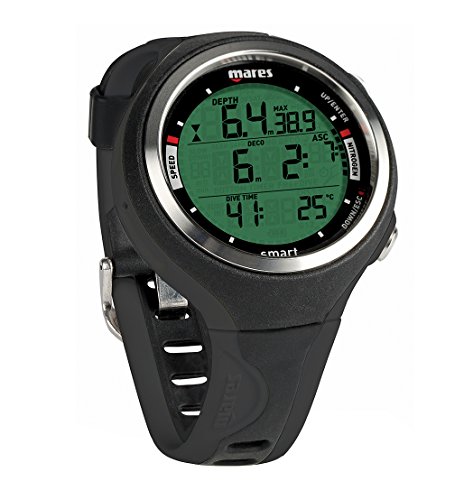 Appearance and Display
Right off the bat, we weren't impressed with how the Mares Smart only has two buttons that you use to navigate the menu with. It can be a little clumsy to step through the menus, especially if you are underwater. However, once you get used to navigating the menus with the two button setup, it does become a lot easier to manage though it still isn't ideal.
With that said, the Mares Smart is a nice-looking wrist dive computer that is surprisingly compact by dive computer standards, though it would be considered on the larger side for a sports watch. It comes in numerous color variants, such as red, green, white, the standard black, and various combinations of these colors so there's plenty to choose from.
In addition to being slim, the screen display itself is minimalistic and easy to read. Since it is a compact dive computer, the screen is on the smaller side, though most divers are happy with the read-out on this model regardless.
The data is displayed in three sections: an upper row, middle row, and bottom row. At all times the current depth is displayed. Another display is dedicated to show safety stop stages, and the third section is where other information can be displayed depending on the user's preference.
Dive Functionality
Keeping in mind that the Mares Smart is designed primarily with the beginner diver in mind, you might think that it's lacking in features. And for the most part, you'd be wrong. First, it has a respectable depth capability of 150m (492ft). This operating depth rivals that of many high-end dive computers. It also runs on the Mares RGBM algorithm. For someone purchasing this as their first dive computer, they will be sure to get plenty of dives out of it as they learn to dive deeper over time.
Next, the Mares Smart can handle two gas mixes, and is capable of handling Nitrox mixes between 21% and 99% oxygen. There are four different diving modes: Nitrox, Air, Bottom Timer (Gauge mode in other devices), and Freediving mode. Switching between modes is very straightforward as well.
One feature we love about the Mares Smart is that it automatically adjusts altitude and decompression timing which is a huge convenience for people who travel around for their diving. Not only is this feature convenient, it is crucial for keeping you safe.
The Mares Smart will record the last 40 hours of dive data at a sampling rate of 5 seconds. The reason why the logbook memory is shorter than the competition is due to its fast sampling rate, meaning the data you record will be more detailed.
Audible and Visual Alarms
The Mares dive watch has numerous alarms that, for a model in this price range, we feel makes it very well equipped in the safety warning department.
There are many ways that an alarm can be set off. For example, divers who are eager to resurface may speed up as they approach the surface. However, the alarm will trigger if you exceed an ascent rate of 10m per minute. If you breach 12m per minute, then the Mares Smart will not only provide a visual alarm, but it will start blaring too.
If you are so gregarious as to exceed the 12m per minute ascent rate for more than a third of your dive depth, the computer will punish you by locking out for 24 hours. While this sounds juvenile and overbearing, it is actually a fantastic safety feature to protect divers from hurting themselves by forcing them to stop diving for the day.
Some other ways to trigger an alarm is by missing a deco stop, if the battery is running low, and other safety warnings. Don't worry, the alarms won't trigger for no reason, and they will only activate to warn you about critical details. The Smart also comes with a dive plan mode to help you use the data to plan your next dive.
Overall
The Mares Smart provides great functionality at an affordable price. Its price is considerably lower than rival dive computers with similar features, so it is one you should keep an eye on. It is a great model for beginners and would serve well as a first dive computer. The two button navigation it has isn't ideal, but it gets the job done.
Since it is an entry level device, it's not surprising that it doesn't have air integration capabilities or a digital compass. With that said, it should be more than enough to last for a few years until you are ready to transition to a high end model.
Key Features
Slim, sporty design that allows it to double as a sports watch.
Easy to wear due to its compact size.
Maximum operating depth of 150m (492ft).
Audible and visual alarms which trigger to warn you about ascent rate violations or decompression stops, among other things.
40 hours of logging.
Affordable price.
To read our full review of the Mares Smart, click here.
Mares Puck Pro Dive Computer Review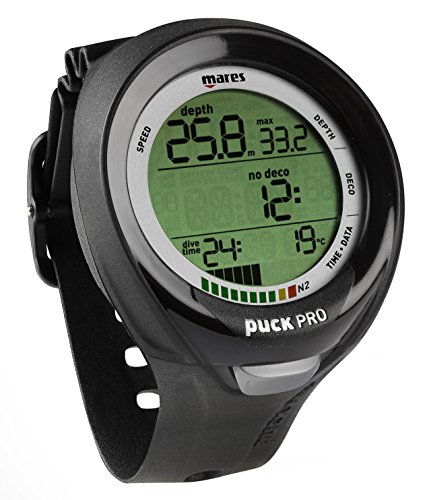 Appearance and Display
The Mares Puck Pro is a clean looking dive computer that is approximately the size of a hockey puck. Measuring at over 2 inches in diameter and nearly an inch thick, the Puck Pro is extremely robust and durable. Due to its large size, it's very easy to read the display however the downside is it can't be worn as a watch outside of scuba diving.
Equipped with a watch-style strap, this device can be worn over a wetsuit or drysuit. You can change the measurements to either imperial or metric units. The mineral glass crystal segment screen is hardy and features an adjustable backlight display that has a duration of 1-10 seconds to help you preserve battery life.
Should the Puck Pro linger in pre-dive mode for 10 minutes without receiving any input, it will switch off to preserve battery life. Additionally, you can just switch it to Off Mode so that you can dive freely without worrying about it tracking dive data or wasting battery life when you're just casually diving.
The Mares Puck Pro only has a single button for menu navigation. The argument is that the less buttons there are, the less confusing it is for beginners, which this product is catering to. However, we feel like adding a couple more buttons wouldn't increase the complexity that much, and it would make navigating the menu easier.
One of the issues with one button navigation is that there isn't a back button, so if you accidentally pass a menu, then you have to cycle through all of the menus until you reach the one you wanted to go to originally. Also, accessing a menu and changing a setting means you have to hold down the button for a few seconds for each change, and this can be time consuming.
Dive Functionality
The Mares Puck Pro is pretty much ready to use out of the box. It defaults into pre-dive mode because it knows you're itching to dive into the water. However, you should probably still check if it's in the correct mode before each dive, such as Air, Nitrox, or Gauge mode. If the Puck Pro is not in pre-dive mode, then it will delay calculations by 20 seconds after submerging.
With a dive mode selected, it will begin recording and calculating data once the device is 1.2m (4 feet) underwater. The Puck Pro has a maximum operational depth of 150m (492ft) which is comparable to high-end models. It also includes some useful features like a calendar, stopwatch, and altitude adjustment options, which aren't always included in an entry-level device.
The dive computer settings can only be altered while in surface mode, and cannot be changed while underwater. In dive mode, the Puck Pro will handle decompression calculations and track time, depth, temperature, and so on. If you need to see this information, just press the button to turn on the backlight.
Once you resurface, the calculations will be paused unless you head below 1.2m (feet) within 3 minutes. If you remain on the surface for 3 minutes, then the Puck Pro will consider the dive to be completed and the dive is logged. Afterwards, it will display the surface interval, no-fly time and desaturation time until they hit zero.
The Puck Pro can log the last 36-hours (30 dives) of dive into its logbook memory. It records data at 5 second intervals, so even though it seems like it doesn't record for very long, what it does record is highly detailed. You can use this data to plan for future dives. If you want to upload this information to your computer, you need to purchase a separate USB cable.
When you make a safety violation, the device's audible and visual alarms will trigger, such as if you have too high of an ascent speed, the battery is low, or you missed a deco stop. Beginners should pay close attention to this because the dive computer will help you avoid making a fatal mistake.
Key Features
Maximum operating depth of 150m (492ft).
Can handle gas mixes with 21% to 99% oxygen for Nitrox diving.
Maximum altitude adjustment of 3,700m (12,100ft).
Switch between metric or imperial units.
Uses the Mares-Wienke RGBM model, with adjustable conservatism settings.
Handles ppO2 levels between 1.2 bar and 1.6 bar.
36 hours (30 dives) of data tracked at a 5 second sampling rate.
Read our full review of the Mares Puck Pro here.
Mares Smart vs. Puck Pro Comparison
Now that we've had a look at each dive computer individually, let's put them in a head-to-head comparison.
Appearance and Display
The Mares Smart uses two buttons for menu navigation, whereas the Puck Pro only has the single button. In this case, the Smart wins. However, we wish it had 3 or 4 buttons instead. With only one or two buttons, switching between menus and changing settings becomes very cumbersome since it takes numerous button presses and making a mistake is time-consuming.
In terms of size, the Mares Puck Pro is huge like a hockey puck and probably isn't something you'd wear for daily use. On the other hand, the Mares Smart is small and compact, so it can double as a sports watch and you can get a lot more use out of it. WIth that said, the larger Puck Pro has a bigger screen so it is easier to see the data it is displaying.
Dive Functionality
Since these are both dive computers from the same manufacturer, there are mostly similarities rather than differences. Of note is that the Mares Smart has a freediving mode whereas the Puck Pro does not. So if you also plan on freediving, then the choice is clear.
However, the Mares Smart can take advantage of wireless air integration using the wireless LED transmitter. Use this to receive data directly from the tank to track your tank pressure, and it is multi-gas capable as well. The Mares Puck Pro on the other hand does not support wireless air integration.
Mares Smart vs. Puck Pro: The Verdict
Both of these dive computers from Mares are great entry-level dive computers. Since they are from the same manufacturer, we aren't surprised that the Mares Smart and Puck Pro are very comparable.
The most obvious difference is their size. If you prefer a more compact dive computer, then the Smart is the right choice. On the other hand, if you don't mind having a bulky device on your wrist and you just want to see the data clearly, then the Puck Pro is what you need.
As for dive functionality, the Smart has a freediving mode for people who want to dive and track data without having so much gear. The Smart can also wirelessly connect with the Smart Air to provide air integration to better track your gas tank. The Puck Pro does not support wireless air integration. If this feature is important to you, then go for the Mares Smart.
You might also be interested in knowing how the Mares Puck Pro and the Mares Smart compares to other entry-level dive computers. Here are some additional comparison articles we've written: