Both Mares and Cressi are well-respected, trusted brands known for manufacturing reliable and safe diving equipment. Cressi are generally known for their wetsuits, and Mares for their awesome fins, so how do these companies measure up against each other with their dive computers? Which is better, the Cressi Leonardo or the Mares Puck Pro?
In this introduction, we'll provide a quick comparison of these two entry-level recreational dive computers. The rest of the guide will provide a more in-depth look at each dive computer and a final overview before we decide on a winner.
Cressi Leonardo vs. Mares Puck Pro Review Summary
At a glance, the Puck Pro and Leonardo are both robust computers at attractive price points, making them the ideal option for people on a budget as well as for dive center rentals. Both devices use a single button to navigate the menu on their large display. The interface was simplified so that it is easily navigable with just the one button, which beginners may appreciate.
Next, the Cressi Leonardo's logbook memory can store 70 hours (~60 dives) worth of dive data, whereas the Mares Puck Pro is only capable of half of that at 36 hours (~30 dives). Due to this, the lack of memory might pose a problem for divers that rely heavily on their dive computer for the dive logs instead of using a pen and paper logbook.
As for diving modes, both have three: air, Nitrox, and gauge (labeled as "bottom timer" on the Puck Pro). This is standard for entry-level dive computers and covers all of the basic uses; others may have an additional freediving mode.
The option for user maintenance is excellent for both dive computers. For some models, when the battery runs out the device must be sent to a dive shop or service center to be repaired. This is expensive and time-consuming. Thankfully, both the Cressi Leonardo and Mares Puck Pro have user-replaceable batteries. Bear in mind, should you damage anything then you void your warranty.
Overall, there are numerous similarities between the Cressi Leonardo and the Mares Puck Pro. We feel the Puck Pro has the edge in terms of functionality. For instance, it has the option for gas switching and the Cressi Leonardo doesn't, though one can argue if this feature is even necessary on an entry-level computer. However, one advantage of the Cressi Leonardo is its sleeker frame compared to the Puck Pro, which is quite bulky on your wrist and can increase drag.
For those who want an easy-to-use, straightforward dive computer, both computers are excellent choices for beginner to intermediate divers. They are also affordable enough to be used exclusively as a backup dive computer. With that said, the Mares Puck Pro's price makes it an irresistible option since it has similar features to the Cressi Leonardo. If you are just a recreational diver, the money saved might be better used to buy some cold ones to enjoy with your friends.
Cressi Leonardo Review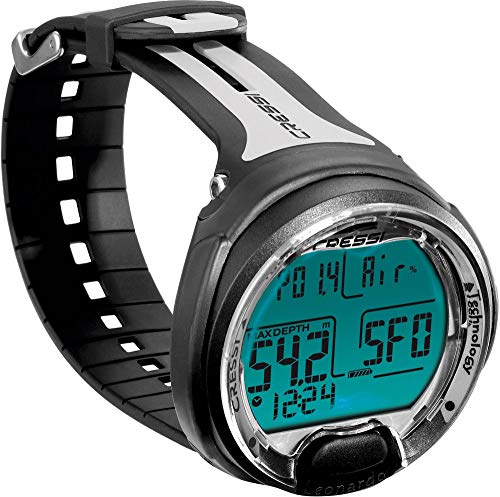 Technical Specifications:
Cressi RGBM algorithm.
Maximum operating depth of 120m (393ft).
Altitude adjustable up to 3,700m (12,139ft).
Logbook memory around 70 hours (60 dives).
Nitrox compatible up to 50%.
Time, date, temperature displays.
Switch between imperial or metric display.
3-volt CR2430 battery.
The Cressi Leonardo is as beginner-friendly as they come for the first time diver to get through their first few dozen dives.There are no confusing button placements, there is only the single button that lets the user select their dive modes. From air, Nitrox and gauge modes, the data that the dive computer calculates is displayed on a large edge-to-edge high definition LCD screen.
Some of the critical information on display is the battery life of the Leonardo as indicated by the battery life icon. Next, the audible alarms will activate to let you know if any safety warnings are being ignored for extra peace of mind. At the touch of a button, you can also check your dive times, max depth, decompression status, ascent rate, as well as surface interval times between dives. All of this can be seen at a glance due to the way the data is laid out.
Furthermore, the Cressi Leonardo utilizes their new RGBM diving model that can calculate safe decompression limits for numerous dives over multiple days. Some additional features of the Cressi Leonardo are a calendar, clock, dive simulator, three conservatism settings, 75 hour dive memory (~60 dives) and the ability to reset the data after each dive.
Pros:
Highly affordable.
Easy-to-read, large and clear display.
User replaceable battery.
Audible alarm if the ascent rate and max depth is exceeded, or if decompression and surface interval warnings are ignored.
70 hours of dive log data recorded.
Color options.
Data can be wiped after each dive for dive shops that rent out dive computers.
Cons:
Very basic functionality that is suitable for beginners but should be replaced once the diver gains more experience.
Too big to be used as a daily wristwatch.
Strap is too large and may need to be trimmed.
Get a much more thorough review of the Cressi Leonardo by clicking here.
Mares Puck Pro Review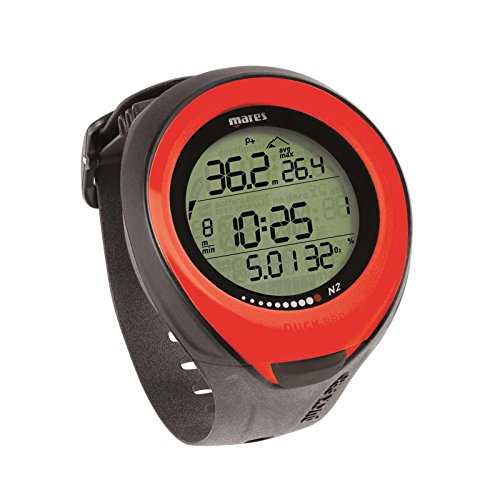 Technical Specifications:
Can handle oxygen mixtures between 21% to 99% for Nitrox diving.
Adjustable ppO2 levels between 1.2 and 1.6 bar.
Maximum operating depth is 150m (492ft).
Altitude adjustments up to 3,700m (12,100ft).
Runs on the Mares-Wienke RGBM model, with adjustable conservatism settings.
36 hours of logbook capacity at a sampling rate of 5 seconds.
Supports both imperial and metric display.
The Mares Puck pro features a large interface and a single button for navigation. The interface and menus have been designed to be navigable with the single button so that it is as intuitive and straightforward as they come. You can switch easily between air, Nitrox, and gauge modes, as well as adjust settings to suit your preferences.
Furthermore, the Puck Pro is a wrist-mounted dive computer with a maximum operating depth of 150m (492ft). For most divers, particularly beginners, this is more than enough. Once you reach these deep depths, the visibility becomes quite low. That is why the Puck Pro has a strong backlight, and you can set its duration between 1-10 seconds to preserve battery life.
Packed with useful features, the Mares Puck Pro also comes with a calendar, stopwatch, and altitude adjustment capabilities. These features are not always included in an entry-level dive computer. Should the battery run out, you can easily replace it on your own without sending it to a service center or dive shop.
You also get a 36-hour logbook memory with a frequent sampling rate of 5 seconds for the most accurate dive log data possible. With that said, to upload this data you would need to purchase a USB cable separately.
Next, the audible and visual alarms help remind you of when you are ascending too quickly or ignoring a safety warning. The goal is to keep you as safe as possible, however if you find it too annoying then you can adjust the conservatism settings.
Overall, the Mares Puck Pro provides all of the functionality that an entry-level dive computer provides. It is an excellent beginner dive computer and can serve as a backup device for experienced divers once they've upgraded.
Pros:
Simple, clear navigation with a single button.
Extremely detailed dive log data.
User-replaceable Lithium battery (CR2450); don't need to send it into a service center.
Adjustable RGBM algorithm.
Deep operating depth of 150m (492ft).
Cons:
Too large to be worn as a wristwatch (hockey puck sized).
Cannot purge dive log; not ideal for dive shops that rent out computers.
No air integration or built-in compass.
Must purchase USB cable separately to upload data to computer.
Check out out full review of the Mares Puck Pro here.
Cressi Leonardo vs. Mares Puck Pro Comparison
Design and Display
The screen of the Mares Puck Pro is slightly over 2 inches in diameter, and almost one-inch thick. Its display is quite large and lets you see all of the critical information easily without having to switch menus. Even if you want to switch menus, the interface was designed to be navigated with just the single button that the Mares Puck Pro has. This button is large and thick so that it can be accessed even with thick gloves on.
Furthermore, the strong backlight of the Puck Pro makes it possible to read the screen even during night diving or at depth where there isn't very much light. Just hold the button down for 5 seconds to activate it. You can also adjust the backlight duration between 1-10 seconds.
As for the Cressi Leonardo, it also features an intuitive, straightforward interface and a single button with which to navigate the menus with. As is the case with all single button designs, it is great when it works, but annoying when it doesn't. Namely, if you accidentally press the button one time too many and skip a menu, there is no back button. So you have to scroll through all the menus to get back to where you wanted to go.
The Cressi Leonardo's display is robust, but unfortunately its backlight is not very powerful. Thus, night diving and low-visibility conditions make it difficult to read the display, and it is not the best choice for deep dives.
Capabilities
Both the Puck Pro and the Leonardo have three dive modes: air, Nitrox, and gauge (called "bottom timer" in the Puck Pro). Since the Mares Puck Pro was designed for both beginners and intermediate divers in mind, it is capable of handling gas mixes between 21%-99%. The ppO2 levels can be set at 1.2 bars and 1.6 bars. The Puck Pro has a maximum operating depth of 150 meters (492ft).
The Cressi Leonardo only allows Nitrox levels between 21%-50%, on the other hand. The ppO2 levels are the same at 1.2 bars to 1.6bars, but the maximum operating depth is only 120meters (393ft).
Next, the Mares Puck Pro utilizes the Mares-Wienke RGBM , which was designed in collaboration with Dr. Bruce Wienke who was the leading figure in formulating accurate diving algorithms. The adjustability it provides is excellent by allowing the conservatism settings to be changed to suit one's safety needs.
The Cressi Leonardo's diving algorithm is their own RGBM algorithm which is essentially a modified version of the Haldane and Wienke algorithm but tweaked to their preferences. Divers have found that it is quite conservative since their target market is inexperienced or recreational divers. There is an option to completely reset the dive data, which is perfect for dive shops that rent out dive computers so that each new user has a fresh start.
Dive Log
Lastly, take note of the differences between the logbook memory of these two devices. The Mares Puck Pro has a shorter dive log capacity of 36 hours (~30 dives), however it has a more frequent sampling rate of 5 seconds.
The Cressi Leonardo can record data for up to 70 hours (~60 dives) but at a slower sampling rate of 20 seconds. Thus, the decision is whether you prefer a more detailed dive log that must be uploaded to a computer more frequently, or if you prefer recording more overall dives that have less detailed information.
Cressi Leonardo vs. Mares Puck Pro: The Verdict
In general, if you value overall performance then the Mares Puck Pro is the superior option over the Cressi Leonardo. It has a better display with a stronger backlight, can handle oxygen mixtures up to 99%, and the conservatism can be adjusted. Despite the lower dive log capacity, the data it does keep track is more accurate thanks to its 5 second sampling rate. You can tell that the Mares Puck Pro was designed not just for beginners, but intermediate divers as well.
With that said, the Cressi Leonardo is much cheaper and has all of the features that a beginner diver needs. If you are a casual or recreational diver that only dives a few times a year, then the Cressi Leonardo is a fantastic option for those on a tight-budget.
You may also be interested in learning about how the Cressi Leonardo compares to the Suunto Zoop Novo and if the Cressi Giotto is worth the extra money over the Leonardo. You might also be interested to see how the Mares Puck Pro fares against the Mares Smart.