Ever since Shearwater was founded in 2004, they have been consistently producing some of the most advanced technical diving computers that have impressed divers all over the world. Owners of Shearwater computers are loyal and often vocal about their support of the brand. We thought we would see whether the hype is justified by reviewing the Shearwater Perdix AI.
The Perdix AI was designed to make a splash in the recreational diving market. The original Perdix and Petrel 2 models from Shearwater are already very popular in the diving community. With the Perdix AI, it retains all of the same features and adds optional air integration support on top of it. Let's go over exactly what it has to offer.
Shearwater Perdix AI Overview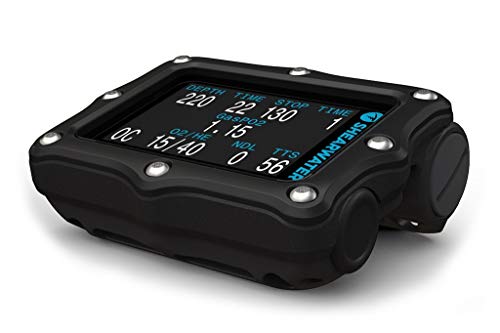 Shearwater's focus is to make dive computers that have a simple intuitive user interface with information that is easy-to-read. The Perdix AI continues their trend of doing just that. With a generous 2.2in (5.59cm) screen and a full-color LED LCD display, it is very easy to see all of your important dive information at any depth, even if your eyes aren't what they used to be.
The Perdix AI is one of the easiest dive computers to use and customize what's important to you. It only has two menu buttons which keeps scrolling and confusion to a minimum. On each screen, helpful hints are displayed next to the button to inform you of what actions you can do. Adjusting the settings is easy thanks to how user-friendly it is.
Some ways you can personalize your device is to adjust what information is displayed on the main screen, change from Bar or PSI, and change the dive number so that it correlates to the actual amount of dives you've done. Even if you accidentally delete your past dive logs, they can be easily recovered.
It is always a good idea to do a pre-dive check before heading into the water. But even if you forget, the Perdix AI can automatically turn itself on by sensing the change in pressure. Furthermore, once you pair the wireless air transmitters, you don't need to do it again so that's one more thing you don't have to worry about each time.
Additionally, the Perdix AI is rated to withstand water pressure at a maximum depth of 260m (850ft), though from 130m (435ft) onwards the depth sensor may not be 100% accurate. It can also store an incredible 1,000 hours of dive log data. For most divers, even technical ones, that is more than enough.
Lastly, the Perdix AI has various diving functionality such as gas switching, air integration, open-circuit and closed-circuit diving modes, trimix, and so on. We will explain all of this and more in the next section, but just know that the Perdix AI is full of features for the recreational and technical diver.
Shearwater Perdix AI Features In-Depth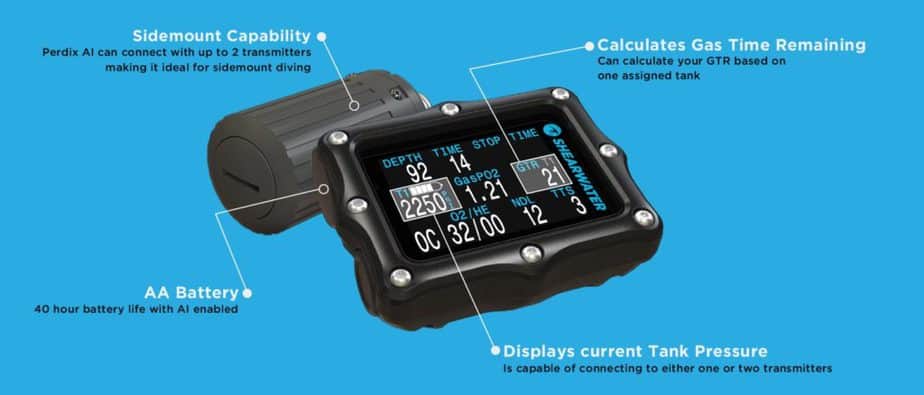 Technical Specifications
This high-end device has some impressive functionality that few others can match. Whether you are a recreational diver or a technical diver, there is something for you.
Optional air integration support for up to two transmitters.
Wireless Bluetooth connectivity – easily transfer dive log and update firmware.
Tilt-compensated, 3 axis digital compass.
Open-circuit, Closed-circuit and Trimix diving capable.
Switch between 5 gas mixes.
2.2" (5.59cm) high-resolution full-color LED LCD display.
Customizable display.
Two button menu operation.
1,000 hour dive log capacity.
Maximum operating depth of 260m (850ft).
User-changeable battery with two O-rings to prevent flooding.
Bühlmann ZHL-16C decompression model with Gradient Factors (GF).
Appearance and Display
What good is a dive computer if you have trouble reading it? Shearwater avoids this issue by making sure their dive computers are easy-to-read and as intuitive as possible. As such, the Perdix AI displays all of the crucial information at a glance even when the circumstances aren't ideal.
Whether you are using the device in bright sunlight or underwater where visibility is limited, you will be able to clearly read what's on the screen. Some divers even reduce the screen brightness because the backlight is so powerful. You also have the option to set the Perdix AI to automatically adjust its brightness based on the available light.
All of this is possible thanks to the Perdix AI's 2.2" full-color LED LCD screen, which Shearwater claims is 33% more energy efficient than the older Perdix (non-AI) model. In addition to the large screen, the Perdix AI uses large digits which older divers with aging eyes will definitely appreciate.
The Perdix AI's display also has a degree of adjustability as well. Perhaps you are not happy with the default layout and would like to move some things around. You have the option of determining where and how the information is displayed on the main screen to suit your diving needs.
Menu Navigation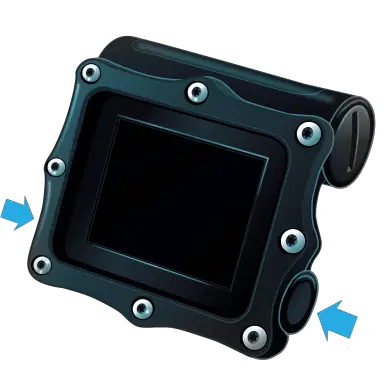 At first glance, the user interface might seem intimidating. Once you get used to the layout, however, you will begin to appreciate how powerful the device is. You can easily switch between gases or access your information with just a few taps of the buttons.
The Perdix AI is operated using a two button menu system. The buttons react to soft presses as well as light taps since they are piezo-electric. Since the Perdix AI does not have mechanical, moving buttons, that is one less failure point to worry about. Furthermore, the likelihood of other instruments hitting the buttons and changing the settings is basically non-existent.
With that said, we are not a fan of two-button setups. There is a bit of a learning curve and some patience is required. One button cycles through the options, and the other one is the "Select" button. There is no "Back" button so if you accidentally pass the option you want you will have to cycle through the menu until you return to it again instead of simply pressing "Back".
Even entry-level dive computers from Suunto have four buttons to make operating it much more convenient. If you've ever used a Suunto dive computer, you know that they are intuitive enough that you could learn how to operate it after just a few minutes.
It might take a bit longer with the Perdix AI but to its credit, it helpfully displays hints as to what action the button press will do on the screen right next to each button. If you spend some time tinkering around with the device, you will be able to learn it quickly enough. Reading the manual and watching an introductory video helps as well. However, we still really wish it had a back button.
Lastly, you have the option to flip the orientation of the screen, so if you'd rather have the buttons on the other side of the device then the option is there.
Diving Modes
The Perdix AI has four diving modes to choose from.
OC Recreational (OC Rec): For the serious recreational diver. Switch between five gas mixes with optional air integration support and a configurable bottom display.
OC Technical (OC Tec): Trimix diving with air integration support.
Closed Circuit/Bailout (CC/BO): Trimix enabled with optional air integration support for diluent, bailout and oxygen gases, as well as constant PO2 for closed circuit diving.
Gauge: Bottom timer with stopwatch and dive logging. The tank pressure information is also accessible in secondary menus.
The Perdix AI will automatically turn on once it is submerged underwater. It can detect this by sensing an increase in pressure. This feature is intended as a back-up and should not be something you rely on. We recommend always doing a pre-dive check to ensure the correct dive mode is selected and that the battery level is adequate.
Open Circuit and Closed Circuit Modes
The Perdix AI has many functions for tech divers or recreational divers looking to get into technical diving. You can start with the OC Rec mode for your first open water dives, then slowly progress to trimix diving with gas switching up to 5 mixes in Closed Circuit/Bailout mode.
Furthermore, unlike some Suunto dive computers, the Shearwater Perdix AI will not lock you out if you go over the ascent rate or miss a stop. Sometimes there are legitimate reasons for going over these limits, such as a medical emergency or avoiding debris.
Should you make a mistake with the Perdix AI, there are safeguards in place to assist you, such as recalculating your deco stop or allowing you to switch to the correct gas mix if you started with the one wrong.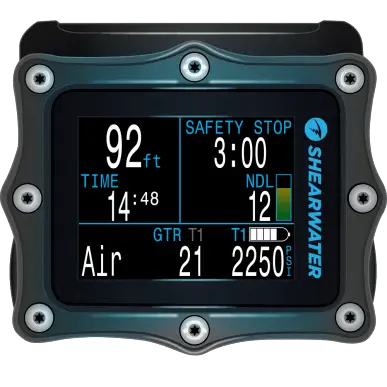 Decompression Model
Shearwater has designed the Perdix AI to be used by recreational and tech divers alike. As such, it needs an algorithm that can match the needs of the most demanding users, and that is why the standard decompression model it runs is the Bühlmann ZHL-16C with Gradient Factors (GF).
You have the option of unlocking the VPM-B decompression model by purchasing the unlock code, which is a bubble model. Both of these decompression models have been commonly used by technical divers since the early 2000s, however the effectiveness of bubble models are starting to come into question in recent years.
For recreational divers, this probably won't mean much to you. However for technical divers, a dissolved gas model such as the one included with the Perdix AI is a proven and safe option. Until more evidence comes out in support of bubble models, it is better to err on the side of caution and rely on another algorithm.
Air Integration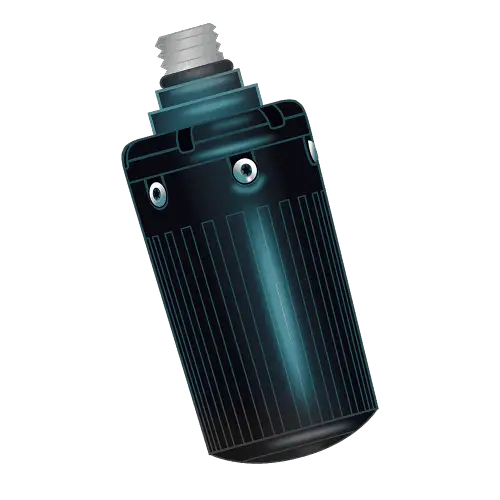 The original Perdix does not support air integration, but the Perdix AI does. What did you think the "AI" stood for, artificial intelligence? All jokes aside, thanks to the air integration features you can easily track the tank pressure in all diving modes.
The Perdix AI supports up to two wireless transmitters. This is an optional feature and the Perdix AI still provides plenty of features without it. Even if you don't use the air integration features right away, you can always purchase a transmitter further down the road when you are ready for it or when your budget allows for it.
Installing the transmitter is simple. Simply screw it onto your first stage regulator and make sure that your dive computer can detect it by entering the transmitter's unique serial code. Even though you only need to pair them once, we recommend that you always check that they remain paired before you head into the water.
Even if you change the battery, the devices are designed so that the pairing between remains in place. Lastly, you can track up to two tanks and perform side mount diving.
Wireless Connectivity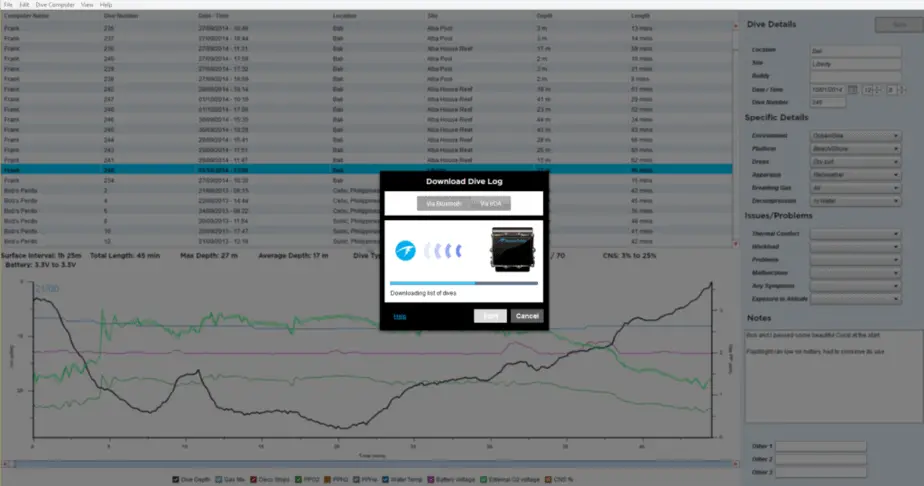 Wireless Air Transmitter Connectivity
The wireless air transmitter is depth rated up to 152m (500ft). It includes a 3V CR2 lithium battery which you can replace yourself. It should last approximately 300 dive hours before you need to replace it.
If you have a wireless transmitter laying around, you may not need to purchase a new one. If you have a transmitter from a previous Shearwater model, or from other brands of air integrated dive computers such as Oceanic, Aqualung, Hollis, or Aeris, then it may be compatible with the Perdix AI.
On the other hand, if you have a transmitter from Suunto, Mares, or Scubapro, then you are out of luck as these transmitters only work for devices of the same brand. This may give you some idea as to which brand of dive computers you prefer to buy from in the future if you are on a budget and would like to reuse your old equipment.
Though the Perdix AI only supports up to two transmitters, the benefit of this is less screen clutter and a cleaner interface. When used in a side mount setup, the gas time remaining (GTR) calculations are only available for one transmitter.
Logbook and Bluetooth Connectivity
If you've ever had to use a USB cable to transfer your dive logs, then you know how annoying and inconvenient it is. Thankfully, the Perdix AI is one of a few dive computers equipped with Bluetooth. Now, you can easily connect with multiple devices wirelessly, such as your smartphone (iOS/Android) or desktop (Mac or PC).
With the Bluetooth Smart technology, you can easily transfer and edit your dive logs on your mobile device. To be honest, with the 1,000 hour logbook capacity, it's not like you are going to run out of space anytime soon. However, you can also regularly update your firmware to have the latest features and fixes.
For more information on how to use Bluetooth to connect to your devices, check out this Bluetooth quick start guide.
Customizable Options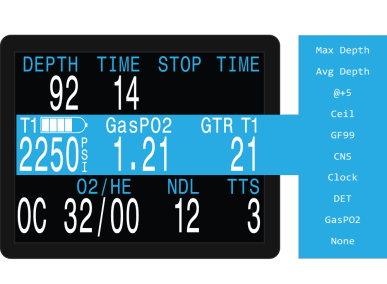 Shearwater dive computers are known for their massive amount of options when it comes to user configurability, both in terms of calculations that run in the background as well as display options.
The most obvious and straightforward options are the brightness and color options. You can also change what information is displayed on the main screen. Less pertinent information will be relegated to other screens which you can pull up and view by cycling through them. For instance, you may wish to have a timer and digital compass displayed on the main display if you use those features each dive.
As for customizing what happens in the background, you can adjust the conservatism level of the algorithm which is the Bühlmann ZHL-16C with Gradient Factors (GF).
Before you dive, it is important that you set what kind of water you are diving in: freshwater or saltwater. The reason for this is that the Perdix AI doesn't have a depth sensor per se, rather it calculates water depth based on the assumed density of the water and the water pressure.
Specifically, saltwater is heavier than freshwater since the dissolved salts increase its weight and density. There is also a middle option, EN13319, which is the European standard used in calculations for water density.
The density value used for each setting is as such:
Fresh Water = 1000kg/m³
EN13319 = 1020 kg/m³
Salt Water = 1030 kg/m³
If you do not set it to the correct option, then the calculations the Perdix AI provides may be off by as much as 2-3% compared to the actual amount.
Battery
Both the Perdix AI and its transmitters have user-replaceable batteries. For the Perdix AI, it runs on your standard AA 1.5V batteries which are available everywhere. Each battery should provide approximately 45 hours of diving.
We like how the battery compartment has an extra O-ring for a total of two O-rings which should theoretically add more protection against flooding. Most dive computers are fine with just one, however we won't complain about extra security.
You can use rechargeable batteries with the Perdix AI however you specifically need either rechargeable Lithium-ion 3.7V batteries or NiMH 1.2V batteries. The standard rechargeable alkaline batteries aren't compatible.
For cold water diving, the best batteries are Photo Lithium 1.5V which you might recognize on shelves as the Energizer brand Ultimate Lithium or Advanced Lithium batteries. They last twice as long as the standard AA battery but costs significantly more. However, they are able to run perfectly fine even in waters colder than 8°C (46°F).
On the other hand, you can use cheap Zinc-Carbon 1.5V batteries found in dollar stores. We do not recommend this since they don't last very long. However, if they are all you have access to then they are better than nothing. Just make sure to change the battery type to "1.5V Alkaline" in the battery settings.
If the diving season is over for you and you are about to pack your Perdix AI up for storage, remember to remove the battery from the device before doing so. Alkaline batteries sometimes leak, particularly when they are empty, and should be changed often.
Lastly, you don't have to worry about backing up your device when you change the battery. All of the data is stored in permanent memory, so it will retain all of that information even if you swap the battery.
Shearwater Perdix AI vs. Shearwater Teric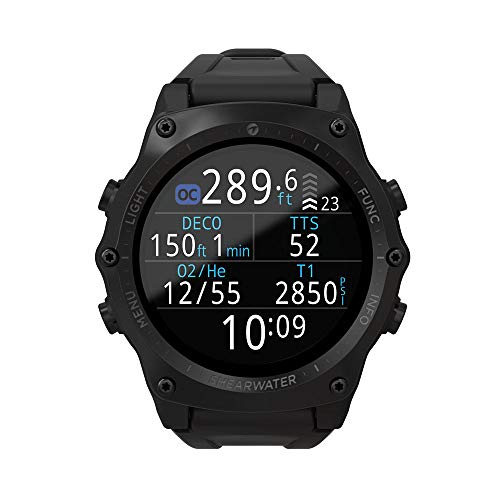 The Perdix AI is often compared to the Teric and vice versa. After all, they are both powerful dive computers in a similar price-range and made by the same company. How does the Perdix AI compare to the Teric?
To start, the Shearwater Teric is a watch-sized dive computer that is designed to be worn both in and out of the water. As such, dive computers that can do double-duty like this are generally more expensive than a dive computer designed purely for diving, even if dive watches have similar or less diving functionality.
With that said, the first difference is that the Teric is slightly more expensive than the Perdix AI for the reason listed above. The second biggest difference is that the functionality that it has which is missing from the Perdix AI mostly pertains to the watch side of things, and not the diving side. Below are some features that the Teric has that isn't included with the Perdix AI:
Freediving mode with ascent and descent indicators. The Perdix AI does not support freediving, but it has numerous technical diving modes that make it a better computer for diving.
Watch mode with two time zones, stopwatch, alarms, and so on. The Perdix AI cannot be used as a watch.
Rechargeable battery instead of user-changeable battery.
Four button operation in the Teric vs. two buttons for the Perdix AI.
Haptic (vibrating) alarms are available in the Teric.
We want to stress that if you are purely focused on diving, you probably want to stick with the Perdix AI. On the other hand, if you want a versatile dive computer that you can bring with you hundreds of feet underwater and to the bar for a night out drinking, then the Teric is better-suited for that purpose.
You can read our in-depth review of the Shearwater Research Teric here.
Frequently Asked Questions
Who should use the Shearwater Perdix AI?
Technically anyone can use the Perdix AI if the price tag doesn't scare you off. If you already know that you plan on diving for many years and want to improve your skills, there's nothing wrong with starting out with the Perdix AI.
Some of the features it provides may remain unused for a beginning diver for a long time. There is definitely plenty of room for it to grow with the diver. For instance, divers may choose to upgrade to air integration support later down the line. It is best suited for recreational divers as well as divers looking to get started with technical diving.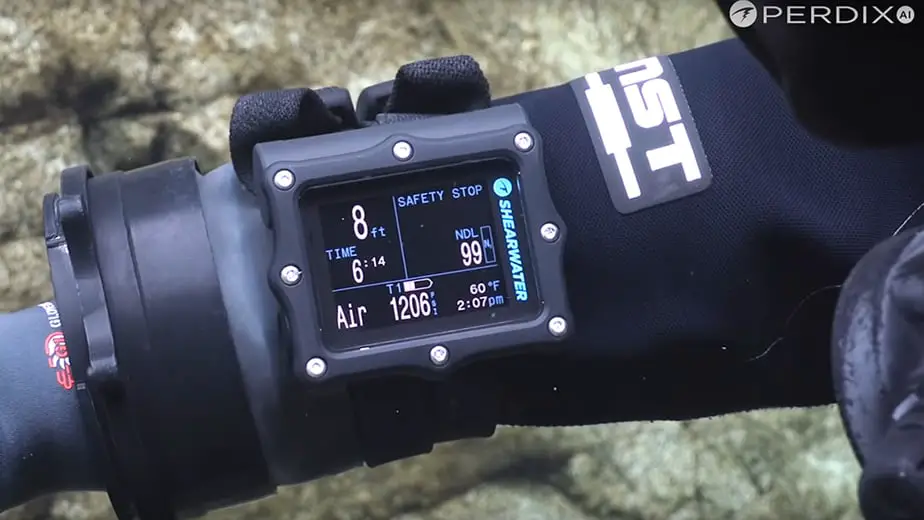 What is the difference between the Perdix and Perdix AI?
Before the Perdix AI was released, there was simply the Perdix. Released in late 2016, the Perdix AI has since replaced the previous model since it is basically the same thing but now with optional air integration support. Except for the air integration support, the differences between these two models are minor, but we will cover them in this section.
First, the biggest and most obvious difference: air integration support. You can connect up to two wireless transmitters, and this feature was not present in the original.
Second, with the release of the Perdix AI, the desktop application has been updated to provide more reporting features for the new model. These features relate to the new air integration support, such as displaying the tank pressure, gas time remaining (GTR) and SAC rate.
Third, since the air integration is an optional feature, if you purchase the Perdix AI without a transmitter then there isn't much difference between it and the original Perdix. However, the option is always available for you should you choose to decide to embark on a technical diving journey and invest the money for a transmitter. With the Perdix, there is no option to upgrade it later on.
You can still purchase the Perdix AI second hand online if you want a solid dive computer without air integration. You may be able to get a good deal this way, and a Perdix without AI is still a powerful device that can support numerous gas mixes.
How do you properly maintain the Shearwater Perdix AI?
Maintaining your Perdix AI is pretty much the same as how you would maintain your other scuba gear. Do not allow any salt deposits or other contaminants to accumulate. After each dive, thoroughly rinse the device with fresh water. Furthermore, do not use any chemicals as these may damage the case; use only fresh water or at most a mild detergent when cleaning.
Furthermore, do not use any high pressure cleaning tools because they may damage the depth sensor and you also run the risk of dropping the device. Simply rinse the Perdix AI under running water and then dry afterwards with a soft cloth. We recommend letting it air for a time to ensure that all of the water has evaporated before storing it in its carry case.
We recommend leaving the device to dry in a shaded, cool, dry environment. Never leave the Perdix AI in direct sunlight because the continued ultraviolet radiation can cause the case and strap to become brittle. Keep it away from hot surfaces as well. When storing it, make sure the device is stored upright and in a dust-free, shaded environment.
When storing the device for long periods of time, remove the batteries because they can and do leak. If you don't intend on diving in the cooler seasons, make sure the batteries are out otherwise you might open the case in the summer to find a dead dive computer.
What is the warranty policy?
Shearwater has a very generous 2-year warranty on all of their products. This warranty is active the day the unit is purchased and remains with the unit, not the purchaser. In other words, you can buy a Perdix AI second-hand and still take advantage of the warranty. Just make sure you get a receipt with the date on it. Once this period has passed, then Shearwater recommends the device gets serviced yearly at a service center.
You didn't answer all of my questions! What do I do?
We're very sorry about that. We have tried to put as much information as we could into our Shearwater Perdix AI review but you may have a very specific question that we did not answer. In that case, do not hesitate to contact Shearwater customer service directly.
You can also watch this basic setup guide to help you get started.
Our experiences with contacting Shearwater has always been very pleasant, and many divers can agree. Their response time is incredible and it feels like the customer service representatives are truly doing everything they can to help you. We've literally received helpful responses to our emails in less than 30 minutes. Then again, their computers are so solid that we rarely have issues.
One diver shared about a time Shearwater went above and beyond to help them fix their Perdix which was experiencing a screen glitch. They were diving in an area where no Shearwater retailers were nearby, so Shearwater supposedly shipped a brand new Perdix to the customer, no questions asked. If this is the length they are willing to go to help a customer out, then answering a few questions for a prospective customer should be no sweat for them.
Shearwater Perdix AI Review: The Verdict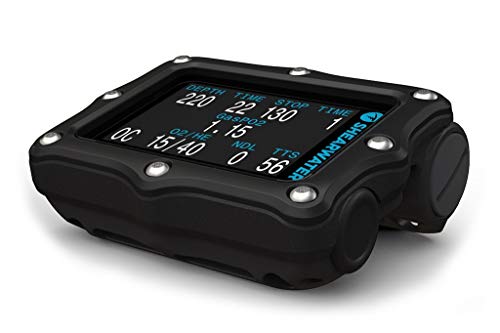 Shearwater dive computers are rock-solid, reliable computers that just keep performing for years. There are other high-end dive computers in its price range, but the Perdix AI simply outperforms the rest in nearly all areas.
Whether you are a recreational diver or a tech diver, there is something for you. Its incredibly powerful features will help you continue to grow as a diver as you gain experience. It is apparent that this computer was made by divers for divers.
From its intuitive and easy-to-use interface, to its customizable displays and diving functionality such as open-circuit, closed-circuit, Trimix diving, gas switching and air integration support, it truly has everything a tech diver needs without any of the fluff.
Lastly, if for whatever reason you wanted to sell your Perdix AI, its second-hand resale value is very high. Plus, its wireless transmitters can be used with other dive computers from other brands, so you have many options available. So if you can scrape together the cash to purchase a Perdix AI, know that it is a solid investment no matter what.