Planning an unforgettable 11th birthday party for your child? Why not throw a fantastic pool party that will have everyone talking for months? In this article, we'll provide some amazing ideas and tips to ensure that your child's pool party is a huge success.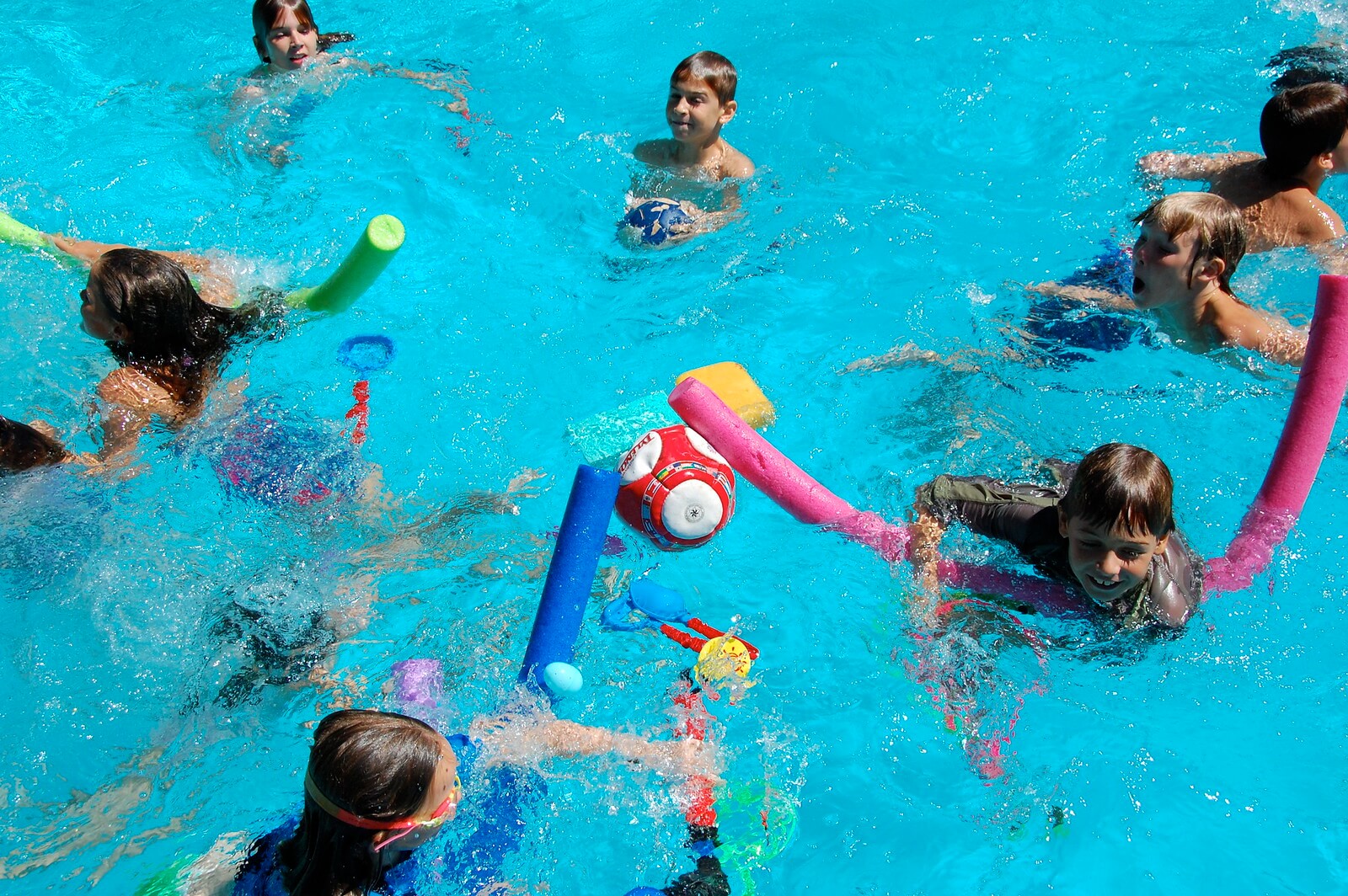 We'll discuss options like decorating the pool area with exciting items like floating pool toys, colorful balloons, and fun inflatables. Also consider hosting entertaining games and activities like pool volleyball, Marco Polo, and more.
With these ideas, you and your child will have a memorable, enjoyable, and truly tropical pool party that will leave a lasting impression. Keep reading on to get the details.
Choosing a Theme
When planning an 11th birthday pool party, choosing a theme is key to creating an unforgettable experience. Here is a list of popular themes, complete with decor ideas, game suggestions, and matching food and drinks.
Summer Fun
Embrace the season with a Summer Fun theme. Decorate with colorful pool floats, beach balls, and umbrellas.
Play games like water balloon toss and Marco Polo, and enjoy summer-y snacks like fruit skewers, hot dogs, and popsicles. Offer lemonade or fruit punches as refreshing drinks.
Fortnite
Bring the excitement of Fortnite to your pool party. Hang Fortnite-themed banners and balloons, and set up a station for guests to paint Fortnite-inspired face designs.
Organize a water gun battle, emulating the game's combat aspect. Serve themed treats like loot box cupcakes and shield potion drinks.
Superheroes
Celebrate your child's love for superheroes with a themed pool party. Decorate with comic book-inspired banners, posters, and balloons. Create superhero-shaped floaties or pool toys.
Organize an "aquatic rescue mission" game for kids to complete. Offer superhero-themed foods like Captain America pizzas, Batman sandwiches, and Wonder Woman fruit platters.
Pirate Adventure
Ahoy there! Transform your pool into a pirate paradise. Hang pirate flags, treasure chests, and Jolly Rogers around the area.
Set up a treasure hunt in and around the pool. Serve pirate-themed treats like "fish and chips" (goldfish crackers and potato chips), chocolate coins, and "sea punch" blue lemonade with floating gummy fish.
Movie Night
Create a cinema experience with an outdoor movie night by the pool. Set up a projector and screen on the pool deck, and provide pool floats or inflatable chairs for seating.
Feature a popular family film and serve classic movie snacks like popcorn, nachos, and hot dogs. Offer sodas, fruit punches, or homemade slushies as drinks.
Ice Skating
Bring the chill of ice skating to your pool party. Decorate with winter-themed decorations such as snowflakes, ice skate cutouts, and snowmen.
Play pool games with an icy twist, like "polar bear freeze tag" or "iceberg relay race" (racing on floaties). Offer winter-inspired treats like snow cone cupcakes and frosty blue smoothies.
Tropical Luau
Transport your guests to paradise with a tropical luau theme. Decorate with tiki torches, leis, and palm trees.
Organize a hula hoop contest or limbo competition, and serve Hawaiian-inspired foods like pineapple skewers, teriyaki sliders, and tropical fruit salad.
Offer fruity mocktails like virgin piña coladas or mai tais.
Sports
For the sports fan, host a sports-themed pool party. Use team colors for decorations, and provide pool toys representing different sports.
Set up poolside games like water basketball or pool noodle soccer. Serve stadium-style foods like soft pretzels, cheesy nachos, and hot dogs, along with Gatorade or ice-cold sports drinks.
Invitations and Planning
Etsy Options
When planning your 11th birthday pool party, one of the first things you should consider is sending out invitations. A great place to find unique and customizable pool party invitations is Etsy (click the link to see a wide range of options).
There are also options for girl party invites and eleventh birthday-specific designs. Prices vary, but you can usually find good deals, like 50% off on some selections.
Email Invitations
If you prefer a more eco-friendly and digital approach, consider using email invitations. Platforms like Canva offer free, printable, and customizable pool party invitation templates.
Some ideas for email invitations include:
Pastel Blue and Pink Donut Sunglasses Pool Party Invitation
Yellow Blue Gradient Pool Party Invitation
Blue and Red Water Splash Pool Party Invitation
Colorful Summer Kids Pool Party Invitation
With Canva, you can easily create a blank invitation, add a specific theme, and personalize it to your liking. The digital format allows you to save money on printing costs and reach your guests more quickly.
Remember to include important details such as date, time, and location in your invitations. This ensures that your guests have all the information they need to plan for your 11th birthday pool party.
Activities and Entertainment
Karaoke Party
Hosting a karaoke party during the 11th birthday pool celebration is sure to be a hit. Set up a karaoke machine near the pool area with a wide selection of age-appropriate songs.
Encourage the kids to take turns belting out their favorite tunes while others can enjoy a swim. Don't forget to plan a mini playlist so that everyone has a chance to participate in this fun activity.
It's not only entertaining, but also a great way to build confidence and social skills among the children.
Dance Party
Why not combine music and dancing at your pool party? Create a designated dance area around the pool, complete with colorful disco lights and a diverse playlist.
Make sure you have danceable tunes that cater to various preferences, and consider holding dance competitions or dancing games to keep the fun going.
Kids will love the chance to show off their moves and take breaks in the pool to cool off.
Fire Pit
If there's ample space in your backyard, consider setting up a fire pit as part of the activities. A fire pit not only adds a cozy atmosphere but provides warmth during the evening, especially if the party extends after sundown.
The kids will love roasting marshmallows and making s'mores while they chat and warm up after swimming. Remember to always keep an eye on the fire and supervise children around the fire pit for safety.
Photo Booth
Capture lasting memories by setting up a photo booth adorned with various pool-themed props and accessories.
Provide waterproof cameras or ensure someone is available to take pictures of the kids as they strike their best poses. They'll love goofing around and snapping fun pictures to take home as keepsakes from the party.
Piñata
A piñata is a classic addition to any birthday party, and an 11th birthday pool party should be no exception.
Choose a colorful, water-themed piñata filled with age-appropriate candies and small toys to add some excitement during the event.
Hang the piñata over the pool or in a nearby spot to make sure there's enough room for everyone to take turns trying to break it open.
Party Favors for Guests
Choosing the perfect party favors can leave a great impression on your guests and bring the theme of your 11th birthday pool party to life.
Here are some themed, DIY, and budget-friendly party favor ideas that your guests will love.
Themed Party Favors
Inflatable Beach Balls: Hand out mini beach balls as party favors that your guests can use during the party and take home as a memory of the day.
Sunglasses and Sunscreen: Provide guests with a fun, protective pair of sunglasses and a small bottle of sunscreen. Customize the labels to feature the party's theme and date.
Water Squirt Guns: A popular pool party accessory, water squirt guns can be purchased inexpensively online and provide hours of entertainment for your guests.
DIY Favor Ideas
Personalized Candy Bags: Purchase candy in bulk and create your own labels for them, featuring your party's theme, the guest's name, and a fun message. You can even create candy bags in the form of small beach bags for a creative twist.
Fruit Infused Water Bottles: Customize reusable water bottles with the party theme and fill them with fresh, fruit-infused water. Guests can enjoy their beverage at the pool and have a practical keepsake to take home.
Handmade Pool Party Bracelets: Be creative and make your own simple beaded bracelets in bright, summery colors. You can customize the design to match your pool party theme and add your guests' initials for a personal touch.
Budget-Friendly Options
Colorful Bubbles: Purchase small bubble wands in bulk and add a custom label or ribbon to match your party theme. Bubbles are both affordable and entertaining, making them a popular party favor choice.
Flip-Flop Keychains: Find inexpensive flip-flop-shaped keychains online and add a simple personalized message or name tag to make it unique to your party.
Pool Noodle 'Candy': Purchase colorful pool noodles and cut them into small sections to create "candy" shapes. Wrap them in clear plastic and tie them with a ribbon to match your pool party theme.
Remember, the goal is to choose party favors that not only fit the theme but also create a lasting impression on your guests. With a little creativity and personalization, your 11th birthday pool party favors will be what the kids talk about for months and years to come.
Sources: