Planning a memorable 14th birthday party for your teenager can be both exciting and challenging. If you're absolutely stumped, we're here to help.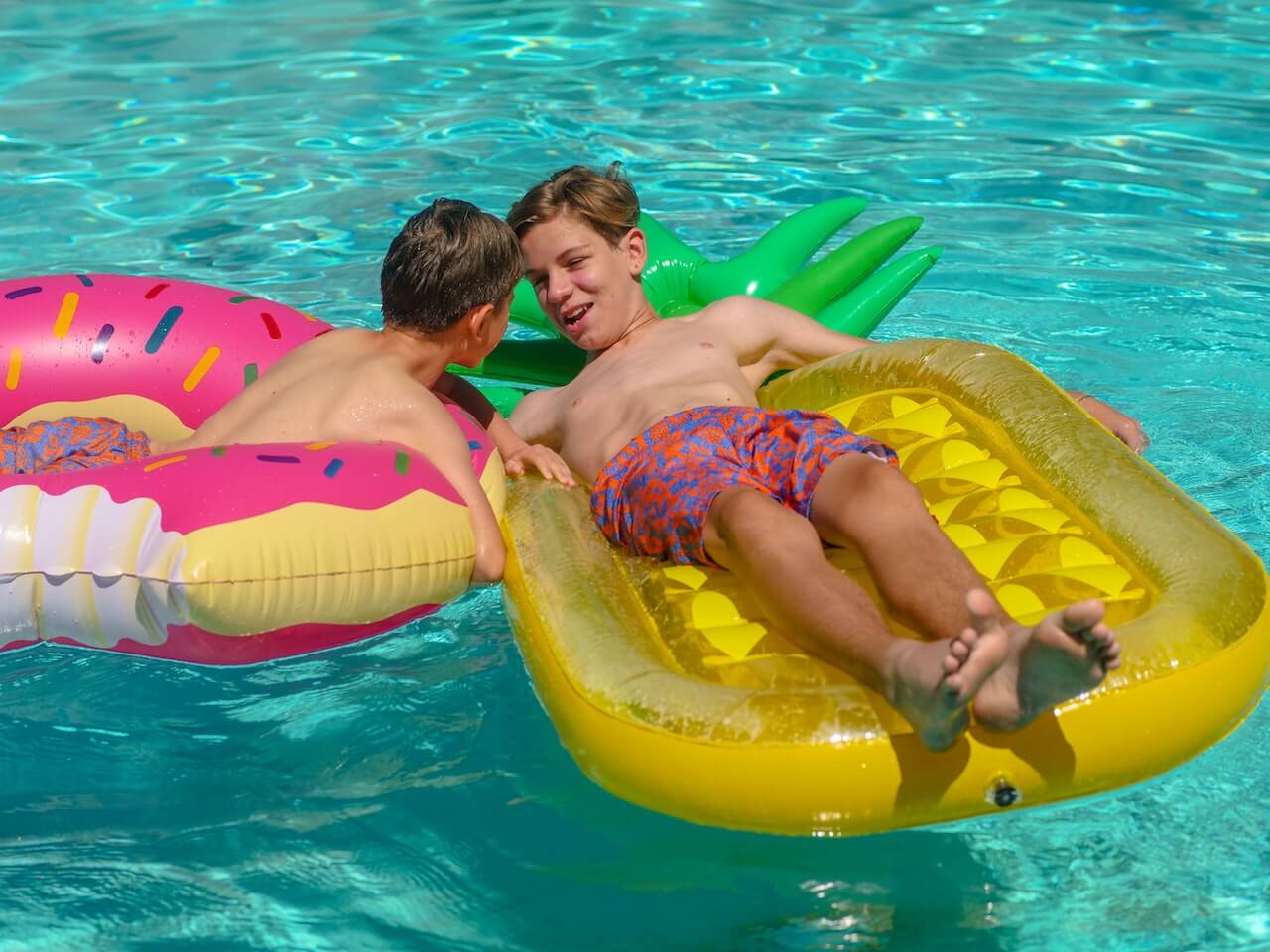 Personalizing the party with your teen's favorite theme, such as a neon-glow or tropical theme can make the celebration even more special. Don't forget the little details like theme-appropriate decorations, snacks, and beverages.
Keep reading on to learn about the best pool party ideas and transform your backyard into the ultimate 14th birthday bash!
Theme Ideas for a 14th Birthday Pool Party
Tropical Luau
Transport your guests to a Hawaiian paradise by hosting a tropical luau-themed pool party. Turn your pool area into a lush oasis with palm trees, tiki torches, and hibiscus decorations.
Encourage guests to wear Hawaiian shirts or grass skirts, and serve fruity drinks in coconut cups. Include fun activities such as hula hoop contests and limbo competitions to keep everyone entertained.
Beach Party
Transform your backyard into a beach paradise with this theme. Lay out beach towels, umbrellas, and beach balls to create the perfect environment.
Play beach music and organize games like beach volleyball or a sandcastle building contest if you have a sandpit available. Add seashells and fishnets as decor accents to complete the beachy vibe.
Neon Glow Party
Brighten up the night with a neon glow party theme. Decorate your pool area with glow sticks, neon streamers, and LED lights. Encourage guests to wear bright swimwear or neon-colored clothing and provide glow bracelets and necklaces as party favors.
For added fun, set up a DIY glow paint station, so guests can paint themselves with washable glow paint.
Retro 80s
Take a step back in time with a retro 80s-themed pool party. Play classic 80s music, and incorporate bright, neon color schemes for decorations.
Encourage guests to dress up in 80s-inspired swimwear or clothing, and arrange activities like a dance-off or 80s trivia game.
Mexican Fiesta
Add a splash of color and lively flair with a Mexican fiesta theme. Decorate the area with vibrant colors, paper flowers, and sombreros.
Serve traditional Mexican dishes like tacos, nachos, and churros, or set up a build-your-own taco bar. Plan activities that include a piñata and Mexican-themed pool games like water polo.
Sports Extravaganza
For the active teenager, a sports extravaganza theme is a perfect choice. Choose a specific sport or a mix of sports to incorporate into the party.
Decorate with team banners, sports equipment, and even water-based games like pool basketball or water volleyball.
Serve sports-themed snacks, and consider presenting a sports-related birthday cake or cupcakes.
Decorations and Set-Up Ideas
Balloons, Banners, and Table Settings
To create a fun and memorable atmosphere for a 14th birthday pool party, start by setting up colorful balloons and banners around the backyard. You can find festive pool-themed balloons and banners on sites like Etsy.
For table settings, consider using beach towels as tablecloths or placemats, which will not only look great but also serve as practical party favors. Additionally, mix and match vibrant plates, cups, and napkins to add an extra pop of color to the party area.
Pool Floaties and Water Toys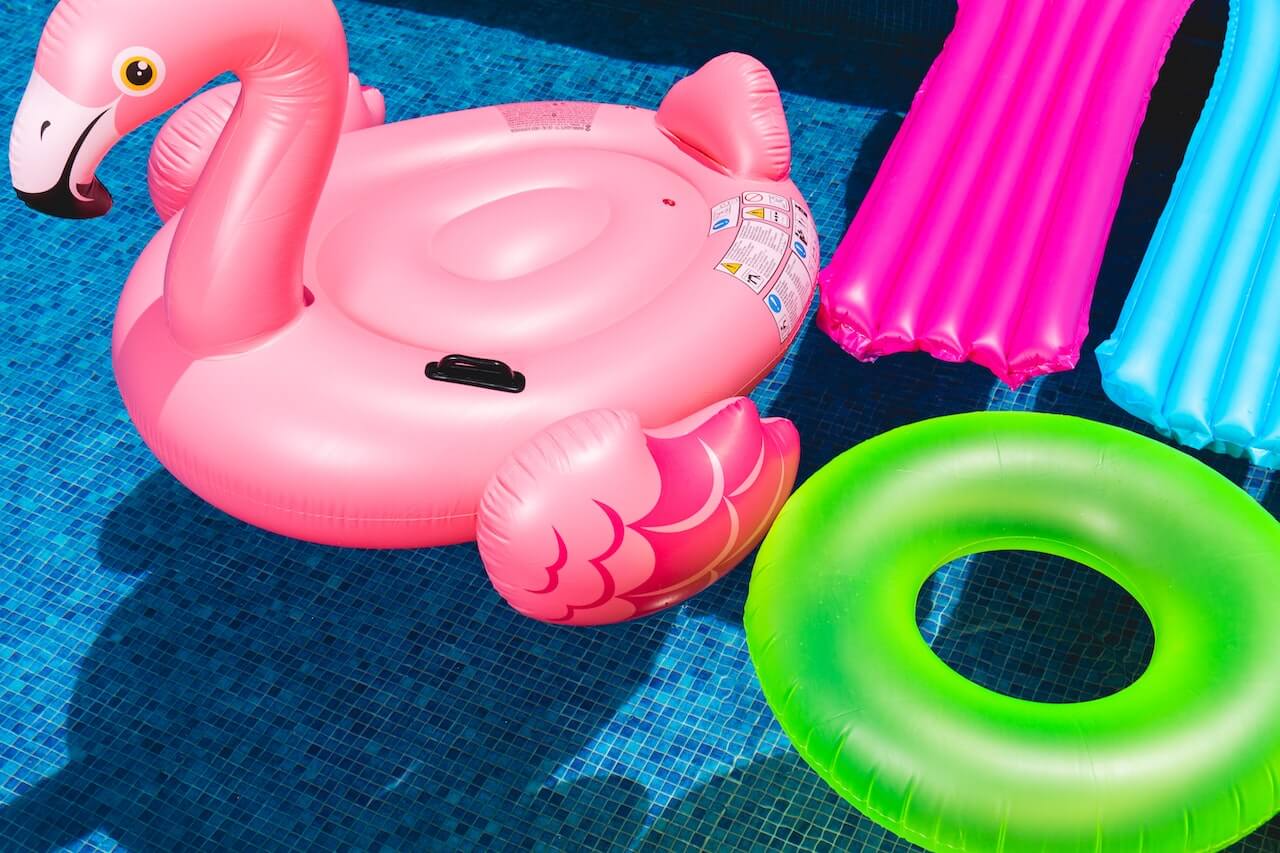 A pool party isn't complete without an assortment of floaties and water toys! Encourage your guests to have fun and stay cool by providing a variety of pool floats, from classic donut-shaped tubes to unique animal or food-inspired designs.
For even more entertainment, you can also include water toys like water shooters, diving toys, or inflatable beach balls.
Lighting Options for Evening Parties
If your 14th birthday pool party will continue into the evening, make sure to consider lighting options to keep the backyard bright and inviting. String lights with fun shapes like pineapples or palm trees can add to the tropical atmosphere.
If your party space permits, you can also use outdoor lanterns or tiki torches to create a cozy ambiance for nighttime lounging.
DIY Decoration Ideas for Those on a Tight Budget
Even if you're on a budget, there are plenty of creative and affordable ways to transform your backyard into a pool party oasis. Here are a few DIY decoration ideas:
Create homemade banners and garlands using colorful paper, fabric, or even pool noodles.
Fill glass jars with sand and seashells, then add votive candles for a simple yet beautiful centerpiece.
Repurpose old pool toys, like floaties and beach balls, as decorations. Inflate them and attach them to fences, branches, or poolside furniture.
Use leftover pool noodles to make a DIY limbo bar by arranging the noodles vertically and attaching them to wooden dowels.
Restrictions breed creativity, so don't think that being on a budget is some kind of insurmountable obstacle.
Food and Drink Ideas
Poolside Snacks: Finger Food and Refreshments
When it comes to poolside snacks, keep it simple and serve foods that are easy to grab and eat. Some great options include:
Pizza: Order a few pizzas for your guests to easily nibble while they're in and out of the pool. Consider ordering 6-foot-long sub sandwiches as well.
Grilled items: Set up a grill for hot dogs, burgers, or veggie skewers to cater to different dietary preferences.
Fruit and vegetable platters: Offer a colorful assortment of sliced fruits and veggies for a healthy and refreshing option.
Keep your guests hydrated with a few delicious beverage choices:
Smoothies: They are fun pool party drinks that can be easily modified based on your guests' preferences.
Homemade lemonade: A classic summer favorite, perfect for keeping everyone refreshed.
Themed Birthday Cakes or Cupcakes
Instead of a traditional birthday cake, consider serving cupcakes for easier handling and portion control. You can also decorate them with a pool party theme, such as beach balls, flip-flops, or suns.
Non-Alcoholic "Mocktails" for Teens
Elevate your party with some fun and creative non-alcoholic drinks, often called "mocktails."
Whip up batches of Virgin Piña Coladas, Shirley Temples, or fruity spritzers to delight your guests – plenty of recipes are available online.
These colorful and tasty concoctions can make your young guests feel more grown-up and add a touch of sophistication to your party.
Budget-Friendly Food and Drink Options
When working with a budget, there are plenty of ways to cut costs without skimping on the fun. Consider these ideas:
Make your own snacks like popcorn, chips and dip, or veggie sticks with hummus.
Use store-brand ingredients for homemade smoothies or lemonade.
Opt for DIY hot dogs or burgers by purchasing the ingredients in bulk and grilling them yourself.
Remember, the most important thing is to have a fun and memorable 14th birthday pool party. By providing an assortment of delicious food, drink, and snack options, you'll ensure everyone has a great time!
Entertainment and Activities
Pool Games and Competitions
Let's make your 14th birthday pool party exciting with various pool games and competitions for your friends to enjoy. Start by organizing a round of pool volleyball to get everyone warmed up.
You can also play fun games such as poolside basketball and use pool floats like pineapples, flamingos, or noodles for added entertainment.
For a more competitive activity, create a beach ball relay race, where teams do their best to collect as many balls as they can while on an inflatable raft.
DIY Photo Booth
Capture the memories of your birthday pool party by creating a DIY photo booth. Set up a simple backdrop using a bright-colored fabric or beach-themed decorations.
Provide fun props like beach balls, sunglasses, and pool floaties for everyone to pose with. Encourage your friends to take selfies or use an instant camera for instant printed keepsakes.
Music Playlist Suggestions
An engaging music playlist is a must for your pool party. You can either create your playlist or ask your friends for their favorite songs.
Cater to your guests' tastes, ranging from pop and rock to dance and electronic music. Don't forget to include some popular classics that can bring back fun and warm memories.
If you want to take it to the next level, consider setting up a karaoke station for a singing competition among your friends.
Outdoor Movie Screening
Once the sun goes down and everyone is done with swimming, you can set up an outdoor movie screening.
Project a movie on a large sheet or a portable screen near the pool area. Arrange comfortable seating with bean bags, outdoor chairs, and blankets.
Choose a movie that everyone will enjoy (or one that is relevant to the pool party theme), and keep the snacks and drinks within reach for a cozy and unforgettable movie night under the stars.
Party Favors
If you want your guests to talk about what an amazing pool birthday party this was for months and years to come, consider preparing some party favors.
Personalized Flip-Flops or Beach Towels
One great idea for pool party favors is to provide personalized flip-flops or beach towels for your guests.
You can order these items online and have them custom-printed with your guests' names, your child's birthday theme, or some fun pool party designs.
This way, each guest will have something special to remember the party by, and they will also have a practical item to use during the event. Plus, custom towels make the party feel more festive.
Mini Sunscreen Bottles
Since your party is held outdoors and under the sun, providing mini sunscreen bottles is a useful and thoughtful favor idea.
You can include them in your welcome bags or place a sunscreen station near the entrance, so your guests have easy access to SPF protection.
This simple addition to your party helps everyone stay safe from sunburn while enjoying the water activities.
Waterproof Phone Pouches
We all know how important it is to protect valuable belongings like phones while around water. Waterproof phone pouches make fantastic and useful party favors for a 14th birthday pool party.
Your guests will appreciate receiving a functional accessory that keeps their devices safe and dry while they splash around in the pool. Impress your guests by selecting pouches in fun colors that match your pool party theme.
Budget-Friendly and DIY Favor Options
If you're on a tight budget, there are still plenty of affordable and DIY party favor ideas for a pool party. Some options might include:
Inflatable beach balls: Purchase some colorful inflatable beach balls in bulk and give one to each guest as a favor. They can use them for pool games during the party and take them home afterward.
Sunglasses: Protect your guests' eyes with fun and funky sunglasses. These make excellent party favors and can be picked up inexpensively.
Bubble bottles: Bubbles are always a hit at outdoor parties. You can find affordable bubble bottles with wands to entertain kids and teens as a cute and easy favor option.
Remember, it's not the price tag that makes a party favor memorable, but the thought and effort you put into making it meaningful and unique for your guests. With these ideas in mind, your teen's 14th birthday pool party is sure to be a hit!