The thing about shopping for clothing is that you need to try it on before you're sure it fits how you like, and in the case of swimwear, you may no longer be eligible for a refund if it gets soaked.
Shopping for swimwear is a different beast than shopping for regular clothes because in an overwhelming amount of cases, most stores' return policies state that they no longer accept returns if the swimwear in question has been worn in the water.
How inconvenient, because how else will you know a piece of swimwear is good if you can't even test it out in the proper environment? Unfortunately, c'est la vie, but with experience and reading other customers' experiences, you can get quite good at picking winners. But until then, you may pick a few duds, and now you must navigate the gigantic wall of legalese known as retailer return policies to hopefully recoup some of these costs.
Can you return swimwear? Whether you can or can't depends on the specific stores' return policy. If all sales are final, then you can't. Most stores have at least a one to three month period where you can return it, assuming the tag is still on, you have the receipt, and the item is in good condition. Most stores will deny a return if the swimwear has touched water on the basis of hygiene. 
If you haven't worn the swimwear into water and are returning it promptly with receipts, tags, and all, then there's no reason why they would refuse you. However, you are still at the mercy of the employee's discretion, and if you get an uptight one, you might still be denied. That said, most of the time returns are painless.
In this article, we want to go over some tips and considerations regarding returning swimwear so that you have the best chances of successfully doing so, and hopefully well before you go off and do something that voids your eligibility to make a return.
Every store has a different return policy
The first thing you need to realize is that no two stores are the same. Thus, unless noted otherwise, the tips we provide in this article are presented in general terms and may not always work for every store.
On top of that, a return may be accepted or rejected due to employee discretion (or in the worse case scenario, corruption or incompetence). What you consider to be a product still in "good" condition may fail to meet an employee's/store's standards, and thus you need to be prepared for rejection. Employees are not on your side, so they are looking for any reason to deny a return. Best get rid of any stains, creases, or any other imperfections before heading to the store.
Some retailers, such as Amazon and Costco, are famous for their generous return policy. For a time, it seemed like they would accept anything back, no questions asked, swimwear and other intimates included. However, perhaps due to abuse from customers, corporate greed, or a mixture of both, these larger retailers have started getting more strict with their return policies. That said, they are still among the best for returns.
If you are expecting all stores to be as generous with accepting returns as Costco and Amazon, you may be in for a nasty surprise. Similarly, if a store is accepts all returns, they may eventually tighten up their standards to stop abuse, so be wary of that as well.
With that said, there's nothing wrong with at least trying to return an item. As mentioned, employee discretion exists but it may work in your favor. Additionally, if you have strong interpersonal skills and you're doing an in-person return, it may be possible for you to establish rapport with an employee so that they are more likely to help you out.
How to improve your chances of a successful return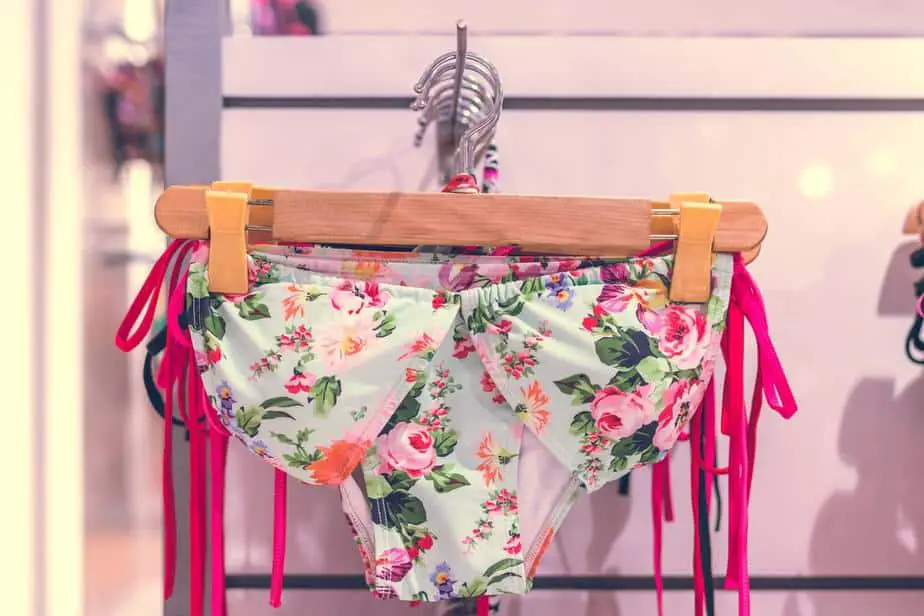 Were you hoping this article contained some kind of secret trick to get your swimwear return accepted at every single retailer, anywhere in the world, without fail? Unfortunately, there are as many different return policies as there are retailers, so that's kind of impossible. It doesn't hurt to at least try, however.
With that said, I suppose there is a kind of "universal guideline", so to speak, to greatly improve your chances of a return.  But, at the end of the day, you're going to have to read through the return policy with a fine-toothed comb to ensure you are within your rights to return an item, and that you aren't getting screwed over by some hidden fineprint. Sorry, you just can't avoid the legalese.
To make things easier, you can try to identify stores that have a simple-to-understand return policy, hopefully clearly written on their website or receipt. In addition to these steps, also do the following:
Don't wear it into the water
First off, you must not wear your swimwear into the water. I know it seems backwards because how else can you figure out if the swimwear fits you comfortably unless you've actually put it to use under the proper conditions?
Unfortunately, wearing swimwear into the water will ruin any tags that it comes with, as well as decrease the quality of the product such that it is no longer in "good condition", and it raises hygiene concerns.
I hate to admit it, but the hygiene argument is a pretty darn good one, but that kind of screws over the customer who is stuck with swimwear that doesn't fit them. A Hail Mary solution you can try is to shrink a large bathing suit by exposing it to high temperatures. If your gripe is due to how uncomfortable the material feels, unfortunately, there's not much else you can do.
Back to the topic at hand, there's no way for you to know for sure if something fits you comfortably in the water before entering the water, so your best bet is to meticulously scour customer reviews to see what impressions are like.
If a product has no or poor reviews, or if all of the reviews are suspiciously positive, then consider looking elsewhere. I like to specifically read 3-star reviews because they are usually the most honest and least hyperbole-filled reviews that points out any flaws yet still acknowledges its good qualities.
Other than that, it's good to be able to shop for swimwear in person rather than online so that you are able to touch the material yourself to get a much better understanding of how it might feel.
Return within the timeframe
Unless an item is a final sale, you should have a period of time where you are eligible to return the item. Typically, this timeframe is around 30 to 90 days, but this can differ from store-to-store.
I recommend you already look up or ask about a store's return period before making a purchase so that you have ample time to return it if you decide it's not for you. Depending on how packed your schedule is, or how forgetful you are, you will be glad if a store has a very generous return period.
Keep all records of purchase
This one should be a no-brainer. Keep all receipts, invoices, and tags (in fact, leave the tags on the item) in case you want to make a return some day. Just to be safe, remember which credit card you bought the swimwear with and check your statement, which is more proof that you purchased the item in case you lose the receipt.
To be fair, you don't have to be the one to make the purchase to be able to return it. If a friend or family member bought you the swimwear and you don't like it for whatever reason, then make sure you get the receipt from them (and again, keep the tag on) so you can return it. The store may issue you a full or partial refund, either in the form of cash, store credit, or an exchange. We will go into this in more detail in another section.
Keep the item in good condition
Aside from returning it within the return period, an item's condition is arguably the most important factor in determining if your return will be accepted or not. To make matters worse, this criteria is highly subjective.
Don't think that just because you never wore it into the water, that you are guaranteed a return. If you accidentally get a stain on the swimwear or it looks wrinkled, creased, faded or otherwise worn down, the employee may decide the item is not in good condition and refuse a return. Thus, be very careful not to leave your swimwear around children, pets, food, sunlight or chemicals that can damage it and make it ineligible for a return.
To further boost your chances of success, carefully peruse the store's return policy and pay close attention to the words that they use, such as "unused", "unworn", "lightly used", "intact", etc., so that you can better argue your case if an employee is not budging. However, swimwear returns are much more strict due to hygiene risks, so unless the item is in pristine condition, you may get completely denied.
Some retailers will be stingier than others on the condition of the item. If you find a store that offers lifetime guarantees that covers the swimwear for life, then make sure to do your swimwear shopping exclusively at that store because that's an amazing guarantee.
Compensation (full/partial)
Depending on the condition of the swimwear you are returning, assuming you aren't outright denied, you may be offered a full or partial refund. The return policy should make it clear how they will compensate you. It's not always a cash refund like you would expect.
For example, the store may only issue store credit or an exchange with an equivalent or cheaper item so that technically the money has not returned back to your account. If you want a cash refund, you had better make sure that that's what's stated in the return policy, otherwise they are fully within their rights not to refund you cash.
If the condition of the item is not good, or if a certain period of time has elapsed, or if it is just written in the policy that they only offer partial refunds due to restocking fees or what have you, then you may be offered a partial refund in the form of cash, store credit, or an exchange.
Exclusively online retailers may offer to pay for return shipping, which is nice. Some stores offer you "full refunds" but then expect you to pay for the shipping, so you are still losing some money. Even if you purchased an item online but there are physical store locations, you can return them there to avoid paying for shipping fees.
Be polite
Lastly, if you are returning your swimwear in person, a factor that is not often talked about is how pleasant you are. No one likes dealing with an A-hole, and if you are being one, then they may simply refuse you on principle.
Unfortunately, many people quickly get nasty if they are told no, but if you even want a chance to argue your case to change the employee's mind, then you had better be polite and prepared. Knowing the store's return policy and knowing that you are in the right will boost your chances of success.
Whatever you do, absolutely do NOT try to lie to the employees. If you are trying to return an item well past its return period, or if you did wear it into the water and then now you are trying to argue that the item didn't come with any tags or anything like that, it's very easy to see past the lies. As soon as an employee distrusts you, it's over. Plus, it's just a scummy thing to do, so please don't be that kind of person.
Parting words
To recap, you can absolutely return swimwear. However, you basically need to have not worn it at all, the tags need to be kept on, the item must be in pristine condition, plus you must have the receipt, otherwise you can potentially get refused a refund. Don't give them any reason to do so.
So that you are not in for a surprise, you should have a good understanding of the store's return policy. They may only offer store credit, partial refunds or exchanges, and if that's not to your liking, then you shouldn't shop at that store.
If you are uncertain about a store's refund policy, look it up or ask an employee to explain it to you. When you buy a swimsuit from the store, you are also entering into an agreement that you are bound by that policy. Thus, do not do anything that will invalidate that return policy, and then you will be in a good position to return swimwear that you do not like.
P.S. If you have old bathing suits lying around that are well past the return period but are still in decent condition, don't just throw them in the trash. Consider donating them to a nonprofit organization instead, or at least selling them second hand.